These One Pot Wicked Baked Beans are the perfect side dish for your cookout. Smoky bacon, spicy jalapeños are contrasted with sweet brown sugar and crushed pineapple. One pot will easily feed a crowd but it can easily be cut in half to feed smaller gatherings.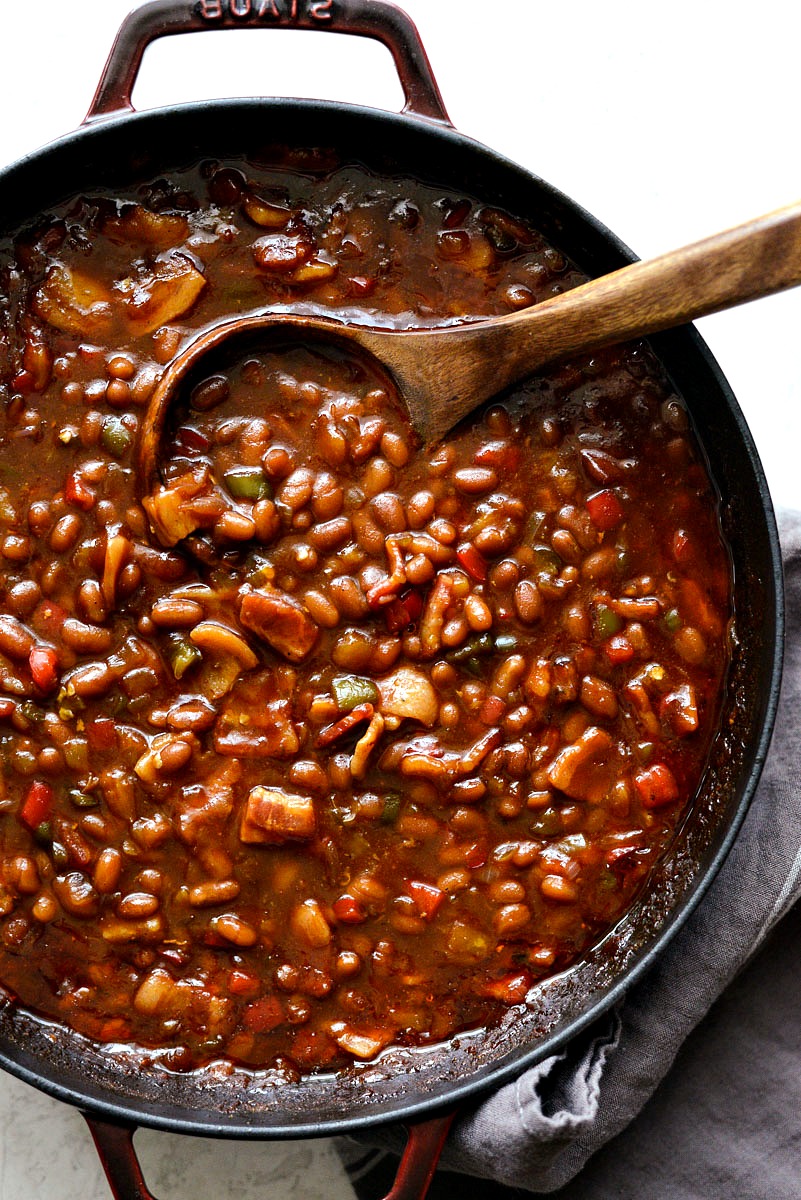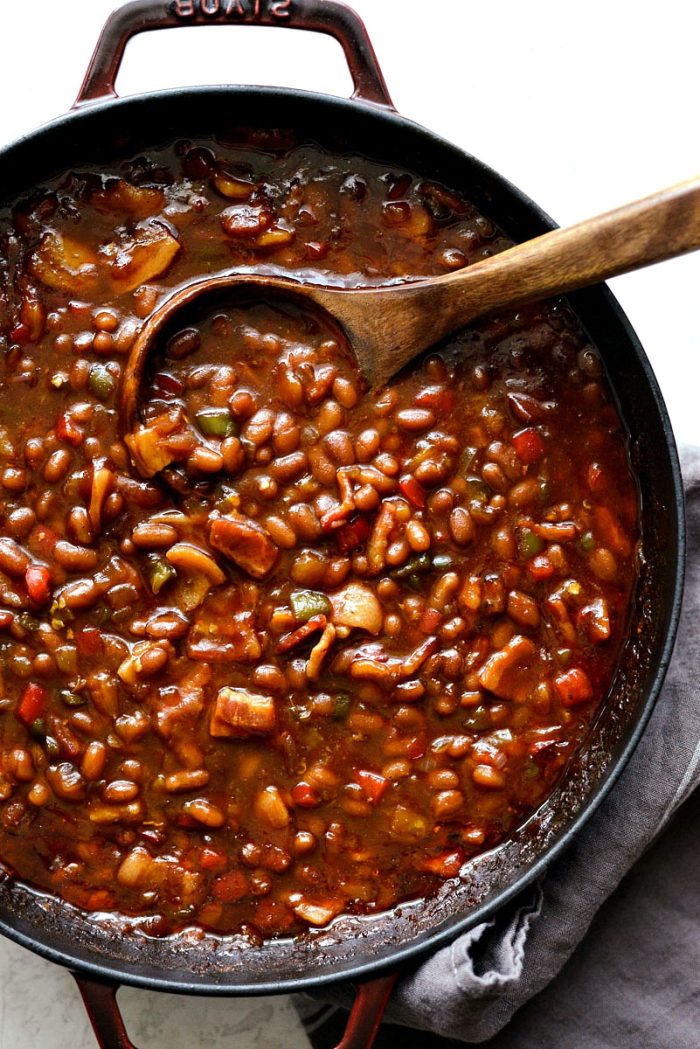 If you're a fan of sweet and spicy, these wicked baked beans are for you.
I was first introduced to this recipe by our close friends. They originally found this recipe on internet years ago and it quickly became a staple, because not only they are incredibly easy but delicious too. Needless to say, I've had these beans quite a few times. And only did it just now dawn on me to make and post them here for you. This recipe is semi-homemade and not 100% from scratch, so please don't come at me. They're just too good not to share.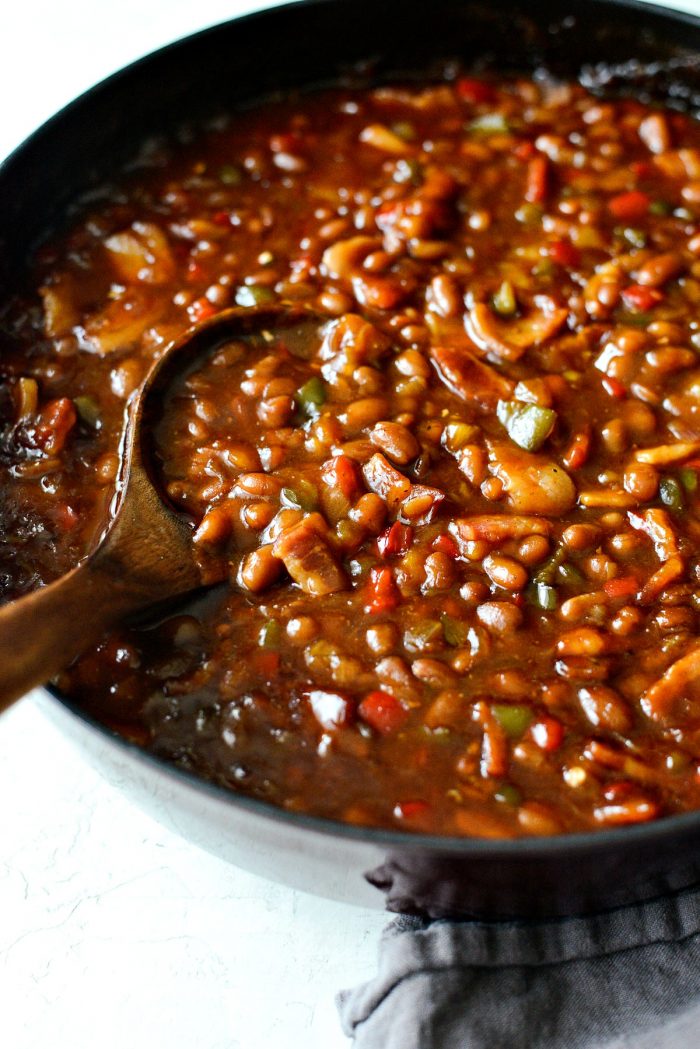 In this phenomenal recipe, canned baked beans are elevated with the addition of smoky applewood bacon, spicy jalapeños, red onion and sweet pineapple. Seriously they are the best combination of spicy and sweet. The original recipe calls for pouring them into a separate pan and baking. I think we all can agree, the less dishes the better. So I adapted it only slightly and made it all in one pot.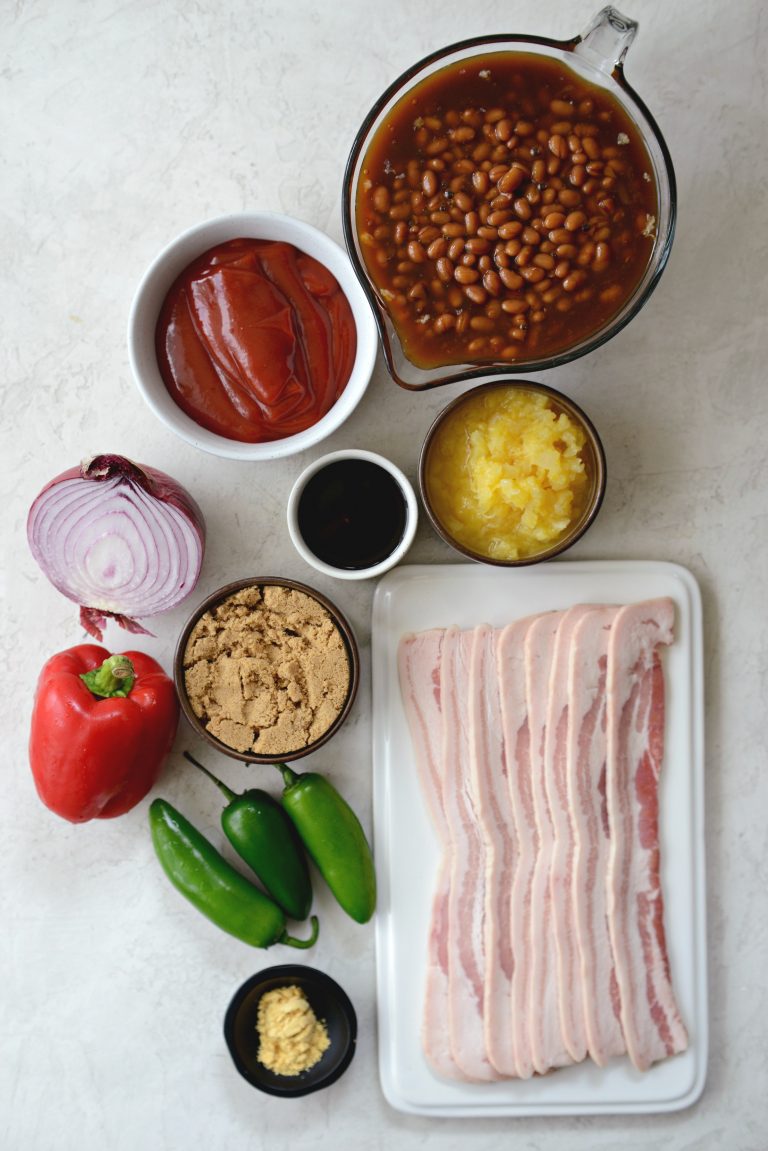 To Make These One Pot Wicked Baked Beans You Will Need:
thick cut applewood smoked bacon
red onion
a small red bell pepper
jalapeños
canned baked beans
crushed pineapple
dark brown sugar
ketchup – homemade or store-bought
Worcestershire sauce
dry mustard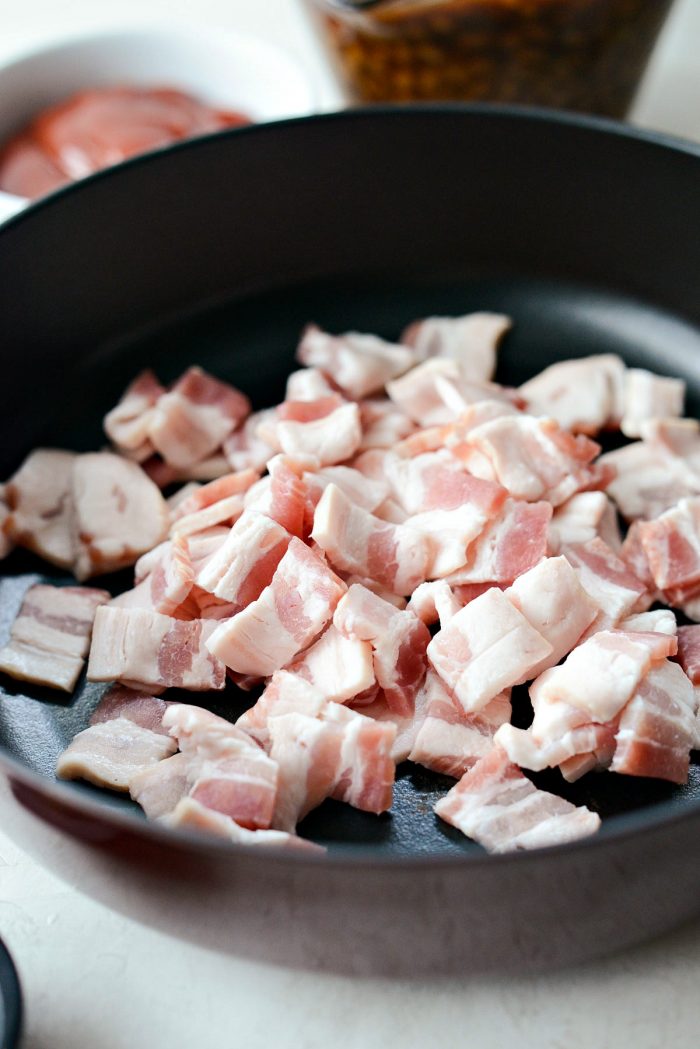 In a large 4-quart deep sided pot or dutch oven, add 8 slices of thick cut applewood smoked bacon that have been chopped.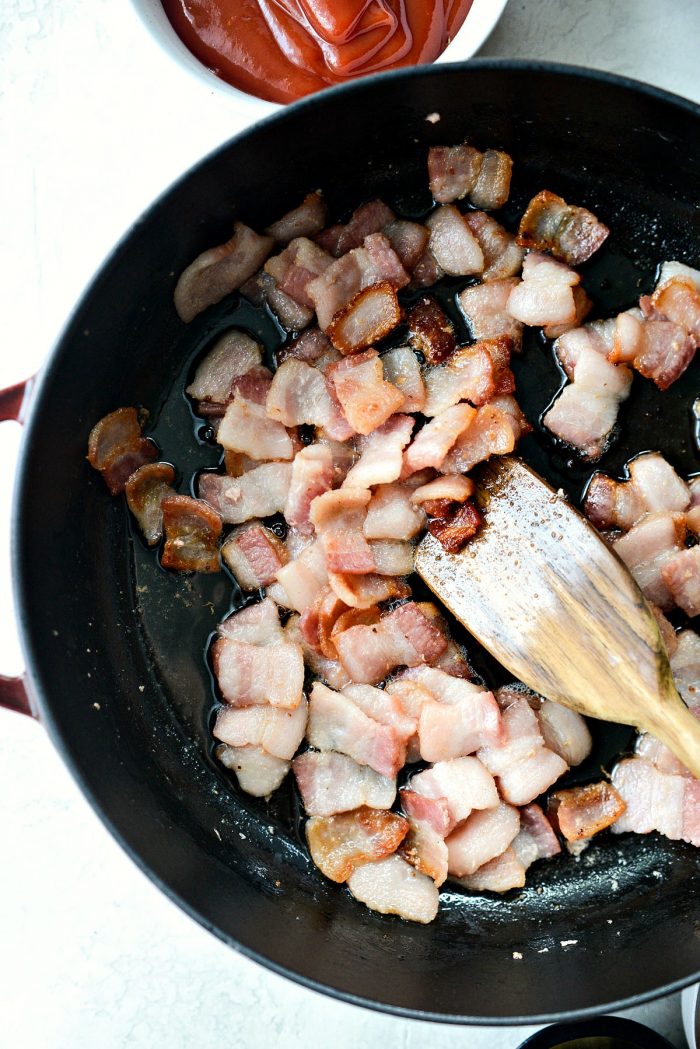 Heat to medium / medium-high, stir and cook until crispy.
While the bacon cooks, finely dice up 1/2 a large red onion (about 1-1/2 cups), 1 small red bell pepper (about 1 cup) and 3 good size jalapeños – seeds and ribs. All of it.
The heat level will be determined by this. I personally don't find these beans too spicy with 3. To me 3 jalapeños is the perfect amount. Although, if you want these super mild, remove the seeds and ribs.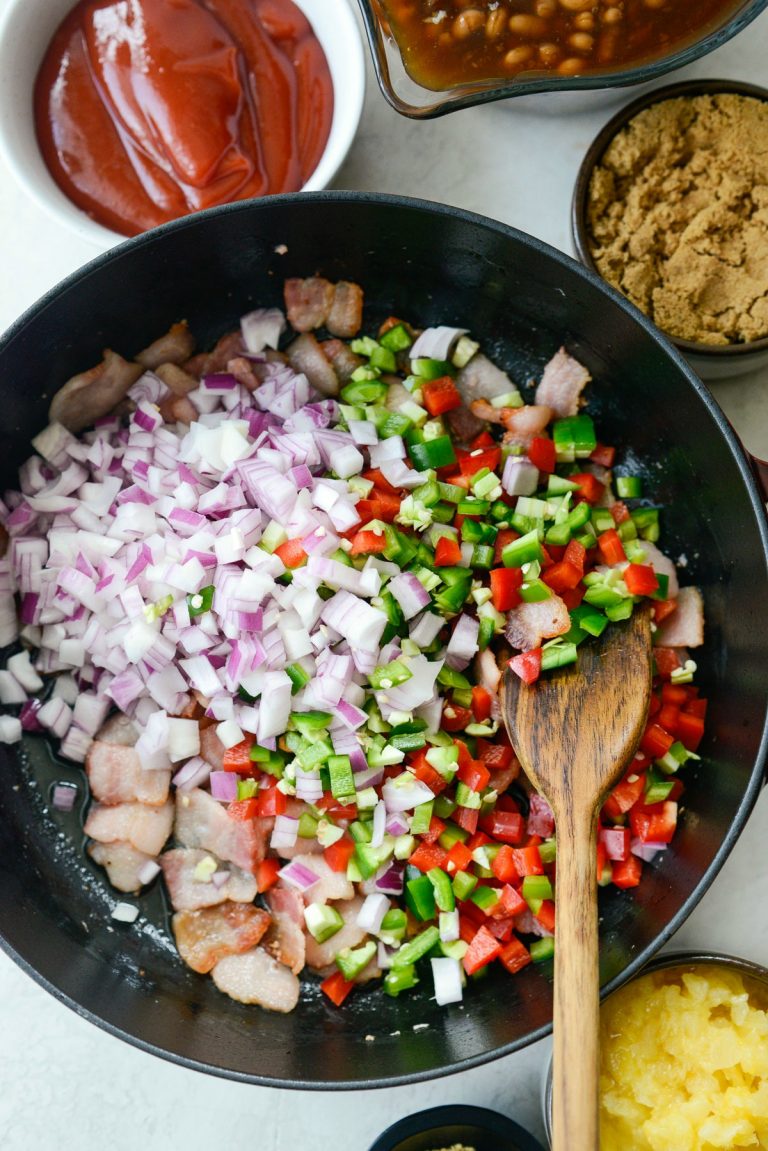 Once the bag on has cooked and is crispy, add in the diced onion and peppers.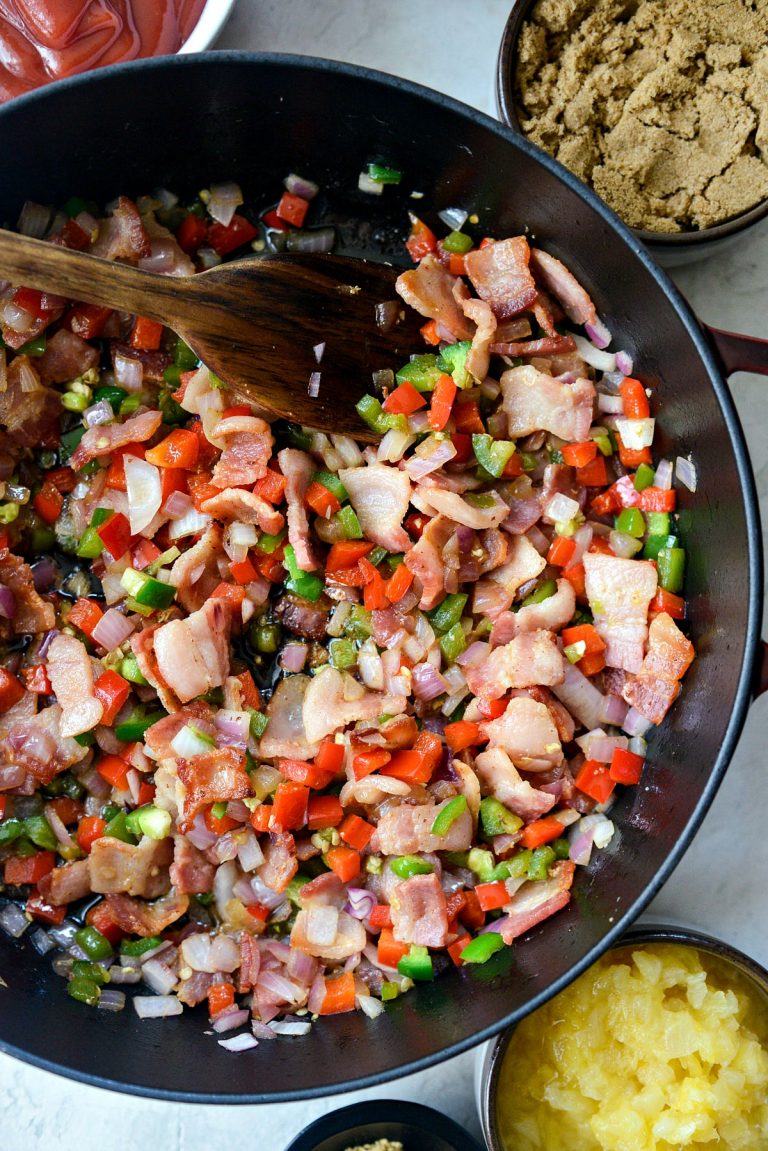 Occasionally give it a stir and cook until the vegetables are tender. About 8 to 10 minutes.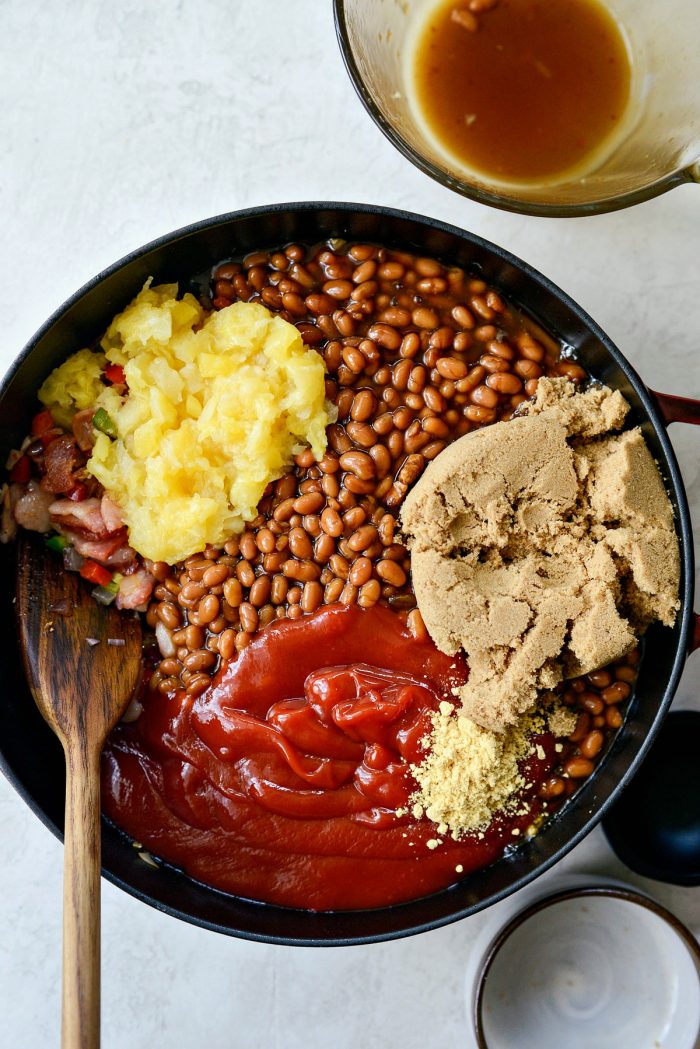 Next add in 55 ounces baked beans, 1 cup dark brown sugar, 1 cup ketchup, 1 (8 ounce) can drained crushed pineapple, 3 tablespoons Worcestershire and 1/2 tablespoon dry mustard.
Stir well to combine.
Bake the pot of beans on the middle rack of your preheated 350° oven for 1 hour, stirring every 20 minutes.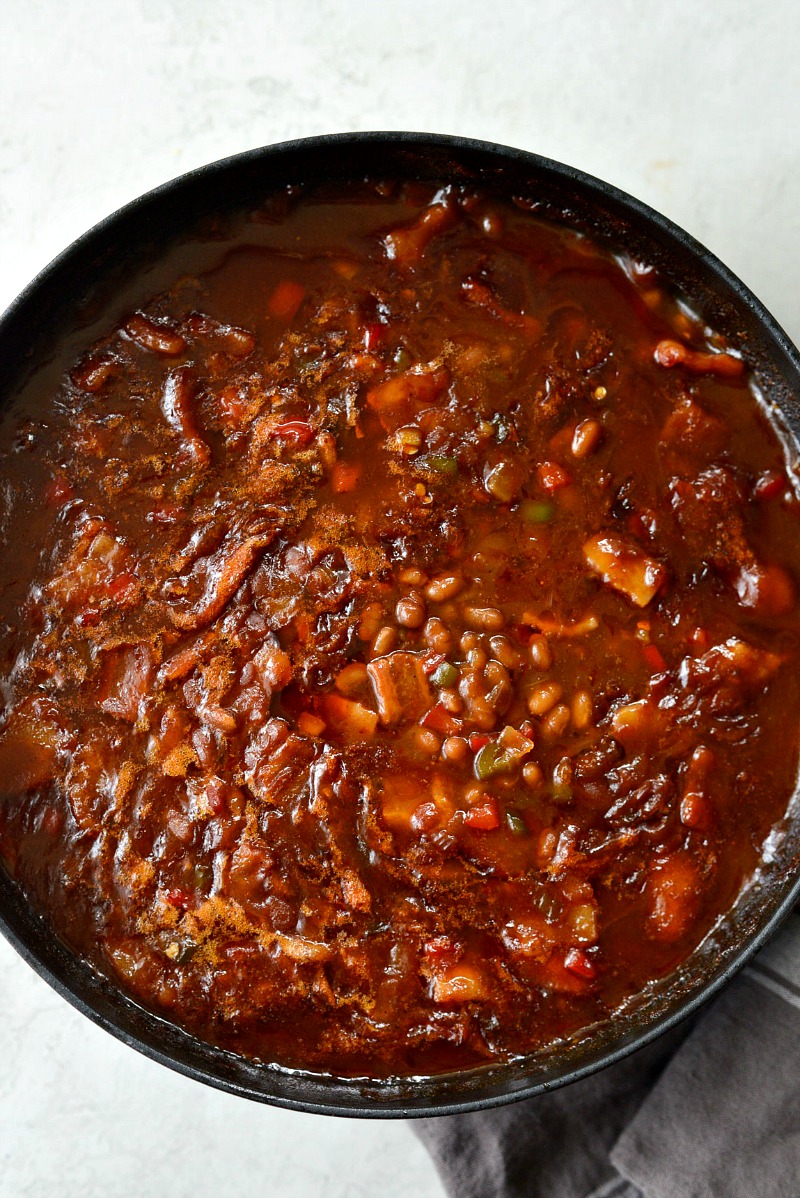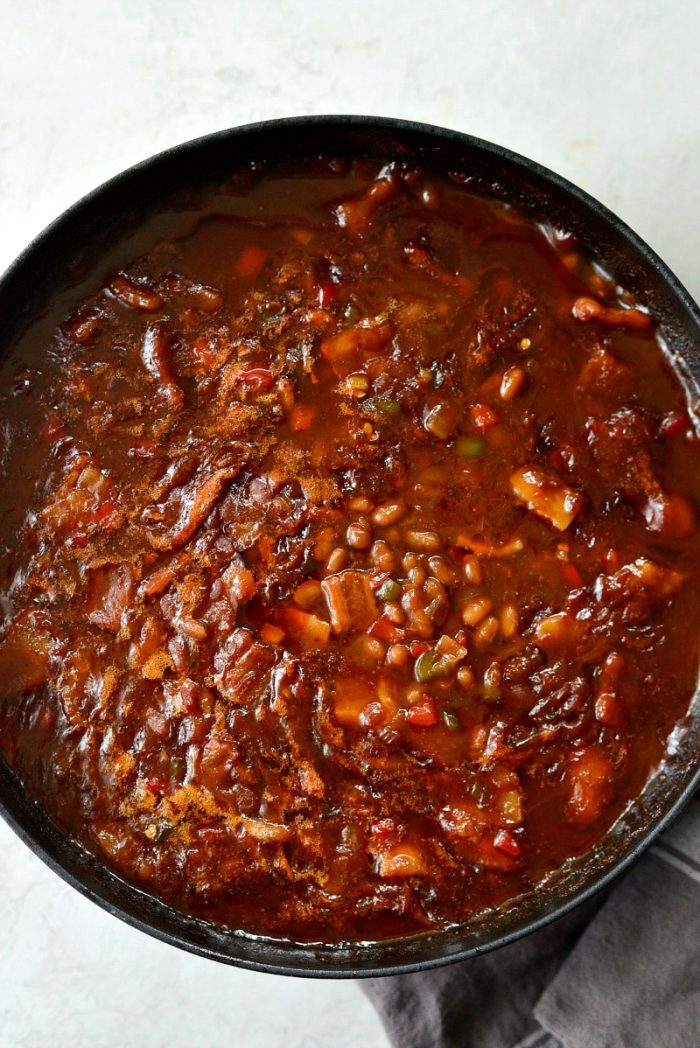 Remove and let cool a bit before serving. They will thicken as they cool.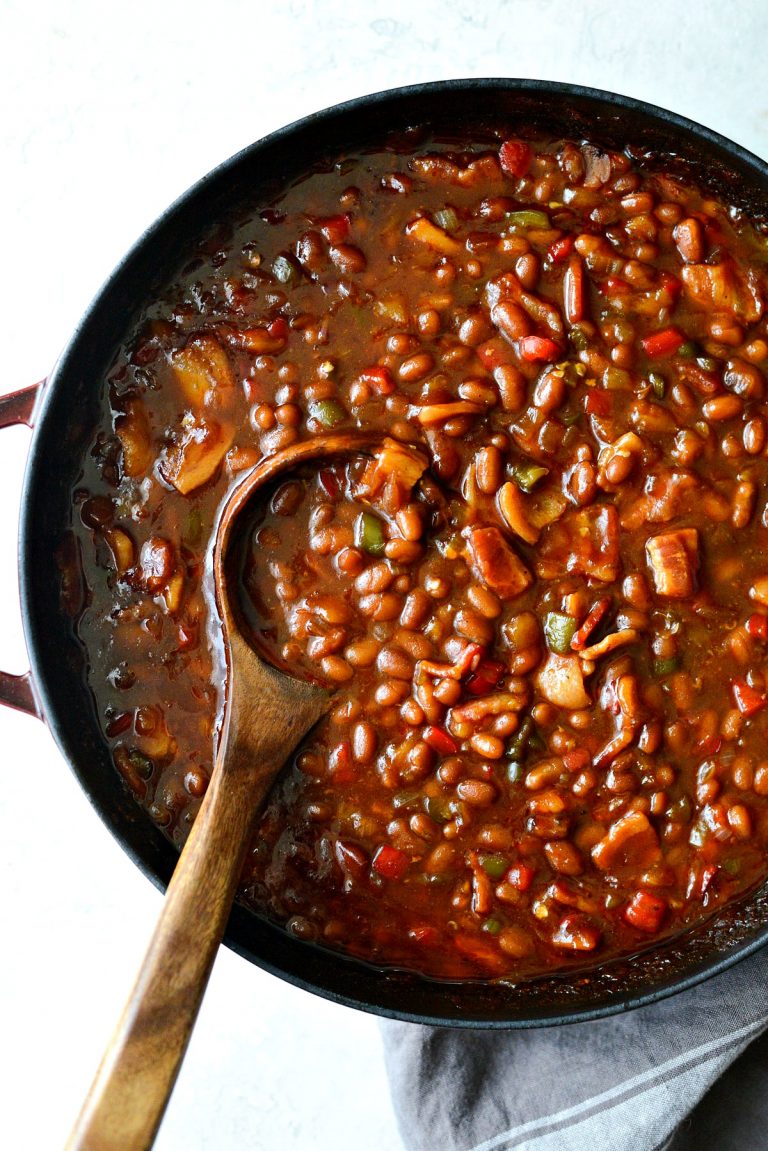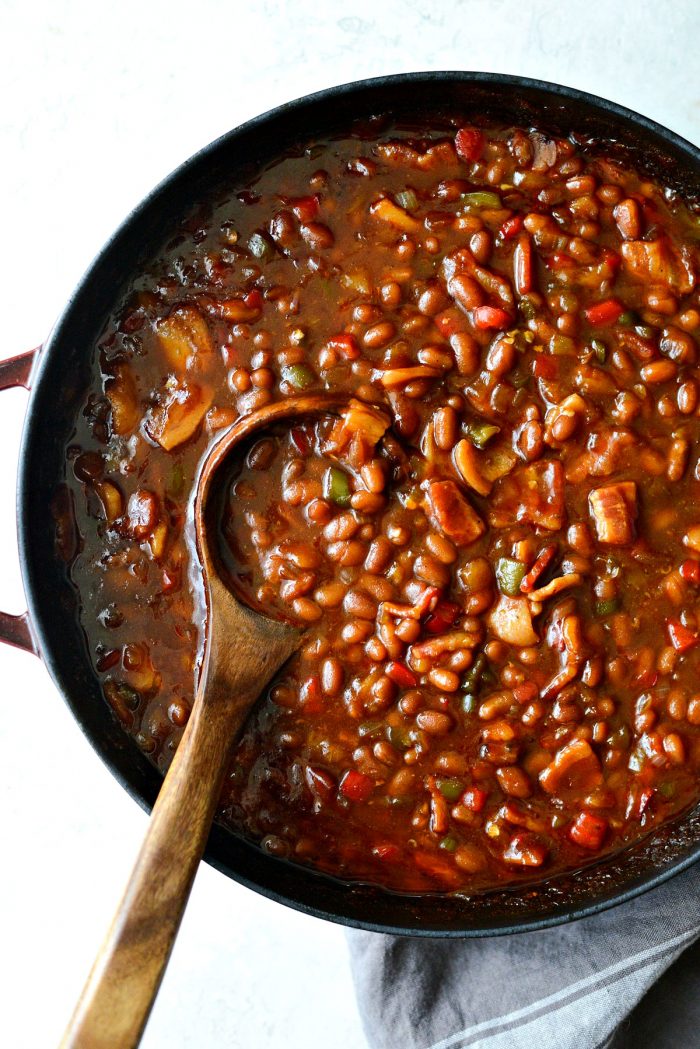 I wish you could smell these.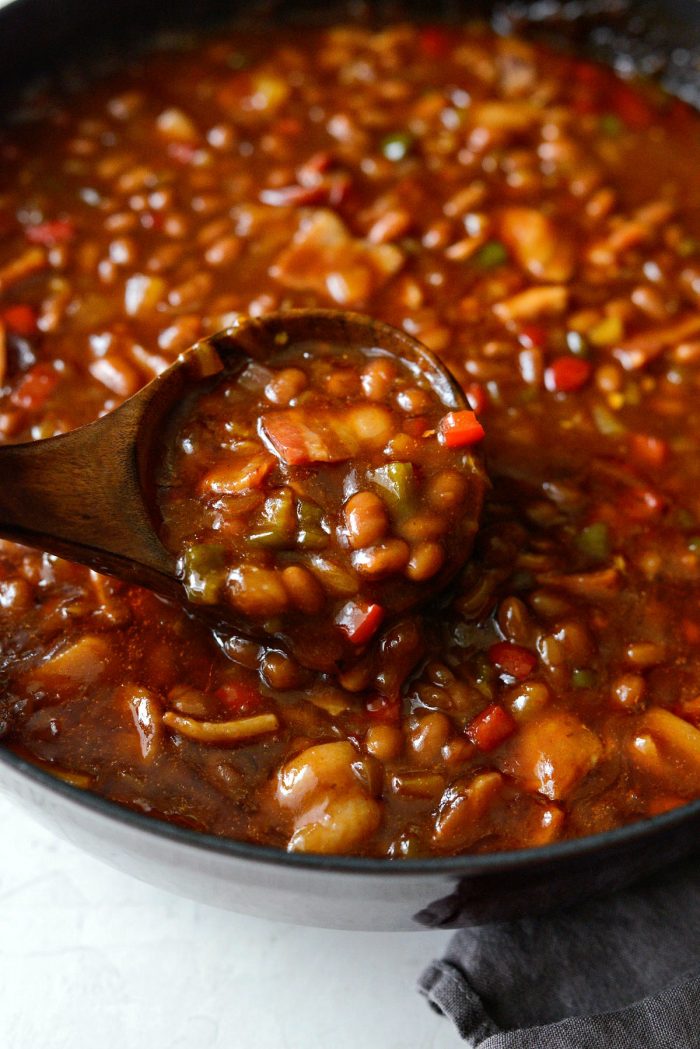 We smoked a brisket over the weekend and I made these to go with it. But I can attest that these beans are great with grilled chicken drumsticks, burgers, hot dog and brats or ribs.
To tell you the truth, I could eat a bowl of these as is and it would be totally okay with me.
Enjoy! And if you give this One Pot Wicked Baked Beans recipe a try, let me know! Snap a photo and tag me on twitter or instagram!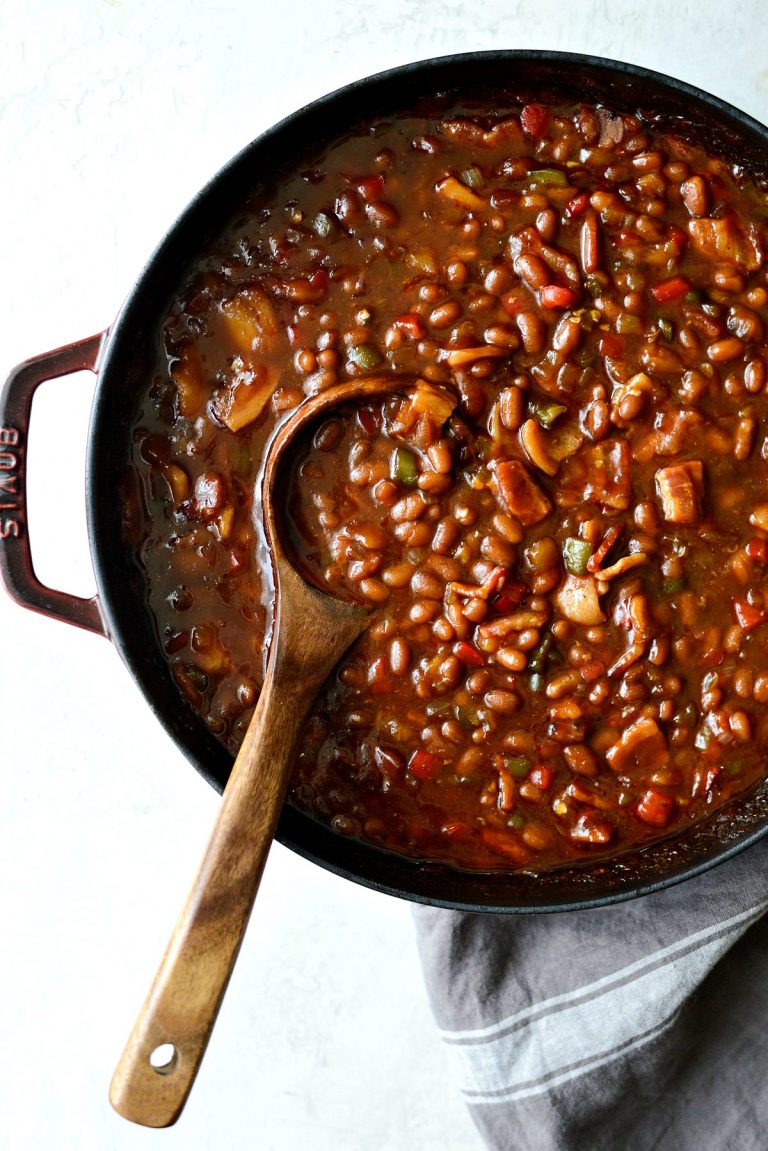 This post may contain affiliate links.
Buy the Cookbook: Simply Scratch : 120 Wholesome Homemade Recipes Made Easy Now available on Amazon »
THANK YOU in advance for your support!