Carolina Mustard BBQ Sauce is the perfect combination of sweet and tangy with a punch of black pepper. A mustard base bbq sauce that is great on just about everything from pulled pork to grilled chicken, hot dogs and brats, and I've even dip raw veggies in it. It's incredibly easy and ridiculously good.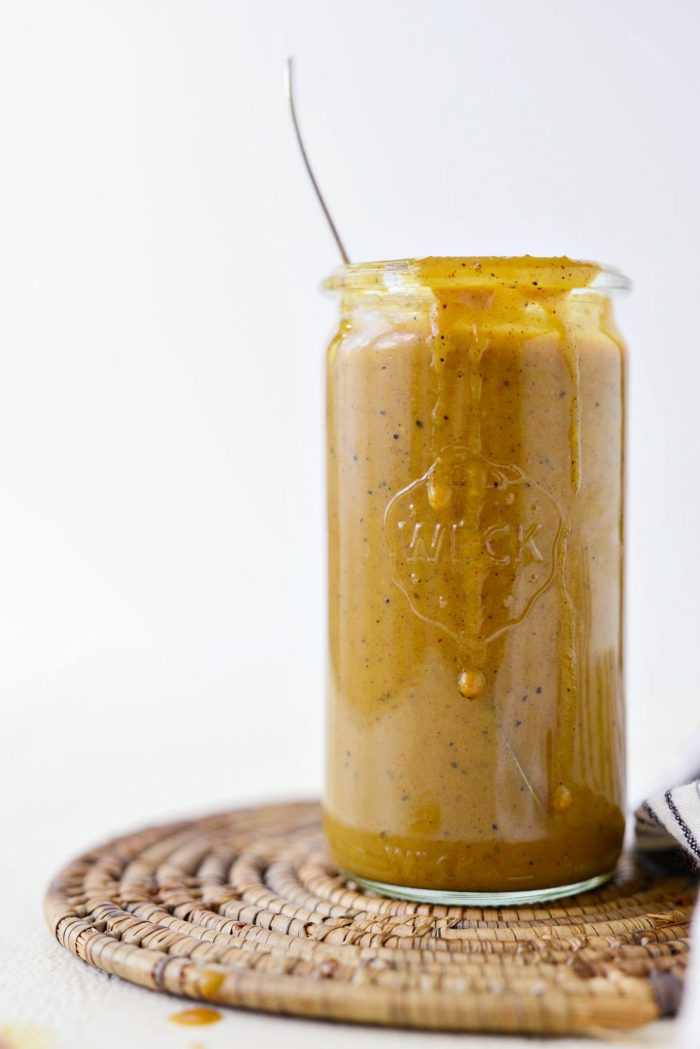 Football season has officially began and I couldn't be more excited.
You heard that right. A once non-football fan is now looking forward to the season. Partly because I love cozy football Sundays, but mostly because of the food. A few years ago I started making football-ish types of food just about every Sunday for the fall and winter months. Like chili, coney dogs, pizza or French dip sandwiches. Fall food that can be enjoyed on the couch in front of the TV. Six out of seven days of the week we sit at the kitchen table, so it's a fun break from the norm.
I've mentioned we bought a smoker this year, and this week I'm sharing a few recipes we have made over summer because we plan to smoke allthethings for football Sunday.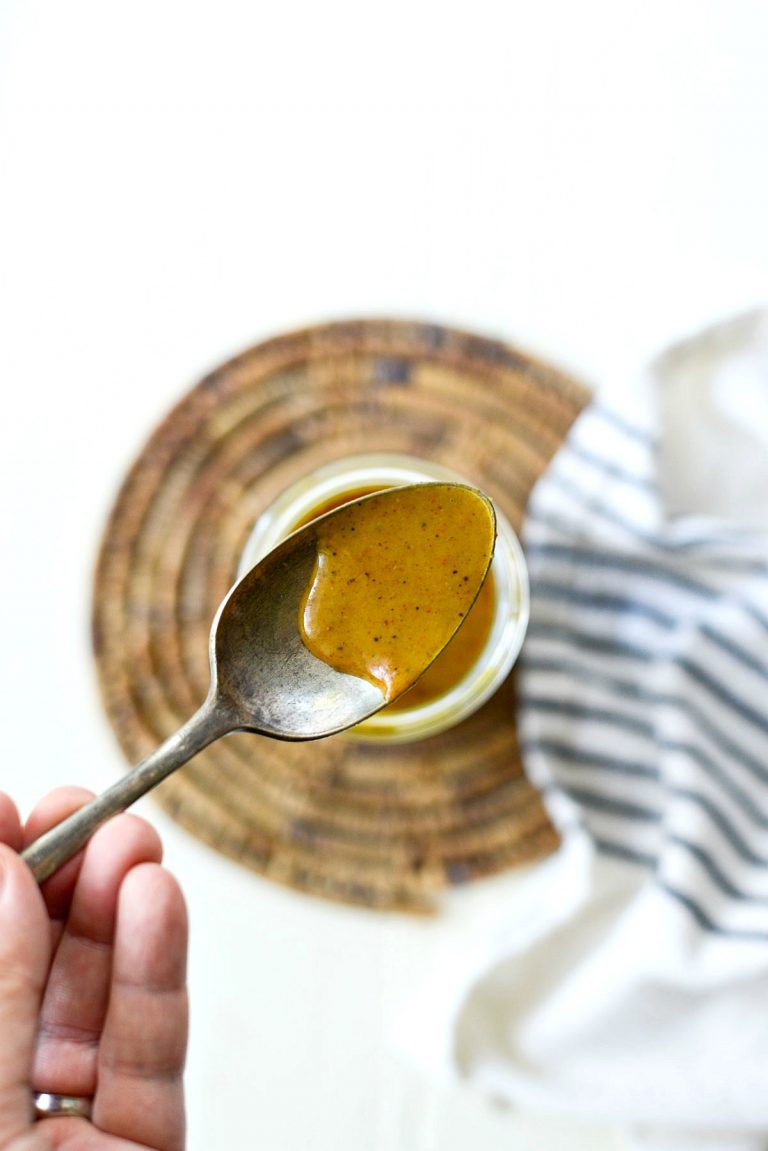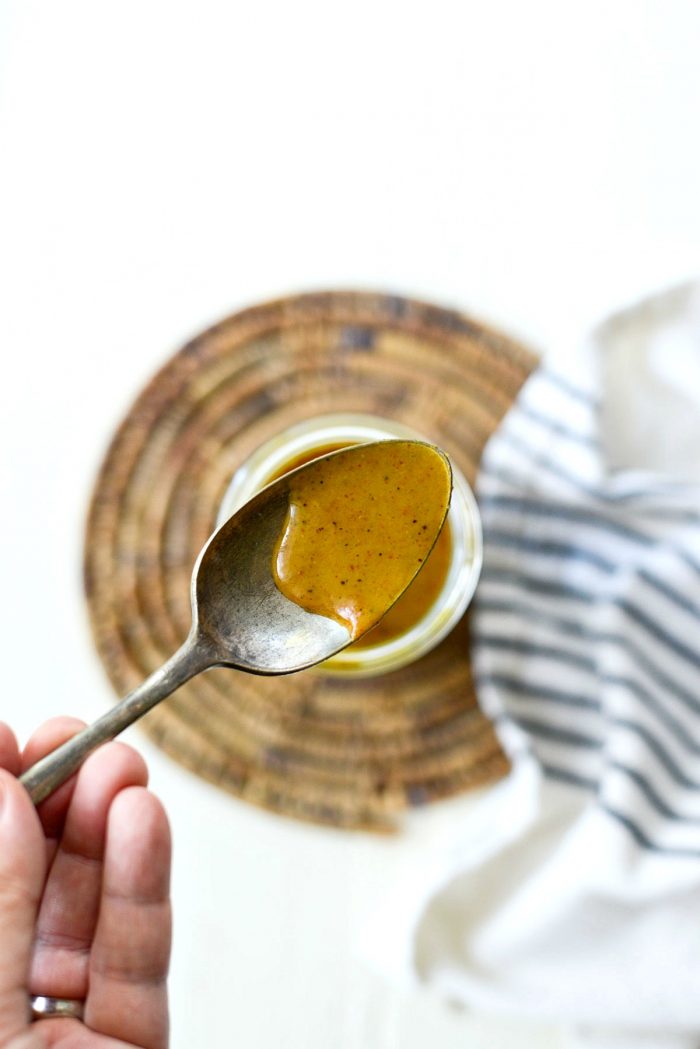 I'm starting the week out with this INCREDIBLE Carolina Mustard BBQ sauce. It's one of my absolute favorites – tangy, slightly sweet and peppery. It's great on smoked pulled pork, grilled chicken and smoked sausages. It's amazing on just about everything.
To Make Carolina Mustard BBQ Sauce You Will Need:
yellow mustard
dark brown sugar
chili powder
black pepper
cayenne
garlic powder
onion powder
kosher salt
vinegar
water
unsalted butter
Start by measuring 1 cup yellow mustard, 3/4 cup dark brown sugar, 1 tablespoon chili powder, 1 teaspoon both kosher salt and ground black pepper, 1/2 teaspoon cayenne, 1/2 teaspoon both garlic and onion powder.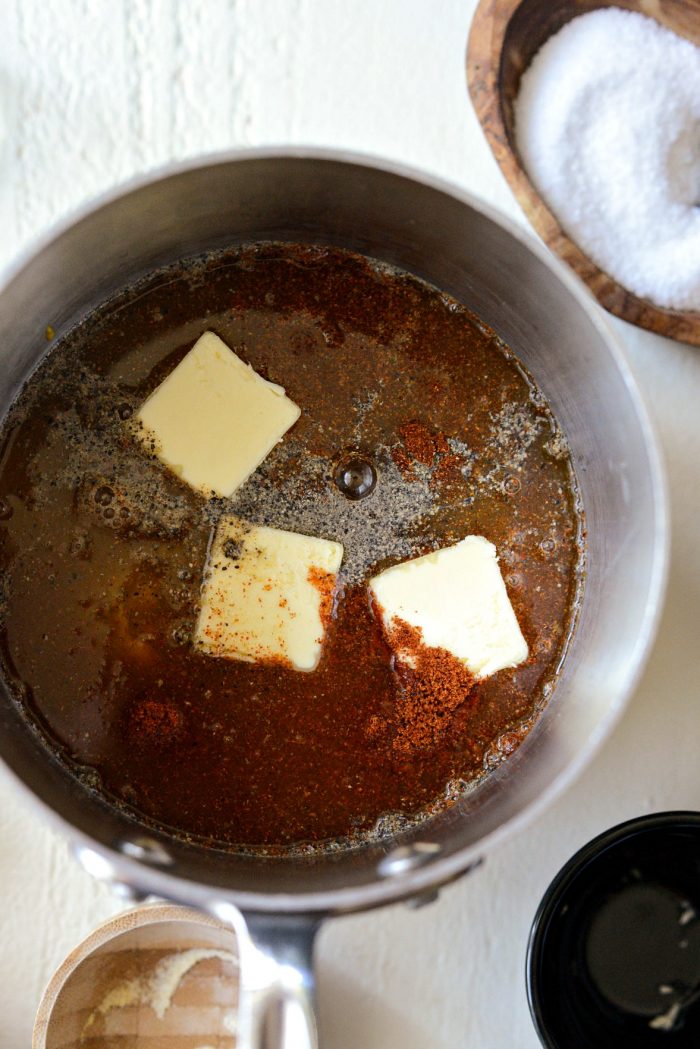 To that, measure and pour in 3/4 cup distilled white vinegar and 1/4 cup water. Lastly, drop in 3 tablespoons of unsalted butter.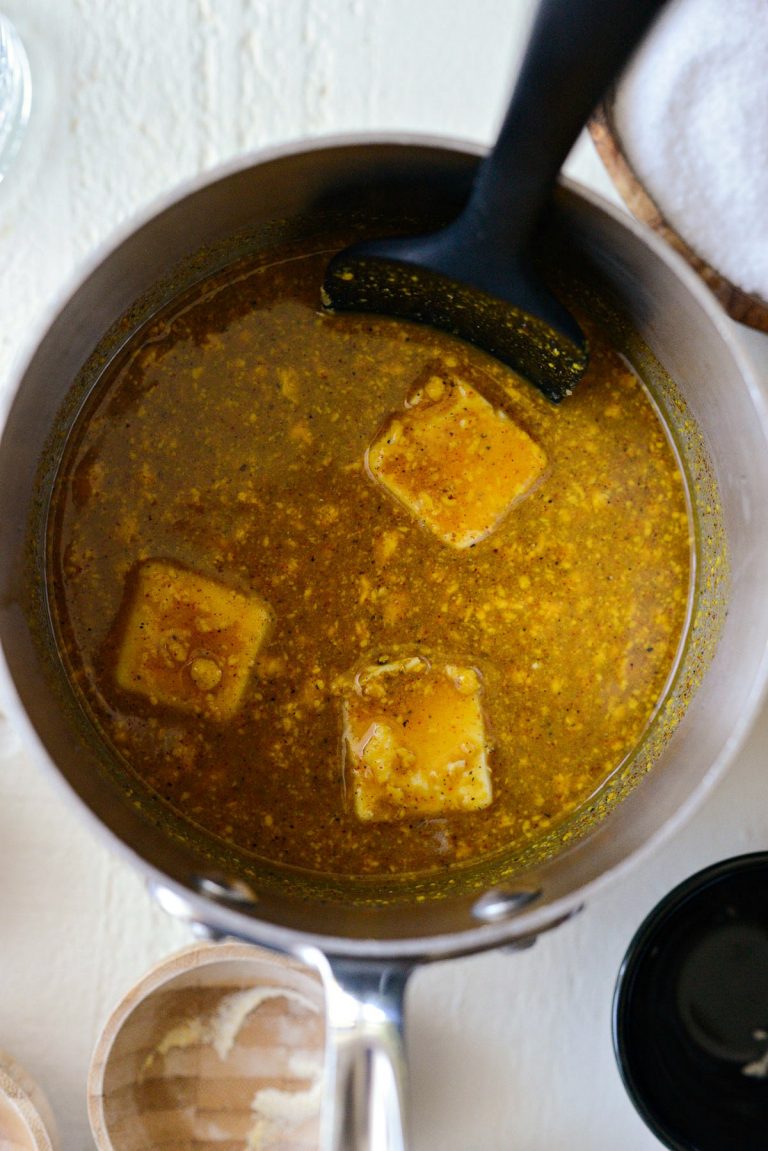 Stir to combine and heat over medium-low for 2o minutes.
Switch over to a whisk and whisk occasionally while the sauce heats – reducing the heat to low if necessary. After 20 minutes, remove the pan off of the heat and allow the Carolina BBQ sauce to cool completely before storing in a jar or squeeze bottles.
Enjoy! And if you give this Carolina Mustard BBQ Sauce recipe a try, let me know! Snap a photo and tag me on twitter or instagram!
This post may contain affiliate links.
Buy the Cookbook: Simply Scratch : 120 Wholesome Homemade Recipes Made Easy Now available on Amazon »
THANK YOU in advance for your support!