Roasted Pumpkin Purée is easy and so much better than canned. Skip the can and make your own homemade roasted pumpkin purée from scratch! It can be. substituted in any recipe calling for pumpkin puree! You can also roast butternut squash this same way.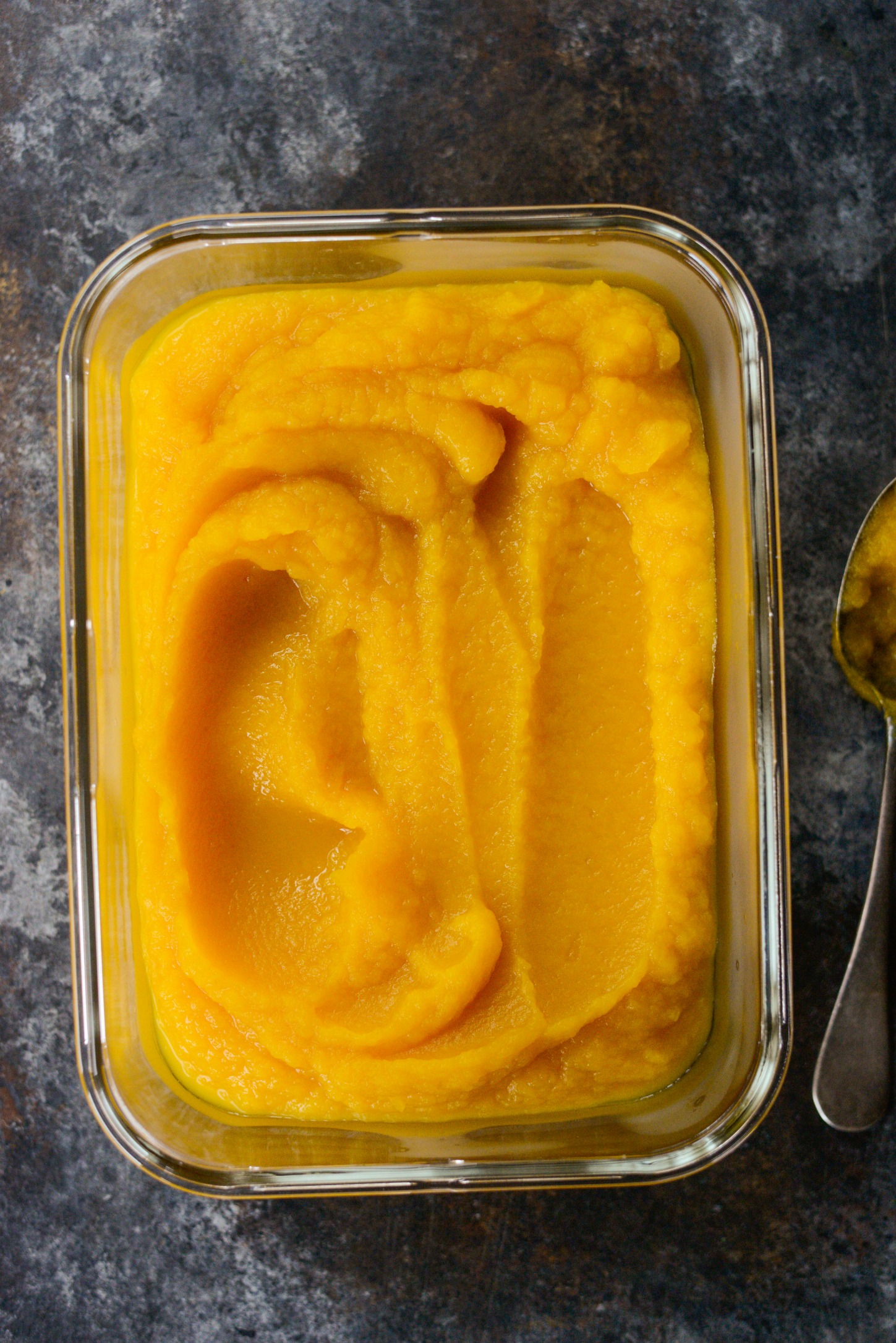 Like most, whenever I've made pumpkin pie I have used canned pumpkin purée. Why? Maybe because it seemed easier and the "norm" but I think that's because, until recently, I never really knew I could make my own. I mean who hasn't used canned pumpkin??
This pie making season was going to be different. I wanted to make a Thanksgiving pumpkin pie from scratch using roasted pumpkin purée.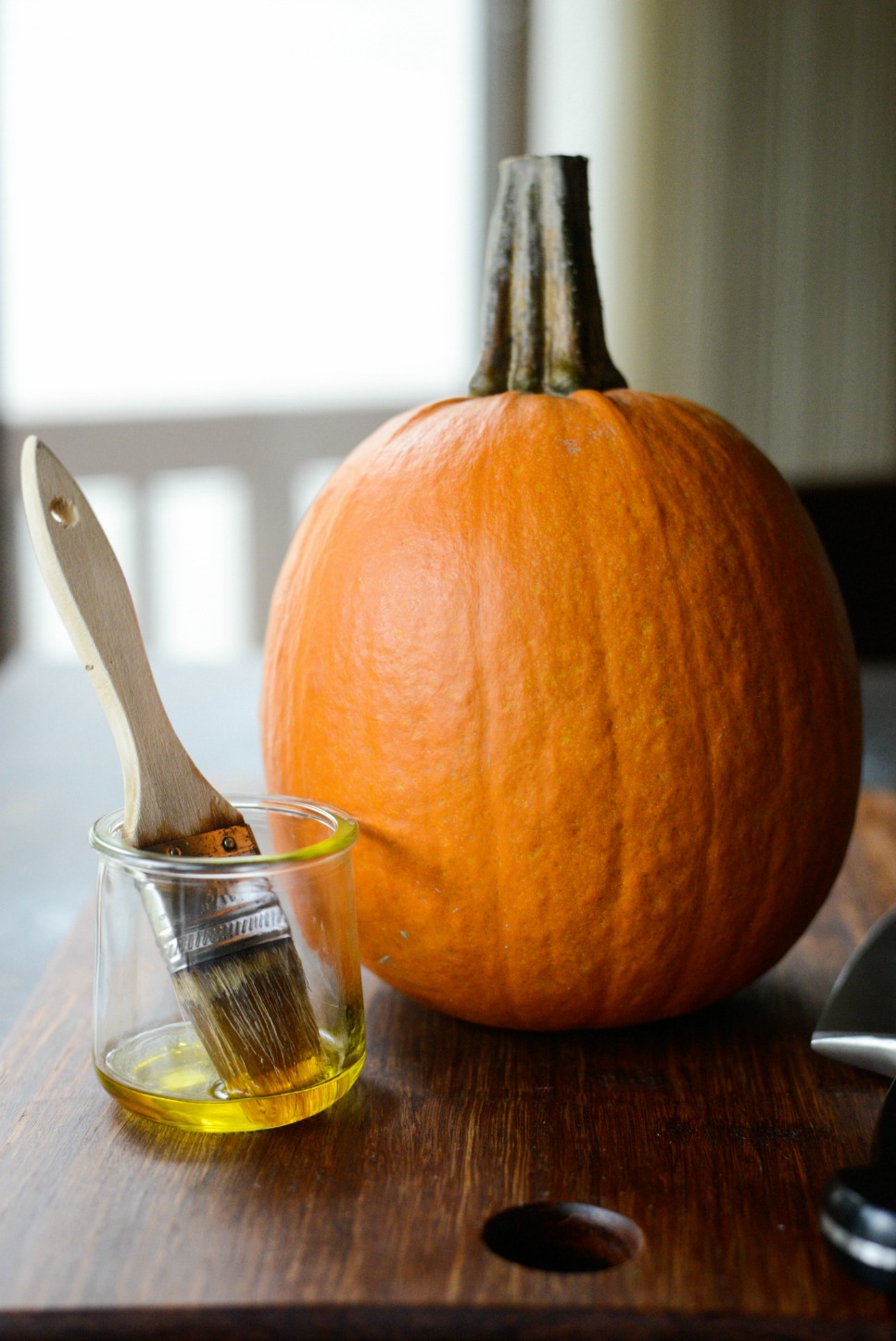 What Size Pumpkin Should You Use To Make Puree?
I always use a 2-1/2 to 3-1/2 pound "pie pumpkin". But I've also roasted two smaller pumpkins that were about a pound to a pound and a half each. However you need roughly about 2-1/2 to 3 pounds for 4 to 5 cups of roasted pumpkin purée. I like to make enough to use in a batch of soup or to freeze for later for things like Pumpkin French Toast or Chai Pumpkin Pie.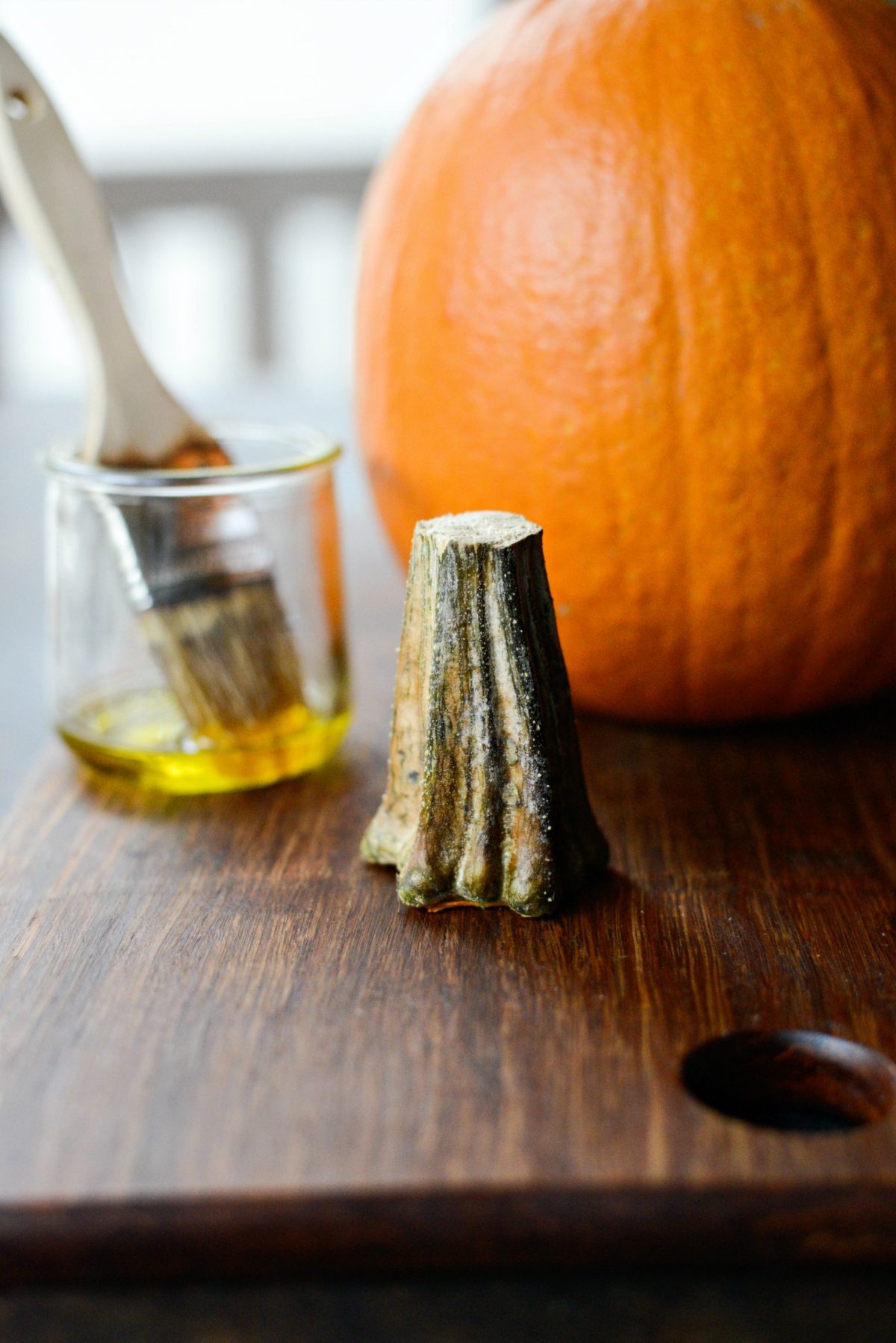 Remove the stem of the pumpkin, by twisting and pulling at the same time, this only works if you buy pumpkins with a longer stem, which makes the task a whole lot easier. Trust me. I don't know if it's because this pumpkin was from my Mom's garden, but it wouldn't budge. I had to wedge the blade of my chef's knife and eventually it came off.
Use a large knife to cut the pumpkin in half. If the pumpkin is particularly stubborn or your knife is dull, a rubber mallet can be used to tap the knife through.
Once the pumpkins are halved and the seeds and fibers are exposed grab a spoon to hallow out the center and place the seeds into a bowl. I save them for roasting.
Try to remove as much of the pumpkin fibers and then soak the seeds in water and pull out any larger pieces of pumpkin. Eventually the pumpkin fibers will have sunk to the bottom and the seeds will float to the top of the water.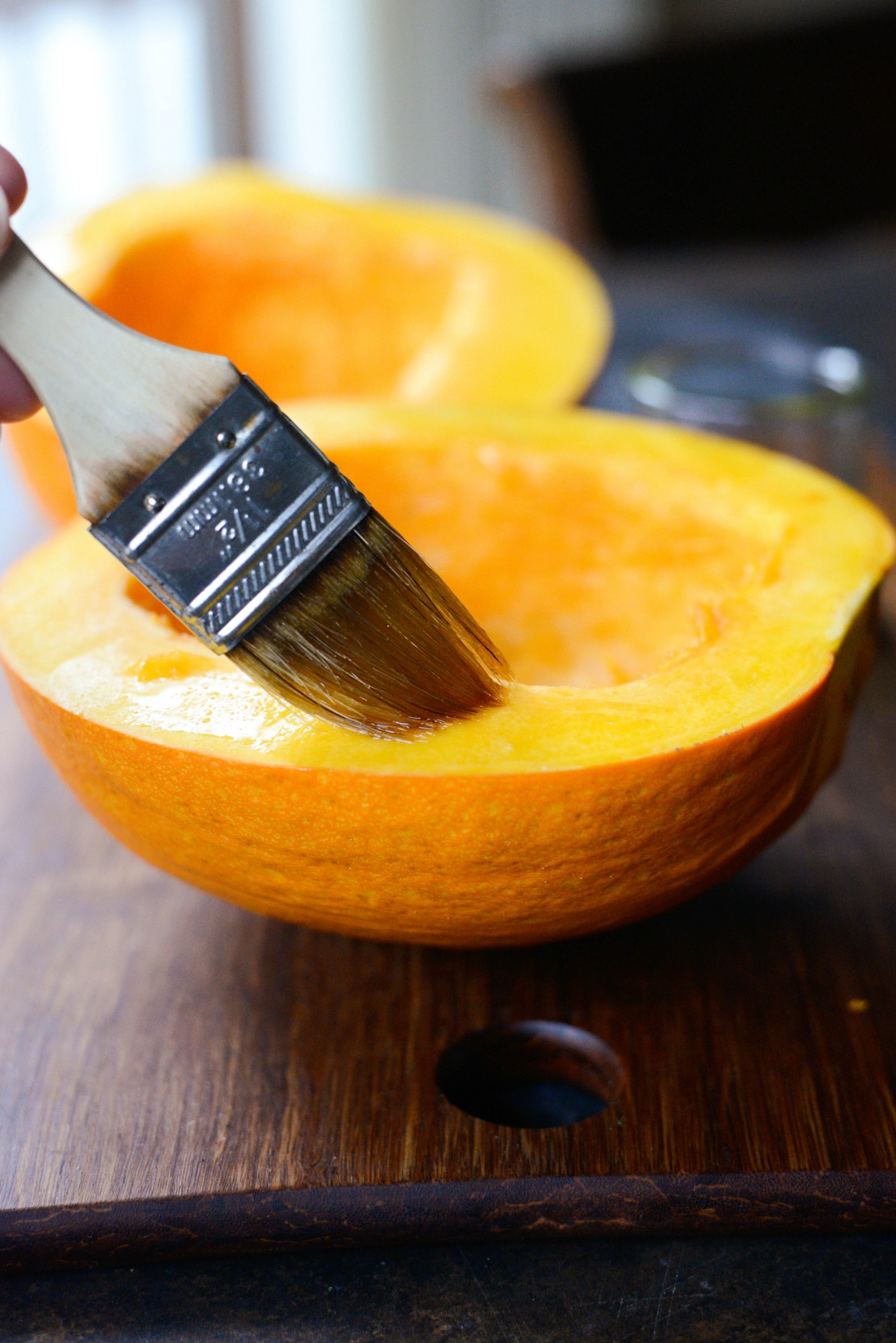 Then brush the cut side of the pumpkin with olive oil.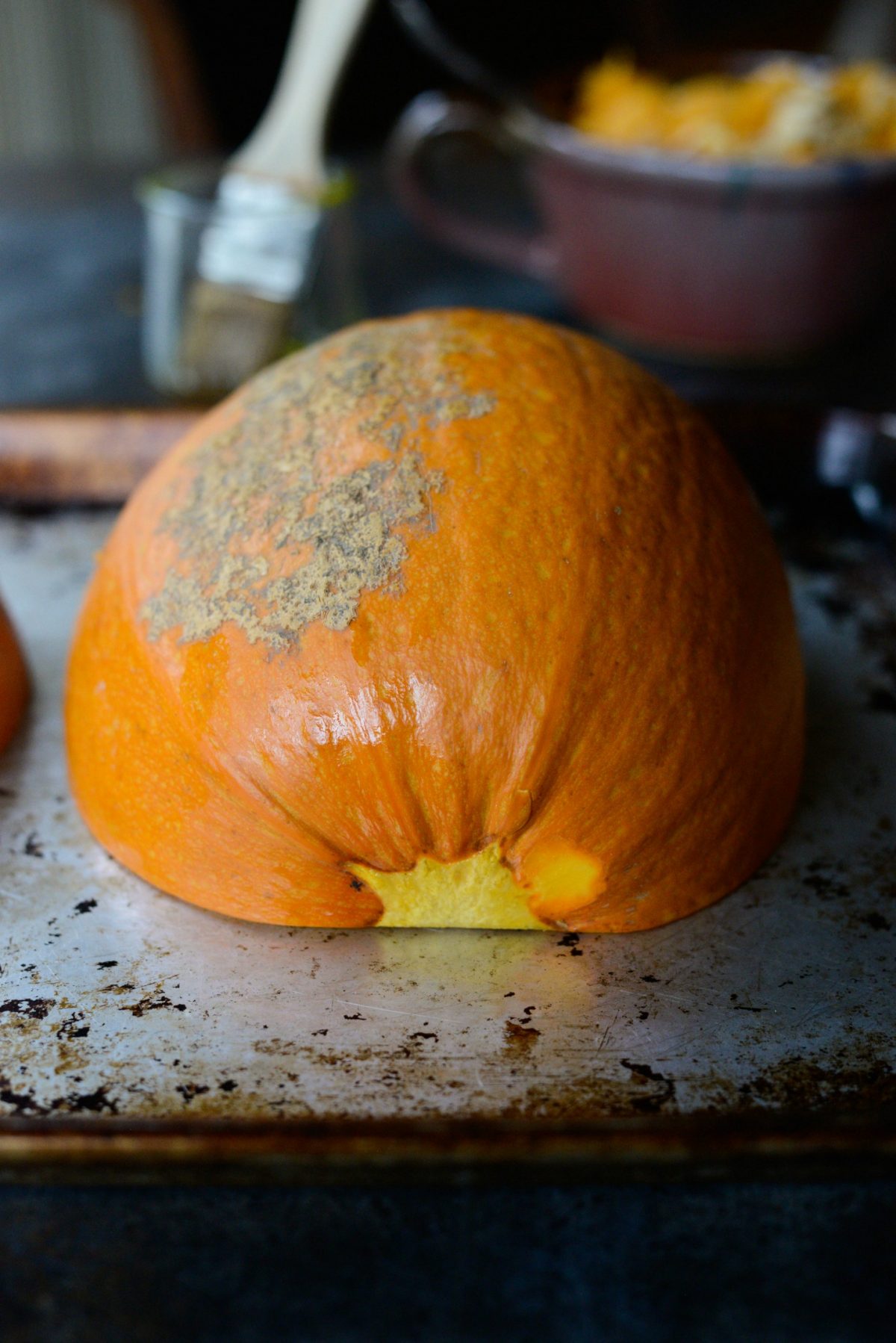 Turn and roast the pumpkin cut-side down on a metal rimmed baking sheet for about forty minutes in your preheated 400°, rotating the pan half way through the cooking time.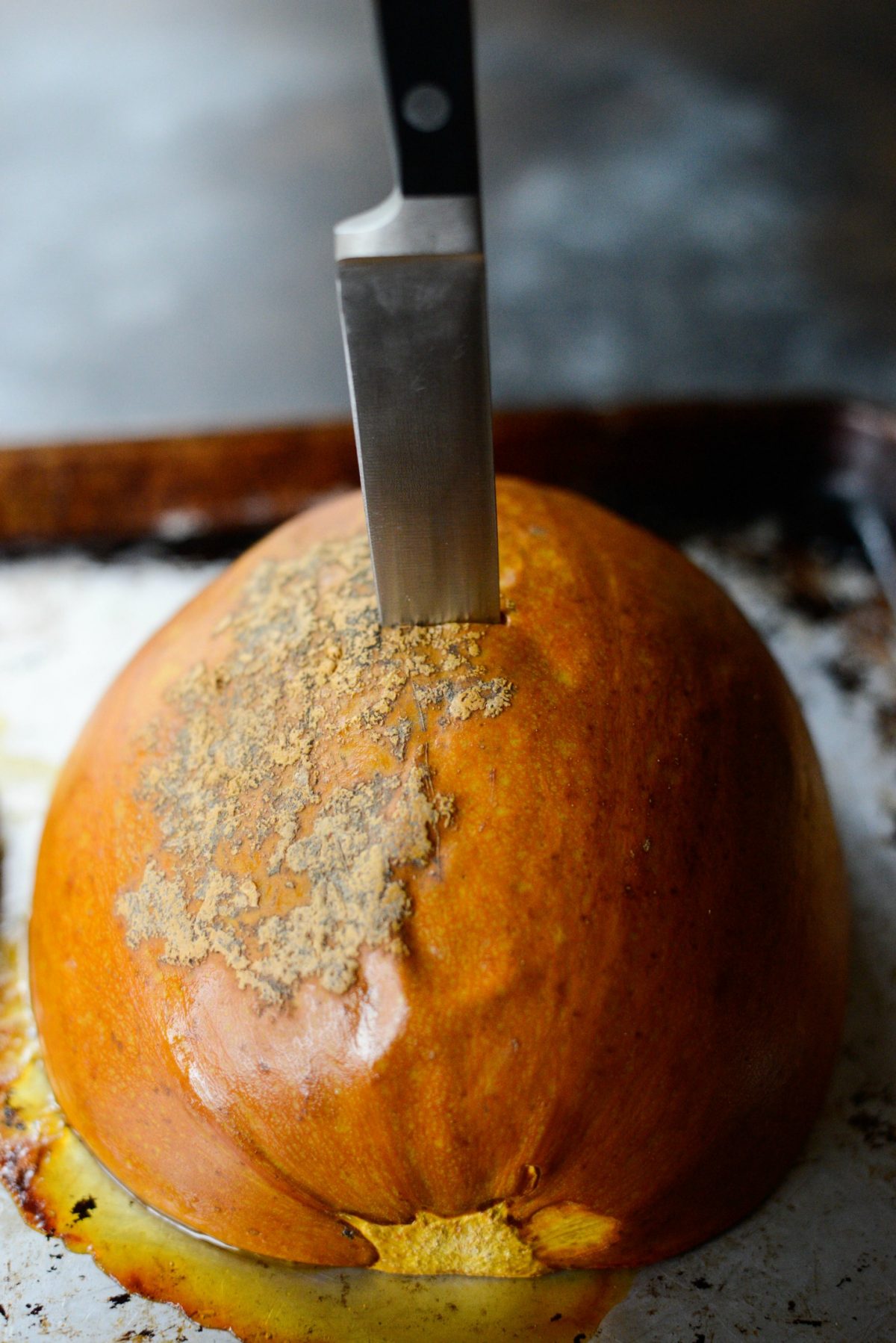 The pumpkins are done when the house smells of fall pumpkin-y goodness. The skin should be dark and golden and the flesh tender when a knife pierces through it should go in without any resistance.
Like buttah baby.
Larger pumpkins may need a little longer.
Let the pumpkins cool until safe to handle. When they were't so hot, I flip them over to release any trapped steam and to cool further.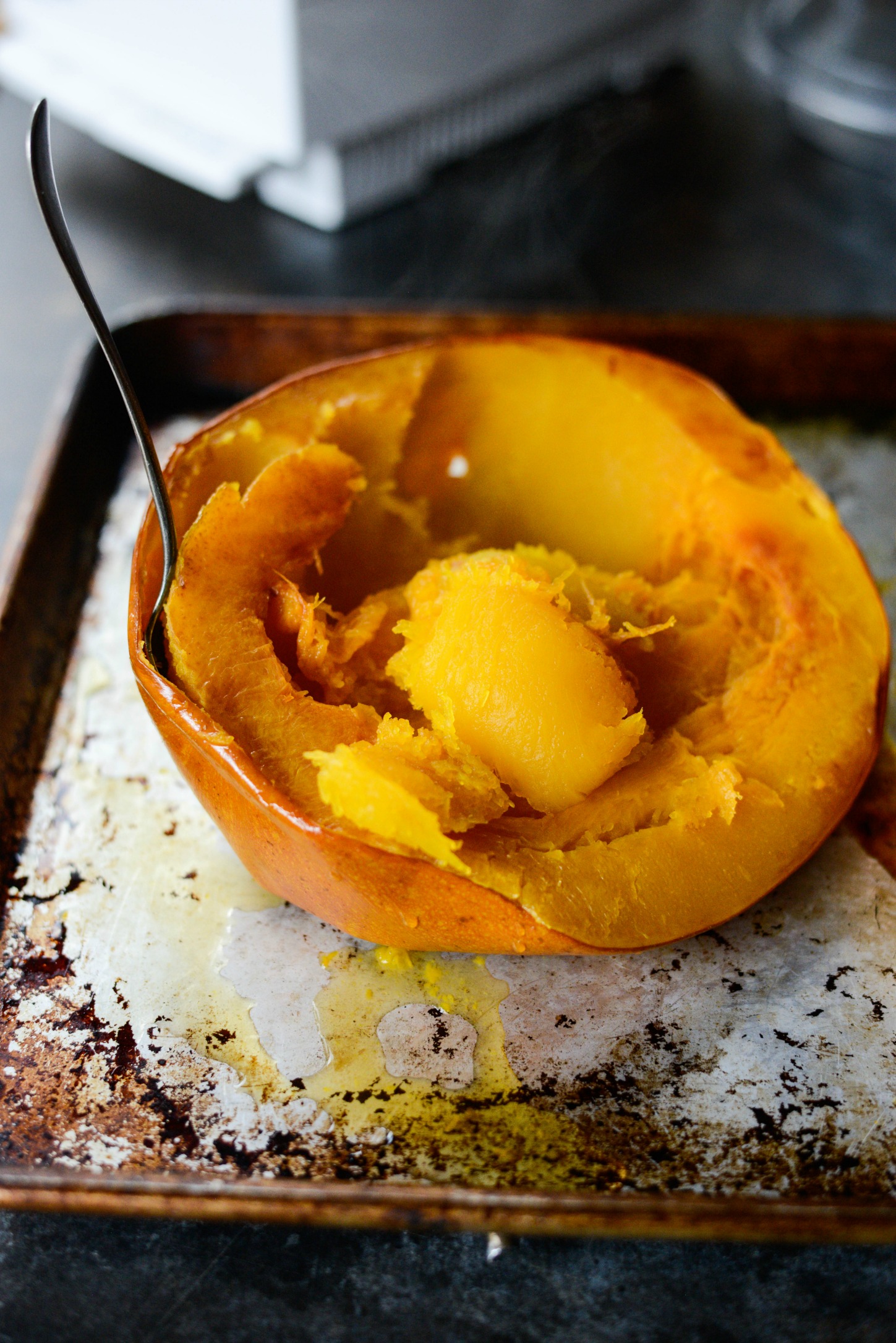 Once the pumpkins are cool enough to handle, use a spoon and scoop out the flesh.
Loaded all of the pumpkin flesh into your food processor, secure the lid and purée until smooth. You may have to stop halfway to scrape down the sides.
My pumpkin made a little over 4 cups. I have big soup plans this weekend so I'll be using all of this roasted pumpkin purée but you could use some now and freeze it in 1 cup batches for up to 3 to 6 months.
The next time you are making a recipe that calls for canned pumpkin, try making this roasted pumpkin purée yourself.
You won't regret it!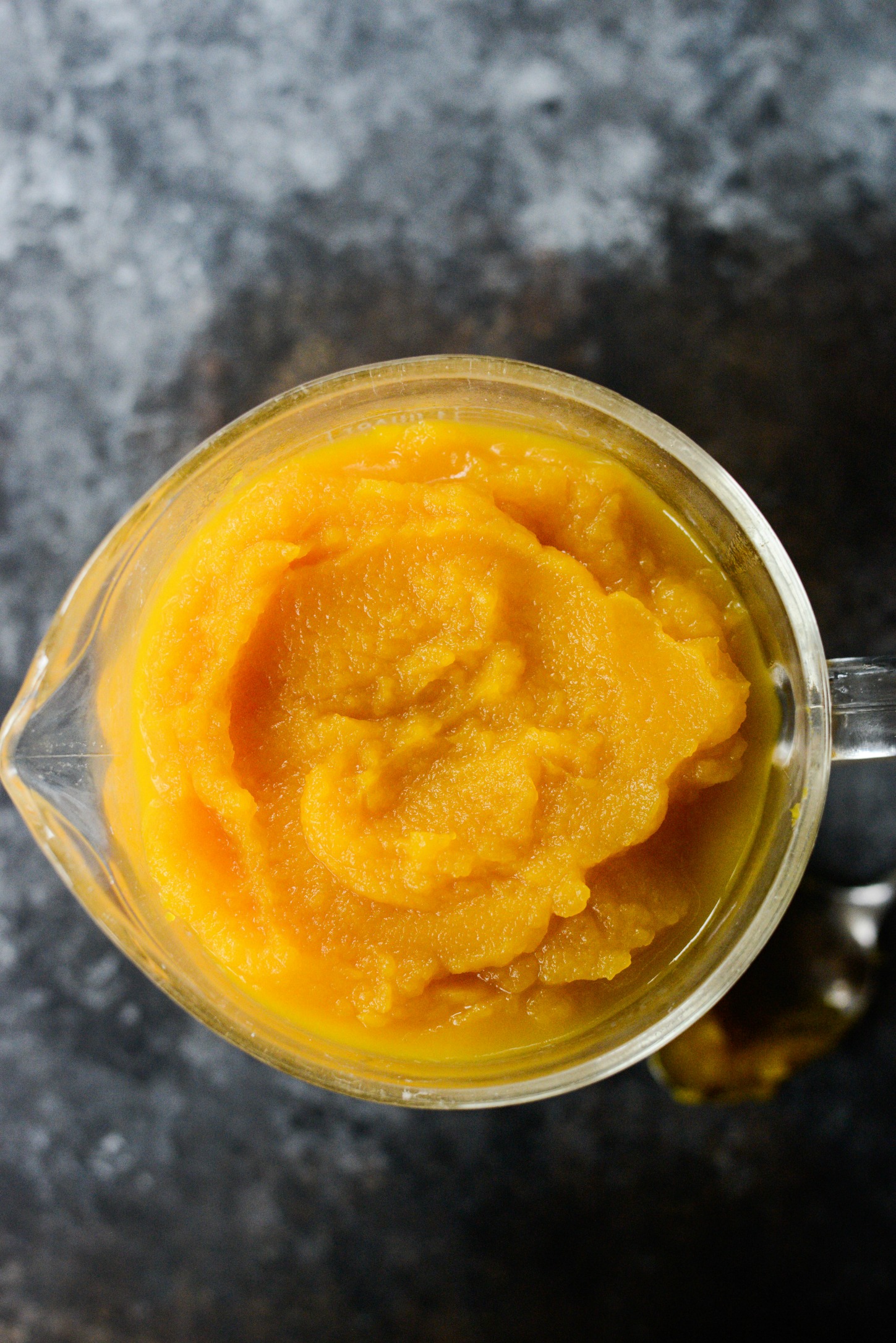 Recipes Calling For Roasted Pumpkin Puree:
Nutella Cheesecake Pumpkin Muffins
Ginger Pumpkin Bread with Maple Brown Butter Icing
Oatmeal Pumpkin Chocolate Chip Cookies
Pumpkin Dark Chocolate Chip Muffins
Enjoy! And if you give this Roasted Pumpkin Pureé recipe a try, let me know! Snap a photo and tag me on twitter or instagram!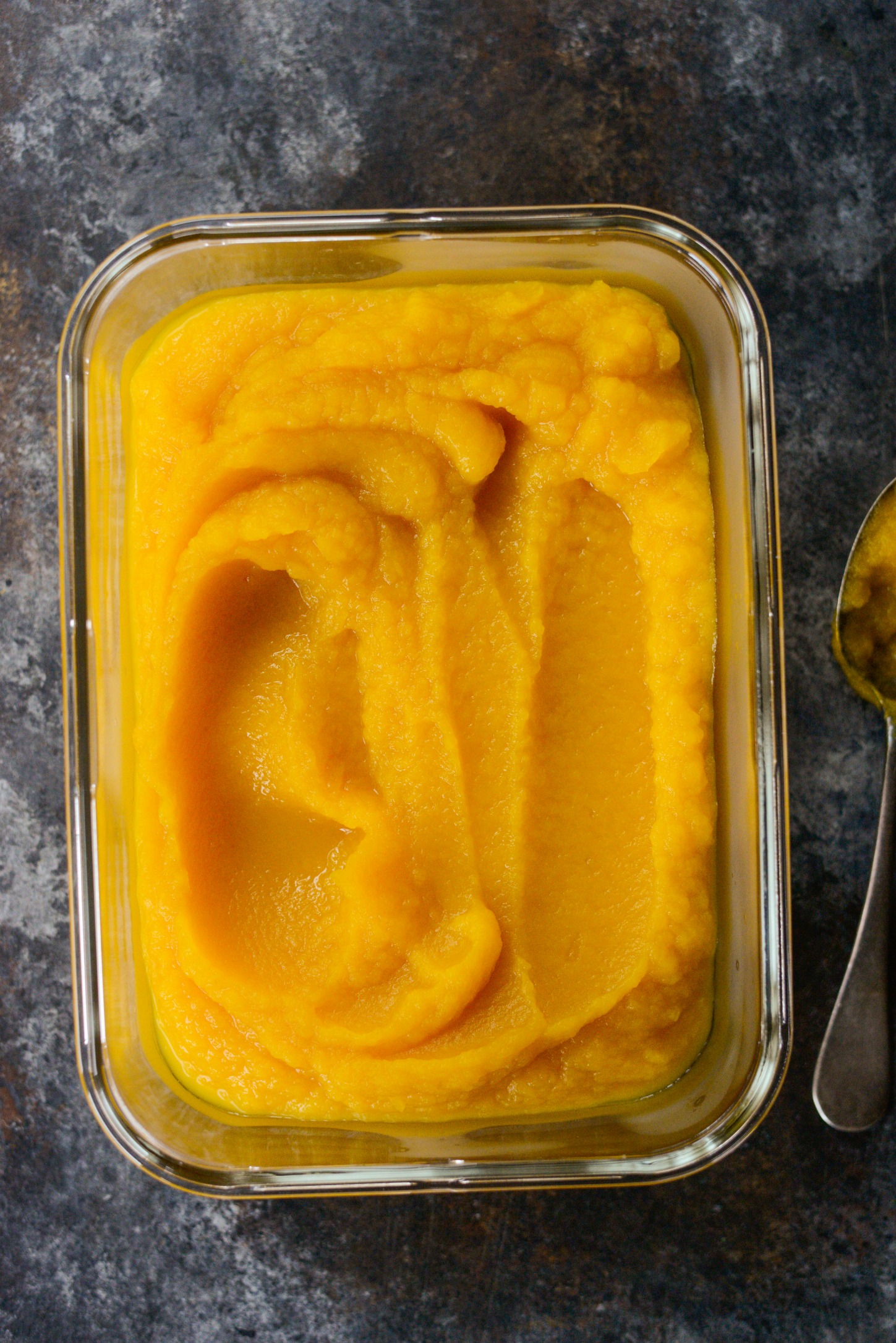 This post may contain affiliate links.
Buy the Cookbook: Simply Scratch : 120 Wholesome Homemade Recipes Made Easy Now available on Amazon »
THANK YOU in advance for your support!