This brown sugar maple pumpkin pie is an elevated version of the original beloved classic. This year let this gorgeous pie grace your holiday table.
You guys, I've made the decision that I am now going to make pie once a week for its comfy-cozy aroma alone (okay and also because then there will be constant pie!)
I'm dead serious! It's a great idea because who needs a plug-in air freshener when there's pie? A pie you can eat at least, a plug-in… not so much.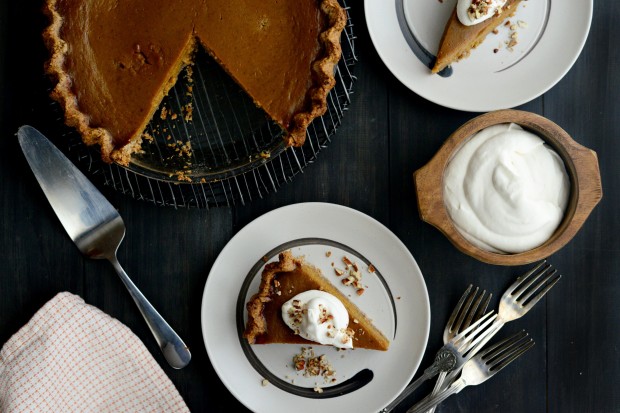 I can't believe I'm about to say this… but yes, I'm turning into quite the pumpkin pie fan. Pecan has always been my go-to but this pumpkin pie is the best (and I really try not to say that about too many recipes) pumpkin pie my lips have ever had the pleasure to wrap around a fork full of. The texture is silk. The spices are earthy and perfect and I feel like this pie is the end-all-be-all and has potentially ruined me for all future pumpkin pies. Sad but true.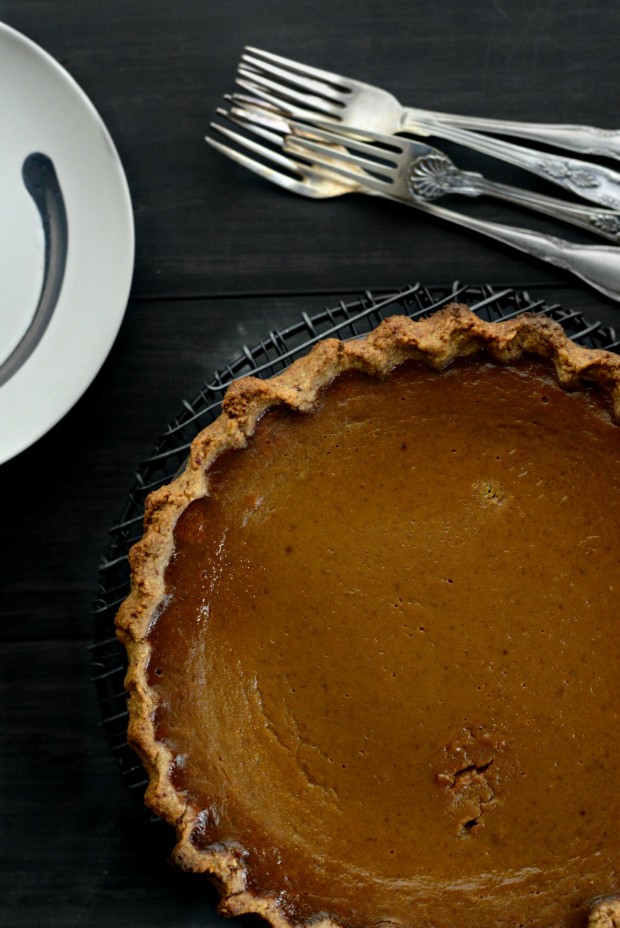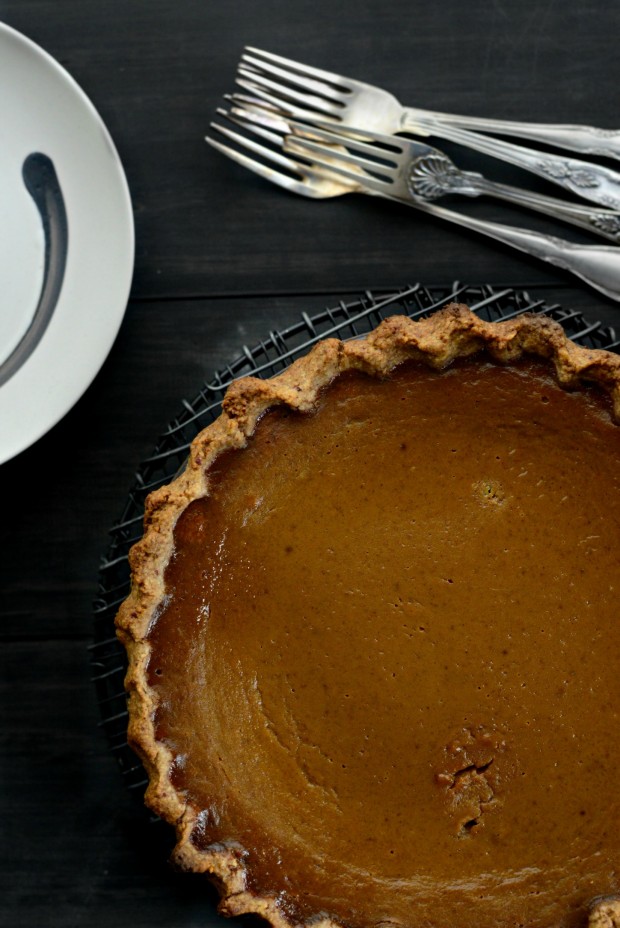 This time of year, we bloggers are at the mercy of Mother Nature and her darn daylight savings BS.  It never fails that I'll work all day (work being cooking) making-slash-photographing a recipe (i.e. this pie crust and this glorious filling, although I'm not sure what happened with that one spot. I bet one of my kids poked at it.) only to ended up leaving it on the counter because it's 4pm and sunlight is garbage. Which means I had to painstakingly wait and take the final photographs the next morning and only after then could I plunk down with a slice(s).
I kid you not every single time I would walk by it, smelling its pumpkin and spice deliciousness I wanted to stab it with a fork and eat it from the center outwards, saving the crust for last (duh!?). It was strange because I usually don't feel so strongly about stabbing a pie when pumpkin is involved. Apple… yes. Pecan… for sure! But pumpkin? Not usually.
Oh and a special thanks to my beautiful friend Heidi (Hi Heid!), I now enjoy my coffee with just a splash of cream in it… with my dessert… for breakfast. Winning.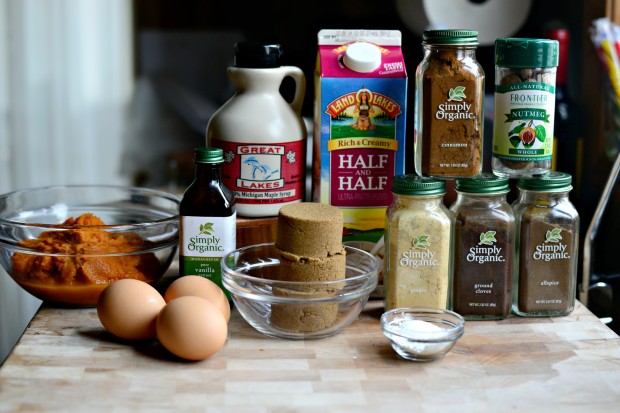 So I was going over my pumpkin pie from waaaaay back  and I literally just shook my head and thought that there has to be a better way to make pumpkin pie! A way without using sweetened condensed milk and pre-made pumpkin pie spice? Although the title says 'Scratch Pumpkin Pie' I'm thinking now that isn't so much the case. ugh.
BUT adding a few eggs and half & half to a bowl full of pureed pumpkin, dark brown sugar, maple syrup and spices will do the trick… for a filling so soft, smooth and creamy… it's like buttah, baby.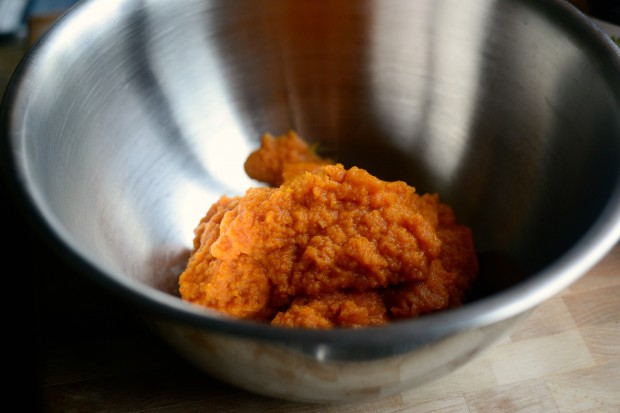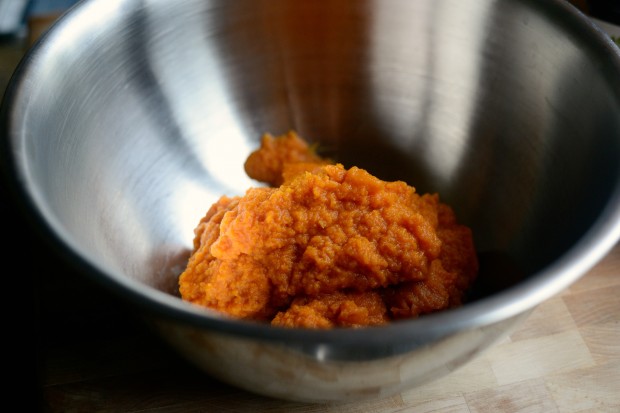 Start by adding 1-1/2 cups of pumpkin puree into a large bowl. Crack open a can or use my homemade roasted pumpkin puree recipe… the choice is yours.
To that, add in 3/4 cup dark brown sugar…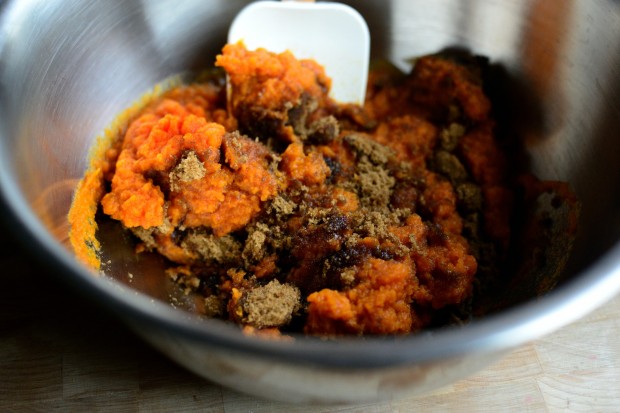 Stir until sugar is dissolved and mixed into the pumpkin.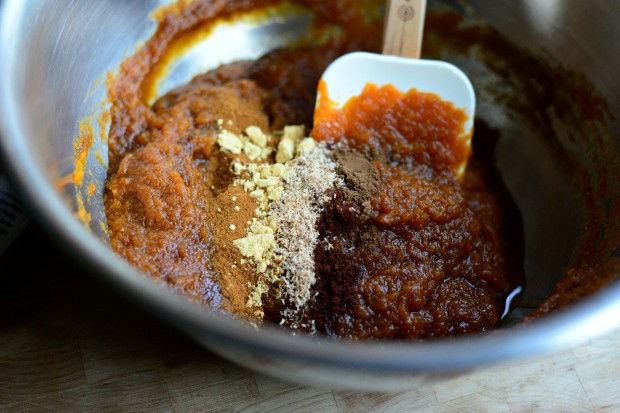 Spice this mixture up with 1-1/2 teaspoons ground cinnamon, 3/4 teaspoon ground ginger, 1/2 teaspoon freshly grated nutmeg, 1/8 teaspoon ground clove and allspice.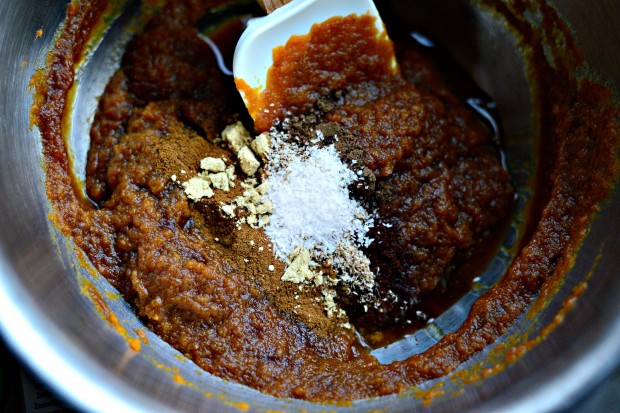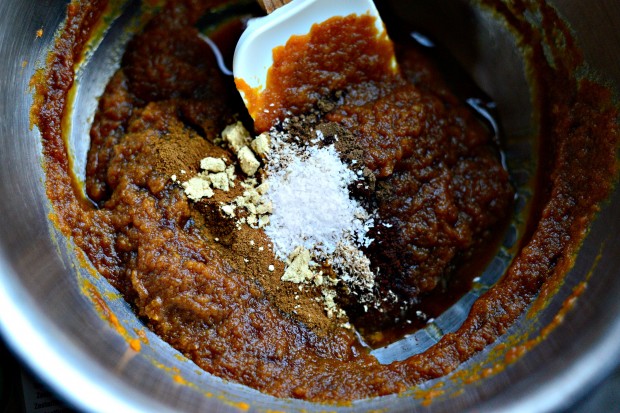 Add a 1/2 teaspoon of kosher salt.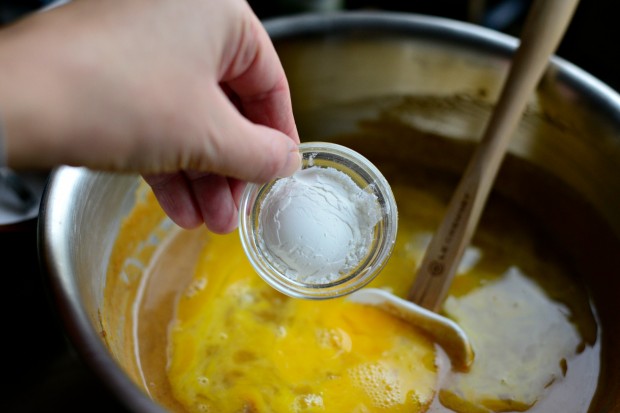 And now is a good time to add in the cornstarch. (and not with the eggs like I've done… it's easier this way, trust.)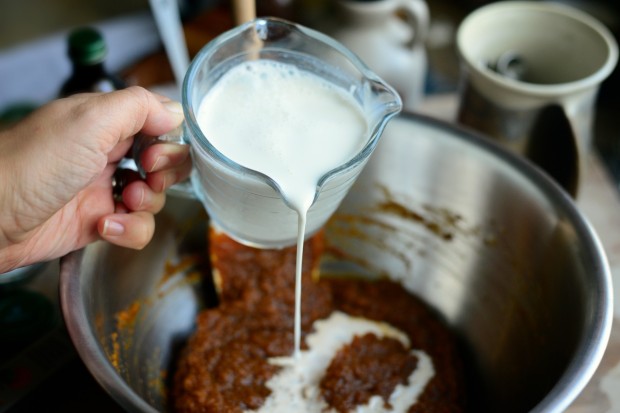 Stir in a cup of half and half…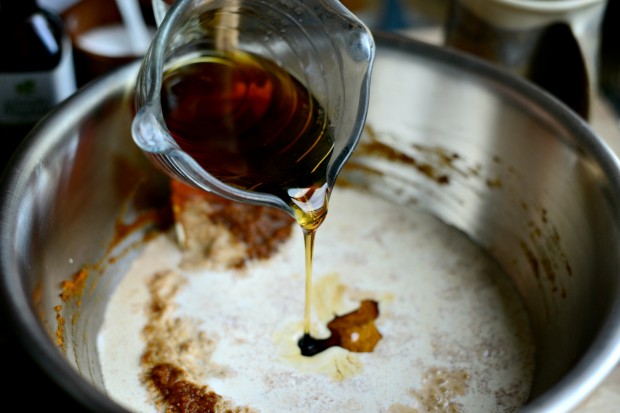 …and 2/3 cup of pure maple syrup.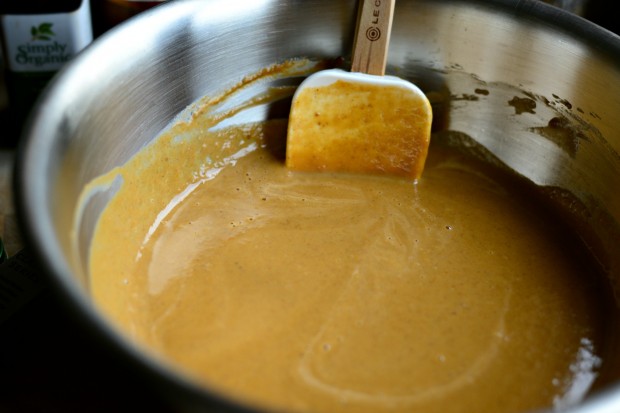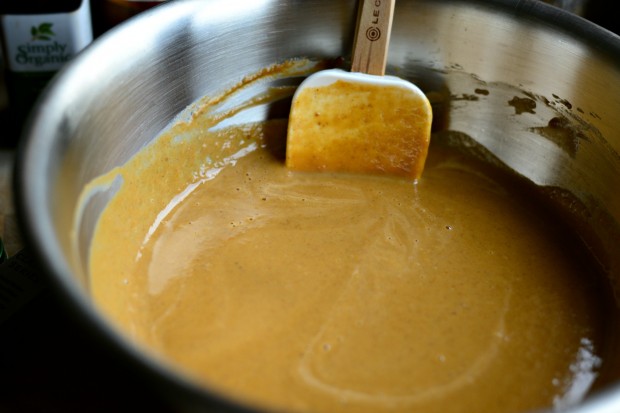 Stir until smooth.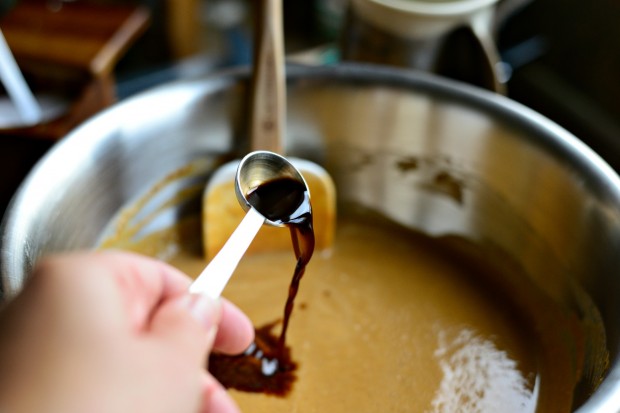 Lastly, add in a 1/2 teaspoon of vanilla extract…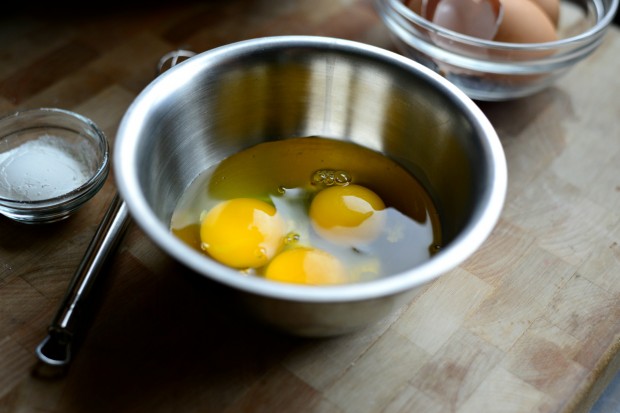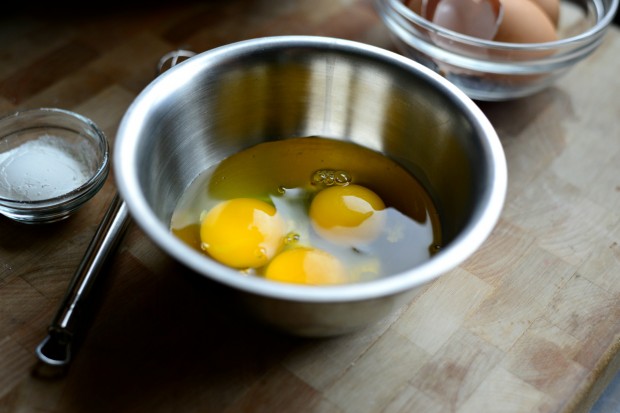 Crack three eggs into a small bowl…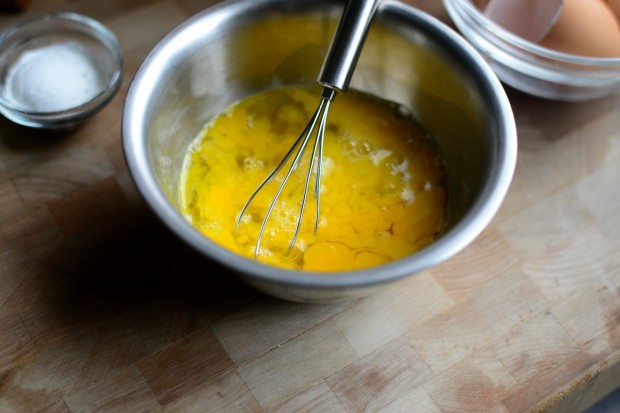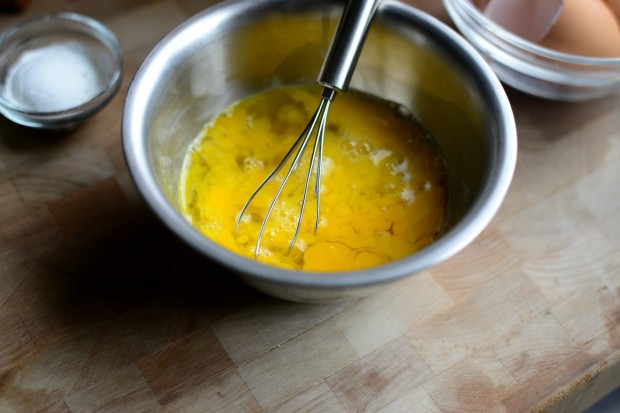 …give them a light beating…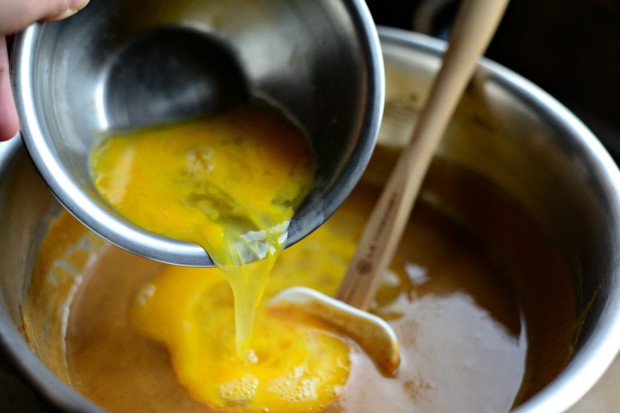 …and pour into the bowl of pumpkin goodness.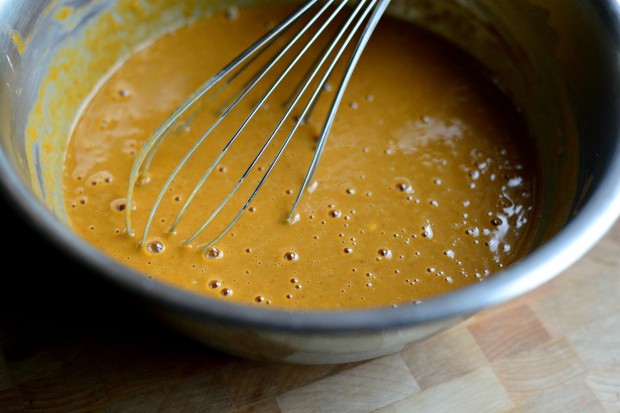 Whisk until thoroughly combined.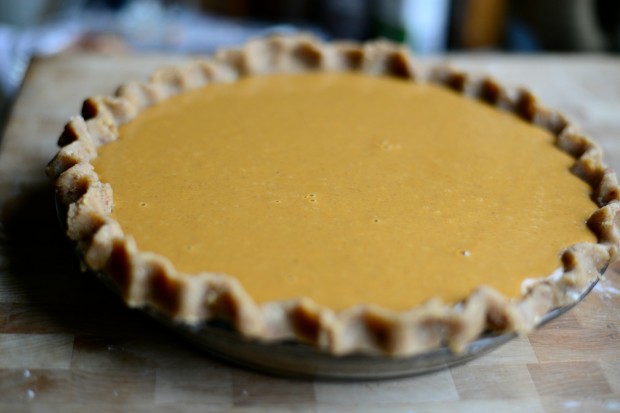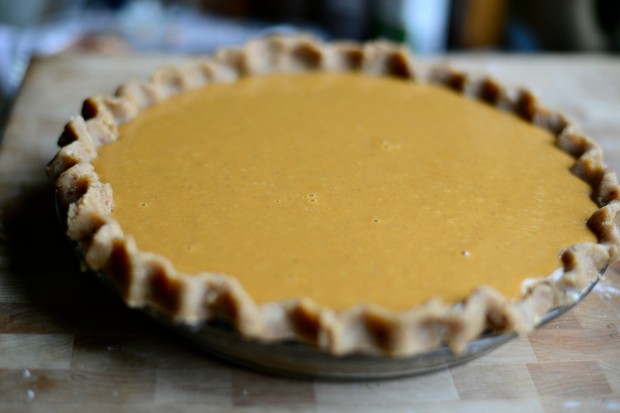 Pour the pumpkin pie filling into a prepared pie crust like this pecan whole wheat pie crust I keep yammering on about. Or this chocolate one even (have mercy) and bake in a preheated 350 degree oven for 60-65 minutes or until the center is set.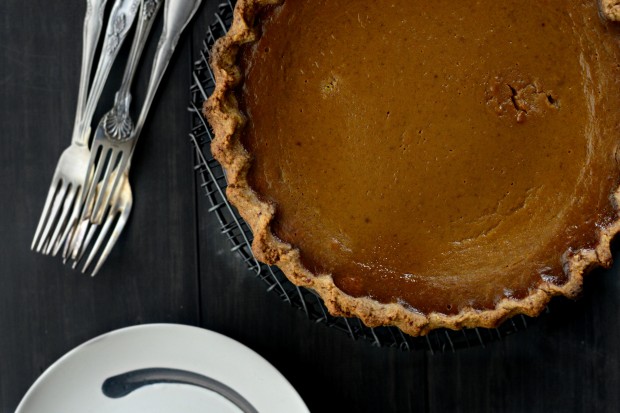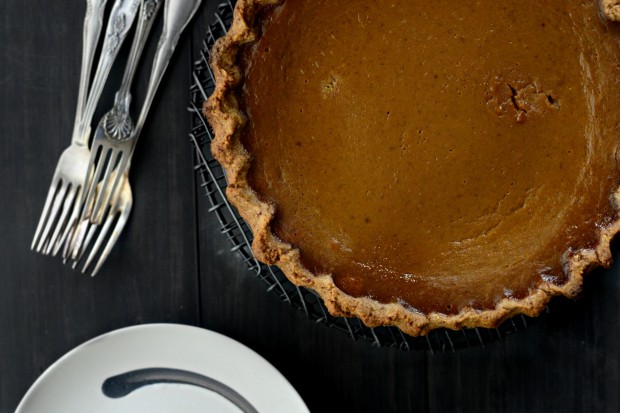 Let cool COMPLETELY!!! It's a tough job… but worth the wait.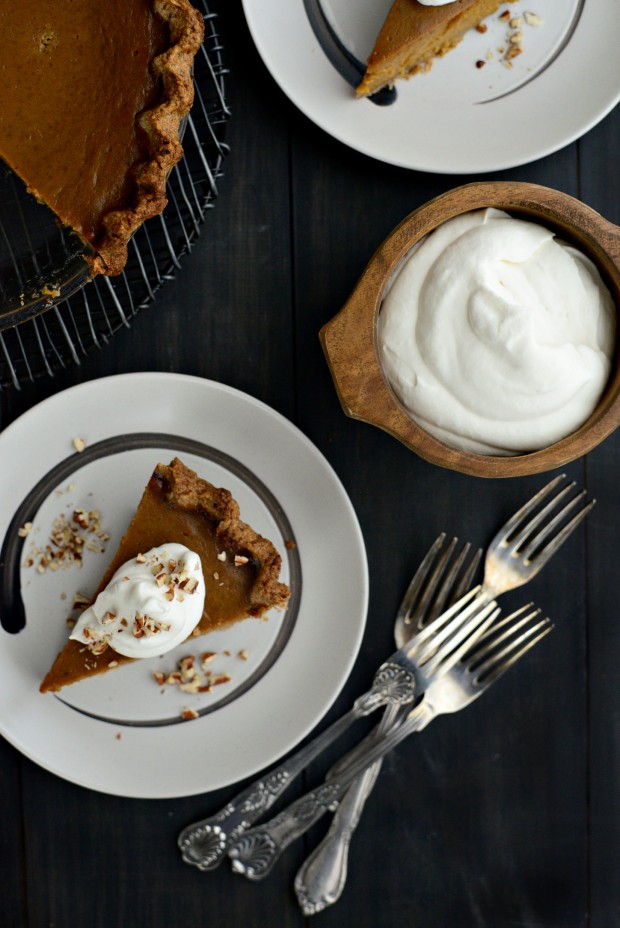 Slice the Maple Pumpkin Pie and serve with a dollop of homemade whipped cream and chopped pecans for a little flair.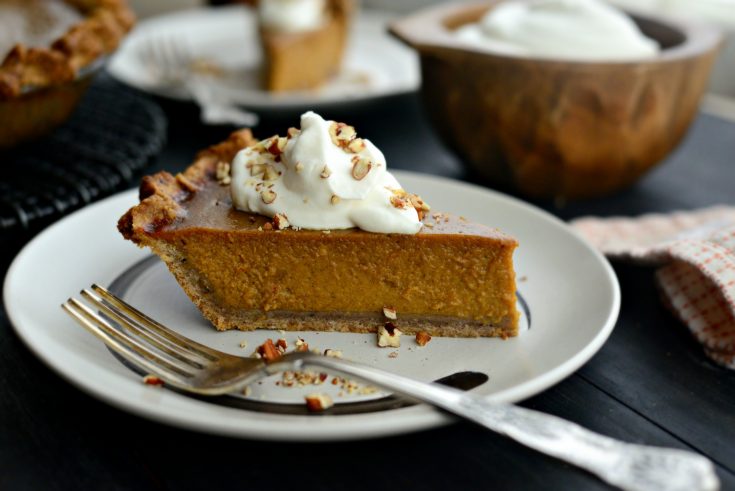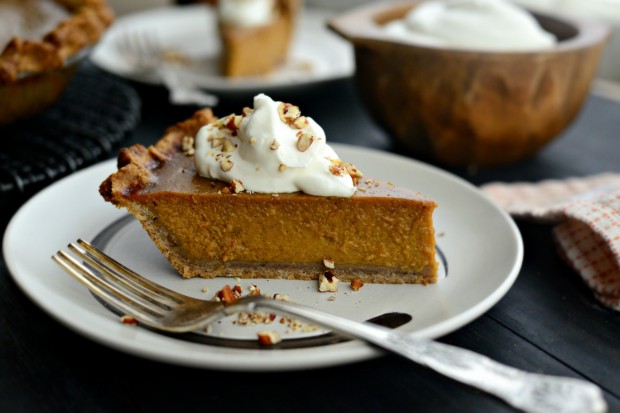 Would you just look at it!? I swear between the pecan pie crust and the scent of pumpkin pie swirling throughout my house… I will now be making this brown sugar maple pumpkin pie all year round.
There are worse things.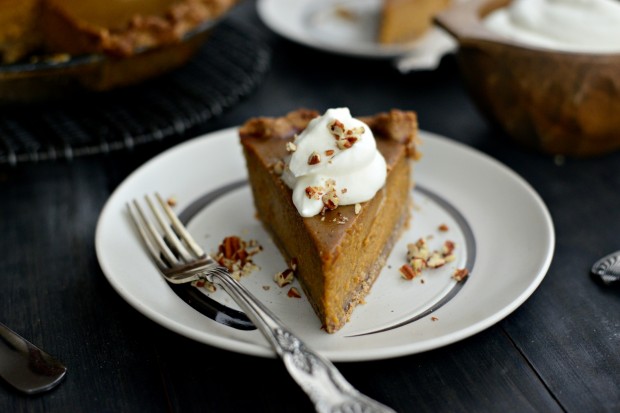 Now all that's left to do is arm yourself with a fork and stab.
Best. Pie. Ever.
You're Thanksgiving will thank YOU.
Enjoy! And if you give this Maple Pumpkin Pie recipe a try, let me know! Snap a photo and tag me on twitter or instagram!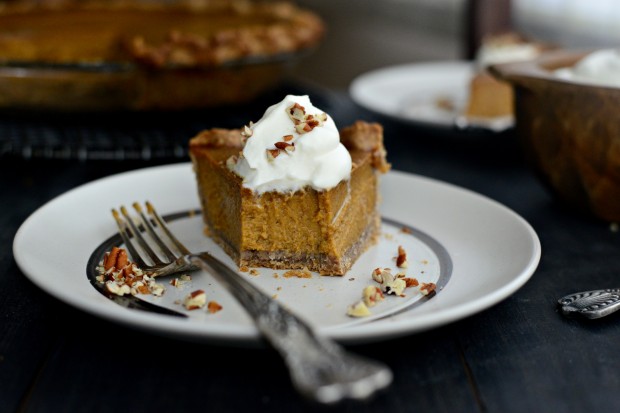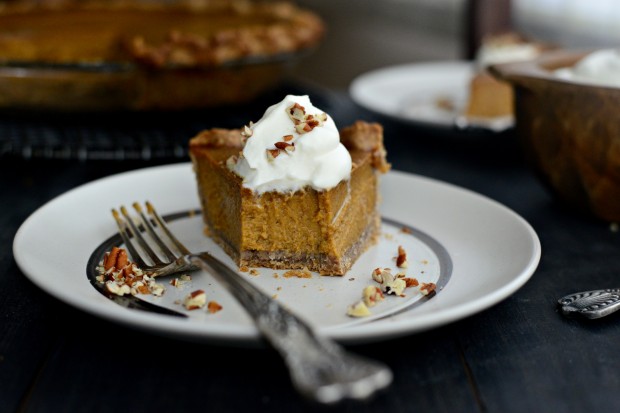 My cookbook Simply Scratch : 120 Wholesome Homemade Recipes Made Easy is now available! CLICK HERE for details and THANK YOU in advance!
[this post contains affiliate links.]
This post may contain affiliate links.
Buy the Cookbook: Simply Scratch : 120 Wholesome Homemade Recipes Made Easy Now available on Amazon »
THANK YOU in advance for your support!