These baked pumpkin doughnuts are tender, moist and delicious. The buttermilk is faint but compliments the pumpkin flavor perfectly. And that brown sugar maple glaze is out of this world.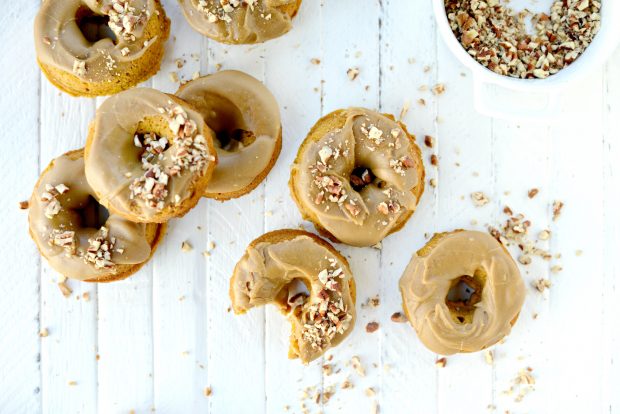 These baked pumpkin doughnuts are a new fall ritual.
Every year my husband is gone for long weekends hunting.From October 1st until the middle of December he heads to up north Michigan for long 3 to 5 day stretches. Sometimes he's home the weekend after Thanksgiving and sometimes he's not. This year it was spotty with me going to Utah and our dog having surgery, but I just realized that the last time we were home together on the weekend was October 14th.
I'm a hunter's widow in every sense of the word(s), but I don't mind one bit.
Sure it was hard when our girls were little and I'm not saying there aren't times when I've had enough playing taxi, chef and laundromat. But I truly, honestly, 100% love that he goes. Always have. I'm happy he has a passion and still loves it all these year later.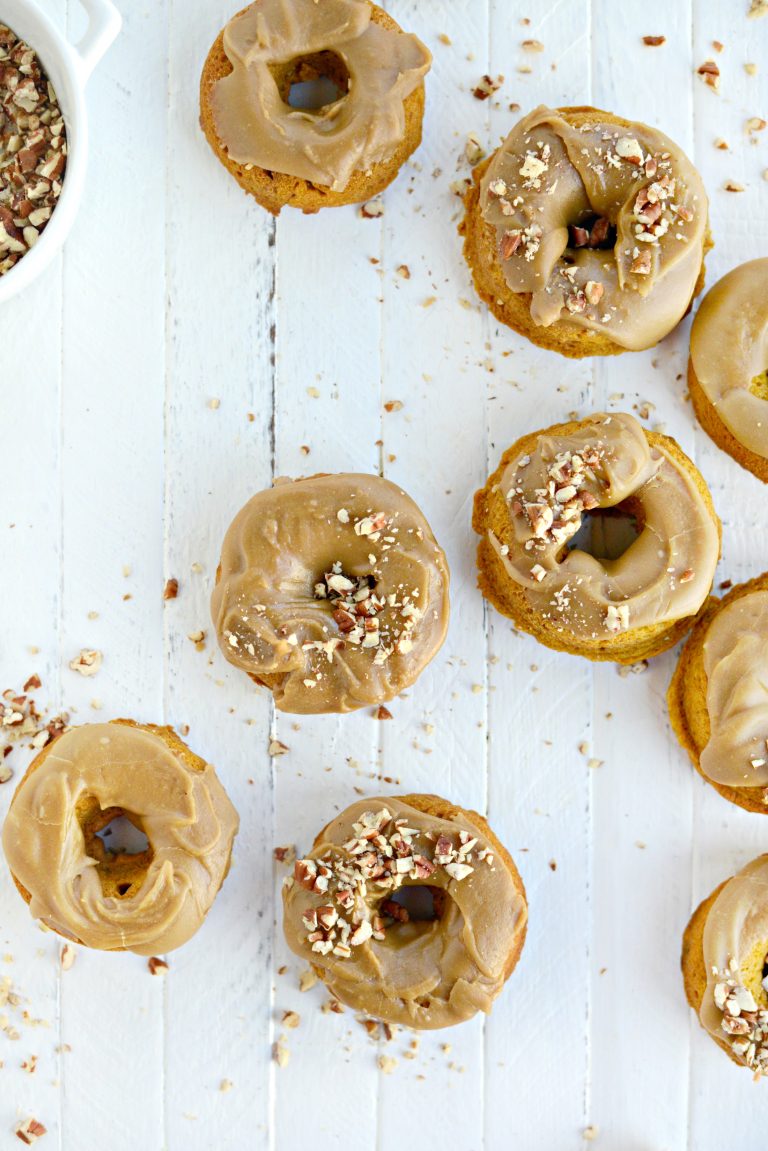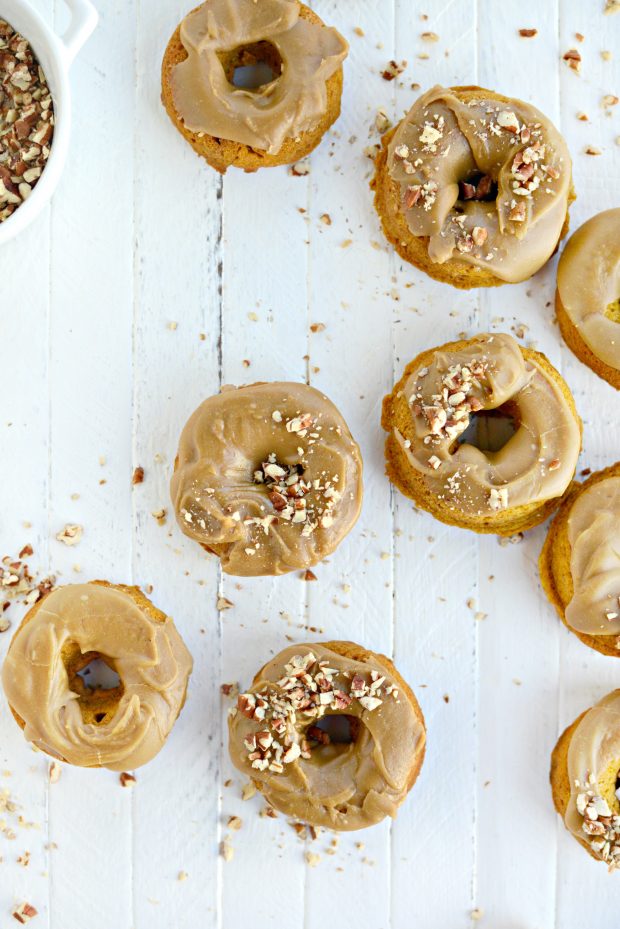 Plus my girls and I make baked pumpkin doughnuts with brown sugar maple glaze and binge watch season 1 of Friends for hours on end. No offense to my husband (Hi Pat!) but it wouldn't be the same if he was home.
These times I have with my girls are so precious.
And delicious.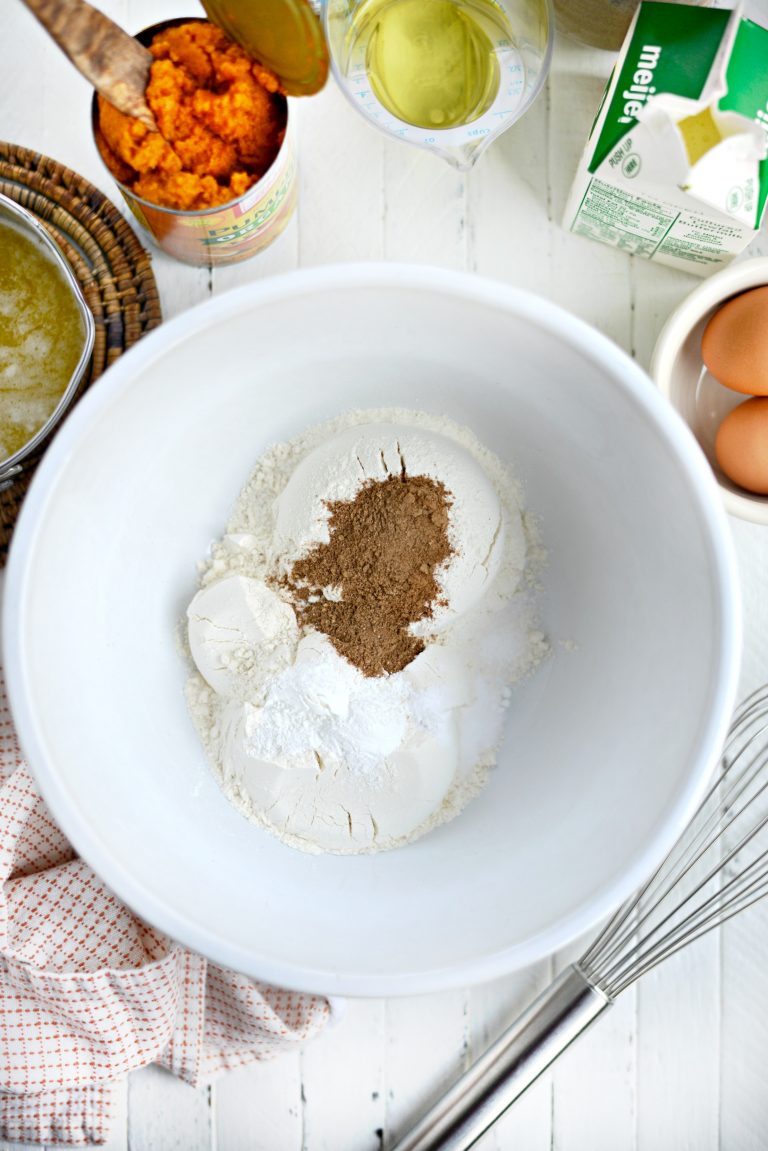 To start making these baked pumpkin doughnuts, whisk and combine the dry ingredients. That's 2-1/4 cup cake flour (all-purpose can be substituted) 2 teaspoons homemade pumpkin pie spice, 2 teaspoons baking powder, 1/2 teaspoon both baking soda and kosher salt.
In a large bowl, combine 1-1/2 cups dark brown sugar, 1 (15 ounce) can pumpkin puree or just under 2 cups homemade pumpkin puree, 1 large egg plus 1 egg yolk, 1/3 cup grapeseed oil, 1/2 cup low-fat buttermilk, 1-1/2 teaspoons pure vanilla extract and 6 tablespoons (melted) unsalted butter,.
Whisk until smooth. Gah! That color!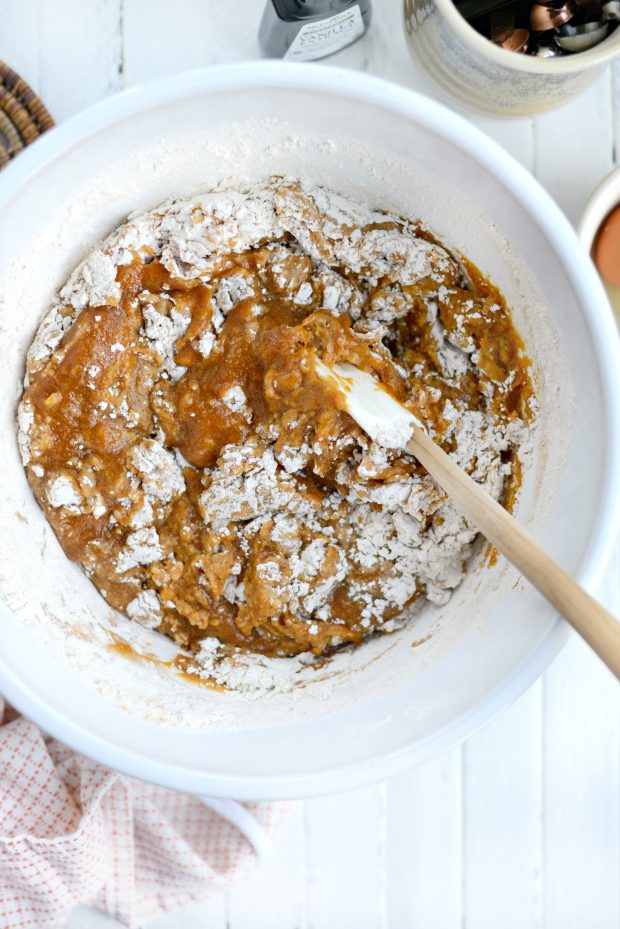 Add the dry ingredients into the wet…
…and mix until the flour has disappeared.
Use a spoon and fill a doughnut pans about 3/4 of the way. Definitely do not overfill or else you wont get the hole in the center. Bake in your preheated 350° oven for 14 to 15 minutes, the doughnuts should spring back when gently pressed. Allow them to cool in the pan for 10 minutes before transferring them to a wire rack to cool completely.
To make the glaze:
Melt 6 tablespoons of butter over medium heat. Cook until the butter starts to brown and is lightly golden. Next, reduce heat to medium-low and whisk in 3/4 cup of dark brown sugar.
Then whisk in 3 tablespoons of both maple syrup and heavy cream. Let the frosting bubble for 30 to 40 seconds, whisking often.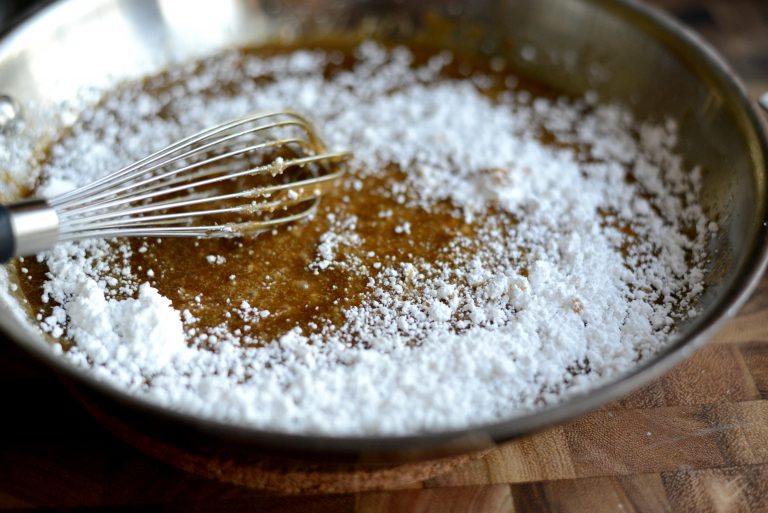 Lastly, remove the pan off of the heat and whisk in 1 cup of sifted powdered sugar and 3/4 teaspoon pure vanilla extract.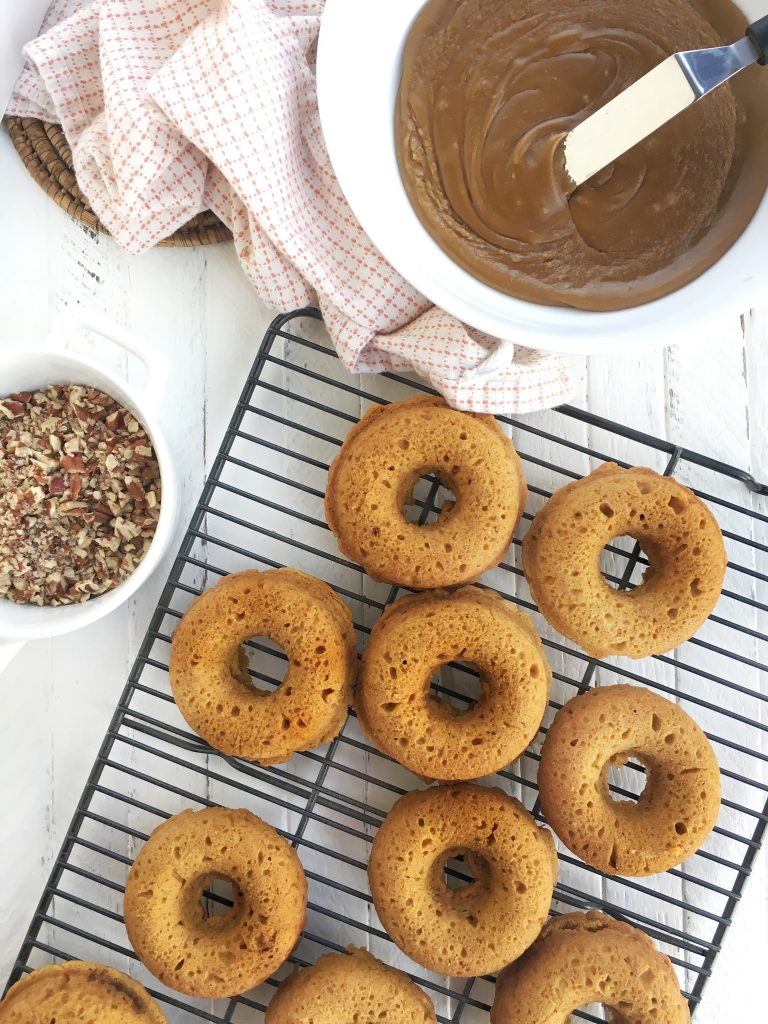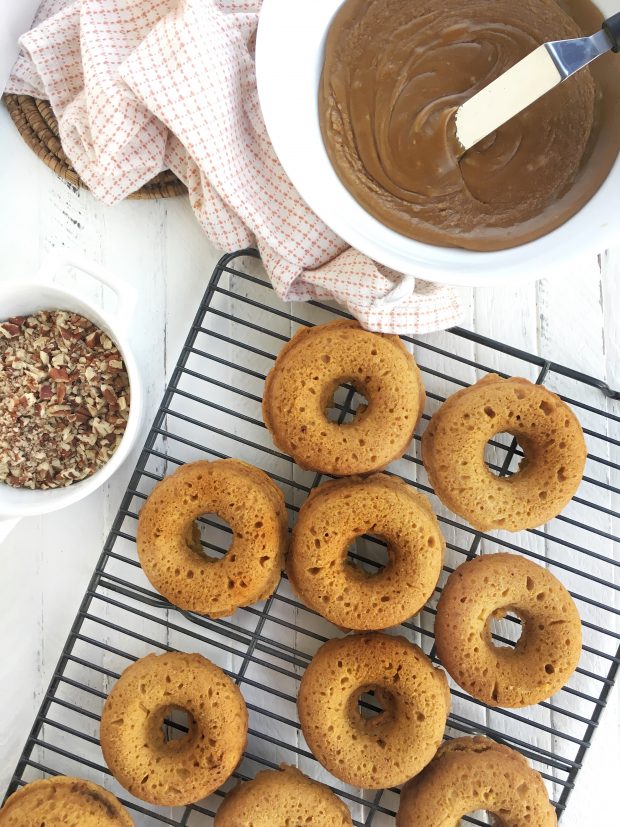 Now it's time to ice these doughnuts! Work quickly using an offset spatula or regular knife to spread the brown sugar maple icing over top. The icing hardens quickly so frost and top with nuts (if using) and then move on to the next doughnut.
If the icing should harden in the bowl, just pop it into the microwave for 15 seconds. If you've left the icing in the skillet, simply rewarm on your stove-top.
Even our cat Izze wanted her own baked pumpkin doughnut. Can't blame her.
These baked pumpkin doughnuts are tender, moist and delicious. These aren't overly sweet doughnuts (because, hello glaze!) and the buttermilk is faint but compliments the pumpkin flavor perfectly. And that brown sugar maple glaze… OH MY GOSH! Out of this world.
These are your post Thanksgiving, weekend-binge-your-favorite-show-watching MUST make doughnuts.
You can thank me later.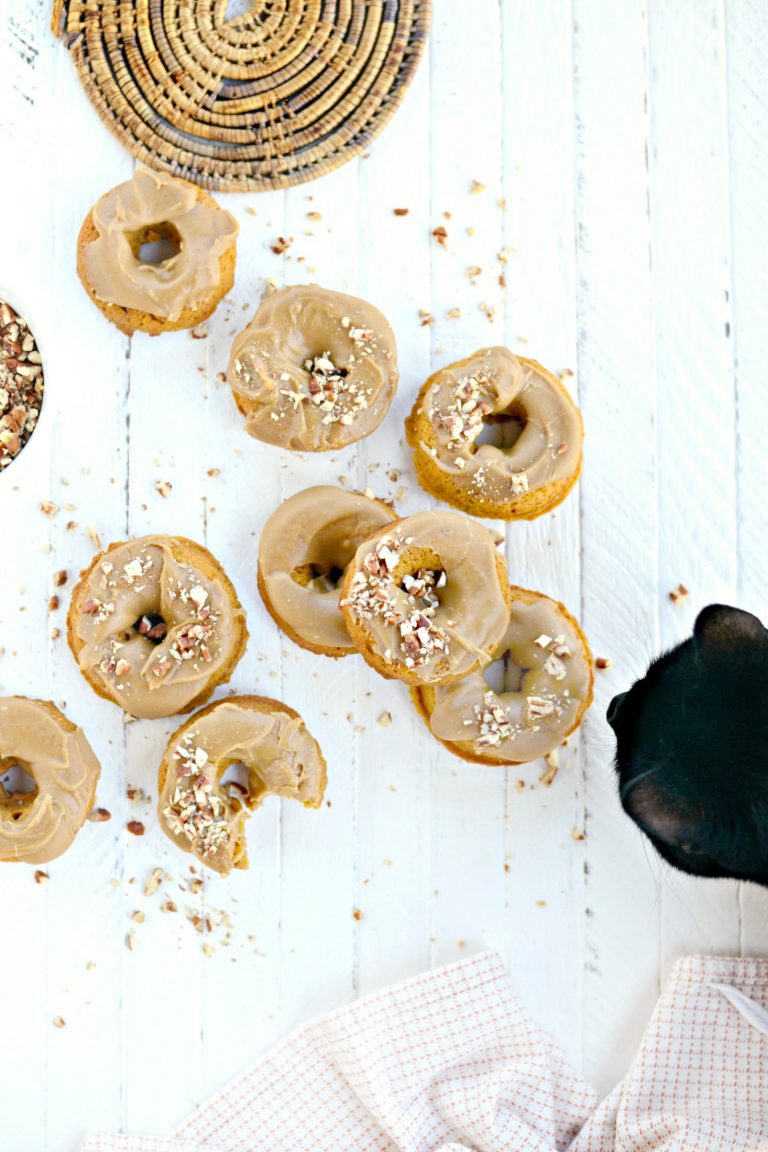 Enjoy! And if you give this Baked Pumpkin Doughnuts recipe a try, let me know! Snap a photo and tag me on twitter or instagram!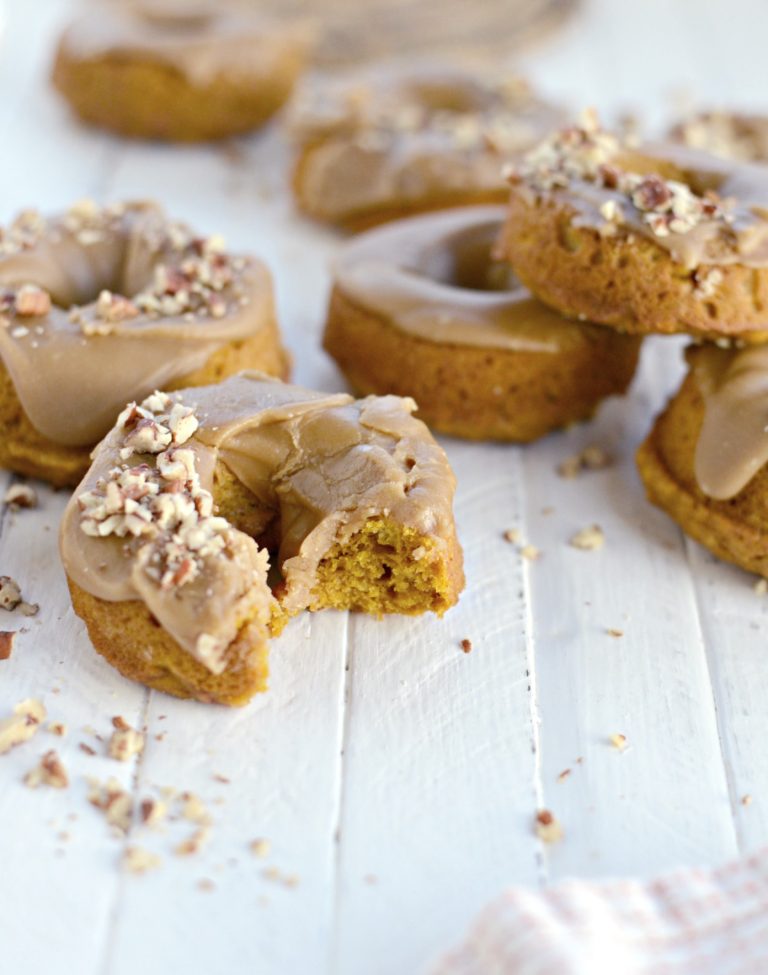 This post may contain affiliate links.
Buy the Cookbook: Simply Scratch : 120 Wholesome Homemade Recipes Made Easy Now available on Amazon »
THANK YOU in advance for your support!