Pumpkin Pancakes!
It's October already and I must admit, I always tell people that September is my favorite month, but I seriously think I just say that because that's my birth month, because there's just something about October in Michigan.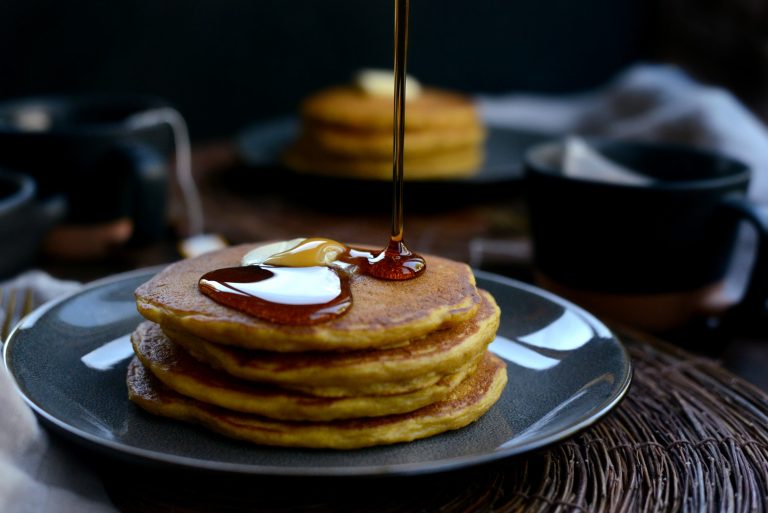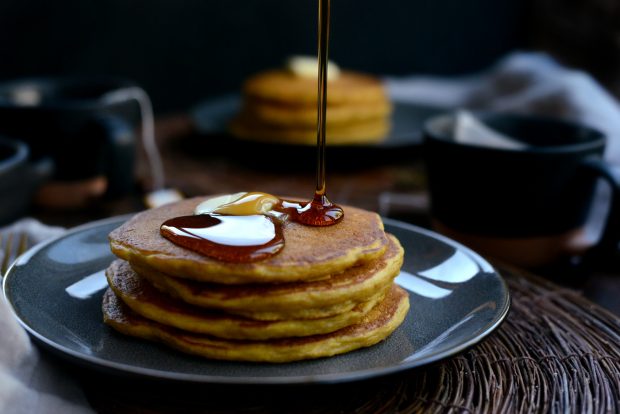 October kicks off the hunting season (whoot!), so Pat's gone most weekends which means my daughters and I have a lot of girls nights and movie watching. And I love that there's a slight chill in the morning air, leaves are starting to change and jeans and boots are back!
Also in October, my youngest, Malloree has a birthday. She turned twelve yesterday, and so I made one of her favorite things so when she woke up on her big day she could have pancakes for breakfast. But these aren't your regular pancakes, of course not! These are brown butter PUMPKIN pancakes. Boy are they delicious! More on these in a moment, but first…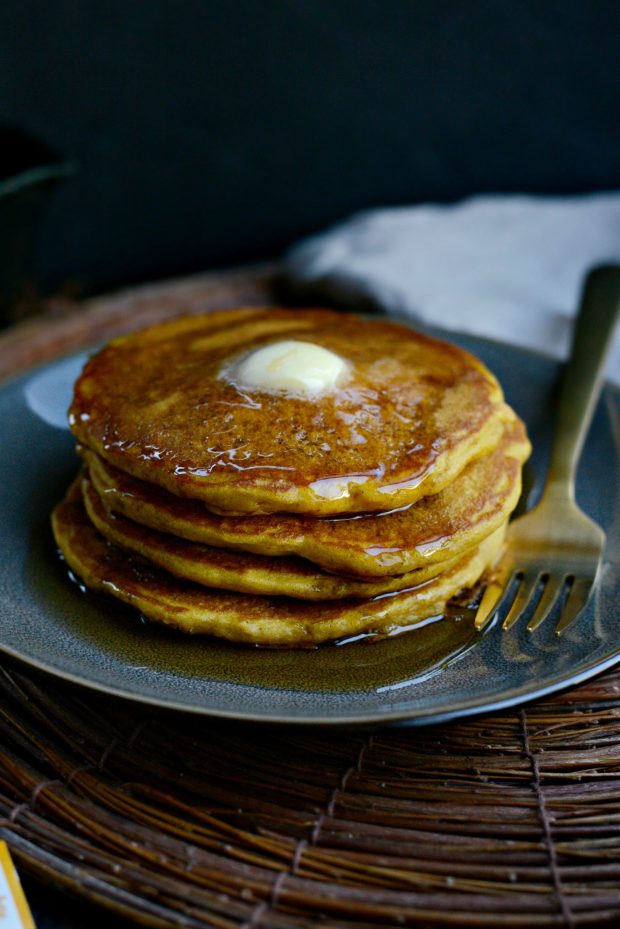 Coinciding with October, fall, food and fantastic… it's also Fair Trade Month! As you know, I'm a big supporter of all things Fair Trade and have been for years. So when my friends from Fair Trade USA reached out asking me to help support the #FairMoments campaign, I couldn't say no.
Buying Fair Trade items is a gift that keeps on giving. Not only the comfort of knowing you're purchasing quality goods, but you are also supporting the farmer and community surrounding them. Plus so much more.
How do you live your values? I'm a firm believer that big changes can come from small, everyday decisions. Each moment offers an opportunity to build strong families, support education for children, protect the environment, and more. That's why I love that Fair Trade USA is running a special campaign called "Fair Moments" this October. Its goal is to show how everyday moments can have a worldwide impact when you choose Fair Trade products.
Share how you live your values with #FairMoments! See how your #FairMoments add up by going to FairMoments.org, and showing the difference you're making in your own #FairMoments photos! Use #FairMoments or #FairMoment to show your favorite Fair Trade Moment of the day.
My #FairMoment was when I first tasted these pancakes.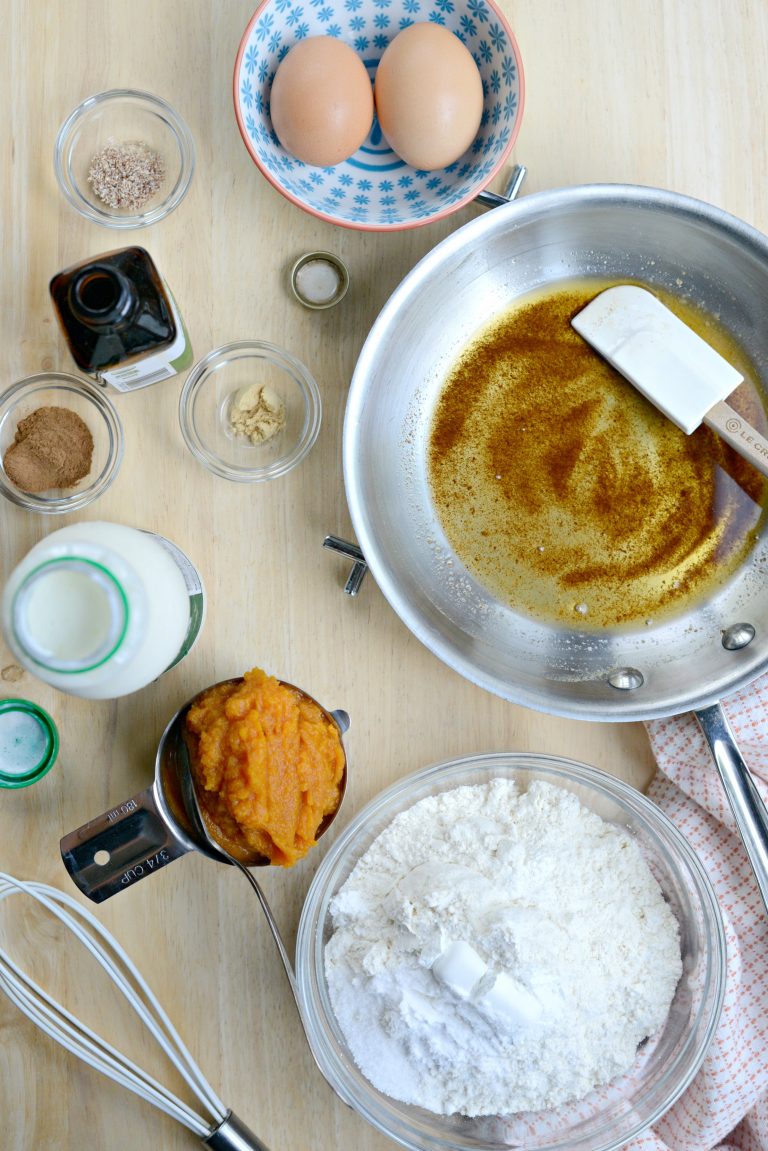 Do you love brown butter like I love brown butter? Don't let the thought of browning butter scare you. It's as easy as adding butter to a pan, stirring and watching it go from blonde to a deep golden in color. It only takes a few minutes, so watch carefully and pull the pan off the heat the moment the butter has browned and you're good to go! Easy Peasy. If you're still uneasy, here's a link to show you how to make brown butter!
Let the brown butter cool while you gather the flour, sugar, baking powder and soda, spices and all wet ingredients.
First I mix together the all the dry ingredients in one bowl and set that off to the side.
In a separate bowl, I whisk together; eggs, pumpkin puree, vanilla, sugar, buttermilk and milk.
I pour the wet into the dry and stir just until combined.
Then I may or may not hover my face over the bowl. And breath. S-l-o-w-l-y.
I preheat my old, hand-me-down, 1970-something griddle (LOVE IT! ) to 375° and add about a teaspoon of my Fair Trade coconut oil and spread that all over before pouring 1/4 cup of batter per pancake onto the hot griddle.
Once the air bubbles that form on the top have popped and no longer fill back in, is your cue to flip and cook on the second side for a minute or two.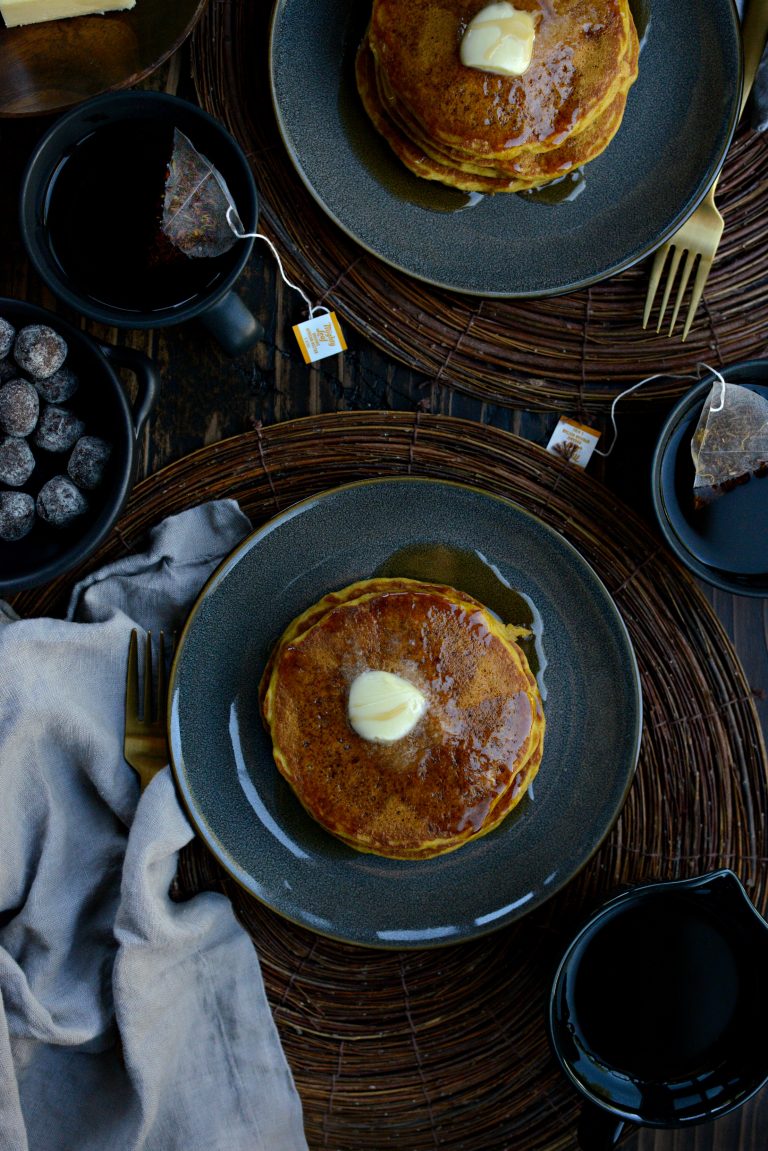 Serve with butter, real maple syrup, a cup of coffee or tea and a side of brownie bites -my daughter's just turned twelve, that's good enough reason for brownies with breakfast. OH and the Mighty Leaf tea I got in my goody box is so delicious!! I'm hoarding that box and not sharing with anyone.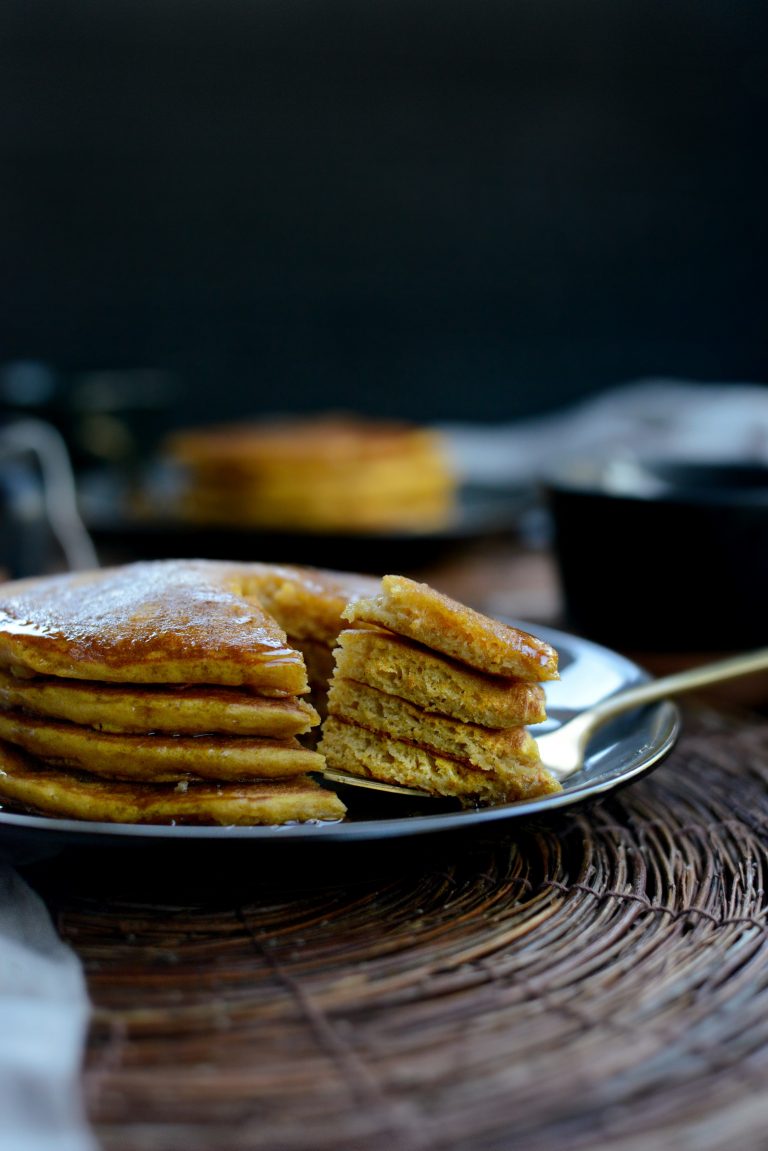 Now let's talk about these pumpkin pancakes, they are:
Perfectly spiced.
Just the right amount of pumpkin flavor.
Tender with crisp edges. (thank you coconut oil!)
And pumpkin pancakes have the ability to light up a twelve-year-old's face.
Priceless.
I just had a thought: add dark chocolate chips. BOOM.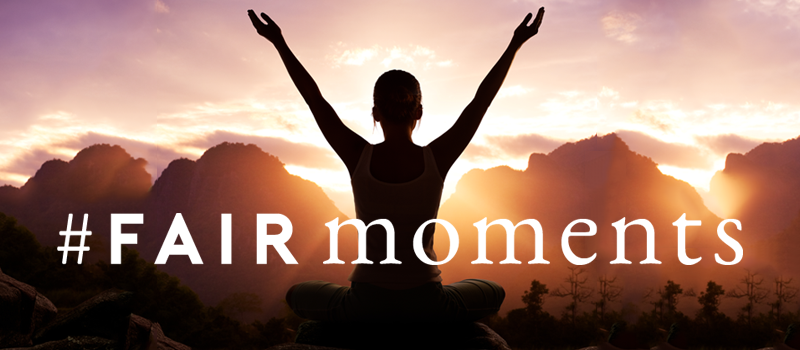 This is my fourth year celebrating Fair Trade Month (2012, 2013, 2015) and I'm always so honored to be apart of such an amazing organization. And as a thank you to all who read this blog, buy Fair Trade and make a difference in the world, the generous folks at Fair Trade USA want to send one of you a goody box filled with all kinds of great loot!
A huge THANK YOU to all the brands that gave to this fantastic goody box!
Enjoy! And if you give this Mini Western Omelet Frittatas recipe a try, let me know! Snap a photo and tag me on twitter or instagram!
My cookbook Simply Scratch : 120 Wholesome Homemade Recipes Made Easy is now available! CLICK HERE for details and THANK YOU in advance!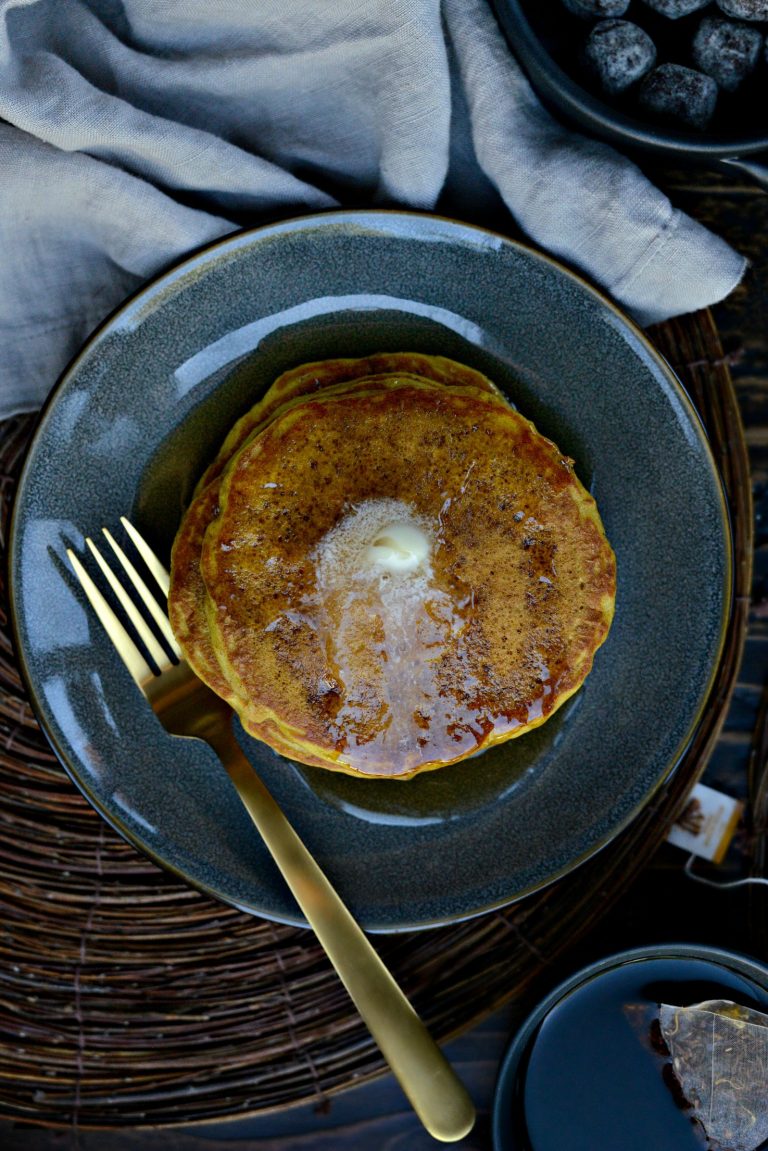 This post may contain affiliate links.
Buy the Cookbook: Simply Scratch : 120 Wholesome Homemade Recipes Made Easy Now available on Amazon »
THANK YOU in advance for your support!