Fruit Salsa with Baked Cinnamon Sugar Chips is simple and a snack both kids and adults will love! Fresh strawberries, raspberries, tart green apple and kiwi are combined to make a simple fresh fruit salsa! Serve with baked cinnamon sugar chips for the ultimate snack! Yields about 6 cups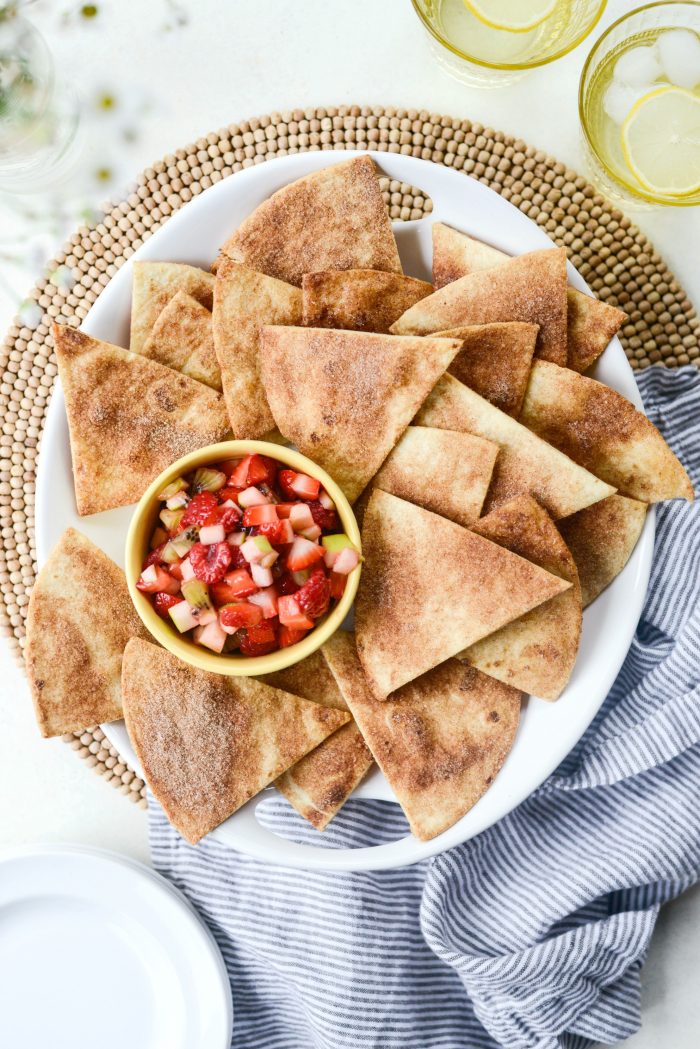 Trying to get back in the swing of things has been difficult since saying goodbye to Seamus. Everything looks the same yet it feels so different. It's quieter without the sound of his collar jingling as he walked around. I keep expecting to see him on the couch or hear his signature scratch-and-drag on the side door to be let in. Him being gone feels so surreal and if I'm left with my own thoughts for too long, I usually end up bawling my eyes out. So these last two days I've tried to keep myself busy as much as possible, either spending time with my family and also getting back into blogging.
I took a week-ish off because I gave our master bathroom and then our bedroom a makeover. Painting trim and walls and the whole nine yards. I was already in a cooking slump and so I took the needed time off to get my creative cooking juices flowing. That sounded kind of gross, but you know what I'm saying 🤣.
I feel like I can say pretty much anything these days and you get it. I mean, we did shed tears together after all. By the way, each and every comment has truly meant the world to me and my family, so thank you!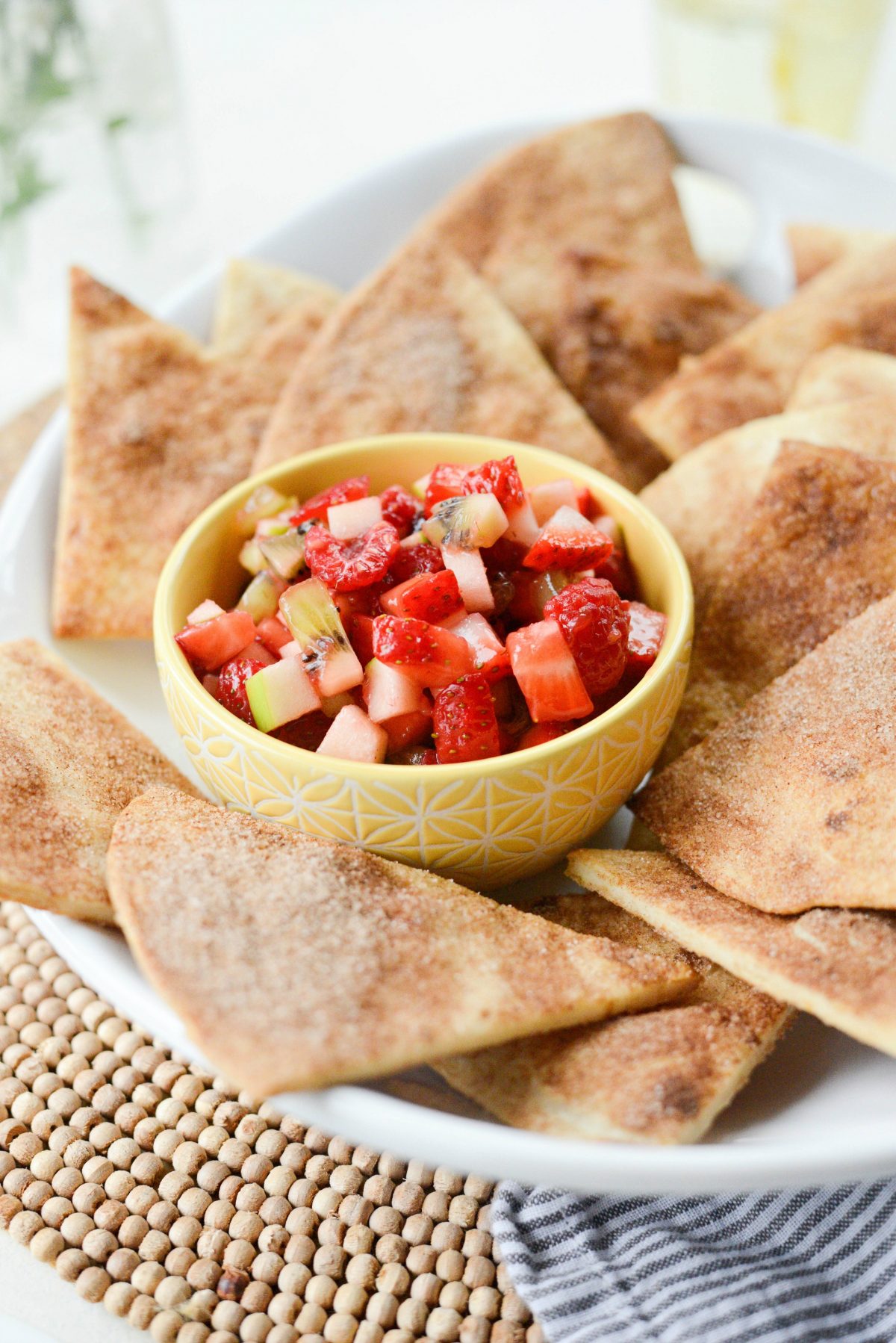 Originally I shared this recipe for fruit salsa with baked cinnamon sugar chips 8 years ago. EIGHT!
It was one of the first recipes on this site and oh MY lord the photos were horrendous. Like I should be embarrassed I had those things on here for as long as I did. I had zero business posting those unattractive and blurry photos (which at the time I thought I was the most amazing food photographer everrr- I cringe.) and I can't believe some of you brave folks actually made the recipe anyway. Well I gave that recipe a make over and decided to repost it for you, incase you missed it 8 years ago.
It basically look like a red lumpy mess of fruit in a bowl with busted up "chips" or strips or whatever I called them. Confession: I actually baked the cinnamon sugar flatbread whole BEFORE cutting them into strips. I think I attempted to pass them off as "shards" or some lie and then said "or you can cut them before baking to make it easier." Freaking genius, Laurie.
It's a wonder how I ever wrote a cookbook.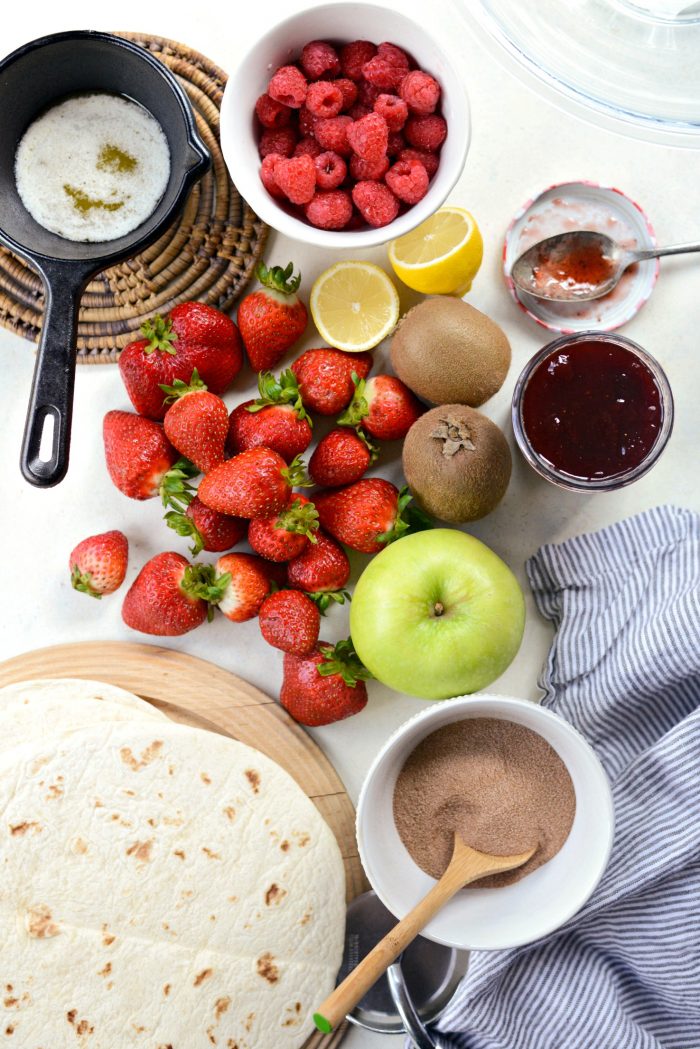 To Make This Fruit Salsa You Will Need:
strawberries – Added for robust ambrosial flavor candy-like sweetness.
raspberries – Sweet and fruity.
kiwi – For color, texture and unique flavor.
granny smith apple – Adds distinct tang and tart flavor. 
lemon juice – Brightens ups the flavors in this salsa.
strawberry preserves – Helps bind this salsa together.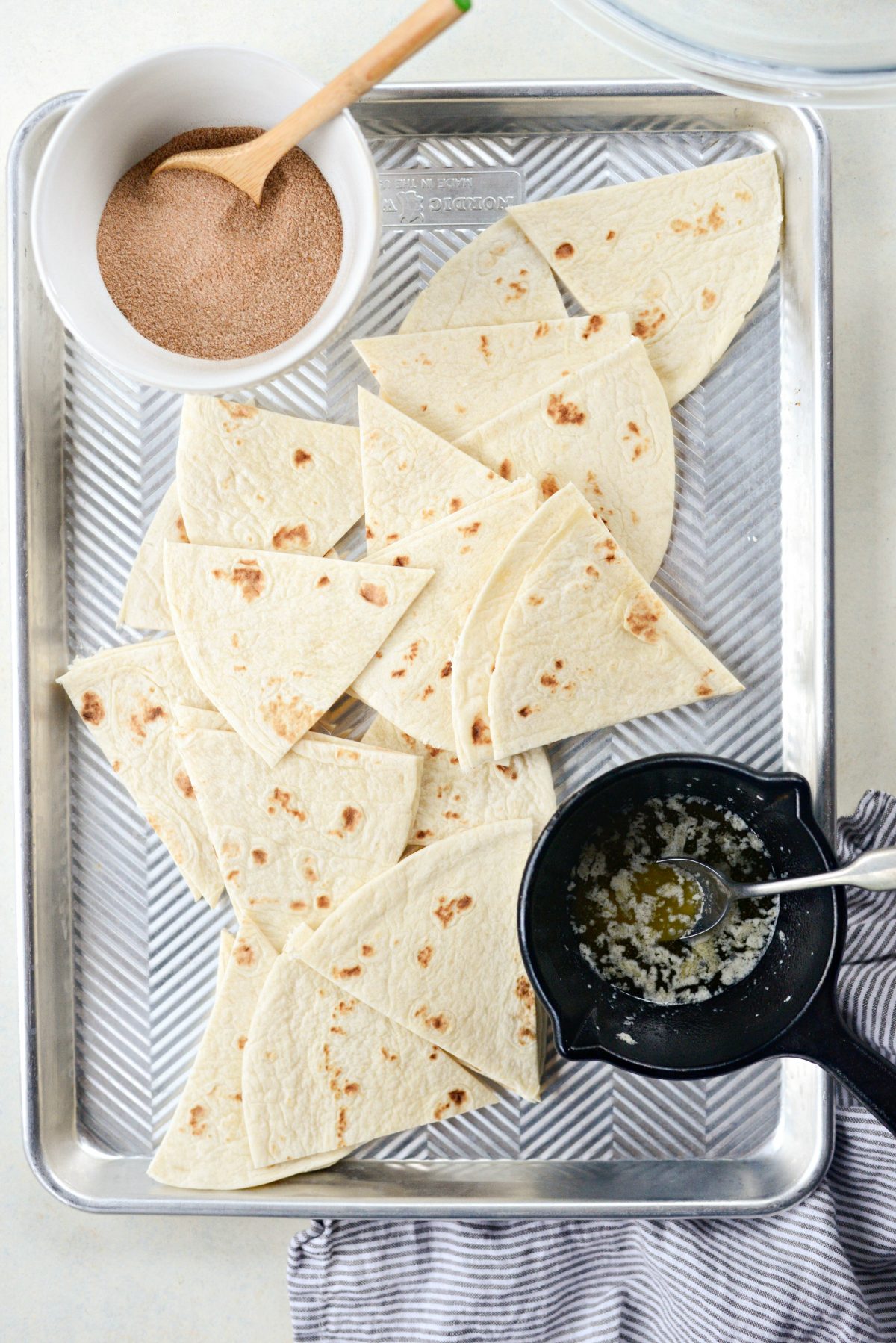 First things first, make the cinnamon sugar chips.
Preheat your oven to 375℉ (or 190℃).
Cut each round flatbread into a 6 triangle wedges. These may look like tortillas, but they are actually wheat flatbread that is slightly thicker and more fluffy than regular tortillas. In a pinch, tortillas can be used but you may need to adjust the baking times and check on them so they don't burn.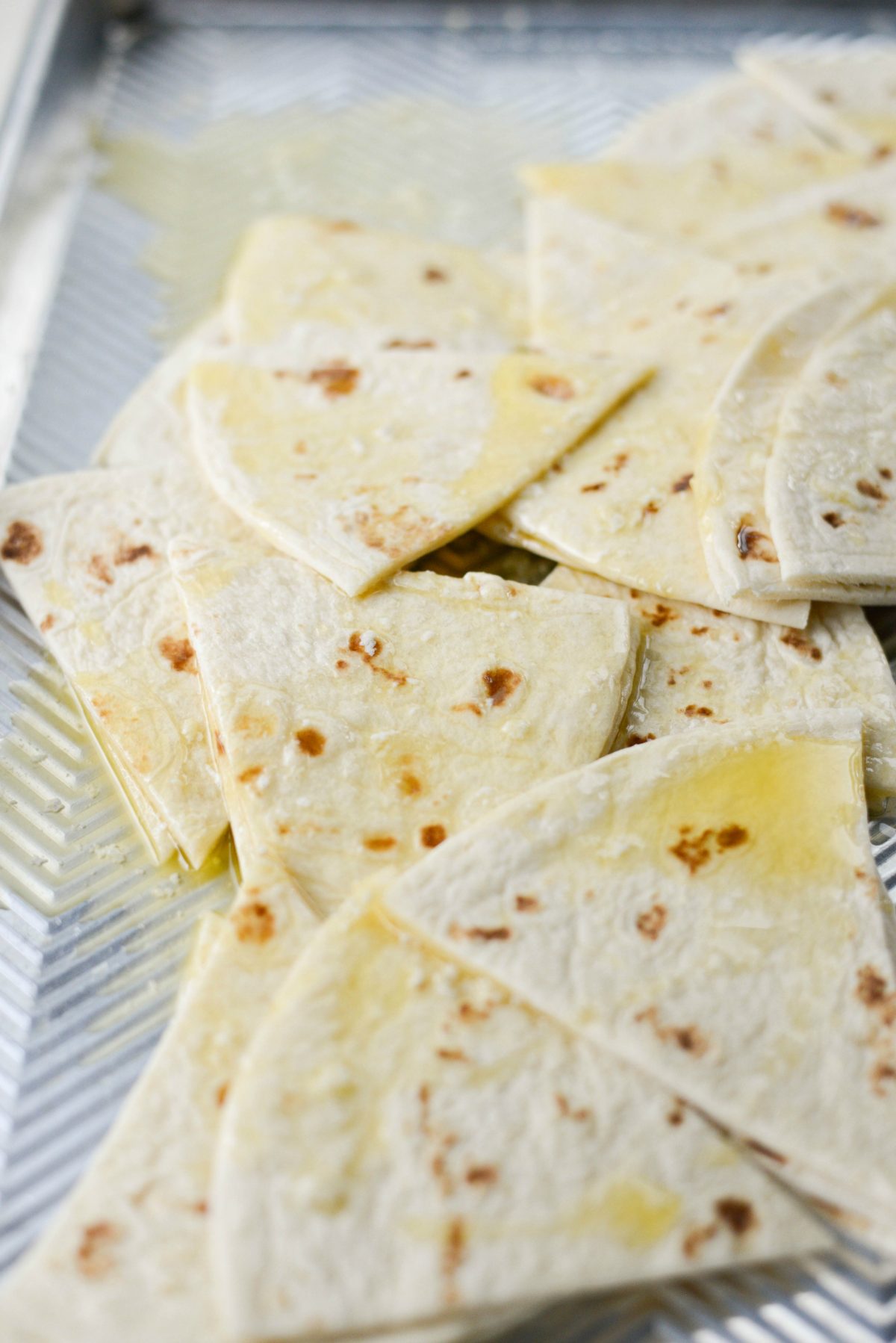 Pour 4 tablespoons of melted butter over top of the flatbread wedges.
Toss and massage the butter onto both sides before arranging the triangles onto two rimmed, metal baking sheets. Generously sprinkle cinnamon sugar on each and every triangle before flipping and dusting the second side.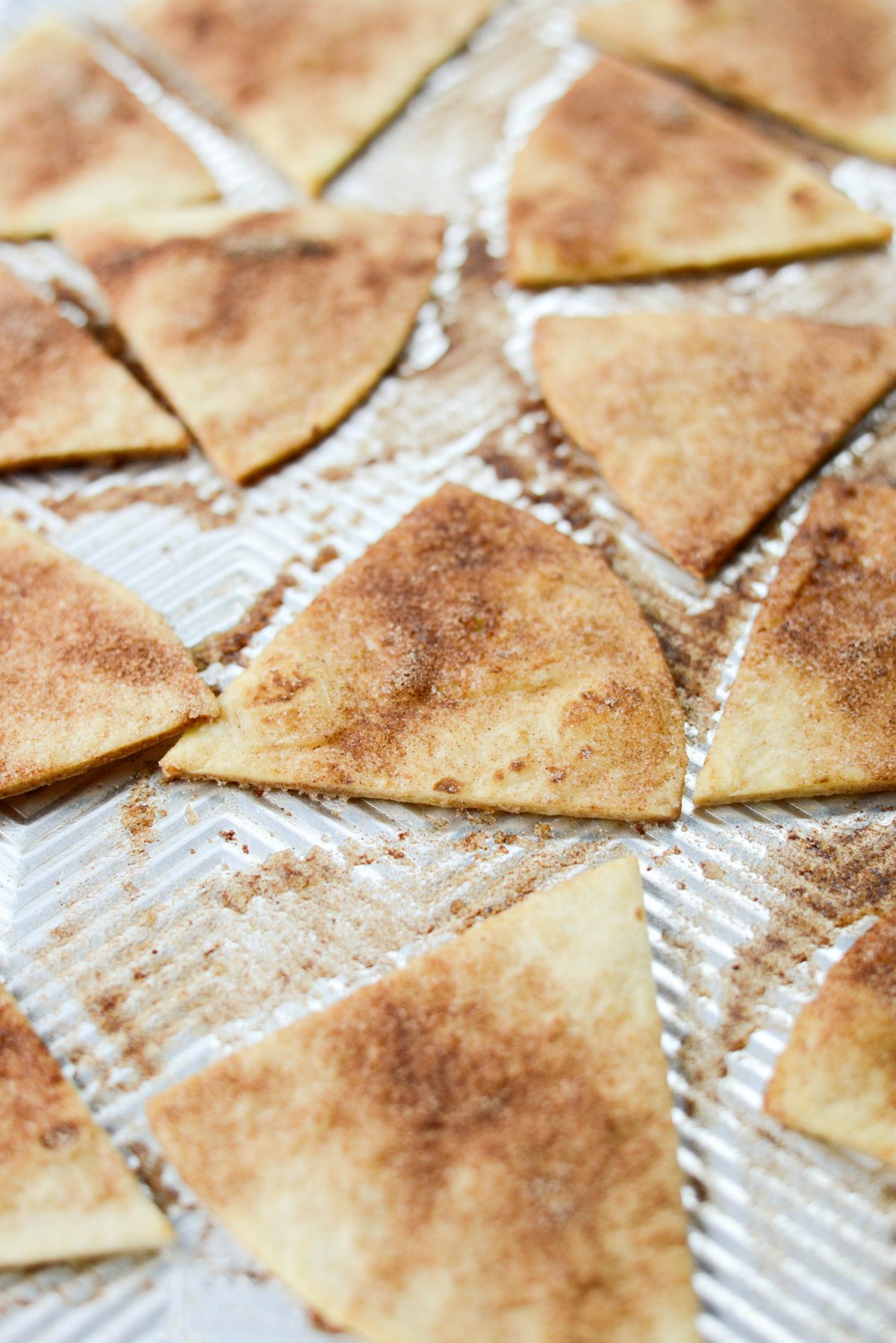 Bake for 10 minutes or until crispy and lightly golden. There's no need to flip, just rotate the pan halfway through baking.
The exterior of the baked cinnamon sugar chips should be nice and crispy but tender enough to bite into.
The perfect vessel to get fruit salsa to your mouth safely.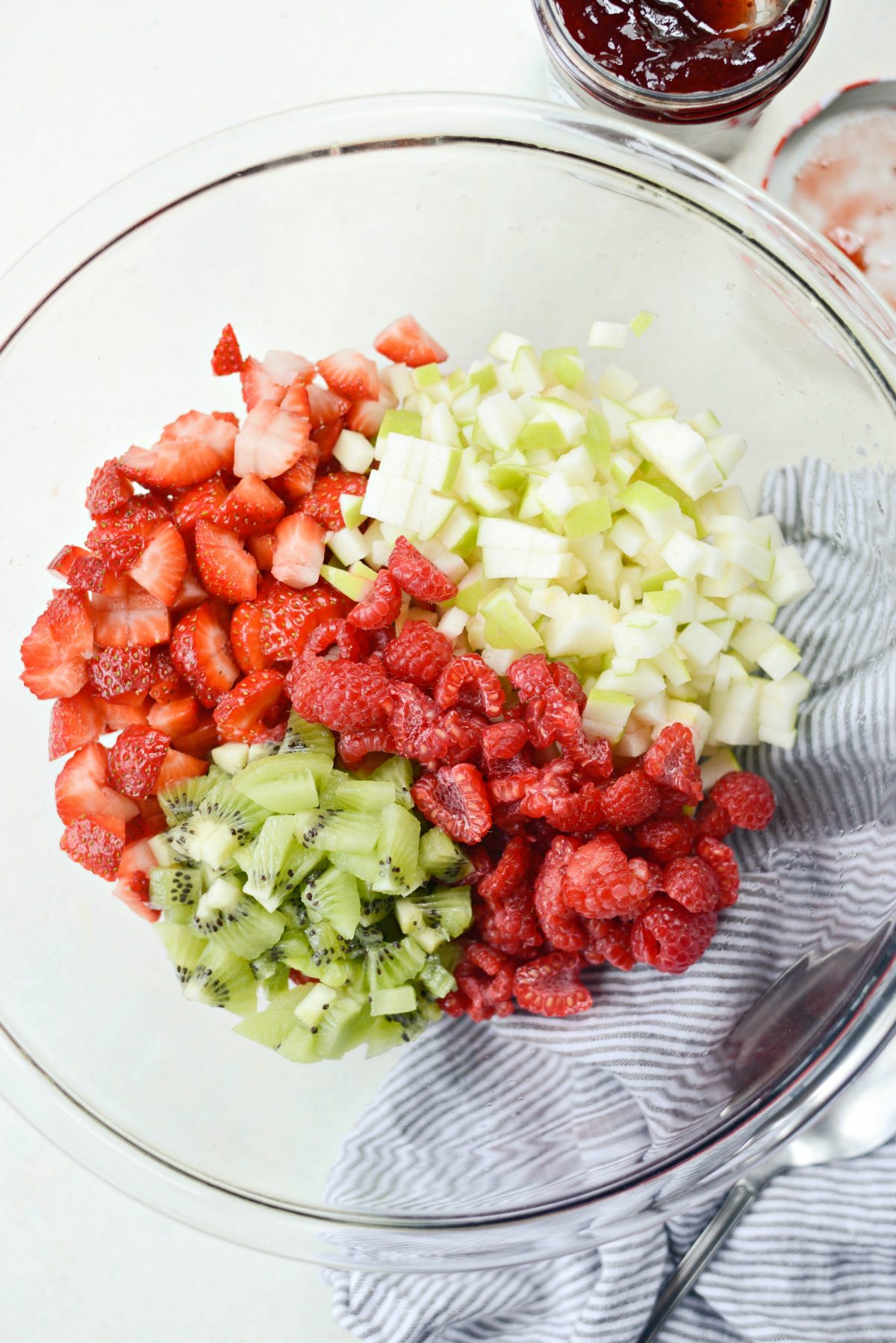 In a large mixing bowl combine the diced strawberries with chopped raspberries, diced green apple and kiwi. Over the years, I've learned the easiest way to peel a kiwi is with a spoon. If you don't already know this trick, it will blow your mind.
Squeeze the juice from 1/2 a lemon over top. My lemon was teeny, so I just used the whole thing. You want about 1 to 2 tablespoons of lemon juice.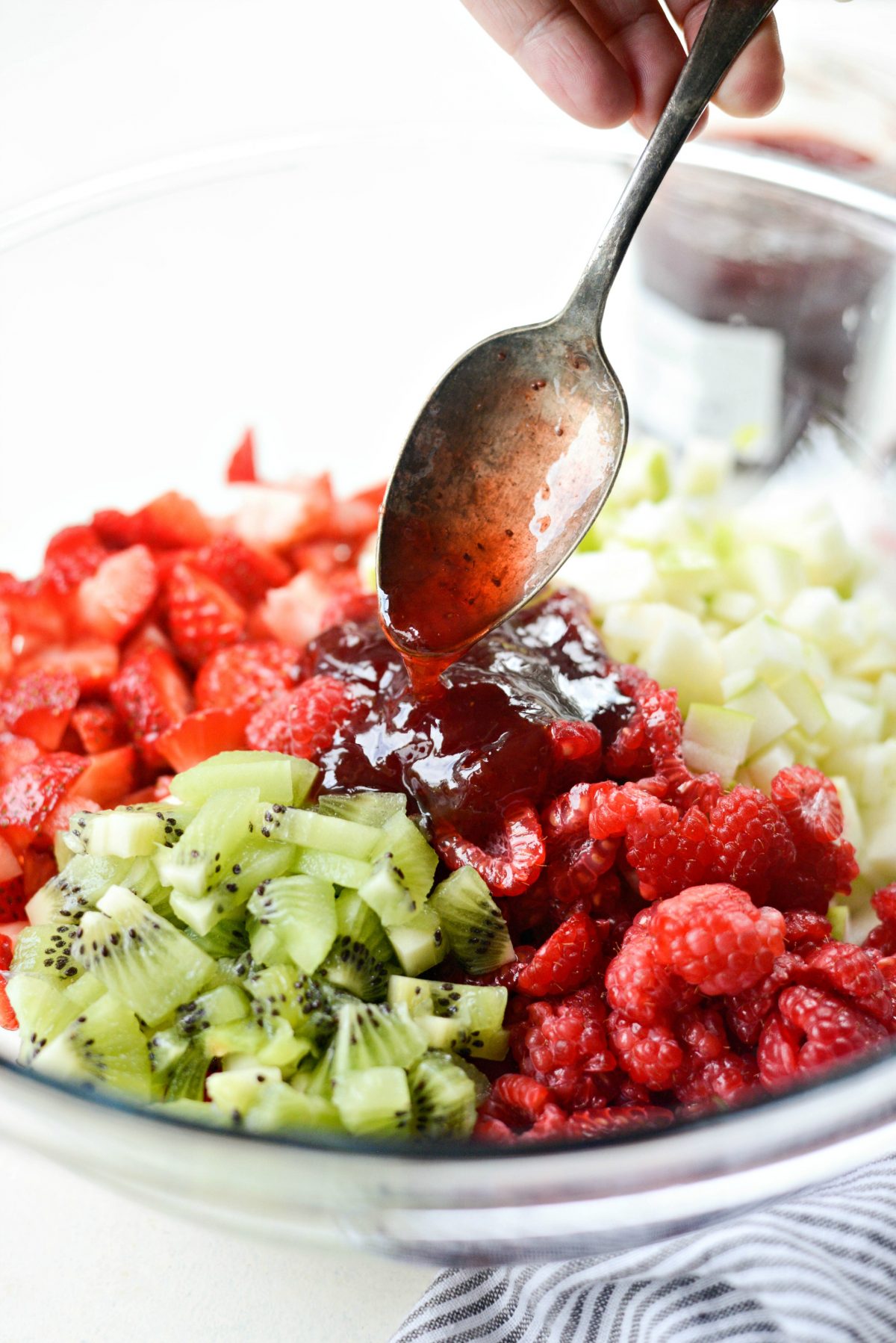 Spoon 2 to 3 tablespoons or more of the strawberry preserves into the bowl.
The sugar in the preserves will draw the juices out of fruit to coat the salsa.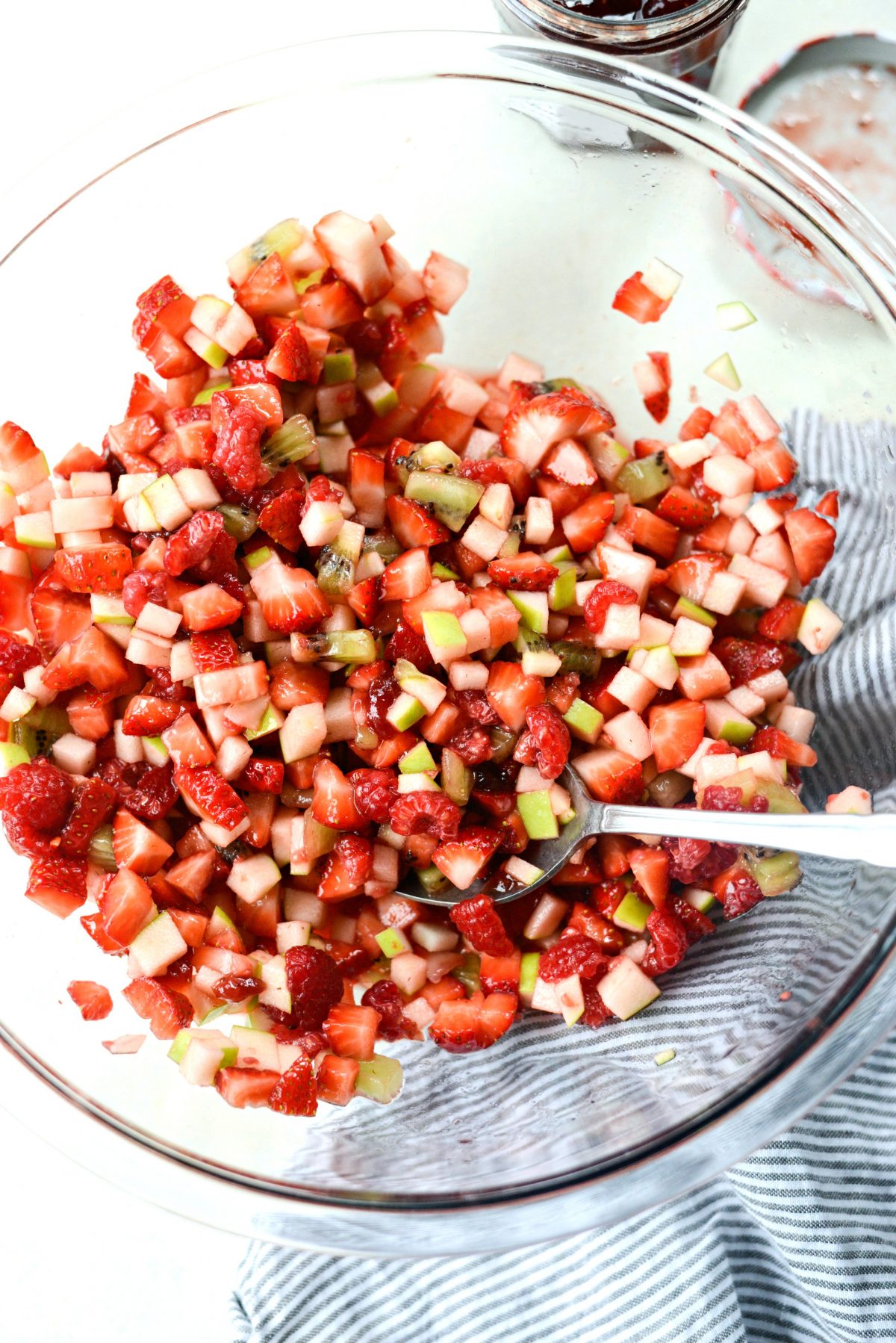 Cover and refrigerate until you are ready to serve and eat!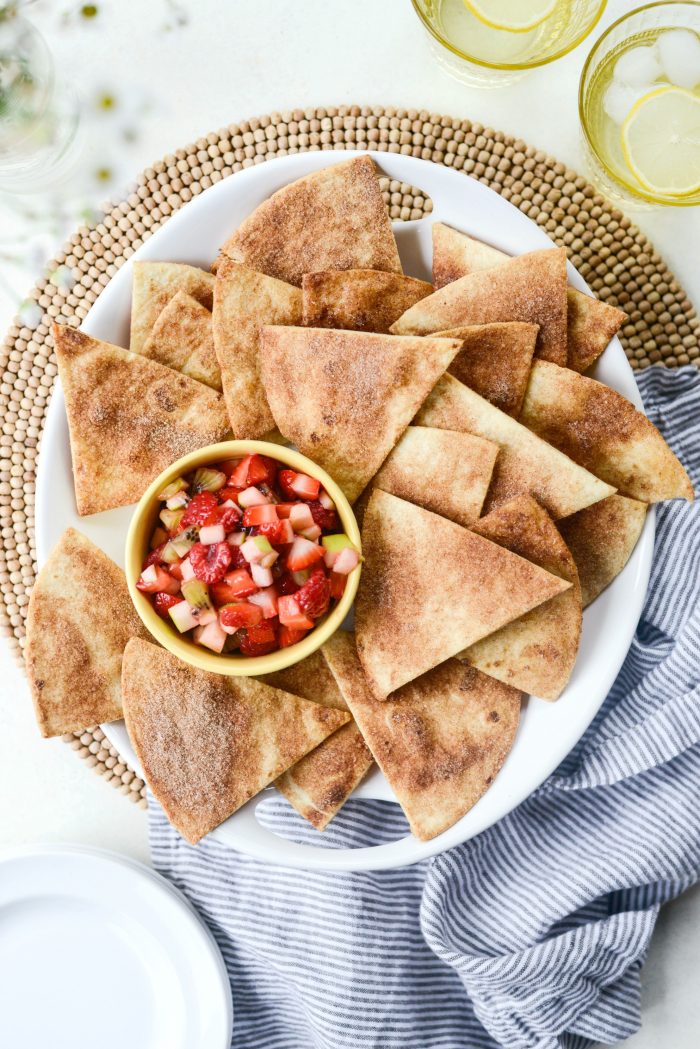 This salsa is so good and it may be the easiest salsa you'll ever make.
And if your kiddos are heading back to school in the next few weeks, this fruit salsa makes for an excellent after school snack. I've also made this for brunch too and will feed a crowd perfectly, I just double (and sometimes triple) the recipe for the chips, those always seem to go so fast! Probably because it was hard for me to stop shoveling this into my face after I shot the recipe. I saved the salsa and plan to do a swan dive into it tonight. I serving it with a side glass of rosé too! Eeep!
Fresh fruit on a cinnamon sugar chip. This is why I love summer💗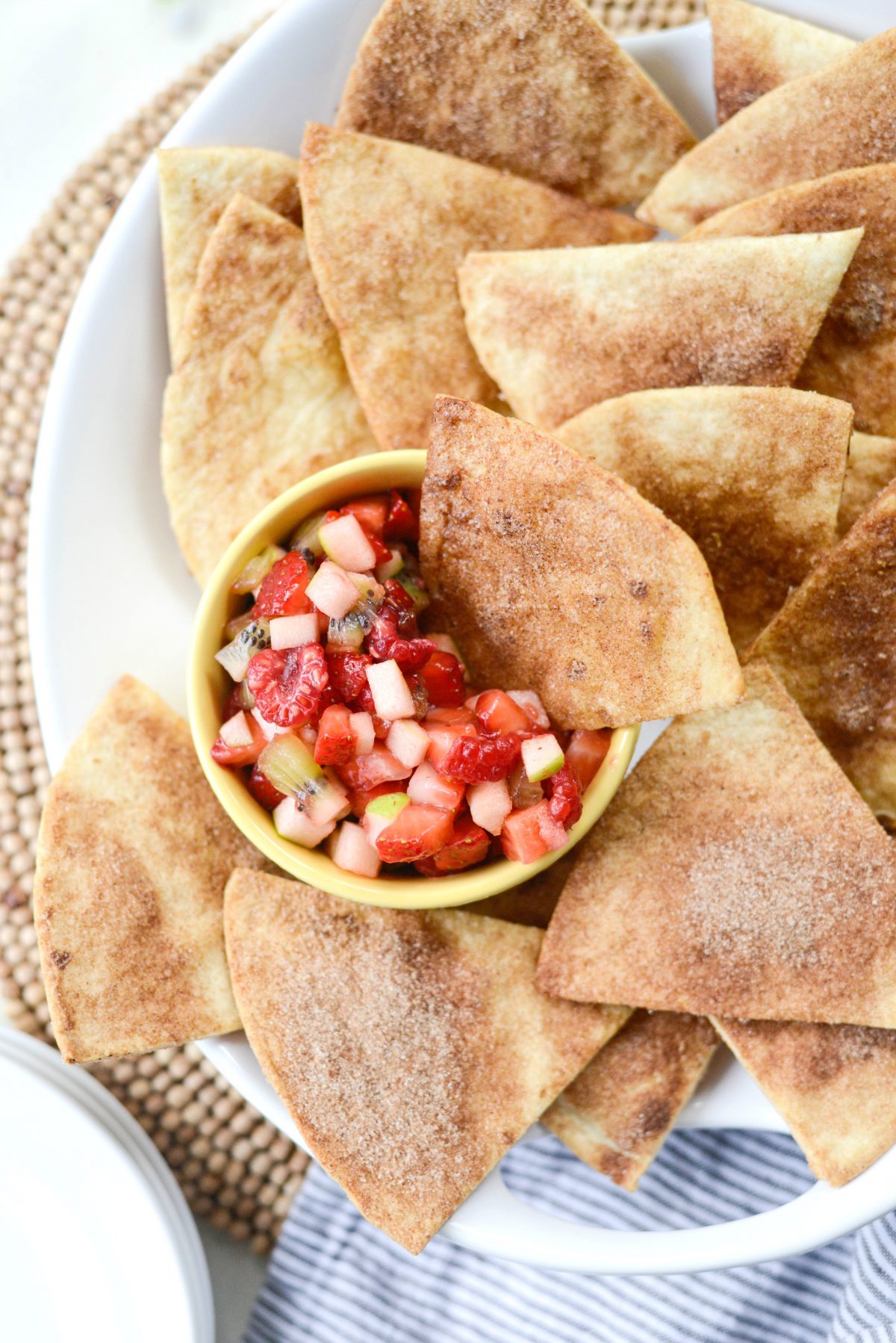 Recipe Alterations and Substitutions:
If you have a kiwi allergy, you can substitute with another fruit of your choice like diced pear or even blueberries.
Instead of strawberry preserves, try seedless raspberry.
Don't have lemons? Use lime juice instead!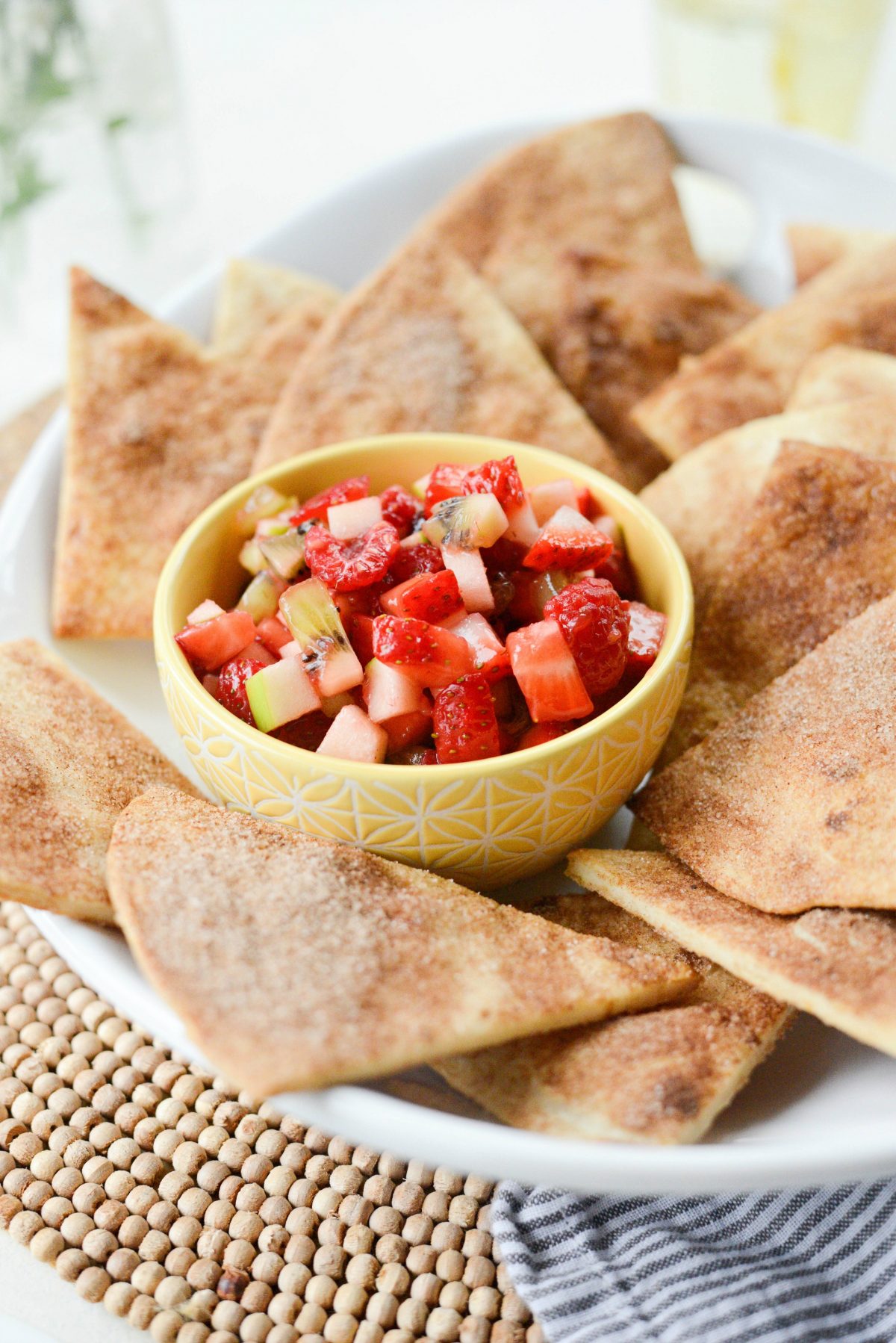 Enjoy! And if you give this Fruit Salsa recipe a try, let me know! Snap a photo and tag me on twitter or instagram!
Yield: 10 servings
Fruit Salsa with Cinnamon Sugar Chips
Fruit Salsa with Baked Cinnamon Sugar Chips is easy and delicious! Fresh strawberries, raspberries, tart green apple and kiwi tossed into a simple salsa. Serve with baked cinnamon sugar chips for the ultimate after school snack!
Ingredients
FOR THE BAKED CINNAMON SUGAR CHIPS:
4 wheat flatbreads, cut into triangles
4 tablespoons melted unsalted butter
1/4 cup cinnamon sugar
FOR THE FRUIT SALSA:
1 pound strawberries, hulled and diced small
1 pint raspberries, roughly chopped
1 granny smith, green apple, cored and diced small
2 kiwi, peeled and diced small
2 tablespoons lemon juice
2 to 3 tablespoons strawberry preserves
Instructions
MAKE THE CINNAMON SUGAR CHIPS:
Preheat your oven to 375℉ (or 190℃).

Pour the melted butter over the flatbread triangles and toss to coat both sides.

Divide the buttered triangles onto 2 rimmed, metal baking sheets. Generously sprinkle both sides with cinnamon sugar before baking for 10 minutes or until golden and crispy, rotating the pan half way through.
MAKE THE FRUIT SALSA:
In a large mixing bowl, add in all of the prepared fruit, lemon juice and strawberry preserves. Stir to combine.

Serve immediately or cover and refrigerate until ready to serve!
Serving: 1g, Calories: 174kcal, Carbohydrates: 31g, Protein: 3g, Fat: 6g, Saturated Fat: 3g, Polyunsaturated Fat: 1g, Monounsaturated Fat: 1g, Trans Fat: 1g, Cholesterol: 12mg, Sodium: 75mg, Potassium: 252mg, Fiber: 6g, Sugar: 15g, Vitamin A: 187IU, Vitamin C: 58mg, Calcium: 31mg, Iron: 1mg
This post may contain affiliate links.
Buy the Cookbook: Simply Scratch : 120 Wholesome Homemade Recipes Made Easy Now available on Amazon »
THANK YOU in advance for your support!