Today (or Monday) my husband and I had to make the tough and heart wrenching decision to put our sweet dog, Seamus to sleep. Needless to say, we are devastated. It was completely unexpected as he was fine one day and not the next.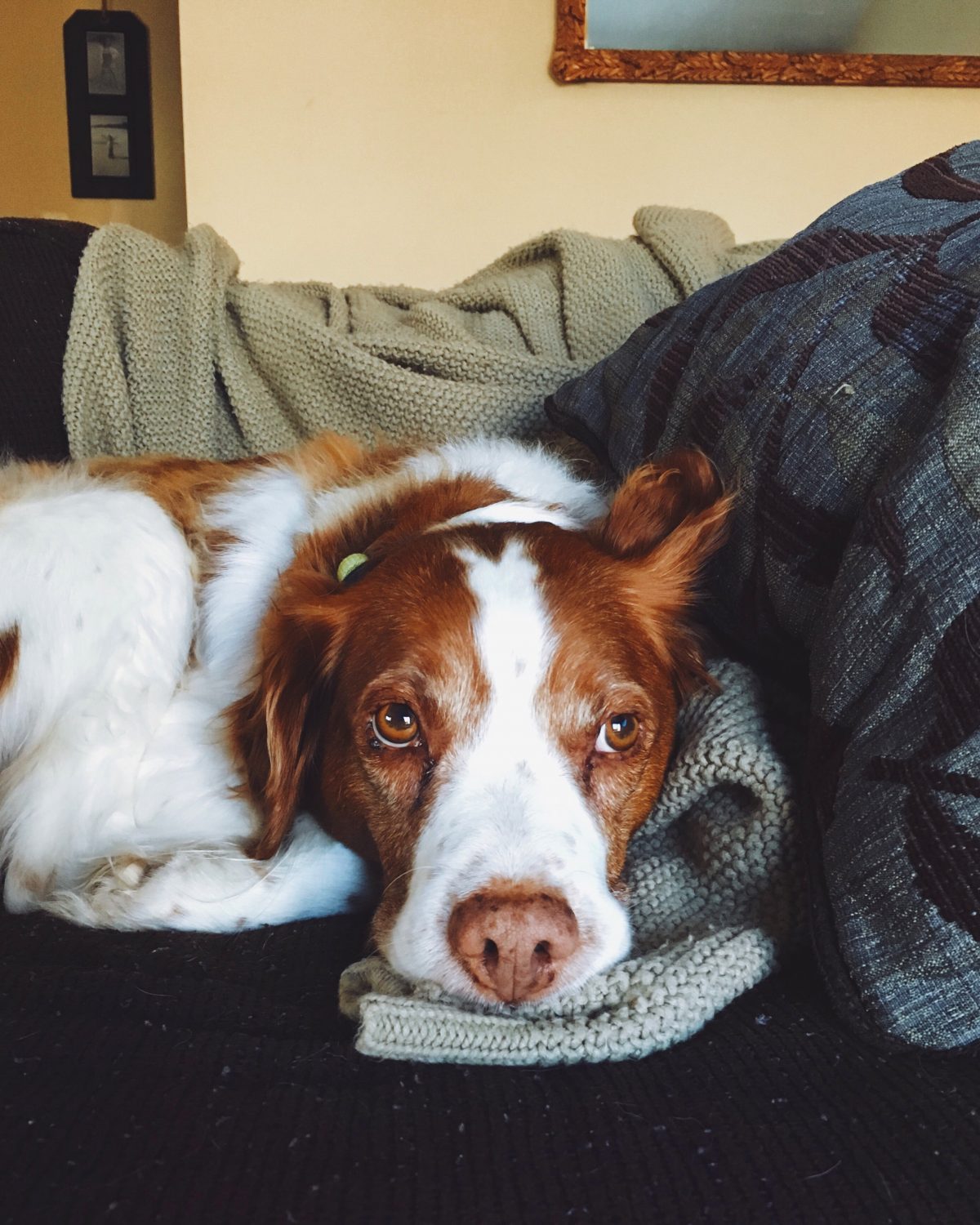 I have so many emotions going on inside so I decided to take a minute, sort them out and write. I suppose this is part therapeutic, part needing to get these memories written down so we never forget them or him and also so we could look back and read and reread his story. This definitely is more therapeutic than anything, because I don't think I really felt heartbreak until today. I've been hurt, sad and devastated but literal heartache? It's indescribable. Like my heart literally aches in my chest and my figurative and emotional heart aches for the unconditional love Seamus gave to all of us.
First let me just say, Seamus (Gaelic for James which is my husbands middle name) was not just "our dog" or "a dog" he was family.
Seamus – The Beginning:
11 years ago, on a clear blue and sunny spring day, Pat, myself and both our girls (at the time Haileigh was 6 and Malloree was 3) drove out to Chelsea, Michigan to look at a litter of Brittany Spaniels. I grew up with a Golden Retriever, but Pat grew up having Brittanys because he and his dad and brother went bird hunting and Brittanys are bird dogs. So when we came to the decision that our little family of 4 needed a puppy, a Brittany it was.
Once we passed the giant sunflower field and drove up the breeders driveway, we all were anxious to pick out the next McNamara. Having a puppy was a first for me. When I was little, my dog was already full grown and when he was a puppy I don't think I was around yet. As I mentioned, Pat had dogs his entire life but this was our first together. Needless to say, we all were excited.
The breeders home was not the cleanliest but once we saw the puppies, that's all we could see – cute little bundles of energy. How does one pick a puppy from a litter of puppies?? Luckily, being that three of them were already spoken for, it narrowed it down to two. Both were orange and white spotted and adorable. The one with less orange was an assertive little guy that bounded towards us with all this cuteness and confidence. But then there was another puppy, the one the breeders called Sad Eyes. He was more orange than white, bashful and with a smattering of orange freckles on his nose.
Pat wanted the first puppy with more white because he was looking for a bird dog that wouldn't shy away from hearing the sound of shotguns firing and would be aggressive in the field. But he turned to me and said: "Laurie, you pick our puppy." Who-what-me? Well, the bashful guy with the nose full of freckles won my heart from the very beginning. In no time Seamus sat in a box in-between both Haileigh and Malloree in the backseat of the truck. The girls LOVED him. And he did not like the car ride. A little motion sickness on the way home but he was ours, and we loved him.
Seamus – The Middle:
Over the years he's been apart of everything, big and small. Kids birthdays, 4th of July get togethers, up north hunting trips and naps on the couch. He was such a happy dog! Always greeted whomever walked through our door with some random shoe in his mouth and eventually would let it go but only if you tossed him a treat. You couldn't help but love him. Even the UPS delivery guy (who came to my house ALL the time) would leave him a dog treat on the package by our front door. Our cat even loved him, when she felt like it.
Speaking of treats. HE loooooved his dog treats and would often go outside just to turn around and scratch at the door to come back in to get one. I was onto him, I just never told him that.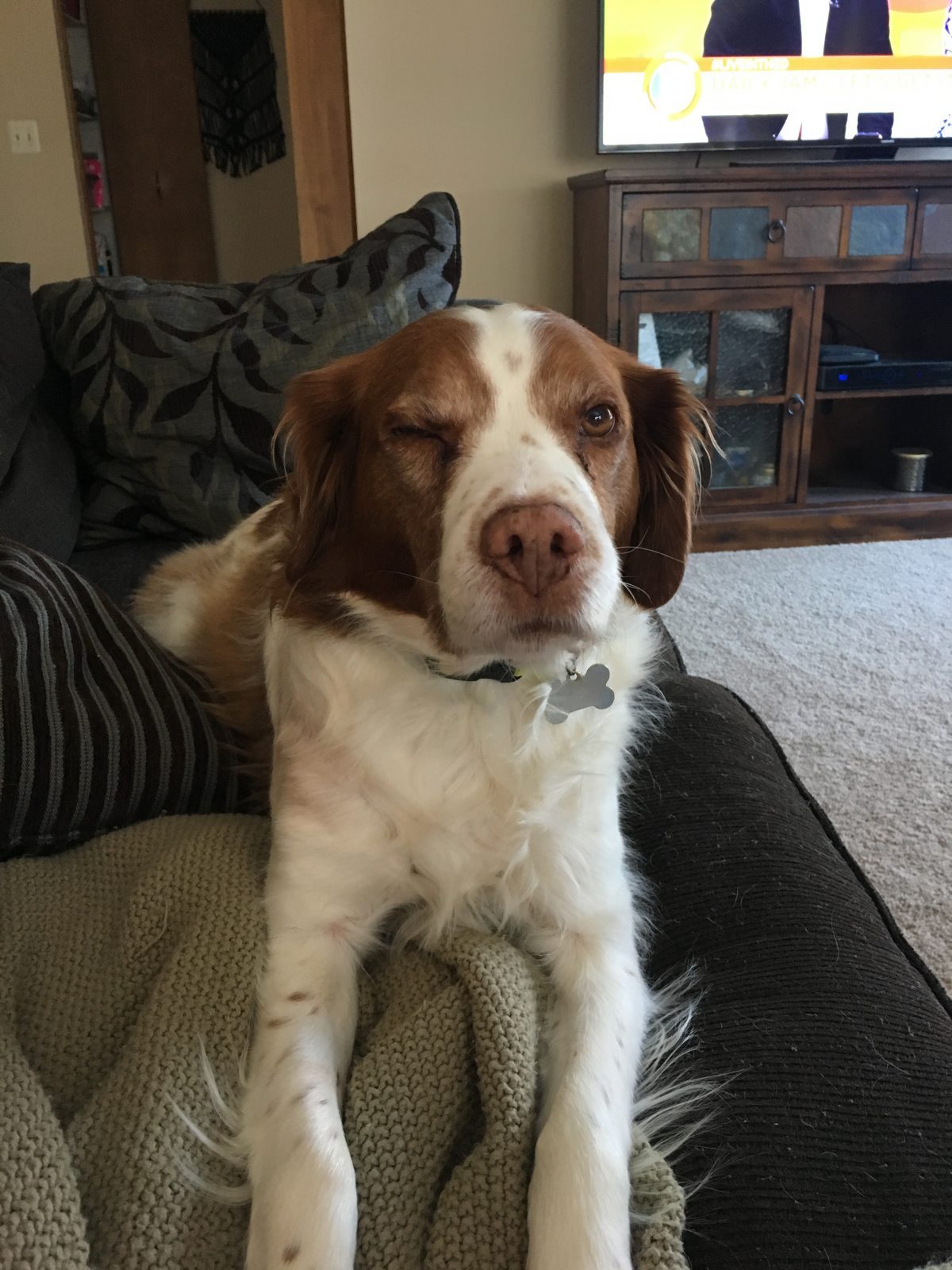 Just in the last year or so we started letting him chill on the couch with us. I mean, he snuck and slept on the couch when we weren't home or sleeping so what was the point in stopping him anymore? I'm not kidding when I say Seamus REALLY loved his corner of the couch and if someone was in his beloved spot and then got up from it, he'd steel it right back.
And over the years, I always caught him winking at me. 😉
He also loved car rides. Especially in Pat's truck, and would always have his nose poking out the cracked window, breathing in the air.
One of my favorite memories is that whenever I air-popped popcorn, he would sit and wait with hope in his eyes, silently praying that I would toss him a popped kernel or two. I always did.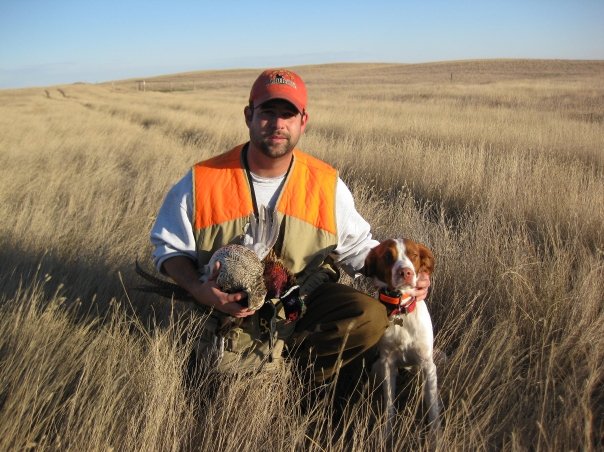 He was my buddy from January until September and then Pat's partner in crime for the hunting season. If Pat was loading up his truck to head up north, Seamus was hyped up knowing where he was headed. He loved being outdoors.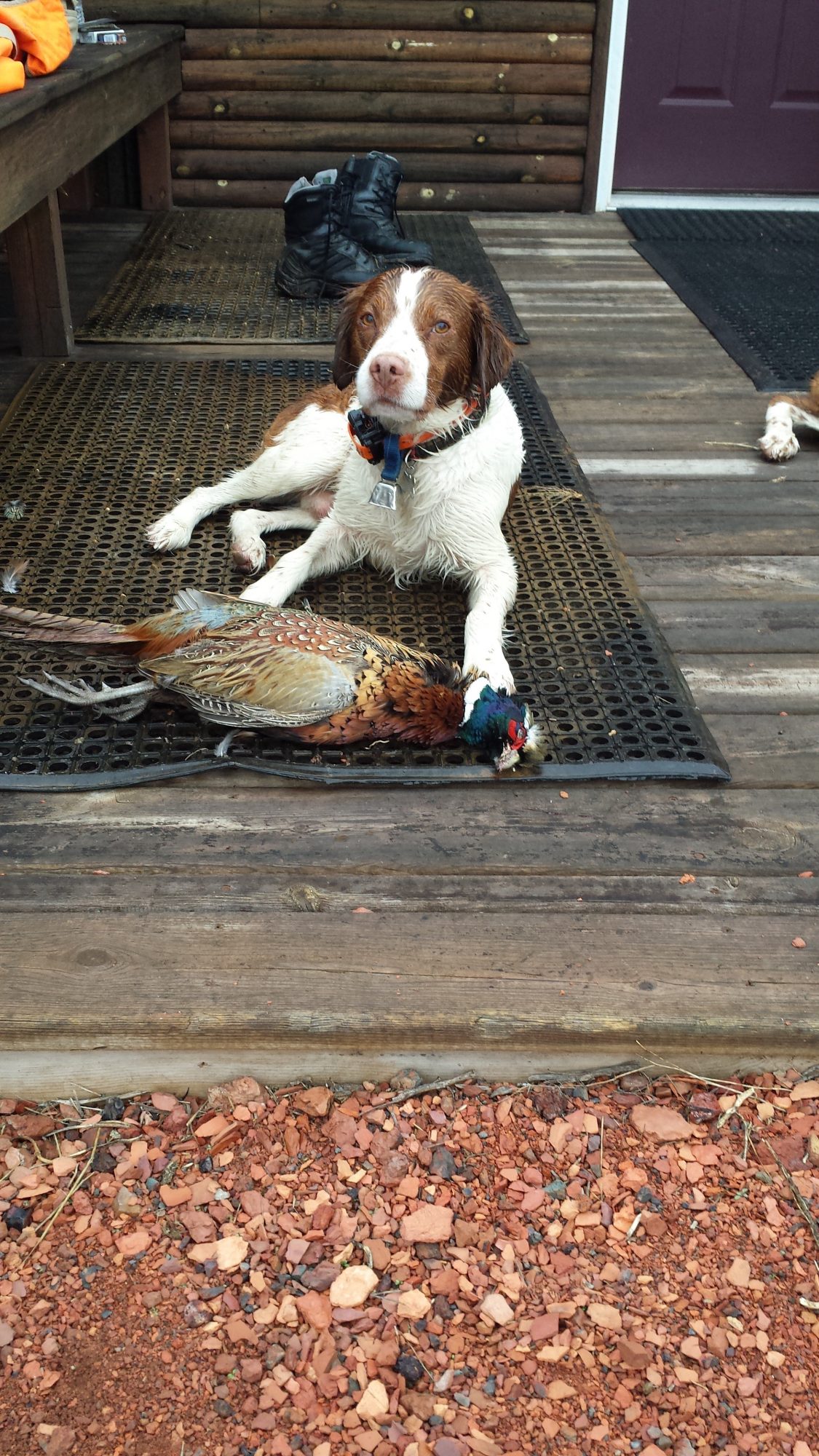 Seamus went to North Dakota to hunt pheasants with Pat, his dad and brother many times. I love that Pat did this with him and I'm sure Seamus did too. Oh and as it turns out, he was an excellent bird dog (thankyouverymuch). Your welcome, Pat. 😉
He also followed me everywhere and was always in the kitchen when I was cooking or would lay under my photography board if I was blogging a recipe. Probably because he knew I'd toss him a little something-something. I always spoiled him.
He even ate dinner with us. Under the table, most likely hoping for someone to drop a crumb or something. He loved a treat of rotisserie chicken or steak.
And the boy could hear a feather hit his dog food bowl. And if I was making bacon, he would stand just off to the side, nonchalantly (although so not nonchalantly) waiting for me to toss his dry food in a little bit of bacon grease. You see a theme here, right? He loved his food and he was always close to us when we had it.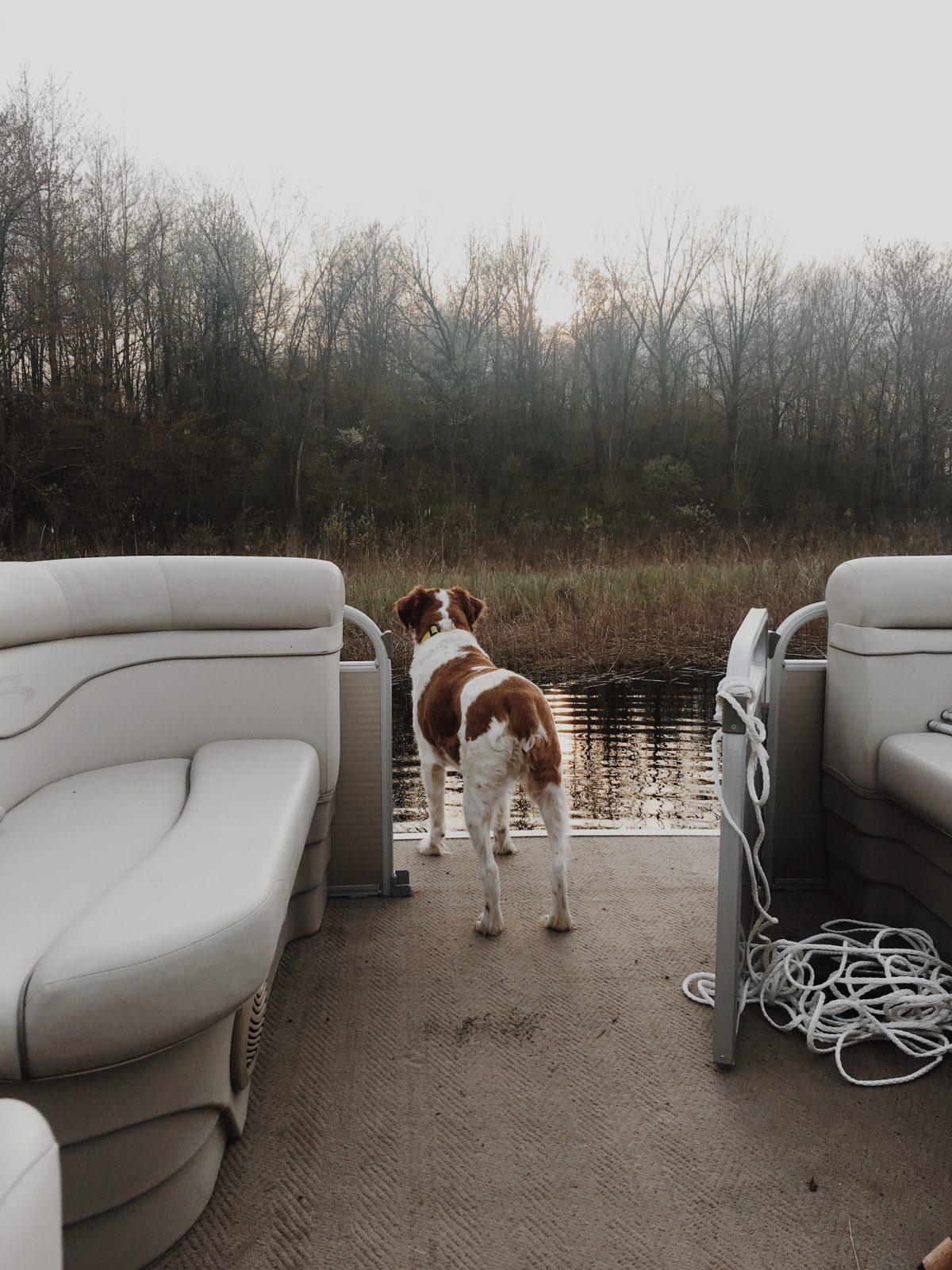 He loved going out on the boat with us when we fished or went for a boat ride. It was like a whole new world to him every single time and the joy on his face was priceless.
And if the girls were watching a TV show and some one rung the doorbell on the show, Seamus would jump up and head to our front door thinking someone was there for a visit. Multiple times in a row even. It was hilarious.
These are just a small collaboration of all of our memories. I'll probably add more as I think of them. I even blogged about him off and on in posts over the years.
Seamus – The End: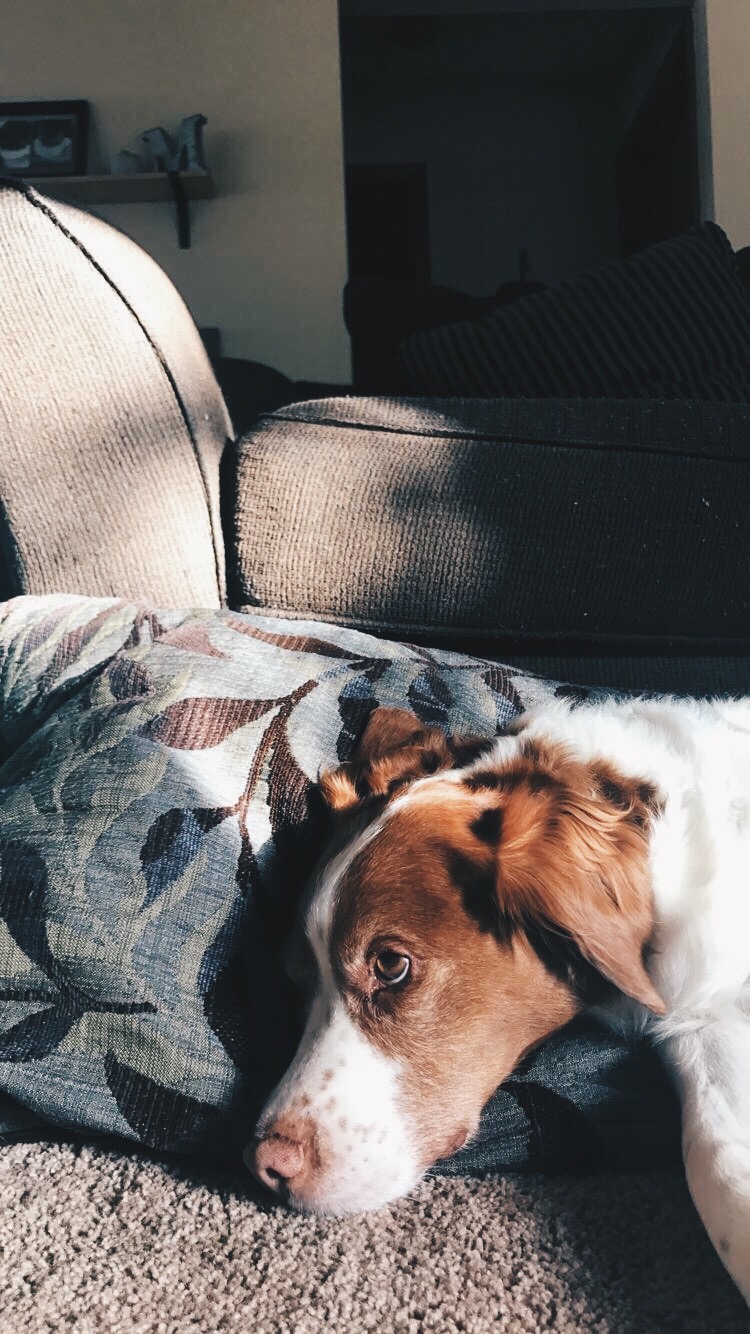 Over the years he had a few scary moments; a broken shoulder, a couple of mass removals. But the scariest of them all was this past weekend. He was fine all day Friday, running around, being his happy and healthy 11-year-old self. But on Saturday morning I let him outside to do his business, turned to walk away and heard him collapse on the back deck. I ran out there and was instantly concerned because this was not normal, but then he came back to and walked off to the back yard and everything seemed okay again. I think I was in shock and told myself he must have had to go pretty bad and tripped on his way out. But over the next 24 hours he got progressively worse. Any form of excitement and he would collapse, his breathing shallowed and began to not recovering as quickly, losing body functions and drooling. On Sunday we took him to the veterinary ER and was told, that it was most likely his heart not functioning properly.
To say we were devastated is an understatement. Being that he was pushing 12 years old and lived a great life, we chose to euthanize. This wasn't a decision made lightly, but we did not want him to suffer. So we decided to take him home for one last night with us to say our goodbyes, hold him and cry.
Monday morning Pat and I drove Seamus to our vets office with heavy hearts and tears in our eyes. We felt nauseous and kept thinking how could this be happening. I am not ready. But it wasn't about me or us. It was about Seamus' quality of life. And that was dwindling.
The vet and vet techs at Ore Creek Veterinary Office were so compassionate. Pat carried him in and Seamus immediately had one of the episodes that I mentioned. Utterly heartbreaking.
They walked us through the process before inserting the catheter in his hind leg. With his head in my lap, and Pat's hand on his side and while they gave him the injection, I held his face and looked into his eyes, telling him over and over that I loved him while he took his last breath. It was without a doubt the hardest thing we've ever had to do but I'm so glad we could be with him when he left us. It was amazing that something so devastatingly sad could be so special and beautiful.
He was such a good dog. The BEST dog, in fact. And my heart can barely take the loss of him. While he's not waiting at the door with a shoe for us, his corner of the couch may be empty and his favorite blanket still in the same heap it was when he left it, his presence is everywhere. Along with his dog hair ;). We all feel so thankful that he was apart of our story, our family. And has left a huge mark on each of our lives and with so many great memories to look back on. Time is the only thing that can heal the hole in our hearts.
Until we meet again, sweet boy.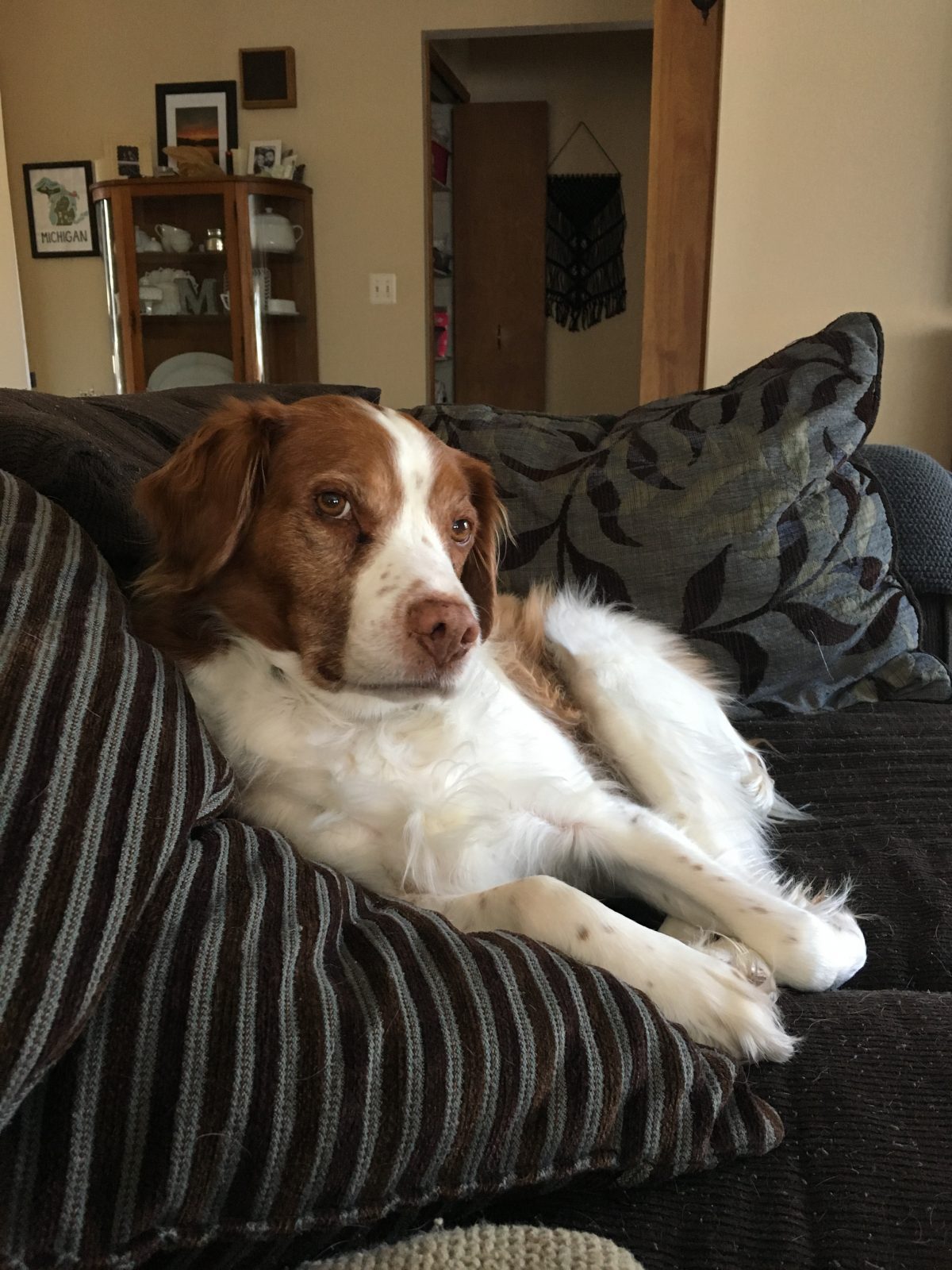 —
Thank you for taking the time to read his/our story.
This post may contain affiliate links.
Buy the Cookbook: Simply Scratch : 120 Wholesome Homemade Recipes Made Easy Now available on Amazon »
THANK YOU in advance for your support!