These Easy BBQ Baby Back Ribs are foolproof and fall-off-the-bone tender, and a guaranteed hit at your cookout or party! Baby back pork ribs are rubbed with a simple homemade rub, wrapped in foil and baked in the oven until perfectly tender. Right before serving, brush with a homemade smoky sweet barbecue sauce and finish on the grill. Serves 8 people 1/4 of a slab each.
Happy Friday and a Happy Father's Day weekend to those wonderful dad's out there! Things may look a little different around here. If you're viewing this recipe and have been following along the last 9 or so years..
YES! Simply Scratch has gotten a makeover!
It's been 7 years since my last redesign and boy was it long overdue.
Besides all the backend stuff like up to date coding, plugins and widgets for example, Simply Scratch also has a new logo (holla!) with a fresh, simple layout with better search capabilities! While you're at it, check it out on your cell phone (or if you're on your phone check it out on a laptop!) because YES it's different there too! Also, let me point out that gone is the tagline "delicious recipes made simply from scratch" not that it's not true but "Recipes For Life" seems a bit more appropriate, don't you think?
Overall it's just better, brighter and more me. A lot has changed over the years; I know I've changed and the recipes I share on here have changed as well. It was important to me that this blog reflected that. I had a somewhat clear vision of what I wanted this site to look and feel like, and Lindsay of Purr Design made it happen, yet again. And I can't thank her enough. I hope you enjoy this new look, convenient features and find it much easier to navigate.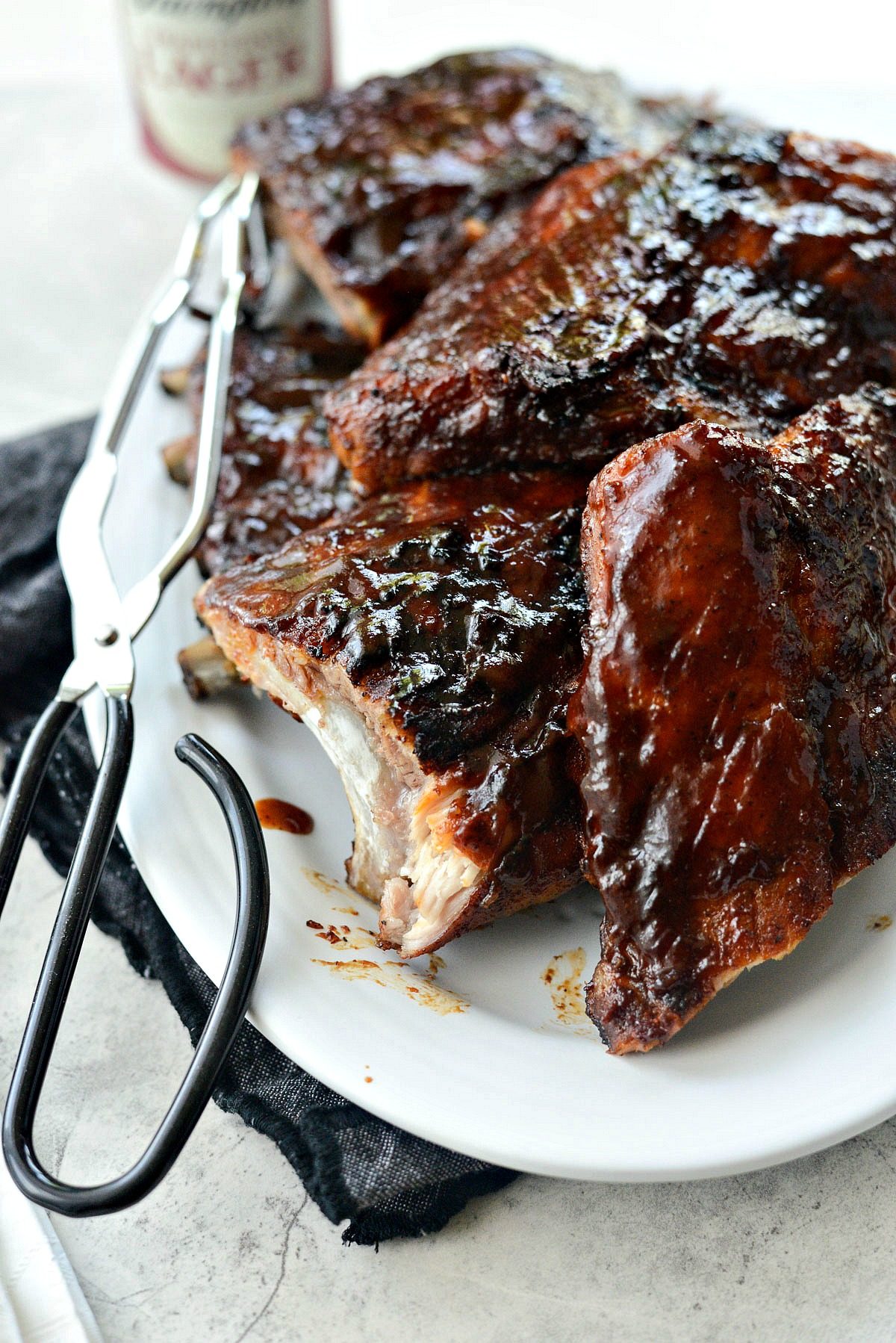 Let's talk about these ribs.
>insert heart eye emojis< I'm super excited for you to try these! They are incredible and if cooking ribs makes you nervous, let this recipe be the one to change your mind. It's a foolproof way to making the easiest most delicious, fall-off-the-bone, finger-licking ribs with an unbelievable sweet and smoky sauce.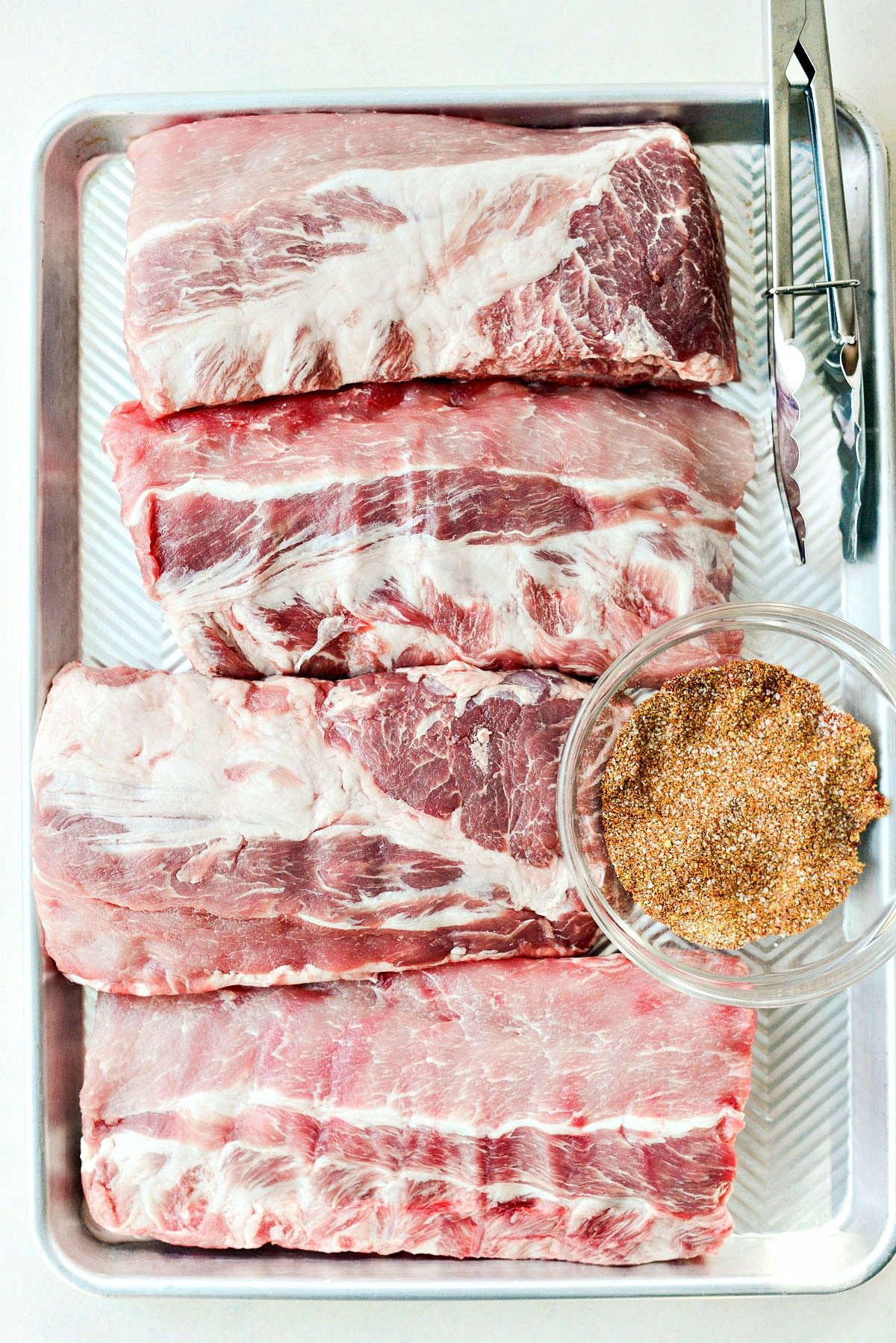 To start, you will need 6 pounds baby back pork ribs and a rib rub.
First remove the ribs from any packaging and pat them dry with paper towels. Then If your ribs have the silvery membrane or skin on the underneath side, use a sharp knife to lift a portion of it away from the meat and bones. Next use paper towel to grip the silver skin and pull it back away from the ribs, and discard.
Luckily the ribs I'm using for this post had the membrane taken off already. With that said, don't be surprised if you notice that it has already been done for you too.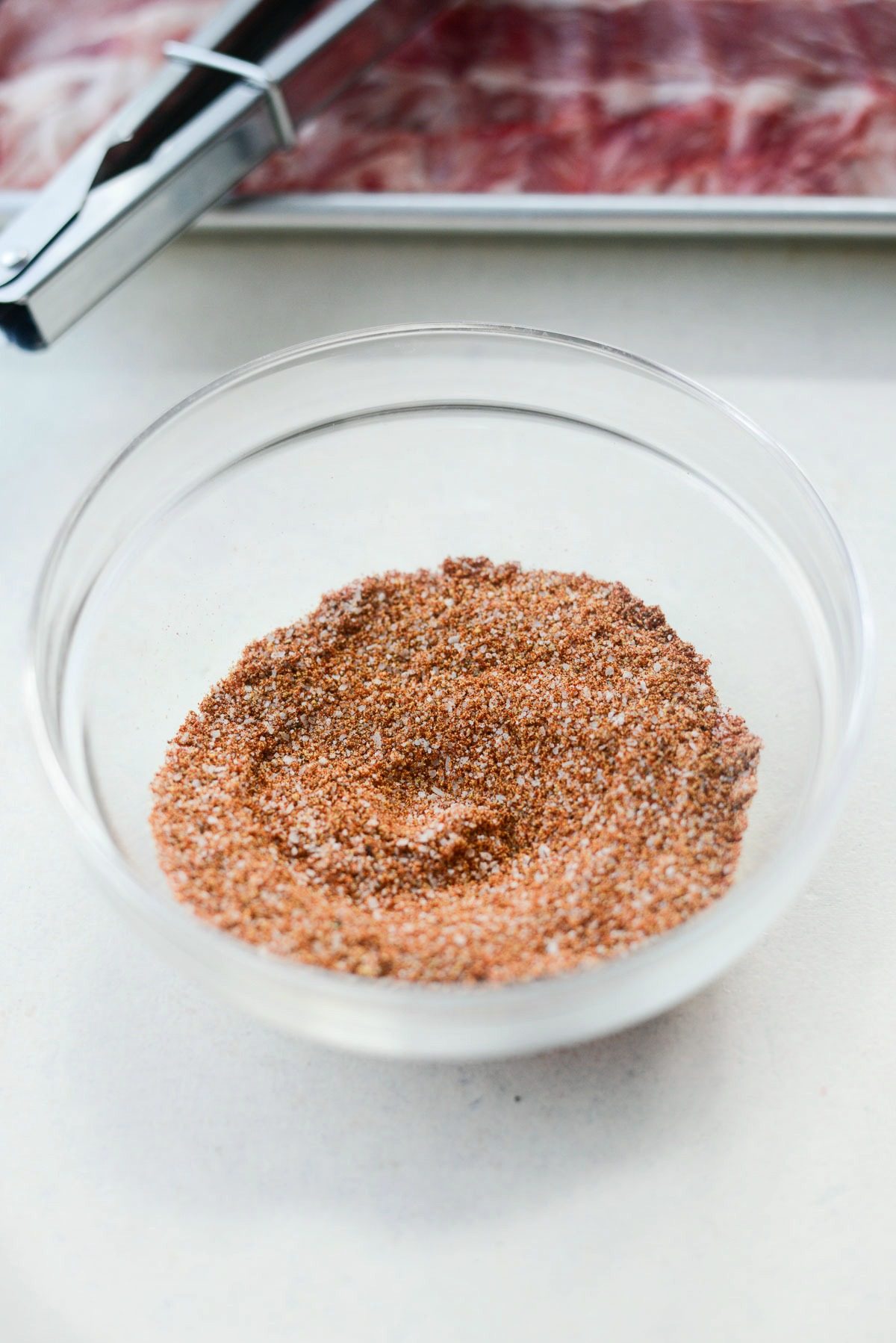 To make the rib rub combine:
kosher salt
paprika
dry mustard
cayenne pepper
freshly ground black pepper
In a small bowl combine 2 tablespoons kosher salt, 1 tablespoon paprika, 1 tablespoon dry mustard, 1/2 teaspoon cayenne and 1/2 teaspoon freshly ground black pepper.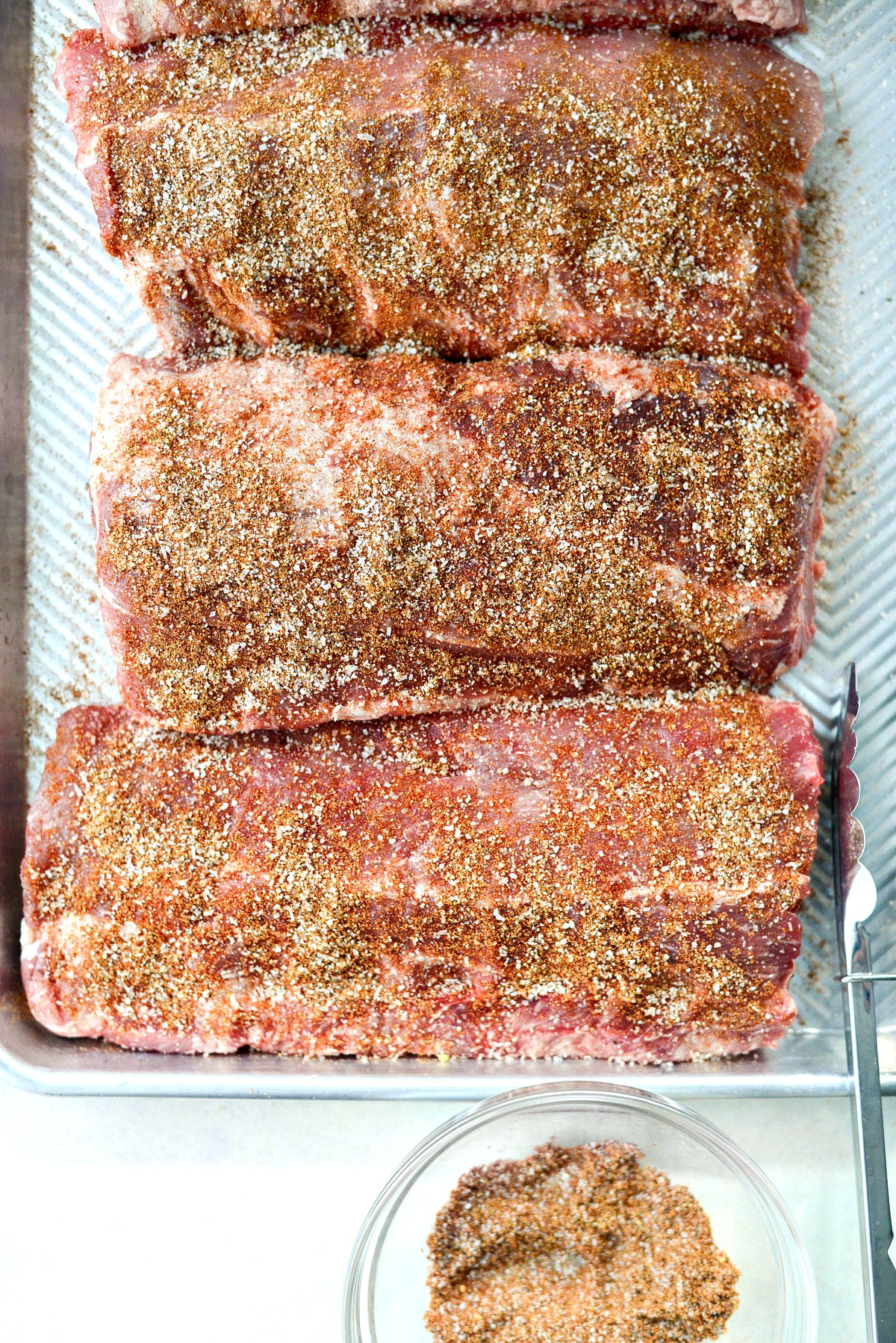 Next, sprinkle 2/3 of the rub over top, meaty side of the ribs and massage it into the meat.
Turn the ribs over and season with the remaining rub mixture, massaging it into the second side as well.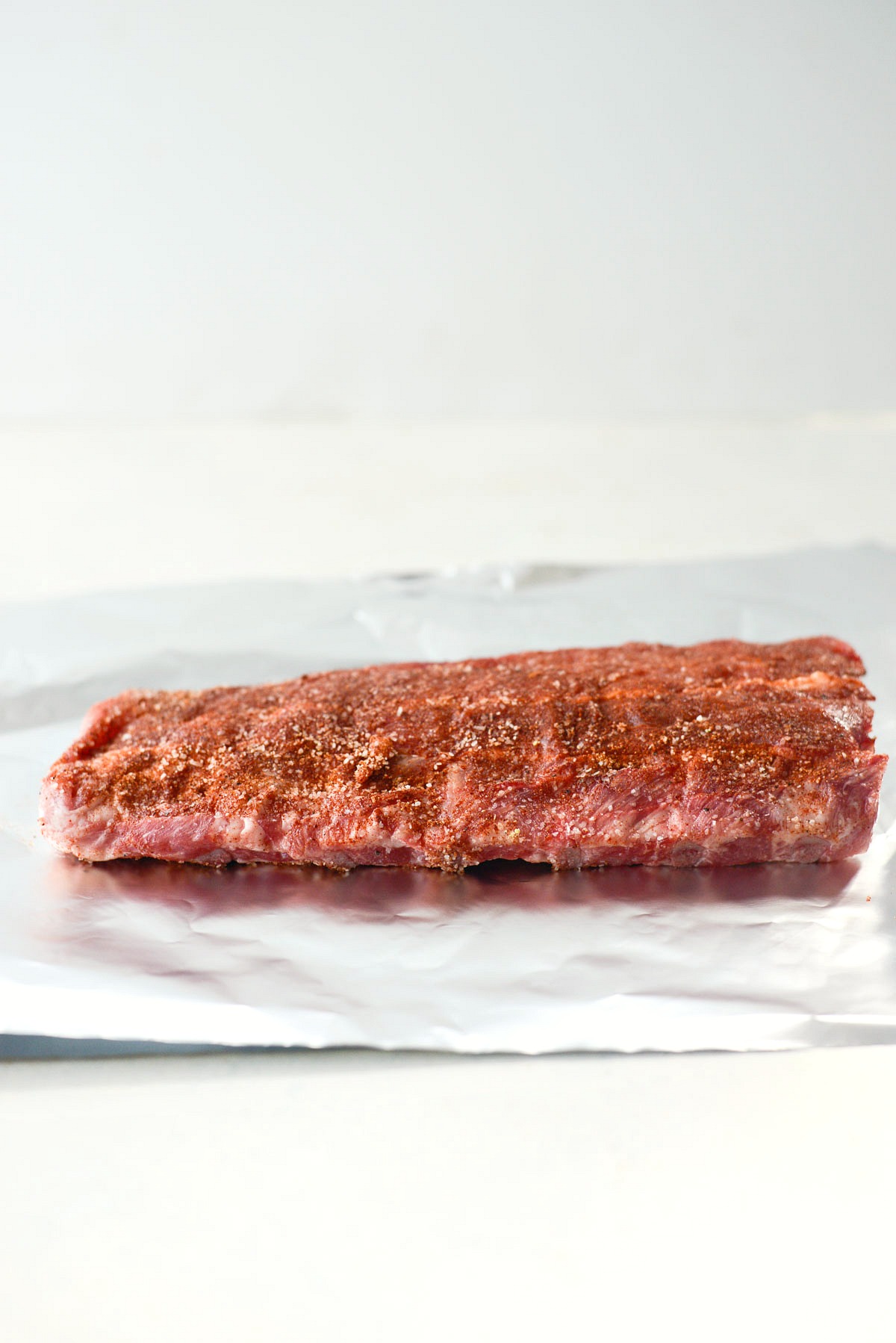 Preheat your oven to 300°. If working with long slabs, cutting them into half slabs makes them easier to manage.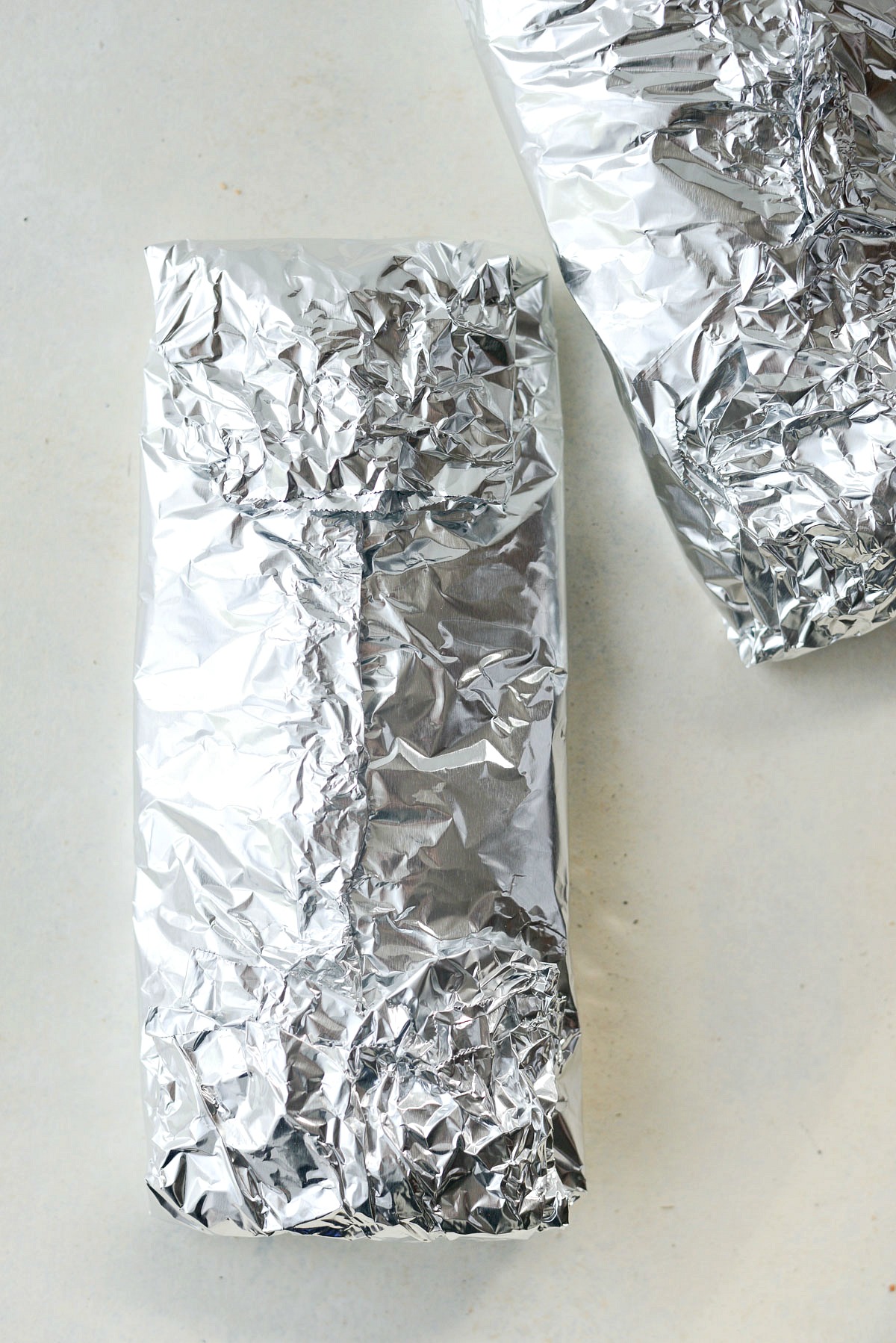 Then wrap each half slab in 2 layers of aluminum foil, crimping at the top and folding up the ends. Place the wrapped ribs onto a foil-lined, rimmed, metal baking sheet and bake for 2-1/2 to 3 hours.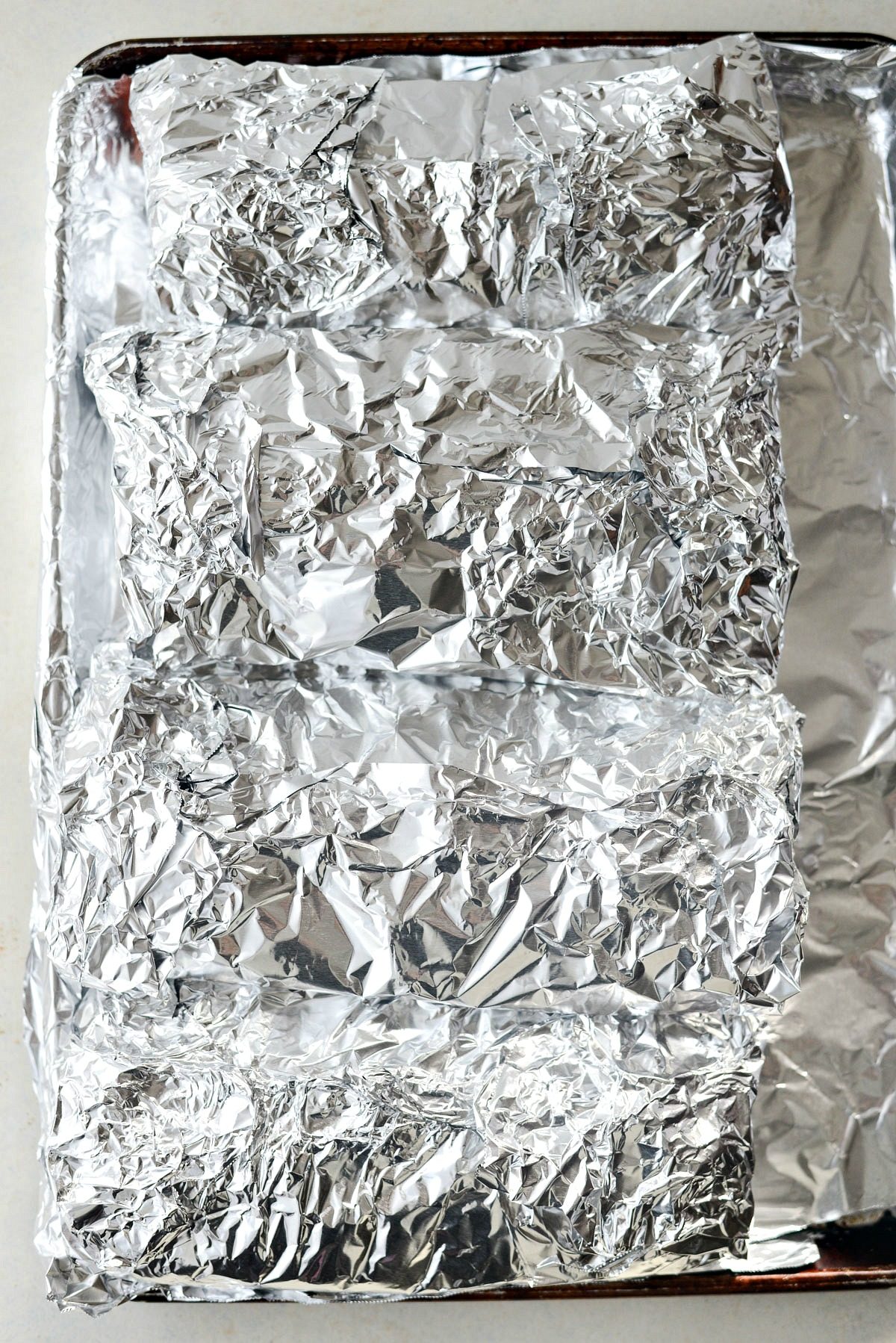 I check the ribs doneness by inserting a cake tester, metal skewer or fork into the top of the foil until you enter meat (try again if you hit bone
). If it glides through the meat, they are done. If not, return back to the oven for another 30 minutes. Check and repeat if necessary.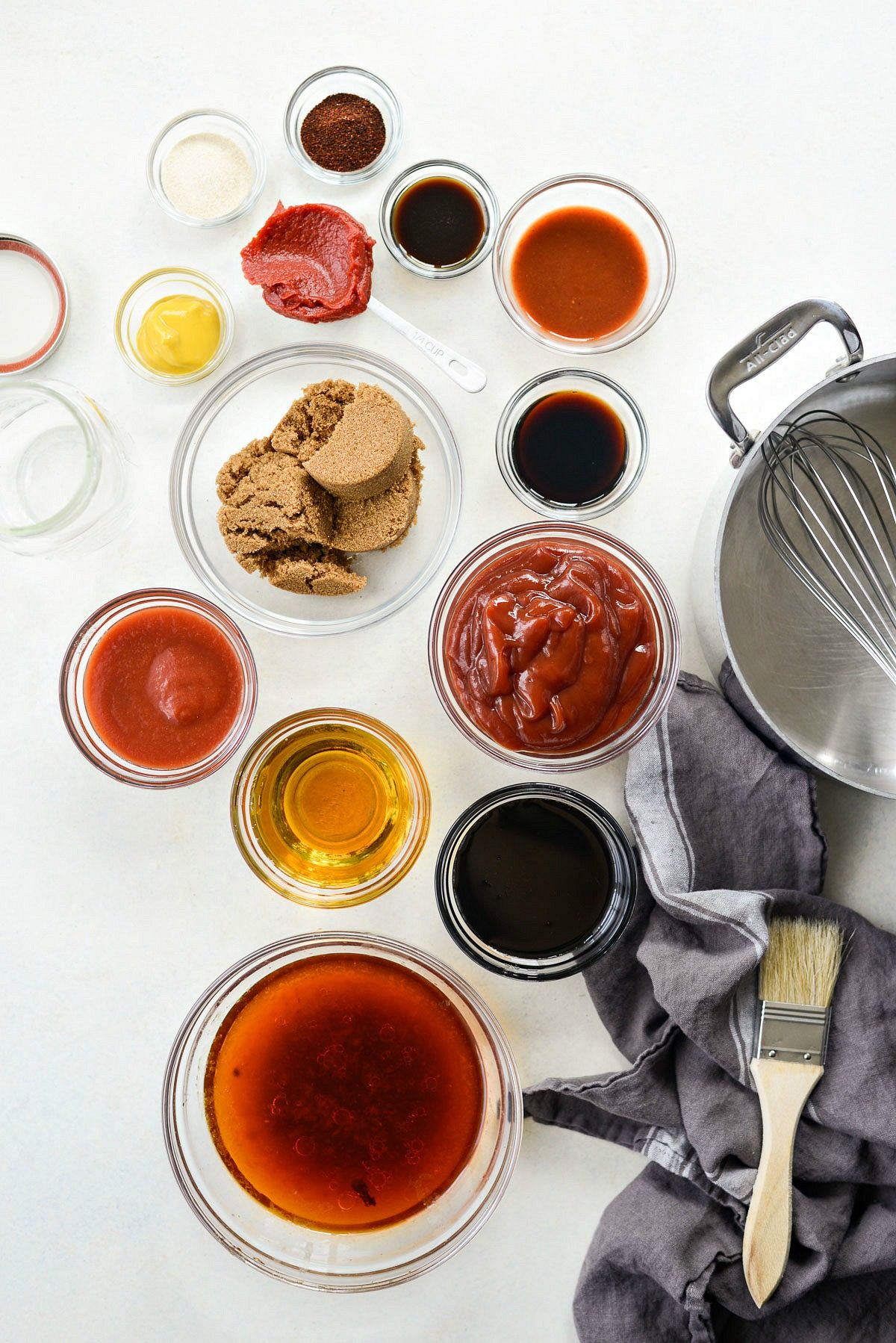 To make this epically delicious sauce, you will need:
ketchup
dark brown sugar
apple cider vinegar
tomato sauce
un-sulphured molasses
tomato paste
hot sauce
liquid smoke
onion powder
Worcestershire sauce
prepared yellow mustard
chili powder
all reserved juices (not the fat) from the ribs
Before unwrapping the ribs, slip on some oven mitts and carefully pick up one of the wrapped ribs. Next, over a medium bowl, make a small tear in the foil to drain the cooking liquids. Repeat with the remaining foil wrapped ribs. Lastly, pour the cooking liquids into a fat separator and let it sit for a few so the fat has a chance to rise to the top.
What is Liquid Smoke?
Liquid smoke is a dark brownish liquid that is generally made by condensing the smoke from wood. In a pinch it's great for obtaining the smokey flavorful with out actually smoking the meat or vegetables. There are additives in liquid smoke, so please read labels.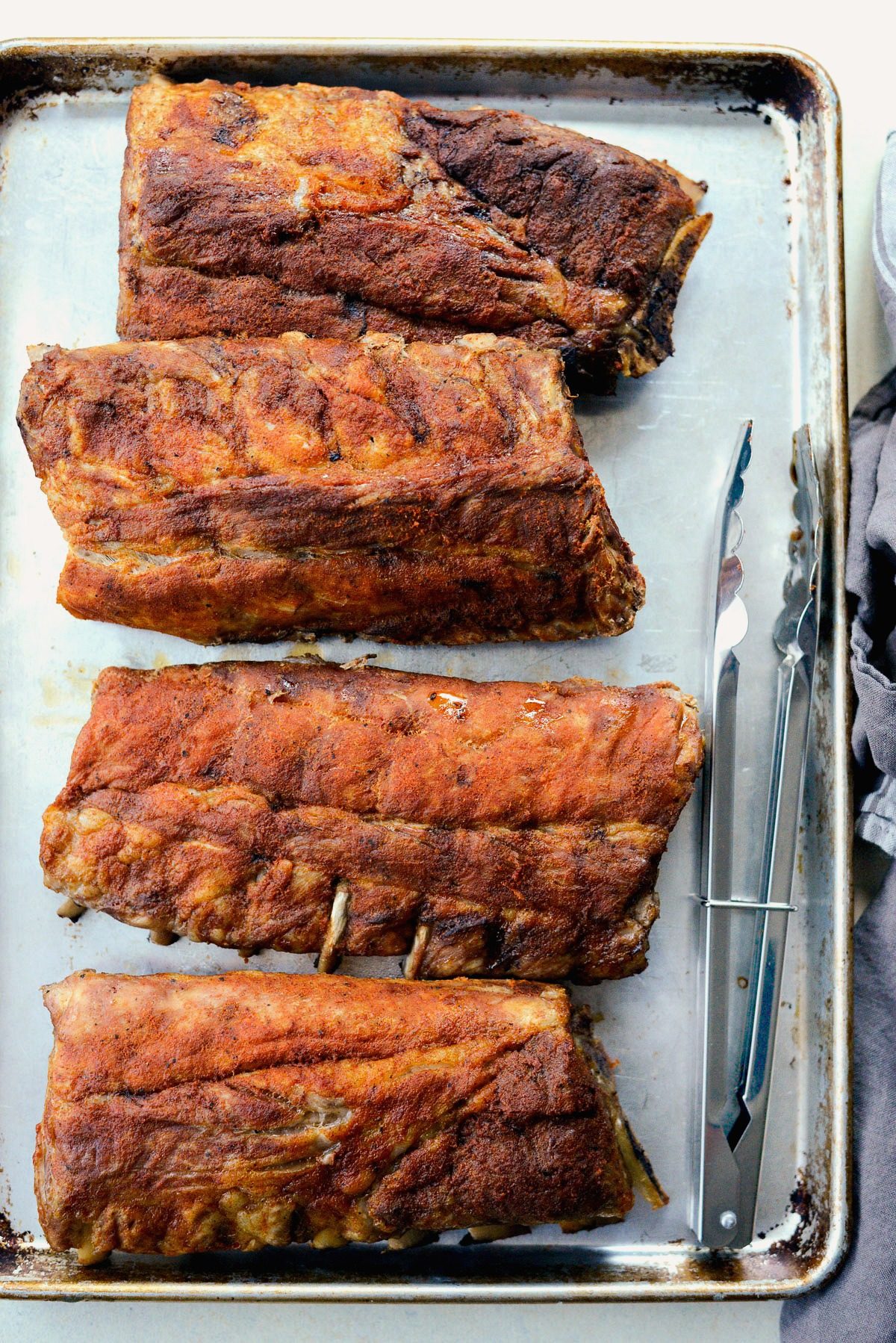 Then, once the cooking liquid has been drained, saved and is currently on your counter separating, unwrap the ribs and place them on a clean rimmed metal baking sheet. These ribs already smell amazing!
Next, to a medium pot, measure and add in 1 cup ketchup, 3/4 cup packed dark brown sugar, 1/2 cup apple cider vinegar, 1/2 cup tomato sauce, 1/2 cup un-sulphured molasses, 1/4 cup tomato paste, 2 tablespoons hot sauce, 2 tablespoons liquid smoke, 1 tablespoon onion powder, 1 tablespoon Worcestershire, 2 teaspoons yellow mustard and 1-1/2 teaspoons chili powder. Whisk to combine.
Now is when you can pull the stopper out and pour only the juices into the pot (leaving the fat behind).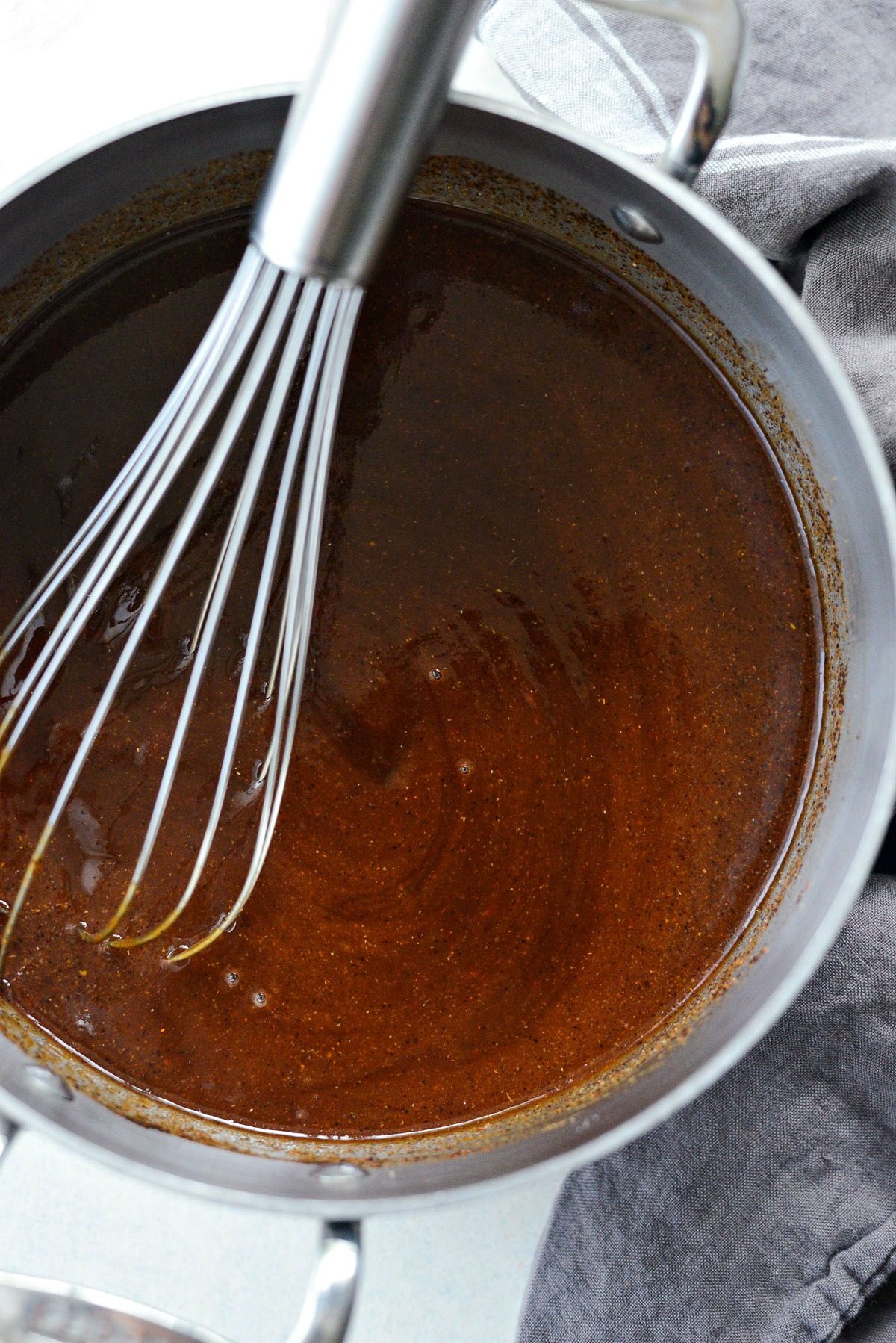 Next bring the sauce to a boil, reduce the heat to medium and simmer (stirring often) for 15 minutes.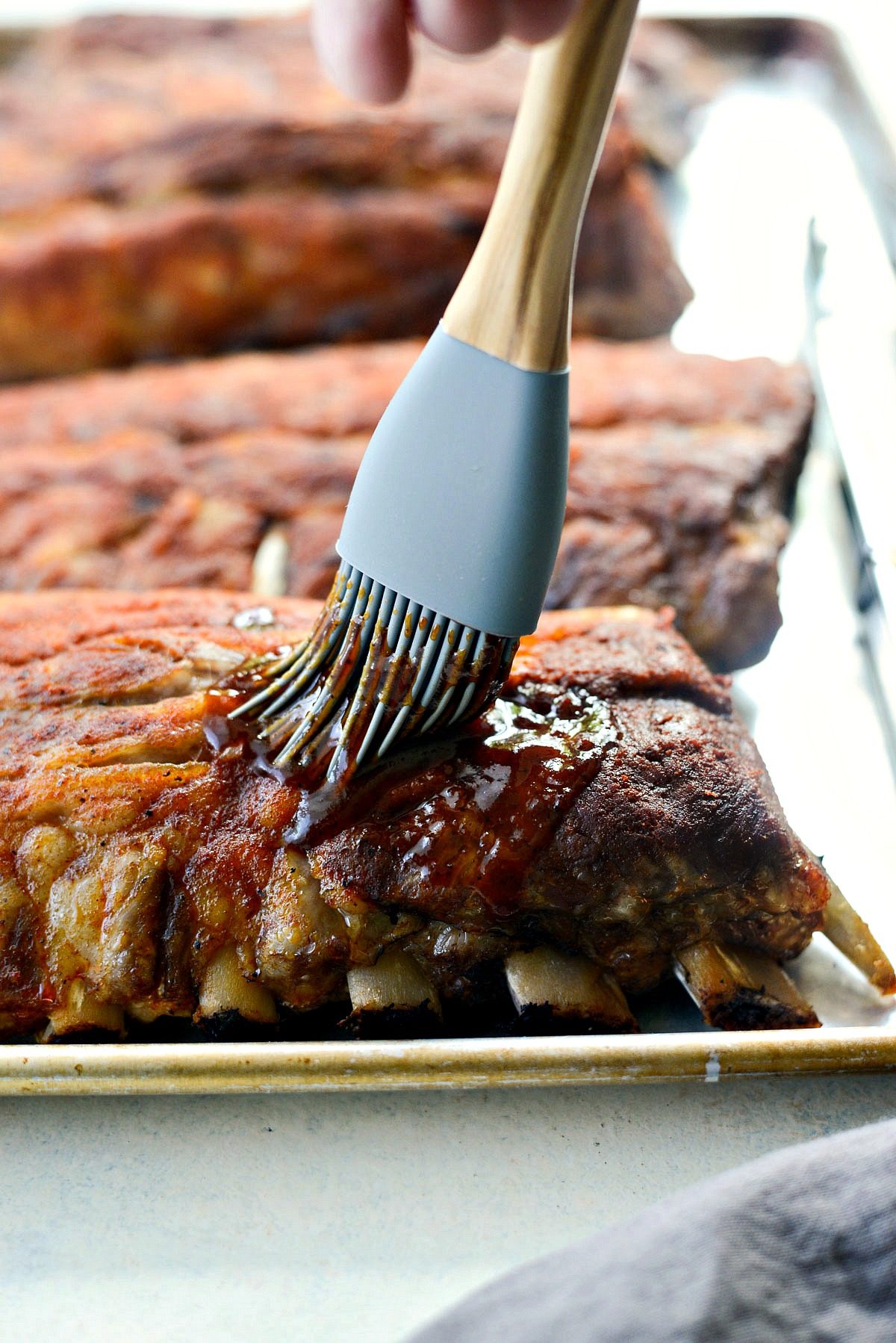 Once the sauce is thick and glorious, go ahead and brush some of it onto the to meaty side of the ribs.
Preheat your grill to 400-425°.
Place the rips (saucey side down) onto your preheated grill. Then brush the underneath side with sauce and continue to grill with the lid open. Repeating the brushing, turning and most importantly, grilling. About 10 minutes total. Therefore in doing this receptively will create a sticky, caramelized delicious crust on the ribs.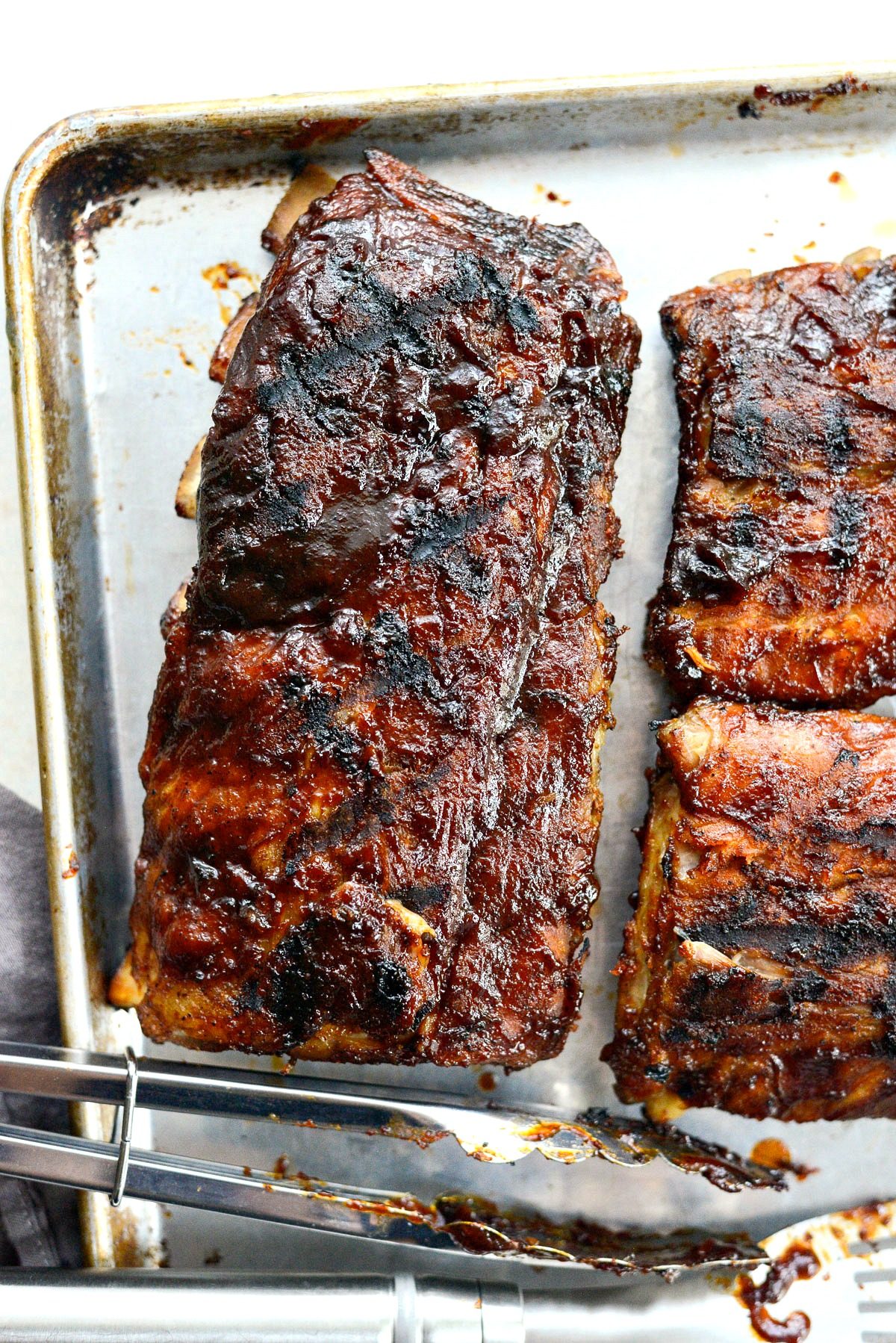 Do you see that deliciousness? Have I reached my quota with that word yet? 🙈
See? Wasn't that easy?
Sweet, smoky with a smidgen of heat (however not spicy) and so dang good! I really love the hint of molasses and smokiness of the sauce.
Lastly, I like to serve these easy bbq baby back ribs with crispy potatoes, cole slaw and grilled corn. Any leftover sauce can be served warm for those who love them extra saucy.
Enjoy! And if you give this Easy BBQ Baby Back Ribs a try, let me know! Snap a photo and tag me on twitter or instagram!
Yield: 6 servings
Easy Oven Baked Baby Back Ribs
These Easy BBQ Baby Back Ribs are foolproof and fall-off-the-bone tender, and a guaranteed hit at your cookout or party! Baby back pork ribs are rubbed with a simple homemade rub, wrapped in foil and baked in the oven until perfectly tender. Right before serving, brush with a homemade smoky sweet barbecue sauce and finish on the grill.
Ingredients
6 pounds baby back pork ribs
FOR THE RIB RUB:
2 tablespoons kosher salt
1 tablespoon dry mustard
1 tablespoon paprika
1/2 teaspoon cayenne pepper
1/2 teaspoon black pepper, freshly ground
FOR THE BBQ SAUCE:
1 cup ketchup, homemade or store bought
3/4 cup dark brown sugar
1/2 cup apple cider vinegar
1/2 cup tomato sauce
1/2 cup molasses
1/4 cup tomato paste
2 tablespoon hot sauce
2 tablespoons liquid smoke
1 tablespoon onion powder
1 tablespoons Worcestershire sauce, homemade or store bought
2 teaspoons yellow mustard
1-1/2 teaspoon chili powder
Calories: 904kcal, Carbohydrates: 64g, Protein: 56g, Fat: 47g, Saturated Fat: 17g, Polyunsaturated Fat: 8g, Monounsaturated Fat: 20g, Trans Fat: 1g, Cholesterol: 197mg, Sodium: 3325mg, Potassium: 1536mg, Fiber: 1g, Sugar: 59g, Vitamin A: 702IU, Vitamin C: 12mg, Calcium: 198mg, Iron: 5mg
This post may contain affiliate links.
Buy the Cookbook: Simply Scratch : 120 Wholesome Homemade Recipes Made Easy Now available on Amazon »
THANK YOU in advance for your support!