This creamy white chicken chili is just the thing to warm you up on a chilly day. Serve with white cheddar, tortilla chips and torn cilantro leaves.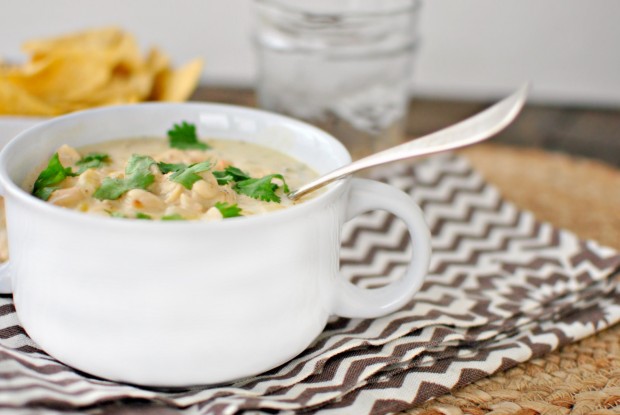 For years you guys, YEARS I wasn't so sure how I felt about white chicken chili.
The name alone hasn't ever won me over, but on New Year's Eve everything changed. Pat and I were at our good friends for dinner and celebrating, on the menu was white chicken chili. The last time I made it was YEARS ago and it turned out more as a dip then a chili, needless to say I've never had it since. However my friend Heidi is a great cook so I knew I'd be in good hands and plus I think I've always wanted to love it, I just hadn't found the right recipe yet.
If it wasn't for the fact we were sitting among 6 other people, I think we would have licked our bowls. This chicken chili is deliciously creamy with chunks of shredded chicken, great northern beans and the green chiles and cayenne give it a subtle spice. Plus you can top it with cheddar and crushed tortilla chips… what's not to love?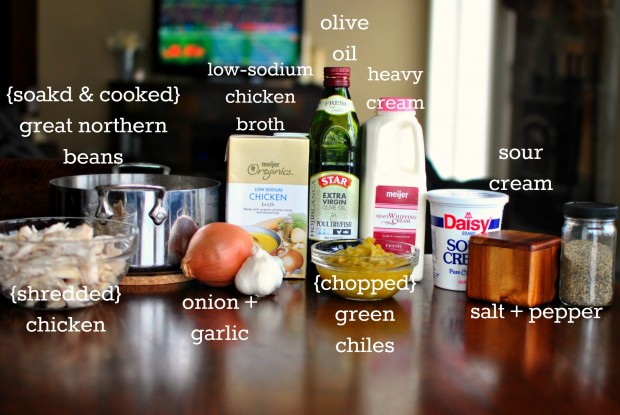 To Make This Creamy White Chicken Chili You Will Need:
dried great northern beans
water
boneless skinless chicken breasts
yellow onion
garlic
olive oil
cumin
oregano
cayenne pepper
low-sodium chicken broth
chopped green chiles
sour cream
heavy cream
Heidi found her recipe by Google searching, so I borrowed her recipe and decided to do my very own bean soaking and a few other minor changed to be a little more scratchier without compromising the amazing flavor of the chili. If you do not want to soak your beans, you can use 2 (15 ounce) cans of great northern beans and add them when you add the chicken into the chili
Soak The Beans:
If you leaning toward the soaked bean method, start by soaking 1 heaping cup of dried great northern beans in cold water overnight or at least 8 hours.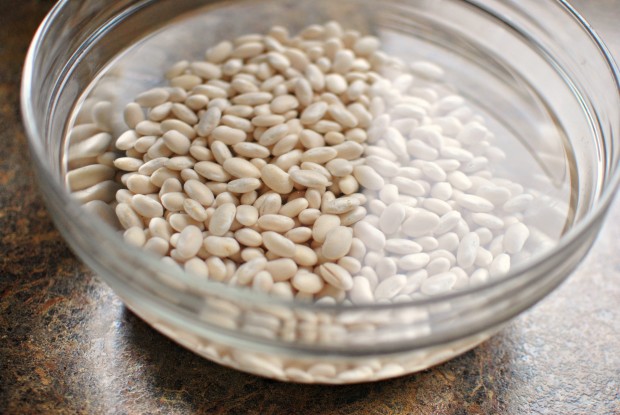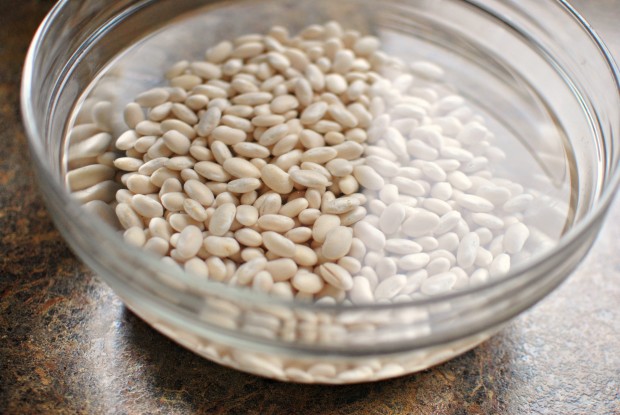 In the morning you'll notice that the beans have plumped and the skins have softened.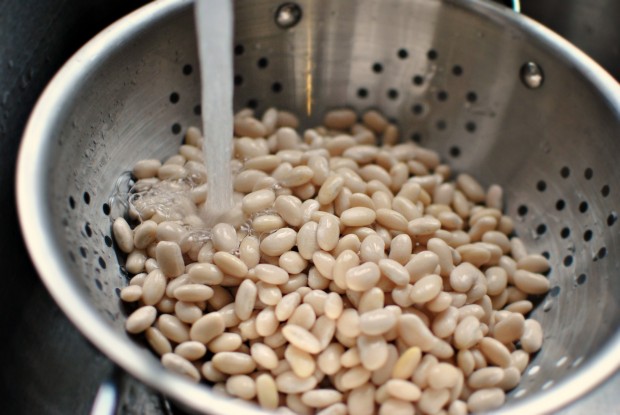 Rinse your beans under water…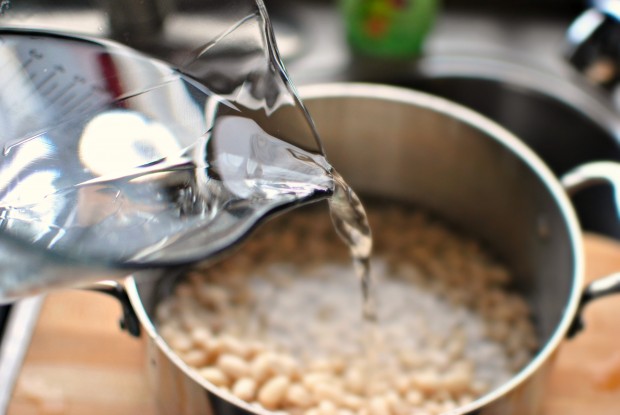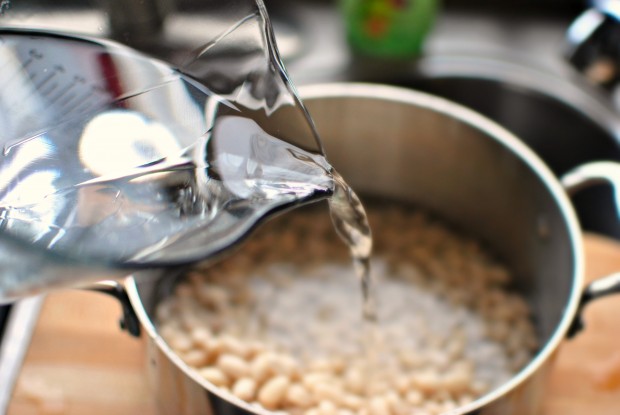 Cover with 3 cups of fresh warm water, cover and bring to a simmer. Leave the lid cracked so steam can escape and cook the beans for one to one and a half hours or until the beans are tender.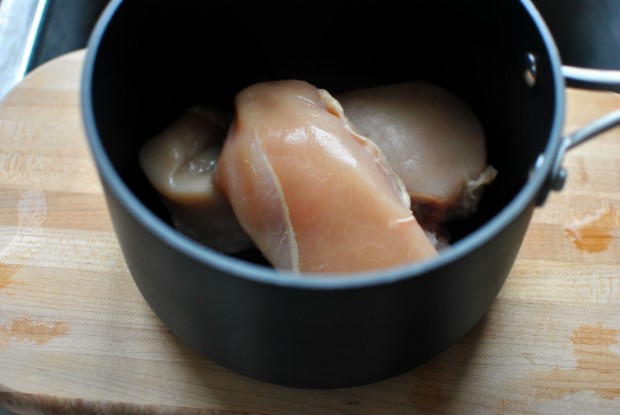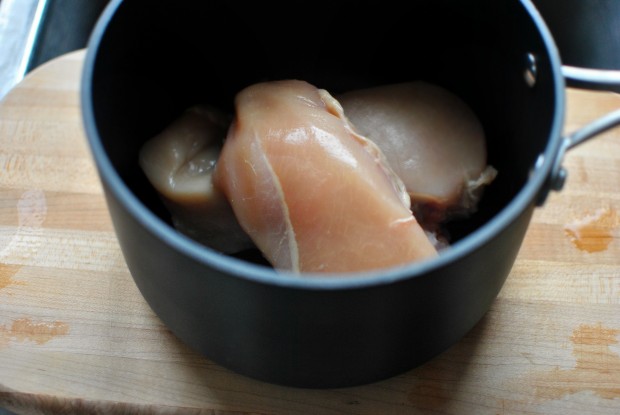 Poach The Chicken:
Mean while I threw 2 chicken breasts into a pot and covered them with water.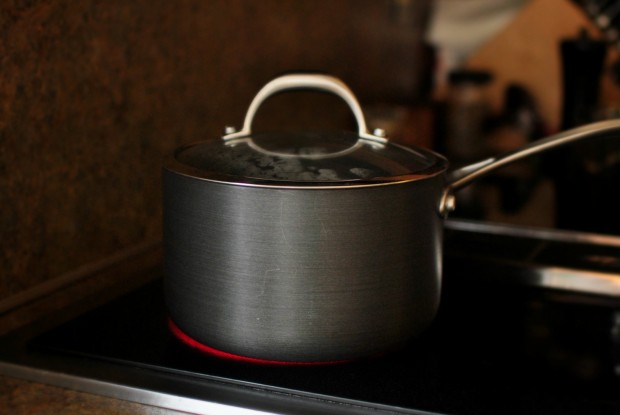 I poached the chicken for about twenty minutes or so, until the chicken was fully cooked.
Remove the chicken breasts and let them cool until they are safe to touch and then shred them.
Make the chili:
Peel, halve, slice and chop up 1 medium yellow onion.
Then smash, peel and mince up 2 large cloves of fresh garlic.
Heat a 5-quart pot over medium heat and add in 1 tablespoon of olive oil. Throw in the chopped onion and cook it until soft and translucent… about 6-8 minutes.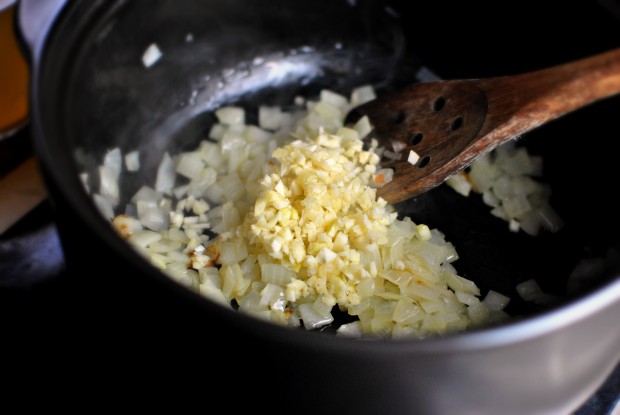 Next, add in the mince garlic and cook for a minute or two until fragrant.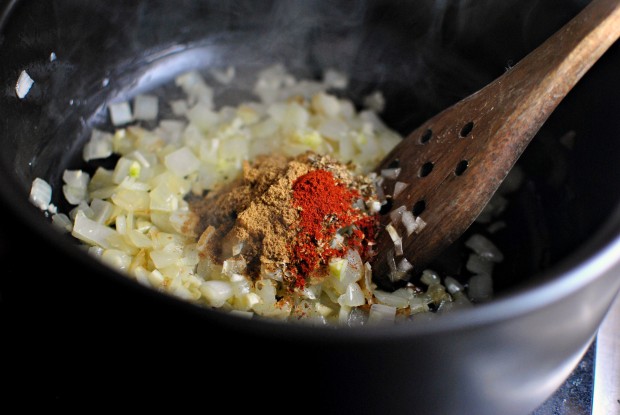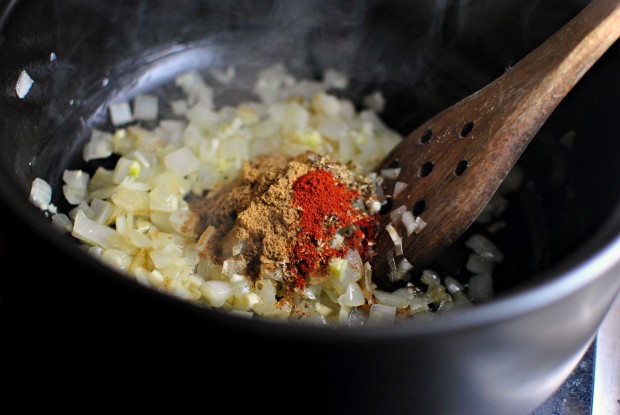 Measure and add in 1 teaspoon each ground cumin and oregano, plus and 1/8 to 1/4 teaspoon cayenne pepper.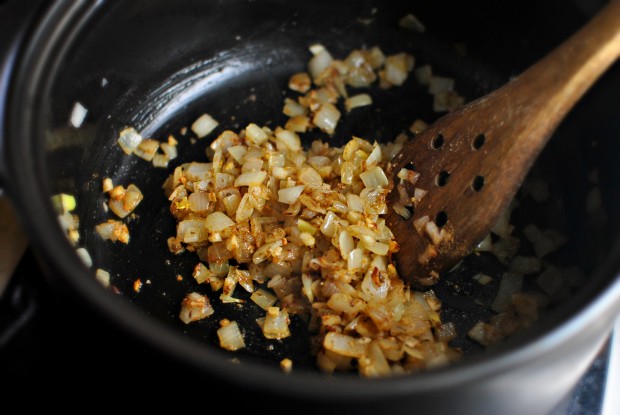 Stir and cook for one minute.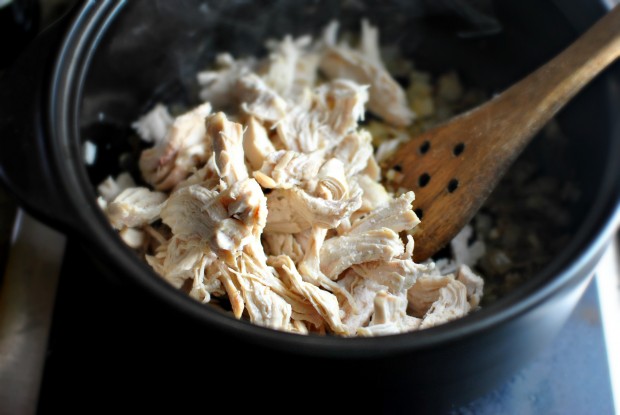 Now you can start building the chili by adding in the shredded, cooked chicken.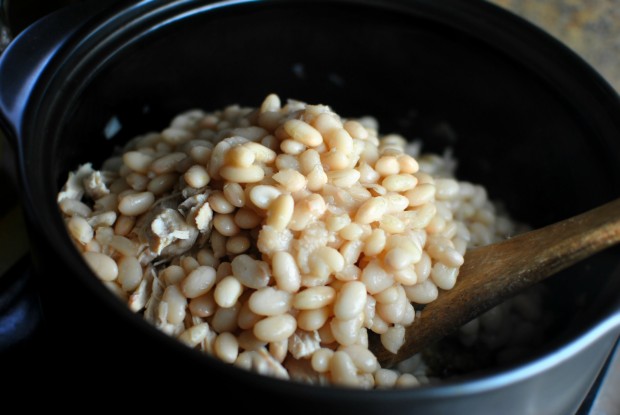 The cooked great northern beans…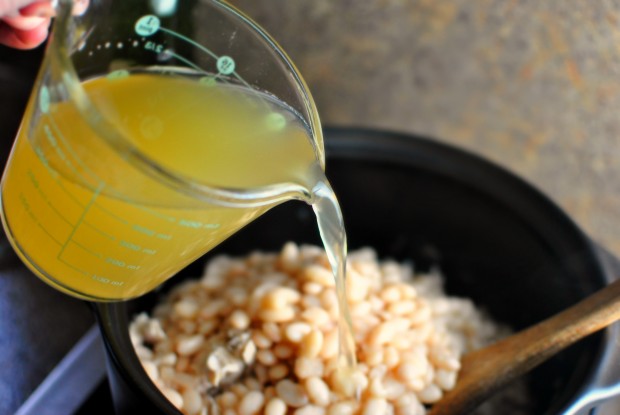 Pour in 1-3/4 cups of low-sodium chicken broth.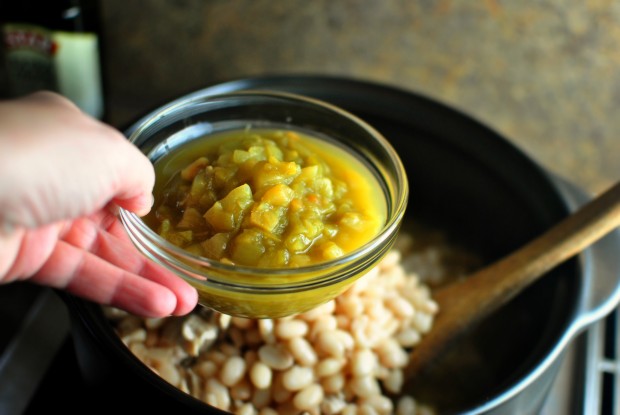 And 8 ounces of chopped green chiles.
Season with 1 teaspoon (more or less to taste) of kosher salt and 1/2 teaspoon of black pepper.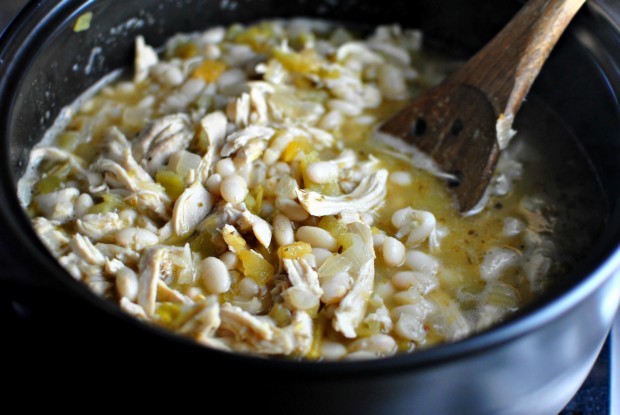 Give it a good stir and let it simmer for 30 minutes. During this time the liquids will reduce a tad.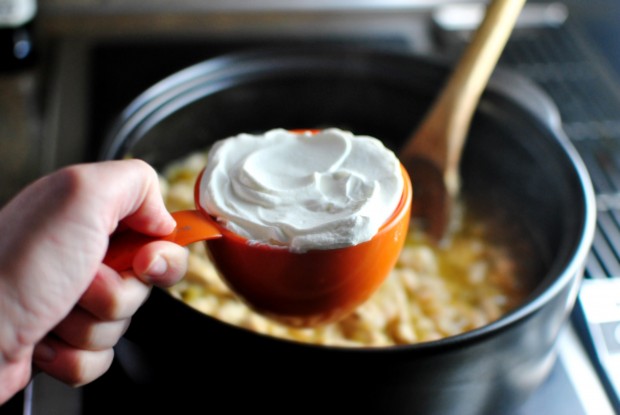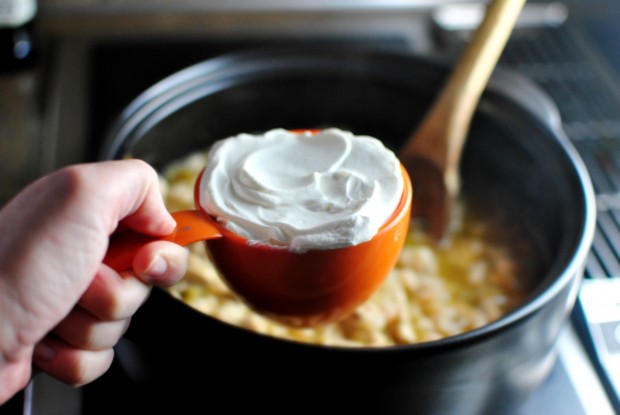 After the soup has simmered, reduce the heat to low and stir in 1 cup of sour cream.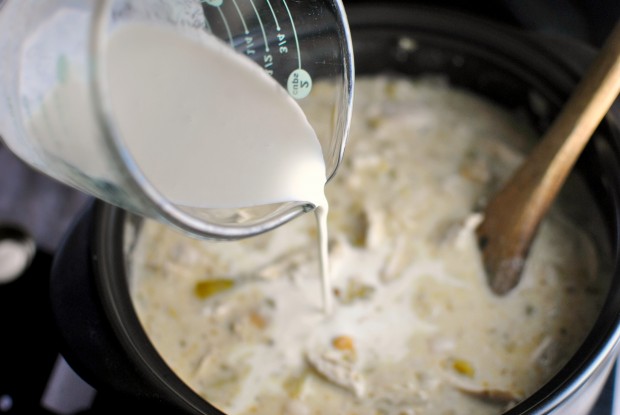 And pour in 1/2 cup of heavy whipping cream.
Heat the soup until warm and ready to serve and then ladle them into bowls.
What I love about white chicken chili is that you really don't need any toppings in order to devour it because it's utterly scrumptious. I kept my bowl of white chicken chili pretty simple with torn cilantro because I wanted you to see how thick, creamy and dreamy this chili truly is.
And then when you weren't looking I added lots of white cheddar, crushed white corn tortilla chips and a small dollop of sour cream, ya know… to keep it in that whole "white chili" theme.
How To Freeze Chili And Reheat Later:
COOL: make sure the chili is completely cool before freezing. Never place hot or very warm items in the freezer (or fridge!) as it can thaw and negatively affect the nearby food.
PORTION: when cool, divide chili into portions. Whether it's a single serving, two or four, portion the cooled chili into either freezer safe bags or air-tight containers. I prefer using freezer safe bags and removing as much air as possible, this helps with storing.
FLATTEN: once portioned, lay flat on a rimmed baking sheet and freeze for a few hours. Like in this post.
STORE: stack the flat frozen chili portions vertically or horizontally saving so much freezer space. Store chili in the freezer for up to 6 months.
REHEAT: I prefer to thaw frozen chili overnight in the fridge. However you can soak in a sink of lukewarm water for 20 to 30 minutes – flip every so often and change out the water at least once or twice. You can also defrost in the microwave until thawed. Lastly, add thawed chili to saucepan or dutch oven and heat until thoroughly heated throughout.
For More Chili Recipes Click Here!
Enjoy! And if you give this White Chicken Chili recipe a try, let me know! Snap a photo and tag me on twitter or instagram!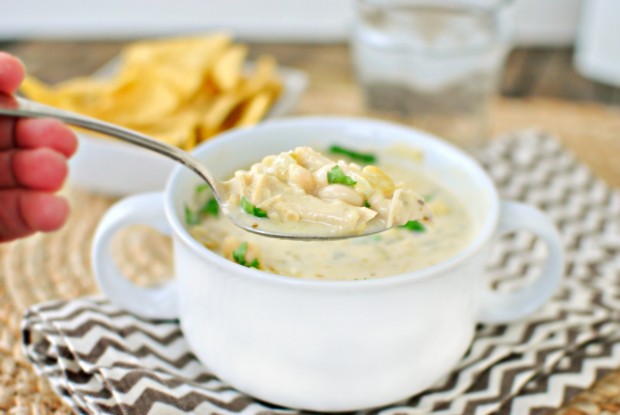 Yield: 6 servings
Creamy White Chicken Chili
Shredded chicken, white beans and tons of flavor. This chili is just the thing to warm you up on a chilly day.
Ingredients
1 cup dried great northern beans, or you could use 2 (15 ounce cans of great northern beans)
water
2 chicken breasts
1 medium yellow onion, chopped
2 cloves garlic, minced
1 tablespoon olive oil
1 teaspoon cumin
1 teaspoon oregano
1/8 to 1/4 teaspoon cayenne
1¾ chicken broth
8 ounces chopped green chiles
1 cup sour cream
1/2 cup heavy cream
Instructions
TO SOAK THE BEANS:
Place a cup of dried northern beans into a bowl and cover with at least 3 cups of cold water. Let the beans soak overnight or for at least 8 hours. Drain and rinse the beans in cool water. Add the beans to a pot and cover with three cups of warm water. Bring to a simmer, crack the lid so steam can escape and cook the beans for 1 to 1-1/2 hours or until the beans are tender.
MAKE THE CHILI:
Place two chicken breasts into a pot and cover with water. Bring to a boil, reduce to a simmer and poach the chicken for 20-25 minutes or until the chicken is fully cooked.

In a 5 quart pot heat over medium and add in the tablespoon of olive oil. Toss the chopped onion into the pot, stir and cook until soft and translucent. Next add in the chopped garlic, stir and cook for one minute.

Measure and add in a teaspoon of both cumin and oregano and then a 1/8 to 1/4 teaspoon of cayenne pepper. Stir and cook for one minute.

Add in the cooked and shredded chicken, the green chiles and 1-3/4 cups of chicken broth and beans. Stir and simmer with the lid off, for 30 minutes.

Turn the heat down to a low and add in the cup of sour cream and a 1/2 cup of heavy cream.

Stir and keep warm on low heat.

Serve with chopped cilantro, crushed white corn tortillas and lots of white cheddar.
Notes
If you decide to use canned beans to save time, simply omit the dry bean soaking and cooking instructions.
Serving: 1g, Calories: 371kcal, Carbohydrates: 25g, Protein: 24g, Fat: 20g, Saturated Fat: 10g, Polyunsaturated Fat: 1g, Monounsaturated Fat: 6g, Trans Fat: 1g, Cholesterol: 95mg, Sodium: 283mg, Potassium: 855mg, Fiber: 7g, Sugar: 3g, Vitamin A: 628IU, Vitamin C: 18mg, Calcium: 140mg, Iron: 3mg
This post may contain affiliate links.
Buy the Cookbook: Simply Scratch : 120 Wholesome Homemade Recipes Made Easy Now available on Amazon »
THANK YOU in advance for your support!