In this Chicken Caesar Pasta Salad; bowtie pasta, grilled chicken and chopped romaine is tossed with a light greek yogurt Caesar Dressing. The whole salad is topped with sliced avocado, crispy seasoned roasted chickpeas and parmesan cheese.
We might be the biggest fans of Caesar salads there is. Whether wrapped up with spinach and parmesan crips, piled it high on pizza and don't get me started on the different kinds of dressings!! Today, however it's tossed with pasta and seasoned roasted chickpeas for a delicious pasta salad recipe.
Essentially pasta salad and caesar salad collide for one epic bowl of greatness!
Since making greek yogurt Caesar Dressing, I've found another way we can use it.
Two words: pasta. salad.
I love it in this recipe because you can control the thickness of the dressing, which makes it easy to leave it on the thicker side, toss it with a plethora of goodies to create a dreamy pasta salad. Like this one of course!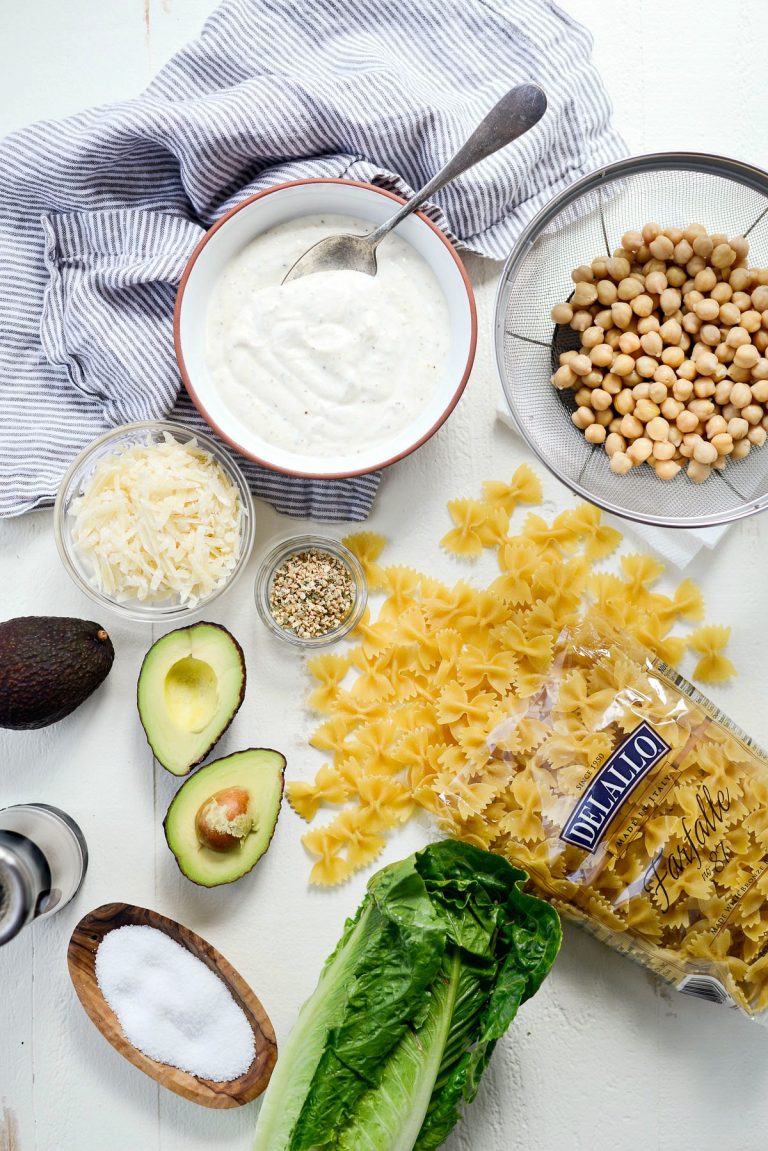 To Make This Chicken Caesar Pasta Salad You Will Need:
bowtie pasta
chickpeas [or garbanzo beans]
olive oil spray
a medium head romaine
a chicken breast, halved and grilled (totally forgot to put it in this shot)
parmesan cheese
avocados
kosher salt and freshly ground black pepper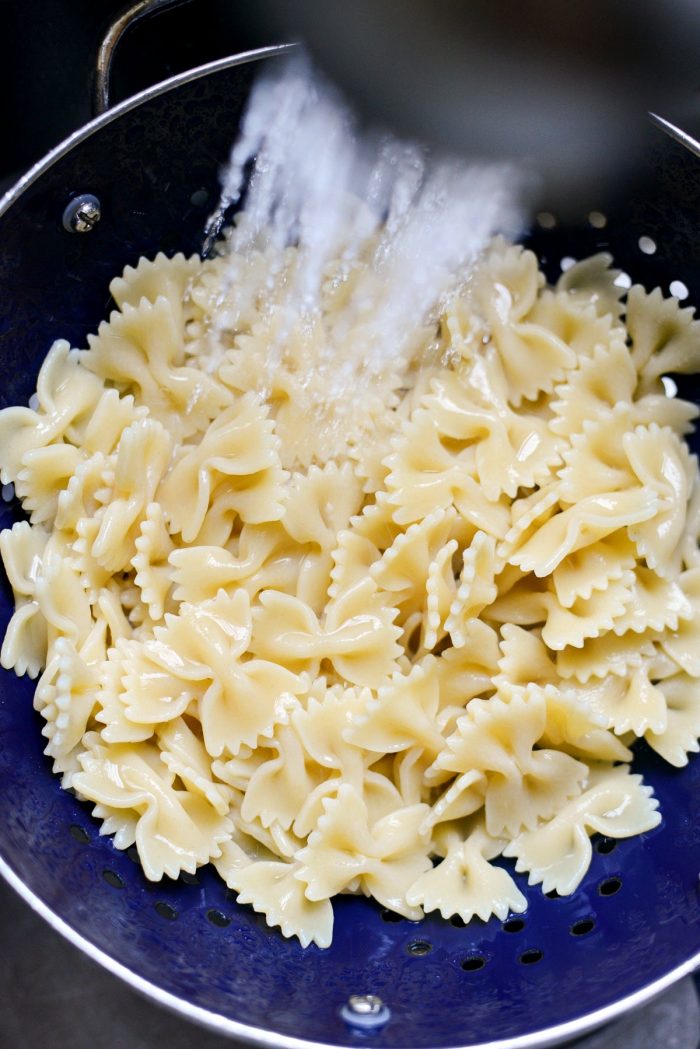 Start by bringing a large pot of water to boil. Then add a tablespoon of sea salt and stir in 8 ounces dried pasta. Following the package directions, cook until al dente. Drain the pasta into a colander and rinse it under cold water. As a result, this will stop the cooking process while cooling down the pasta.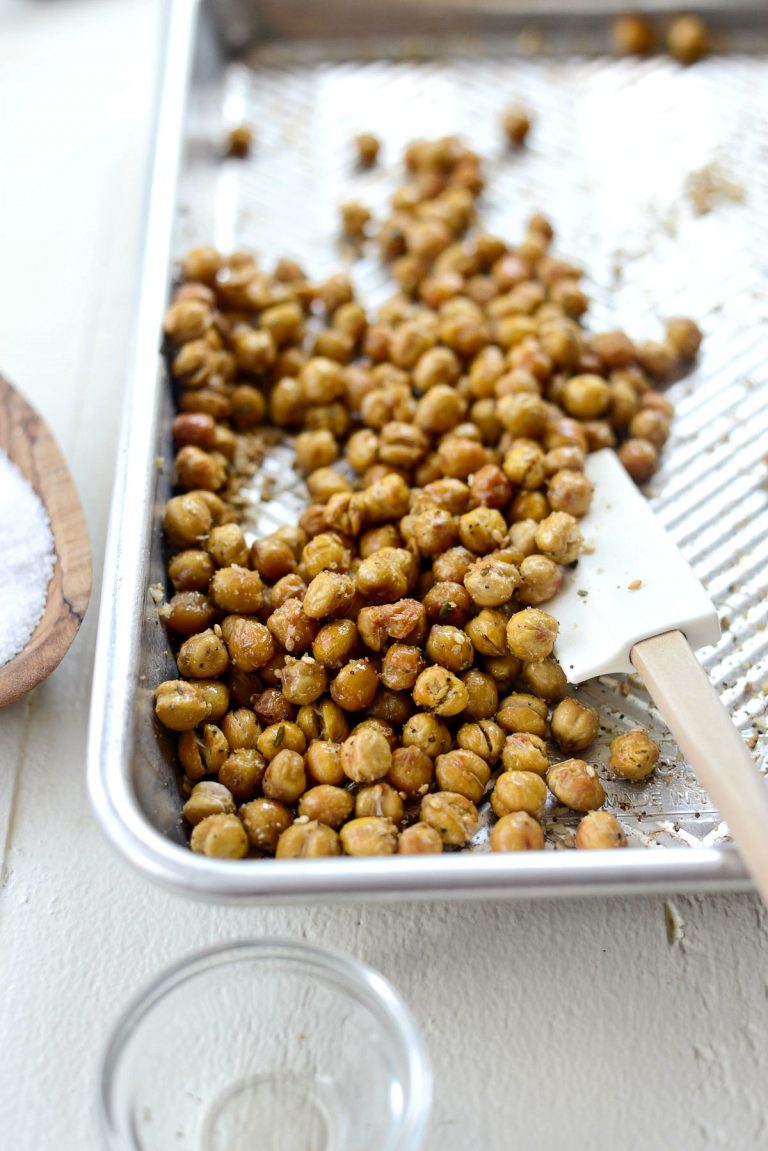 Meanwhile, preheat your oven to 400°. Rinse and drain 1 (15 ounce) can chickpeas before patting dry. Next place them onto a small rimmed baking sheet. Spray with olive oil and season with a few pinches of kosher salt. Roast on the middle rack of your oven, roast for 40 minutes or until crispy.
Once roasted, lightly spray again with olive oil and season with 1 tablespoon of the garlic herb seasoning, tossing well until coated. This will help the seasoning stick to the roasted chickpeas.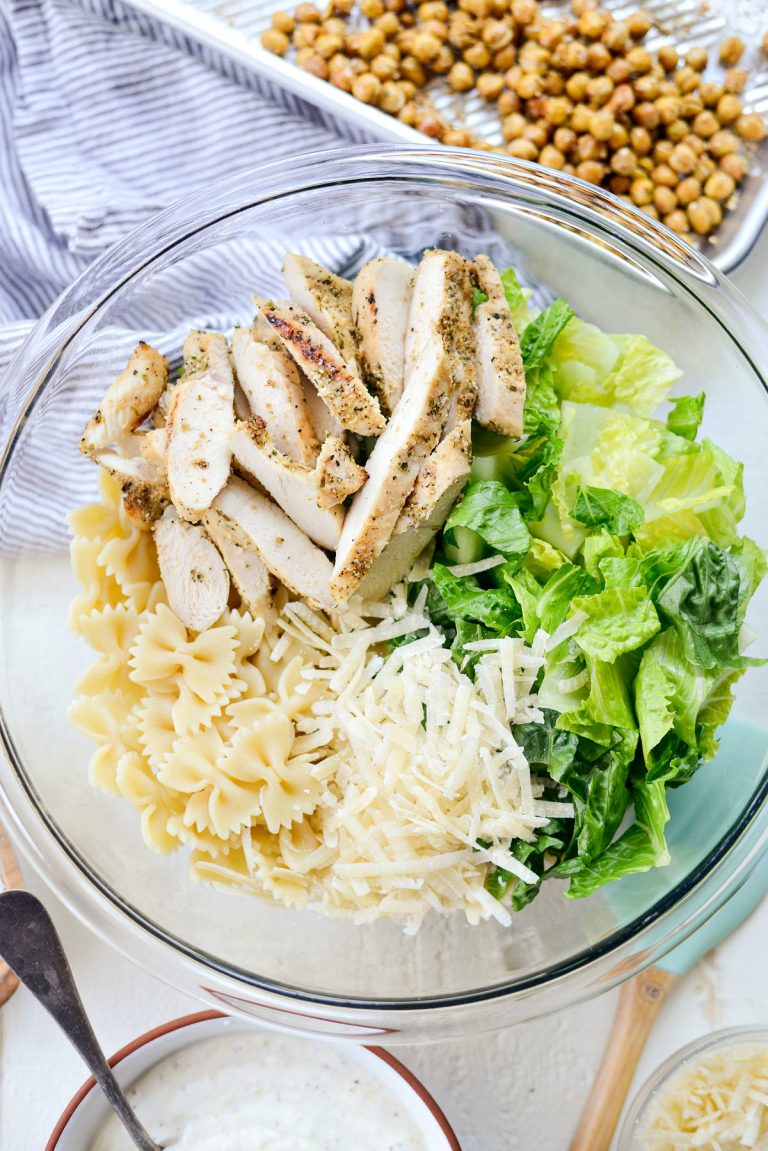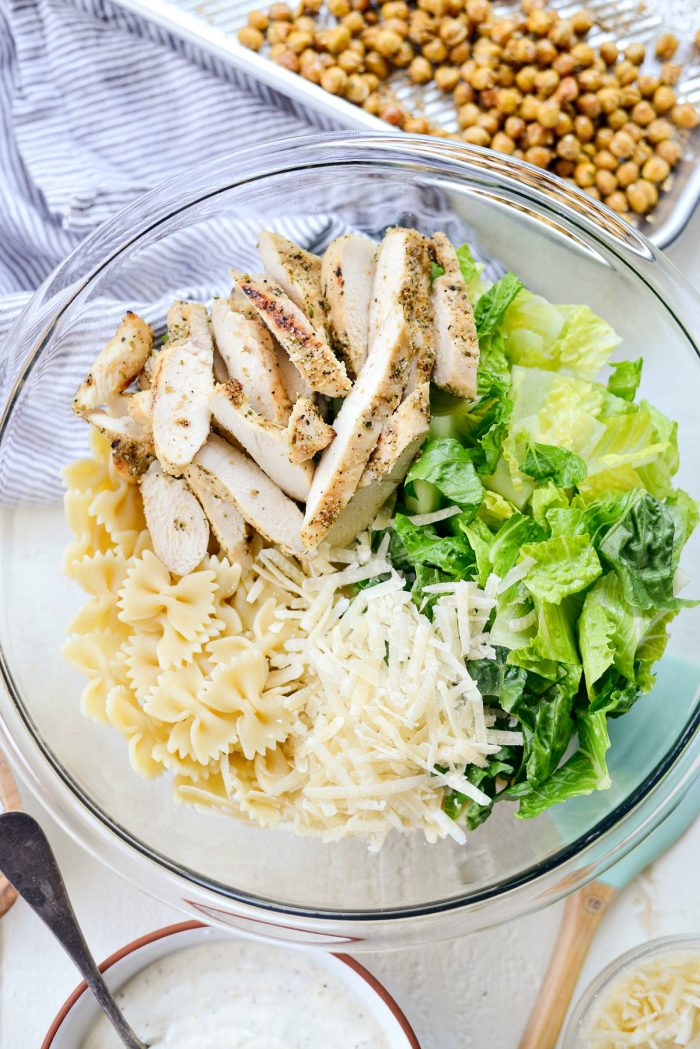 Next, in a large mixing bowl, add the drained [cooled] pasta, chopped romaine, 1/4 cup of the parmesan cheese and the sliced grilled chicken.
With that said, the chicken I'm using was leftover from dinner a few nights before. However, you could simply season 2 chicken breast halves along with a little olive oil, then grill. Any leftover chicken would totally work!
No need to reheat it, just slice and add to the bowl.
Next add some of the greek yogurt Caesar Dressing, roughly about 1/2 cup give or take will work. Because I tend to like a slightly underdressed salad, I will add a little bit at a time until I'm satisfied.
Season with kosher salt and freshly ground black pepper before tossing everything together.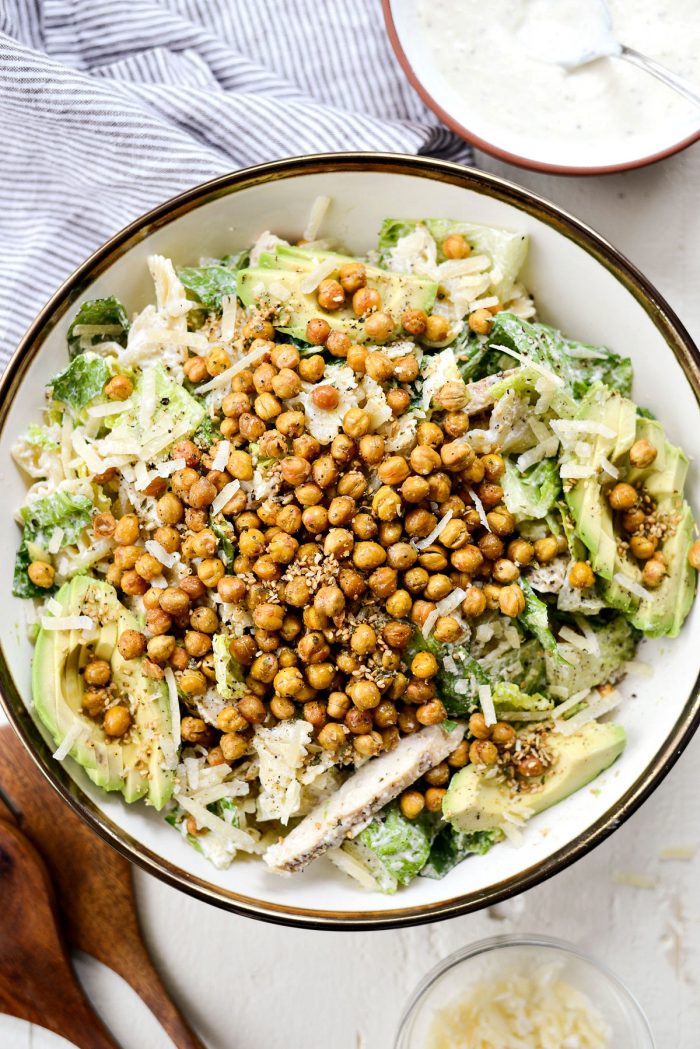 Next transfer the pasta salad to a serving bowl and nestle a few sliced avocado halves along the sides of the bowl. Lastly, top with the crispy seasoned chickpeas along with any seasoning that didn't stick to the chickpeas and don't forget to sprinkle any remaining parmesan cheese.
Finally it's time to dig in!
The texture combo of the pasta, lettuce, avocado and roasted chickpeas is so phenomenal! While the dressing is 👌🏻!
Serve this caesar pasta salad for a light lunch, dinner or pack it up and take it to the beach. Furthermore, the leftovers are still good the next day! However the chickpeas do lose a little of their crunch, but it won't matter because it's still delicious!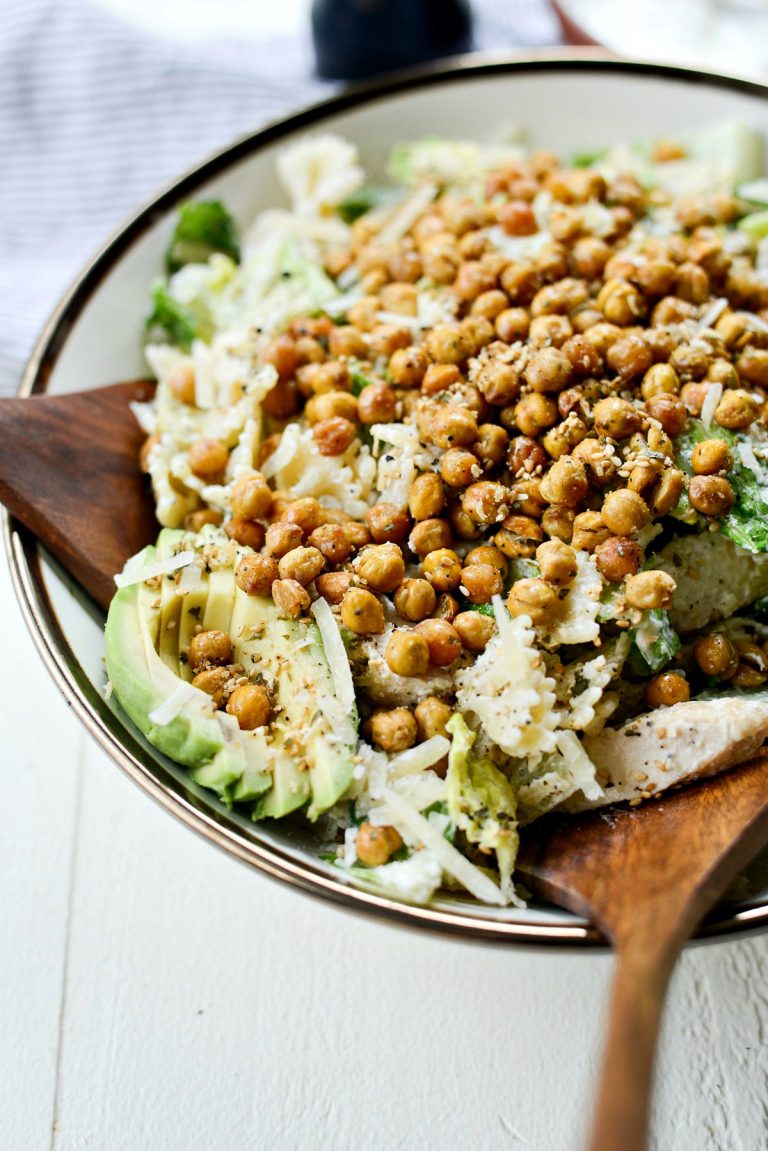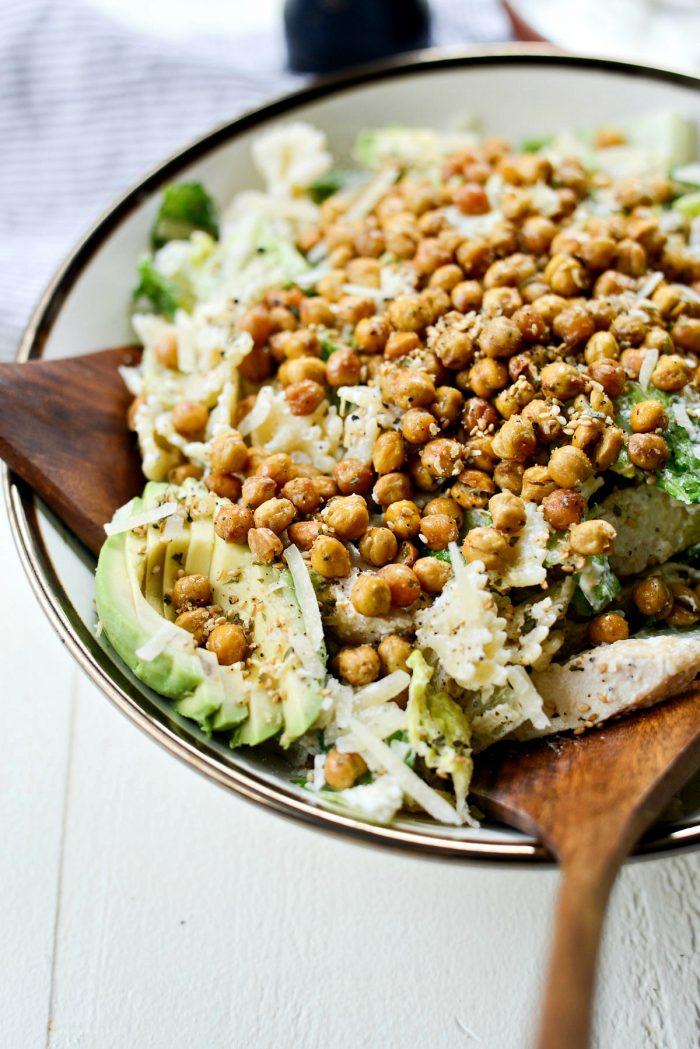 Enjoy! And if you give this Chicken Caesar Pasta Salad recipe a try, let me know! Snap a photo and tag me on twitter or instagram!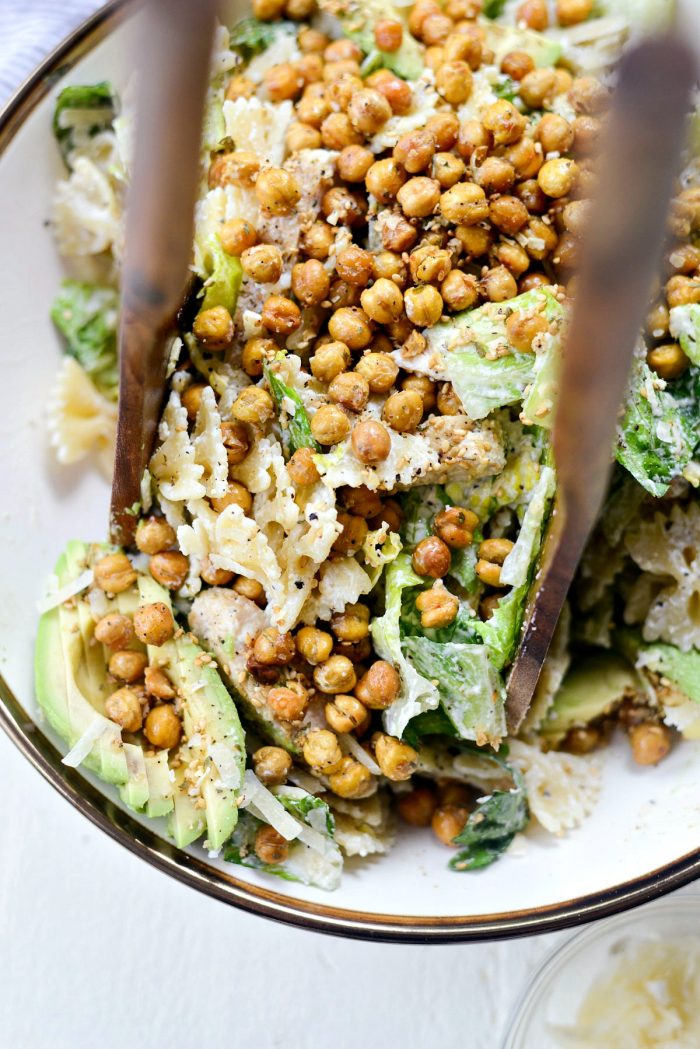 This post may contain affiliate links.
Buy the Cookbook: Simply Scratch : 120 Wholesome Homemade Recipes Made Easy Now available on Amazon »
THANK YOU in advance for your support!