Grilled Chicken Caesar Pizza is as fun as it is delicious. I took a shortcut by using grilled naan for the crust, topped it with cheese until melted, slices of grilled chicken, romaine that I tossed with a little of my homemade caesar dressing, Parmesan shavings and a sprinkle of black pepper. Whether you make it for lunch or on busy weeknights, it's sure to be a hit.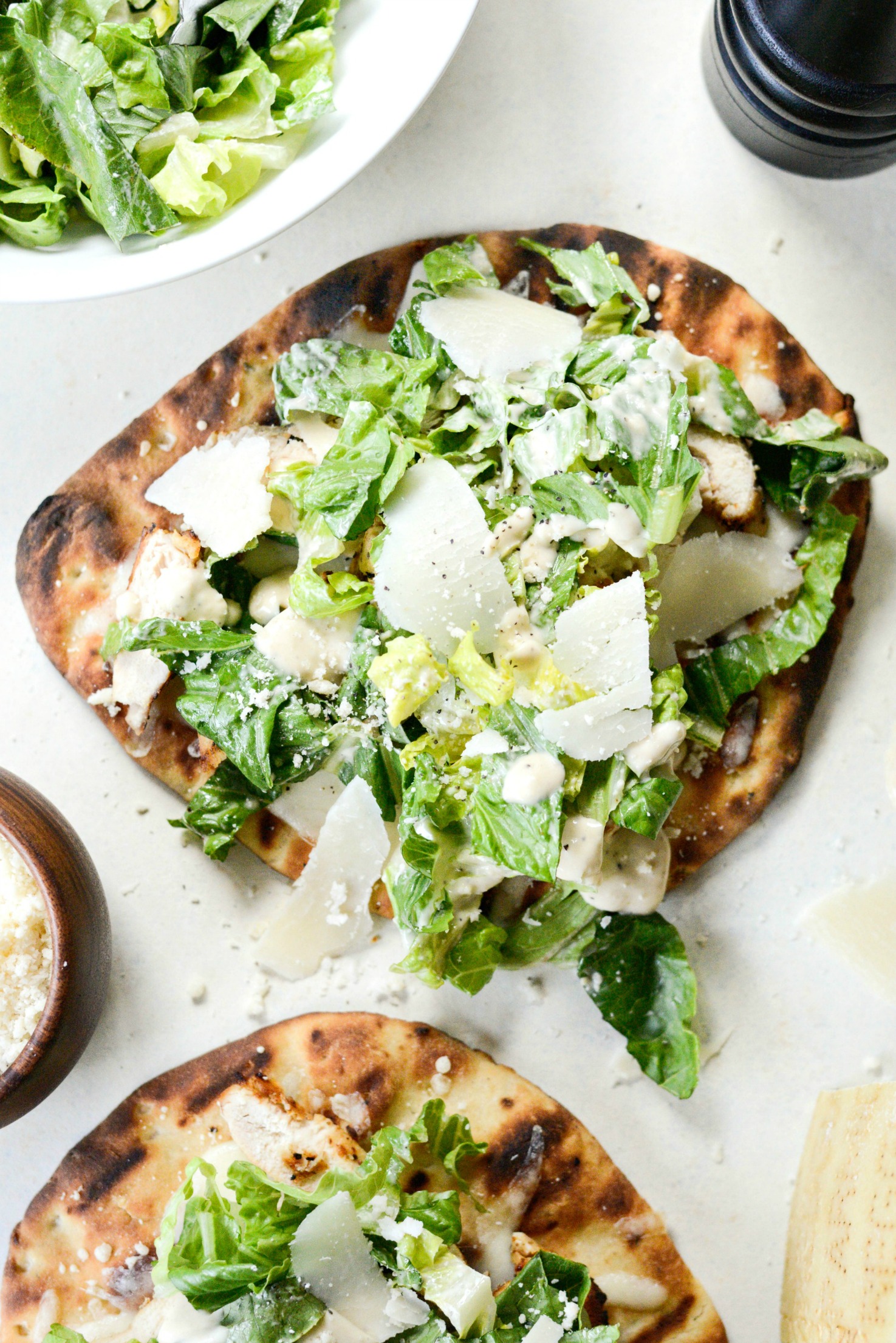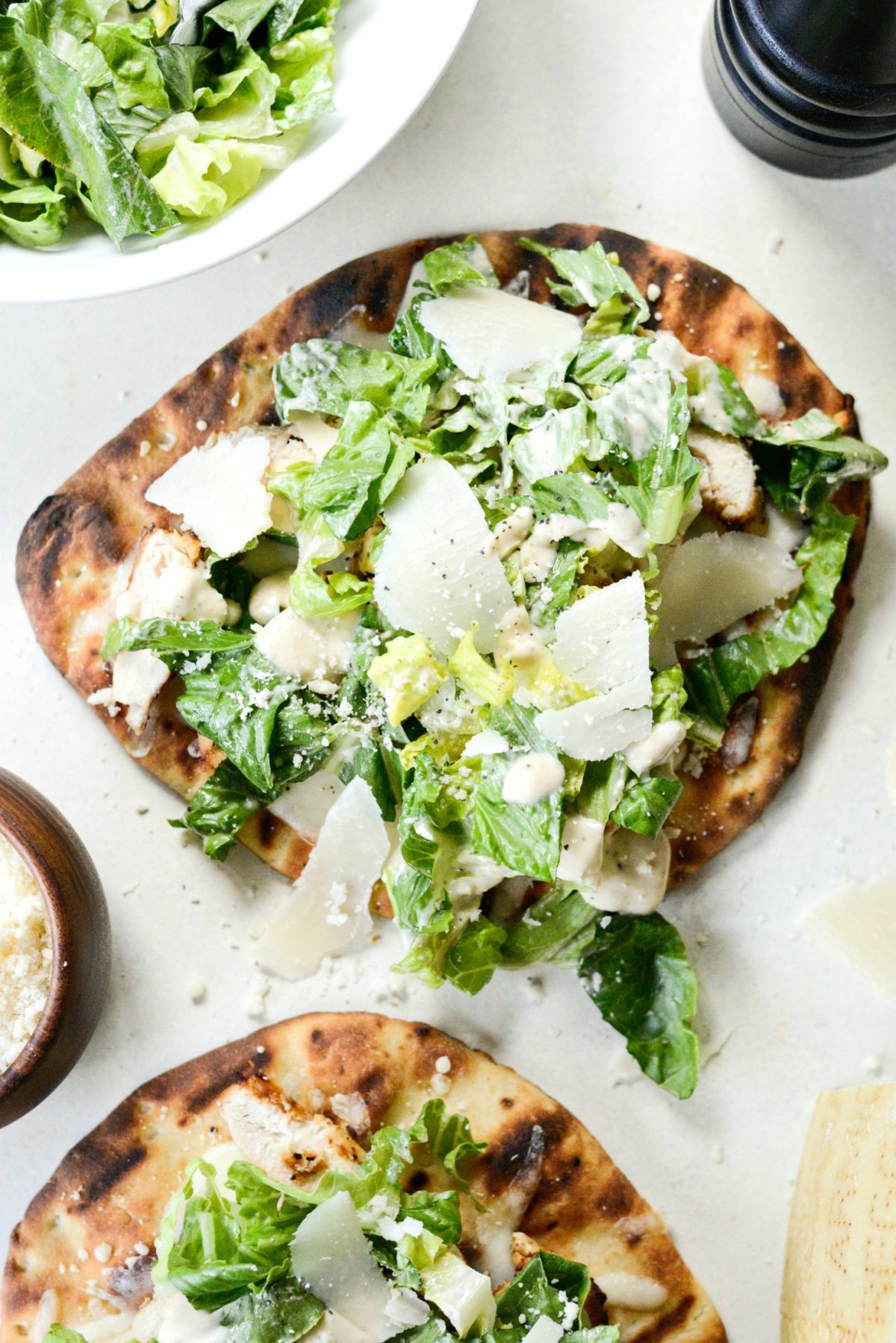 Malloree has been in Ohio at Kalahari with friends for the past few days. This might be the hardest thing I've had to come to terms with as far as being a parent. I want my girls to experience life, take opportunities when they present themselves and do all the things that I didn't get to do as a kid. So when her friend invited her to go and celebrate her birthday, how could I say no? I struggle with this sort of thing, wanting my kids to have wings while also giving them roots. Just thinking of my little girl in another state gives me palpations. And having worked nearly 15 years in a Level I trauma EC doesn't help matters either.
Needless to say we all miss her. Our house is a little quieter yet cleaner since she's not leaving all her stuff behind in her wake and there's leftovers after dinner because it's only been the three of us. But she was super responsible and check it every now and again, and thank goodness for social media because I got sneak peeks into her trip.
And I know that if Mal was home, she would've loved these grilled chicken caesar pizzas.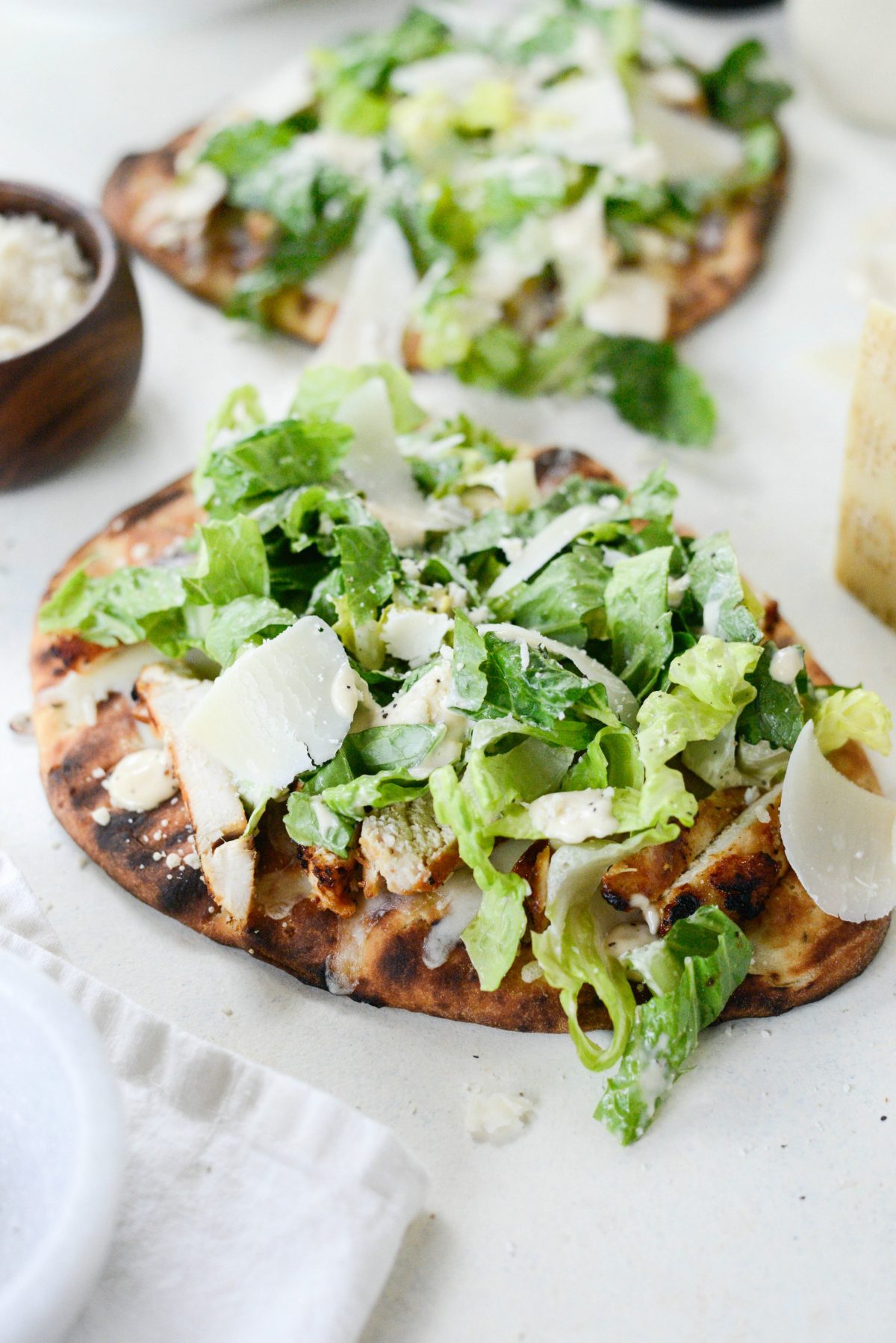 I make chicken caesar salads all the time because both my girls claim it's their most favorite salad. So it only seemed natural that I combine both of their favorite salad with their other favorite– pizza. Rave reviews, I tell you. Crispy grilled naan topped with melty cheese, slices of grilled chicken and romaine that I tossed lightly in my homemade caesar dressing, then a scattering of Parm shavings, black pepper and a little more dressing.
Absolutely to. die. for
To Make These Grilled Chicken Caesar Pizzas You Will Need:
boneless skinless chicken breast halves
naan (homemade or store bought)
olive oil
mozzarella cheese
Parmesan cheese
romaine lettuce
parmesan cheese shavings or grated (for serving)
black pepper (for serving)
For the crust, I totally cheated and used store-bought naan. I just didn't have it in me to make homemade pizza dough or homemade naan. Naan grills up in literally 2 minutes. If you have the time, totally feel free to use regular pizza dough and grill it.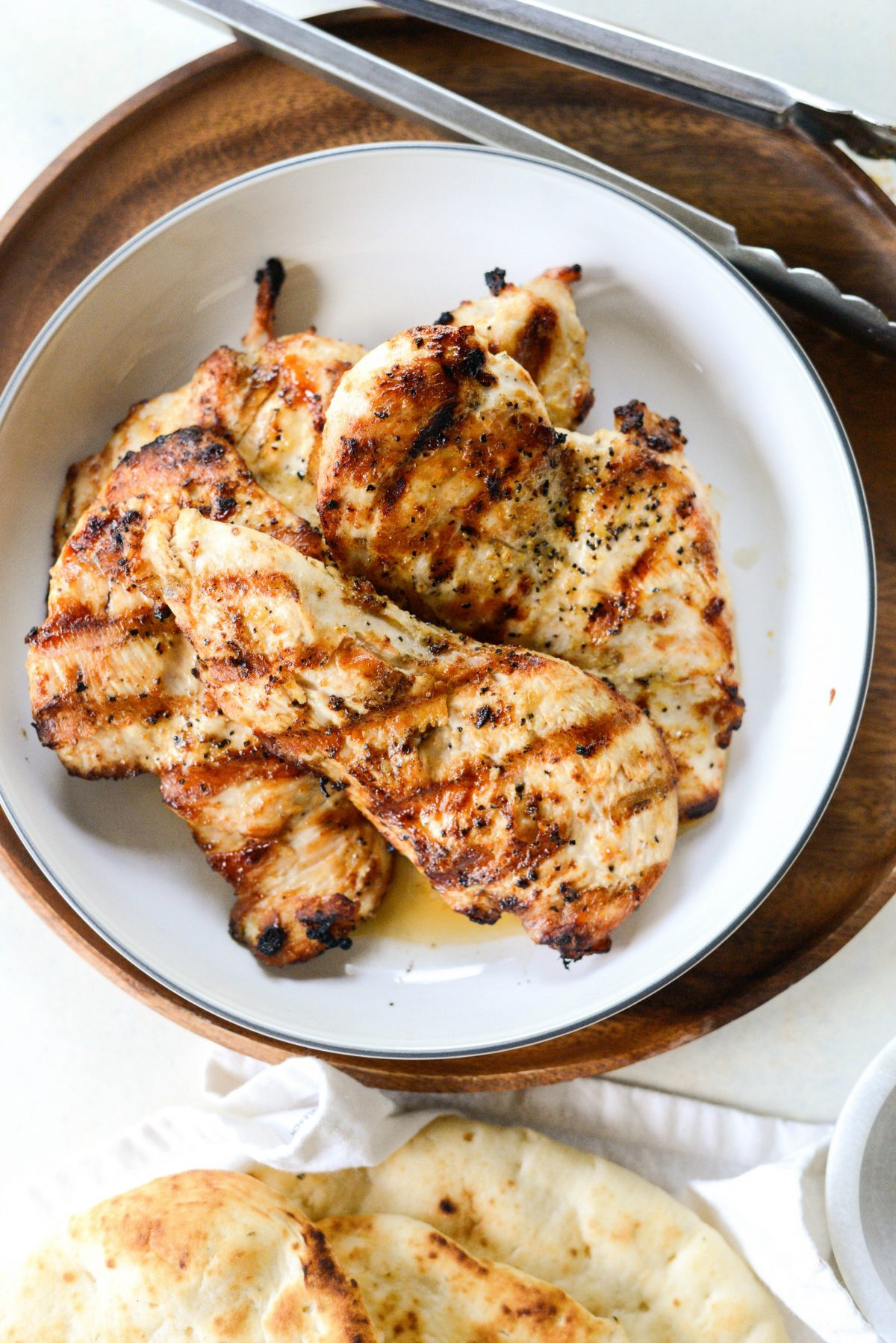 As for the chicken, whenever I grill chicken for Caesar salad, I always toss 4 boneless skinless chicken breast halves (2 breasts total) in a 2 tablespoons of caesar dressing and sprinkle them with lemon pepper before placing them on the grill. It adds a ton of flavor and you don't need to marinate the chicken for hours. I simply grill the chicken at about 450° degrees for 10 to 12 minute or until the chicken is no longer pink. Then I let them rest for about 5 to 8 minutes before slicing. Taking the time to let the chicken rest will result in moist delectable chicken. Promise.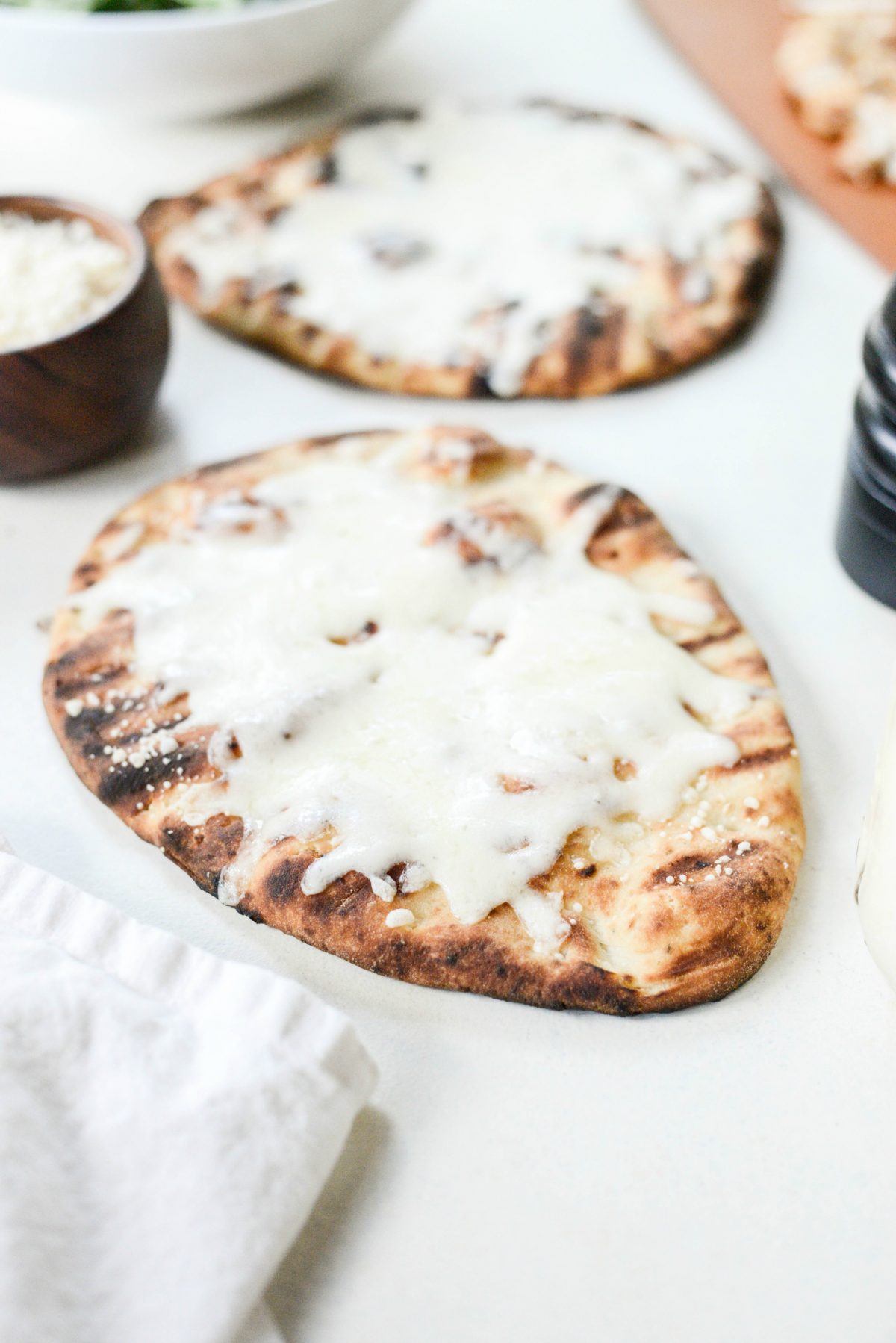 Brush both sides of the 4 naan with olive oil. Preheat your grill to 350° degrees and grill the naan for 1 to 2 minutes, turn and top the just grilled side with about 1/4 cup of grated mozzarella cheese and a sprinkle of grated Parmesan. Close the lid for a minute so the cheese can melt.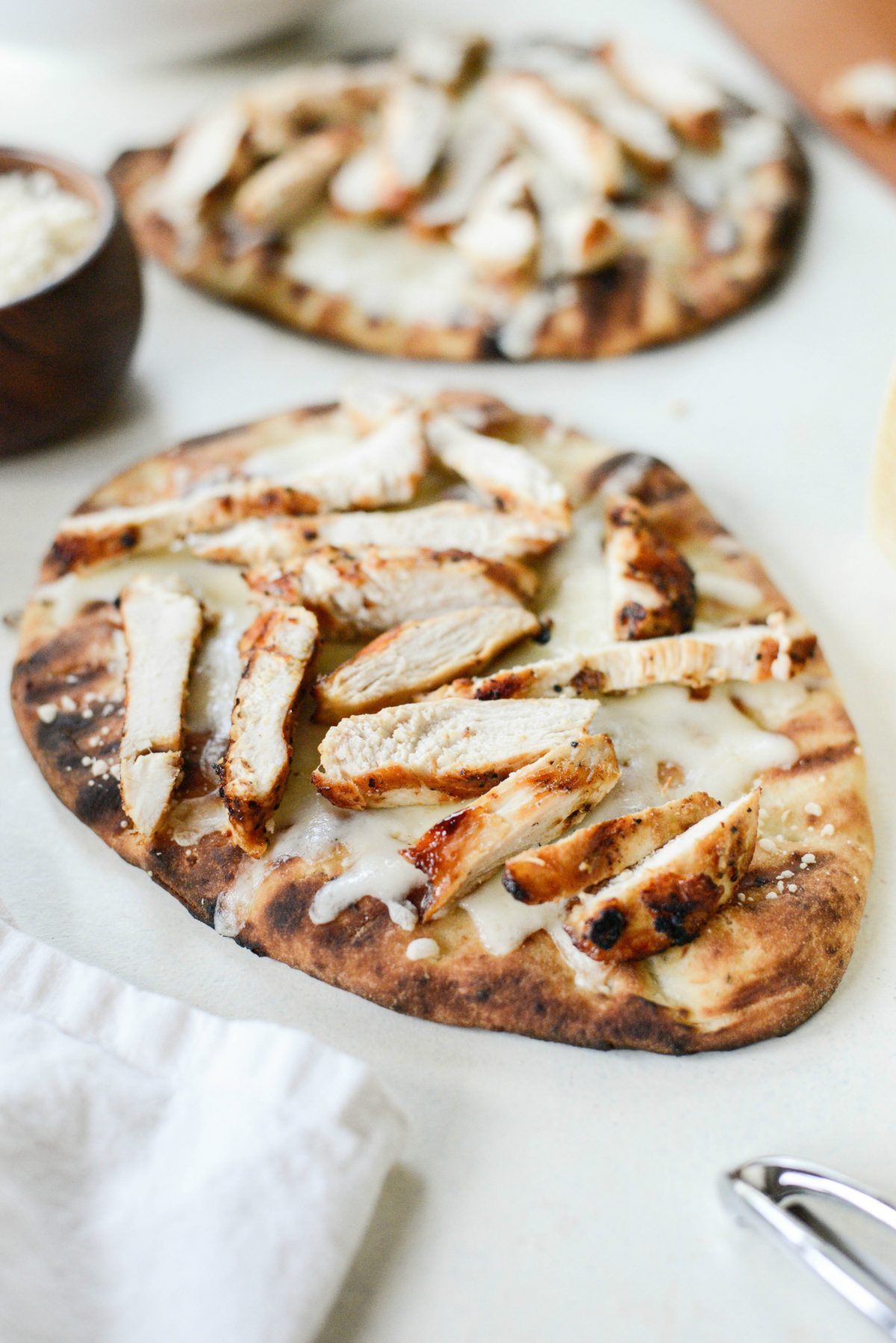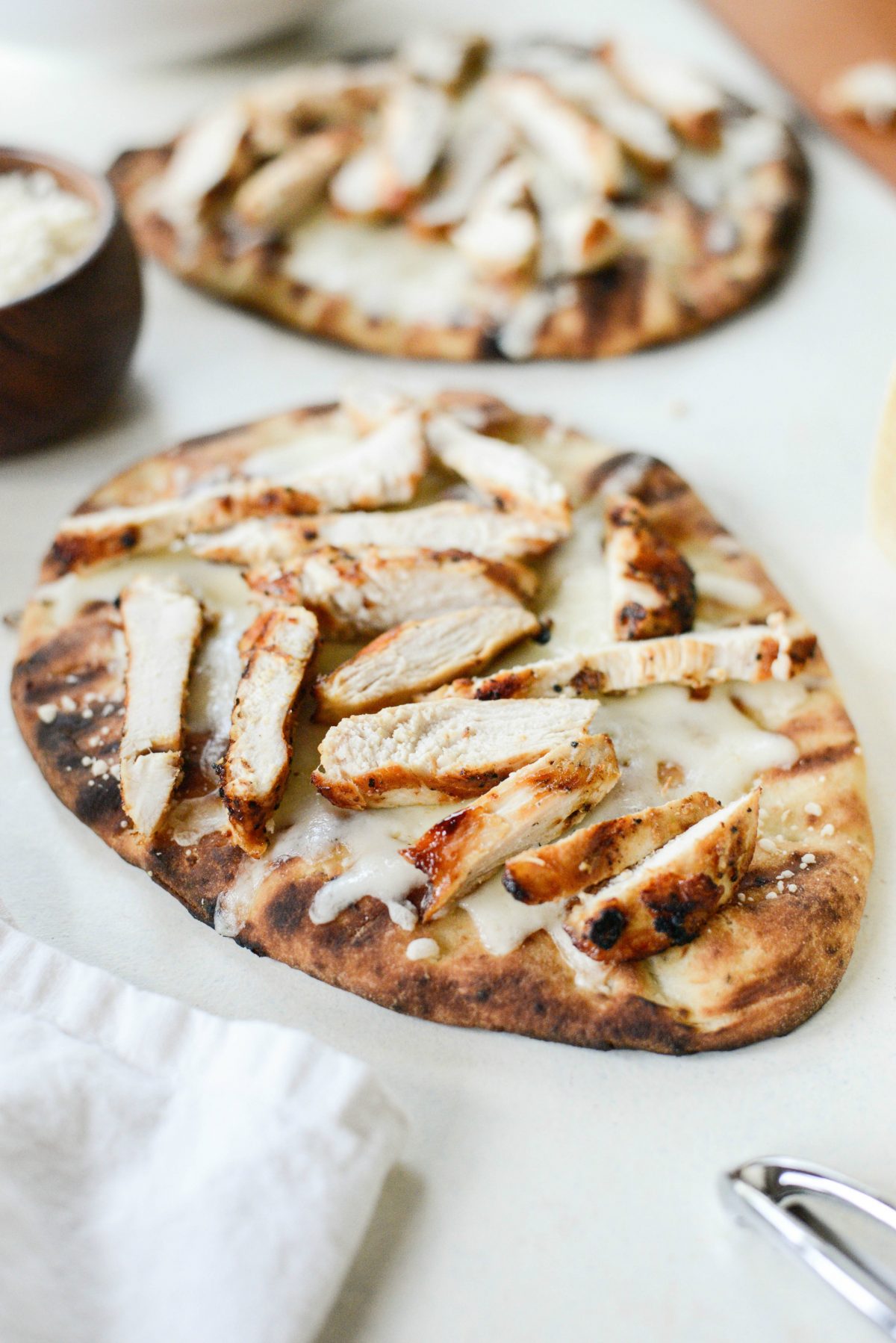 Then remove the naan pizzas off of the grill and onto a cutting board and top the pizzas with slices of grilled chicken – use as much or as little as you like. I use 1 chicken breast half per pizza.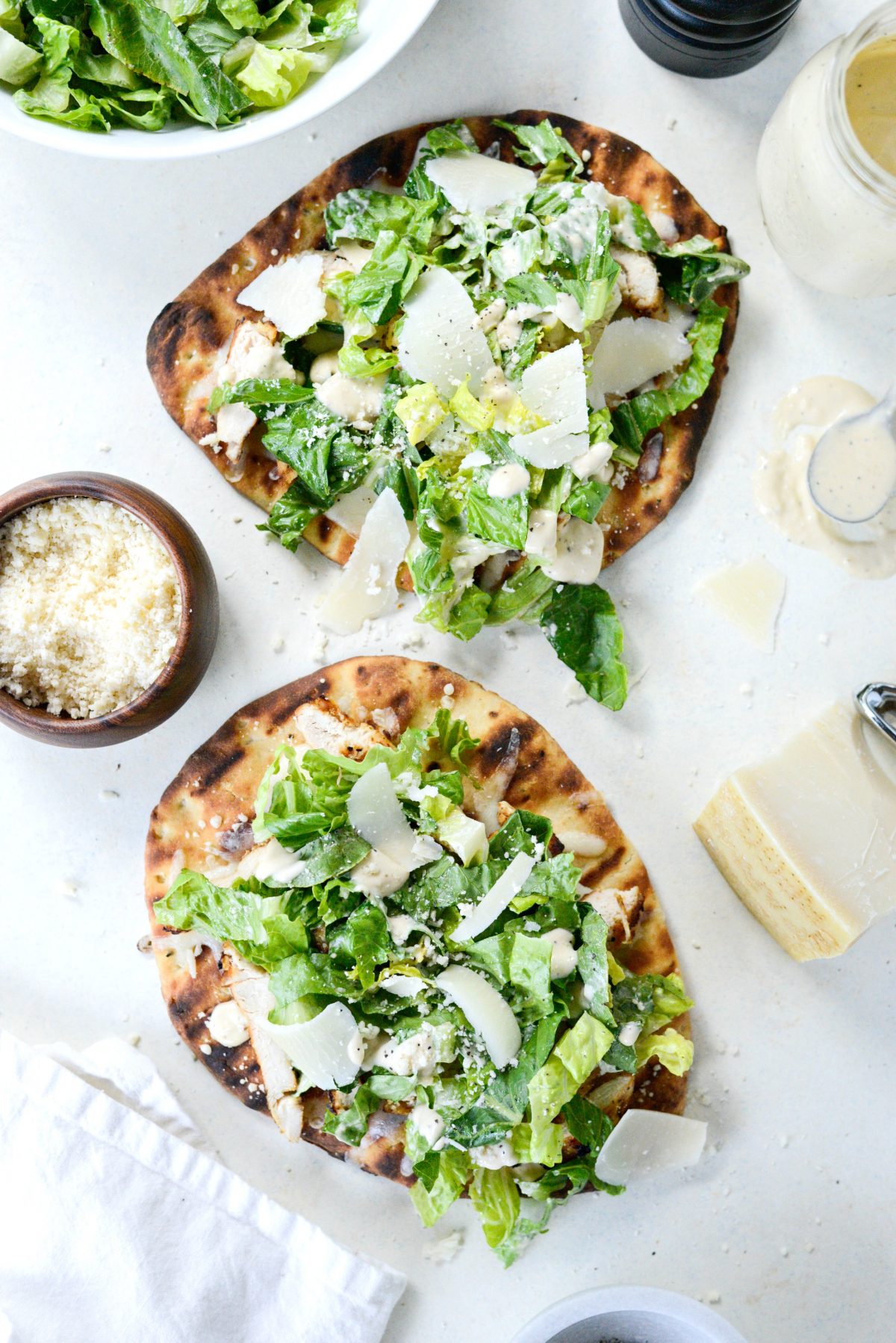 After slicing up 1 medium head of romaine lettuce, quickly toss it with a couple spoonfuls of the caesar dressing until lightly coated. Top the grilled pizzas with the dressed romaine, shavings of parmesan, ground black pepper and more dressing if desired.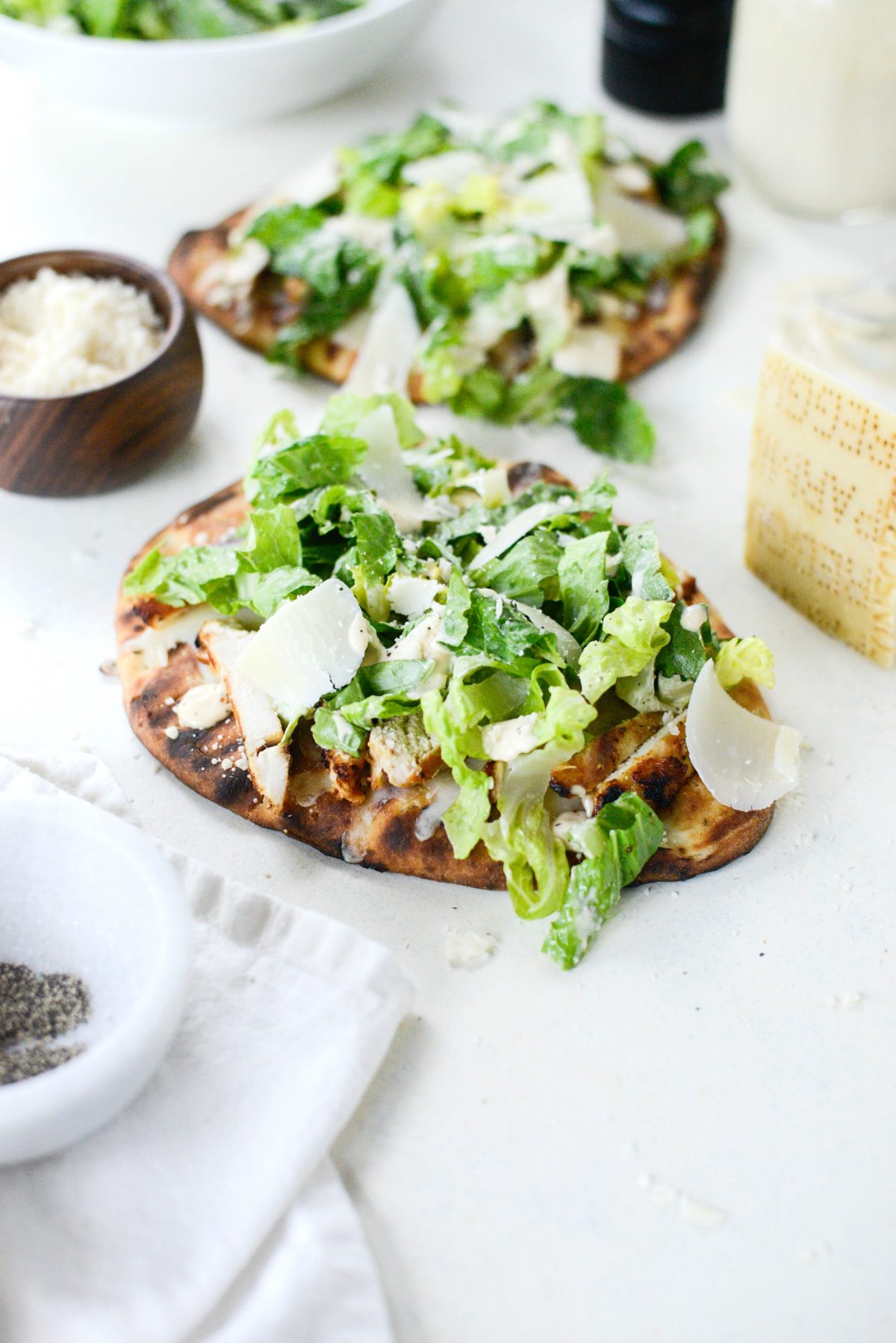 Slice, serve and prepare to fall in love! Grilled Chicken Caesar Pizza is everything you love about caesar salad but in pizza form. It's great for dinner on busy nights or for lunch. Haileigh gives it two thumbs up and I know I'll be making this again for Malloree very soon.
Cheesy, crispy and with salad on top. What's not to love?
Enjoy! And if you give this recipe a try, let me know! Snap a photo and tag me on twitter or instagram!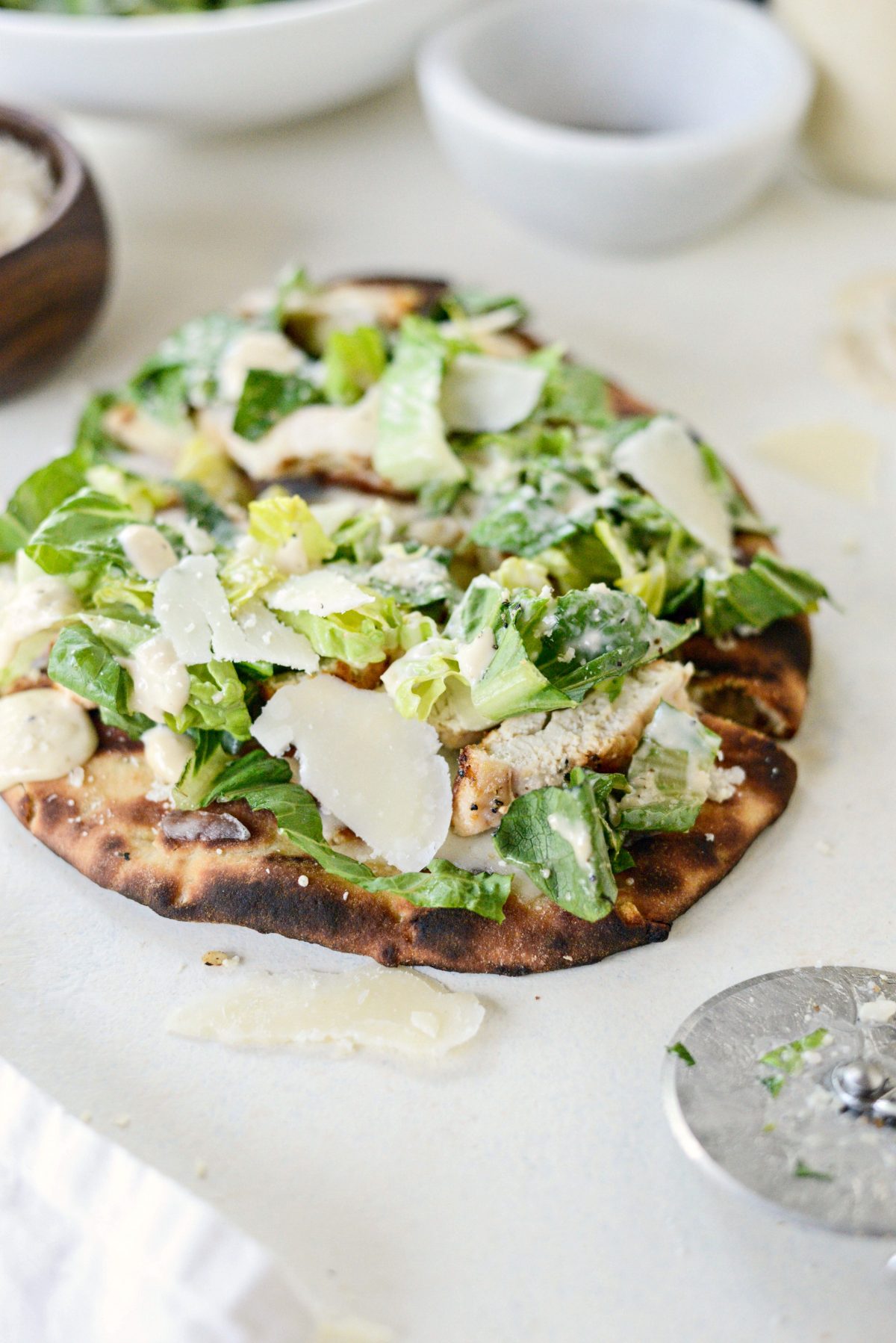 This post may contain affiliate links.
Buy the Cookbook: Simply Scratch : 120 Wholesome Homemade Recipes Made Easy Now available on Amazon »
THANK YOU in advance for your support!