One of my favorite salads is this caprese pasta salad. Fresh tomatoes, basil and mozzarella tossed int a balsamic dressing.
Tomato. Basil. Mozzarella. Balsamic.
Pretty much my favorite savory combo of flavors ever. Which precisely is the reason I grow basil and tomatoes every single summer. My herb garden and tomato plants are like the only growing thing (besides my children of course) that I've been able to manage without killing. True story. The gorgeous large-and-in-charge hanging flower baskets? Dried up and dead just after 3 weeks. Sometimes I'm a lazy waterer.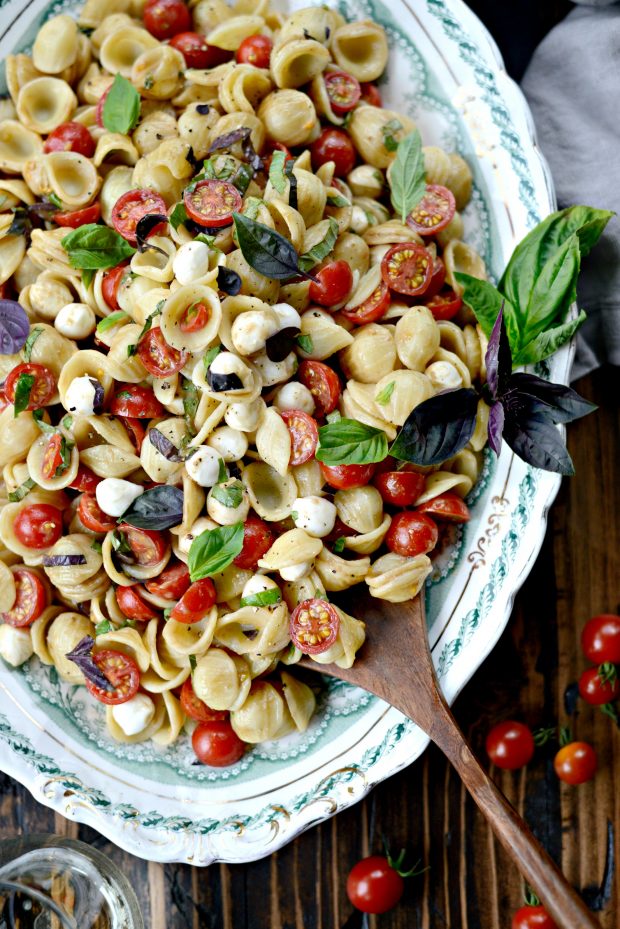 My favorite herb I grow is basil. Obviously. Every summer I love to watch my plant grow to an enormous, towering plant. I'll sit on my front porch to watch the bees doing their thing and I'll daydream about what I'm going to make with all those leaves. Top on my list are things like the pesto (from my cookbook), crispy basil chips and lemon basil hummus. If you're feeling bold, perhaps give my basil + chocolate chip ricotta pancakes a whirl? But at the tippy-top of my favorite recipes is this caprese pasta salad.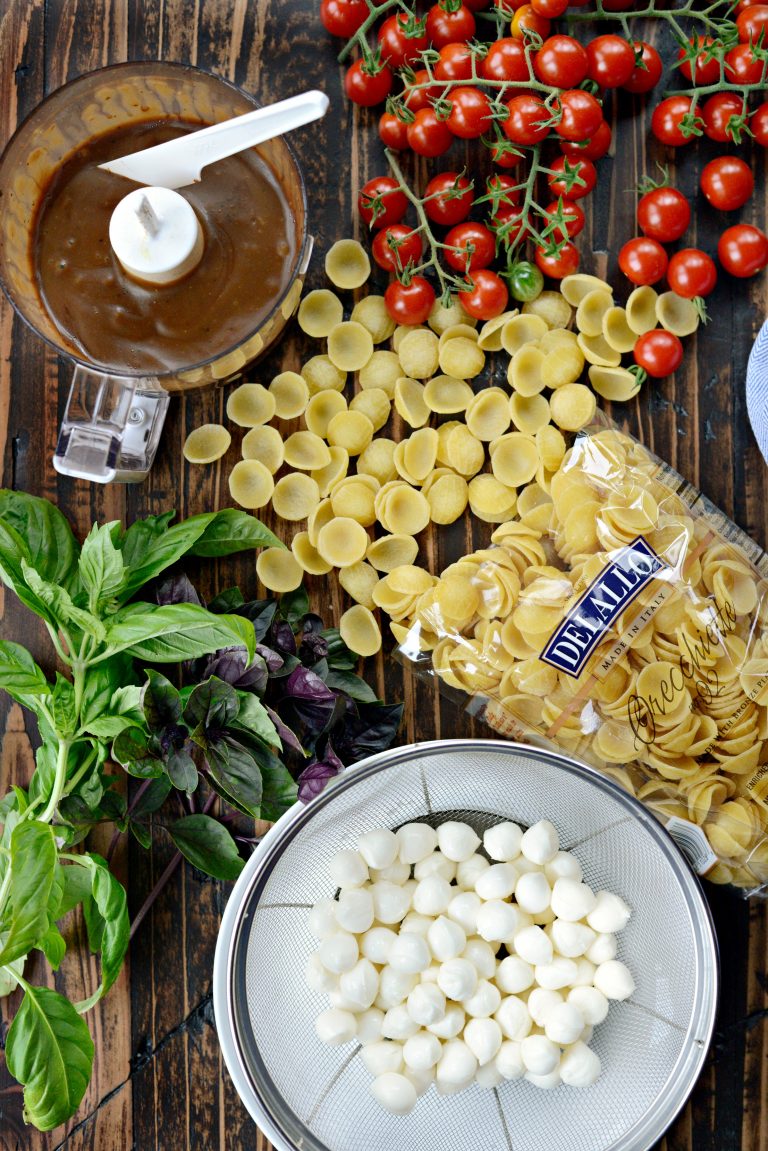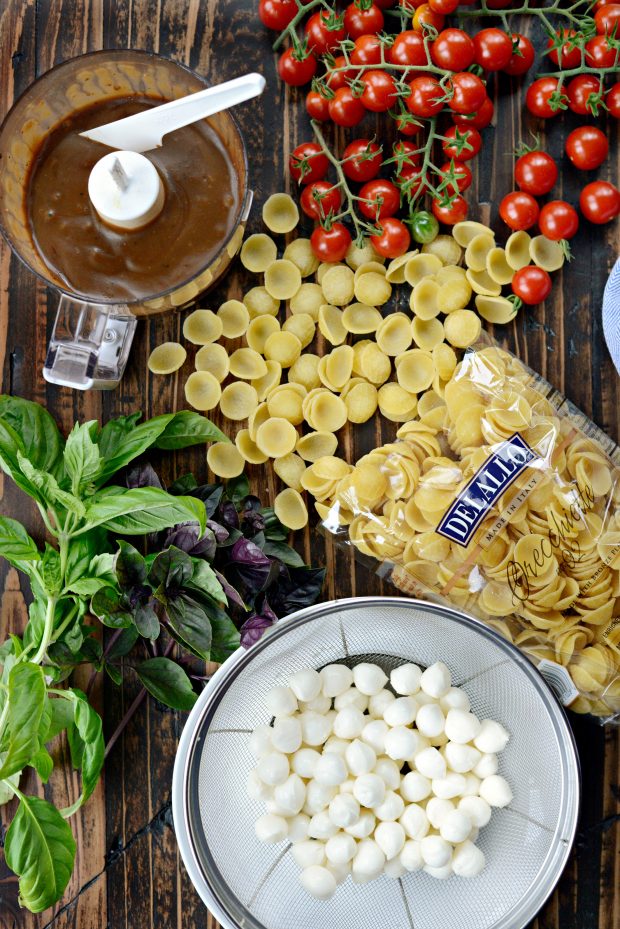 To MAKE THIS CAPRESE PASTA SALAD YOU WILL NEED:
1 pound (16 ounces) dried orecchiette pasta
fine sea salt (for salting water)
2 cups cherry tomato halves
8 ounces pearl mozzarella, drained (or an 8 ounce ball cut into small pieces)
kosher salt and pepper, to taste
1/4 cup fresh basil leaves, thinly sliced
I make this pasta salad to go a long with this grilled chicken allthetime. It's always the perfect addition whether it's for our summertime Sunday dinner or as a standalone light lunch throughout the week.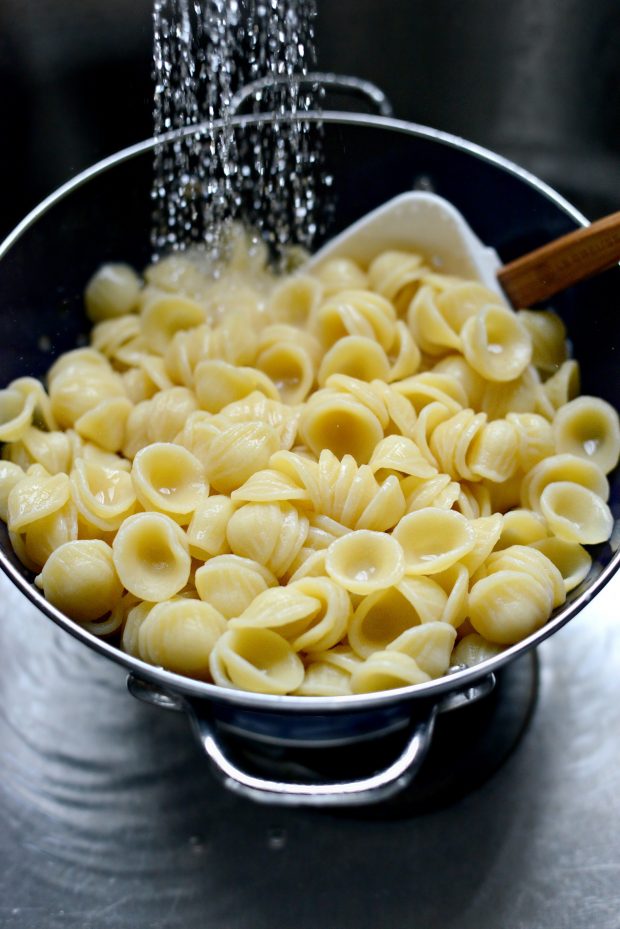 The hardest part, and I use that term loosely, is cooking the pasta. I just bring a large pot of water to a boil, dump in a palm-full (about a heaping tablespoon) of fine sea salt and then add in the pound of pasta. It's a good idea to stir the pasta every couple of minutes because these little guys like to stick together or worse, stick on the bottom of the pot.
Once fully cooked, drain and instantly rinse with cold water. Doing this rinses off any of the starch clinging to the pasta, which in turn leads to the pasta sticking together. It also halts any further cooking and cools the pasta down so you can quickly make the salad. I only ever rinse pasta for cold salads.
I believe it's considered a culinary sin otherwise.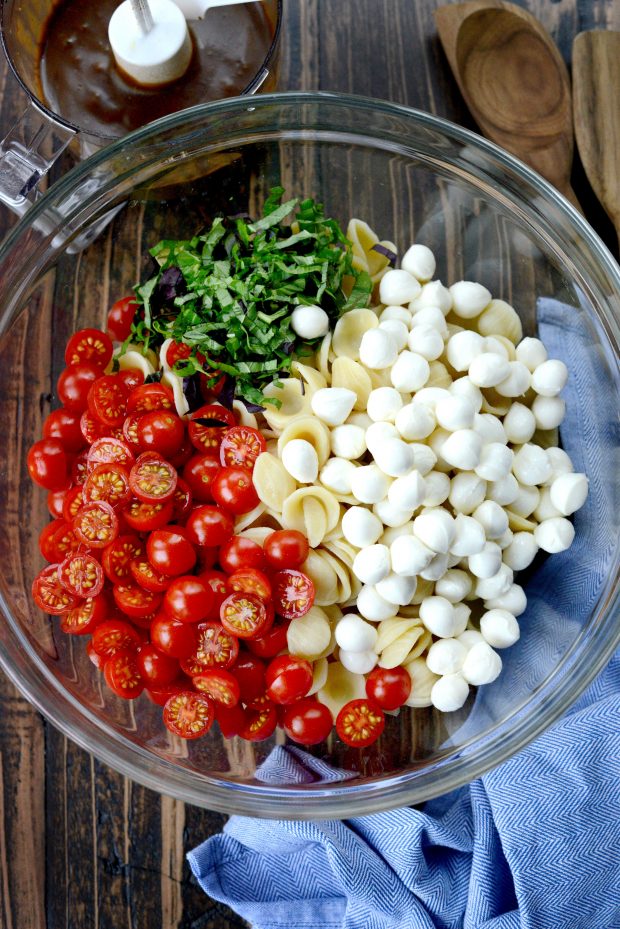 Once the pasta has cooled down, drain it of any excess water and toss into a large bowl with halved cherry tomatoes, pearled mozzarella and about 1/4 cup of thinly sliced fresh basil.
Toss together with a couple of spoons and then pour in 1/4 cup or more of the creamy balsamic vinaigrette. I always eyeball the dressing when adding – one less thing to wash. 😉
If you are looking for the original dressing:
Back when I first posted this recipe I made it with more of a loose vinaigrette than this creamier version. So here is that recipe: combine 2 cloves of garlic (finely minced or squeezed through a garlic press) and 1/3 cup balsamic vinegar. Whisk while pouring in 3 tablespoons olive oil.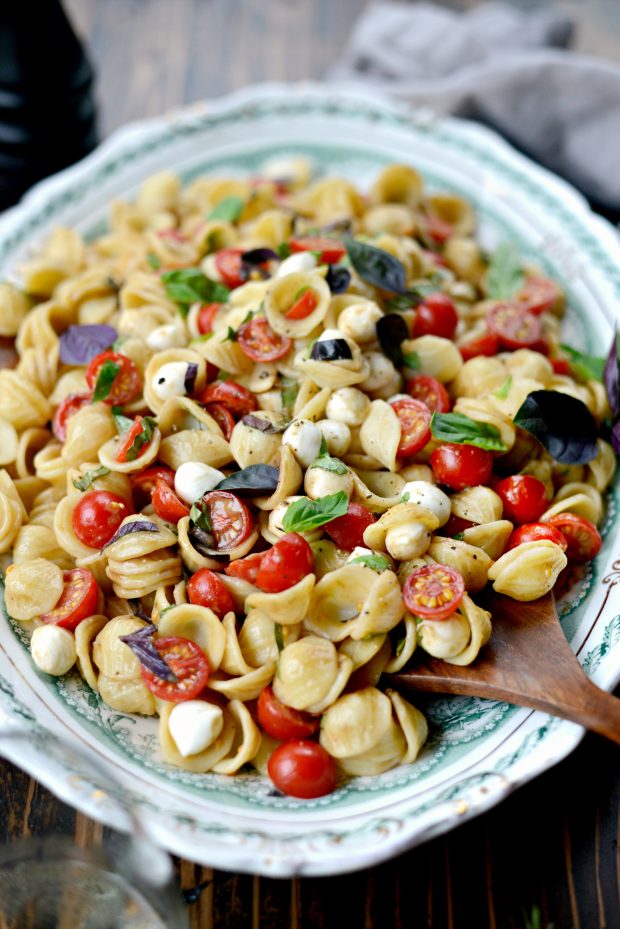 Toss the pasta salad with the dressing, taste and season with kosher salt and freshly ground black pepper according to what your taste buds like and serve.
This caprese pasta salad can be made a few hours in advance. However, if making this a day in advance, then I would toss everything together, leaving off the basil and dressing and refrigerate. Once ready to serve, I would add the basil and dressing and serve immediately.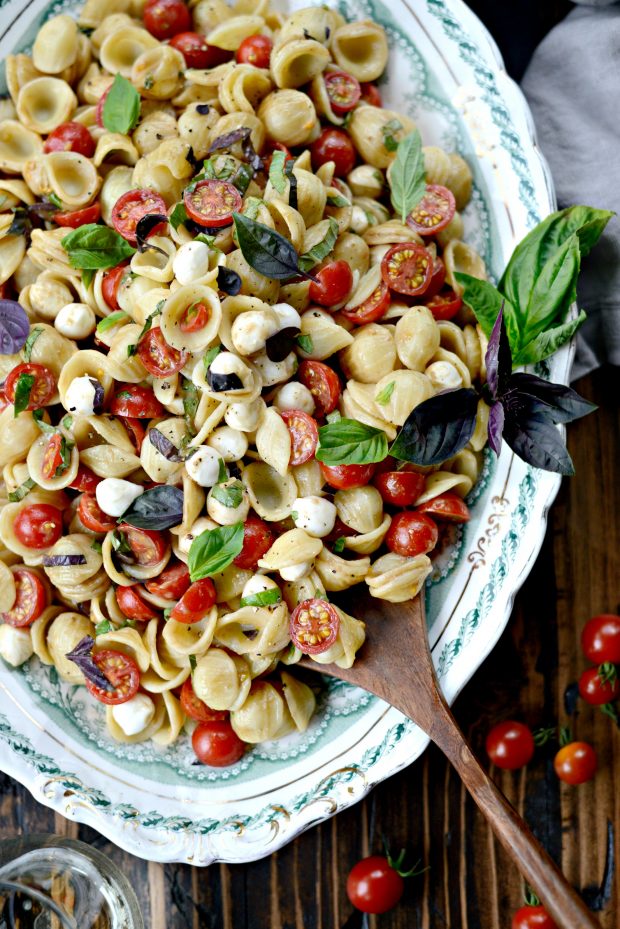 So simple, so flavorful and super easy!
My plant is busting at the seams with tomatoes so this salad is a great way to use up a lot of those cherry tomatoes. And is also the perfect thing to bring to a potluck or party- because, it makes a lot and who doesn't love caprese?
This caprese pasta salad is where it's at you guys!
Enjoy! And if you give this recipe a try, let me know! Snap a photo and tag me on twitter or instagram!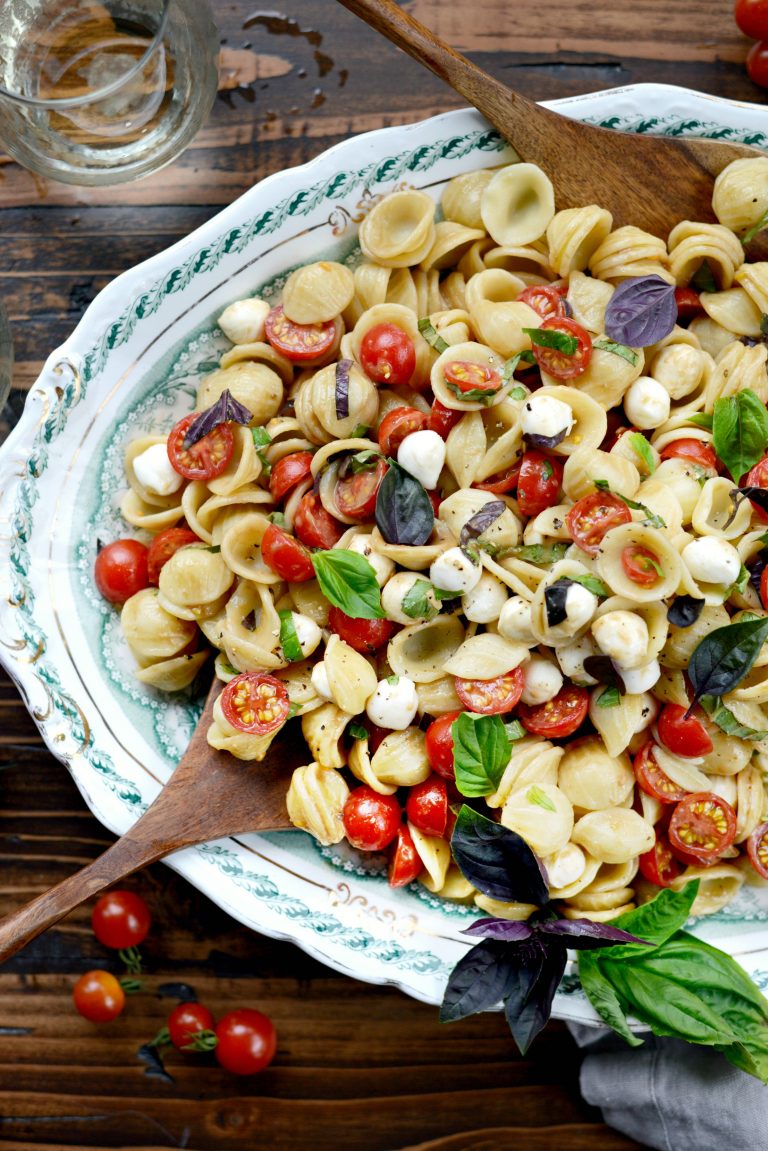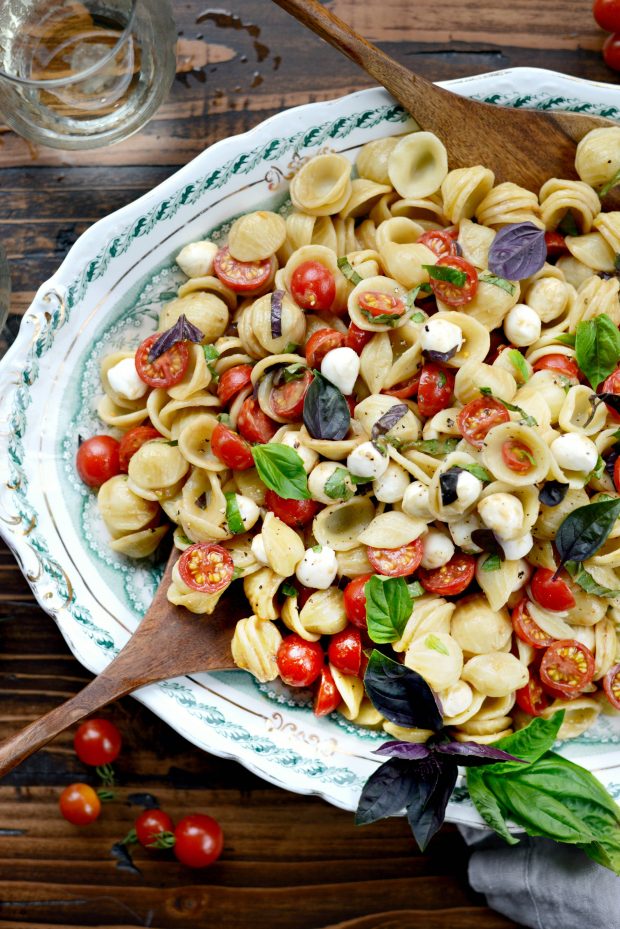 This post may contain affiliate links.
Buy the Cookbook: Simply Scratch : 120 Wholesome Homemade Recipes Made Easy Now available on Amazon »
THANK YOU in advance for your support!