In this chewy fruit and nut granola, thick cut oats, pecans, almonds and dried cherries are tossed and baked in a honey, maple and vanilla buttery syrup.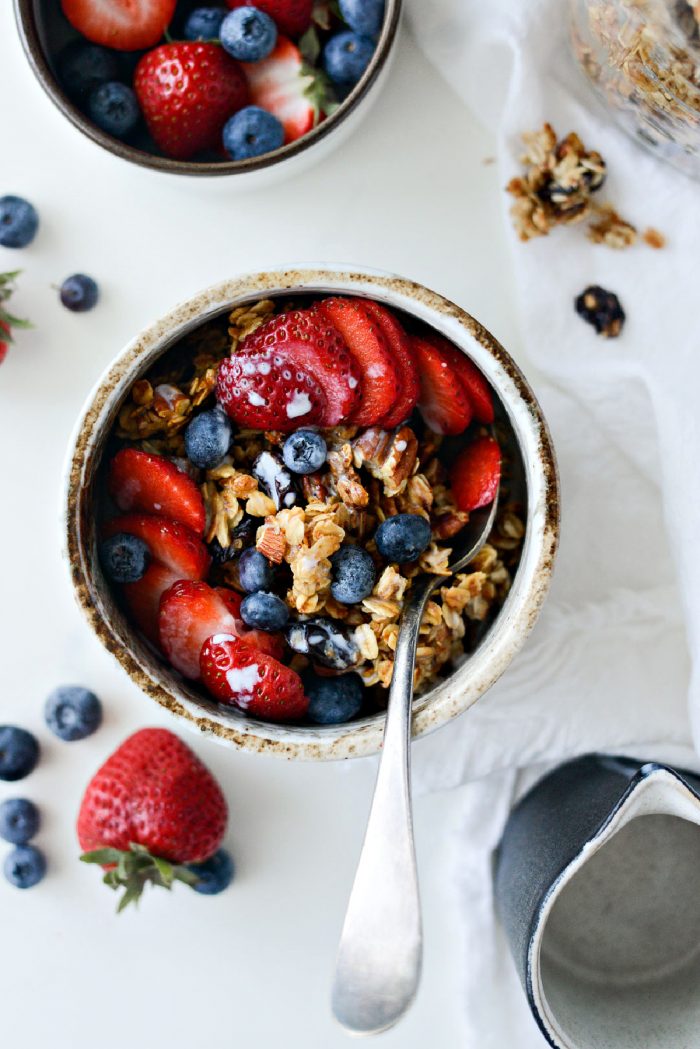 Truth: It has always irked me that I got very little nuts in my bagged granola.
Like why so stingy? The best thing about making your own granola is that you can add all the fruit and nuts you want.
As you can probably tell, I'm super excited to tell you about this granola. I know, how can granola be exciting? It really can't be, but this chewy fruit and nut granola isn't just any granola. It's packed with dried fruit, TWO kinds of nuts and wholesome oat goodness enveloped in a honey-maple-vanilla hug.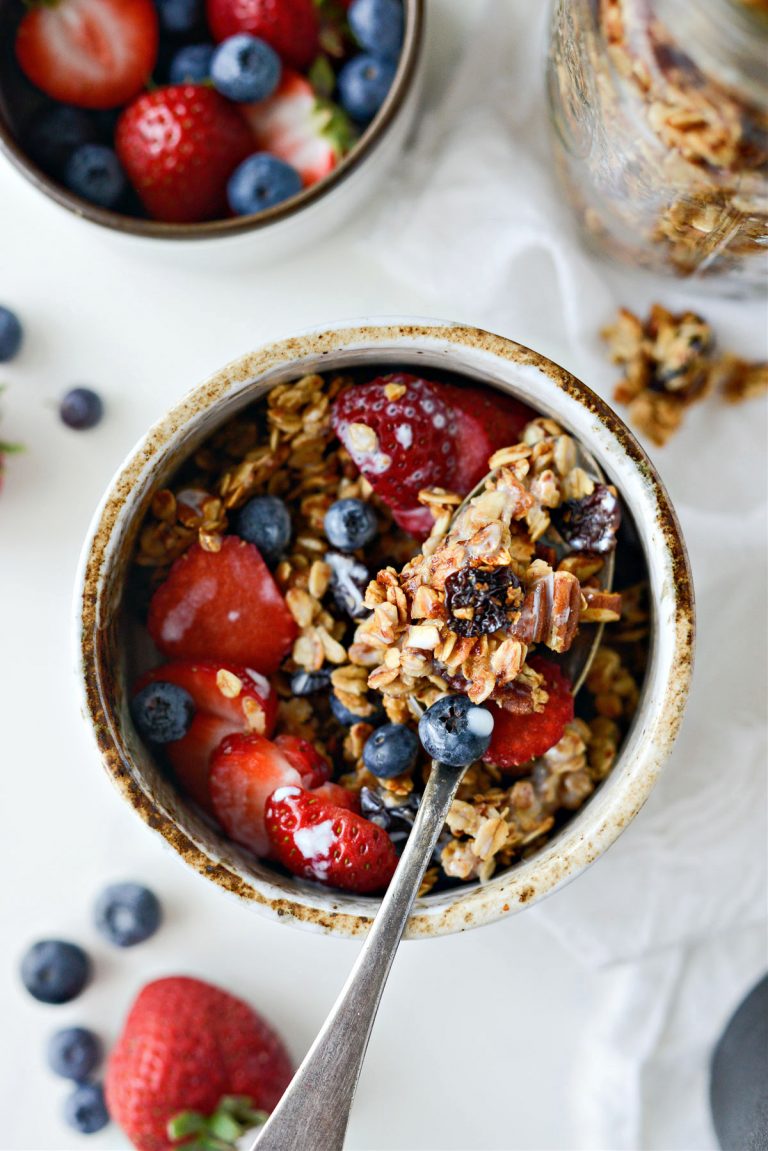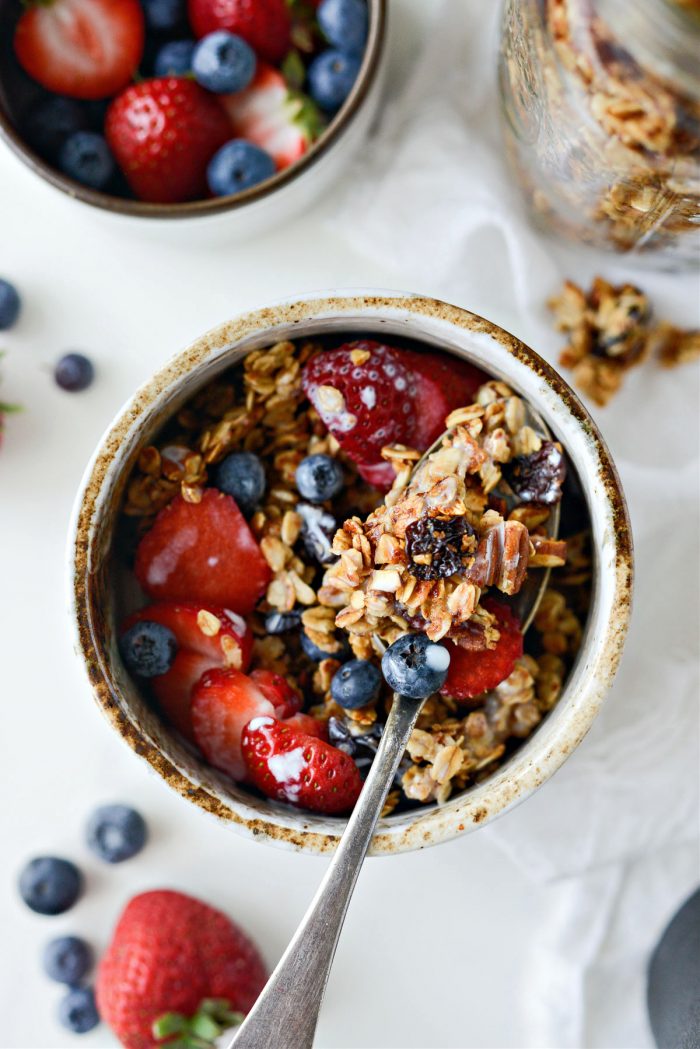 I made this recipe out of necessity. I was literally going through a bag of Bear Naked fruit and nut granola A WEEK! It's kind of embarrassing to admit. But we're friends right? Plus it can't be any more embarrassing then when I admitted to how I finished off those sweet potatoes and while at a restaurant too! I cringe.
Obviously I couldn't justify a bag of granola a week addiction, and when I started to make special trips to Target just for granola I knew I had a problem. I mean, who goes to Target and only gets granola? I'll tell you… NO ONE. So with that thought in mind, I set off to make my own version.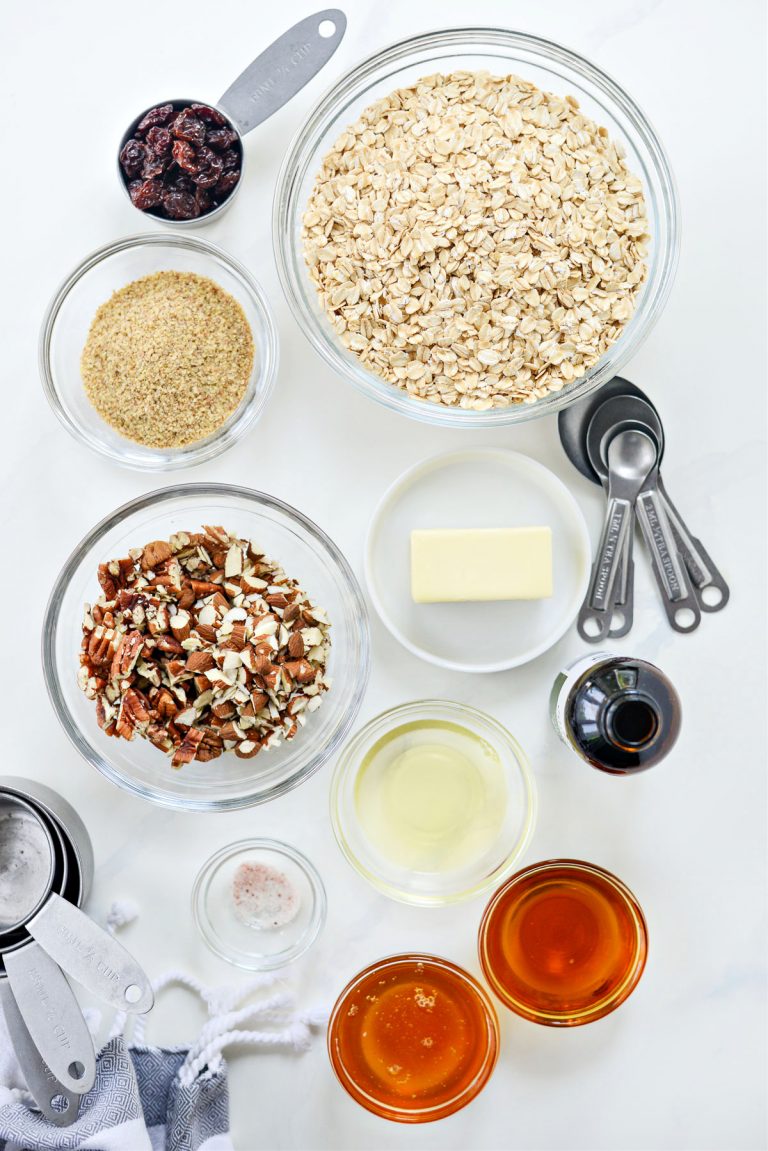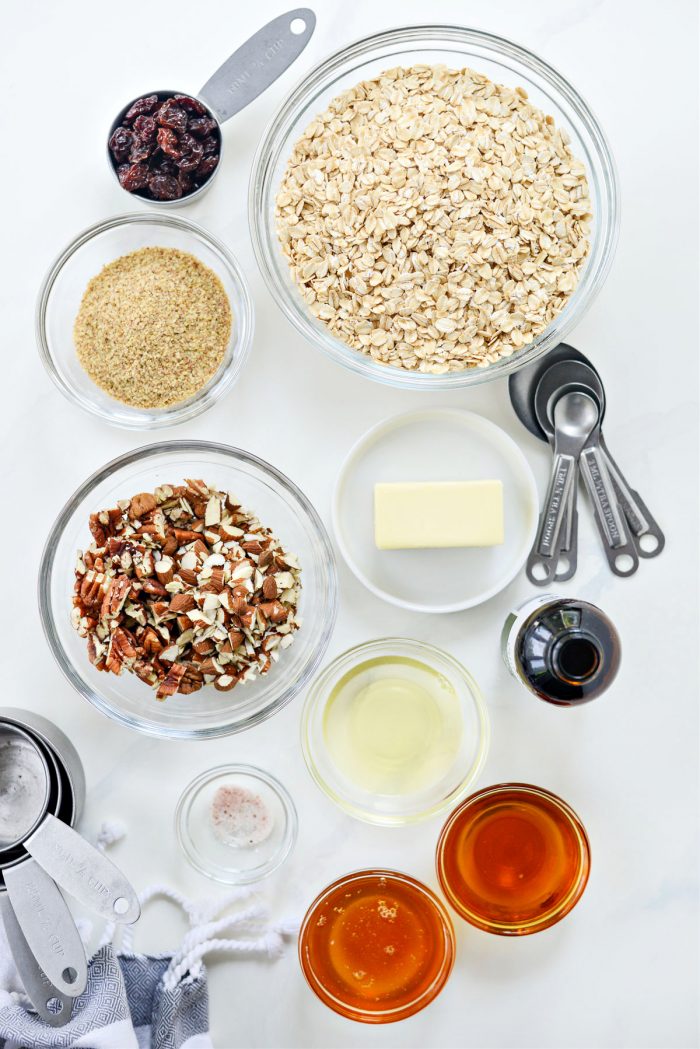 To Make This Fruit and Nut Granola You Will Need:
old fashioned rolled oats (I use Bob's Red Mill extra-thick cut oats) – The base of the granola. Also gives it chewy texture.
wheat germ – A great source of vegetable proteins, along with fiber and healthy fats.
fine salt – Balances out the sweetness.
almonds – Adds delicious crunch and flavor.
pecan halves – Adds more crunch and nutty flavor.
dried cherries – Gives this granola tart sweetness.
unsalted butter – Adds moisture and aids in browning and crisping the granola while baking.
honey – Adds sweetness
pure maple syrup – Adds a caramel like sweetness.
pure vanilla extract – Adds warmth and flavor.
an egg white – Acts as a glue that will bind the ingredients together.
In a large bowl, measure and add 2 and 1/2 cups of old fashioned rolled oats (I use Bob's Red Mill extra thick cut oats – not sponsored), 1/4 cup of wheat germ, 1/4 teaspoon of kosher salt, 1/3 cup each chopped almonds, pecans and 1/2 cup dried cherries.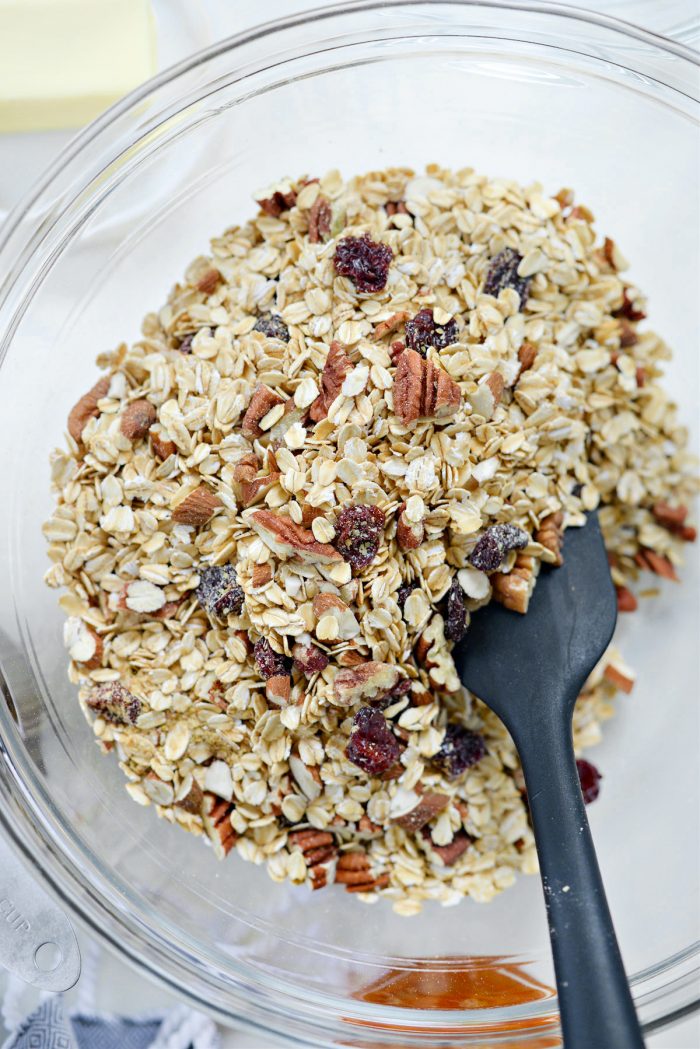 Stir to combine and then move on to the sweet stuff, which is the best part in my opinion.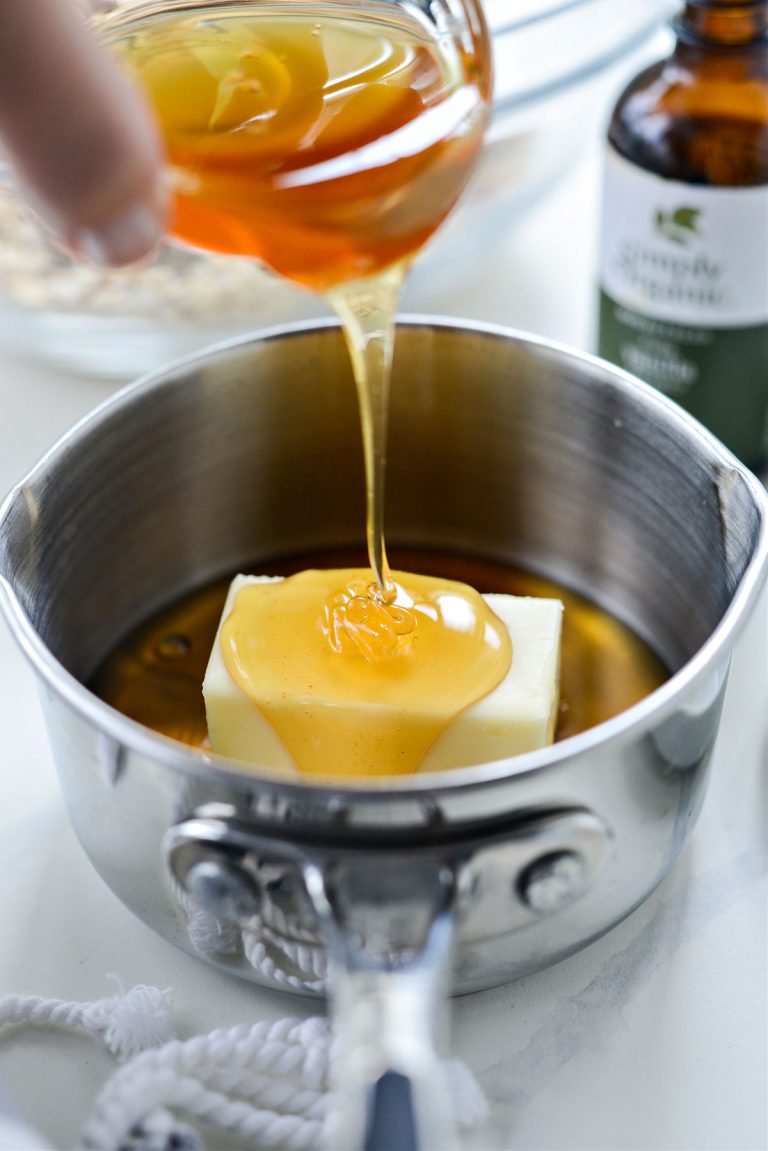 Next, in to a small saucepan, add 4 tablespoons (half a stick) of unsalted butter and pour in 1/4 cup each of pure maple syrup and honey and 1/2 teaspoon vanilla extract.
Once the butter has melted, remove off of the heat and pour the butter mixture into the bowl of oats, fruits and nuts.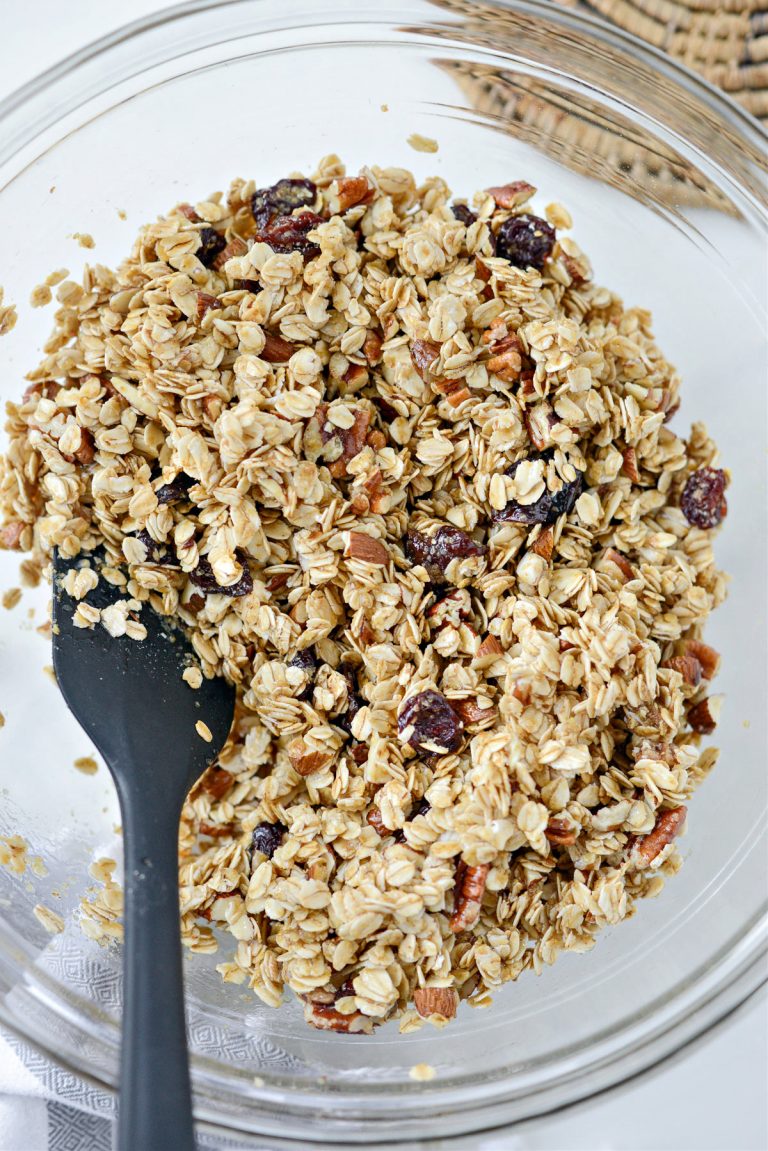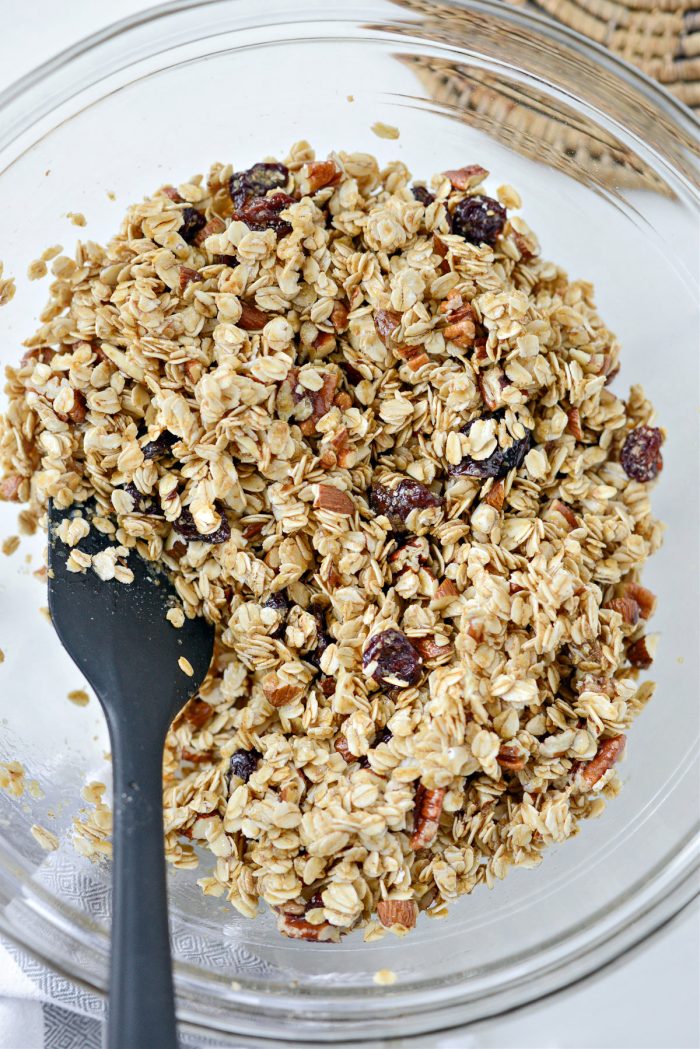 Then stir to coat.
Next, spoon the granola out onto rimmed metal baking pan lined with parchment OR sprayed with non-stick spray.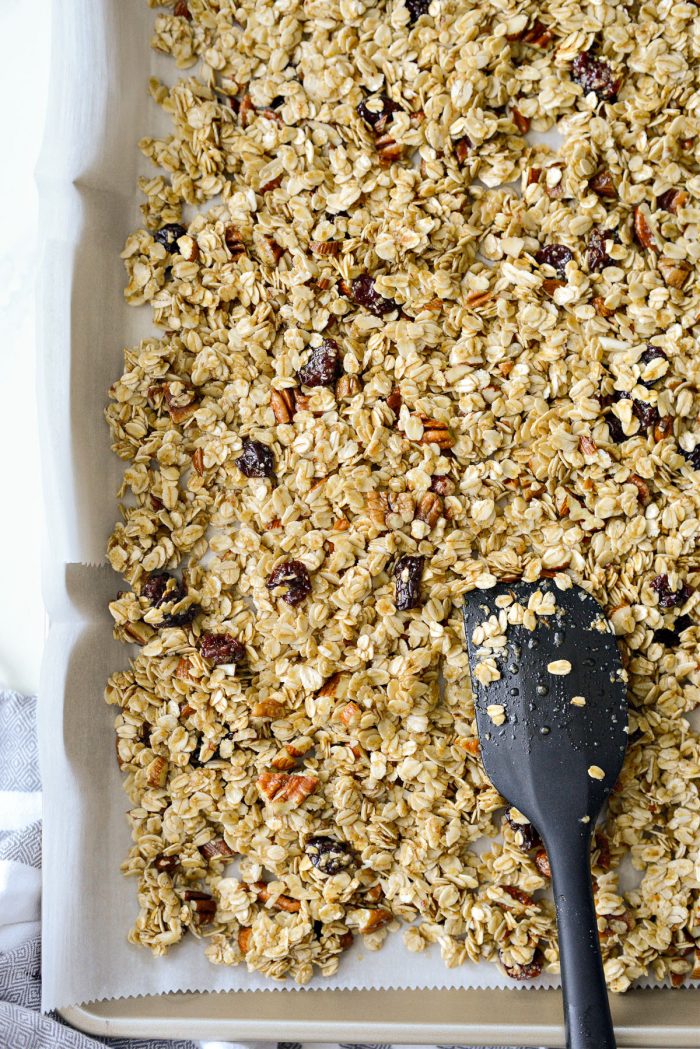 Then spread it out in an even layer and bake in a preheated 350° oven for 10 minutes.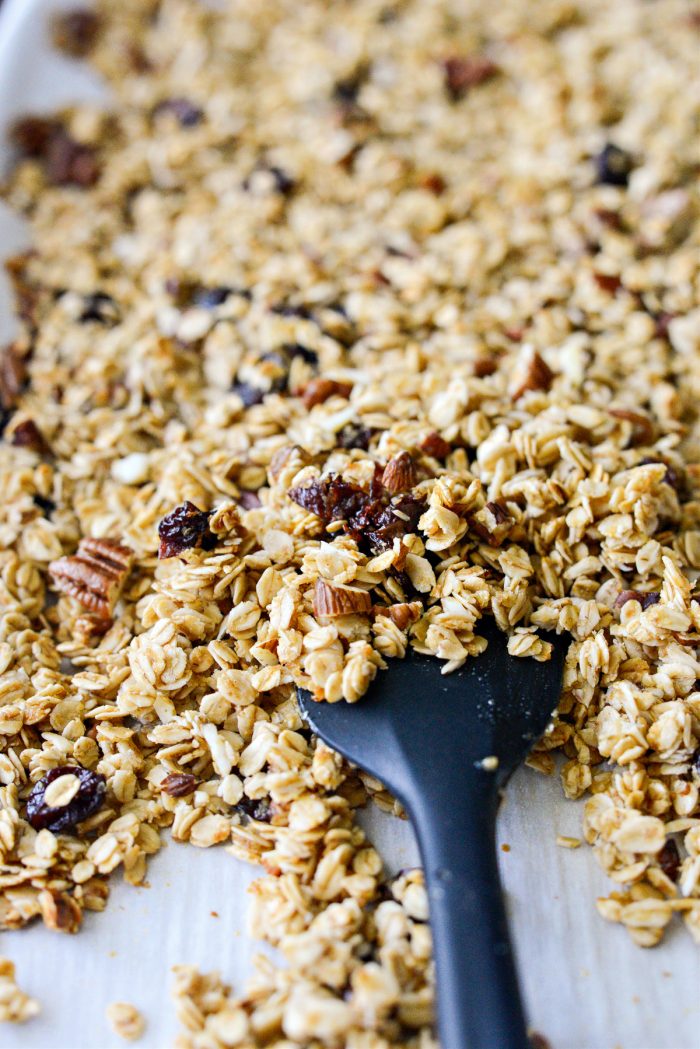 Next, remove the pan and gently stir the granola. Then spread it back out on the pan and bake for an additional 5 minutes.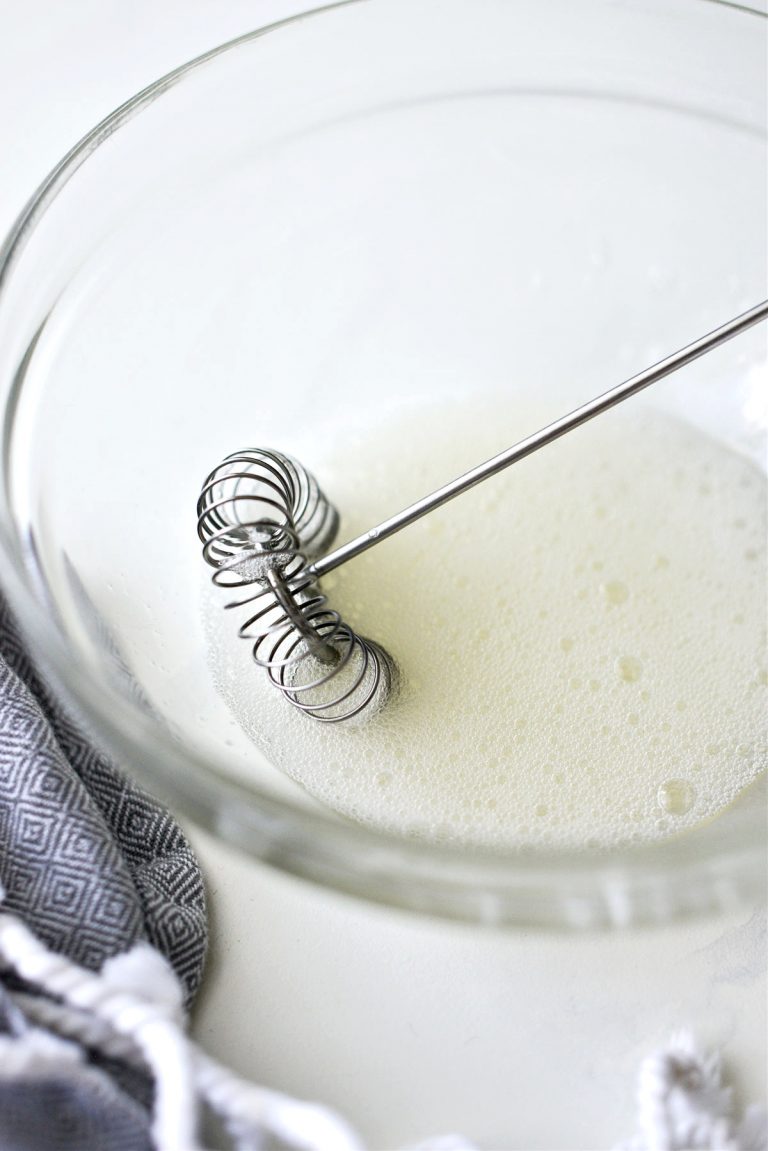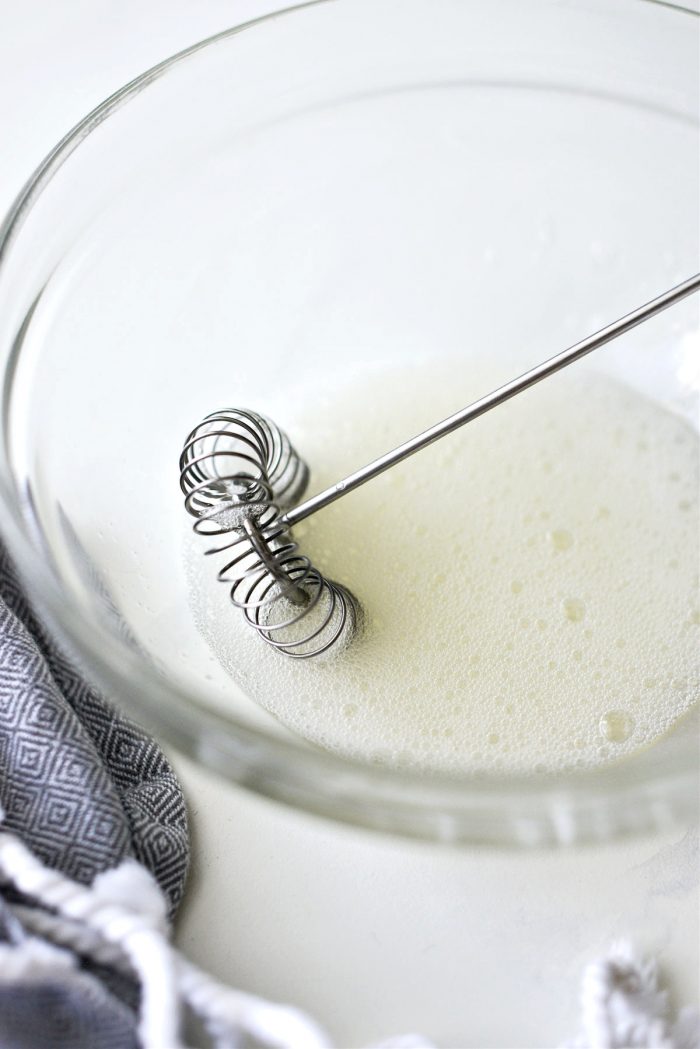 After the granola has baked for 15 minutes, pull it out and give it a toss. If you're like me and like your granola with clusters, well this is what you do. Grab an egg and separate the yolk from the whites and whisk those whites until frothy.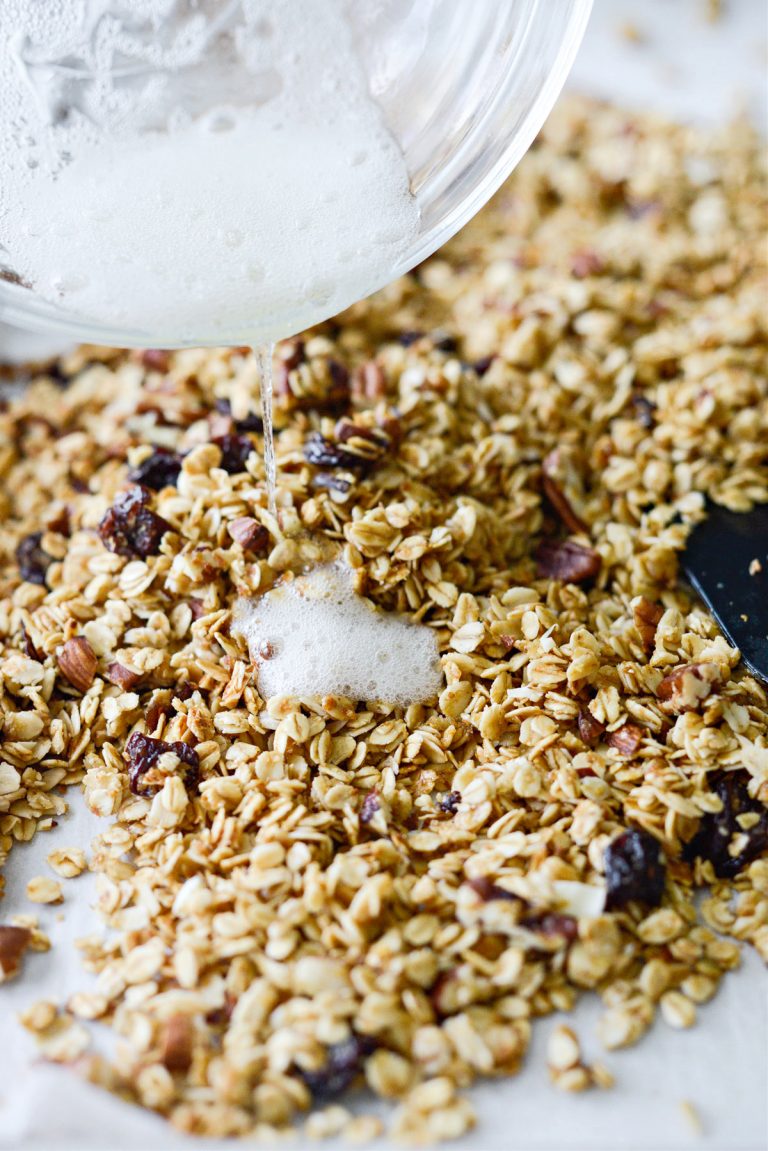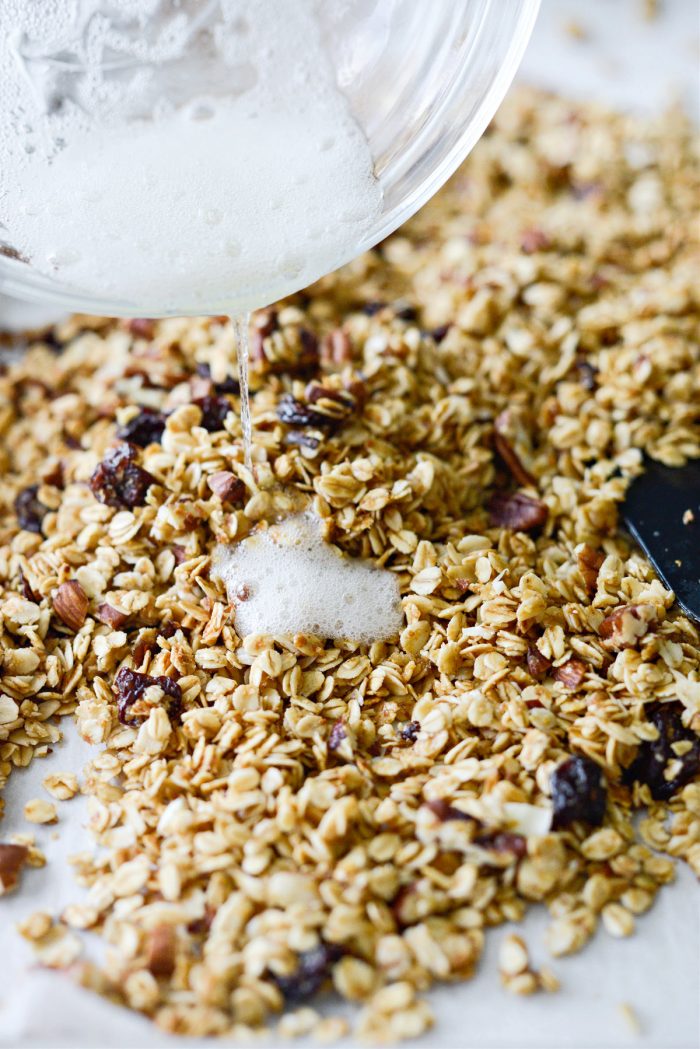 Next, pour it onto the warm granola.
Toss the granola in the frothy egg whites, spread it back out one more time and bake for 5 to 7 more minutes. Even if you're skipping the egg white, you'll still want to bake it for the additional time.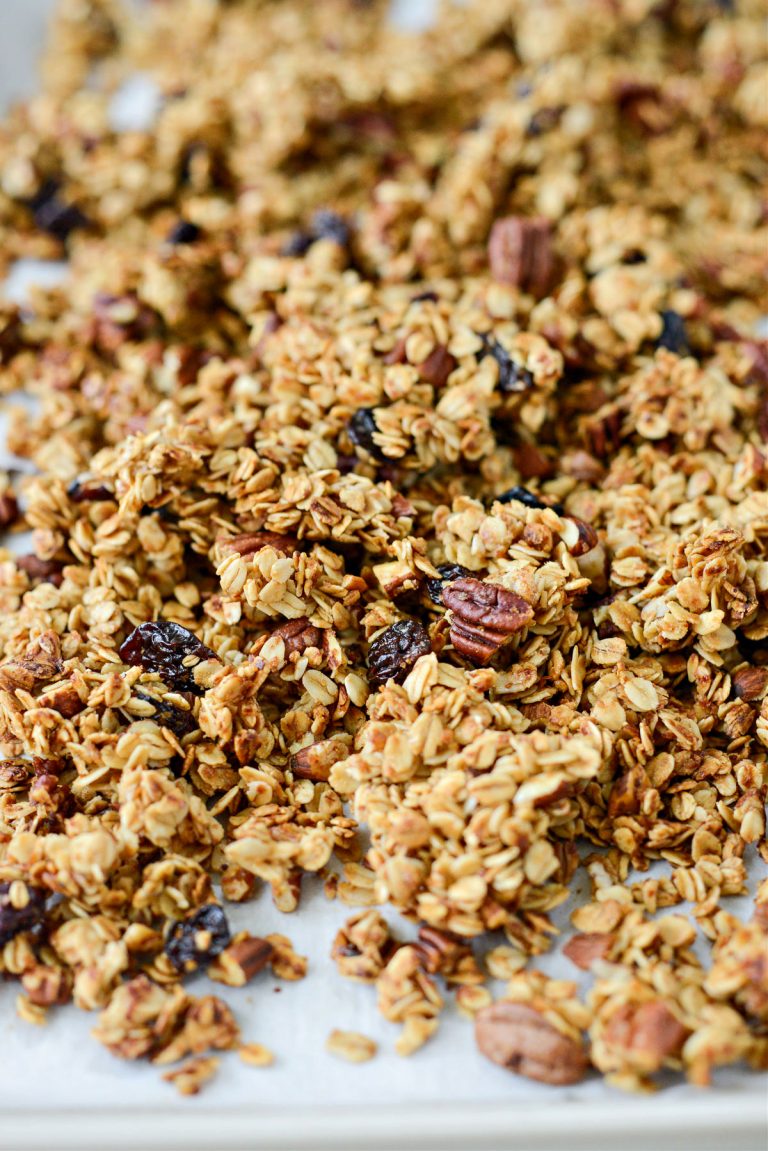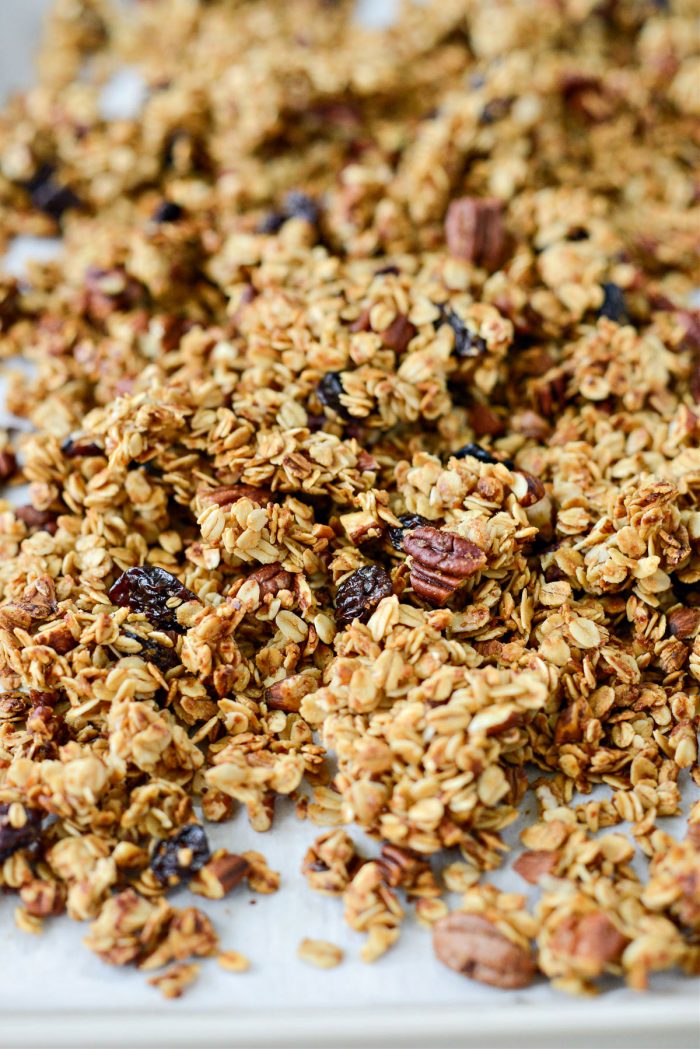 Whether you opt in or out of the egg white, when you pull the granola out of the oven it will still a bit soft. Allowing it to completely cool or almost completely and then toss it around or crumble it into chewy chunky clusters. Store the granola in an airtight container for a couple of weeks.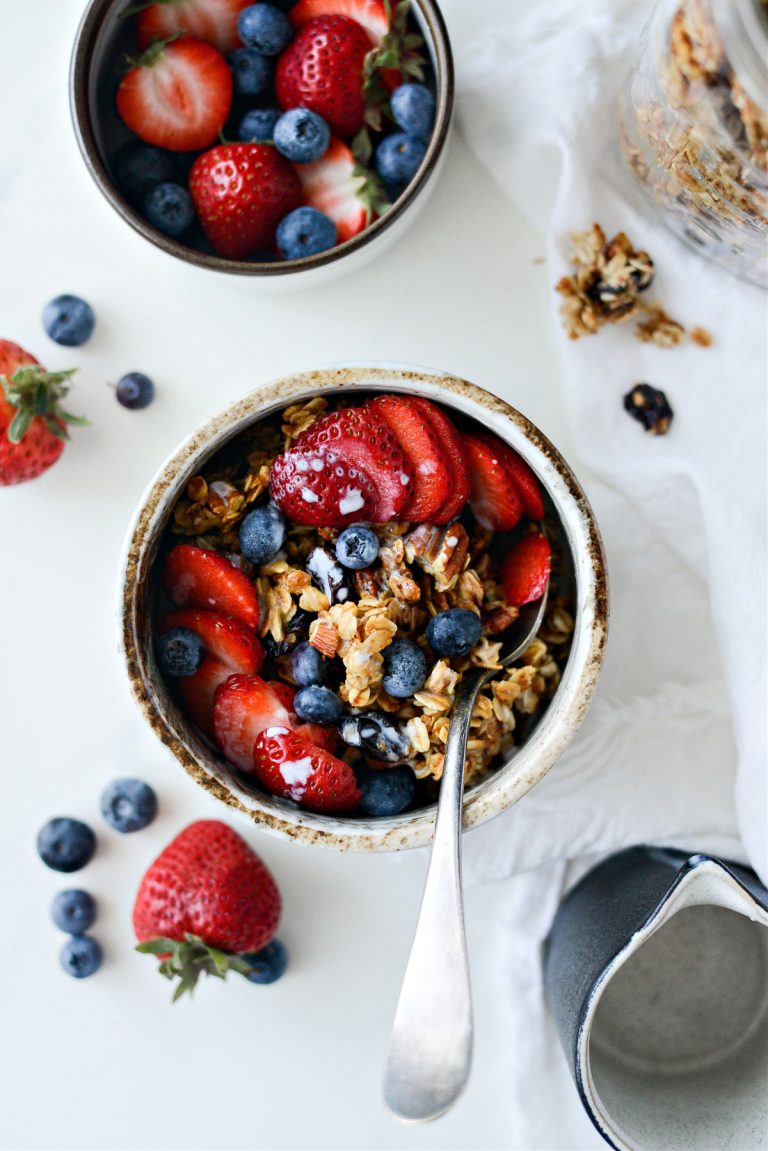 Serve your granola however you like it. I love it kefir yogurt an fresh berries. It's like dessert for breakfast.
The breakfast (or snack!) of champions. Get your spoons ready.
Enjoy! And if you give this Chewy Fruit and Nut Granola recipe a try, let me know! Snap a photo and tag me on twitter or instagram!
Yield: 12 servings
Fruit and Nut Granola
Soft and Chewy Fruit and Nut Granola has thick cut oats, pecans, almonds and dried cherries tossed and baked in a honey, maple and vanilla buttery syrup.
Ingredients
2-1/2 cups old fashioned rolled oats, I use Bob's Red Mill extra-thick cut oats
1/4 cup wheat germ
1/4 teaspoon fine salt, more or less to taste
1/3 cup almonds, coarsely chopped
1/3 cup pecan halves, coarsely chopped
1/2 cup dried cherries, coarsely chopped
4 tablespoons unsalted butter
1/4 cup honey
1/4 cup pure maple syrup
1/2 teaspoon pure vanilla extract
1 egg white , optional (see notes)
Instructions
Preheat your oven to 350° and line a large, rimmed baking sheet with parchment OR lightly grease a non-stick spray (like ghee oil or coconut oil).

In a large mixing bowl combine the oats, wheat germ, salt, chopped nuts and dried fruit.

Then in a small saucepan add the butter, maple syrup, honey and vanilla. Heat over low just until the butter melts.

Pour the butter mixture into the bowl with the oats and toss well to combine.

Spread the granola out onto the prepared pan and bake for 10 minutes. Stir and bake for an additional 5 minutes.

Meanwhile, whisk egg white until frothy.

After the granola has baked for a total of 15 minutes, carefully remove and toss wit the frothy egg whites and stir to incorporate.

Bake for 5-7 more minutes. Remove and let cool completely before breaking into clusters.
Notes
If omitting the egg white, simply baked for a total of 20 minutes, tossing every 5 minutes or so. Then let cool completely. Granola will not be as soft and chewy nor will it have clusters.
Serving: 2ounces, Calories: 167kcal, Carbohydrates: 21g, Protein: 3g, Fat: 8g, Saturated Fat: 3g, Polyunsaturated Fat: 2g, Monounsaturated Fat: 3g, Trans Fat: 1g, Cholesterol: 10mg, Sodium: 56mg, Potassium: 109mg, Fiber: 2g, Sugar: 13g, Vitamin A: 297IU, Vitamin C: 1mg, Calcium: 30mg, Iron: 1mg
This post may contain affiliate links.
Buy the Cookbook: Simply Scratch : 120 Wholesome Homemade Recipes Made Easy Now available on Amazon »
THANK YOU in advance for your support!