Because grilling season is among us, here are more than 25 BEST salads and side dishes to bring to a barbecue! With the Memorial Day weekend beginning in just minutes, how many of you are scrambling for what to make this weekend? Since I cook just about every single day of my life, I'm always signing up for the easiest thing I can bring (<—lazy), that's why I pulled together some of my favorite easy and delicious salads and side dishes that work for any type of barbecue.
Whether it's burgers or steaks, chicken or ribs there's always some kind of meat grilling away, with it's aroma tantalizing your tastebuds. Next to that a table that's set up with a smorgasbord of salads and side dishes. Salads like pasta, potato, green and leafy, fruit and legume- just not necessarily together, or maybe? Side dishes like baked beans, slaws and vegetable trays. Always more side dish options than are probably be needed nor consumed. So I decided to put a round up of a few of my fab salads and side dish recipes that would be perfect at any family or friendly get together.
Some old. Some new. All delicious.
PASTA(ish) SALADS:
If you've happened to click the "salad" tab on my recipe page then you know I'm smitten with salads. I love them all and am continually dreaming things up. Even if my husband is a ranch, cheddar and iceberg salad fan, I still make all the salads. The more colorful the better. The more texture the more happier I am to see it.
So while your wondering what to bring to your next barbecue, take a gander and these fine salads (and some not-so-salads) and hopefully you'll see just what you want to bring and show off.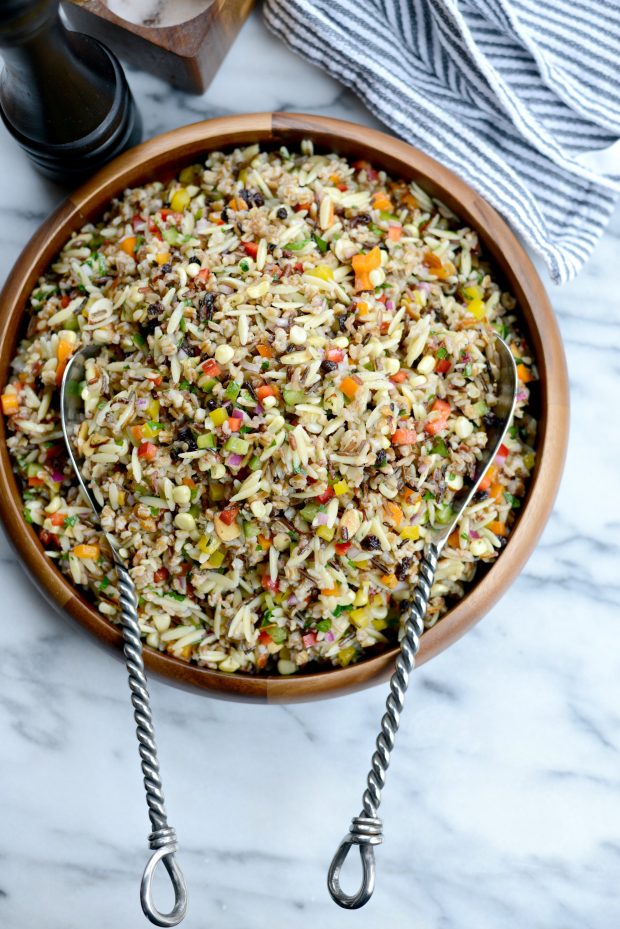 I had to list this J. Alexander's Wild Rice Orzo Salad first because, hellooooo pretty! There is a little bit of prep work involved but the end result is a light and texturally perfect salad with has a light herb vinaigrette.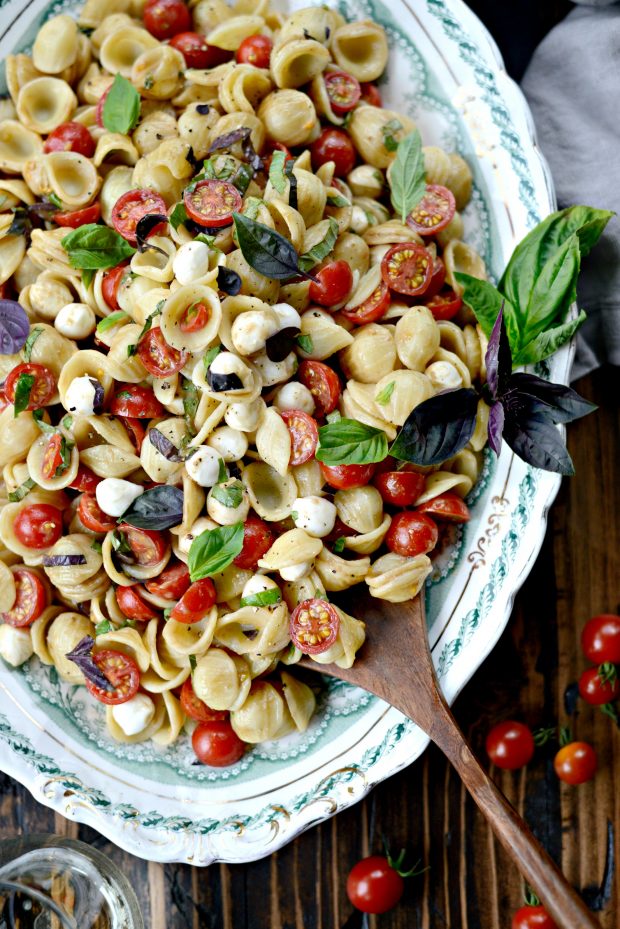 I have no words for how much I love this Caprese Pasta Salad. There's this balance of acidic tomatoes, creamy fresh mozzarella, bright herbaceousness from fresh basil and it's all tossed in a light balsamic vinaigrette. This salad is a crowd pleaser.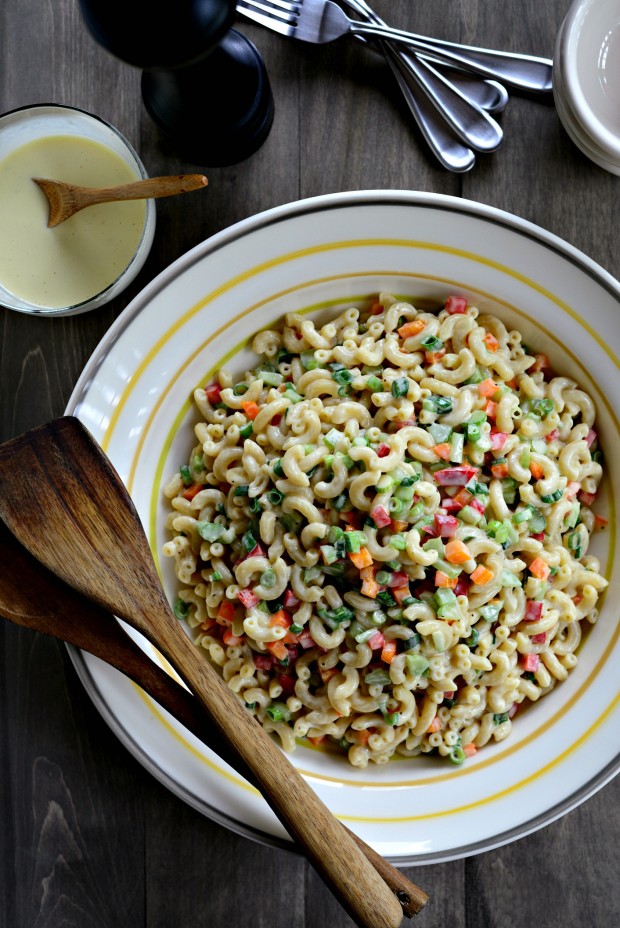 Everyone loves a cClassic Macaroni Salad with Homemade Dressing! So colorful and creamy! I always make this when we have company and are grilling burgers, dogs and brats. It's just so perfect.
I just made this Italian Bowtie Pasta Salad the other day and my family went nuts over it! My daughter took the last of it for her school lunch and I almost yelled at her. Yes, you read that correctly. I almost completely lost my you-know-what at her for taking the last of MY pasta salad. I'm kidding (so not kidding) I was happy she likes it that much. PS. I have a lentil "pasta" salad thats ridiculously delicious and gluten free in my cookbook!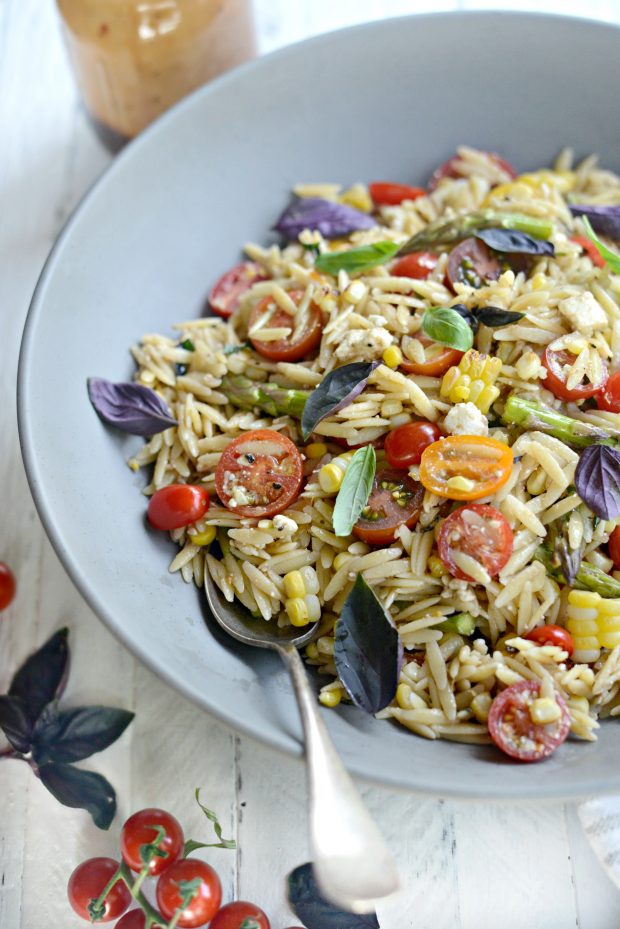 This Asparagus, Tomato and Grilled Corn Orzo Pasta Salad was last years salad we obsessed over. Introduced to me at a friends post 4th of July party, we were instantly hooked. Colors of the rainbow represented: check.
POTATO SALADS:
A barbecue isn't a barbecue with out potato salad. Instead of purchasing overly dressed (in my opinion) potatoes why not whip up a batch from scratch? Easy and WAY better than anything you can buy at the grocery store.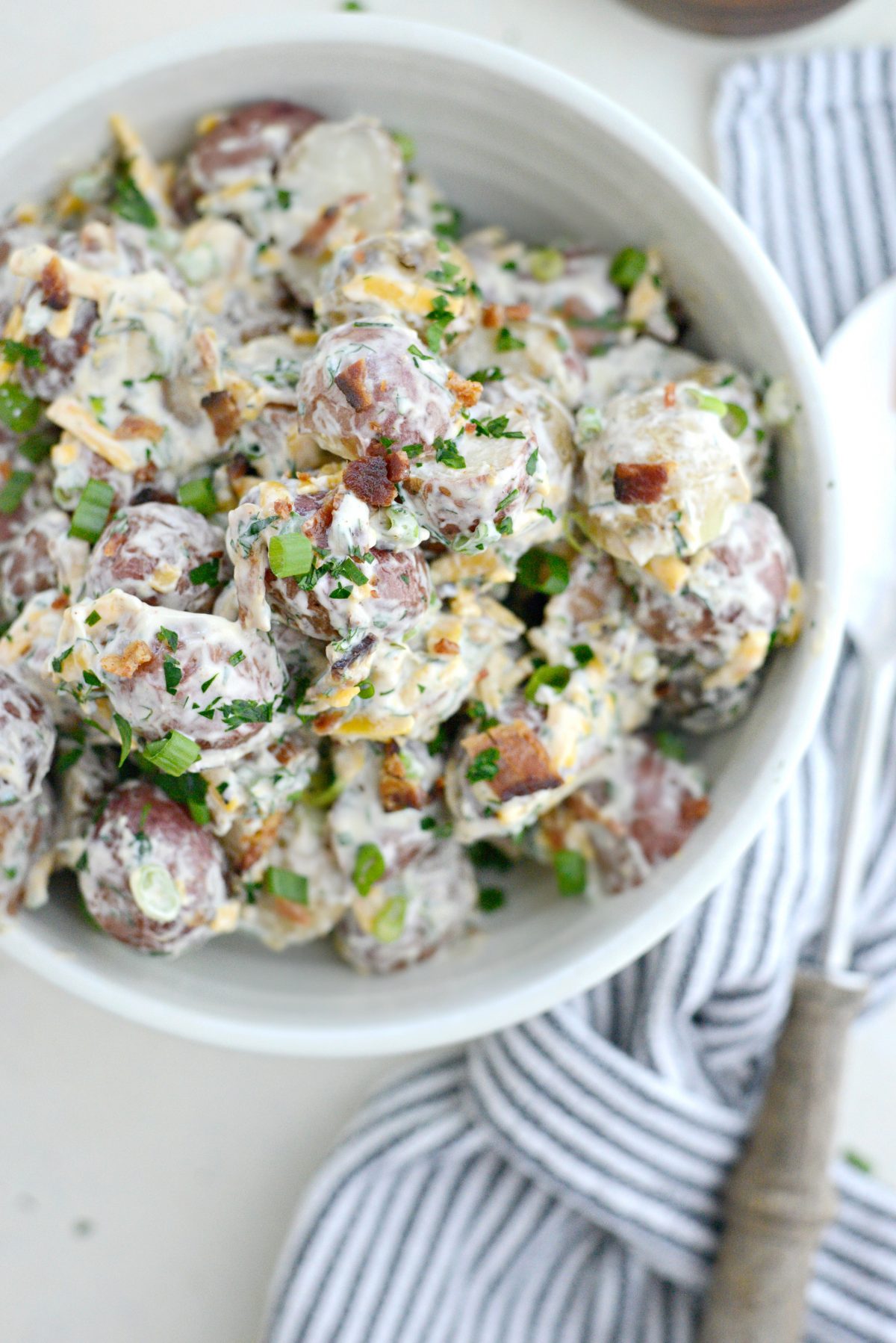 Bacon Cheddar Ranch Potato Salad. Need I say more??
Maybe you want a little kick to your potato salad, then this Southwest Potato Salad is your jam. Plus cheese!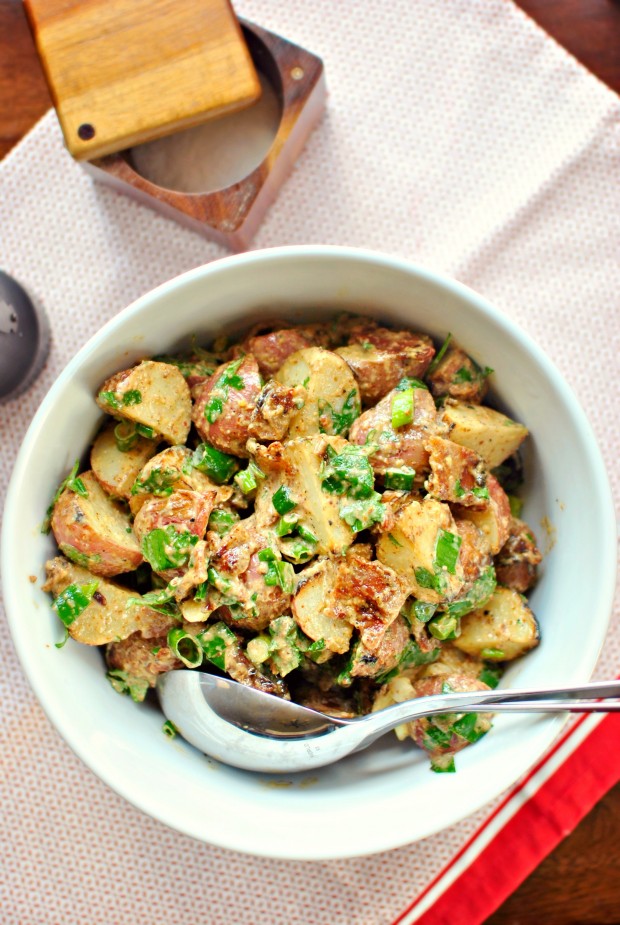 I apparently have a thing for bacon in potato salad, like this Grilled Potato Salad with Bacon Dijon Vinaigrette. There's a funny story behind this salad and it starts with "That one time I signed up to bring TWO dishes to a barbecue and burned the potatoes on the grill…"  But seriously, this potato salad is amazing!
Aunt Penny's Classic Potato Salad Recipe, is essentially a simple mustard potato salad that has hard boiled eggs, onion and celery. It's simple, delicious and I've been loving this recipe since I was 15 years old. It's perfect served with burgers, hotdogs or ribs. Your barbecue isn't complete without it.
ALL THE OTHER SALADS:
Broccoli Crunch Salad  is probably one of the most popular of classic salad recipes. Broccoli, dried cranberries, bacon, sunflower seeds (but I add pepitas!) and finely diced red onion is tossed in a simple (like 3 ingredients) dressing. Not only is this salad colorful and crunchy, but delicious too!
Bread in salad is the best thing ever! In this Grilled Radicchio, Bell Pepper and Olive Panzanella grilled vegetables, olives and bread are tossed in a fresh tomato vinaigrette. This tastes like summer in a bowl!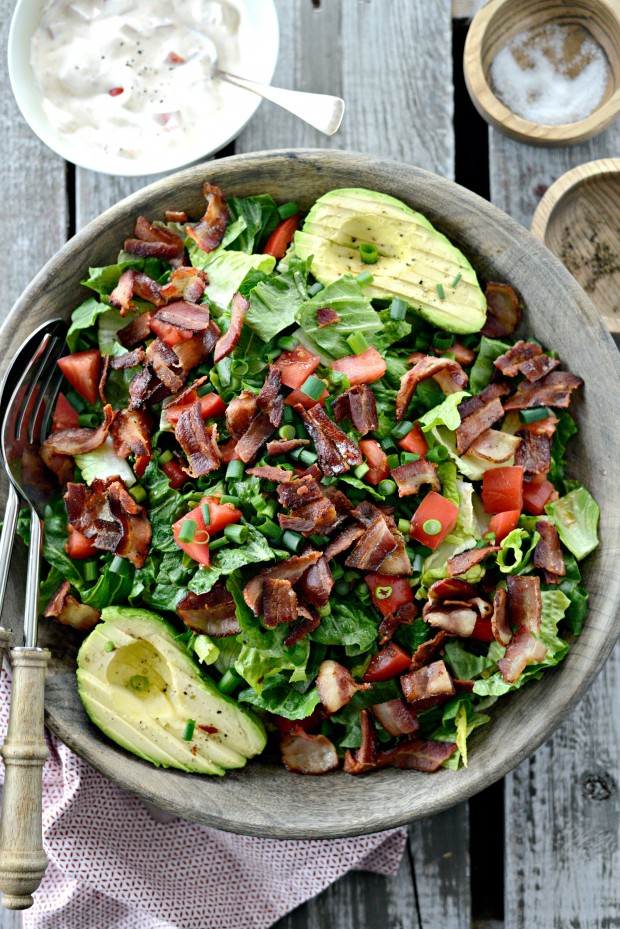 B.L.A.T. Salad because bacon.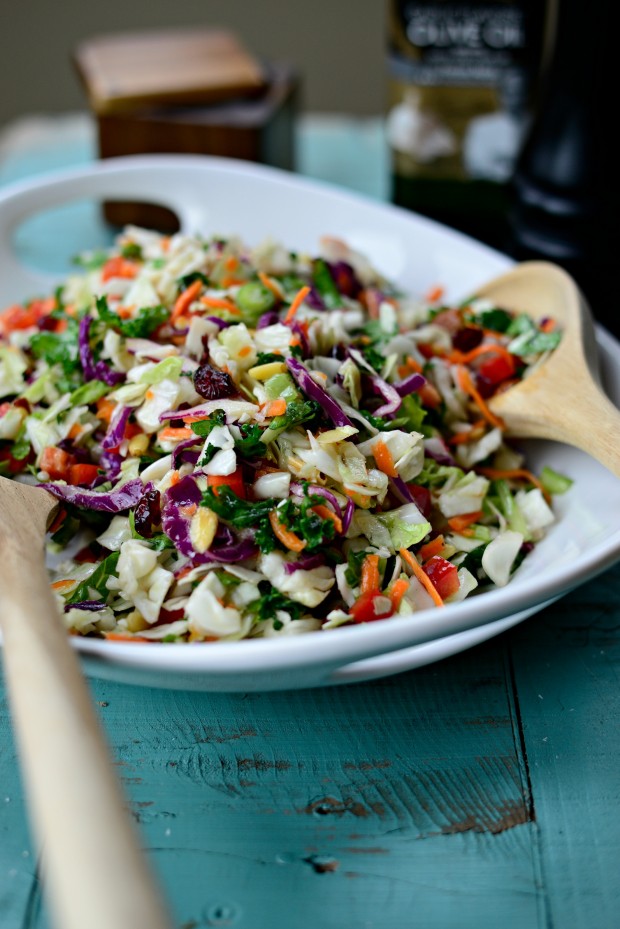 Rainbow Crunch Salad is colorful and SUPER simple to whip up. You can either chop everything by hand or purchase this veggie slaw mix pre-chopped saving you lots of time!
This Tomato, Basil and Mozzarella Couscous is fresh and simple and only takes 20 minutes (if that) to make! LOVE this!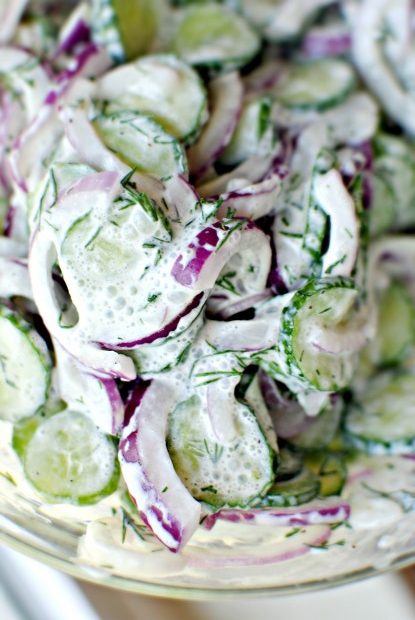 Cuke Salad with Sour Cream Dill Dressing is a family recipe and one I remember seeing at many family barbecues. A classic recipe and simple to boot!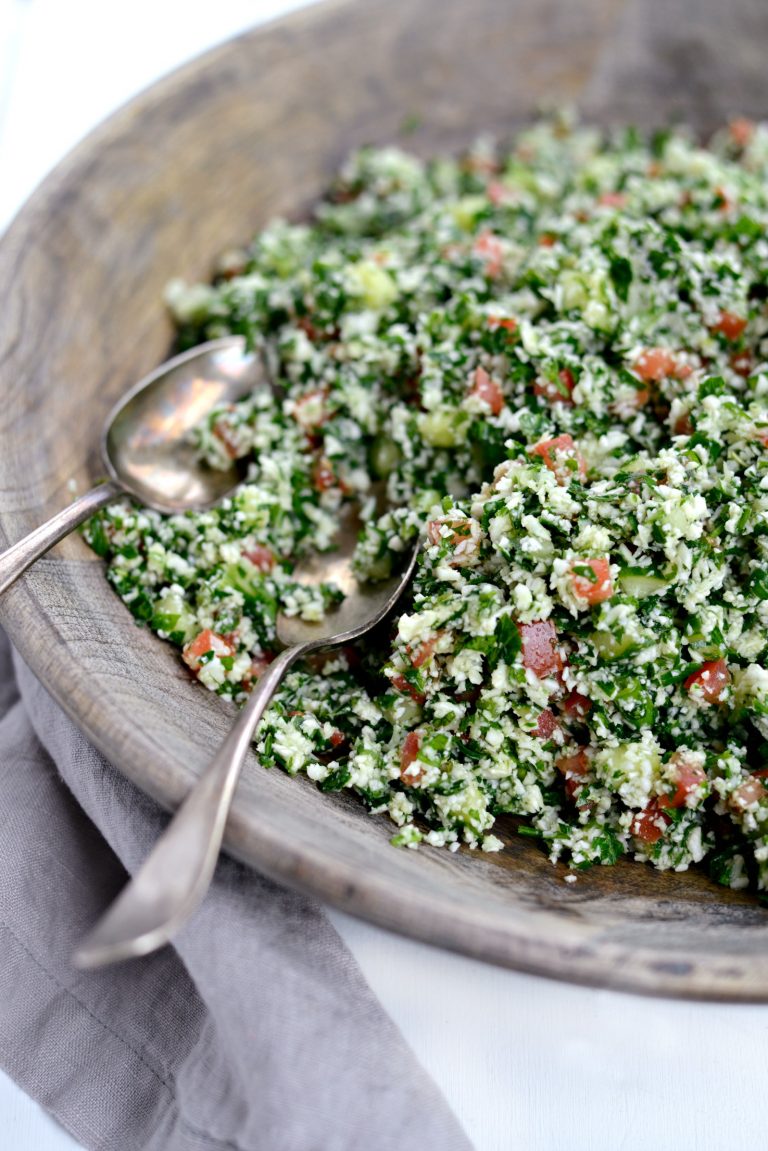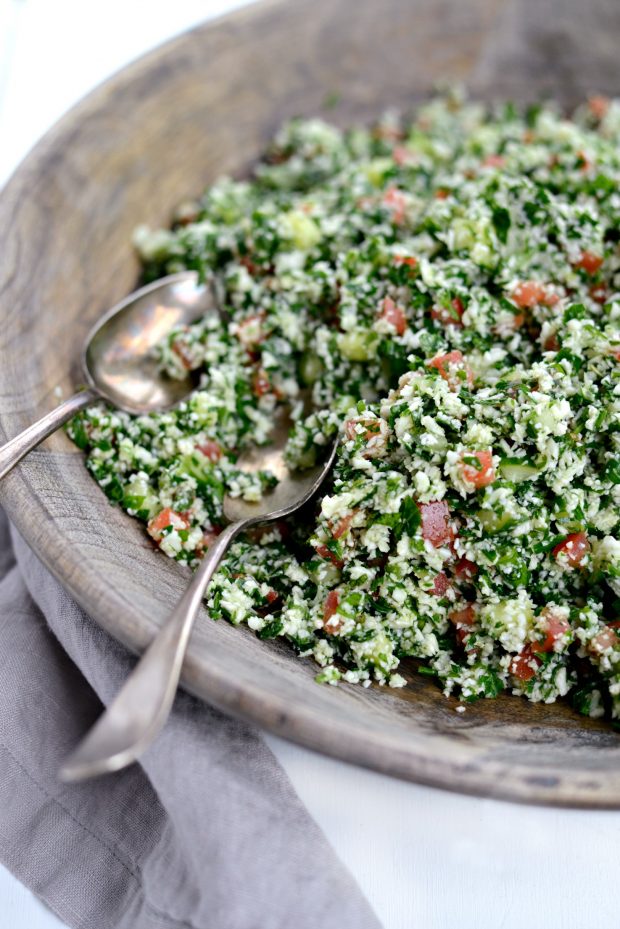 Cauliflower Tabbouleh for all the gluten/grain free people in our lives. They'll thank you!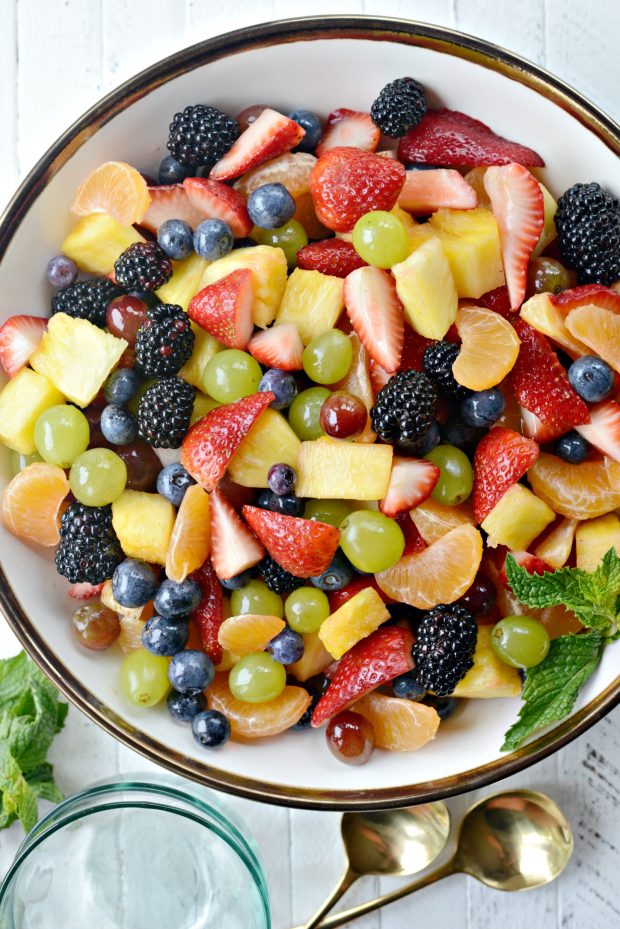 Fruit Salad for the kids!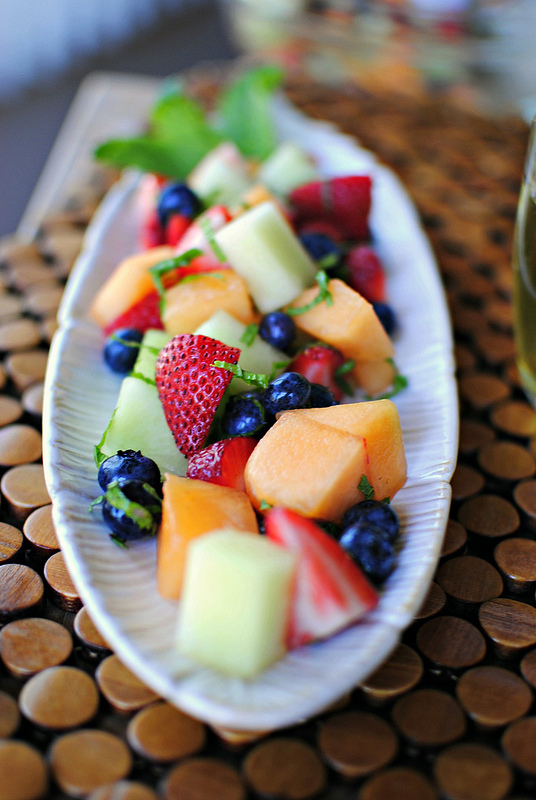 White Wine Drenched Fruit Salad for the adults (hello boozy fruit!).
Watermelon Wedge Salad because it's fun and different and EASY!
Sides (the not-so-salads):
5-ingredient Barbecue Bacon Baked Beans because sometimes shortcuts are needed!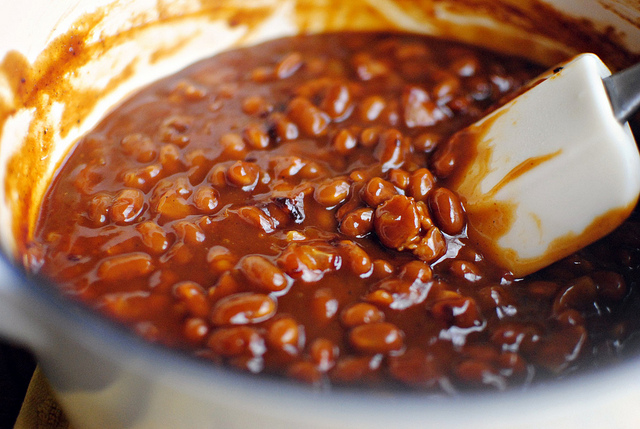 My Mom's Baked Beans are a crowd pleaser! For a more from scratch version, check out my cookbook.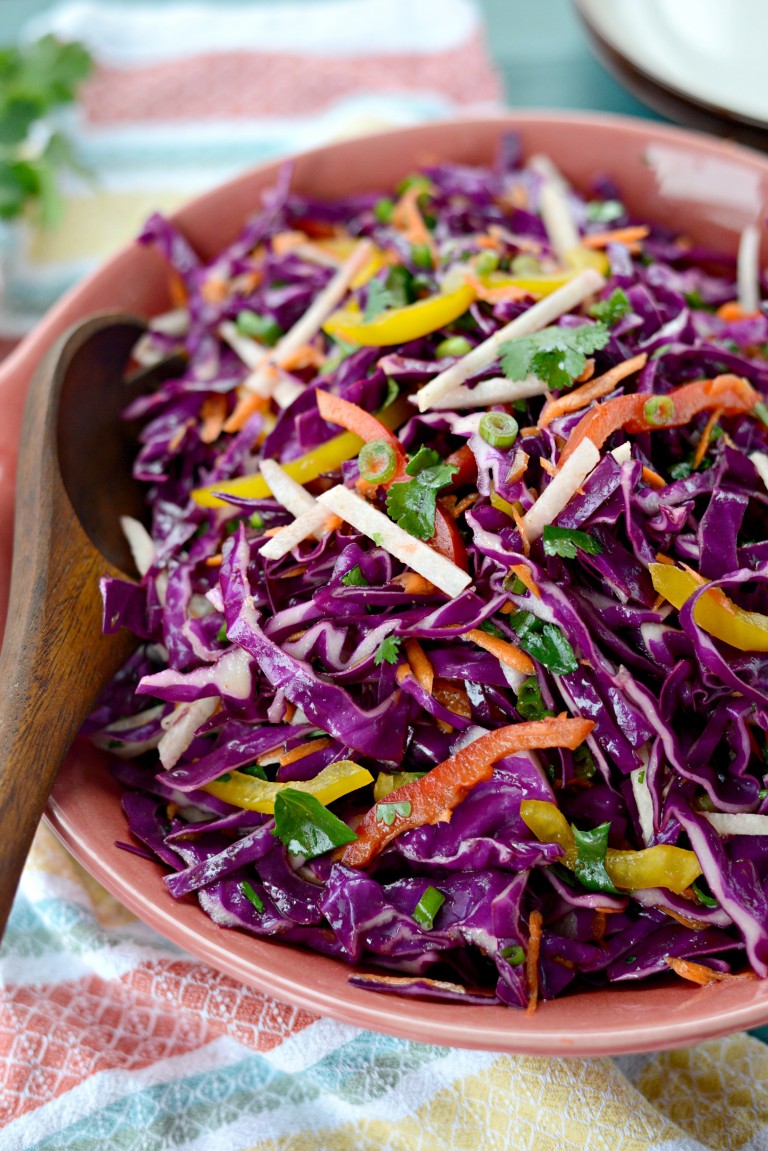 If you want a slaw without dairy, this Mexican Slaw with Cumin Lime Dressing is top notch and super pretty!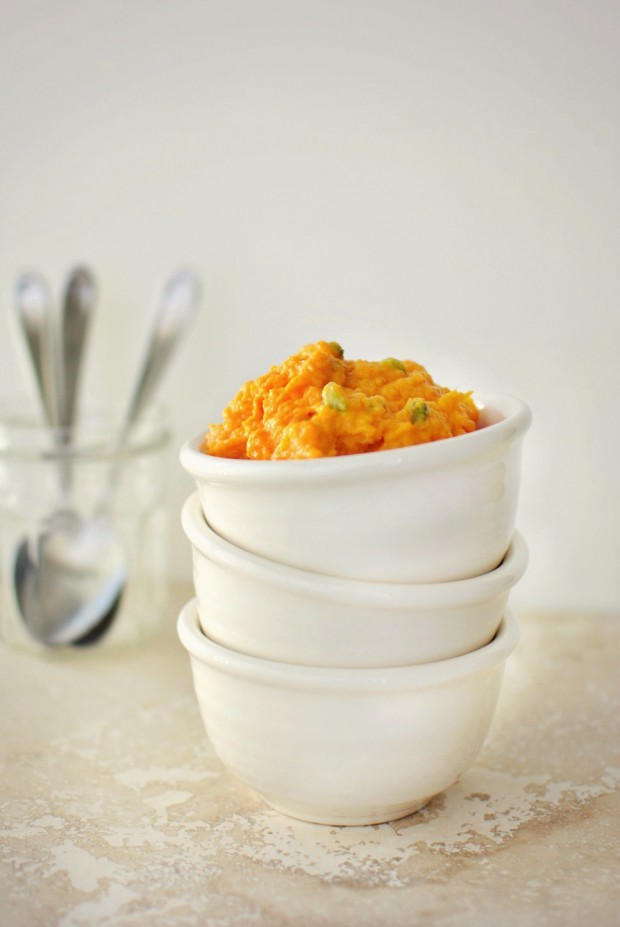 Sweet Potato Jalapeño Mash works great with ribs and steak! It's a warm side dish that is sweet and a little spicy!
Farmers Market Vegetable Tray: move over basic veggie tray!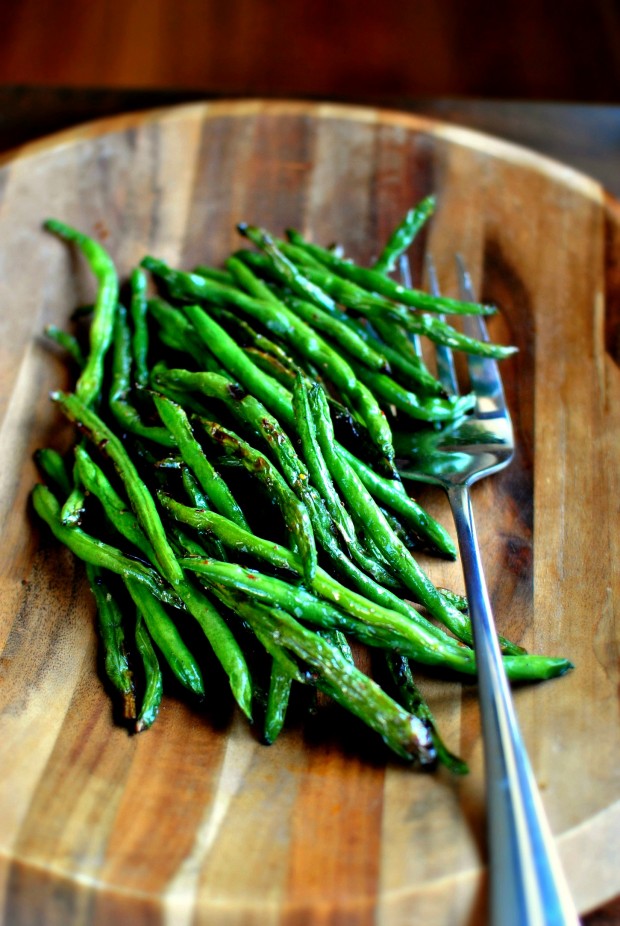 Grilled Green Beans takes minutes and are SO delicious!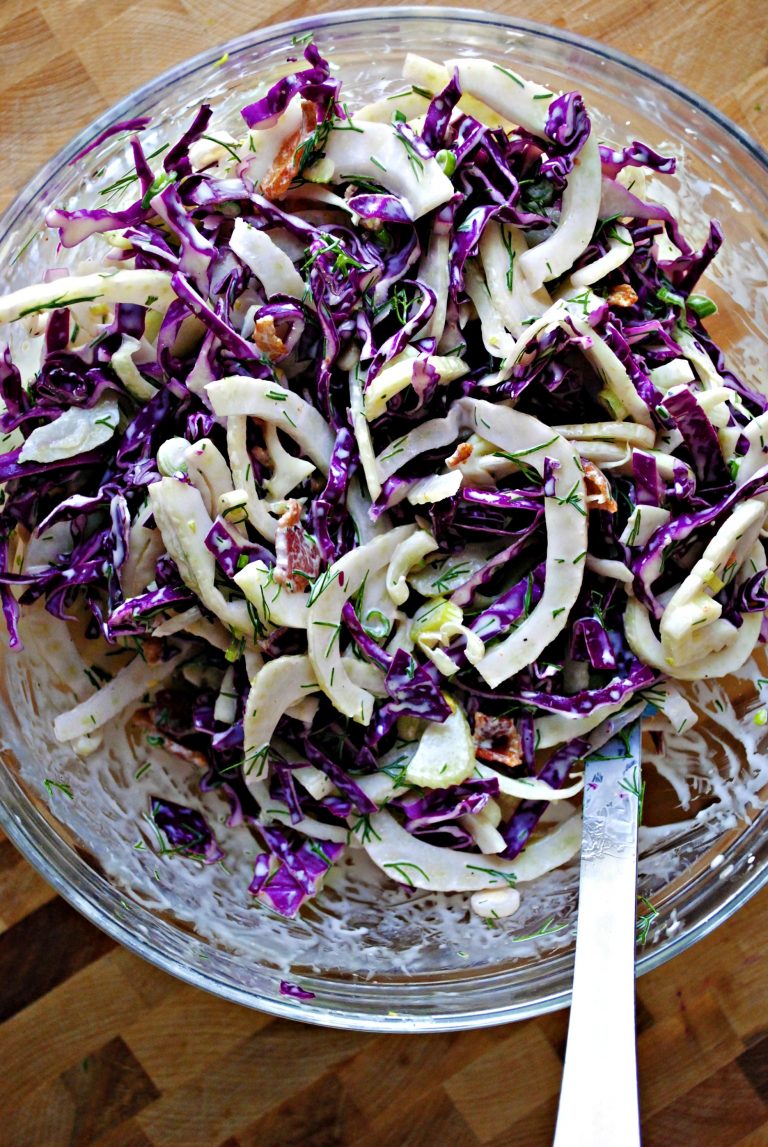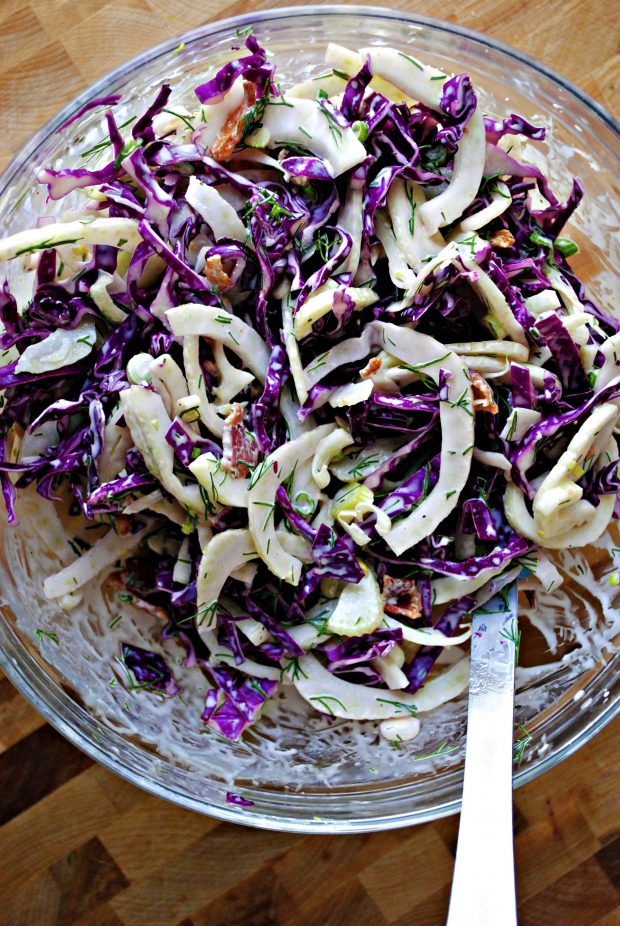 Fennel Cabbage Slaw one of my all-time favorite slaws!
Enjoy! And if you give any of these 25 Best Salads and Side Dishes a try, let me know by snapping a photo and tagging me on twitter or instagram!
My cookbook Simply Scratch : 120 Wholesome Homemade Recipes Made Easy is now available! CLICK HERE for details and THANK YOU in advance! 
[this post contains affiliate links.]
This post may contain affiliate links.
Buy the Cookbook: Simply Scratch : 120 Wholesome Homemade Recipes Made Easy Now available on Amazon »
THANK YOU in advance for your support!