I've partnered with Pampered Chef to show you 3 ways to freeze fresh herbs with the help from Pampered Chef products. Freezing fresh herbs has never been easier or more fun! This post is sponsored by Pampered Chef, as always, my thoughts are my own and I'm totally psyched about all their innovative products. They make preserving herbs simple and virtually effortless. I cannot wait to further use these products to make more fresh, healthier meals for my family.
Spring has sprung and my herb garden is already overflowing with my beloved perennial herbs! This time of year, my thyme is always threatening to take over my entire raised garden, so I had to cut it back a few weeks ago. This had me thinking about how I needed to start preserving my garden herbs. The chives are already thick and bushy and begging to be sprinkled on finished dishes and I was surprised to see that my oregano and sage both look better this spring than it did last summer. It's true! It's late May and my garden is bursting at the seams.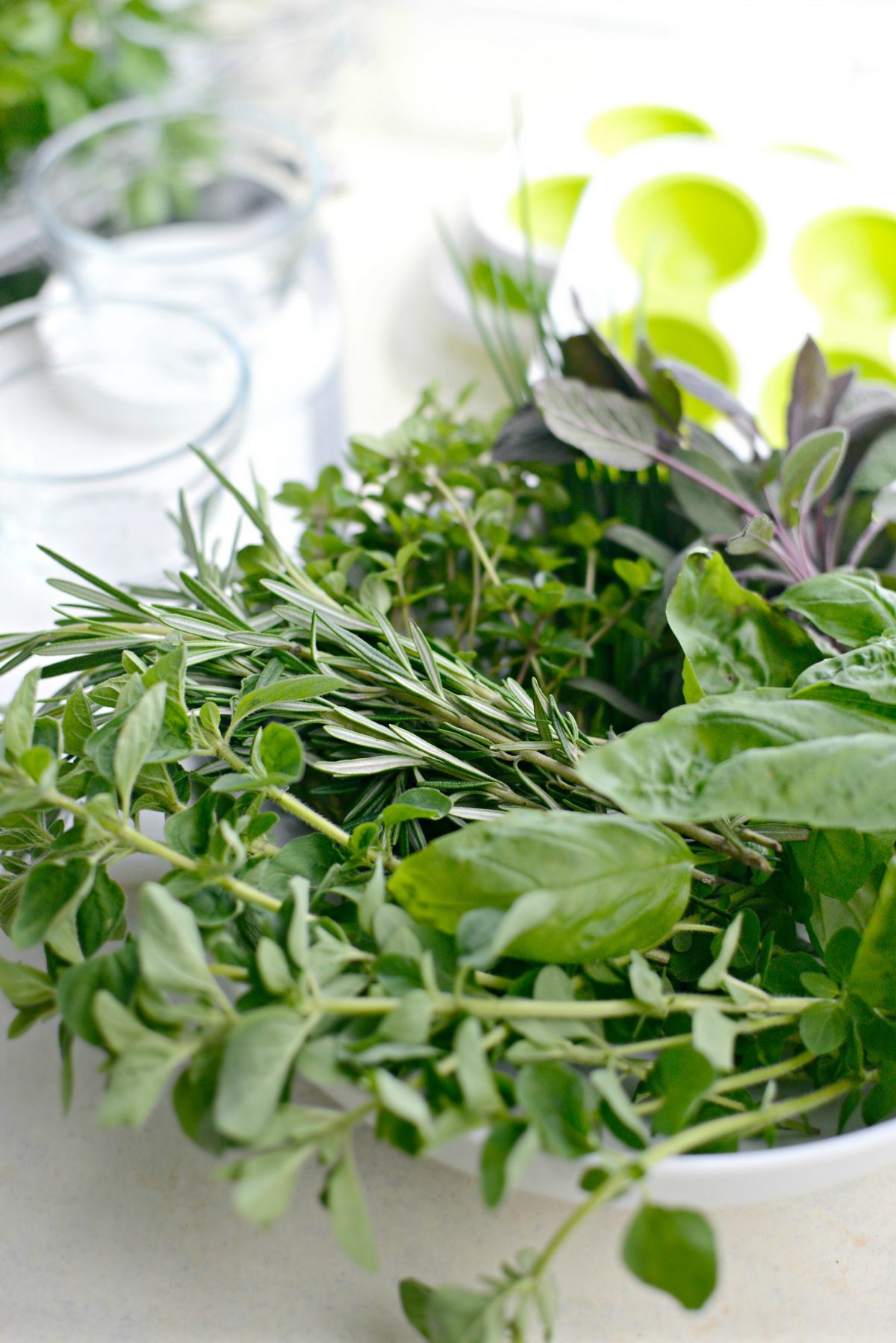 Spring is a great time to start preserving those early growing herbs. Late summer works too, but this year I wanted to get a jumpstart on things before summer was in full swing and a busy life took over. Admittedly, my goal is to have a freezer shelf full of preserved fresh herbs so my family and I can enjoy them all year round.
On one sunny, warm morning, I went out onto my front porch and gathered all the herbs growing in my garden. I only needed to pick up one of those live basil plants and a bag of rosemary springs, that the specialty market by my house grows and bags for their shelves.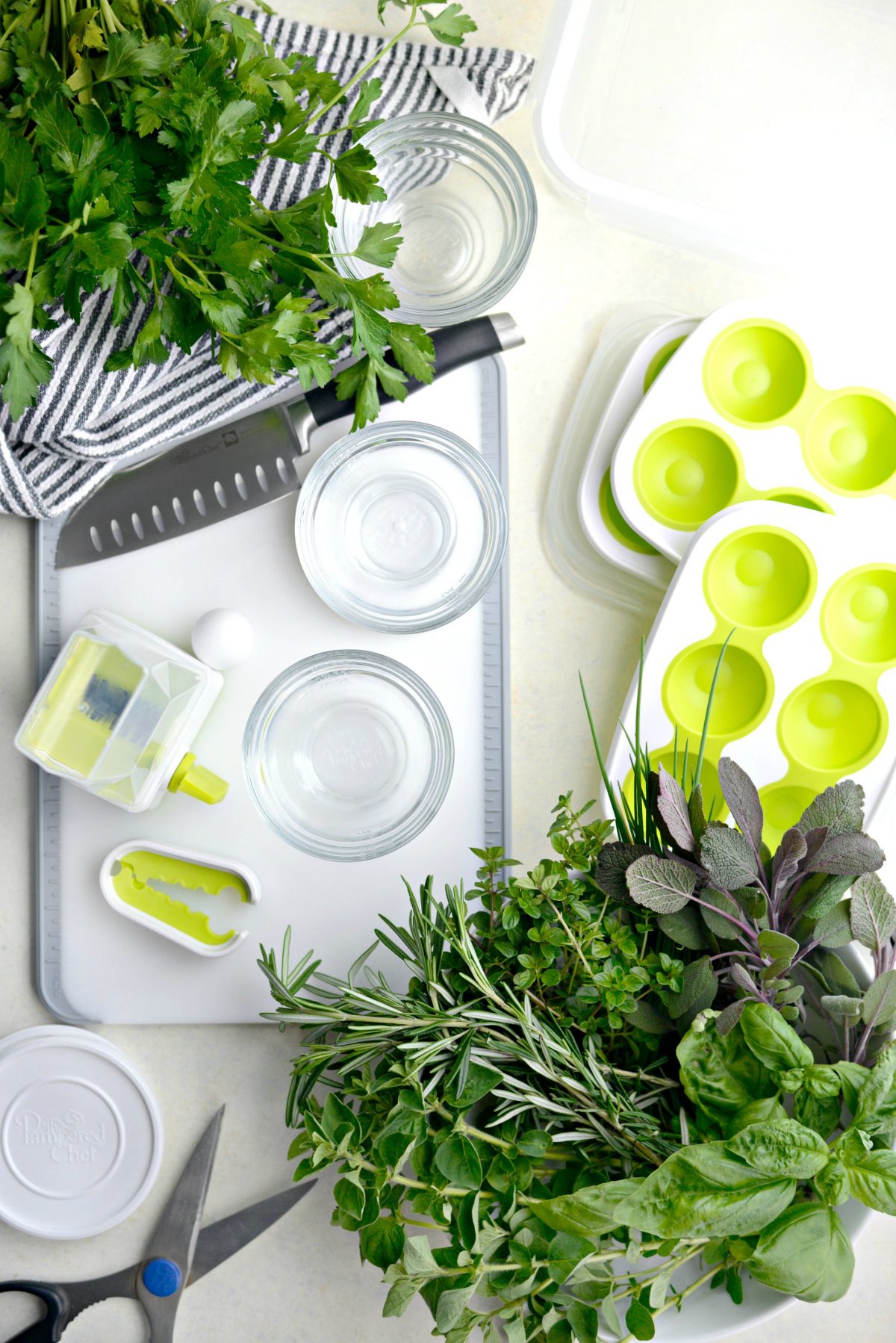 Before we get this herb party started, I do want to mention that if you have kids, the task of preserving herbs would be a wonderful and fun way to get them helping in the kitchen. As I was working with my Pampered Chef products, I noticed that the majority of these tools (with your supervision of course and with the exception of the Santoku Knife 😉 ) are tools young kids can easily handle.
Pampered Chef is a leading provider of personalized, inspirational cooking solutions. Pampered Chef also helps people create memories and enjoy moments with family and friends through high-quality kitchen tools, quick tips and personalized cooking experiences. Did you know a staff of home economists, food scientists, chefs and dietitians develop, test and edit more than 200 recipes a year??
Honestly, you don't have to be an expert cook to use Pampered Chef products and recipes. Its tools and cooking experiences are designed to fit every lifestyle and skill level, allowing you to enjoy meals on the table faster so you can spend more time with friends and family. This herb freezing project is doable for all ages. Not only is having fresh herbs on hand a way to save time and money efficiently, but you also get to relive those wonderful moments spent in the kitchen with your family and all those herbs!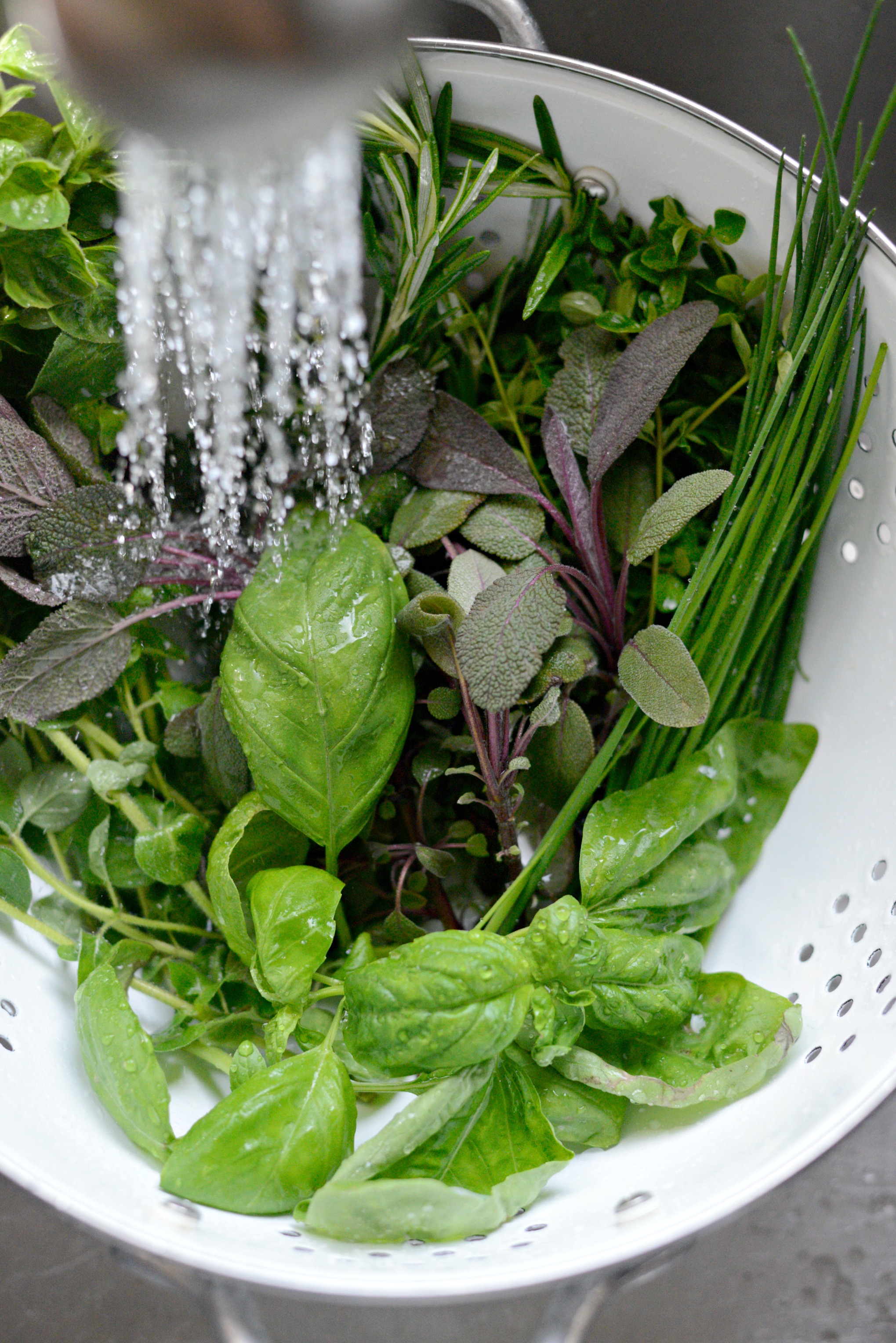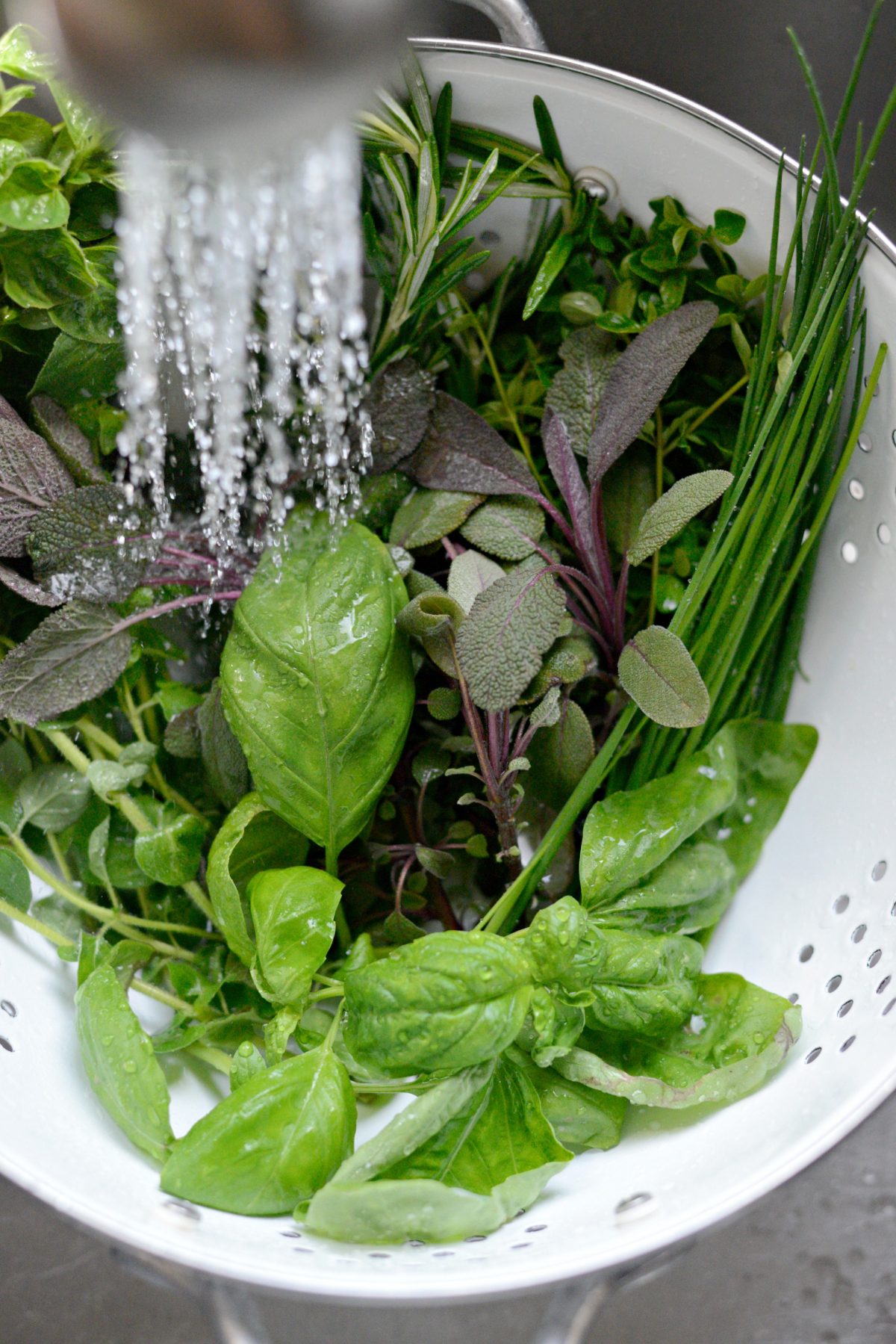 To start, rinse the herbs thoroughly. Herbs have a lot of nooks and crannies for dirt (and small insects) to hide in, so double washing is always a good idea.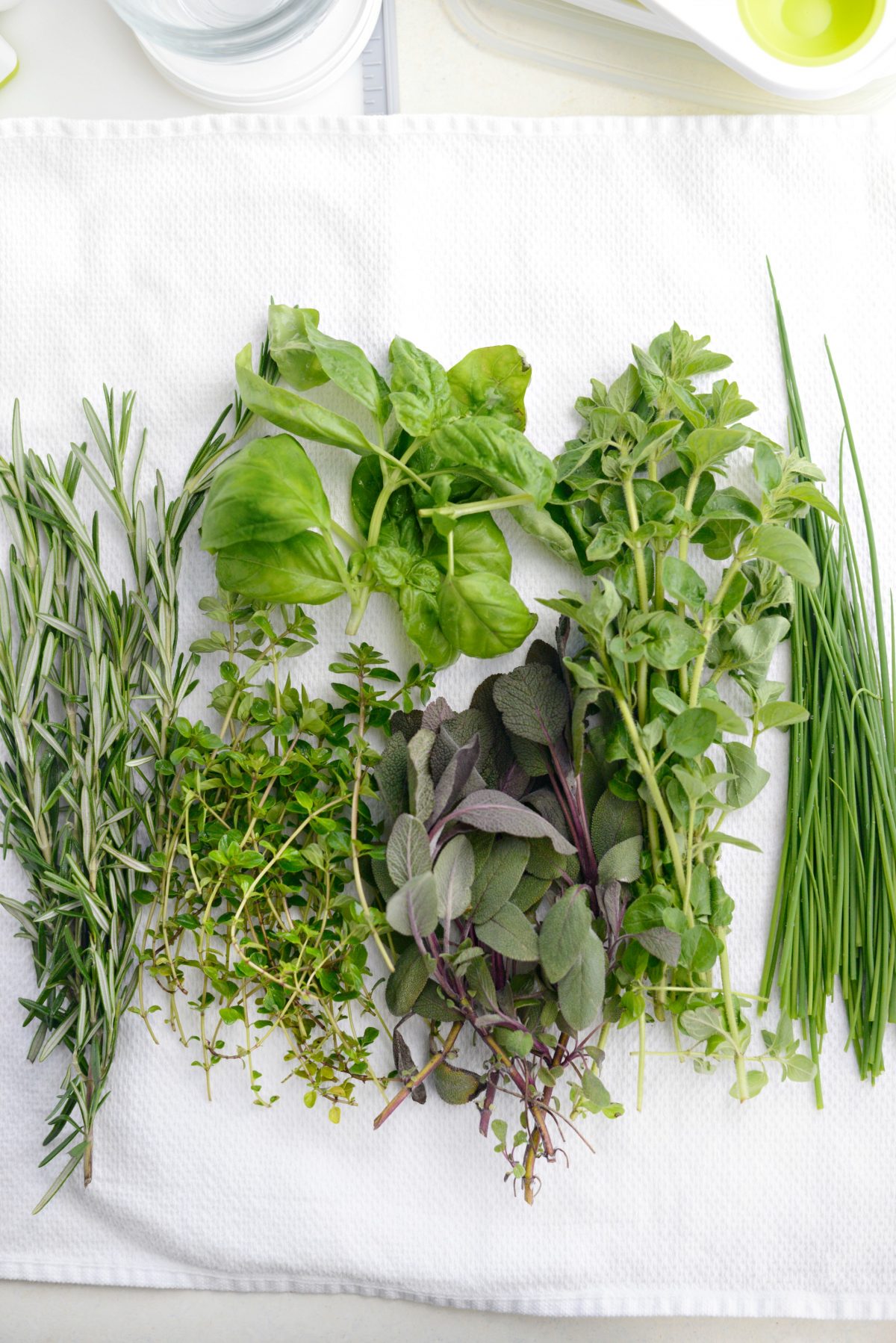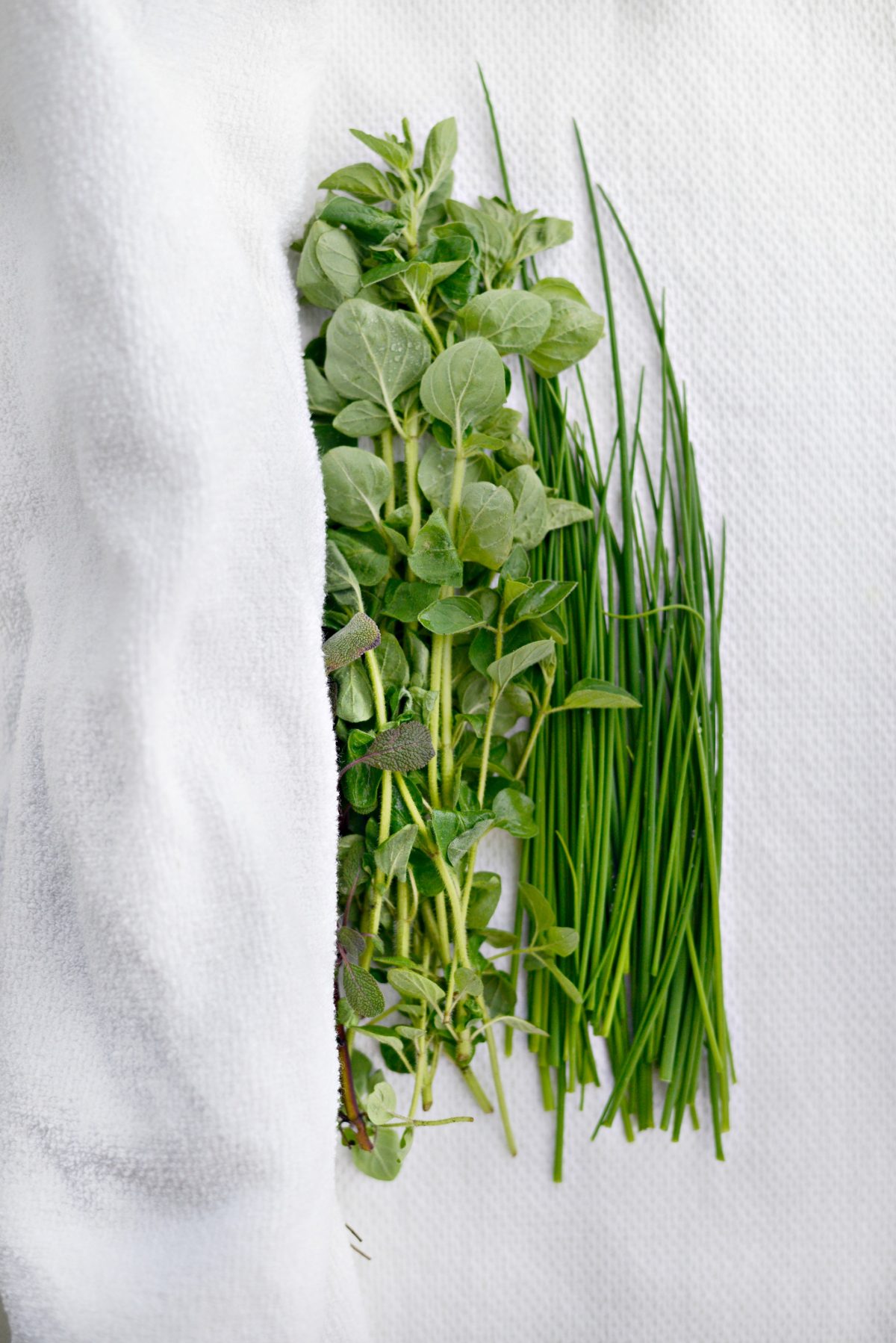 Arrange the herbs in a single layer on a thick kitchen towel, loosely roll the towel and gently press to absorb any water. Then unroll the towel and allow the herbs to air dry for about 20 minutes or so.
Now comes the fun part.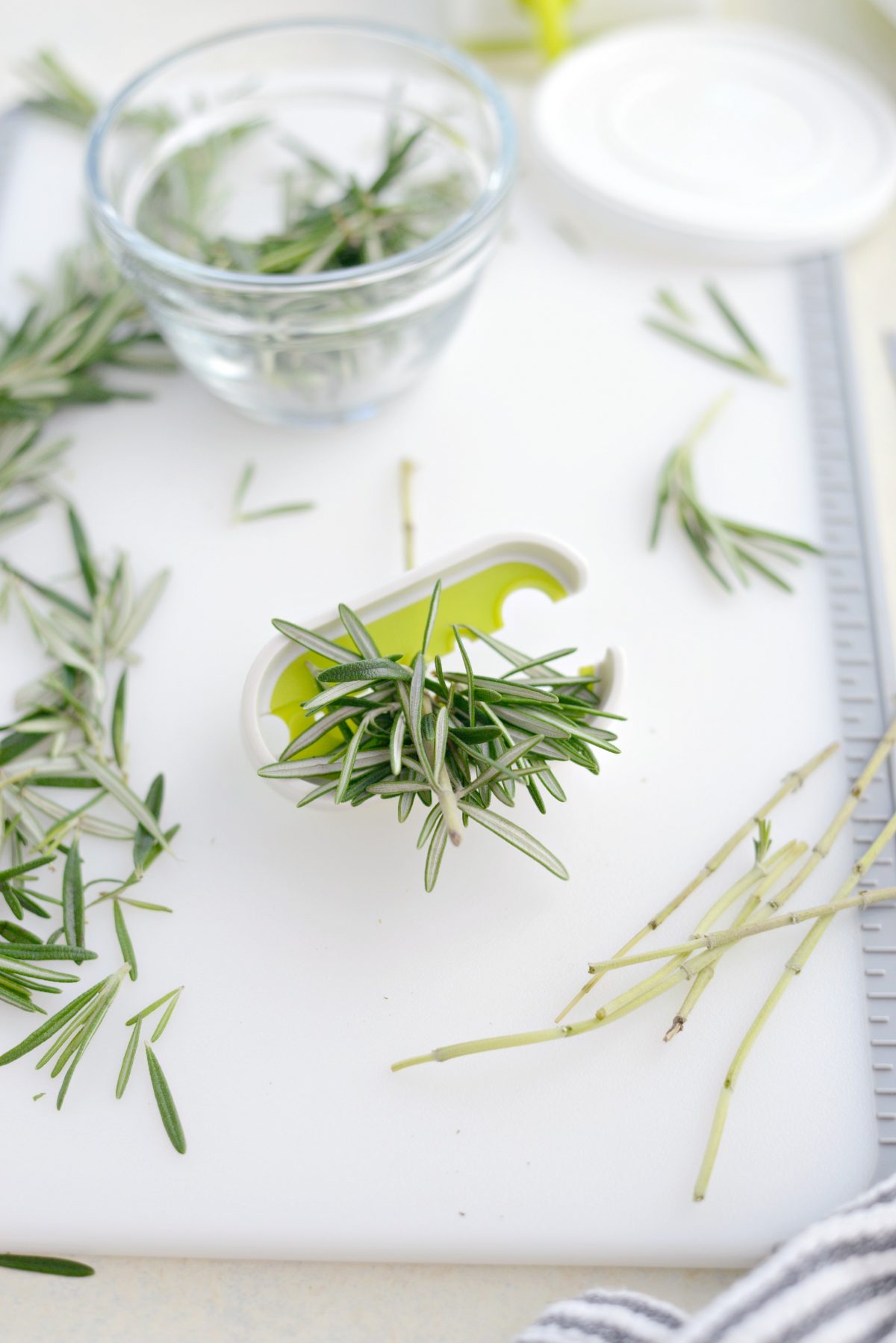 Stripping herbs has never been easier. I love this Herb Stripper because it helps you remove the stems and leaves from the herbs (and leafy greens) with one easy swipe. There are 4 hole sizes to fit a variety of herbs and greens, from kale to rosemary and everything in between. Bonus: it's dishwasher safe.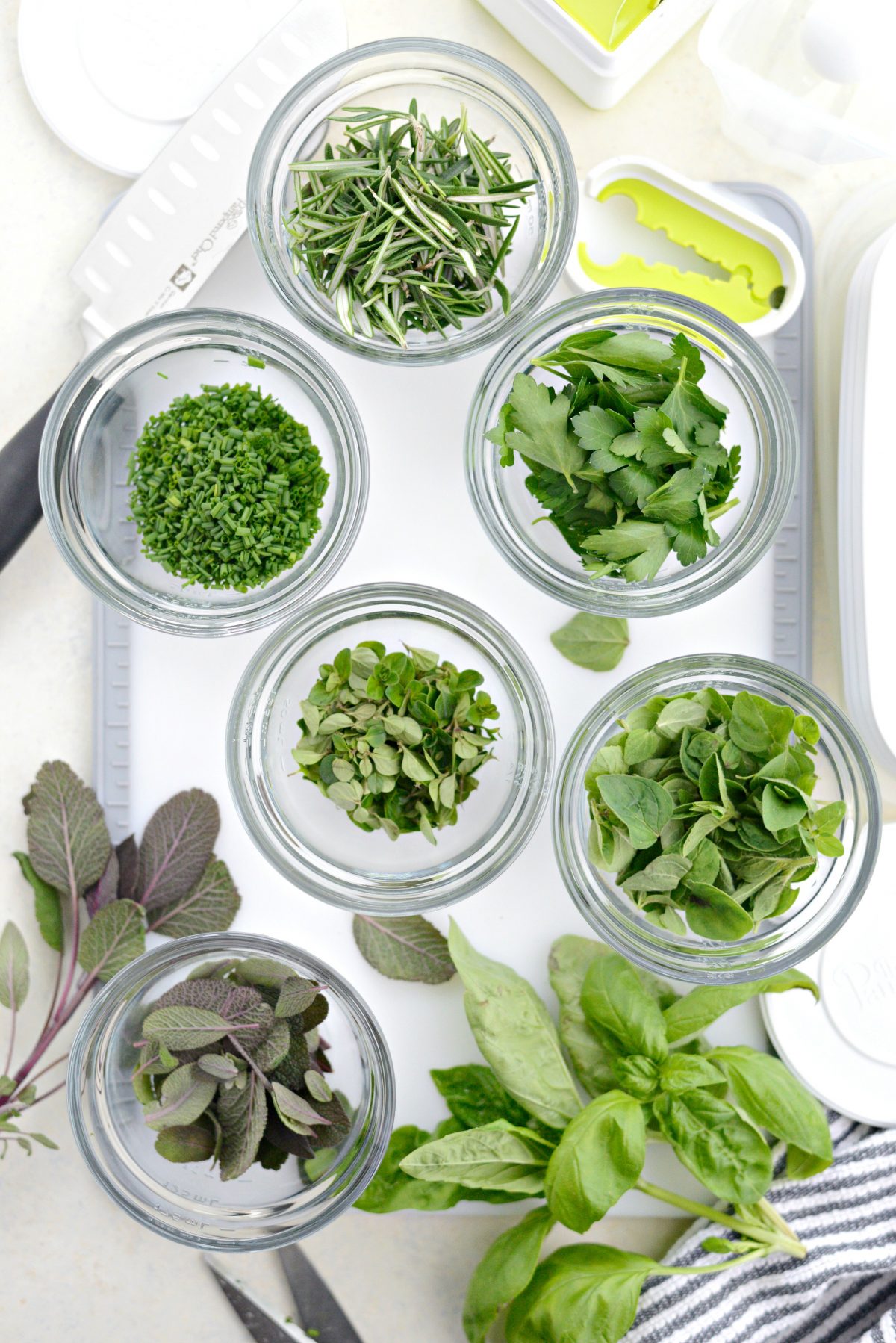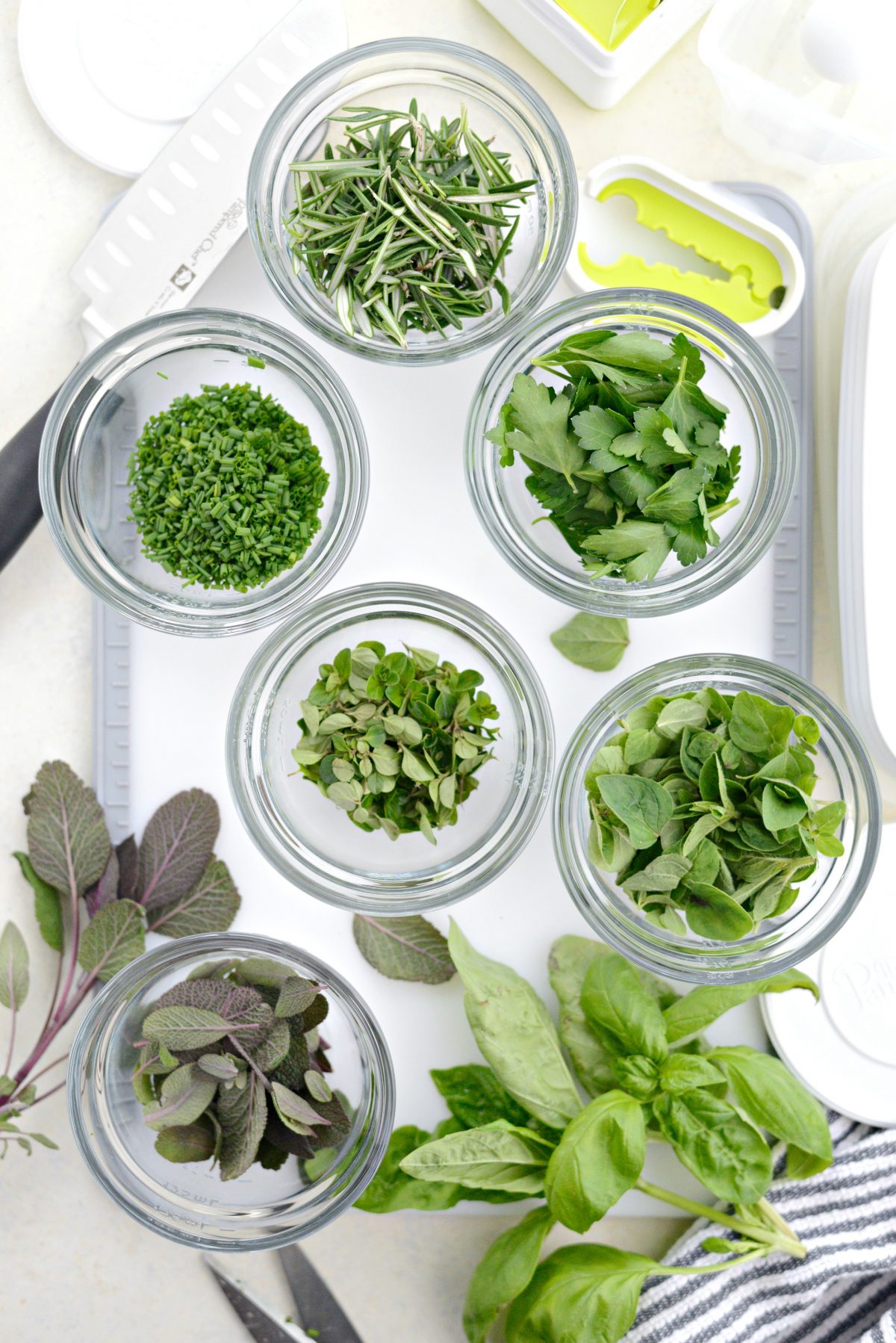 And to keep me organized, I use the Pampered Chef 1-Cup Prep Bowls. There are 6 bowls in a set and are visibly marked with measurements on the side. These are extremely handy for any recipe that requires prep work and I love them.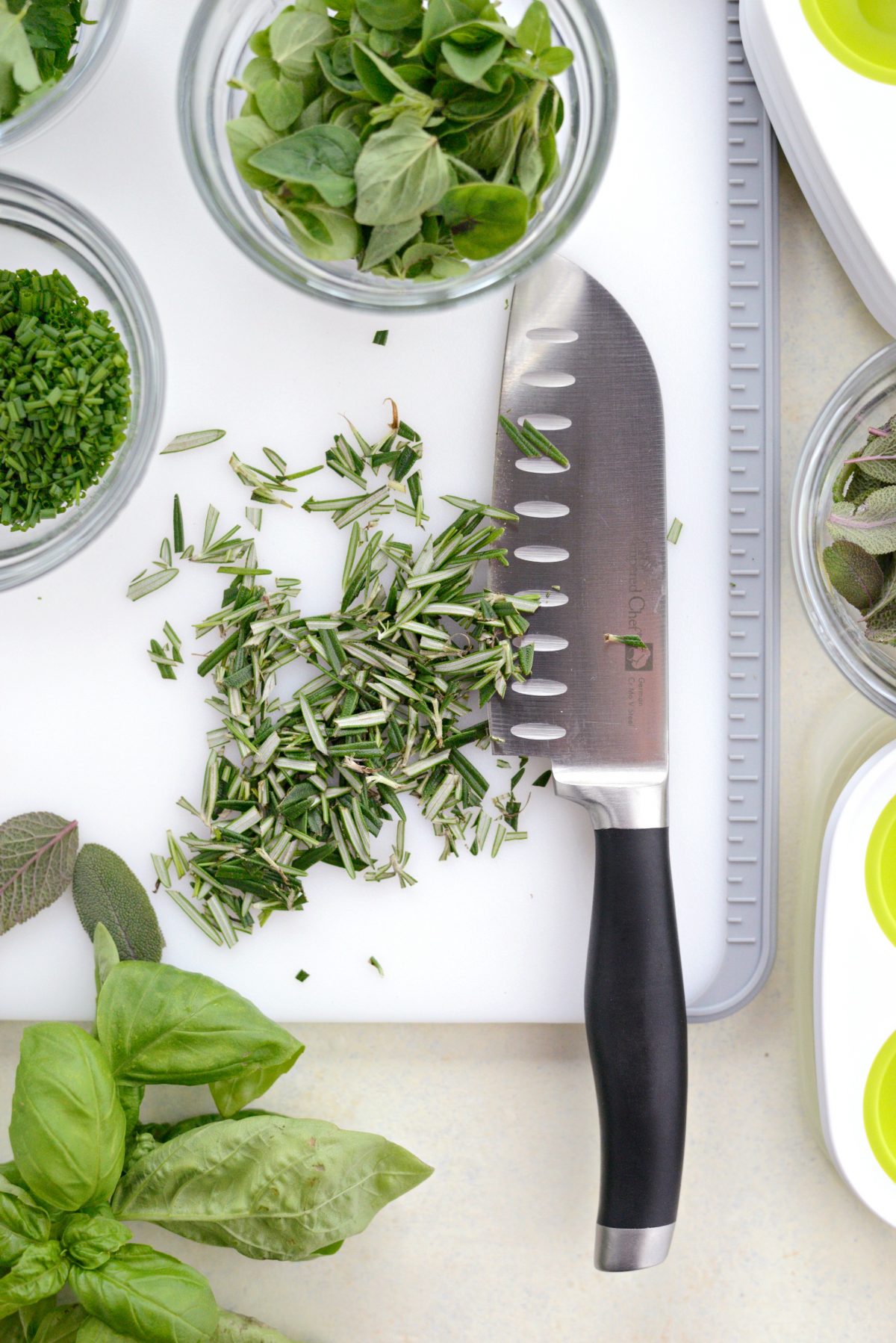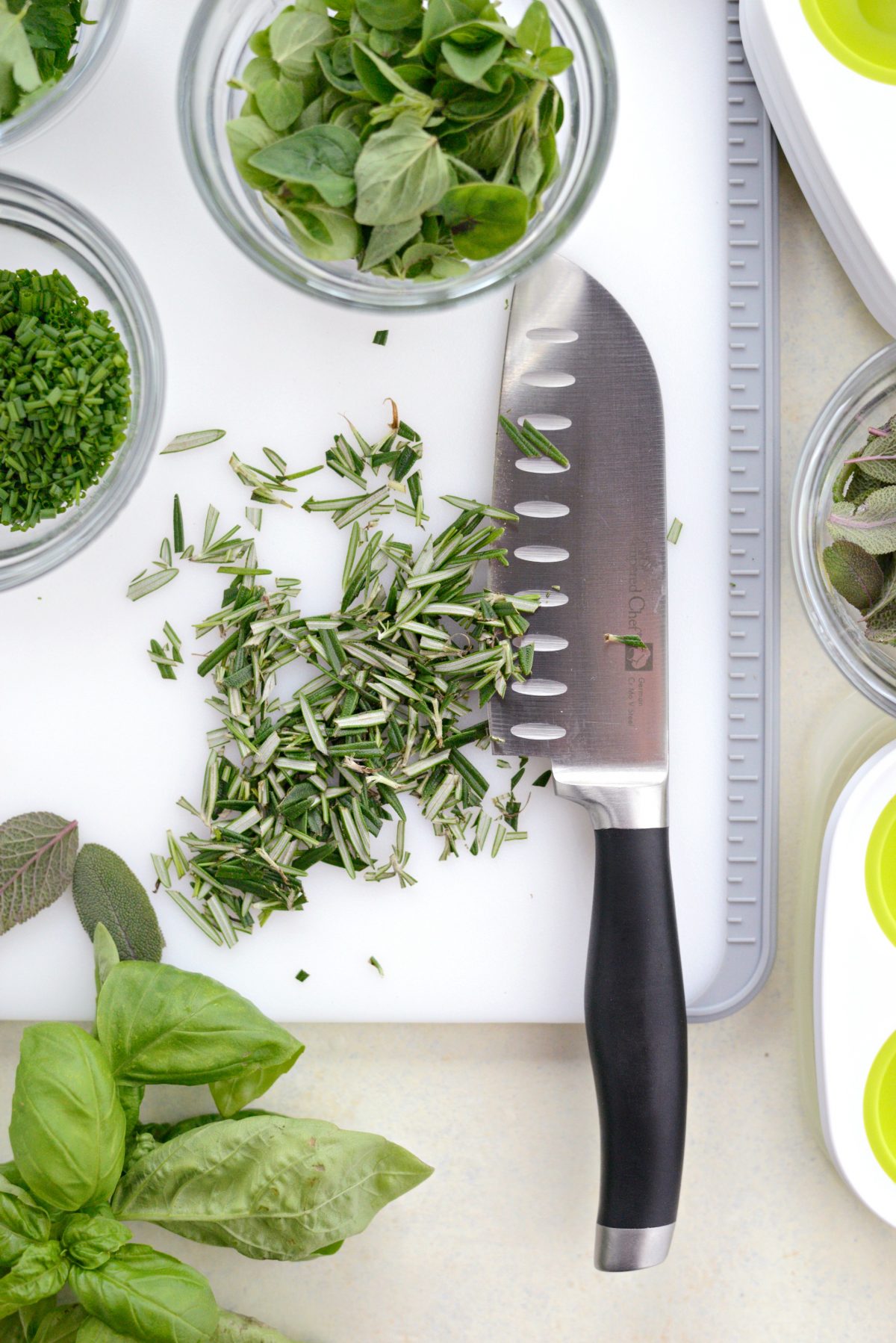 The first batch I am making has a trio of herbs. In order to make sure the herbs would nestle easily into the wells of the herb freezing tray, I quickly stripped the leaves off the oregano, sliced fresh basil and gave the rosemary a rough chop.
You're going to love the many uses these trays provide. You can use the Herb Freezing Tray for herbs (with water, broth or alone!) and freeze until you're ready to use them, or fill the wells with cookie dough, baby food, compound butter, leftover tomato paste, flavored ice cubes and more! The set includes two trays, each with six wells that hold 1-1/2 tablespoons. The wells are a soft rubber material making the release of whatever it is you're freezing, easy. Not only are these trays dishwasher safe, but the lids can be labeled with a dry erase marker! So nifty.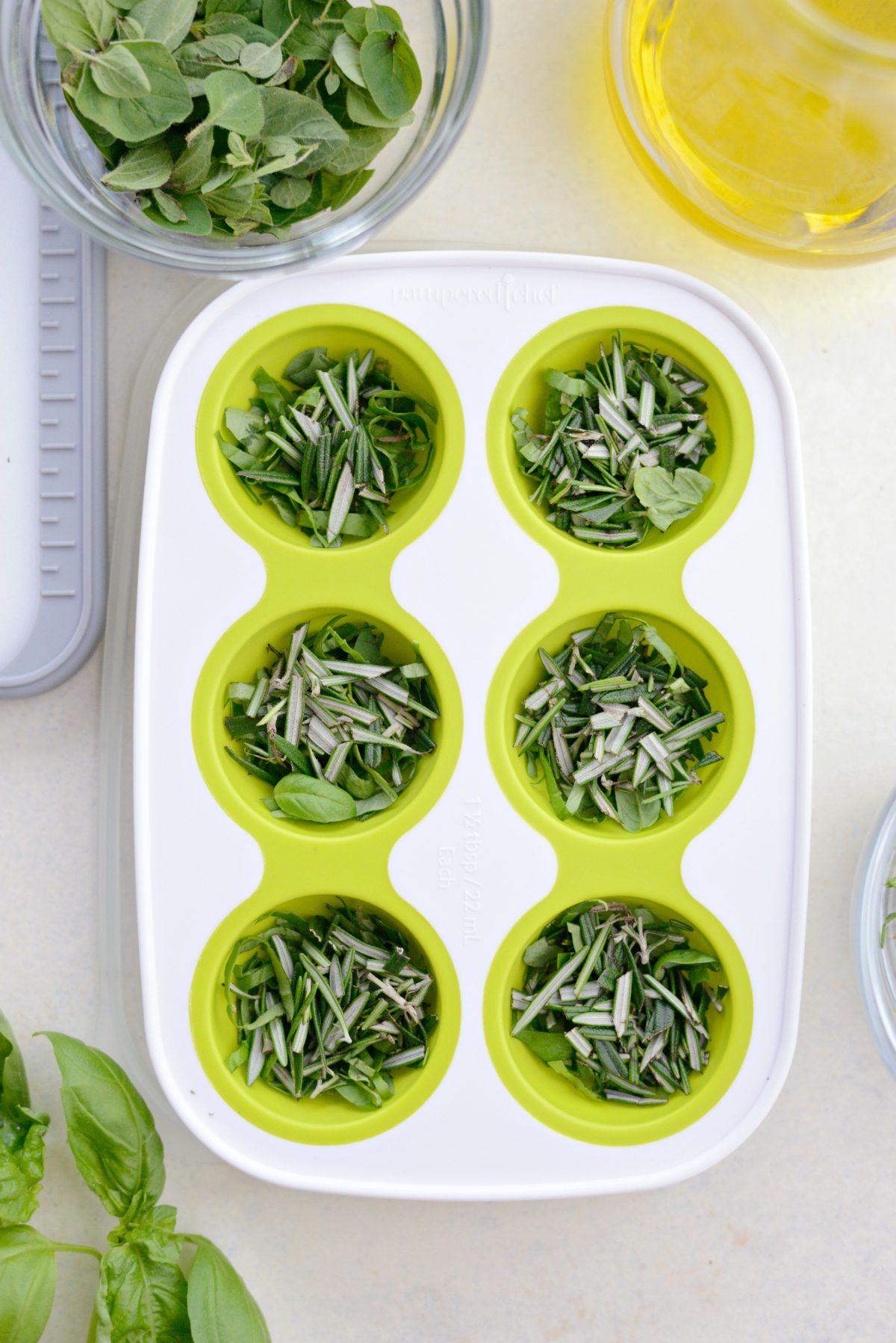 In this first batch, I combined oregano, basil and rosemary and evenly divided them among the six wells. No precise measurements, just go for it.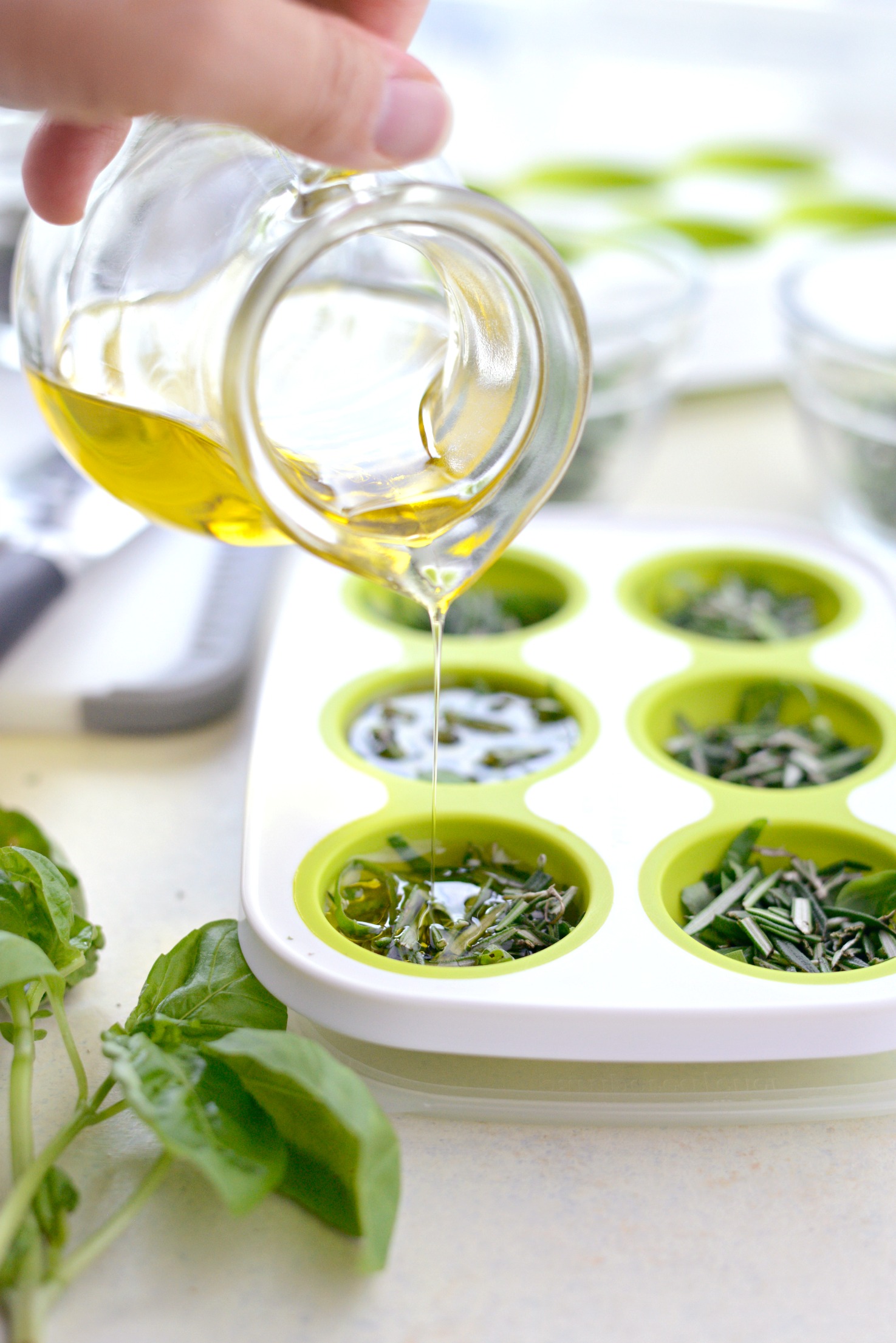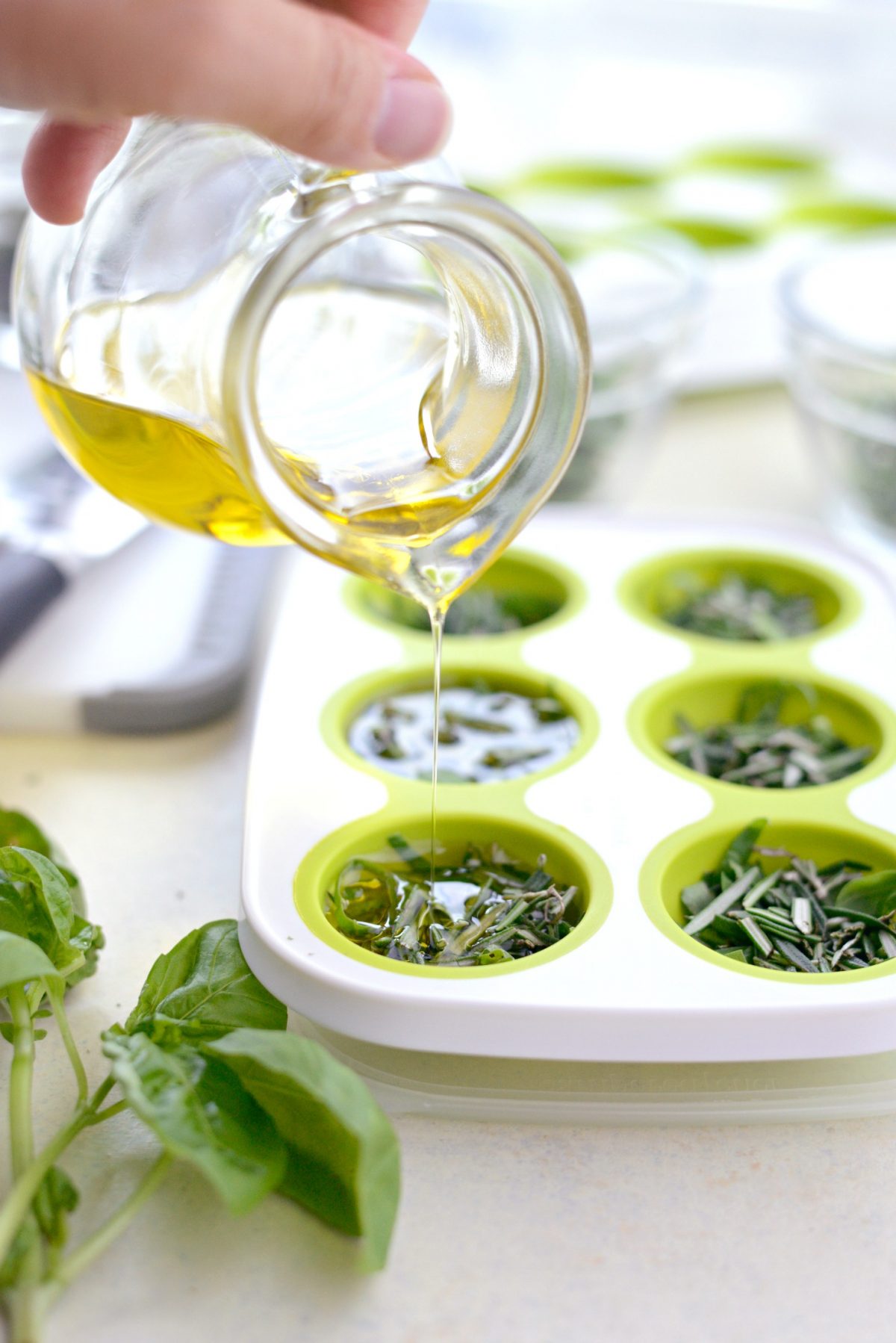 Then topped them off with olive oil. That's it!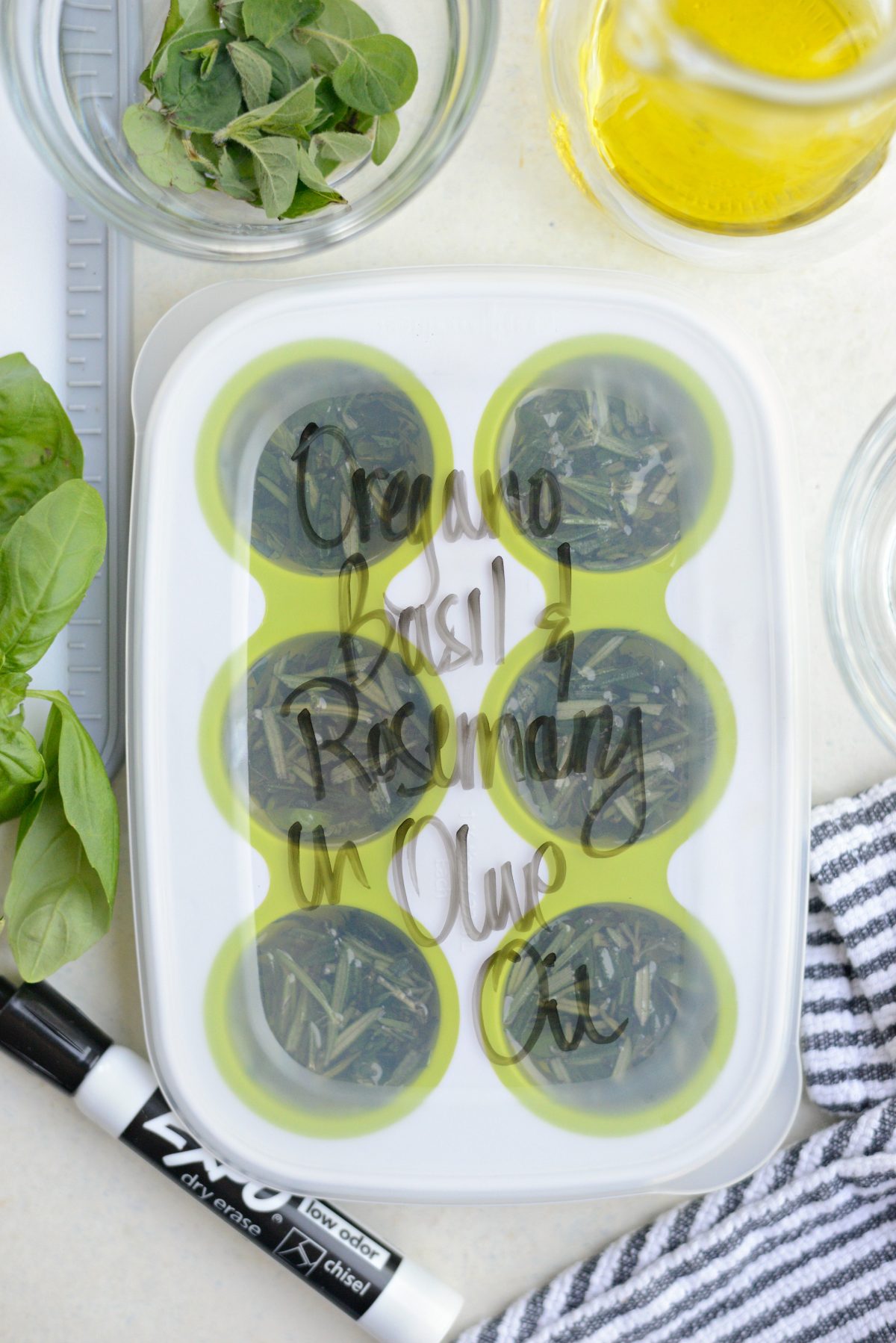 The lid secures firmly into place and now you just need to grab a dry erase marker and label the lid.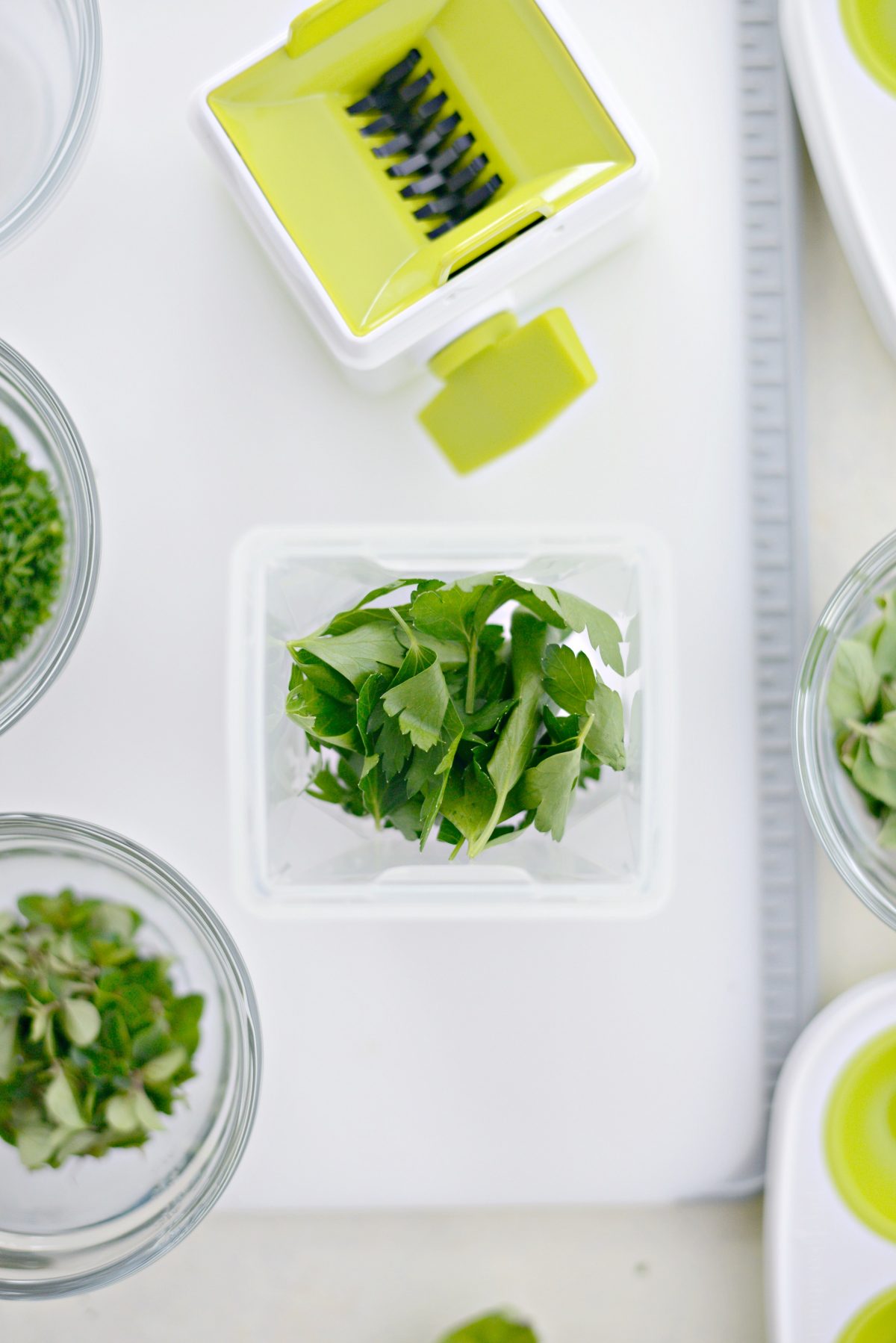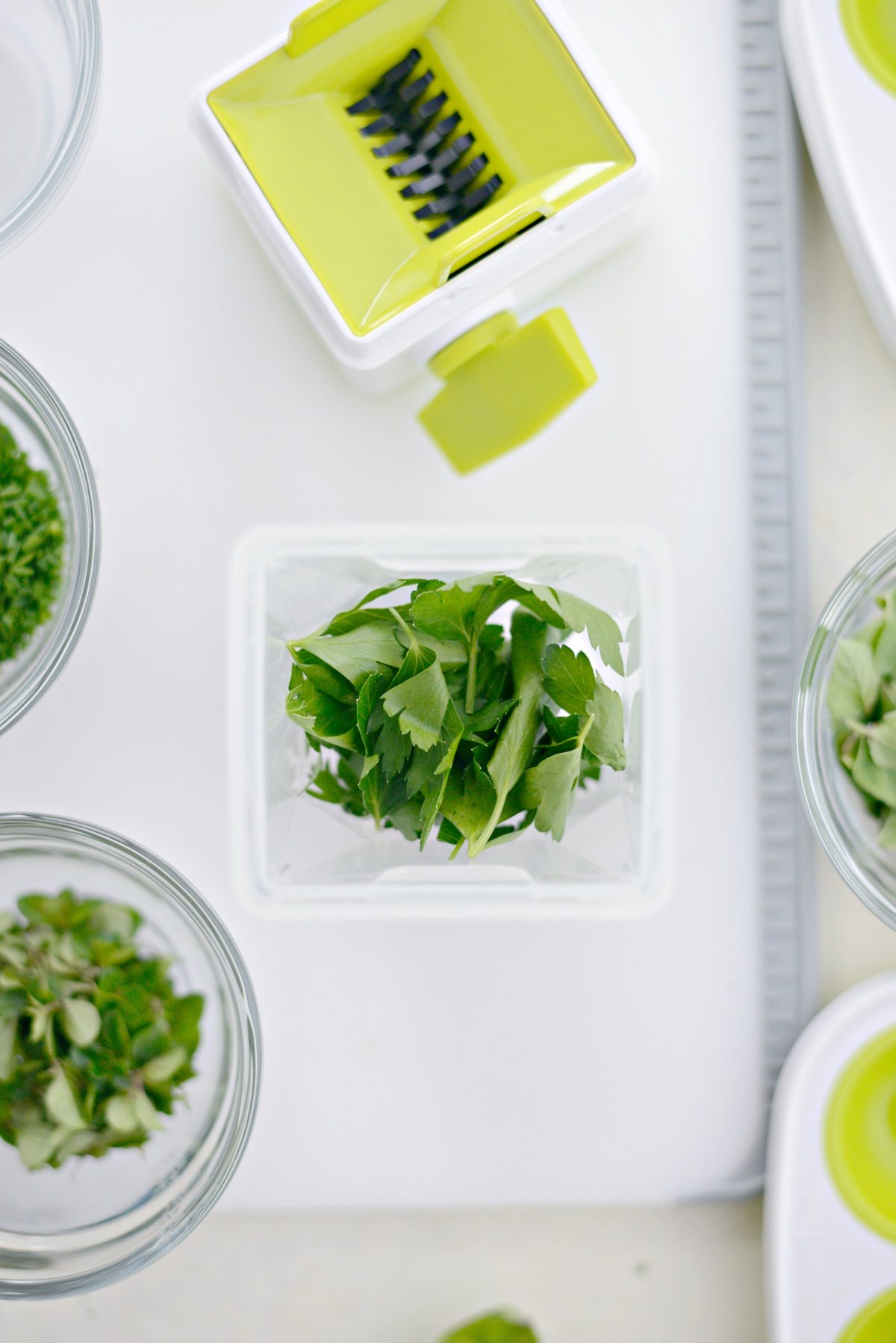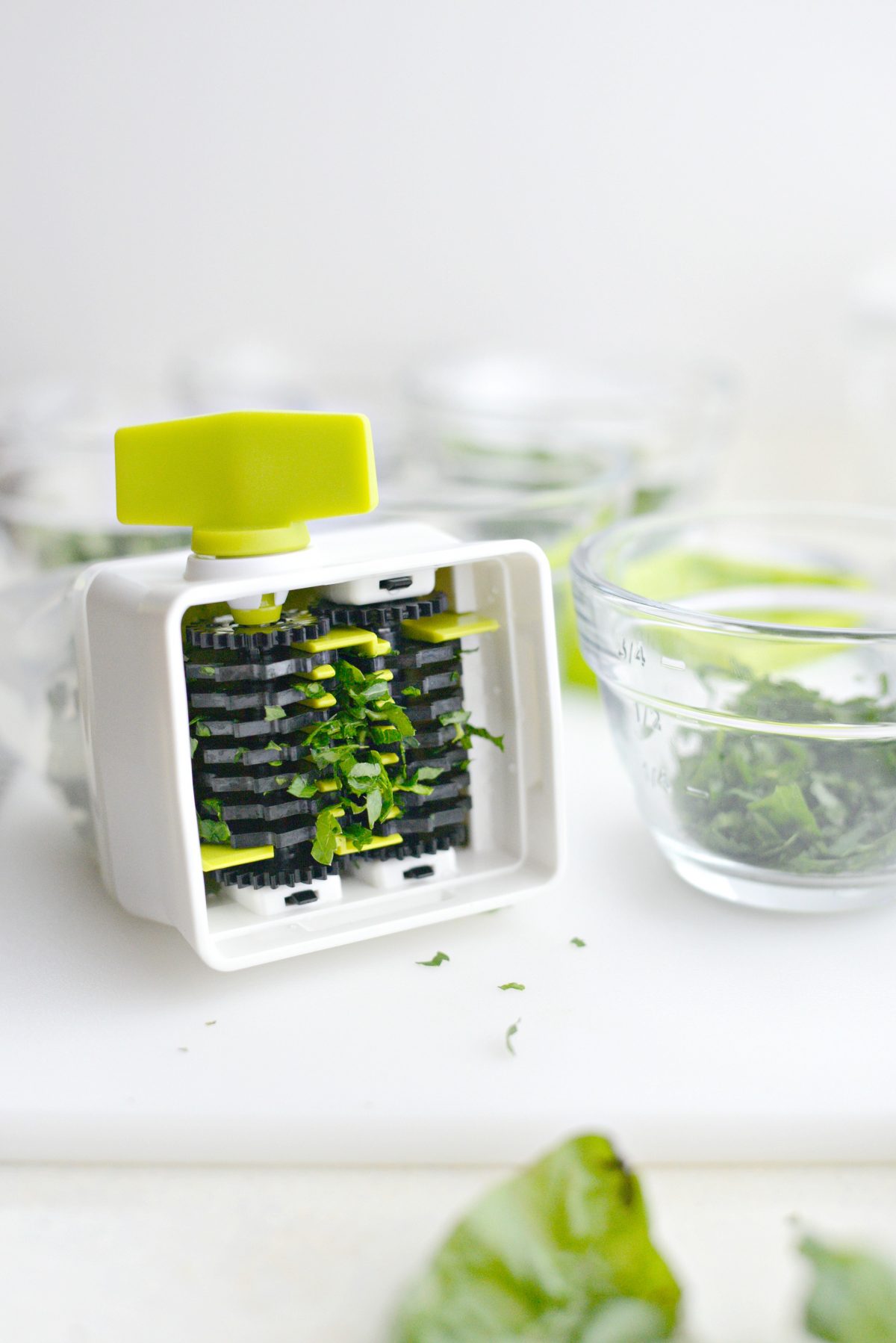 This next batch I combined herbs that I typically add to finished soups or stews. Without further ado, let me introduce to you the Herb Mill. The Herb Mill is a fast and safe way to mince fresh herbs. Because the blades are plastic they won't over process your herbs. The clear container lets you see inside, also doubles as a storage container. There's a heavy ball that weighs on the herbs and aids in pushing them through the blades. The dial is easy to turn and you can cut fresh herbs right over bowls and pans. This too is dishwasher safe! It also cleans easily in between herbs with a simple rinse under the faucet.
This has already gotten a lot of use in my kitchen.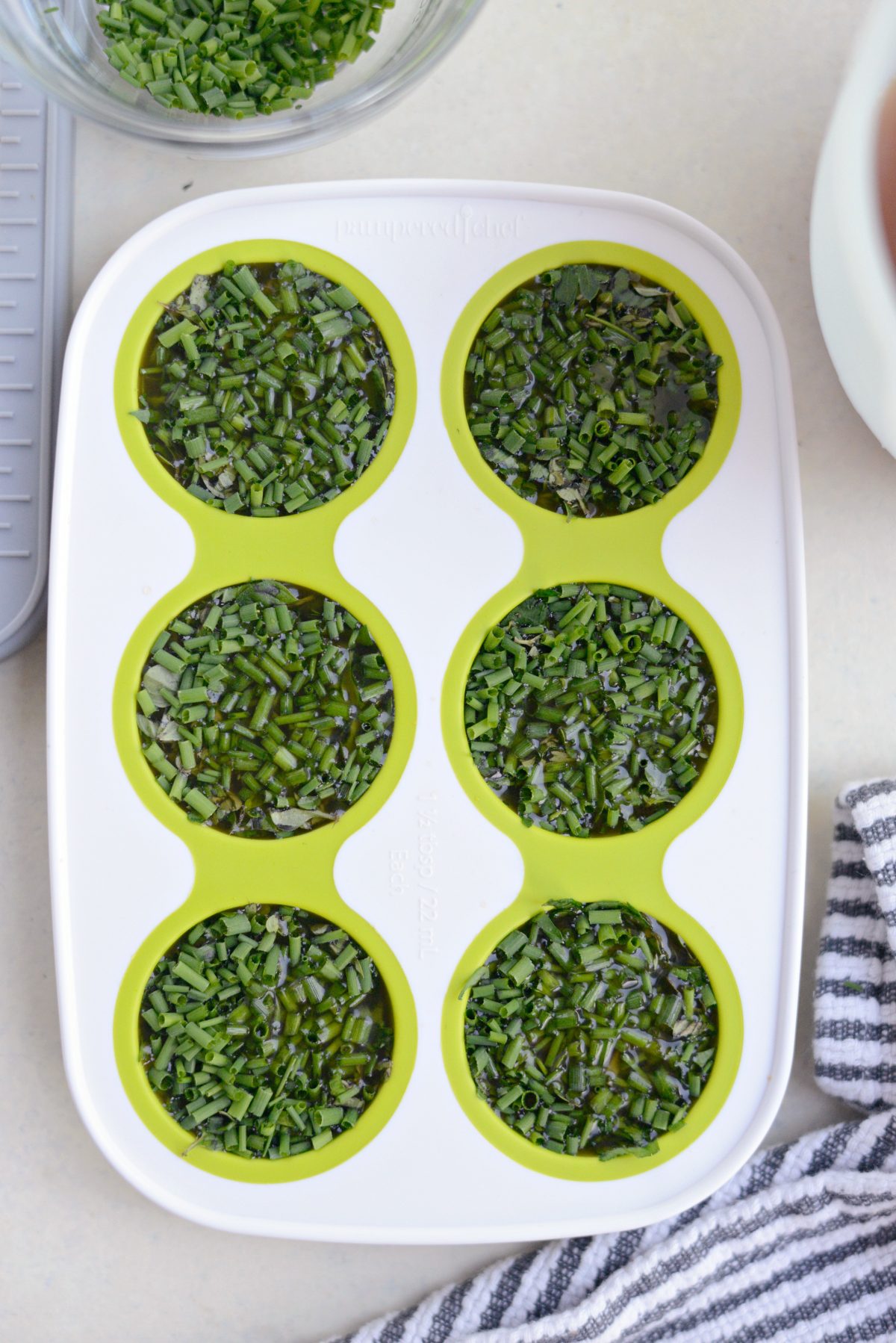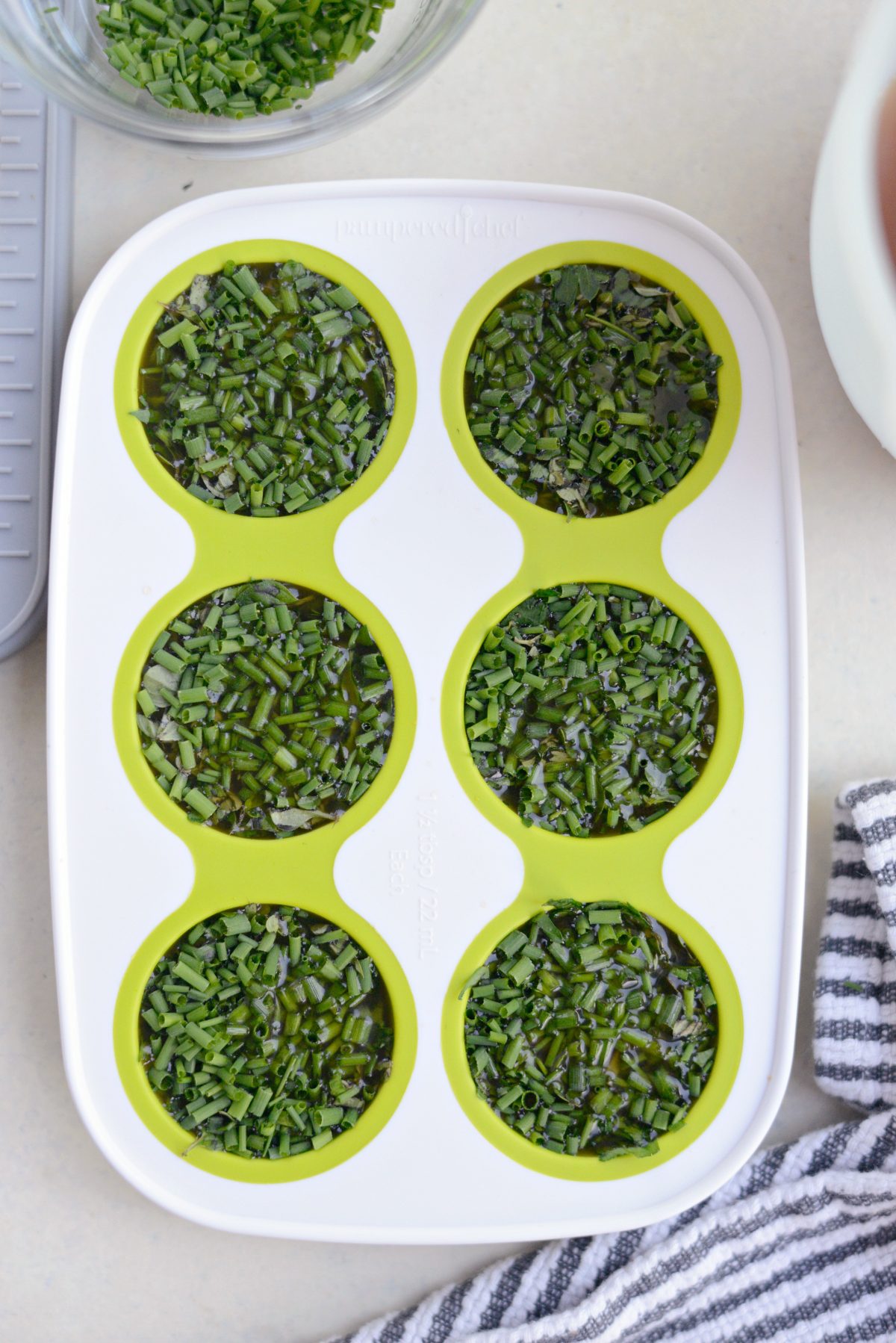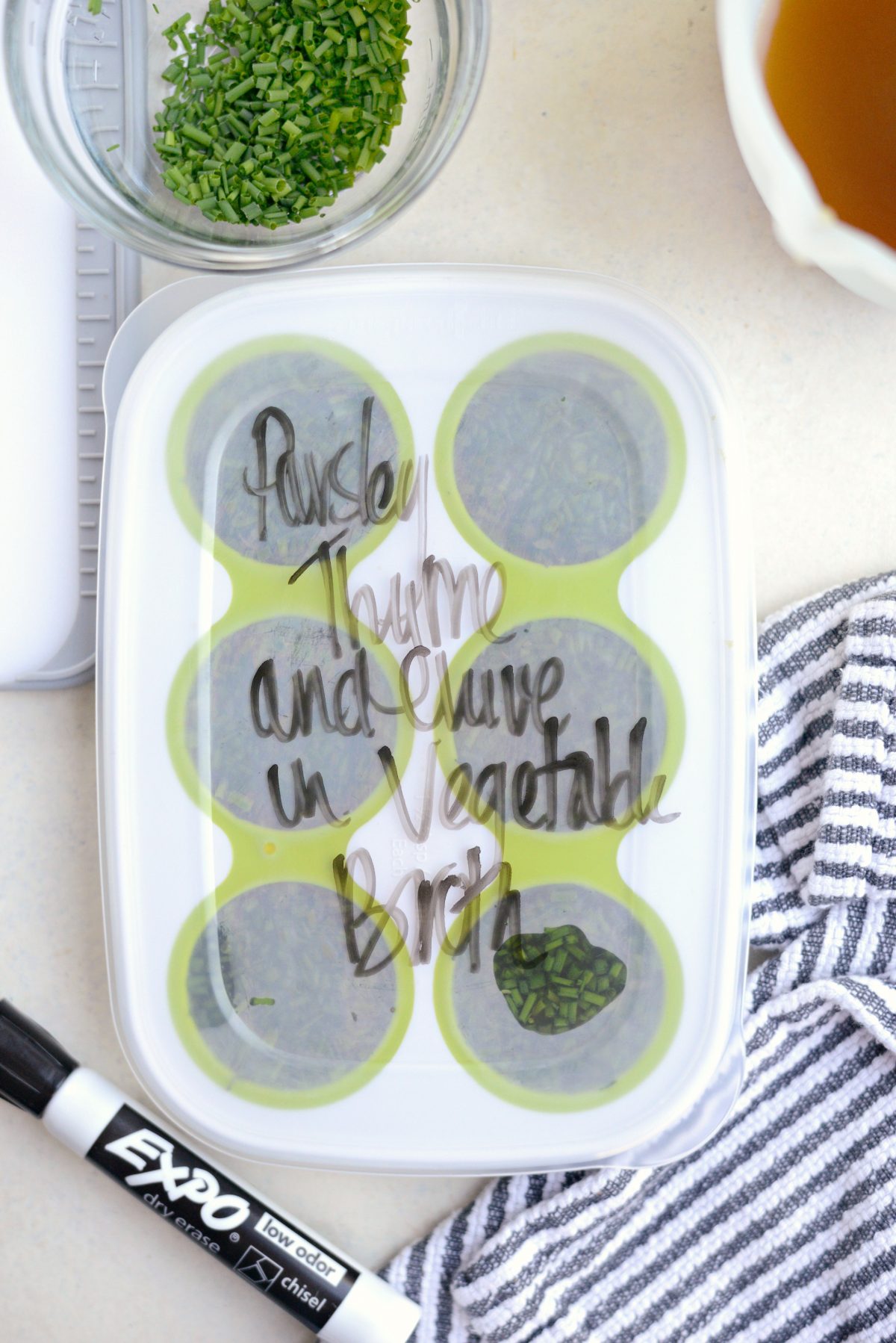 For this tray, I added fresh parsley and thyme leaves (after being stripped off the stems with the Herb Stripper) and cut them right on to a cutting board. Then I added them into the Herb Freezing Tray and topped them with chives I sliced by hand. I then gingerly poured vegetable broth over top, secured the lid and labeled it appropriately.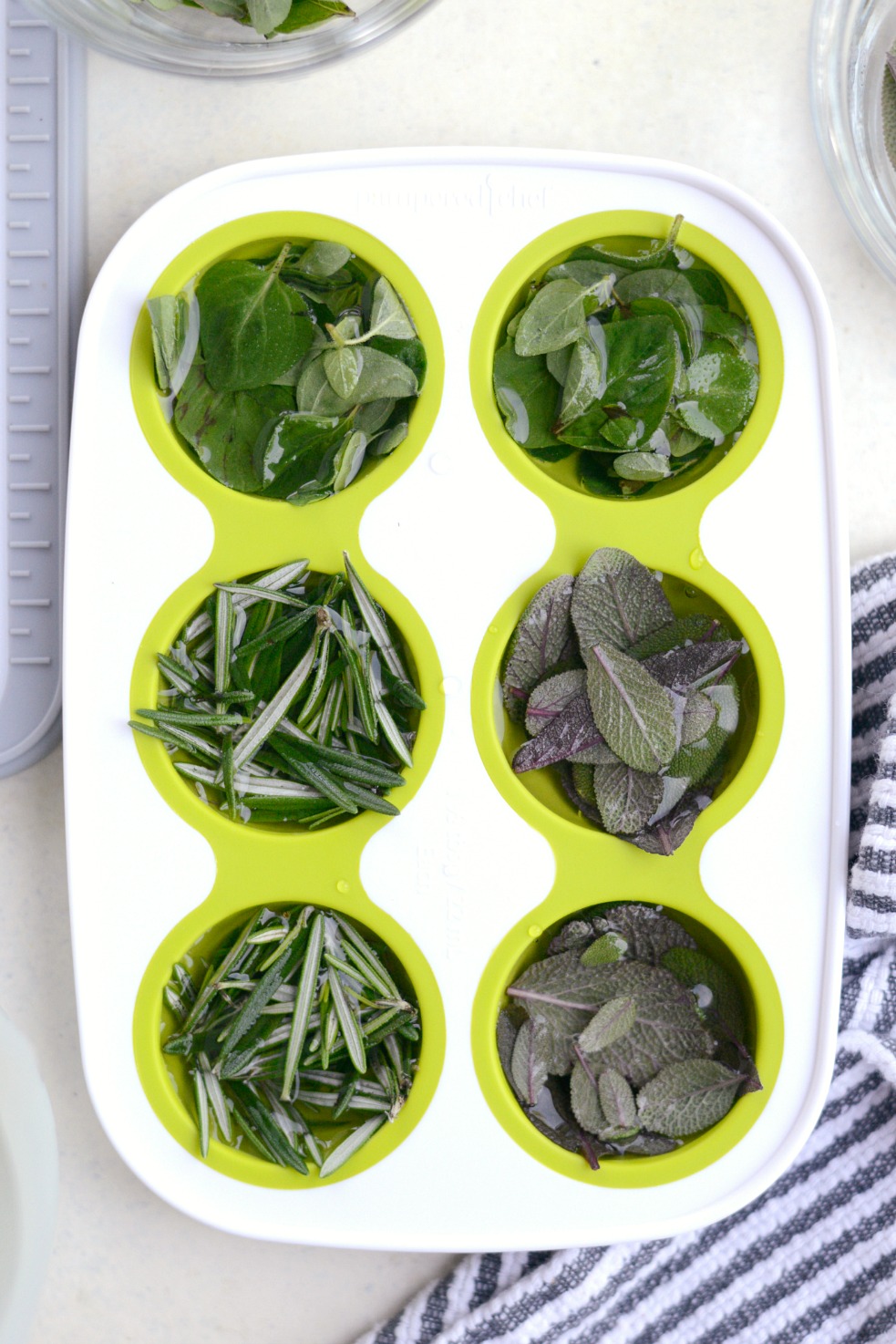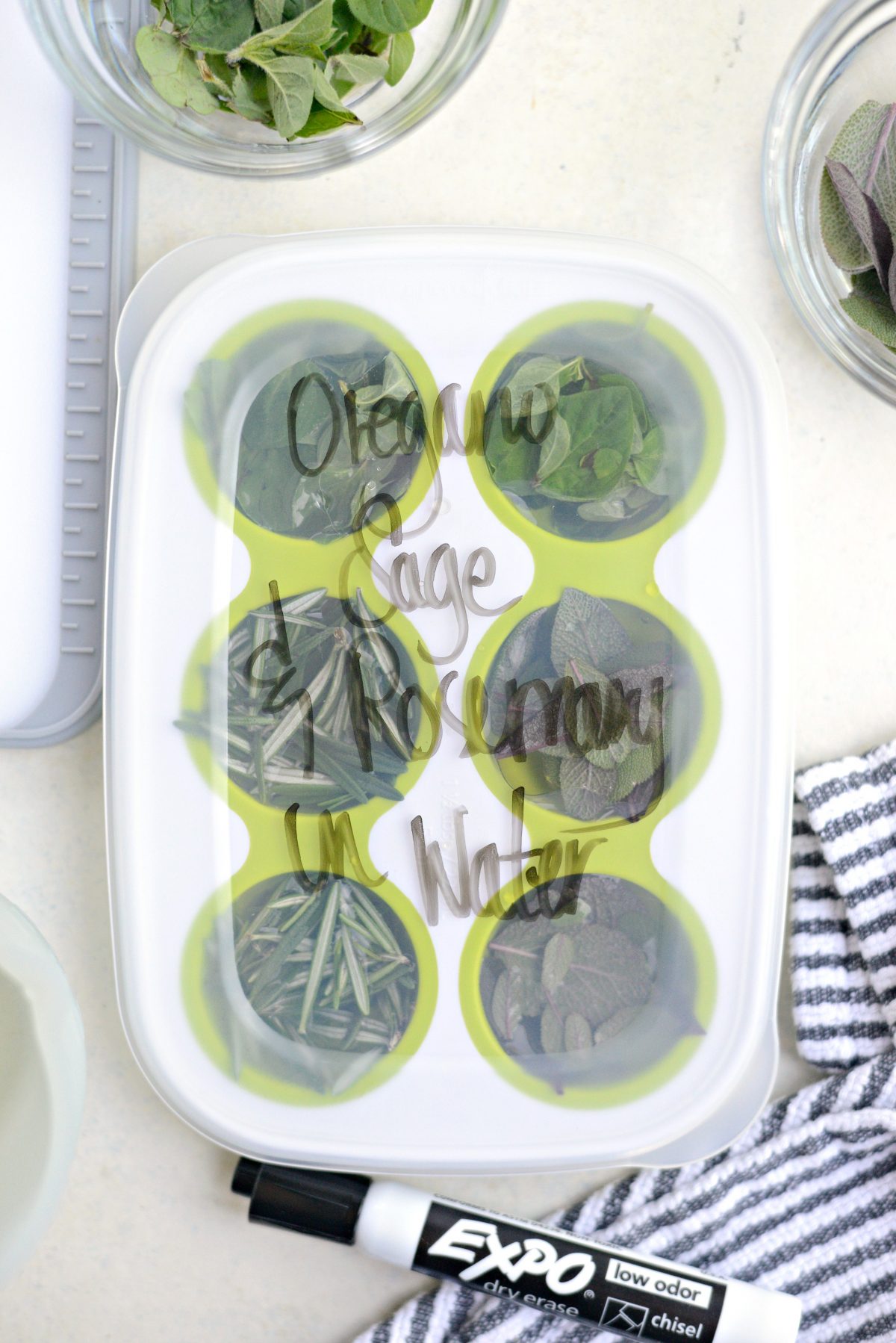 Lastly, I like to preserve whole herbs in water. Simply add the herb or herbs of your choice into the well and top with water. Again, secure the lid and label.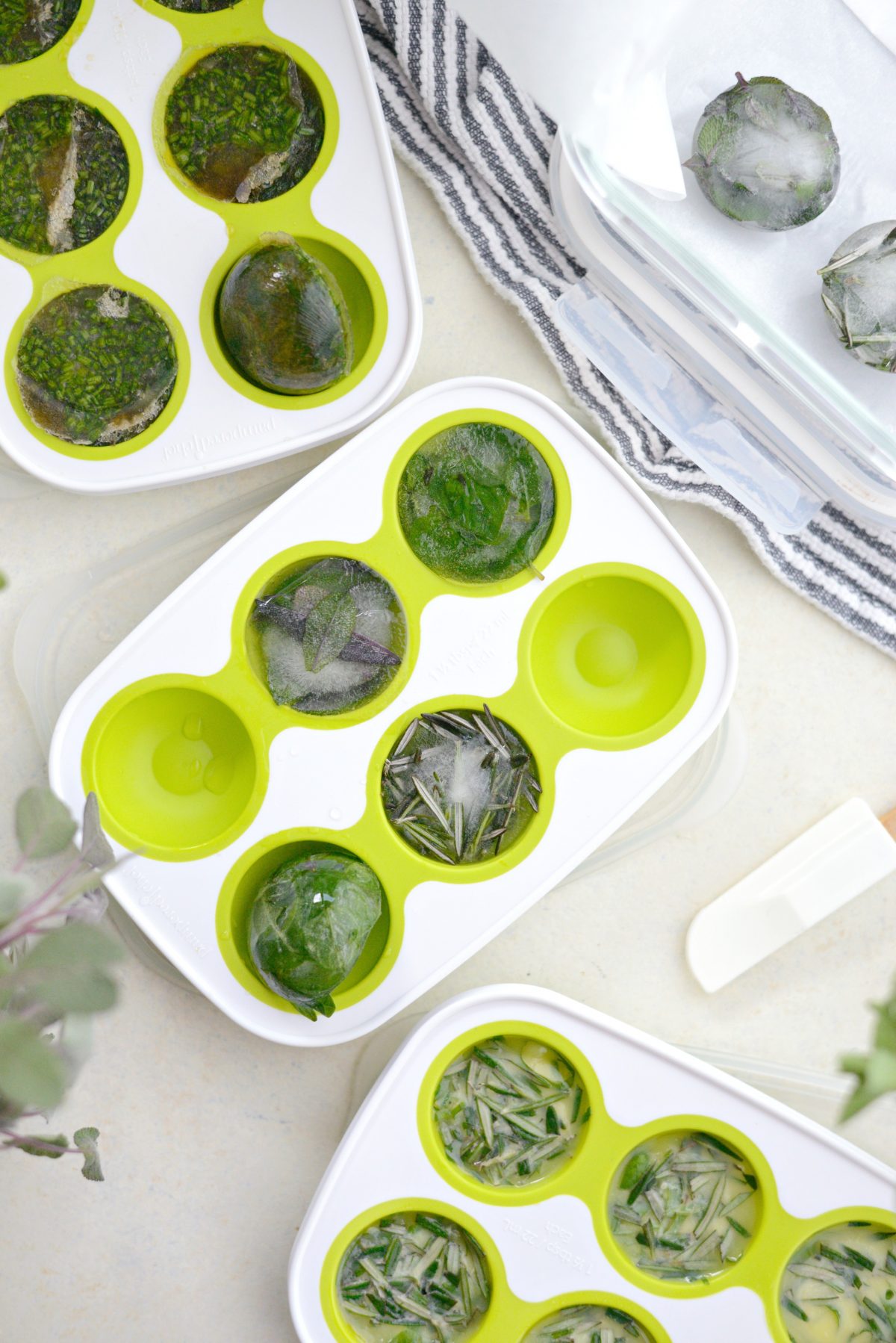 This is when you let your freezer do its magic. Simply freeze the herbs overnight or until solid. If making a small batch of these preserved herbs you can leave them in the Herb Freezing Tray and use when needed. I use the olive oil herbs for sauces, when sautéing and roasting vegetables. As I mentioned earlier, herbs frozen in broth can be added to both soups and sauces. And the herbs frozen in water can be thawed and used as is or in just about any recipe.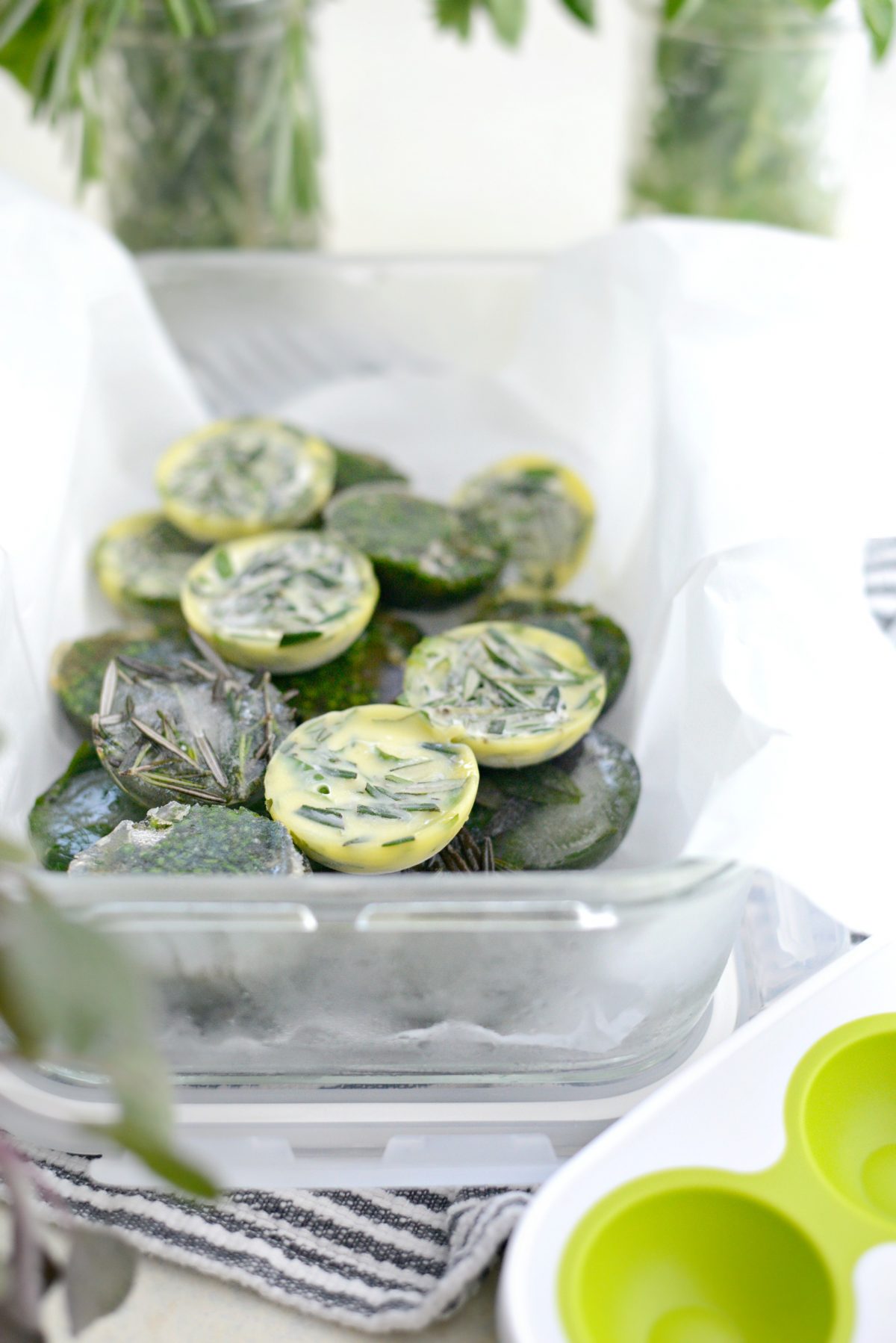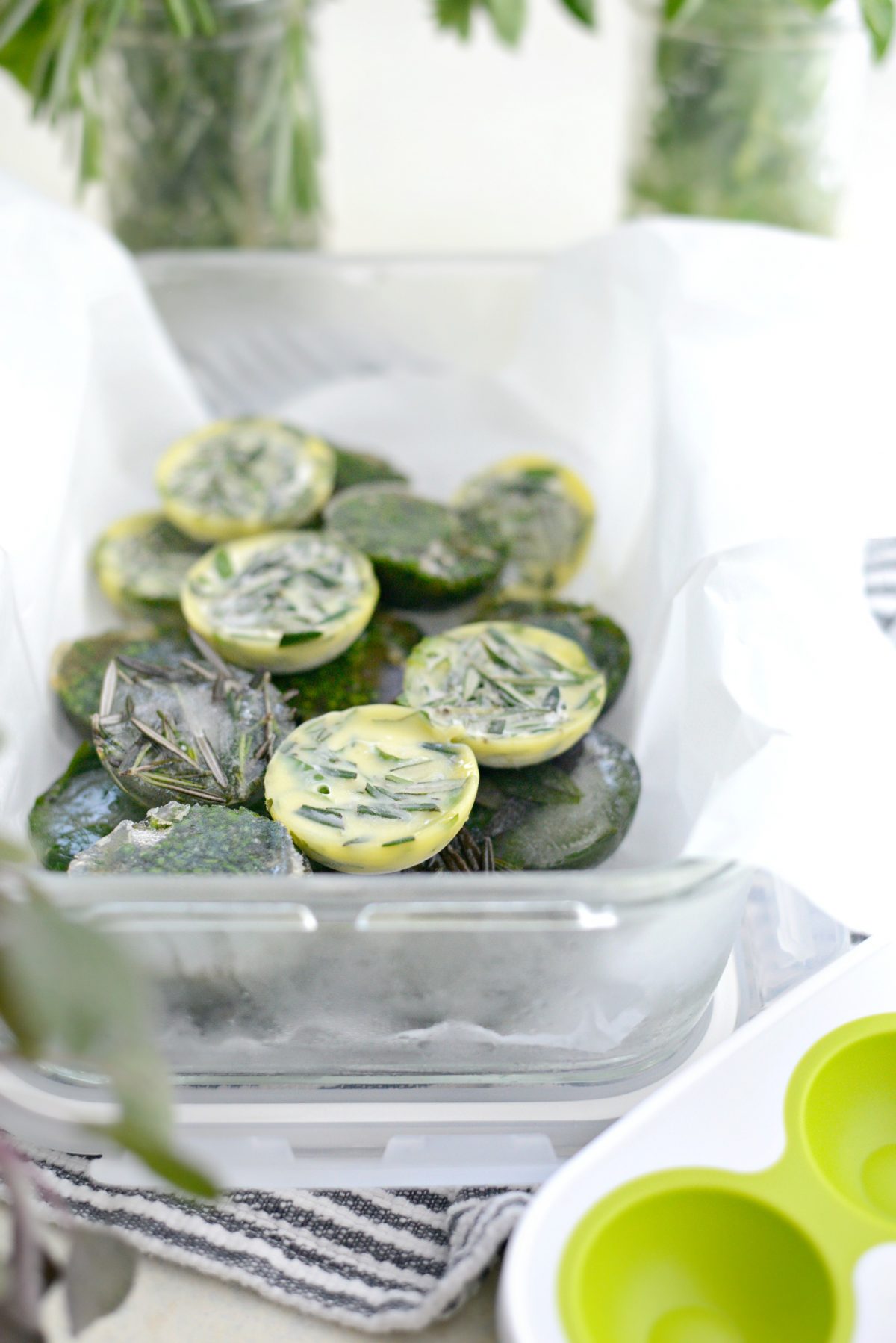 Since I have a lot of herbs to preserve, I store them in a few of these 8-1/4 cup Leakproof Glass Containers. I'm absolutely smitten with these containers! You can store, freeze and reheat leftovers in them. The silicone seal on the snap-locking lid ensures an airtight closure that will keep your food fresh and prevent leaks and spills. They're also refrigerator-, freezer- and microwave-safe and the glass container (excluding the lid) is even oven-safe up to 350°. The containers are also dishwasher-safe.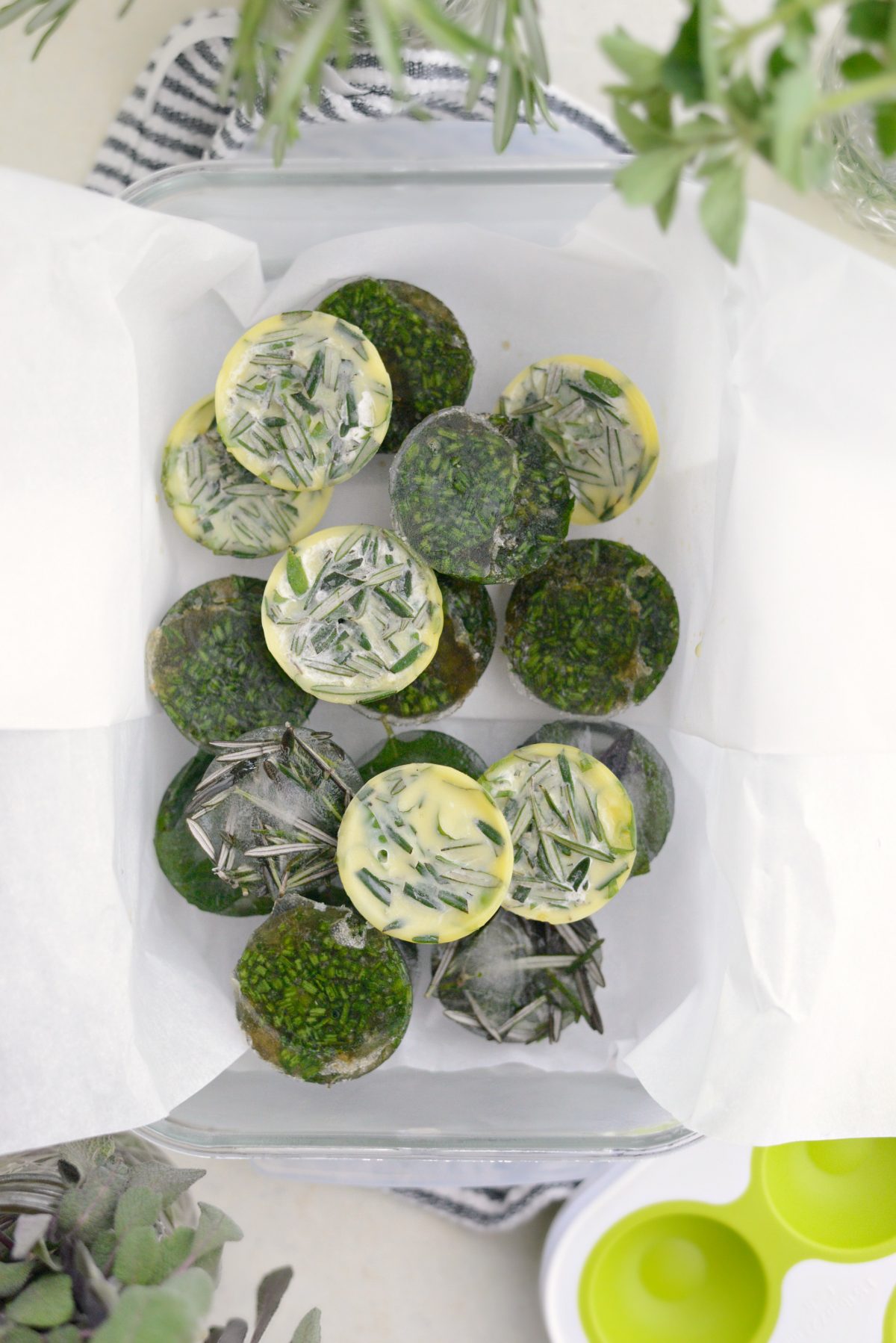 I hope you set out to preserve your herbs this growing season. Pampered Chef has really made this easy and effortless with their innovative products. You can purchase any Pampered Chef products through a local consultant or at PamperedChef.com. Their products are demonstrated and delivered into people's homes through Pampered Chef's community of 40,000 cooking consultants. If you're interested in becoming a consultant check out their "Be A Consultant" page for more information.
Enjoy! And if you give this a try, let me know by snapping a photo and tagging me on twitter or instagram!
My cookbook Simply Scratch : 120 Wholesome Homemade Recipes Made Easy is now available! CLICK HERE for details and THANK YOU in advance!
[this post contains affiliate links.]
This post may contain affiliate links.
Buy the Cookbook: Simply Scratch : 120 Wholesome Homemade Recipes Made Easy Now available on Amazon »
THANK YOU in advance for your support!