This fennel cabbage slaw is crisp, fresh and smoky (thanks to crispy bacon). Tossed in a light dressing with dill, it's summer at its best!
It's sunny and 57 degrees!
Did I mention that it's February!
In MICHIGAN! What the heck!!? Well it was… up until today.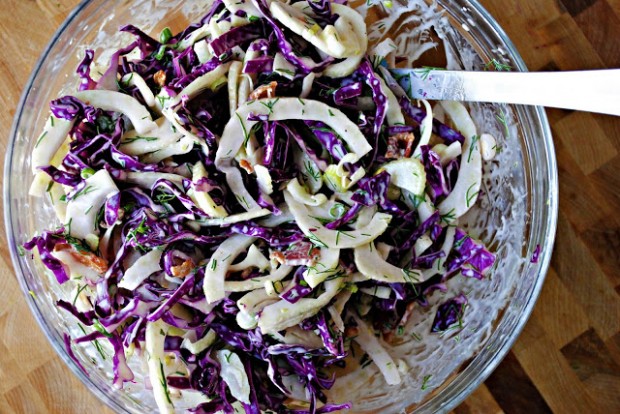 There was only one way to celebrate this abnormally beautiful day and that was with barbecued food! All winter long I itch to bust out the grill! And although we Michiganders know there is more snow in our future, until April at least, we still celebrate how the weather is today and make the most of it! And today the plan is to grill up some brats and have a few sides to go along with them. One of those sides being this crisp, fresh and extremely colorful slaw.

Here is all that you'll need for your new favorite slaw! 😉

Fennel. Tastes mildly of licorice… and it's FABULOUS! I love it raw or grilled, oh-me-oh-my!

Trim the bulb off from the stalks, discard the stalks but reserve a good amount of the fronds.

Cut it in half.

Core it.

Slice it thin.

Cabbage. Red or Purple… but it totally looks purple to me! Remove the tough outer leaves and discard.

Cut this in half too, save the other half to put on some fish tacos or something… oh yum, Oh how I love fish tacos!

Core it.

Then cut the half… in half.

And slice it thin.

Grab 3 green onions.

Trim off the root bit and slice the white and dark green parts thinly.

Fennel fronds… kind of looks like dill right?

Make sure you have enough to measure about 3 tablespoons when chopped!
Phew the chopping is done!

Toss the cabbage, fennel and green onions into a large bowl.

Crumble the bacon… hold back from snatching a few to snack on… I know… IT'S SOOO HARD but you can doooo it!

Toss the bacon with the fennel, cabbage and green onion.

In a medium bowl, add the red wine vinegar to the mayonnaise.

Season the dressing with kosher salt and black pepper to taste.

Add in the honey. I eyeball it… but adjust however you want it… sweeter…etc.

Add in the chopped 3 tablespoons of fennel fronds.

Whisk until combined; make sure there isn't any honey stuck to the bottom of the bowl either!

Pour over the fennel-cabbage slaw.

Toss. Sample. Chill. Sample. 😉

I like to let this slaw marinate for an hour or so to let those flavors meld. So just slap on some plastic wrap and stick it in the fridge to do it's magic!
This slaw totally rocks. Period.
*Oh and as I edit and add in the photo's to this post, I am looking out my windows at the 6+ inches of snow on the ground! See… 57 degrees and sunny one week… snowmageddon the next! Gotta love Michigan!
Enjoy! And if you give this Fennel Cabbage Slaw recipe a try, let me know by snapping a photo and tagging me on twitter or instagram!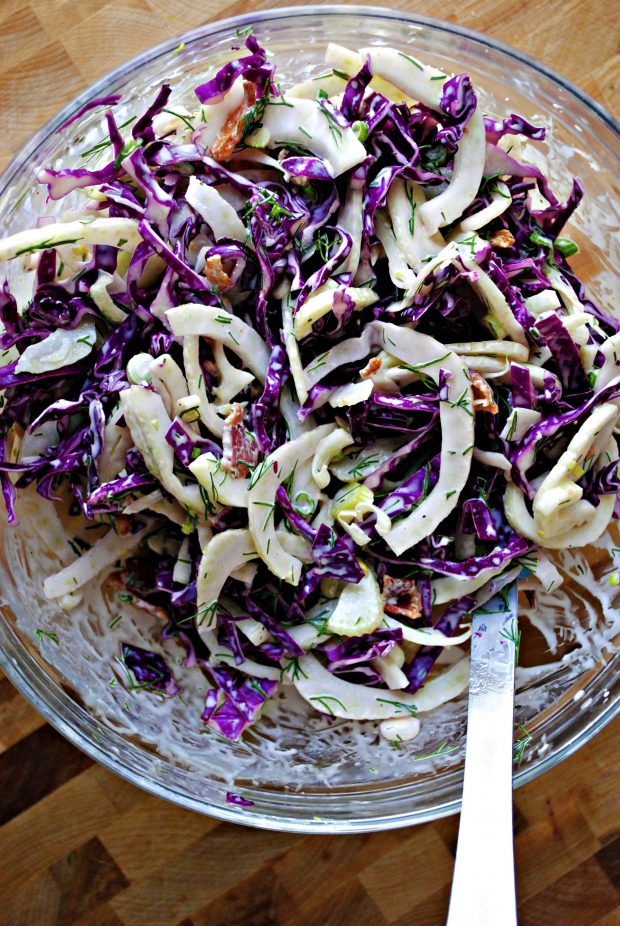 My cookbook Simply Scratch : 120 Wholesome Homemade Recipes Made Easy is now available! CLICK HERE for details and THANK YOU in advance!
Yield: 6-8 servings
Fennel Cabbage Slaw
This fennel cabbage slaw is crisp, fresh and smoky (thanks to crispy bacon). Tossed in a light dressing with dill, it's summer at its best!

Prep Time 10 minutes

Total Time 10 minutes
Ingredients
FOR THE SALAD:
1 fennel bulb, core removed, cut in half, and sliced very thinly, fronds reserved
2 cups thinly sliced purple cabbage
3 green onions, white and dark green parts, sliced thin
3 strips bacon, cooked and crumbled
FOR THE DRESSING
1/4 cup mayonnaise
3 tablespoons red wine vinegar
3 tablespoons chopped fennel fronds
1 teaspoon honey
a pinch of kosher salt, more or less to taste
a pinch of freshly ground black pepper, more or less to taste
Instructions
Toss the fennel, cabbage, scallions, and bacon together in a medium bowl.
Whisk the mayonnaise, vinegar, honey, fennel fronds, and kosher salt and pepper, to taste, in a small bowl.
Add the dressing to the slaw and toss to coat.
Let marinate for at least 30 minutes to an hour.Serve chilled!
Nutrition Information:
Yield:
6
Serving Size:
1

Amount Per Serving:

Calories: 114 Total Fat: 9g Saturated Fat: 2g Trans Fat: 0g Unsaturated Fat: 7g Cholesterol: 10mg Sodium: 192mg Carbohydrates: 6g Fiber: 2g Sugar: 3g Protein: 3g

Nutrition information isn't always accurate.

[this post contains affiliate links.]