These 5-ingredient barbecue bacon baked beans are easy and delicious! They're the perfect side dish to your favorite grilled meal and great for parties! [this post contains affiliate links.]
Do you have any idea how hard it is to make something from scratch using only FIVE ingredients?
Really hard. Okay, well maybe I should elaborate to say that it's difficult to make a Memorial Day barbecue-friendly dish (think potato salad or mac and cheese) and only using 5 ingredients. It's hard! I struggled.
But when my friends at All Clad presented me with the challenge to create a 5-ingredient seasonal dish that is prepared in their d5 4-quart All-In-One pan… I of course accepted. I'm not one to turn down a challenge, like the time when our friend Dave dared me to eat a tablespoon of cinnamon (not my finest moment). Although, that was a disaster, 5-ingredient recipe developing doesn't have to be and I may just have a few tricks up my sleeve. 1: use BACON! 2: involve barbecue sauce 3. be OKAY with taking necessary shortcuts … hey sometimes it happens.
But first let's talk about this pan. It's a beauty, is it not? I personally love the stainless collection. It's simple and classic. My other stainless pans have the long handle, which is so totally fine, but I really love that this pan has the loop side handles. It makes it easy to go from stove top to oven. I also am quite smitten with the size and depth of this pan. It will be my go-to pan to make skillet lasagnas, one-pan pasta dishes and many MANY more recipes.
Also, can we quickly talk about how easy this is to clean? I think stainless cookware has this reputation that food sticks like crazy and you have to scrub with all that you have to get it clean. I guess that could be true in some rare burnt-beyond-recognition sort of instances, but really it's nothing that hot soapy water and a good scrubber won't fix and is no different really than my non-stick pans. (And FYI if you want to get it back to sparkling condition, Bar Keepers Friend is my go to for cleaning my stainless pans and my enameled Dutch ovens.)
Soooo because it's Friday… because Memorial Day weekend is NEXT WEEK… and because All-Clad is super generous and wants YOU to have one of these beautiful pans in your kitchen, they're sponsoring this giveaway! Scroll to the bottom of this post for details on this gorgeous All Clad d5 stainless, 4-quart, All-In-One pan and the giveaway!
Now who doesn't love the sound of 5 ingredient barbecue bacon baked beans??? Exactly.
Start by chopping up 1/2 of a white onion or about 1/2 cup.
And slice up 3 to 4 strips of applewood bacon. The better quality the bacon… the better the flavor. I make a special trip to the butcher to buy their superb bacon. Plus I can ask for 4 slices instead of having to buy an entire pound, which I like. Not that having extra bacon around is a bad thing.
Add the onions and the bacon to a cool pan. Turn the heat to medium…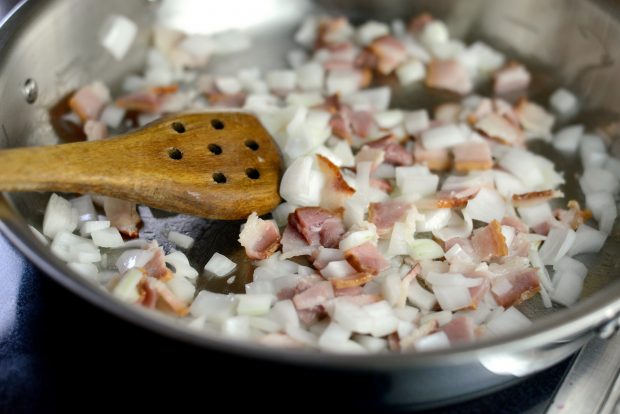 …and give it a stir. Starting the ingredients in a cool pan is best to slowly render out the bacon fat.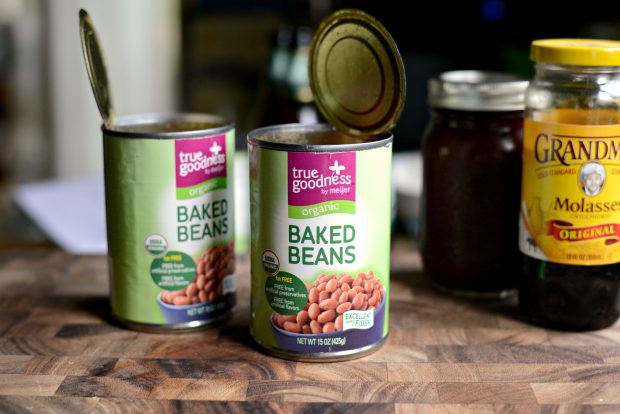 Here is where my third trick plays a part. If I was to make true "from scratch" beans I'd flip to page 183 in my cookbook *wink* but I would need quite a few more ingredients. Using organic baked beans is a-okay in my book, especially when on a 5-ingredient budget.
So once the onions are tender and the bacon has cooked a bit…
…add in 3 (15 ounce) cans of baked beans.
Pour in 3/4 cup of homemade sweet barbecue sauce… now THIS I made from scratch.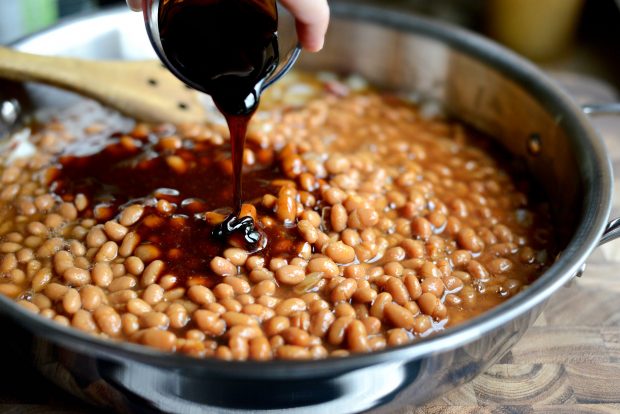 Pour in 2 tablespoons of un-sulphured molasses. I also added in some black pepper… but that's totally optional and so I'm not counting that as one of the 5 ingredients. #makingtherulesasIgo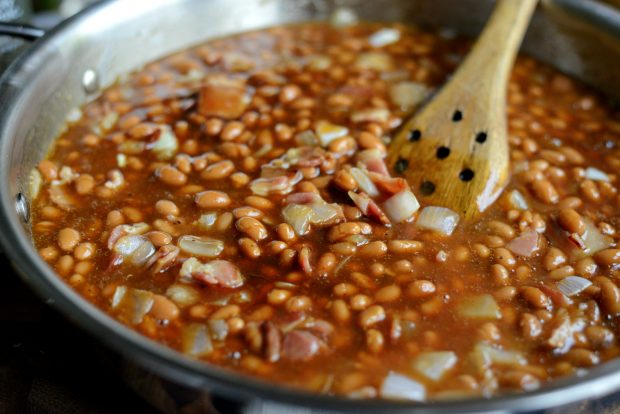 Give that all a stir…
…cover and bake for 1 hour, stirring every 20 minutes.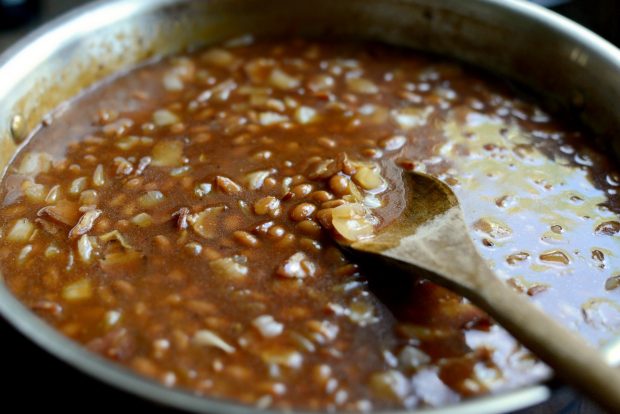 Once the hour is up, remove the lid and stir one last time before sliding the pan (uncovered) back into the oven for 10 to 15 more minutes, this will help thicken it up a smidgen more.
Also, the beans will continue to thicken up as they cool.
That's all folks! Smoky bacon + sweet barbecue sauce = a deliciously easy baked bean dish!
These barbecue bacon baked beans go great with brats, burgers or hot dogs! DO IT.
My cookbook Simply Scratch : 120 Wholesome Homemade Recipes Made Easy is now available! CLICK HERE for details and THANK YOU in advance!
5-ingredient Barbecue Bacon Baked Beans
These 5-ingredient barbecue bacon baked beans are easy and delicious! They're the perfect side dish to your favorite grilled meal and great for parties!
Yield: 5 cup or about 10 servings
Prep Time: 20 to 25 minutes
Cook Time: about 1 hour 15 minutes
Total Time: 1 hour 35 minutes
Ingredients:
1/2 of a medium white onion (about 1/2 cup)
4 strips thick-cut (slab) Applewood smoked bacon, cut into pieces
2 cans baked beans (I buy organic)
3/4 cup homemade sweet barbecue sauce
2 tablespoons un-sulphured molasses
Directions:
Preheat your oven to 350 degrees.
In a large pan, add onions and bacon and then heat on medium
Cook until onions are soft, stirring occasionally, about 8 minutes.
Remove the pan off of the heat and add in the beans, barbecue sauce and black pepper and stir.
Cover the pan and slide it onto the middle rack of your preheated oven. Cook for 1 hour stirring every 20 minutes. When the hour is up, use pot holders to remove the lid and slide the pan back into your oven for 15 minutes.
Allow the beans to cool for a few minutes before serving. Season with black pepper to taste.
Beans will thicken up more as they cool.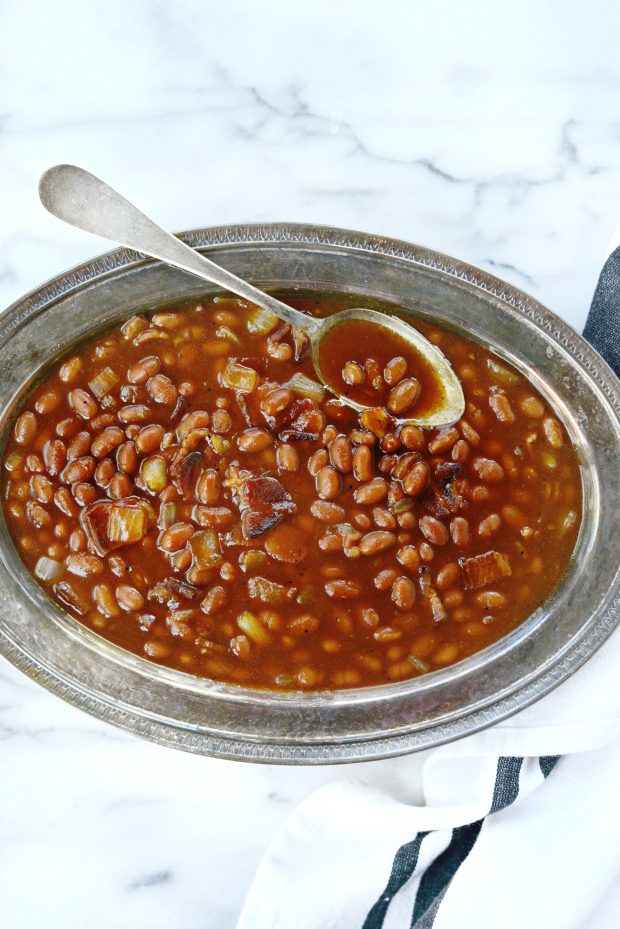 About The Pan:
All Clad d5 Stainless-Steel All-In-One Pan, 4-Qt.               
An essential for busy cooks, this multitasking pan combines All-Clad's signature d5 heating capabilities with a wide, flat cooking surface for efficient searing and sautéing and plenty of room to cook family meals. Just add the lid for simmering and braising. Retails for $149.95 and is available to purchase at Williams-Sonoma.
·         Dimensions: 12 1/2″ diam., 2 3/4″ high; 4-qt. cap.; 6 lb. 2 oz. with lid.
·         Handcrafted in the USA.
·         Five bonded metal layers each serve a specific purpose for a noticeable difference in cooking performance.
·         Two aluminum layers, one to conduct and one to sustain heat.
·         Patented stainless-steel core diffuses heat for consistent results.
·         Magnetic stainless-steel exterior with a gleaming polished finish.
·         Two loop side handles take up less space on stovetop and for storage.
·         Sloped sides minimize spattering and make the pan easy to clean.
·         Easy-to-clean stainless-steel interior sears and browns food beautifully.
·         Ideal for use on any kind of cooktop, including induction. 
About The Giveaway:
Enter below and your good to go. This giveaway is running until the end of the month and is open to US residents only. This giveaway is now over.
All-Clad was generous enough to gift me this pan to use in creating a 5-ingredient recipe and give an honest review. I'm a huge All-Clad fan, but my thoughts are my own and this pan doesn't disappoint!
Good luck!