Add these Super Soft Gingerbread Cookies to your holiday baking this year! The ingredients are simple and produce the BEST, softest and most incredible cookies. This recipe will yield 3 dozen standard size cookies.
What is holiday baking without gingerbread cookies?
I mean, am I wrong? In my opinion, gingerbread is the quintessential flavor of the holidays. This year, I was determined to push up my sleeves and roll out some gingerbread cookie dough and bake up delicious and soft gingerbread cookies.
My secret ingredients? Homemade gingerbread spice mix and brown butter.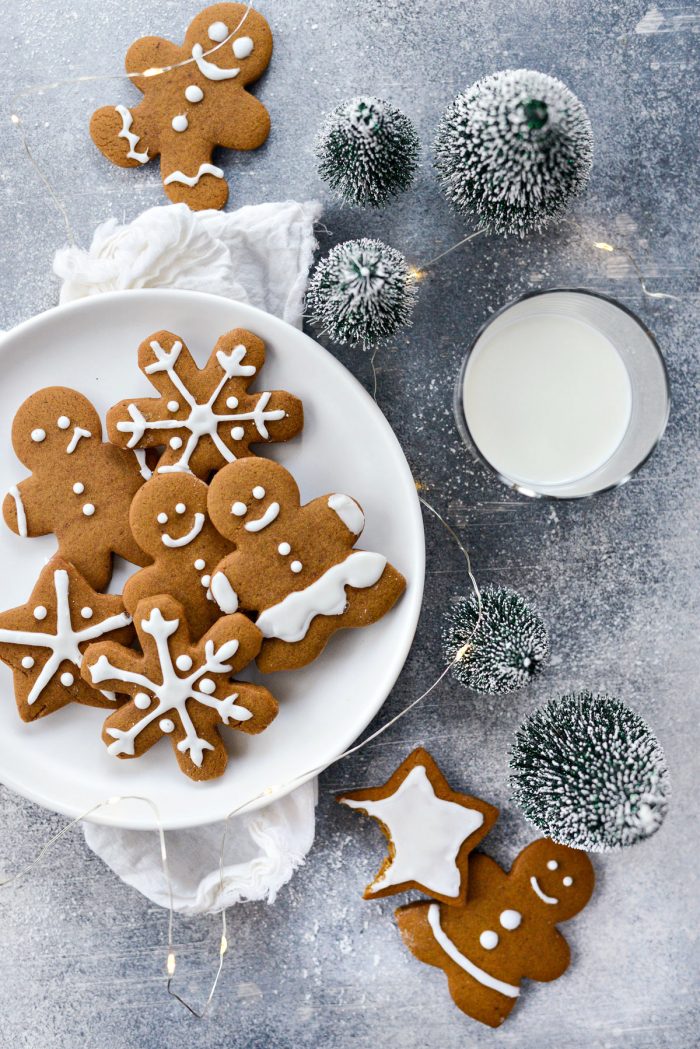 Browning butter is easy! Add the butter to a skillet and melt over medium to medium-low until the milk solids start to turn golden, and the butter will incredible. Besides texture, it adds a touch of warmth to these perfectly spiced cookies. Plus, everything is better with brown butter, right?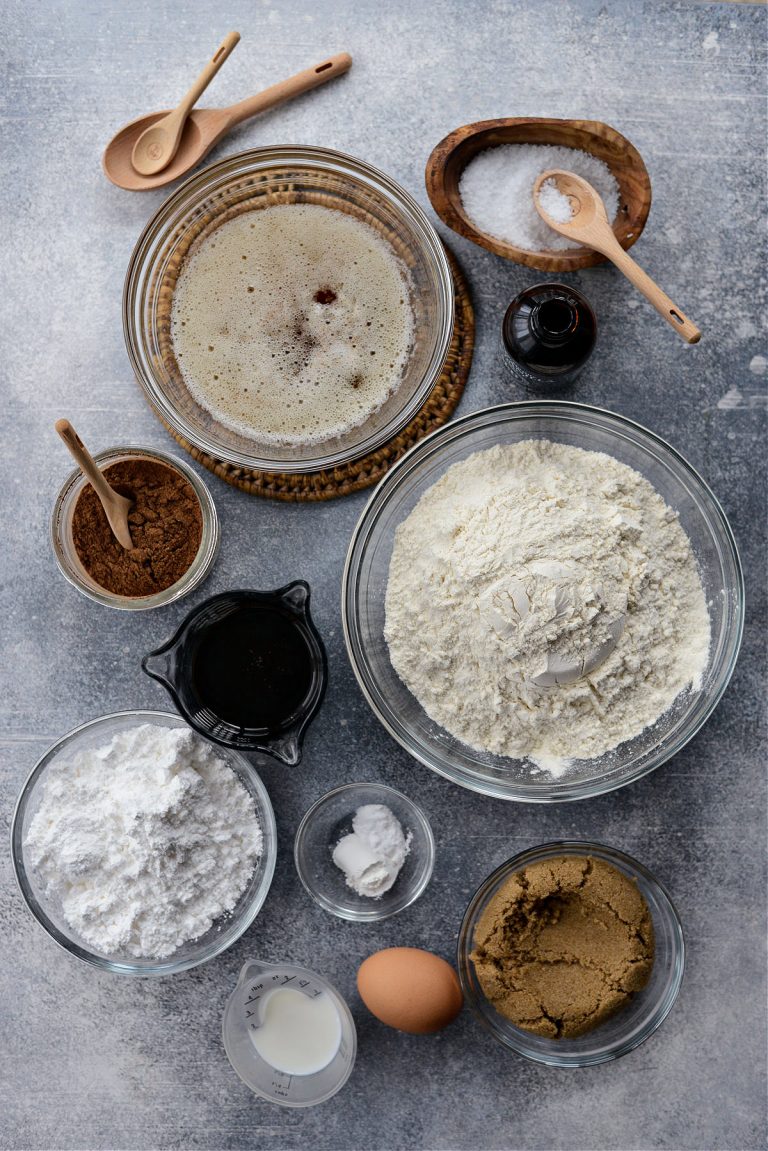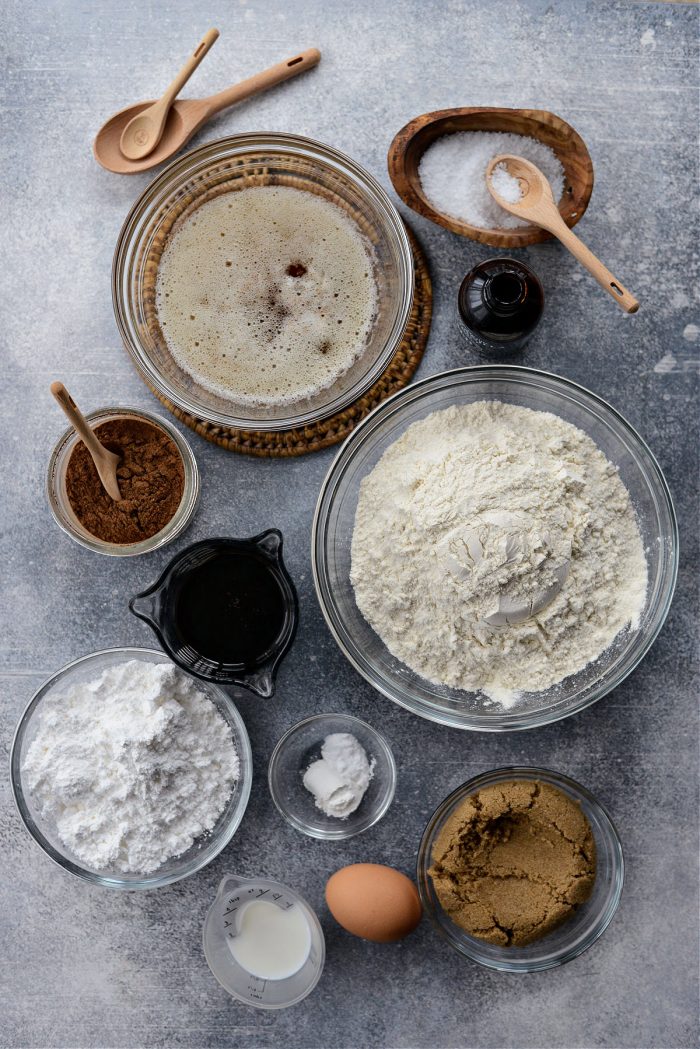 To Make These Super Soft Gingerbread Cookies You Will Need:
unbleached all-purpose flour
baking powder
baking soda
kosher salt
(unsalted) brown butter
dark brown sugar
unsulphured molasses
egg
powdered sugar
milk
pure vanilla extract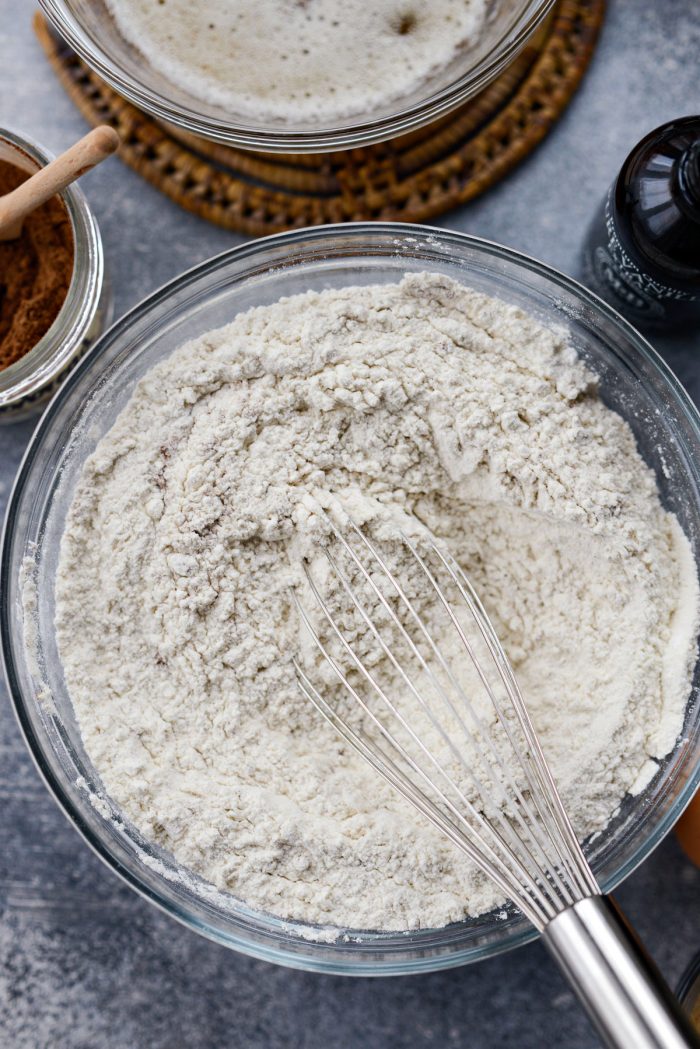 In a medium bowl, measure and add 3-1/2 cups unbleached all-purpose flour, 1-1/2 tablespoons gingerbread spice mix, 1 teaspoon both kosher salt and baking powder and lastly 1/2 teaspoon baking soda. Whisk well to combine.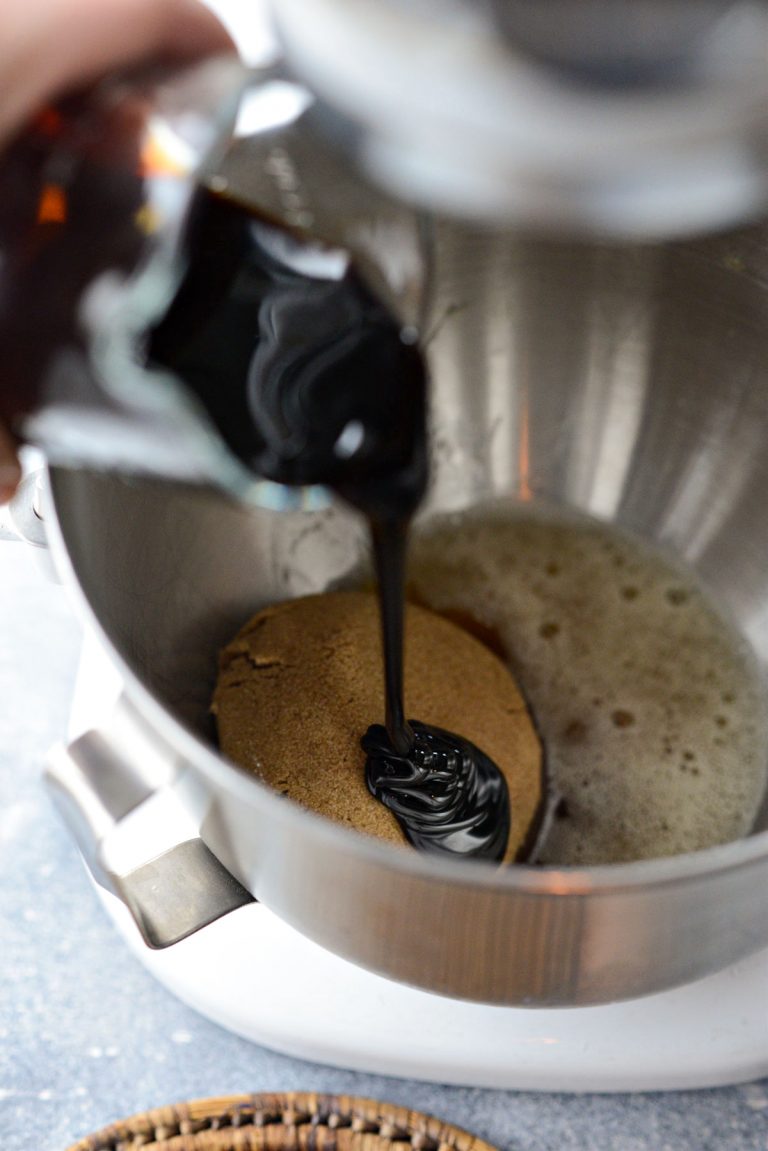 In the bowl of your stand mixer, add 3/4 cup (slightly cooled – hot butter will scramble the egg) unsalted brown butter, 3/4 cup dark brown sugar and pour in 3/4 cup unsulphured molasses (do NOT use blackstrap for this recipe).
Click Here For a How To On Making Brown Butter!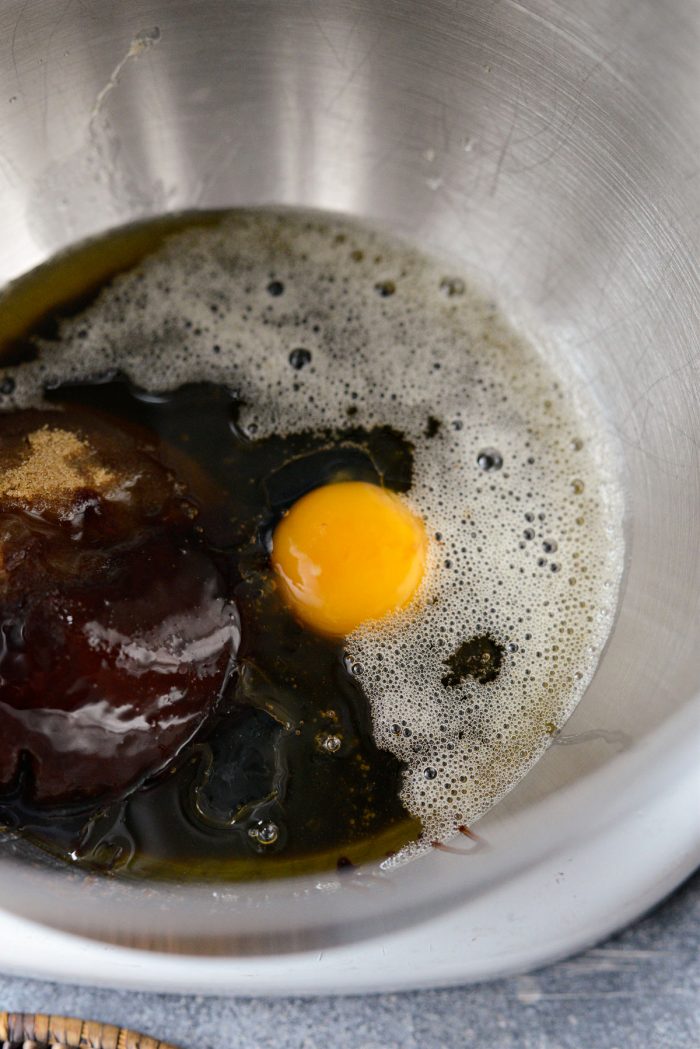 Lastly, crack and add in 1 large egg.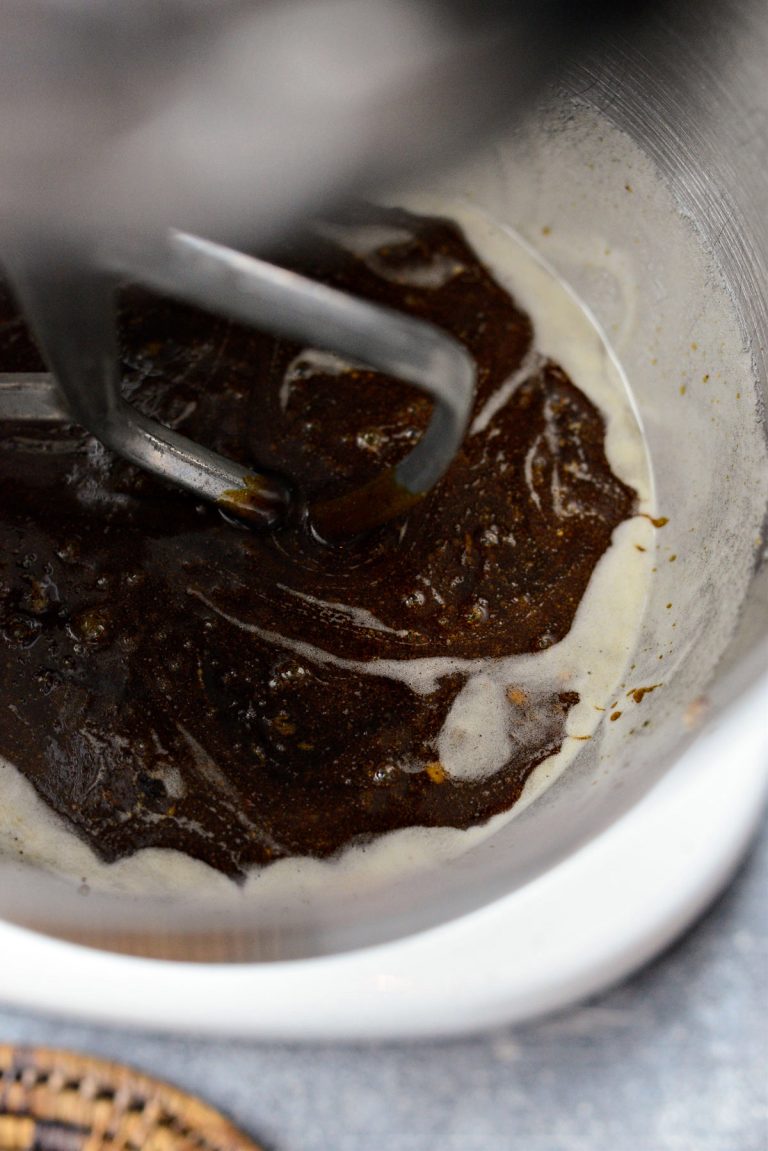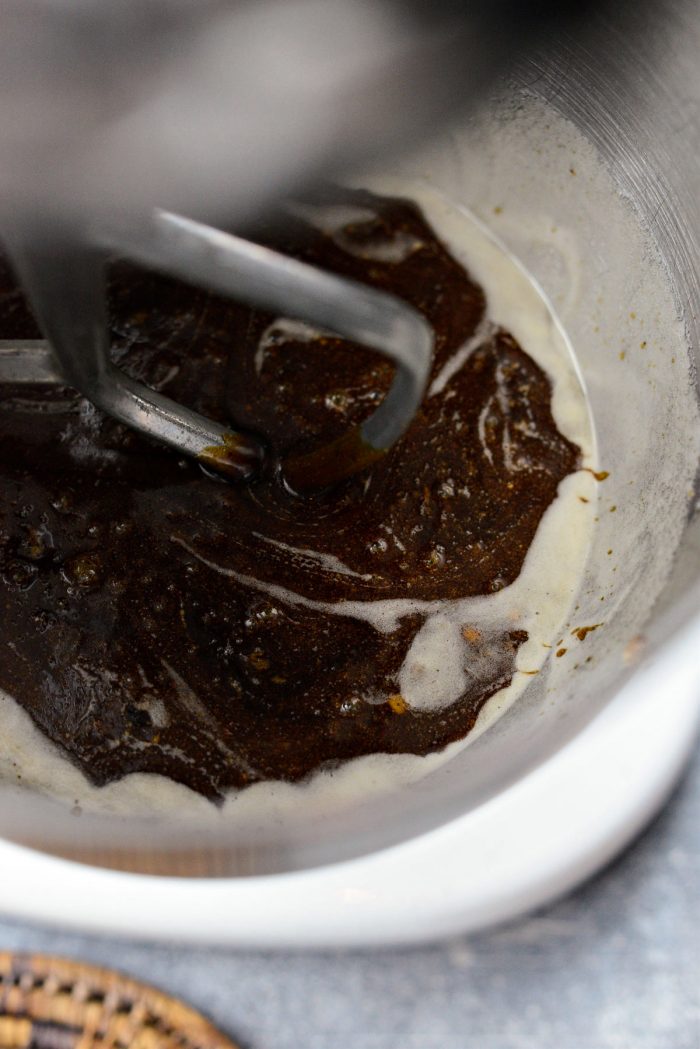 Mix on low to medium-low speed until all of the ingredients are incorporated.
Working in batches, gradually add in spoonfuls the dry ingredients.
Mixing until just incorporate. Repeat.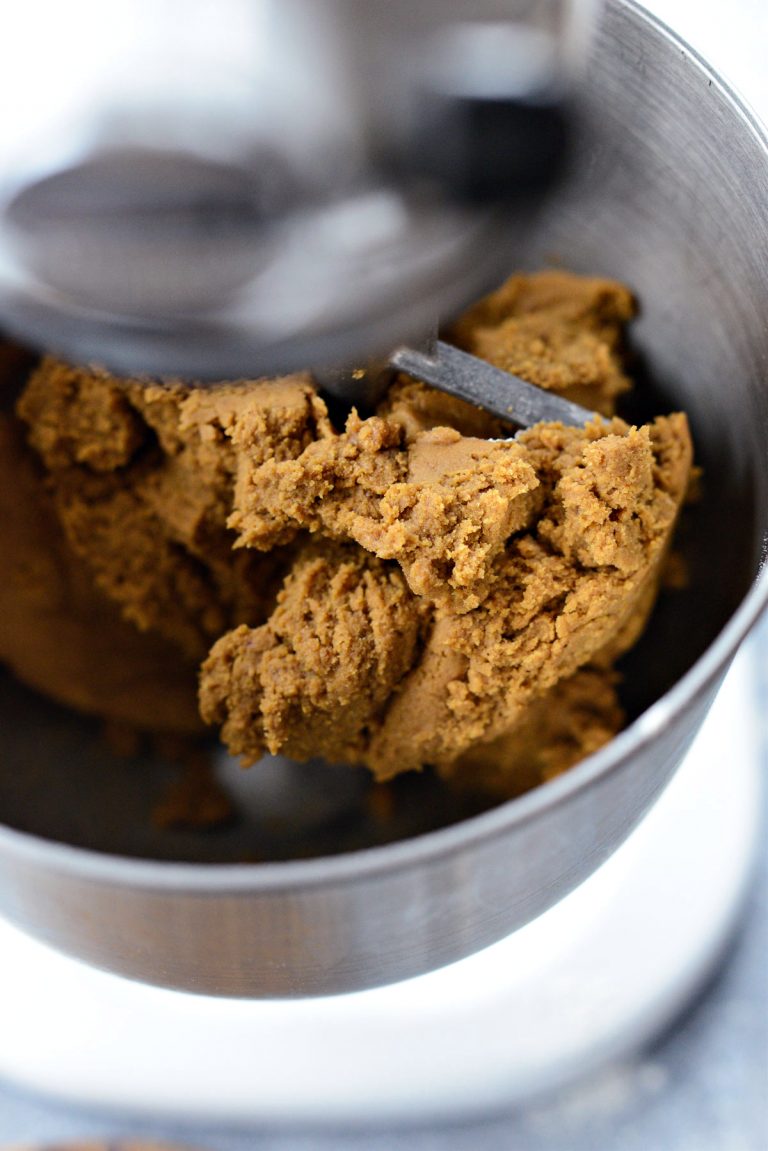 Mix until combined being careful not to overmix.
Divide the dough in half, shape it into a rectangles and tightly wrap in plastic wrap.
Pop the wrapped dough into your refrigerator for 2 hours or overnight.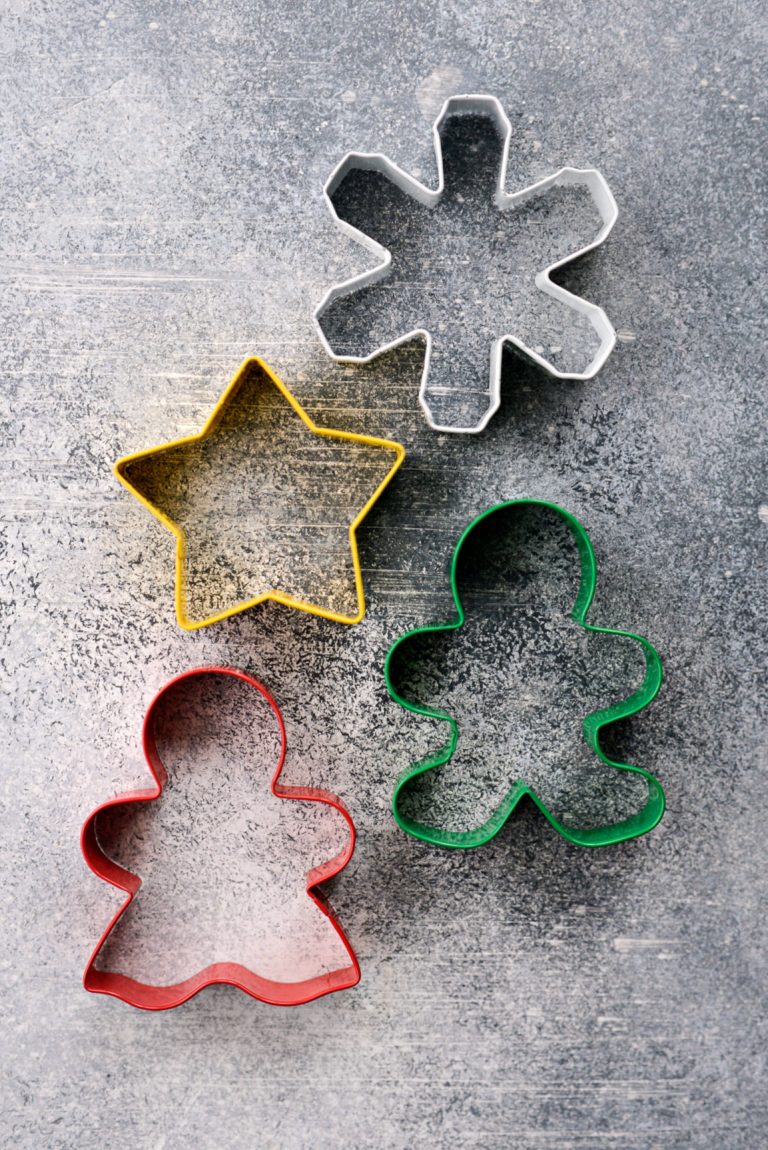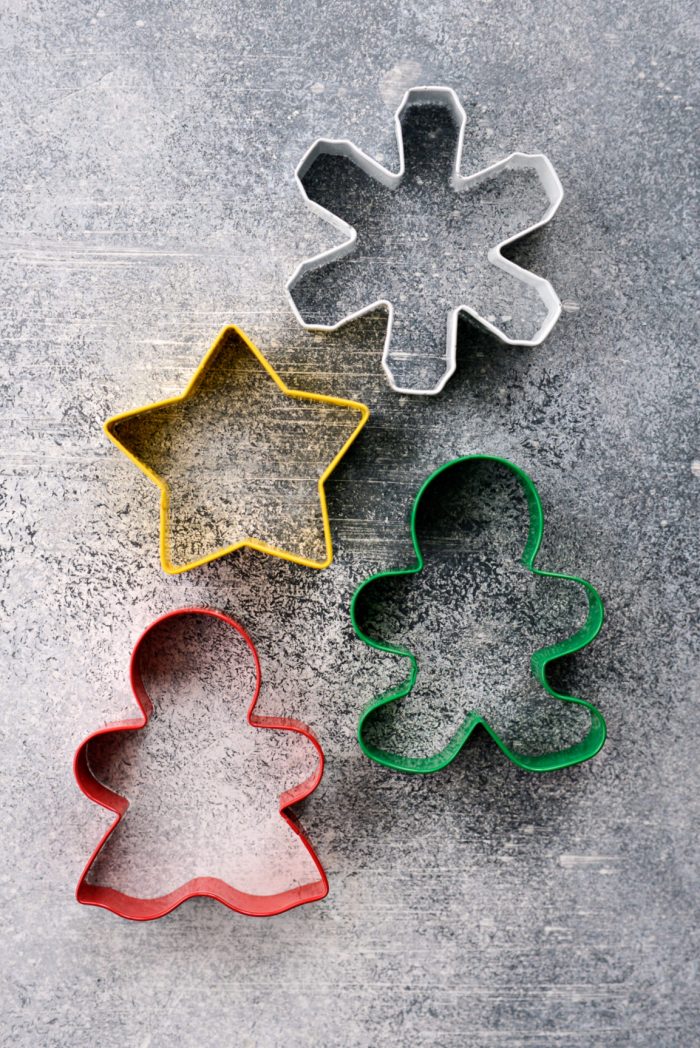 Once the dough has chilled, pull out your favorite cookie cutters. I've had these for years and I love them.
Meanwhile preheat your oven to 350°.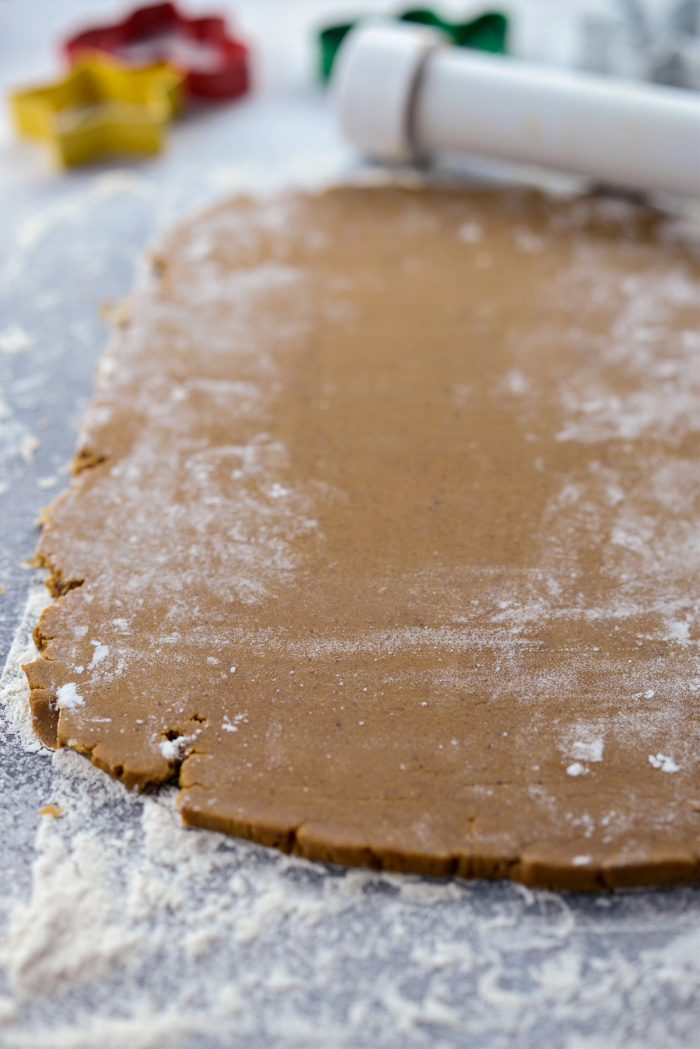 Starting with 1 of the dough halves, roll the chilled dough out to 1/4 of an inch thick. I picked up a rolling pin that has guides that will roll your dough out to the perfect 1/4-inch thickness. I'll link it in the recipe printable. It's amazing!
Stamp out the cookie using your favorite gingerbread shapes.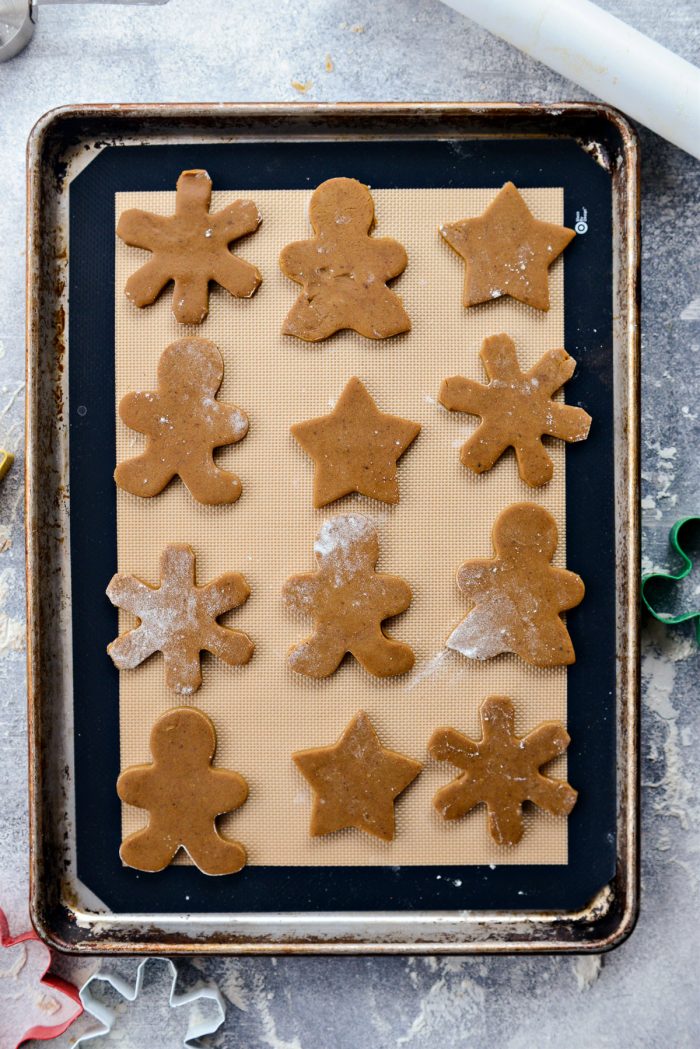 Place 12 shapes onto a rimmed baking sheet lined with a silicone mat or parchment paper.
You may need to gather scraps of dough, re-roll it out and stamp enough to make 1 dozen. Refrigerate this first pan of cookie shapes while rolling and stamping with second rectangle of dough.
Save any and all scraps from both batches, shape into a rectangle, wrap and refrigerate. Doing this will ensure you will have 3 dozen cookies.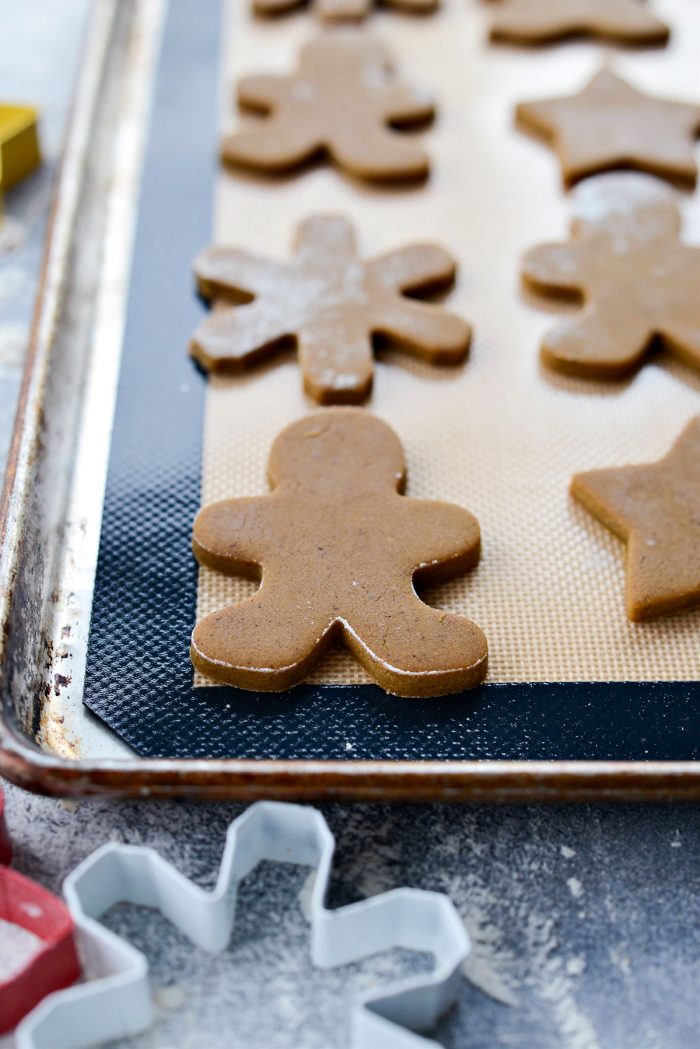 Bake the first batch of cookies (while the second is in the fridge) on the middle rack of your preheated oven for 9 minutes, rotating halfway during baking.
9 minutes is the magic number in my oven. However it may be a little less or longer in yours. The cookies should be soft yet slightly firm on the edges.
Allow the cookies to cool on the pan for 2 minutes before transferring them to a wire rack to cool completely.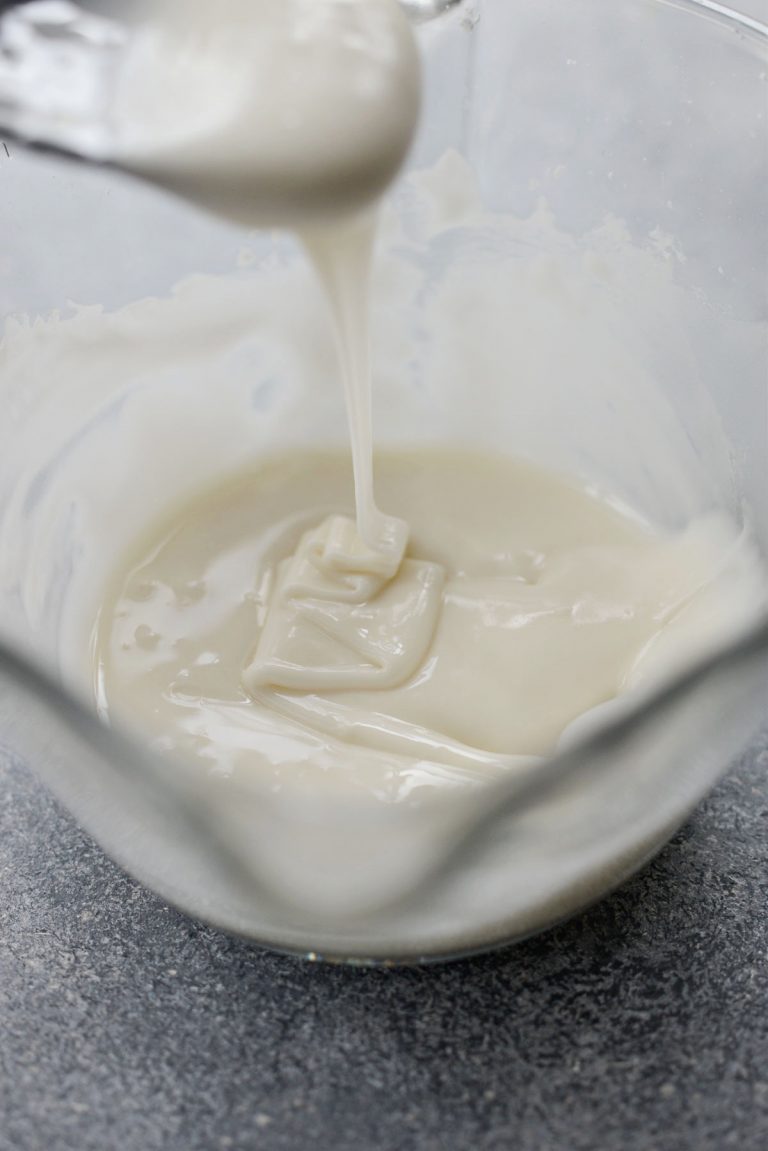 Once the cookies have cooled, make the frosting. Start with 2 cups powdered sugar, sifting it in a mesh sieve into a bowl. Gradually add a little milk at a time, using a rubber spatula to stir until the icing is not too thick and not too runny. Add a splash of vanilla and stir. I don't like to give quantities because it can differ depending on many factors.
I like to pour the icing into a squeeze bottle to decorate.
However you can use a piping bag or plastic baggy with the corner snipped off. If the frosting too thick you can add more powdered sugar and if it's too thick, just add a splash of milk at a time until you've reached the desirable consistency. Alternatively I've found that I can use a toothpick to manipulate the icing easily when the icing is too thick.
If you're not doing elaborate decorating, consider halving this icing recipe.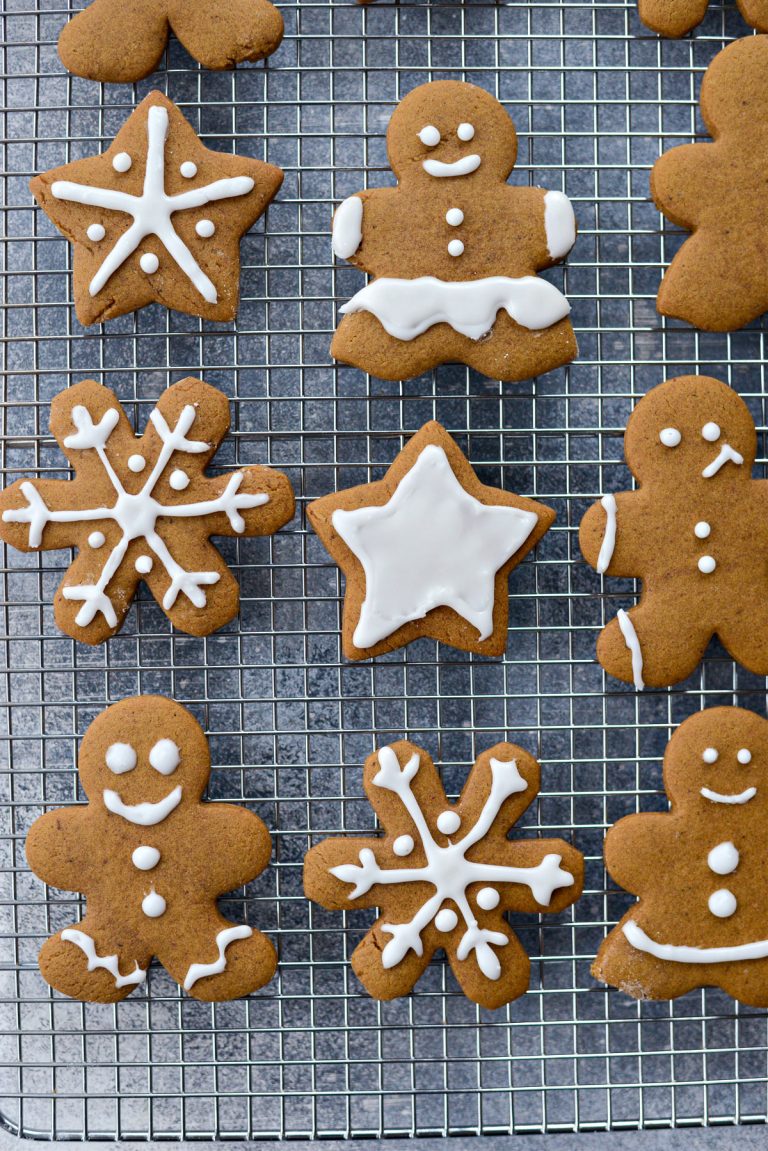 Not my best work, but hey. Literally I only iced these eight cookies because I just don't have that level of patience.😂
Whether decorated with icing or naked, these gingerbread cookies are perfection. Soft, perfectly spices and not too sweet.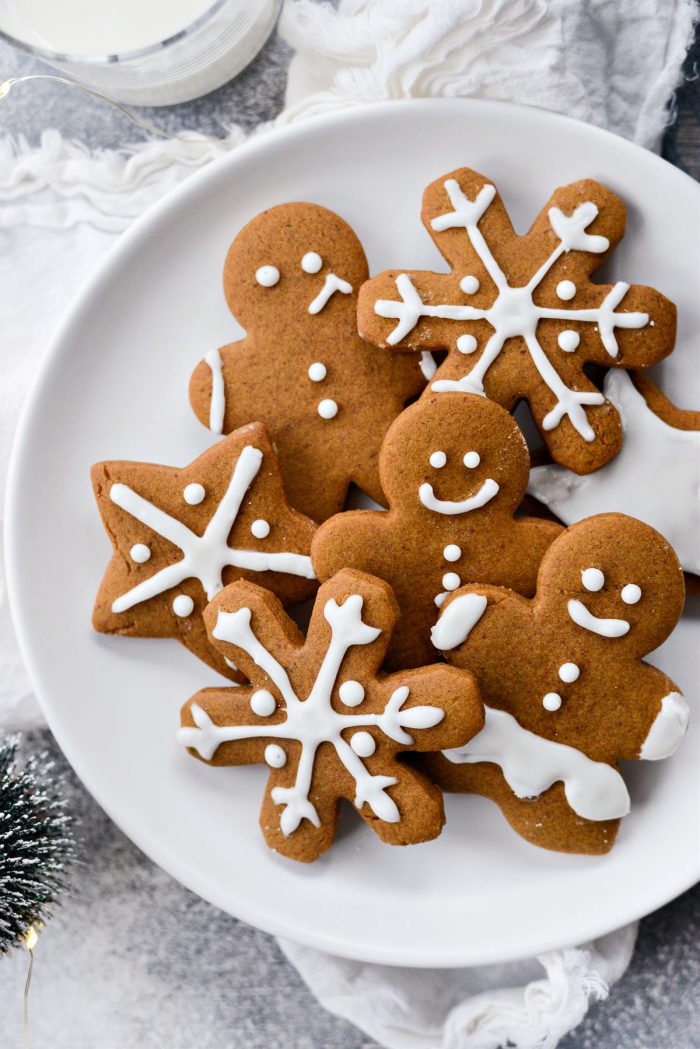 With that said, the gingerguy with the smirk is my favorite.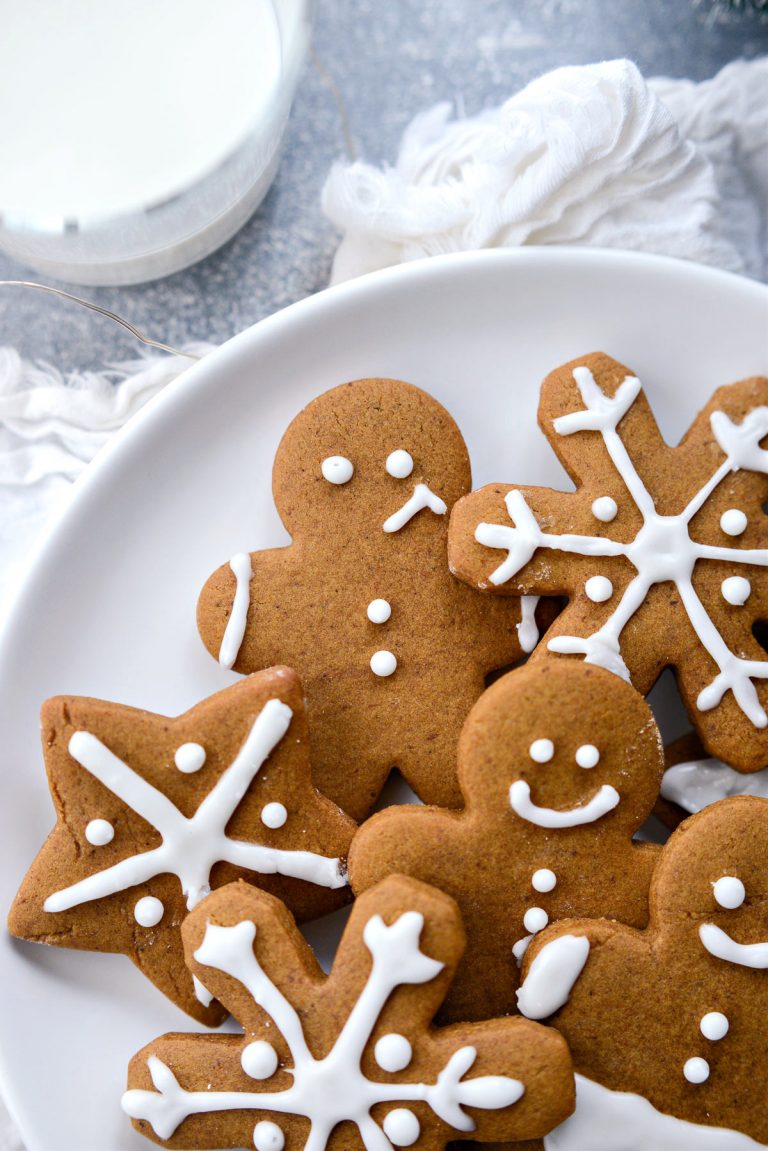 He definitely could use some Christmas cheer.
Click Here For More Gingerbread Recipes!
Enjoy! And if you give this Super Soft Gingerbread Cookies recipe a try, let me know! Snap a photo and tag me on twitter or instagram!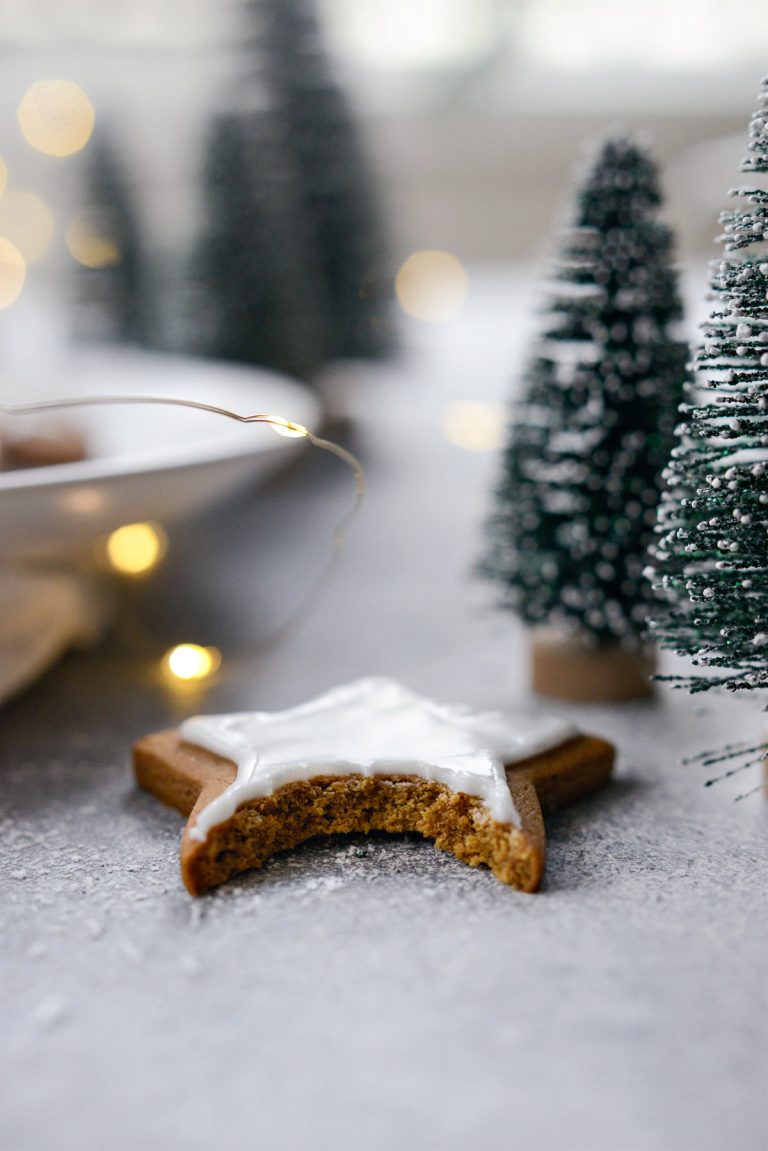 This post may contain affiliate links.
Buy the Cookbook: Simply Scratch : 120 Wholesome Homemade Recipes Made Easy Now available on Amazon »
THANK YOU in advance for your support!