This Cranberry Kuchen my family has been making FOR YEARS. I use homemade cake mix, homemade cranberry sauce and top it with a sour cream mixture and bake!
If there is one dessert that's sure to grace my families dessert table at Christmas it's the kuchen. I'm not sure exactly when this tradition started, I'm just glad it's exists.
Soooo Kuchen is German for cake. So I guess this is a cake, even though it's a bar, but whatevers let's not get technical. This cake has it all; tart cranberries with a hint of orange and cinnamon that's topped with a delicious sour cream mixture, that I can only describe as cheesecake-custard-like. To.Die.For.
Our good friends, Dave and Lynne had us over for a spectacular dinner consisting of grilled steaks with a blue cheese crust, spicy pan roasted cauliflower and brussels sprouts. That night I ate like a princess. What is it about when other people cook for you? It's like everything just tastes better? I was in charge of bringing the dessert to our friend's cozy dinner party and so I brought this festive dessert.
My homemade yellow cake mix and leftover cranberry sauce makes this dessert a cinch and is one of my favorite desserts this time of year!
First, start by lining a 13×9 jelly roll pan with foil and give it a spritz from your Misto or any cooking spray.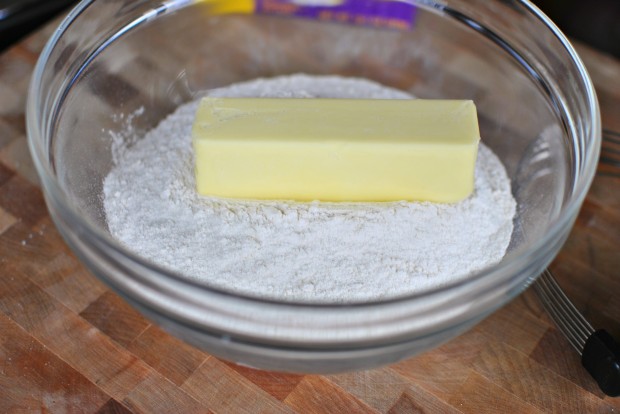 Then, place the yellow cake mix into a medium bowl and drop in a stick of butter.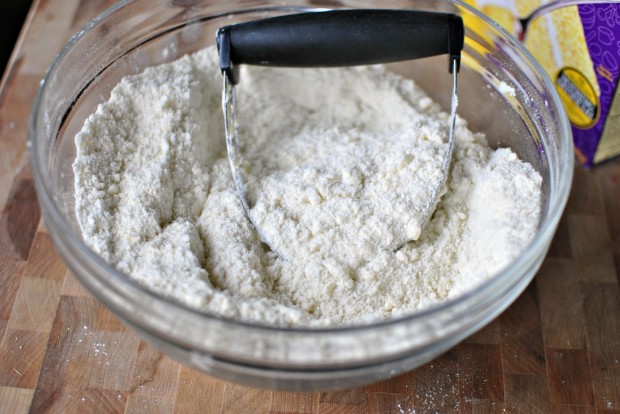 Then with a pastry cutter (or a couple of forks) cut in the butter until crumbly.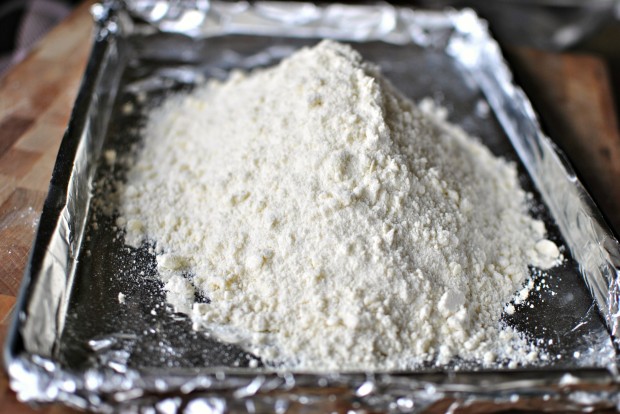 Next dump that onto the prepped pan. Looks like snow… I want to dive right on in… mouth first.
Then with your fingers press it in, not too tightly, and give it a little edge around the sides.
Next pre-bake the crust in a 350° oven for 10 minutes, rotating the pan halfway through.
Remember when I made this cranberry sauce… and I told you it wasn't for Thanksgiving… well here it is. Now let's jazz it up, k?
Next measure and add a teaspoon of ground cinnamon.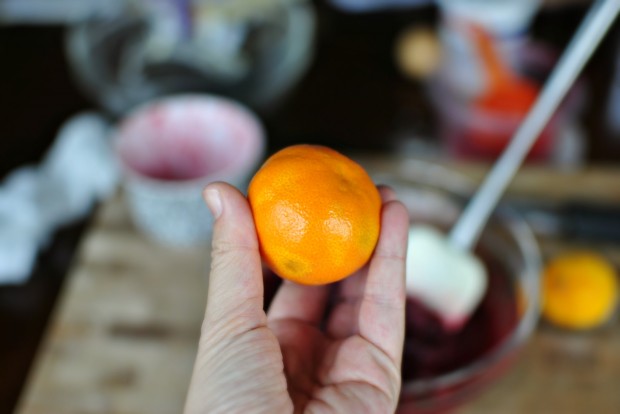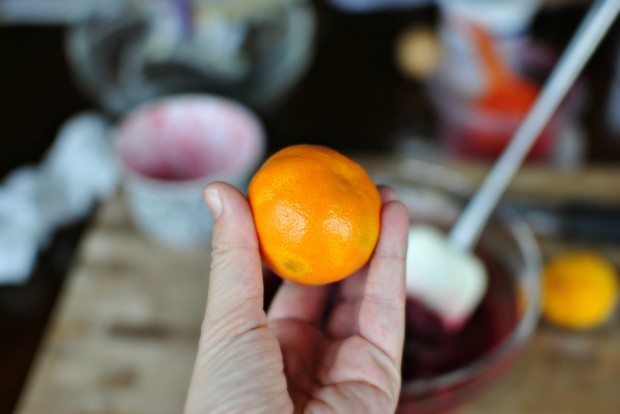 I've used oranges and now clementines. My orange went bad and luckily I had a box of cuties and they work just as well! 🙂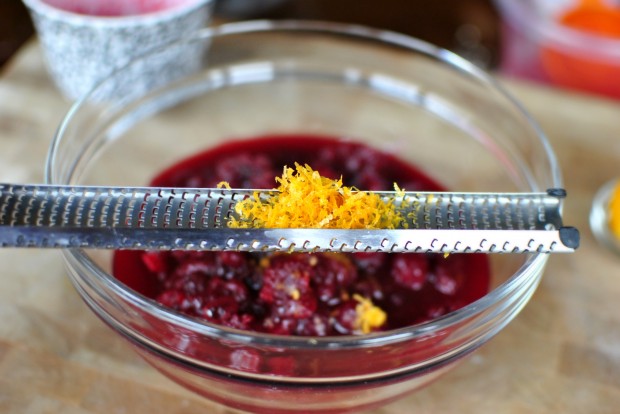 Next, zest two of those or use one teaspoon of orange zest.
And then give it all a good stir and blah-dow. It's done.
Finally, pour the cranberry sauce over the crust and spread it around evenly.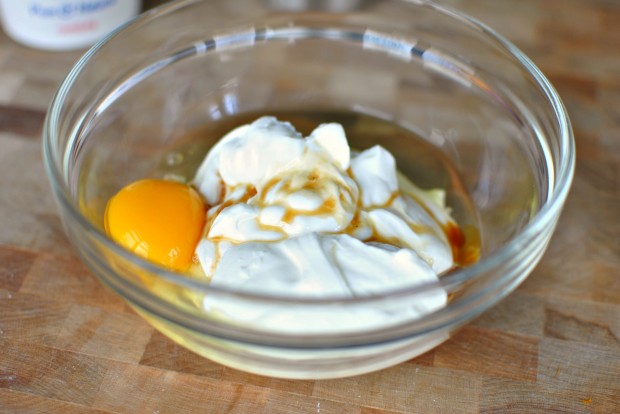 In a smaller bowl combine the cup of sour cream, an egg and a splash of vanilla.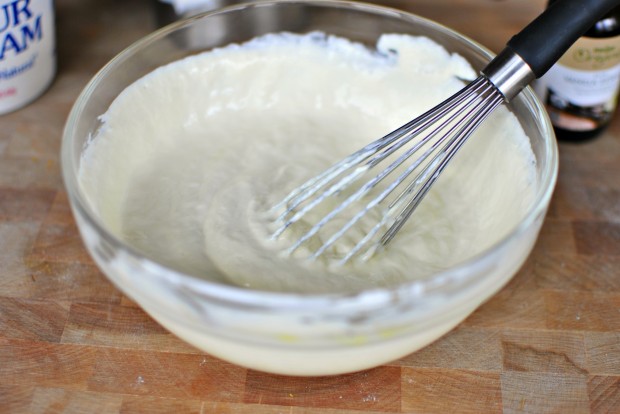 Stir until everything is incorporated.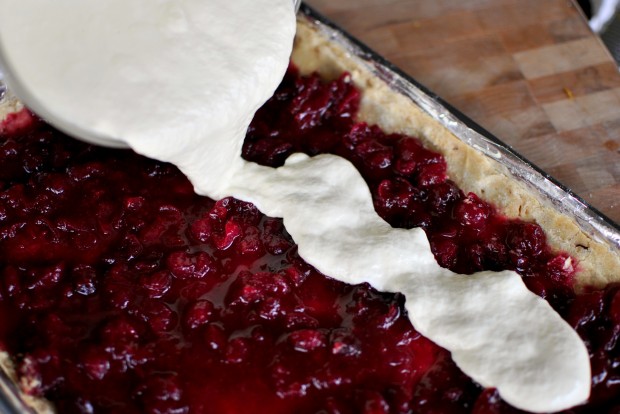 Then pour it over top.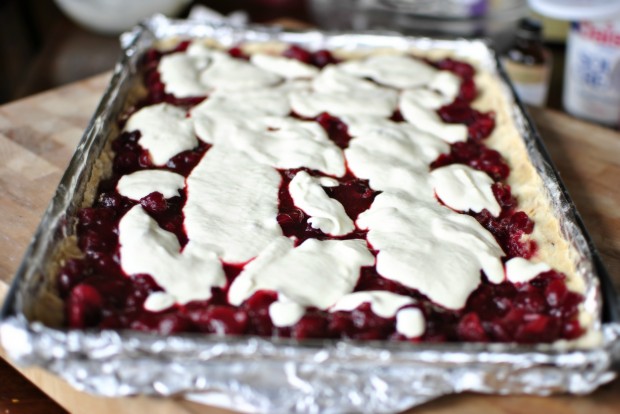 As you can plainly see.. it doesn't have to be perfect.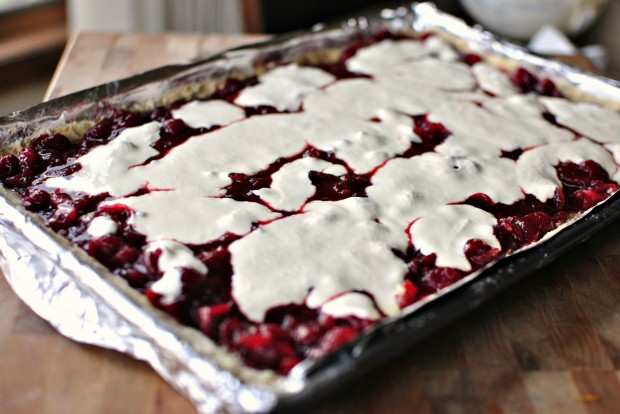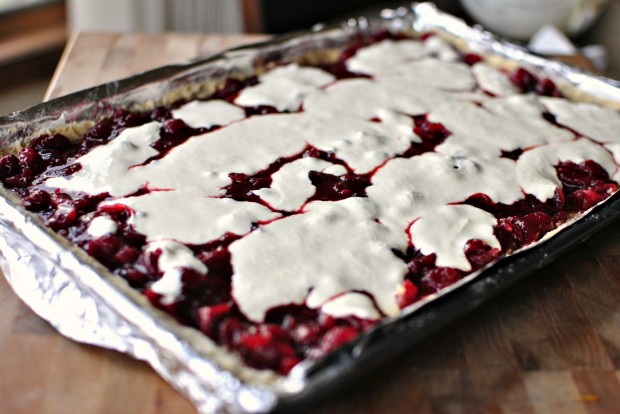 Give it a couple of taps on the counter to settle and spread the sour cream mixture out. Now just pop it back into the oven until set… about 20 minutes.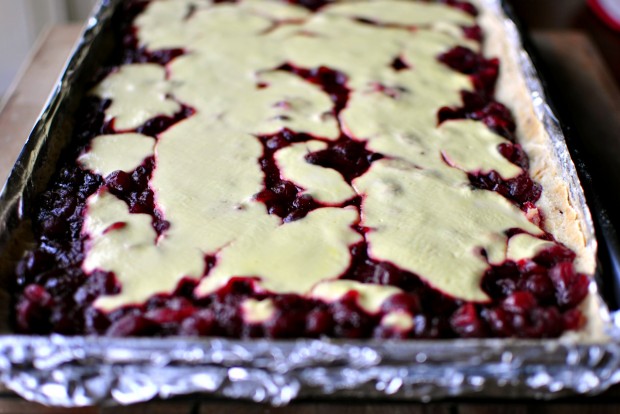 Yup. It smells like Christmas up in hurrr.
Let the Cranberry Kuchen completely cool before slicing into big fat pieces.
One piece for you… the rest for me.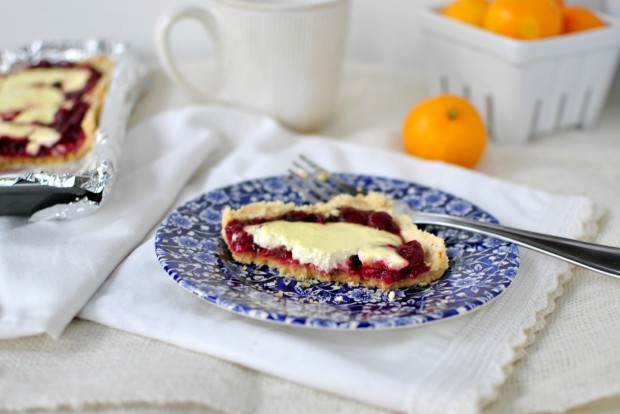 Oh and this Cranberry Kuchen also makes for a delicious breakfast the next morning… but something tells me you knew I was going to say that!
Enjoy! And if you give this Homemade Cranberry Kuchen recipe a try, let me know! Snap a photo and tag me on twitter or instagram!
My cookbook Simply Scratch : 120 Wholesome Homemade Recipes Made Easy is now available! CLICK HERE for details and THANK YOU in advance!
Yield: 12 servings
Cranberry Kuchen
This Cranberry Kuchen my family has been making FOR YEARS. I use homemade cake mix, homemade cranberry sauce and top it with a sour cream mixture and bake!
Instructions
Preheat your oven to 350°. Line a 9x13 pan with aluminum foil and spray baking spray (or grease with butter).
FOR THE CRUST:
Empty the cake mix into a large bowl and use a pastry cutter to cut in the stick of butter. Spread it all onto the prepared pan, pressing gently to form a crust.

Par-bake in oven for 10 minutes then remove it and set aside.
FOR THE CRANBERRY SAUCE:
In a medium bowl combine the homemade cranberry sauce, cinnamon and orange zest. Pour and spread over crust.
FOR THE SOUR CREAM TOPPING:
Combine the cup of sour cream with the egg and a splash of vanilla. Stir until everything is incorporated and drizzle over top of the cranberries. Tap the pan gently on the counter for the sour cream mixture to settle a bit.

Finishing baking the kuchen in the 350° oven until the sour cream mixture is set, about 20 minutes.
Serving: 1g, Calories: 337kcal, Carbohydrates: 45g, Protein: 4g, Fat: 16g, Saturated Fat: 10g, Polyunsaturated Fat: 1g, Monounsaturated Fat: 4g, Trans Fat: 1g, Cholesterol: 56mg, Sodium: 359mg, Potassium: 64mg, Fiber: 1g, Sugar: 26g, Vitamin A: 497IU, Vitamin C: 1mg, Calcium: 111mg, Iron: 1mg
[this post contains affiliate links.]
This post may contain affiliate links.
Buy the Cookbook: Simply Scratch : 120 Wholesome Homemade Recipes Made Easy Now available on Amazon »
THANK YOU in advance for your support!