Meal prep for the week with Everyday Mason Jar Salad! Healthy and perfectly portioned, layers of dressing, veggies and protein packed into portable jars.
Since the middle of March, I've completely gave up on any sort of diet plan. I ate things (peanut butter and jelly sandwiches) that I haven't had in years. Partially because going to the store for fresh ingredients wasn't as easy. Mostly because I was eating my feelings. I'm not ashamed, nor am I proud. But I'm officially back on the plan, that prior to the latest events, I had lost 25 pounds on.
I was inspired recently after talking to a longtime close friend. We swapped some recipes and ideas that have worked for us in the past and I was particularly inspired by her go-to for lunches: jar salads. We've all have heard of them and most likely have seen them on our Pinterest feeds. I took the day yesterday and wrote up 10 (TEN!) jar salad recipes that I will make and share over the next coming weeks.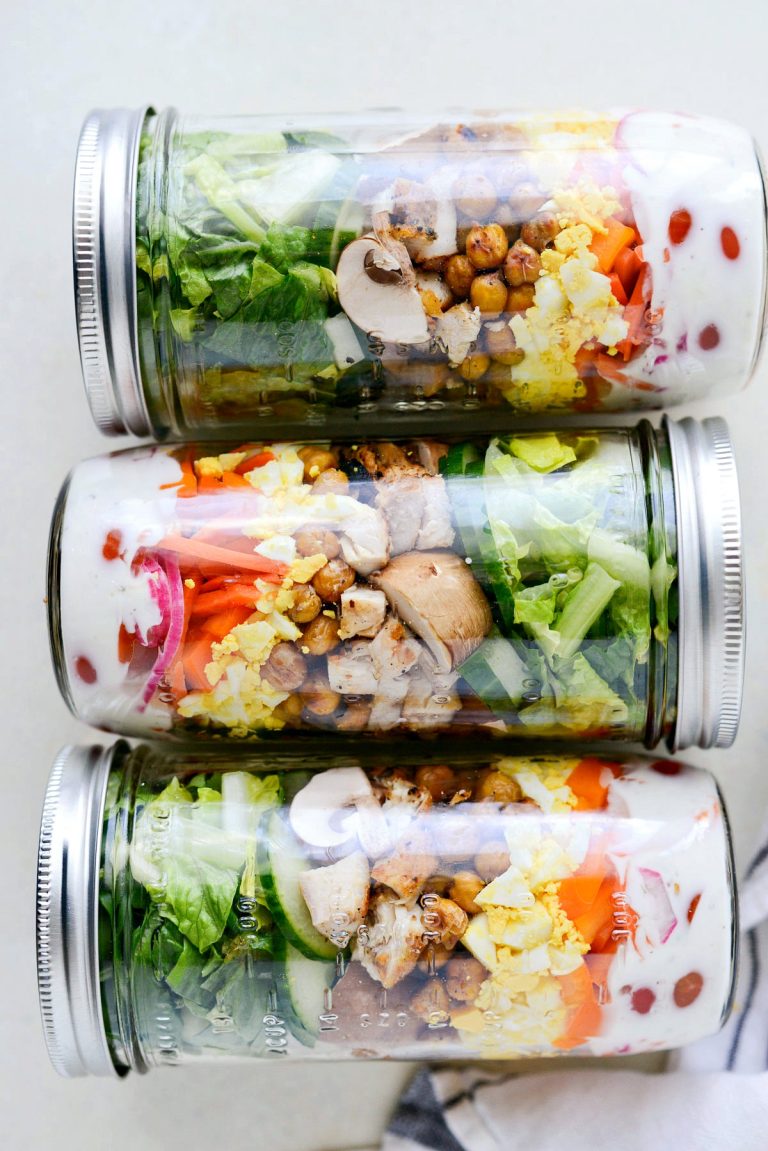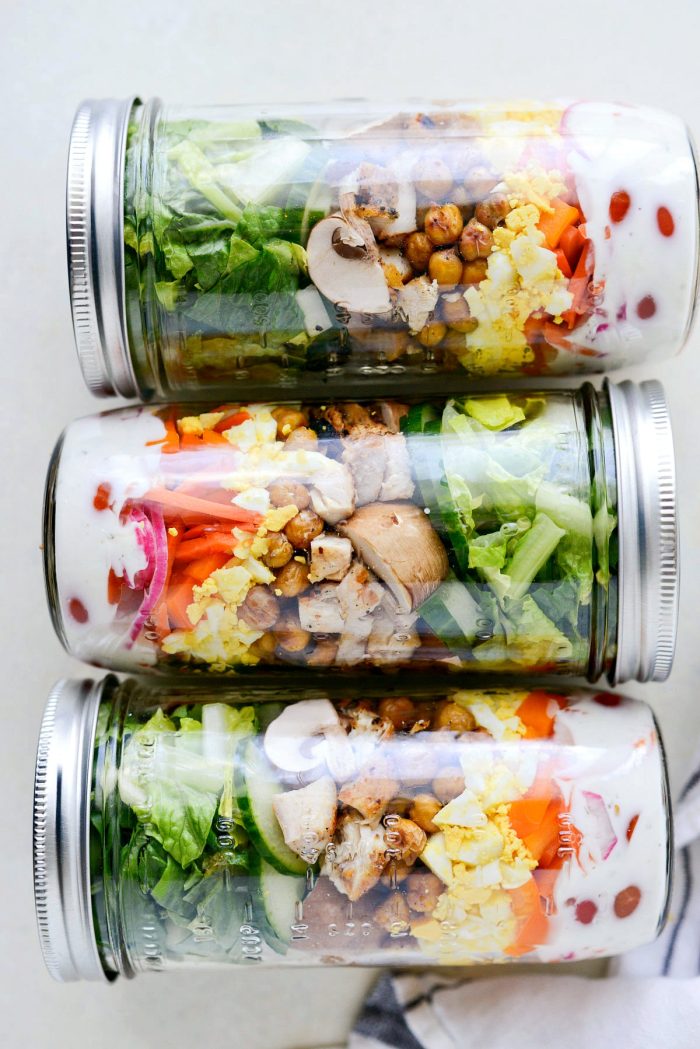 First up is this everyday salad. I channeled the rainbow with this one, layering cherry tomatoes with pickled red onions, carrots and peppers, hard boiled egg, mushrooms and cucumber, finishing with baby spinach and chopped romaine. Feel free to add and subtract the ingredients you don't like or have, it's all up to you.
To Make These Everyday Mason Jar Salad You Will Need:
jars
ranch dressing
cherry tomatoes
pickled onions
carrot
bell pepper
chickpeas – roasted or regular
leftover chicken – grilled, baked or rotisserie
mushrooms
cucumbers
romaine lettuce
baby spinach
There is a method to layering the ingredients into the jars. Start with the dressing, adding it in first and then any vegetables that won't wilt or become soggy. Lastly topping with protein and lettuce.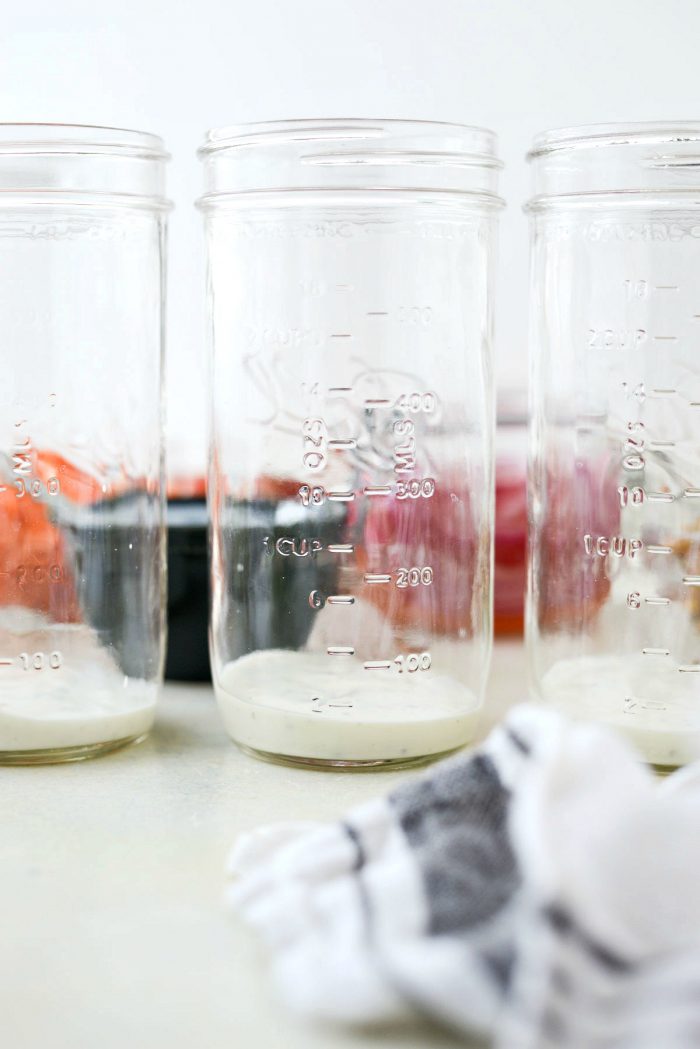 Into a glass jar, add 2 to 3 tablespoons ranch dressing. I typically do 2 tablespoons because I prefer a lightly dressed salad verses a heavily dressed one. My husband prefers the latter, so do with that what you will.
What Size Jar is Best For Making Mason Jar Salads?
I personally love and really only feel full with a giant salad. So, I use pint-and-a-half size mason jars. This size holds 3 cups which means you can layer all the things you love without compromising.
Next divide 1 cup tomato halves and a forkful of pickled or raw red onions.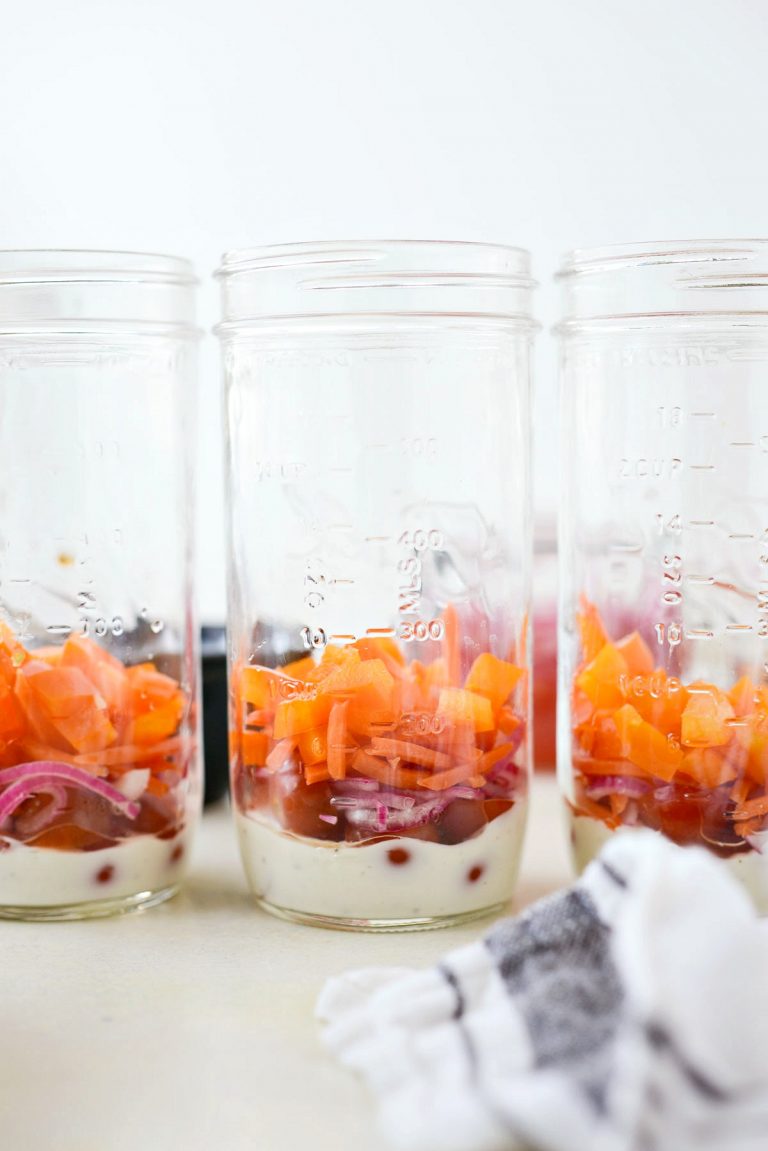 Next divide 1 cup shredded carrot and 3/4 cup bell pepper.
Add chopped hardboiled egg (1 egg per salad) and divide the roasted chickpeas to the jars as well. I'm not the biggest fan of chickpeas straight out of the can, but I love them roasted.
Then add about 1/2 cup leftover grilled chicken, divide the quartered mushrooms and sliced cucumber among the jars.
Lastly add chopped romaine and a handful of baby spinach.
Tip: I gently press down on the salads as I go, just to make sure everything fits.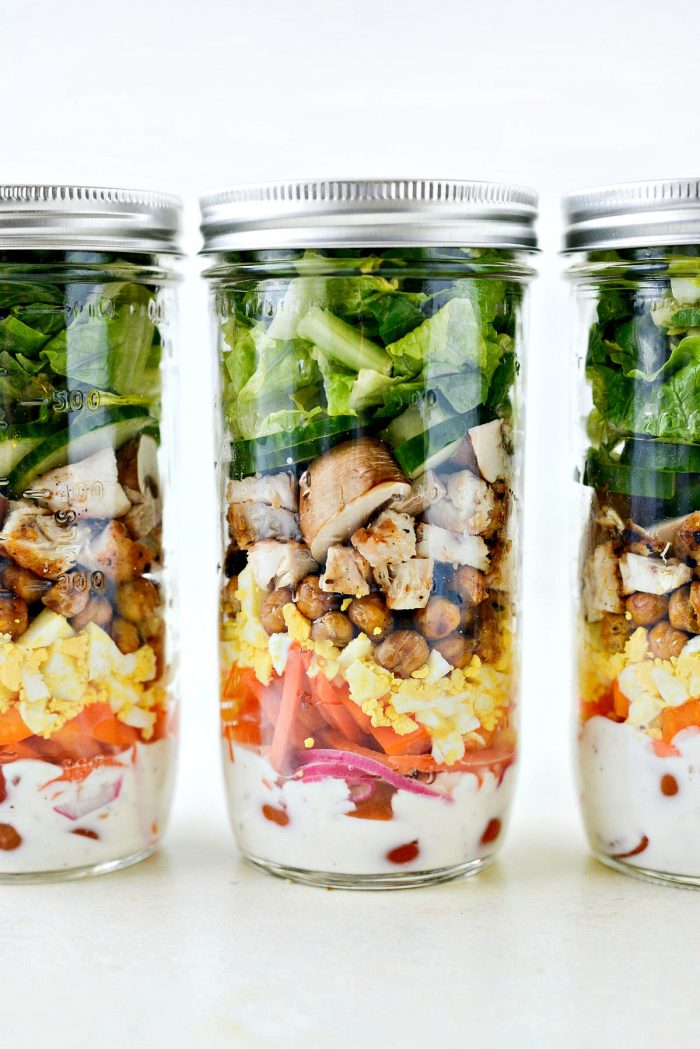 Secure the lid and there you have it: your everyday mason jar salad ready to go for the week.
Now if you work from home, you can omit the dressing and pour it on right before serving. Otherwise, dump the entire salad contents out onto a plate and enjoy!
Enjoy! And if you give this Everyday Mason Jar Salad recipe a try, let me know! Snap a photo and tag me on twitter or instagram!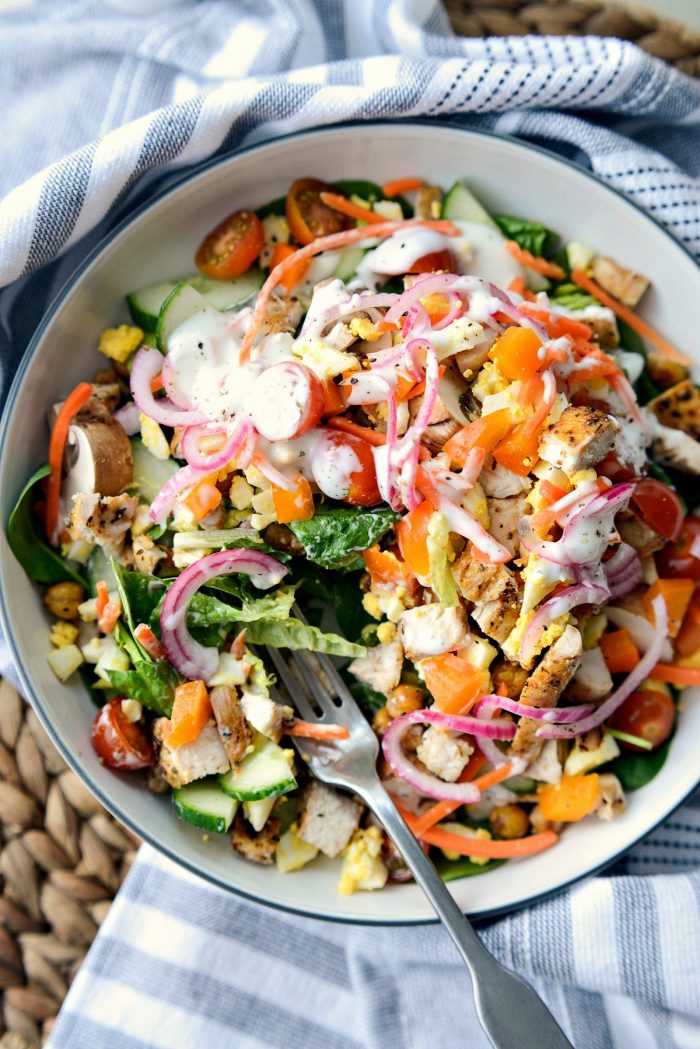 This post may contain affiliate links.
Buy the Cookbook: Simply Scratch : 120 Wholesome Homemade Recipes Made Easy Now available on Amazon »
THANK YOU in advance for your support!