There is nothing like a warm hard boiled egg. The velvety yolk is what I love the most, especially sprinkled with kosher salt and lots of fresh cracked black pepper. What I don't like? A yolk that is slightly green, just looks so unappetizing.
But I'm sure most of you guys know how to avoid overcooking or over-boiling your eggs which is great! But for those who have no idea that the yolk is suppose to be yellow and not olive green… well, this post is for you!
This is an easy, fool-proof way to make perfect hard boiled eggs… every single time!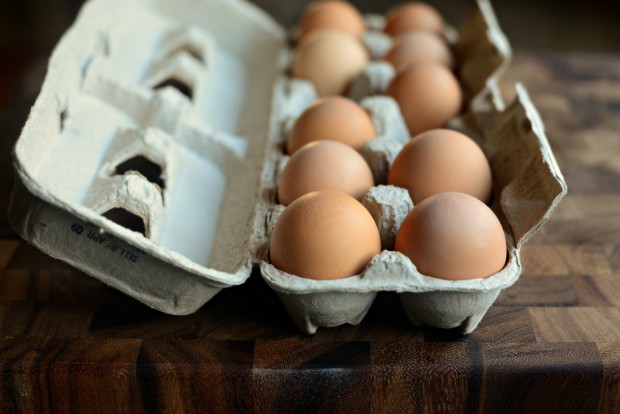 Start off with some fresh eggs. You know how I feel about fresh farm eggs so I won't go in on about how I highly recommend using farm eggs because with store bought, you never know how long they have been sitting in the back before making it to the store shelf, not to mention their nutritional value…and I know how annoying that can be, so I'll save you from my soap box speech. 😉
Really though, you can use any eggs, just follow these simple and easy steps.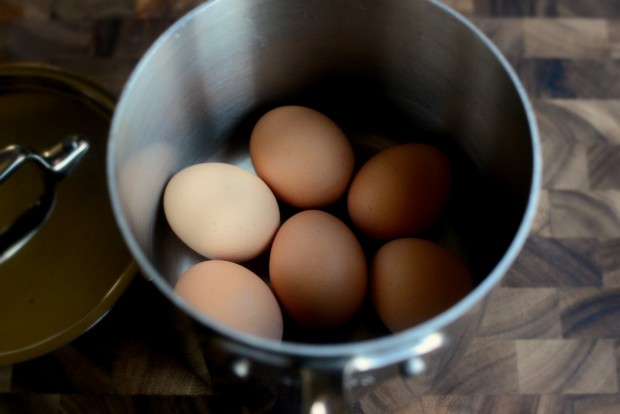 Depending on the size of the pot you're using, place however many eggs in a single layer on the bottom.. The important thing is to make sure the eggs are in a single layer, DO NOT stack the eggs on top of each other. Stacking could lead to cracking… hey I'm a poet!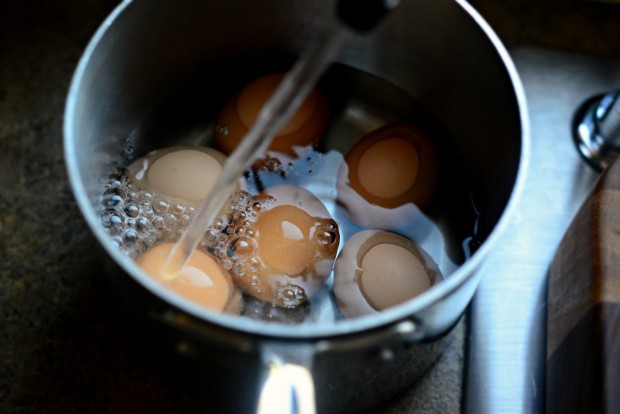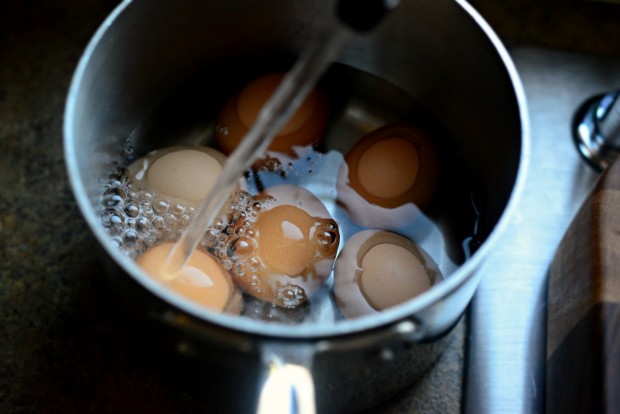 Fill the pot with cold water just until they reach about an inch or two above the top of the eggs, but still leaving a good amount of space from the top of the pot.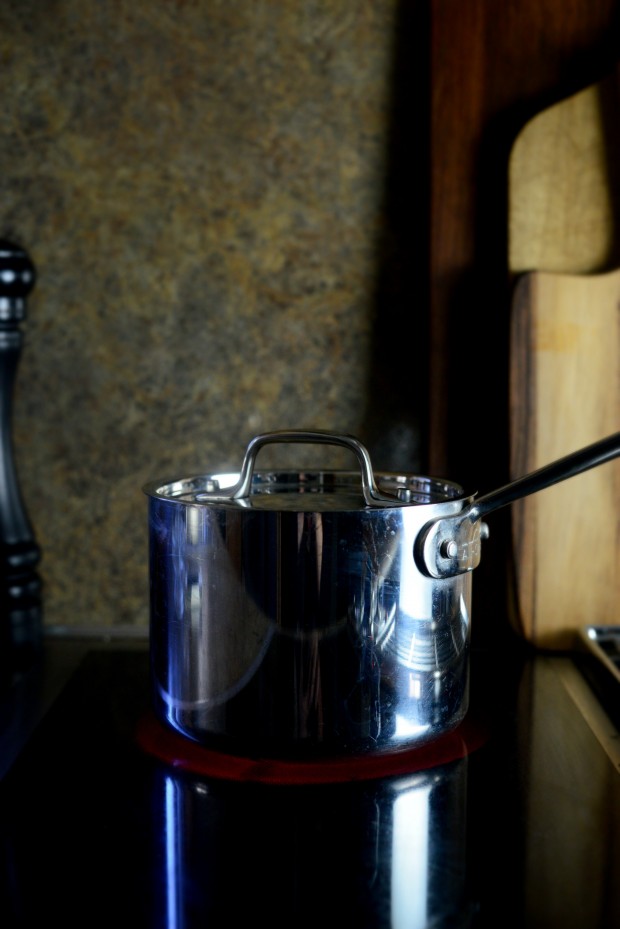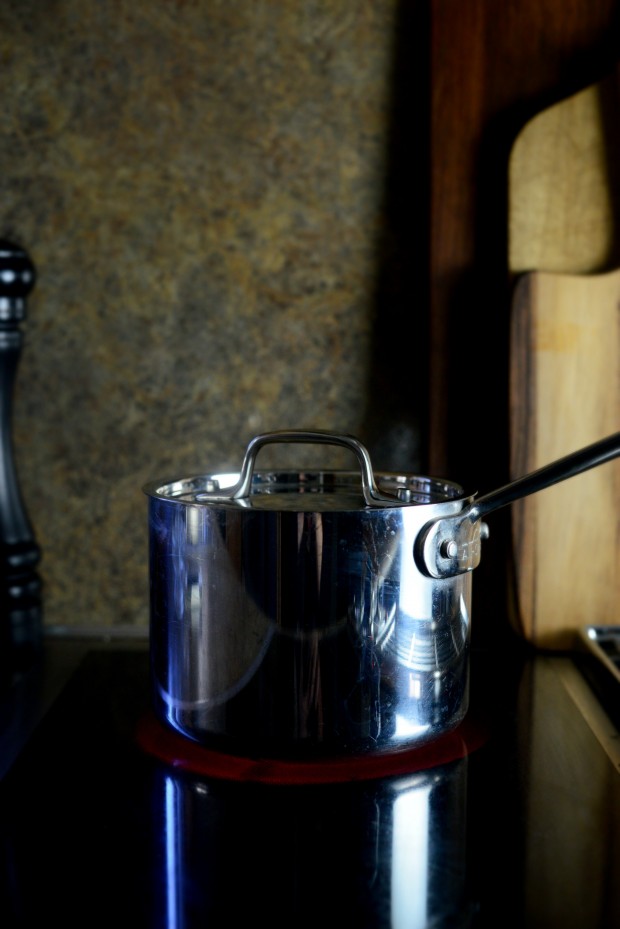 Cover and bring the water to a full boil.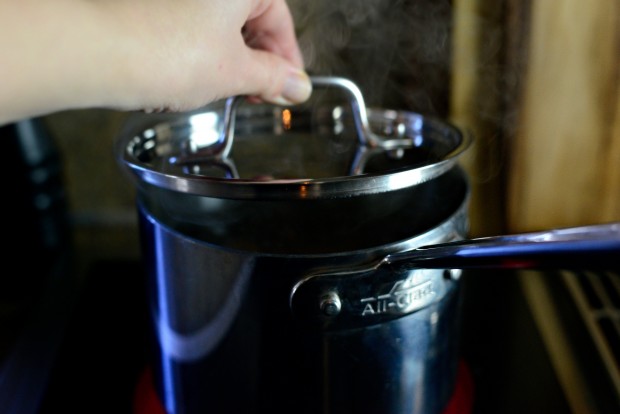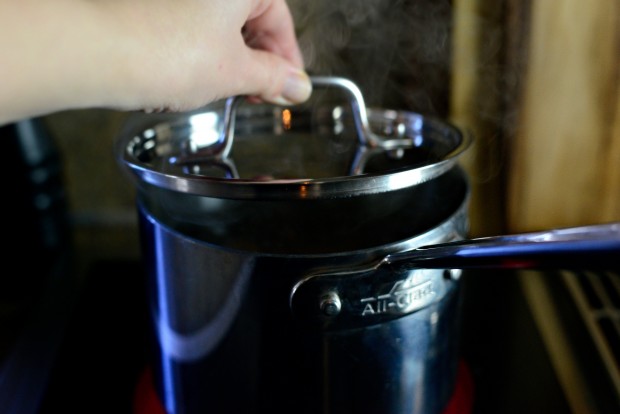 Check and make sure the water is at a rolling boiling, then kill the heat.
Set your timer for twelve minutes, and in twelve minutes precisely you will have the most beautiful yellow yolks!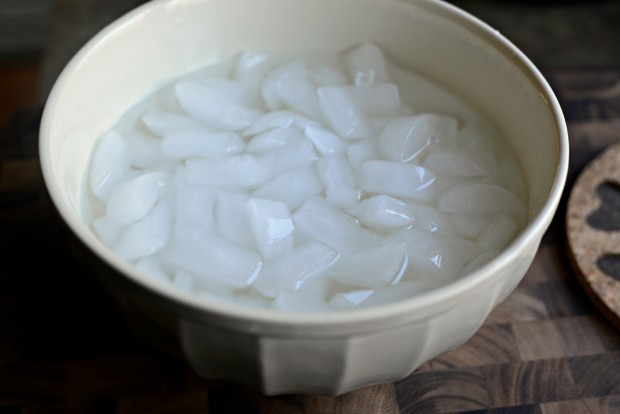 In the meantime, fill a bowl with ice and cold water.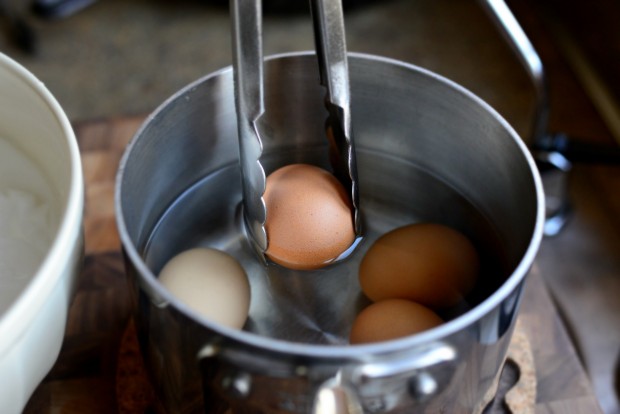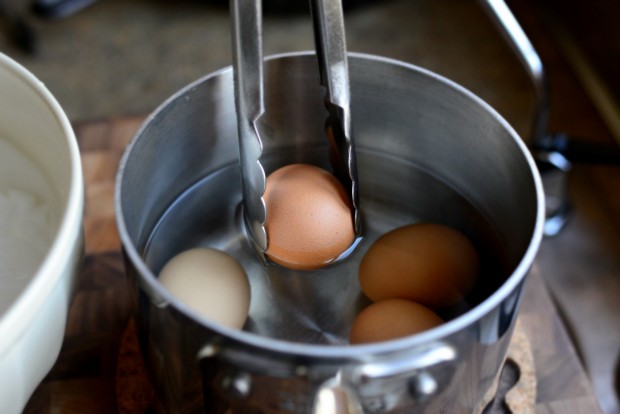 When the timer chimes: use tongs to remove each egg.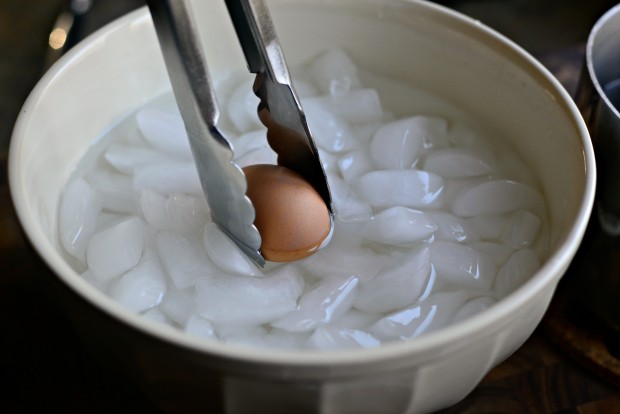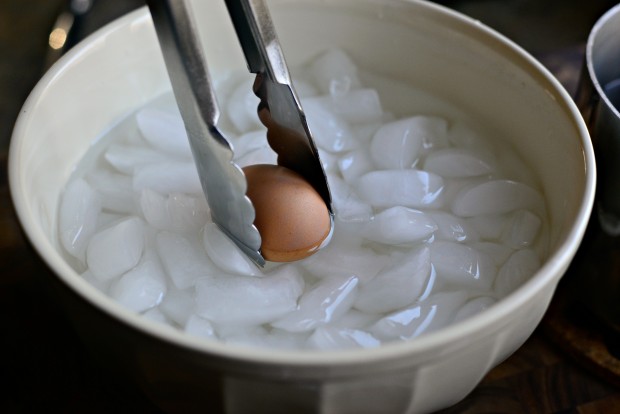 …and then place the eggs into the icy cold water. This stops the cooking process and makes the eggs easier to handle while peeling.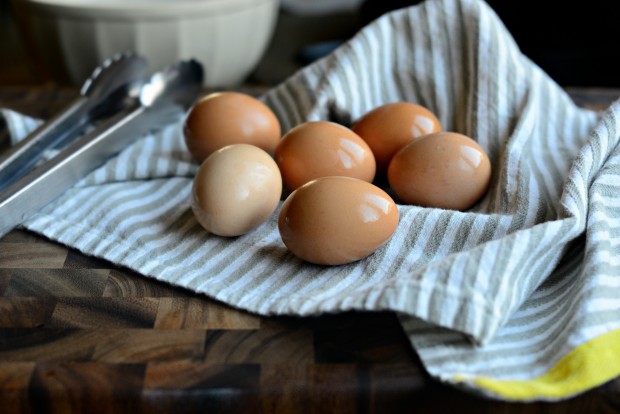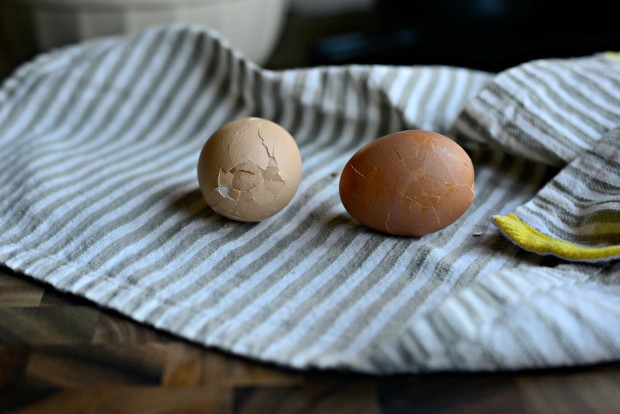 Pat dry, then tap the eggs at both ends and around the egg.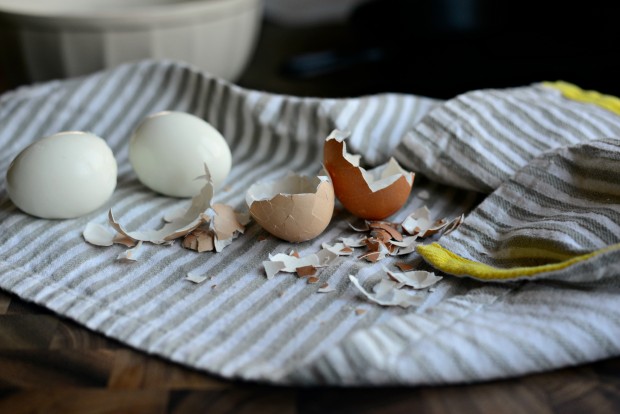 Remove and discard the shells… (obviously, right?)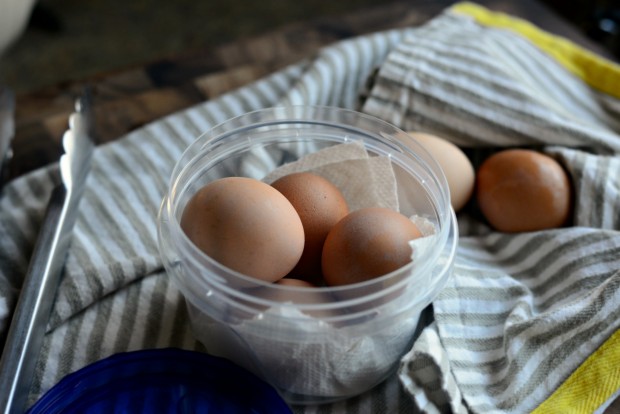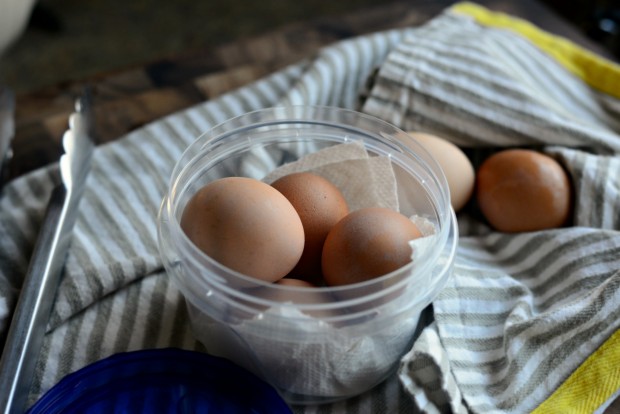 Any unpeeled eggs can be placed in some sort of container and refrigerate for a later day… but I was having a couple of these for lunch so why now finish what I started and show you what non overcooked hard boiled egg looks like!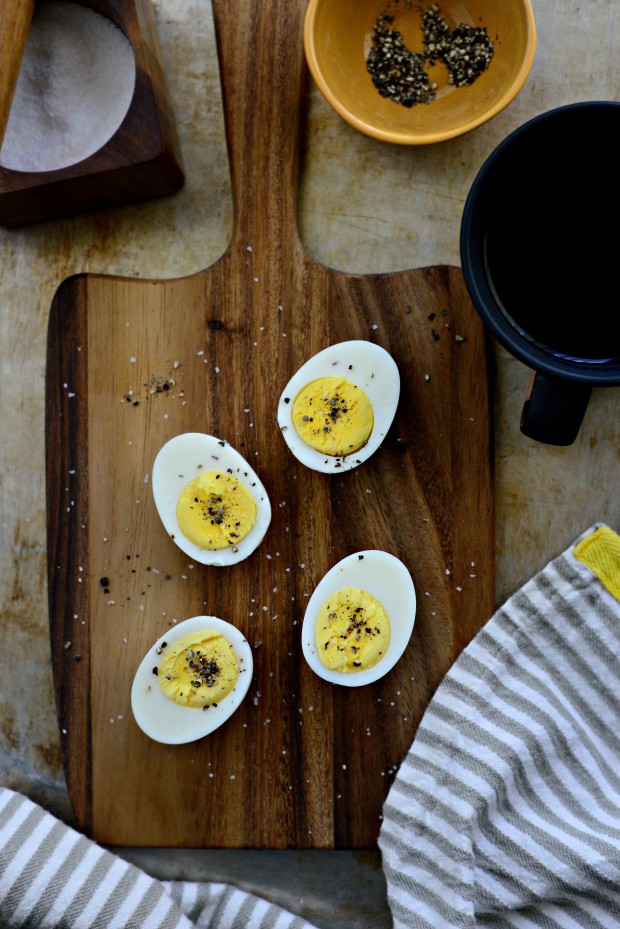 I like mine sliced in half and seasoned with fresh ground black pepper and kosher salt before happily stuffing my face.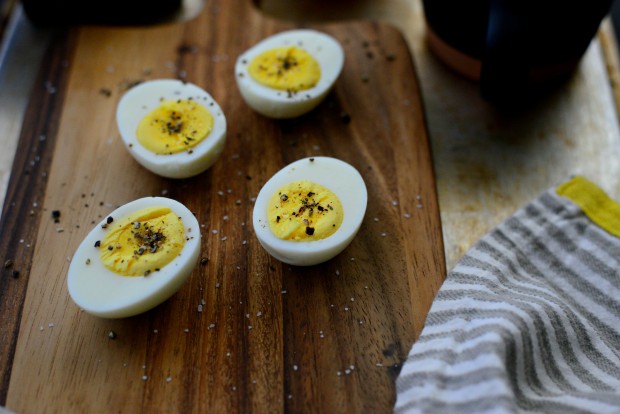 See the proof is in the yolk!
Enjoy! And if you give this Hard Boiled Eggs recipe a try, let me know! Snap a photo and tag me on twitter or instagram!
This post may contain affiliate links.
Buy the Cookbook: Simply Scratch : 120 Wholesome Homemade Recipes Made Easy Now available on Amazon »
THANK YOU in advance for your support!