Toast slathered with a creamy, dreamy whipped feta and topped with marinated tomatoes. For a healthy and flavorful snack you'll just love!
Right now we have SO many tomatoes growing in our garden. We have five plants total, early girls, roma, some monster variety (I have no idea what they're called) and a cherry tomato plant. Most are green and yet to turn but my husband and I check daily, waiting and watching them, ever so slowly going from green to orange to red, once they're red we'll pick them and use them immediately.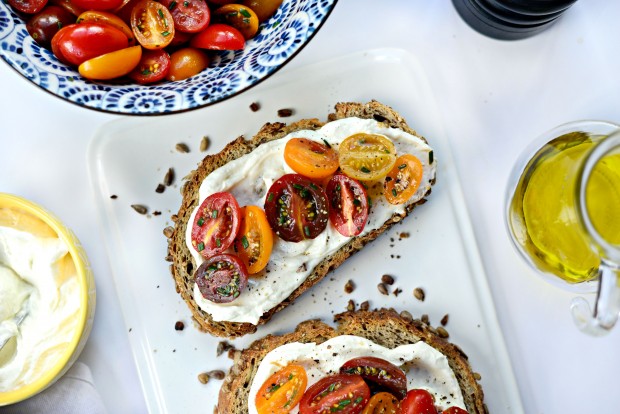 As all my fellow tomato lovers know, nothing beats a homegrown tomato. Grocery store maters just don't compare to the flavor of ones that you watch grow from seed, to plant to fruit. There's something extremely magical about them and for the past 3 summers we've been planting more and more tomato plants. Currently I'm waiting, fingers steepled- for my romas. THOSE are going to make some excellent sauce and pico and soup. OHMYGOSH can you tell I'm excited?
Besides putting tomatoes on tacos or in a salad, I love them marinated. It's a recipe that's not really a recipe but it does allow the sweetness of the tomato to shine. Sometimes I make these to top on hummus-slathered or avocado-smashed toast but today I set out to make whipped feta. It's been on my cooking bucket list since I first saw it on Jessica's blog, How Sweet Eats a few years ago.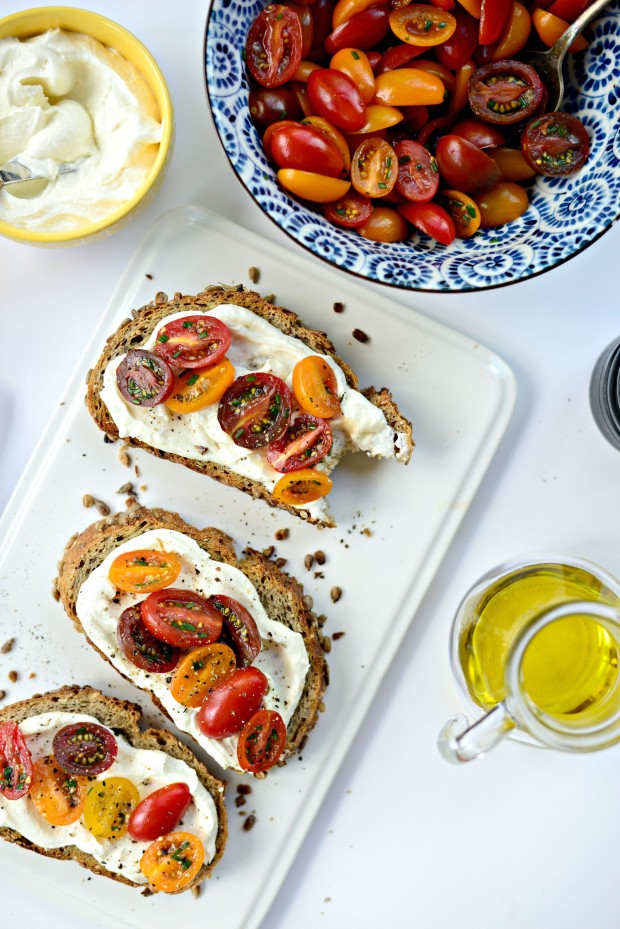 And lemme tell ya… whipped feta tastes as magical as it sounds. I'm a total fan.
Slice about a pound of small tomatoes in half. Cherry, grape, sungolds… mix'em up or don't, it's totally up to you.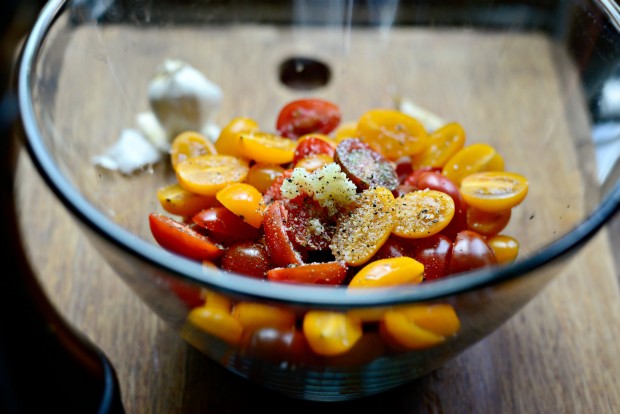 Next I squeeze a clove of garlic through a garlic press and right on into the bowl-o-tomatoes. Then I season with a couple pinches of kosher salt and a few turns of freshly ground black pepper.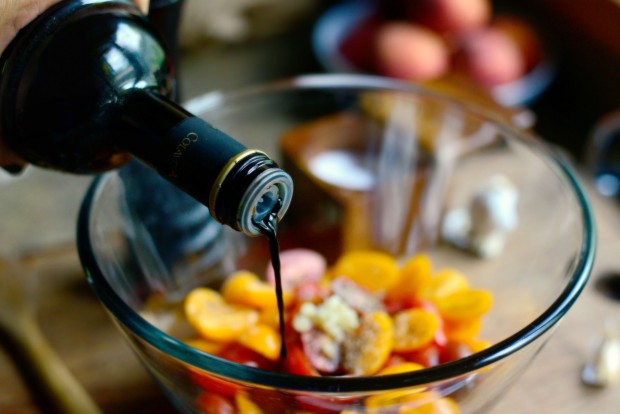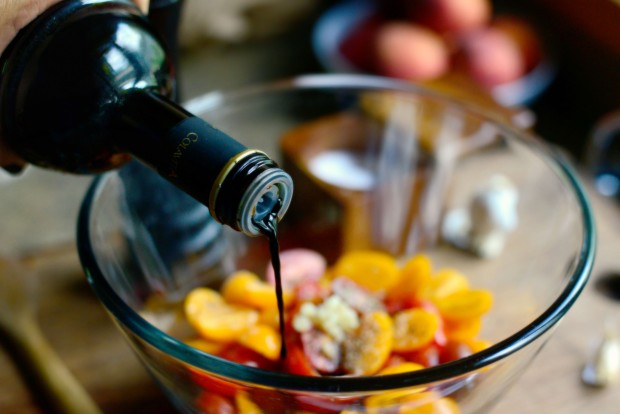 Then a splash of balsamic vinegar…
…a splash of olive oil.
Give it a toss…
And then for a little green, add some chives or green onions or sometimes basil or parsley. Anything goes here.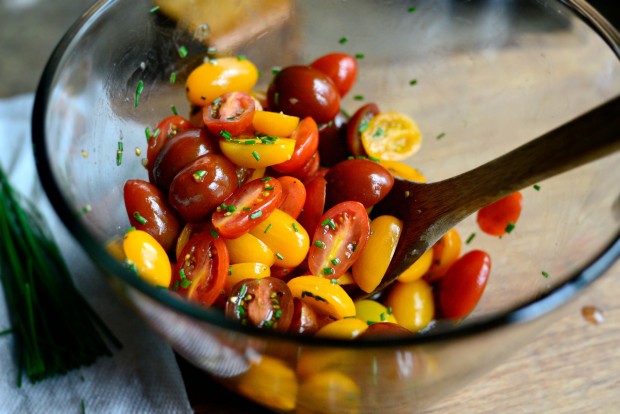 Scoot this bowl of tomato bliss off to the side and let's whip some feta.
It all starts with an 8 ounce brick of feta cheese.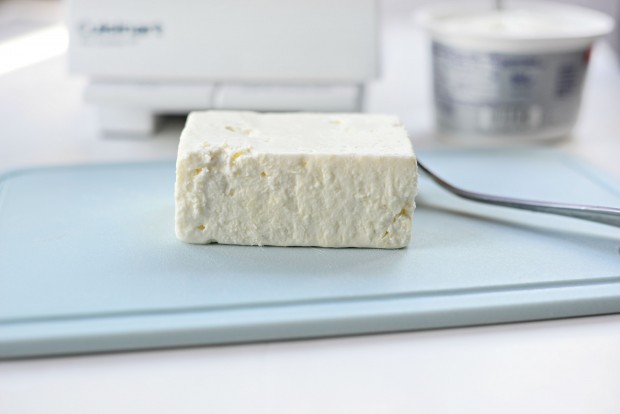 Good feta is around $5-8 per package. I haven't tried it with pre-crumbled feta but I wonder if it's coated with anything that keeps it from sticking, and if it is, would it make a difference? I honestly don't know. But hey, crumbling feta is kinda fun, I let Malloree (my almost 11-year-old) give it a go.
She did a pretty good job. So yeah, just crumble this block-o-cheese into chunks…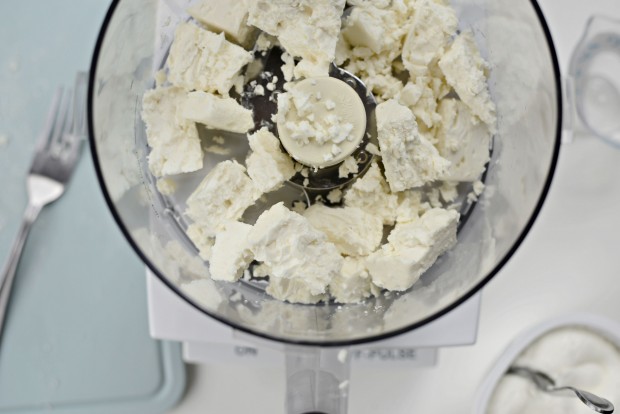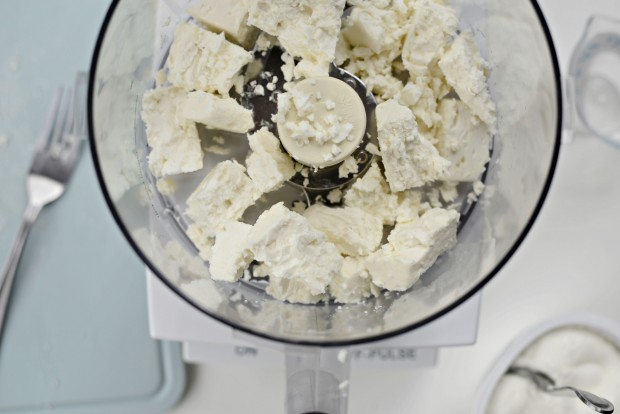 …throw it into the bowl of your food processor…
Add in a couple (heaping) tablespoons of whipped cream cheese. Jessica's recipe calls for 2 ounces but I had Malloree just spoon two heaping tablespoons in. Ps. we have matching nail polish.
In Jessica's post she mentioned trying regular cream cheese versus Greek yogurt and said the whipped cream cheese won overall for the ultimate a fluffy feta whip.
Secure the lid and flip the switch.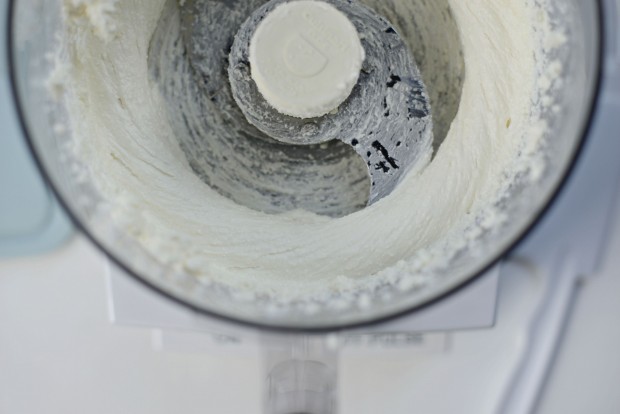 Then after about 2 minutes you'll see it starting to thin out a tad and get all creamy like. Stop the motor to scrape down the sides.
Start it back up for a couple more minutes until smooth and dreamy and ready to be spread. I'm thinking a toasted everything bagel is in this spreads very near future.
I made a special stop at a local bakery for a loaf of their Saskatoon Prairie Seed bread. It's whole-grain plus it has whole flax, pumpkin, sunflower and sesame seeds. It's my favorite loaf they make. So when I want good toast, I pick up a loaf.
After a light toast, I rub one side with a raw clove of garlic.
Next spread some of the whipped feta on the toasted bread, then spoon the marinated tomatoes over that and a few more grinds of black pepper for good measure.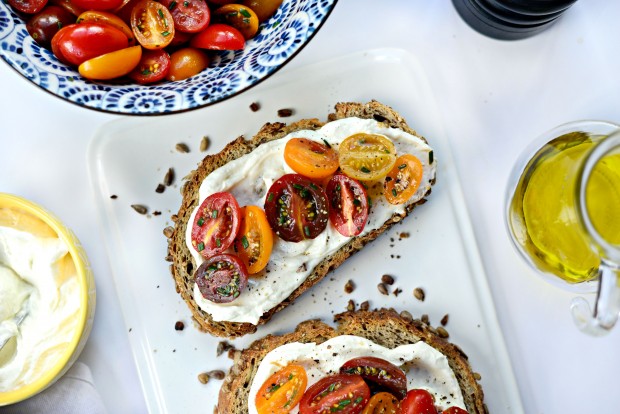 The toasted bread, the sweet and tangy and pleasantly garlicky tomatoes…
With the creamy whipped feta.
And my daughter's had mid-sneak. 😉
Enjoy! And if you give this Whipped Feta with Marinated Tomatoes on Toast recipe a try, let me know! Snap a photo and tag me on twitter or instagram!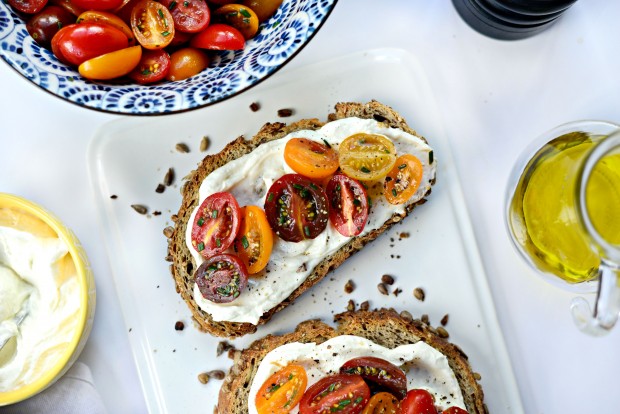 My cookbook Simply Scratch : 120 Wholesome Homemade Recipes Made Easy is now available! CLICK HERE for details and THANK YOU in advance!
Yield: 8 servings
Whipped Feta + Marinated Tomatoes on Toast
Toast slathered with a creamy, dreamy whipped feta and topped with marinated tomatoes. This recipe yields 1 cup whipped feta or 8 toasts.
Ingredients
FOR THE TOMATOES:
1 pound cherry tomatoes, cherry, sungold, grape etc., halved
1 clove garlic, finely minced or squeezed through a garlic press
kosher salt, to taste
freshly ground black pepper, to taste
1 splash balsamic vinegar, be generous
1 splash olive oil, be generous
1 tablespoon snipped fresh chives
FOR THE WHIPPED FETA:
8 ounces feta cheese, in a block and not pre-crumbled
2 rounded tablespoons whipped cream cheese
FOR THE TOASTS:
1 loaf crusty bread, sliced
1 clove garlic
Instructions
In a bowl add the tomato halves, garlic, salt, pepper, vinegar, oil and chives. Stir to combine and then set off to the side to marinate.

In the bowl of your food processor, fitted with the blade attachment, add feta and whipped cream cheese. Process until smooth, stopping halfway to scrape down the sides.

Toast slices or bread and rub with clove of garlic on one side. Smear with whipped feta and spoon marinated tomatoes over top and a little extra fresh ground pepper.
Serving: 1g, Calories: 233kcal, Carbohydrates: 32g, Protein: 11g, Fat: 7g, Saturated Fat: 5g, Polyunsaturated Fat: 1g, Monounsaturated Fat: 2g, Cholesterol: 25mg, Sodium: 580mg, Potassium: 210mg, Fiber: 2g, Sugar: 4g, Vitamin A: 415IU, Vitamin C: 13mg, Calcium: 170mg, Iron: 2mg
[this post contains affiliate links.]
This post may contain affiliate links.
Buy the Cookbook: Simply Scratch : 120 Wholesome Homemade Recipes Made Easy Now available on Amazon »
THANK YOU in advance for your support!