Blistered shishito peppers dipped in a smoky, white cheddar ailoi. Smoky, delicious and I just know you'll love them as much as I do.
I hit the grocery lottery when I found a bag of perfect, unblemished shishito peppers at the store yesterday.
It's just my luck always being a day or two late, finding them soft and starting change from green to orange-ish color. Ew. That was exactly the case last week when I stumbled upon a small shelf holding a few bags of them. I WANTED TO BUY THEM SO BAD! I picked up a bag, inspecting them only to put them down, repeating this multiple times before deciding against buying them because these peppers should be green and firm- not orange and withering away. AND boy am I so glad I waited because this week there must have been a very recent delivery and the peppers were poifect.
I grabbed a bag, went home to blister the beejesus out of them.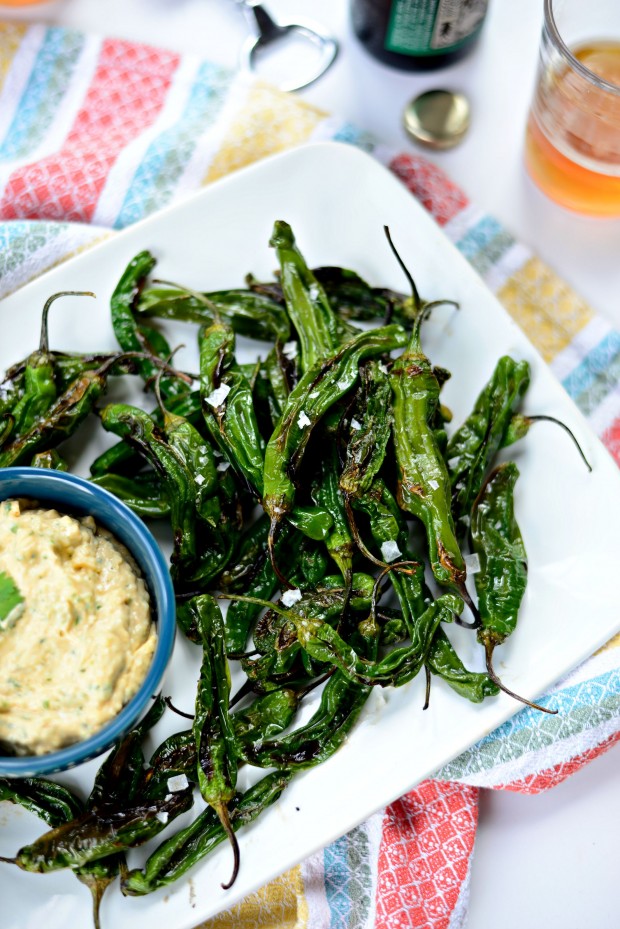 The first time I had these peppers was a few years ago when I was in Austin for a BlogHer food conference. The appetizer came out with some sort of dip alongside and I basically hovered over the platter like a vulture eyeing its prey. Blistered shishito pepperes are d-e-l-i-c-i-o-u-s and strangely addicting. Sometimes you'll stumble over a mildly spicy one, but as a rule these are mild peppers.
The whole process of roasting shishitos only take minutes, all you need is a cast iron skillet and a hot oven and I personally need some sort of dip. So I made a tasty smoky white cheddar aioli with ingredients I found in my fridge and spice drawer. These two together was epic deliciousness.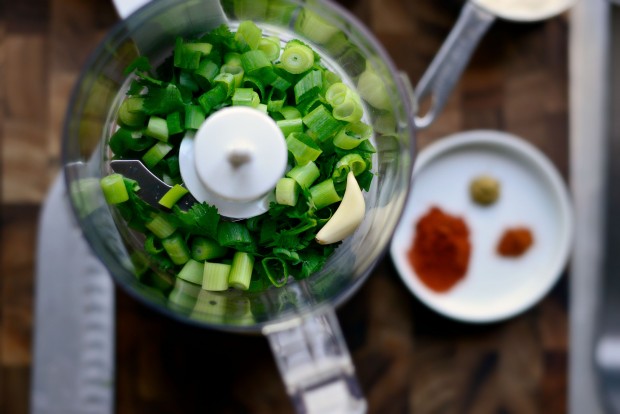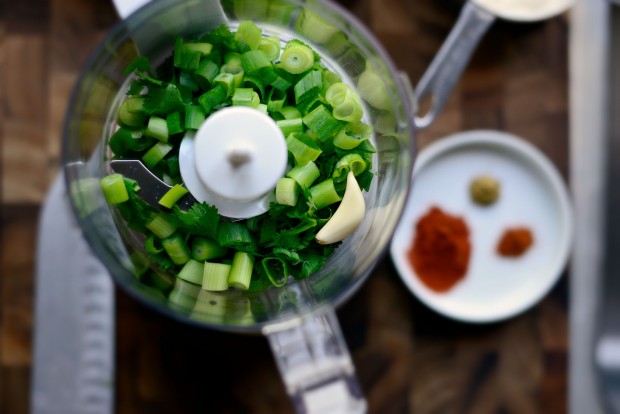 For the aioli: in a mini food processor add in 1/4 cup fresh cilantro, 2 sliced green onions and a clove of peeled, fresh garlic.
Pulse until finely chopped.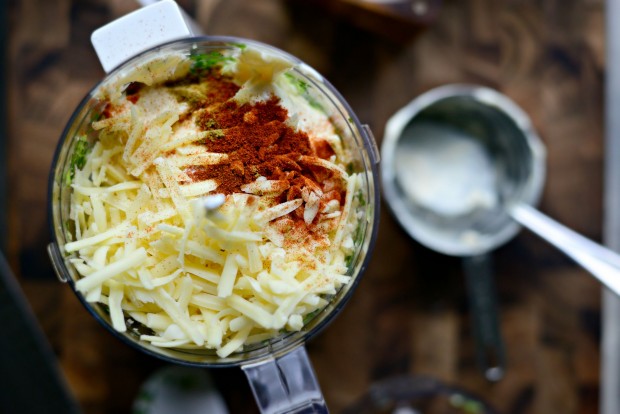 Next measure and add in a cup of mayonnaise, a cup of sharp white cheddar cheese and 3/4 teaspoon of smoked paprika, 1/4 teaspoon cumin and 1/8 teaspoon cayenne pepper.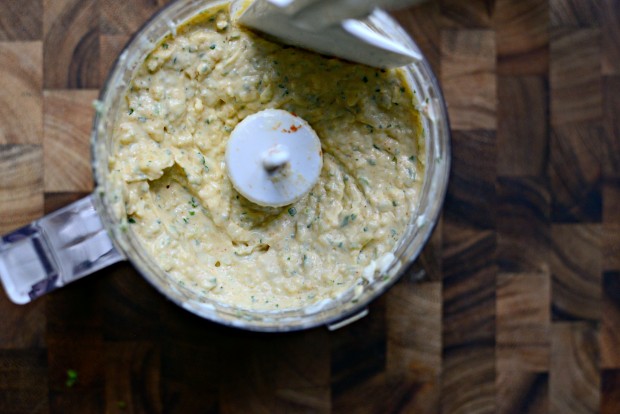 Then just pulse to combine. Transfer this to a container with a lid or wrap the top of the food processor bowl in plastic wrap, pop it into the fridge until ready to use. If the aioli is a little too thick you can thin out with a spash or two of milk.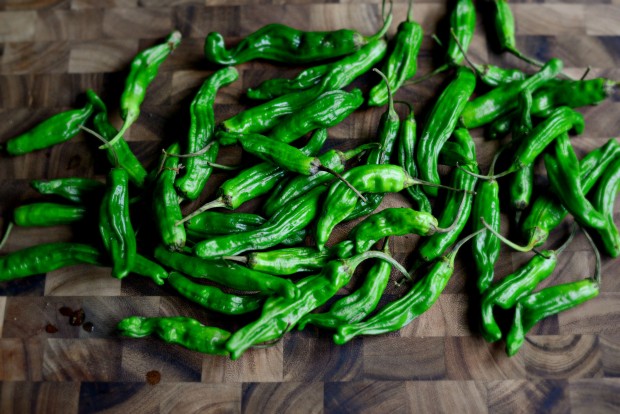 Meet the shishito.
Give them a quick rinse under cool water, I found a little dirt and leafy bits on mine.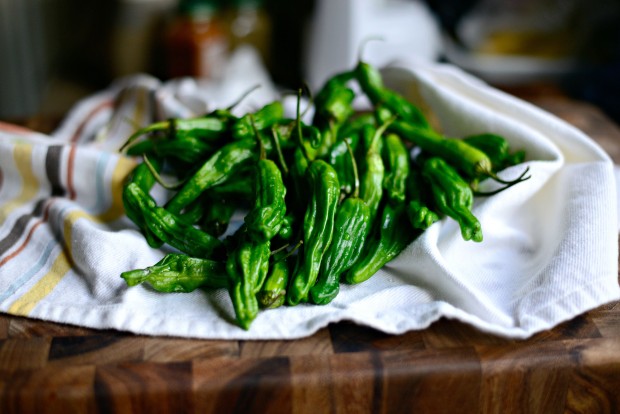 Pat the peppers dry with a kitchen towel.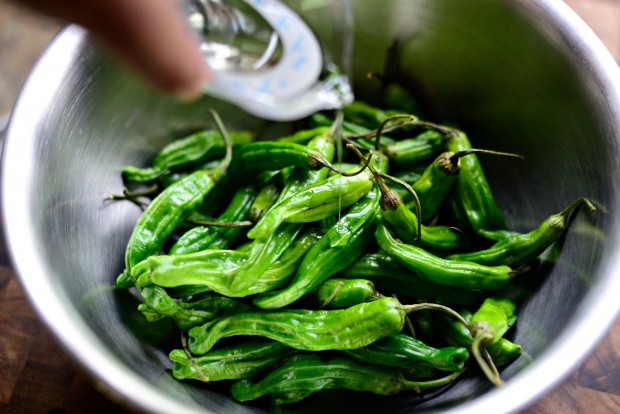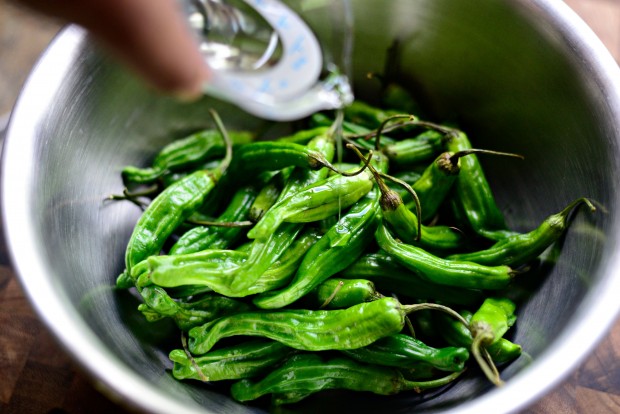 Because I'm sliding these under a broiler (oven temp around 500 degrees) I'm using sunflower oil… 1 tablespoon.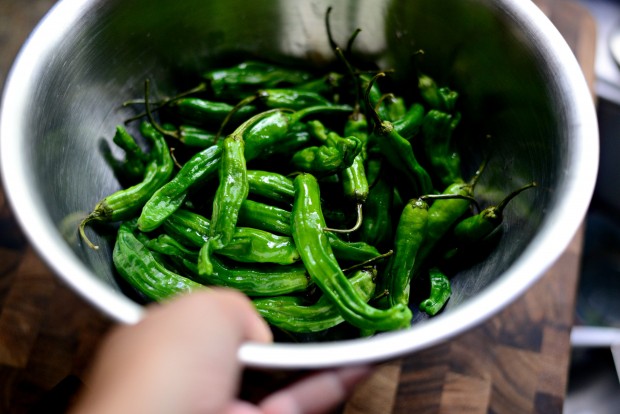 Give the peppers a toss to coat…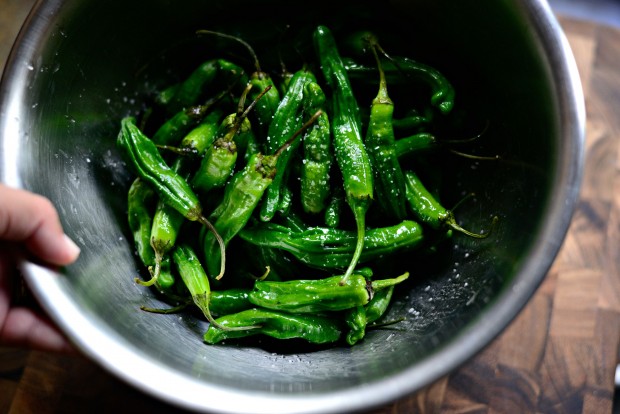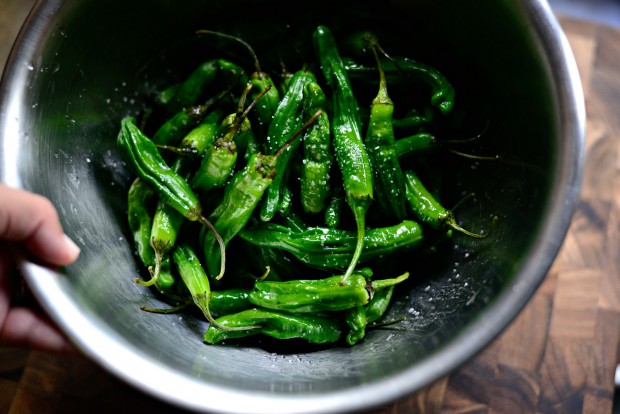 Sprinkle with a pinch of kosher salt…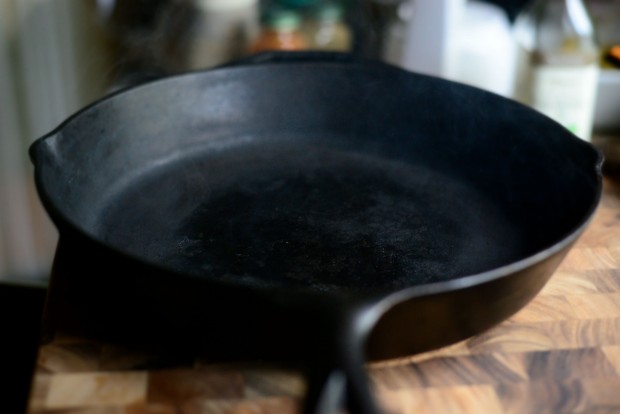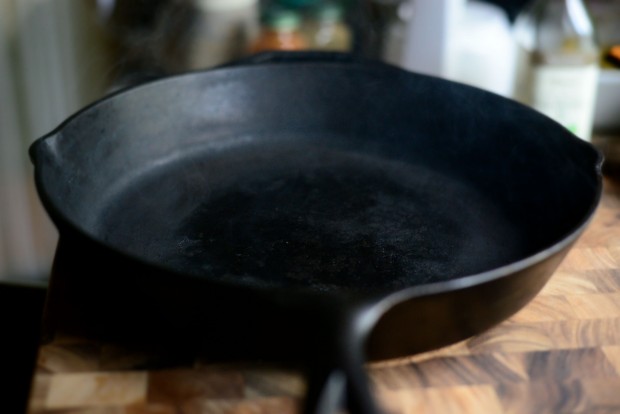 Meanwhile I had placed my 12-inch skillet into my oven on the highest rack while it preheated to 500 degrees.
Add the peppers into the HOT skillet (be super careful NOT to grab the handle as your hand will most likely melt off) you'll hear the peppers sizzle. I switch on the broiler and slide the pan directly under the heating element.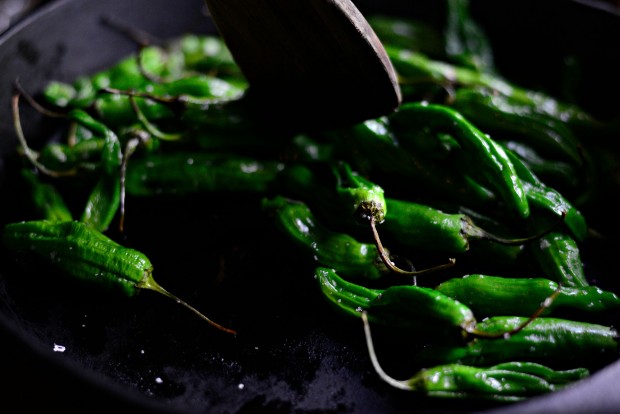 After 1 to 2 minutes remove and toss them around.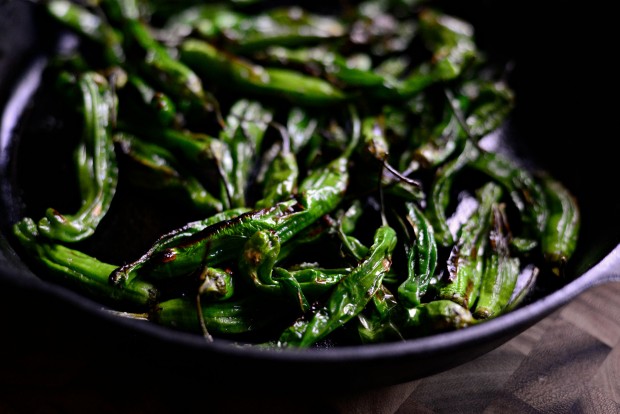 Repeating this a second time or until the peppers are perfectly blistered.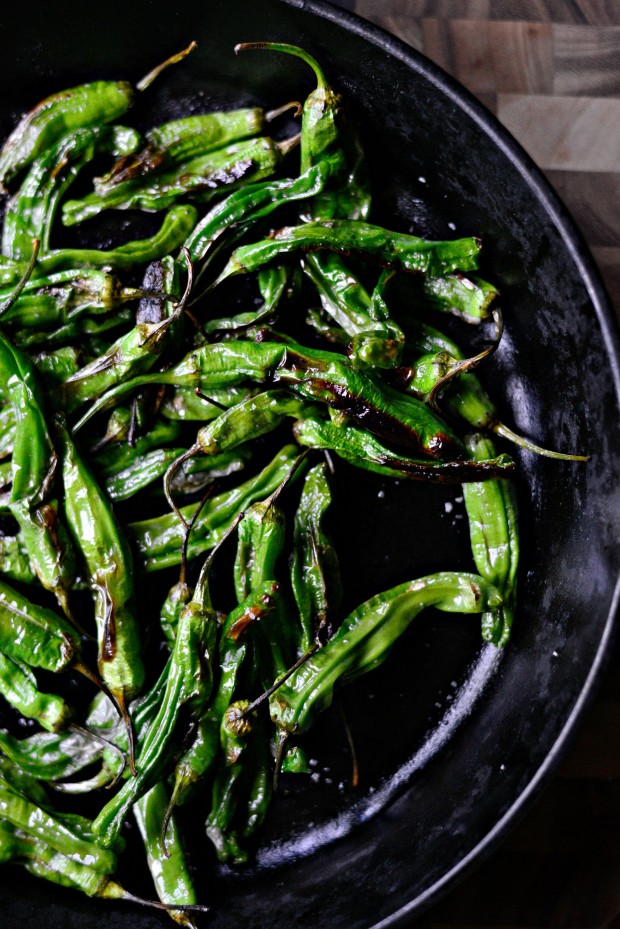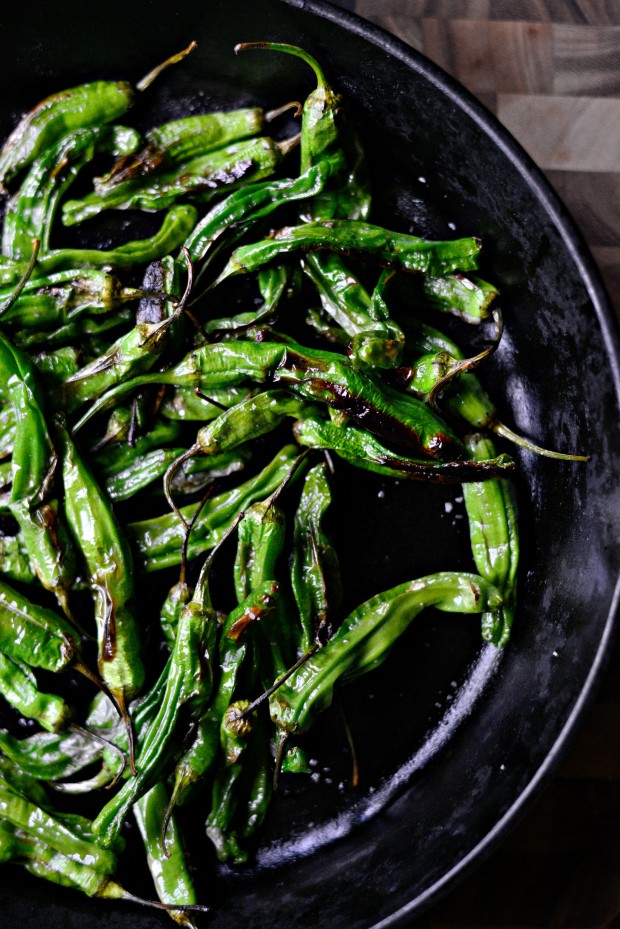 Blistered beauties.
I sprinkled them with a little extra flaked sea salt right when they came out of the oven, then slid them onto a plate right next to the smoky cheddar aioli.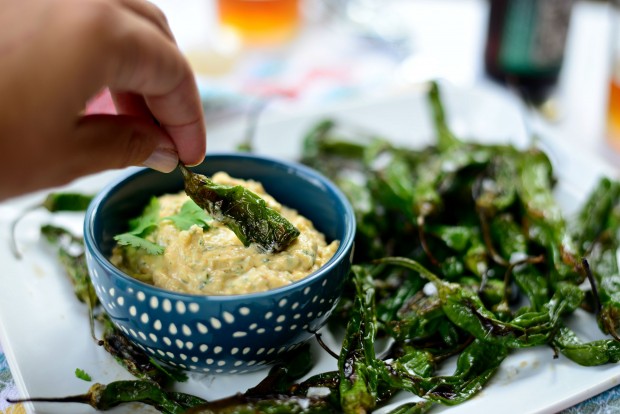 You MUST dip these blistered peppers in this smoky-cheddar-y aioli. It's is beyond delicious and really goes with the peppers. It's perfect. I only used half of the aioli for the "dip" and plan to swipe the rest on a sandwich.
My oldest and I sat down and demolished this batch in 3.5 seconds- a new record.
Enjoy!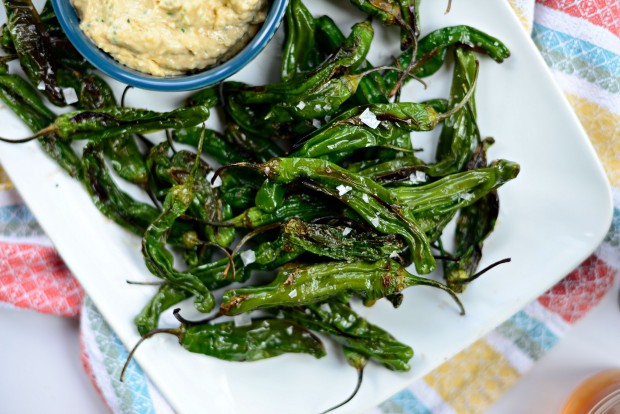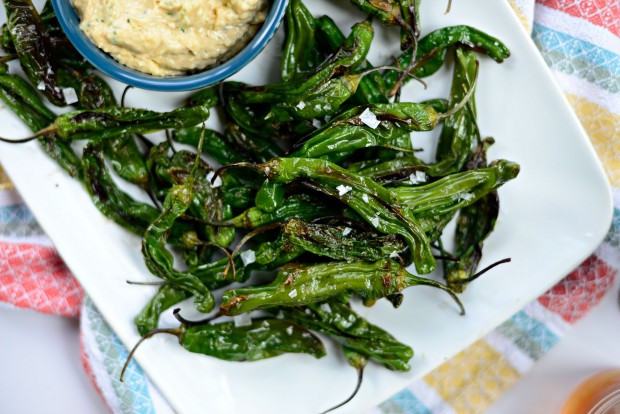 Yield: 6 servings
Blistered Shishito Peppers + Smoky White Cheddar Aioli
Blistered shishito peppers dipped in a smoky, white cheddar ailoi.
Ingredients
WHITE CHEDDAR AIOLI:
1/4 cup cilantro
2 green onions, sliced
1 clove peeled garlic
1 cup shredded sharp white cheddar
3/4 teaspoon smoked paprika
1/2 teaspoon kosher salt
1/4 teaspoon ground cumin
1/8 to 1/4 teaspoon cayenne pepper
1 splash milk, optional - if needed
1 cup mayonnaise, homemade or store-bought
FOR THE PEPPERS:
8 ounces fresh shishito peppers
1 tablespoon sunflower oil or light olive oil
1 pinch kosher Salt
sea salt, for serving
Instructions
Add the cilantro, onions and garlic to the bowl of your mini food processor. Pulse until finely chopped. Add in the mayonnaise, cheddar and spices. Continue to pulse until all the ingredients are incorporated. If aioli is still a little thick you can thin out with a splash of milk.

Cover and refrigerate until ready to use.

Place rack in the top most position of your oven. Slide a 12-inch cast iron skillet onto the rack and preheat your oven to 500 degrees.

Rinse the peppers under water and pat dry with a kitchen towel. Toss the peppers in a bowl with oil and kosher salt.

Once the oven and skillet are preheated, using own mitts, carefully remove the skillet to a heat safe trivet and add in the peppers. Place the skillet back into the oven, turn the oven to broil and cook for 1 to 2 minutes. Remove and stir with a wooden spoon and place back into the oven for another minute or two or until perfectly blistered.

Transfer to a platter, sprinkle with sea salt and serve with smoky white cheddar ailoi.
Serving: 4peppers, Calories: 364kcal, Carbohydrates: 3g, Protein: 6g, Fat: 37g, Saturated Fat: 9g, Polyunsaturated Fat: 17g, Monounsaturated Fat: 10g, Trans Fat: 1g, Cholesterol: 35mg, Sodium: 561mg, Potassium: 148mg, Fiber: 2g, Sugar: 2g, Vitamin A: 568IU, Vitamin C: 32mg, Calcium: 150mg, Iron: 1mg
This post may contain affiliate links.
Buy the Cookbook: Simply Scratch : 120 Wholesome Homemade Recipes Made Easy Now available on Amazon »
THANK YOU in advance for your support!