In this healthy, Vegan Chorizo Crumbles recipe; protein-packed fava beans, mushrooms, walnuts are pulsed into crumbles with homemade chorizo spice blend and baked. Perfect in tacos or on nachos!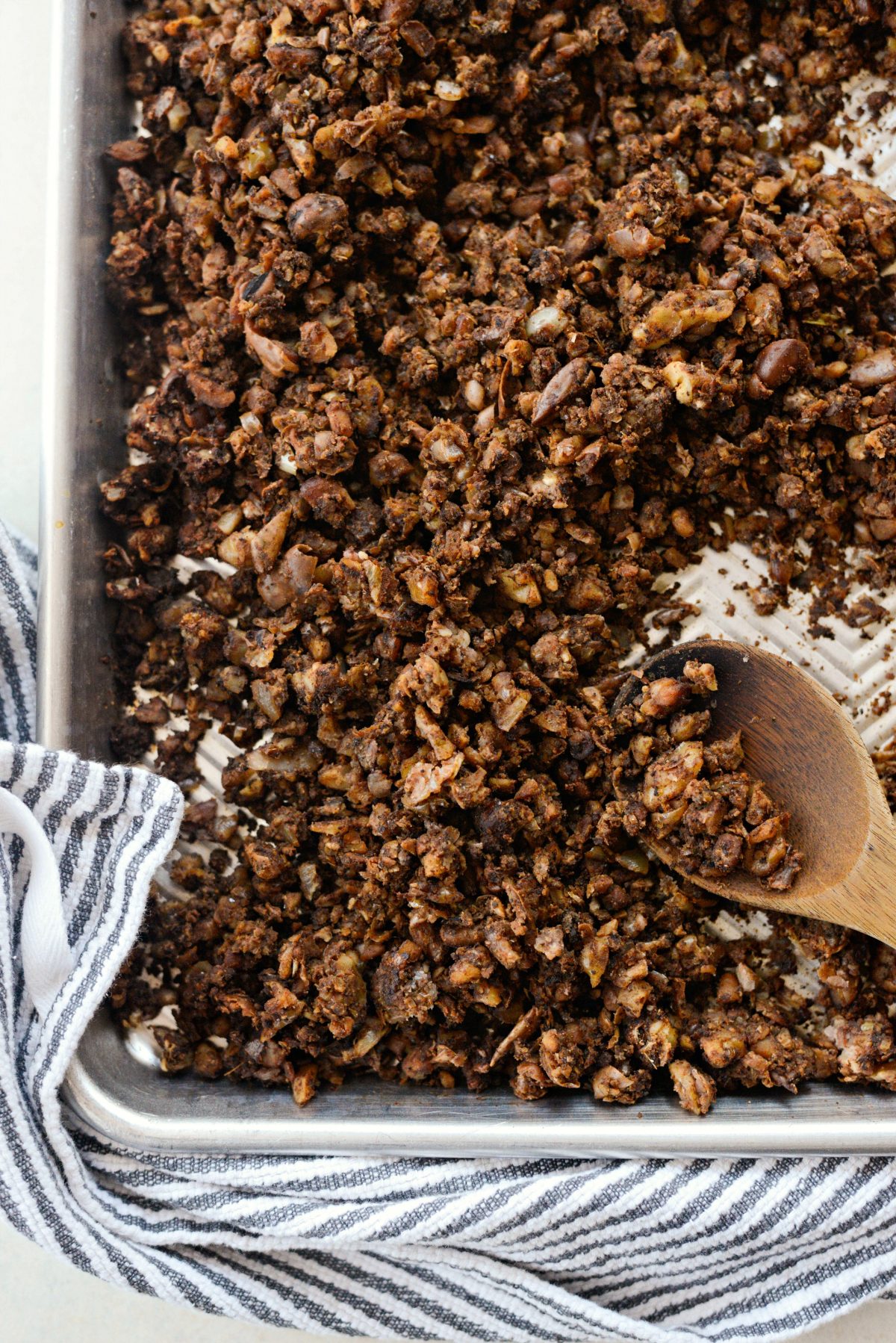 If you remember these stuffed sweet potatoes, you may recall me writing that I had plans to make my own vegan chorizo crumbles? Well, after a few attempts I'm excited to announce I've done it. This recipe has protein-packed fava beans are pulsed in a food processor with walnuts, mushrooms, onion and chorizo seasoning.
Baking this mixture in a hot oven, the crumbles flavor deepen. The texture is tender yet crispy and the flavor mimics traditional chorizo. FYI the homemade chorizo spice blend is everything.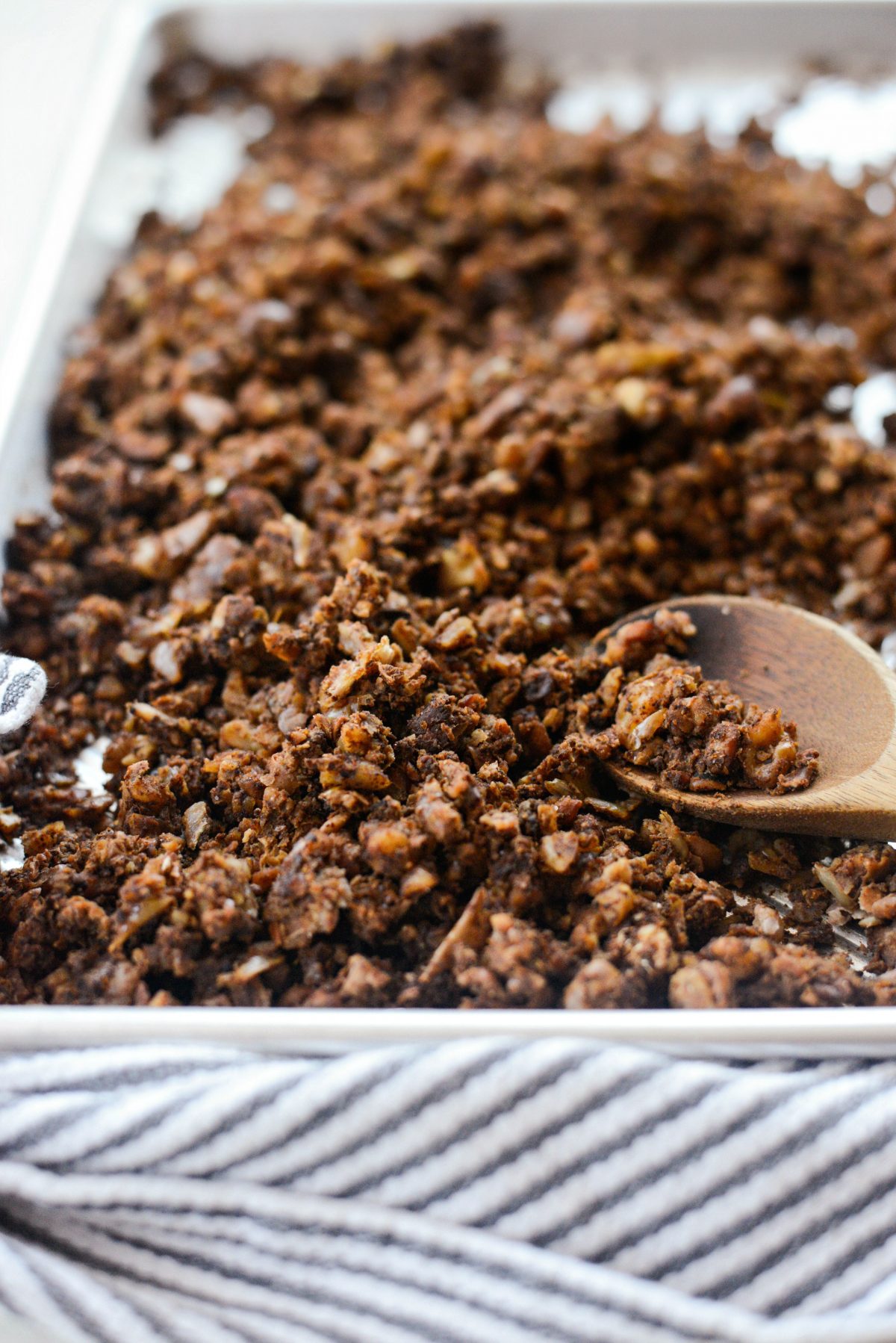 I can't wait to post the recipe I made with these vegan chorizo crumbles.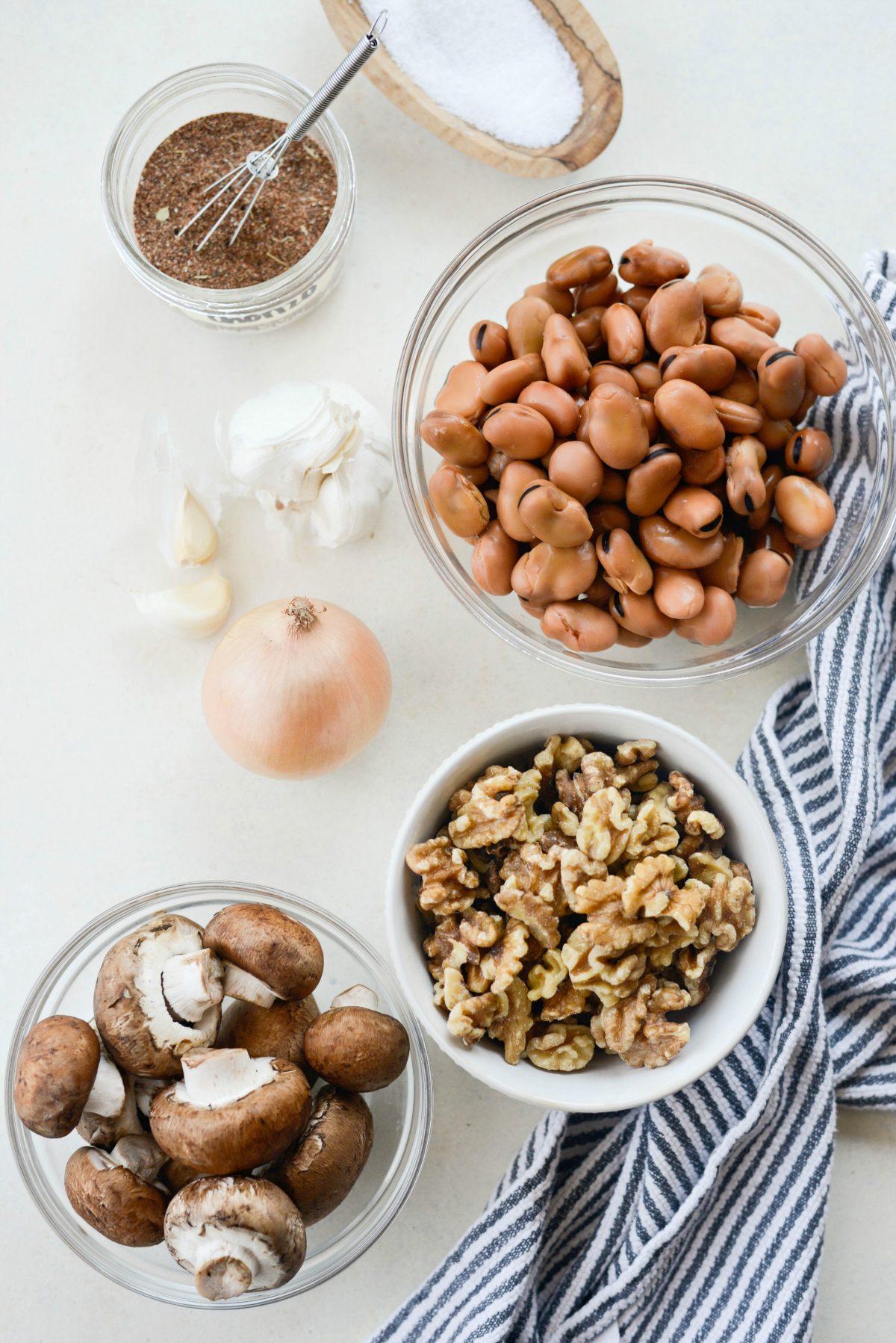 To Make Vegan Chorizo Crumbles You Will Need:
fava beans -rinsed and drained
walnuts
cremini mushrooms
yellow onion
garlic
kosher salt
What are fava beans?
Also known as broad beans, they are one of the oldest plants in cultivation. Fava beans are a good source of protein, dietary minerals like folate, magnesium, phosphorus and iron. And because their culinary use spreads among many cuisines, including Mexican, I thought it would be perfect base for this vegan chorizo recipe.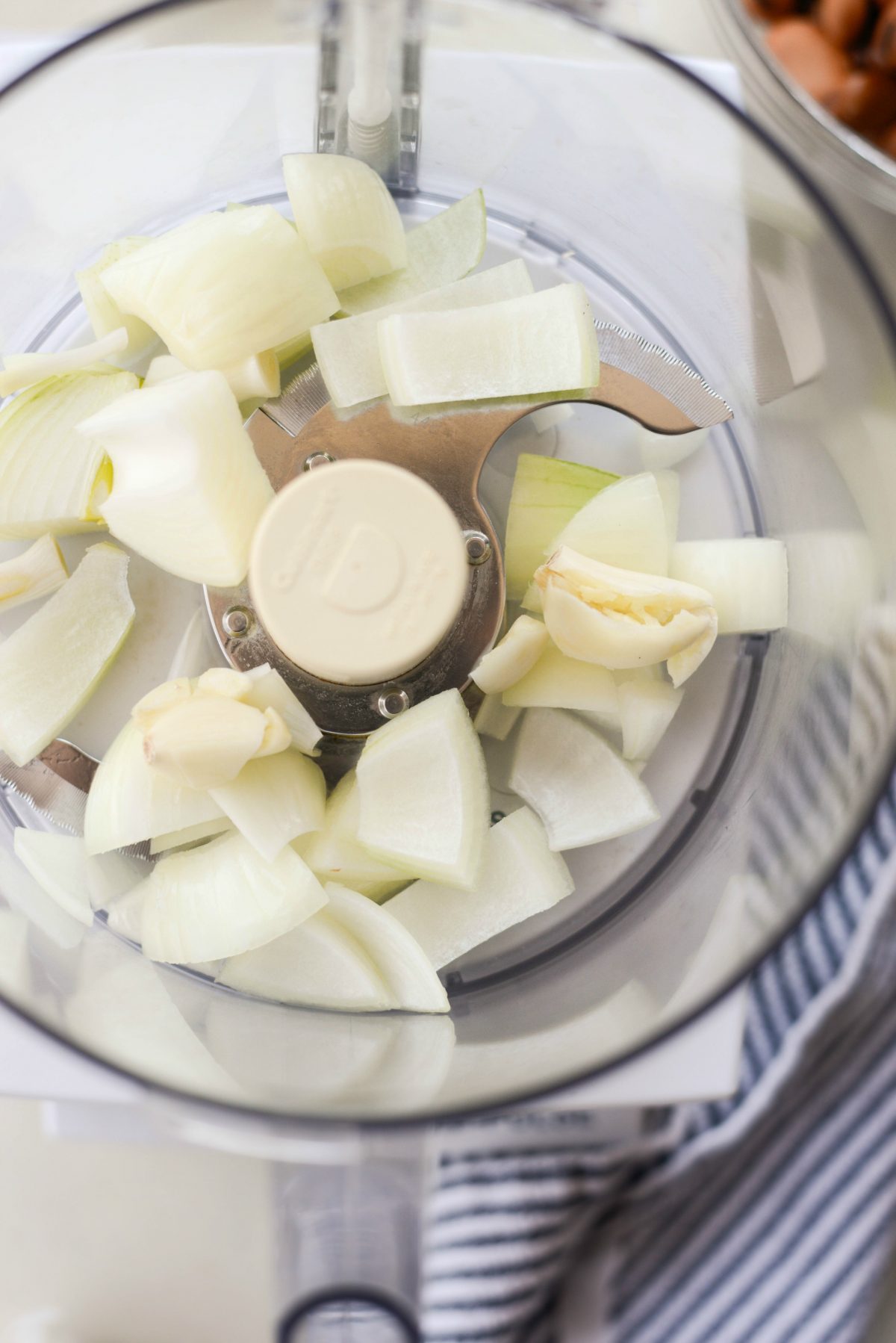 Start by adding 1 medium, coarsely chopped onion and 2 smashed and peeled garlic cloves. Then secure the lid and pulse until coarsely chopped.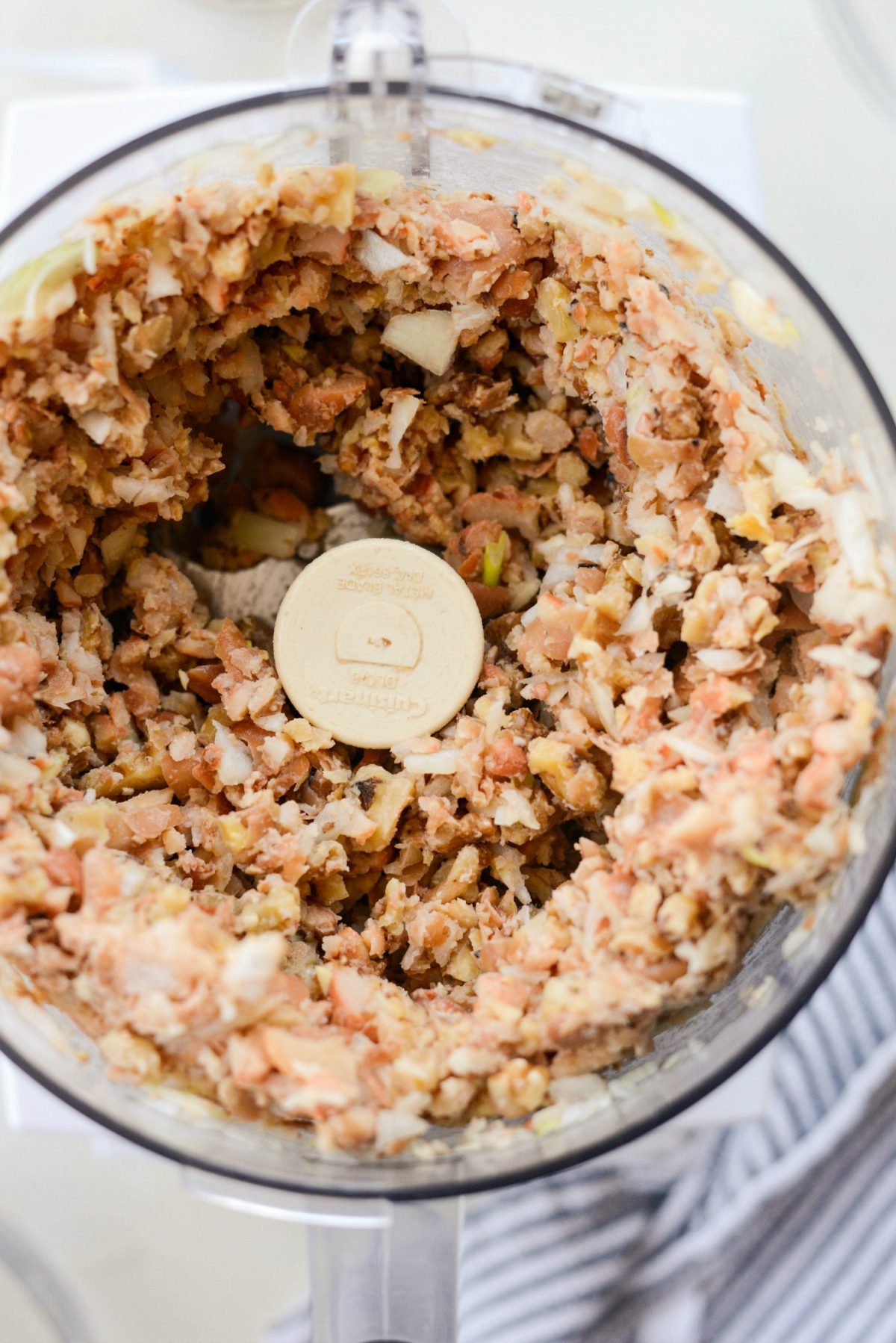 Add in the 2 cups walnuts and both cans (rinsed and drained) fava beans. Again, secure the lid and pulse until chopped. Transfer this mixture to a lightly sprayed (large) rimmed metal baking sheet.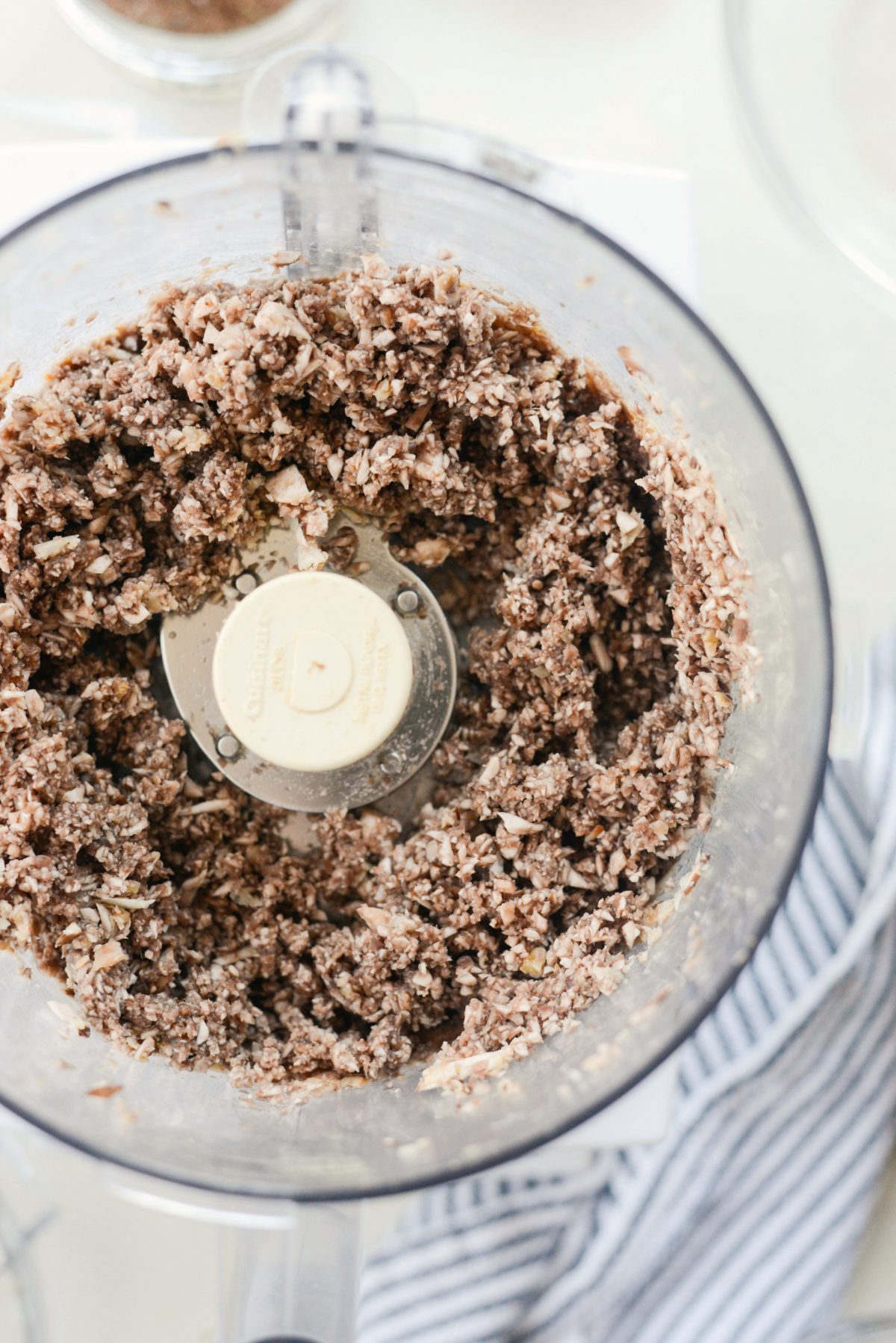 Lastly, add 8 ounces cleaned mushrooms and pulse until finely chopped.
Next add the mushroom mixture to the fava/walnut mixture and drizzle with 1 teaspoon light olive oil plus an entire recipe for chorizo spices and a few pinches of kosher salt. Then mixing well until combined.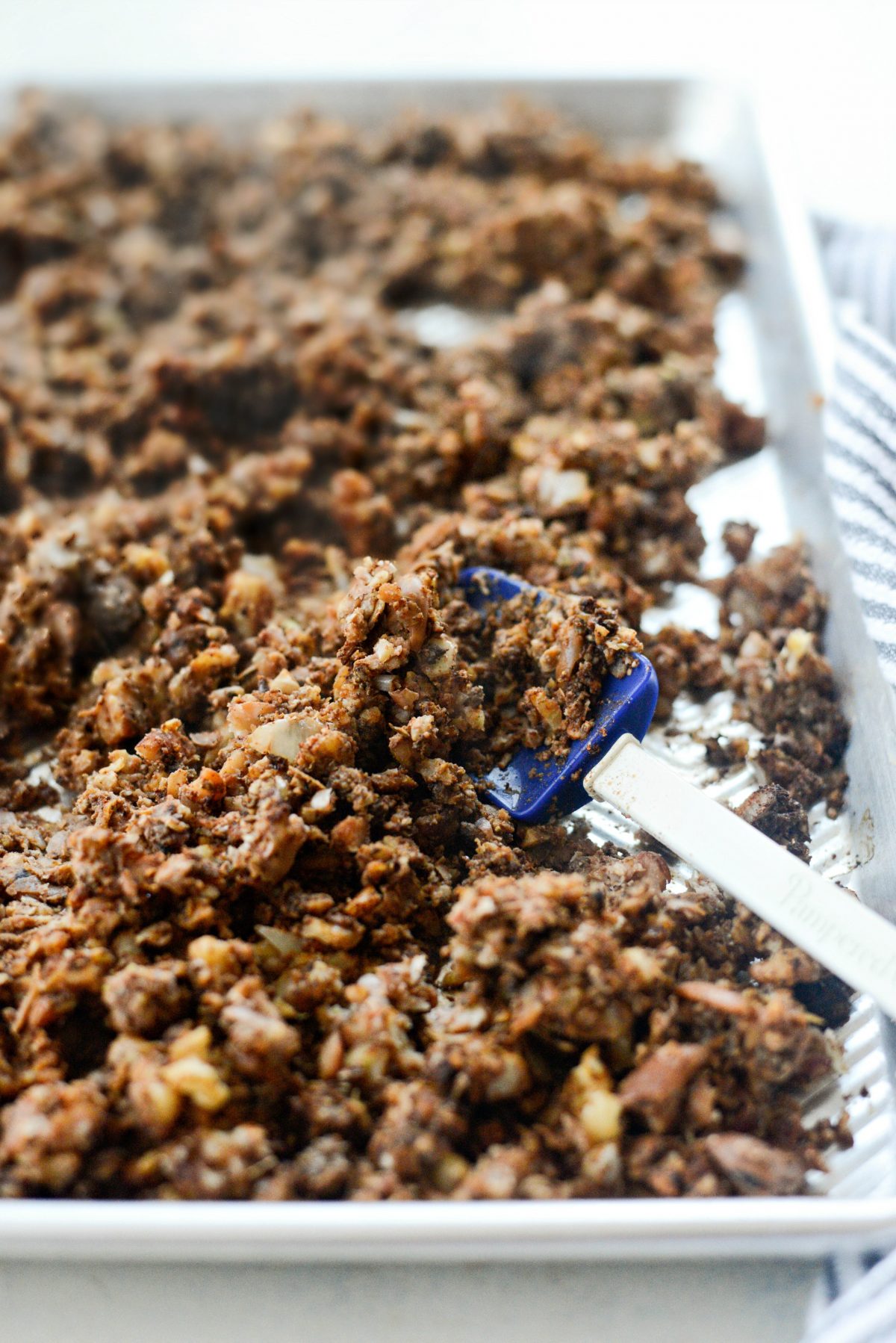 Spread the mixture out evenly on the pan and bake in a preheated 425° on the middle rack for 10 minutes. Remove, stir and spread evenly and continue to bake for 15 to 20 minutes more.
Flavorful and healthy, protein filled and delicious! Finally a chorizo you can feel good about!
Enjoy! And if you give this Vegan Chorizo Crumbles recipe a try, let me know! Snap a photo and tag me on twitter or instagram!
Yield: 40 servings
Vegan Mexican Chorizo Crumbles
Fava beans, mushrooms, walnuts and onion are pulsed into crumbles with homemade chorizo spice blend and baked. Perfect in tacos or on nachos! This one recipe makes 5 cups and is freezer friendly.
Ingredients
olive oil spray
1 medium onion, roughly chopped
2 cloves garlic, smashed and peeled
2 (15 ounce) cans fava beans, rinsed and drained
2 cups walnuts
8 ounces cremini mushrooms, cleaned
1 teaspoon olive oil
recipe Chorizo Spice Blend
kosher salt, to taste
Instructions
Spray a large, rimmed baking sheet pan with olive oil spray and preheat your oven to 425°.

In the bowl of your food processor, fitted with the blade attachment, pulse the onion and garlic until coarsely chopped.

Add in fava beans and walnuts and pulse until coarsely chopped. Transfer to prepared pan.

Add in mushrooms and pulse until minced. Transfer to the pan with the fava beans and walnuts.

Drizzle the mixture with 1 teaspoon olive oil and season with the homemade chorizo spice blend and a few pinches kosher salt. Mix well to combine.

Spread evenly and bake on the middle rack of your preheated oven for 10 minutes. Stir and bake for an additional 10 to 15 minutes.
Serving: 1/2 cup, Calories: 42kcal, Carbohydrates: 1g, Protein: 1g, Fat: 4g, Saturated Fat: 1g, Polyunsaturated Fat: 3g, Monounsaturated Fat: 1g, Sodium: 1mg, Potassium: 56mg, Fiber: 1g, Sugar: 1g, Vitamin A: 1IU, Vitamin C: 1mg, Calcium: 8mg, Iron: 1mg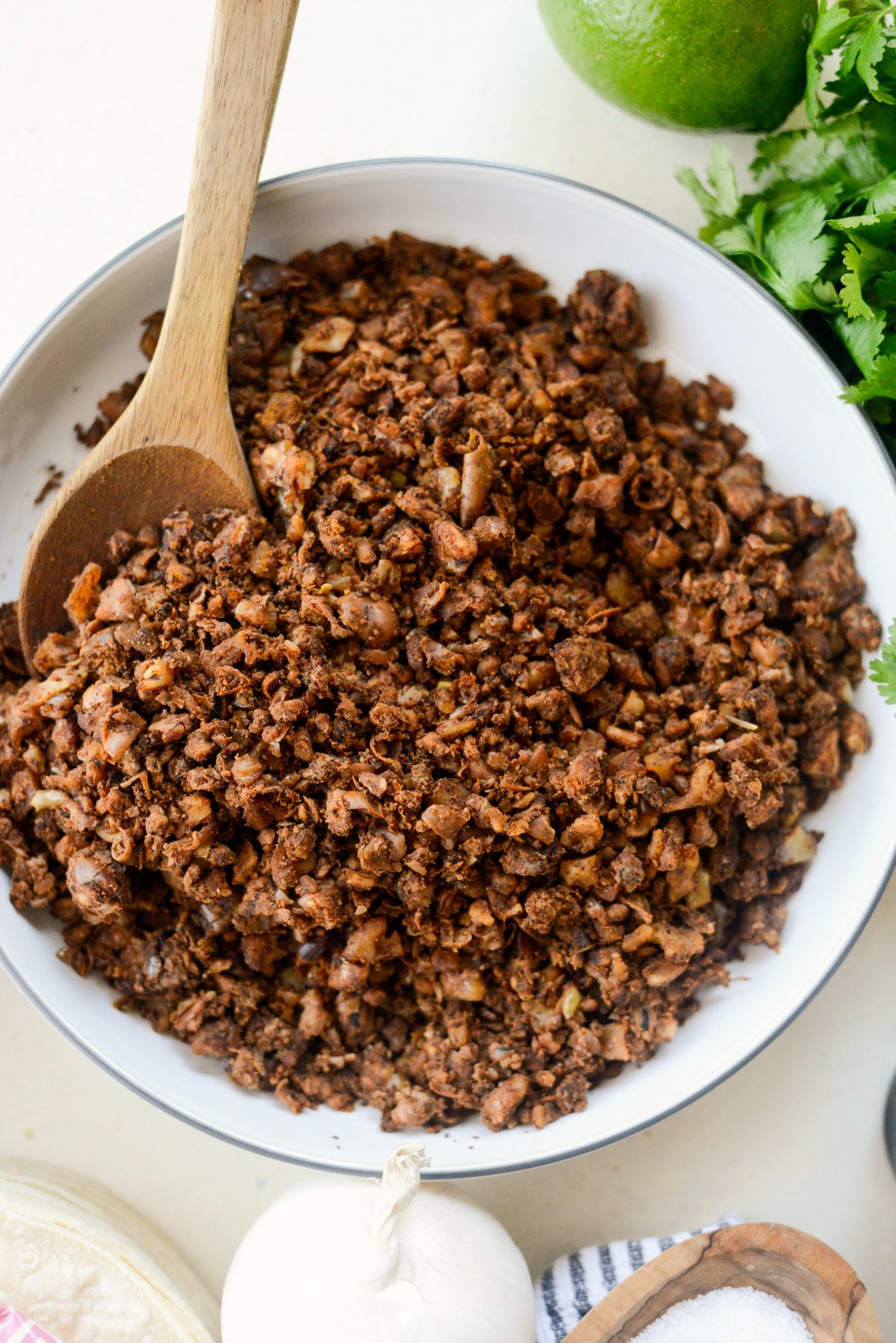 This post may contain affiliate links.
Buy the Cookbook: Simply Scratch : 120 Wholesome Homemade Recipes Made Easy Now available on Amazon »
THANK YOU in advance for your support!