Steak and blue cheese pizza is my FAVORITE! So many flavors piled on one pizza… it should probably be illegal.
One deliciously trashed up pizza coming right up!
Surprise Jessica!!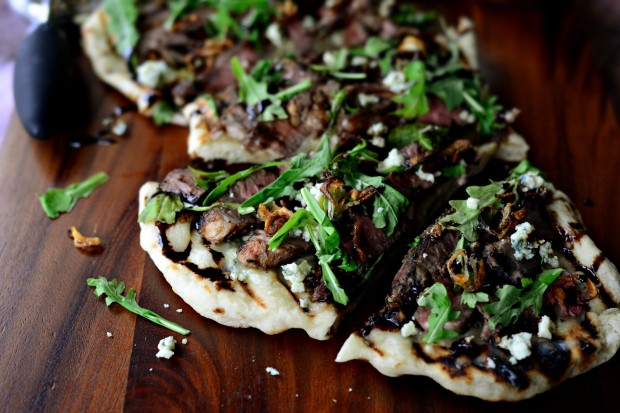 Today is a great. Today is FUN! And most importantly, today is filled with all kinds of trashed up food. From drinks to dessert and tacos, burgers and pizza (oh my!) 65 bloggers are pulling out the stops, taking traditional food and crossing way over the line and into its own trashy-delicious realm. All in celebration of the upc0ming birth of Jessica's baby!
Which means you all are invited to Jessica's invisible internet friends baby shower and get a front-row seat at this fantastical festivity of food.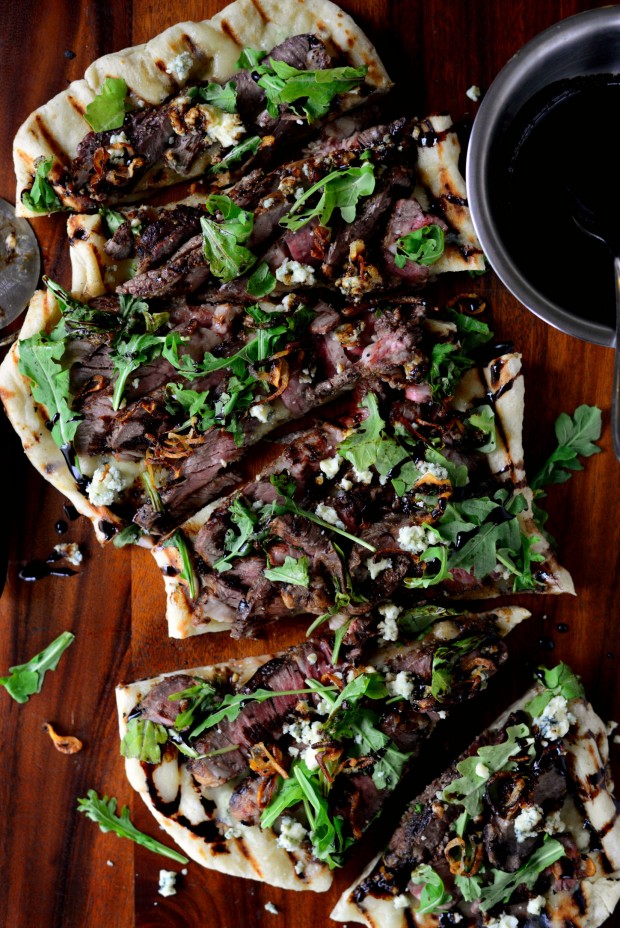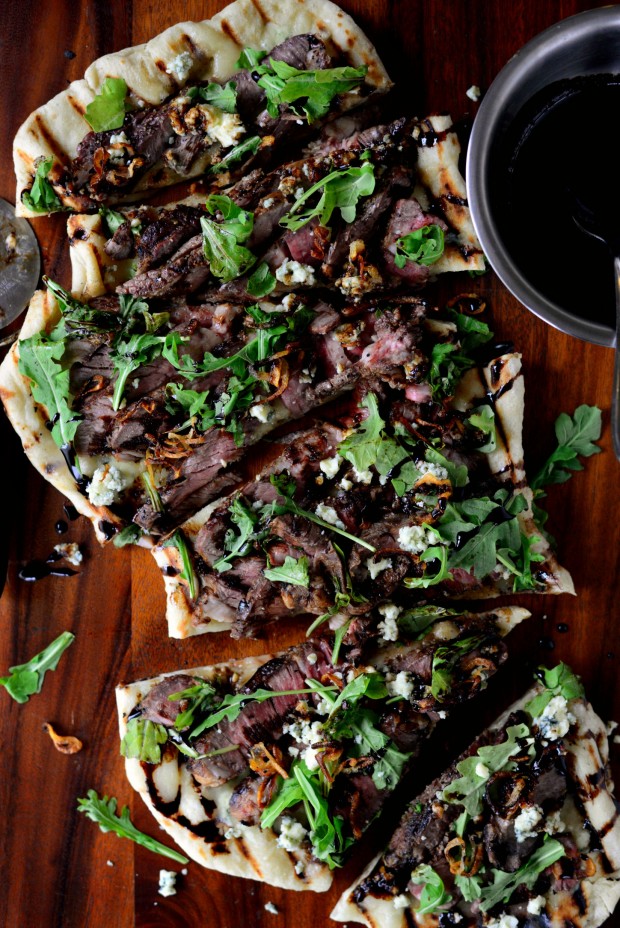 So before I runoff at the mouth about this pizza I just want to say a few things to Jessica, if I may.
1. Jessica, strangers are going to want to touch your baby. I'm talking about when you're grocery shopping folks are going to want to walk up and literally touch your baby's hands with their who-knows-where-they've-been-hands and you WILL want to knock them out. I just want to tell you that's a normal feeling-slash-reaction.
2. Whether you have a boy or a girl, those same strangers will 99.9% of the time get your babies sex wrong. Never mind the gigantic pink pacifier or the blue pjs, they are blind to it and will get it wrong and you will want to knock them out… again. Cold.
3. The first two weeks after delivery are crazy. Once you get through them… the rest is a piece of cake. Okay, so not really, but it does get a lot easier. Sort of. But especially when they're potty trained and when they can pour their own bowl of cereal. Golden.
4. Take pictures, journal and blog… every minute, good or horrible, the embarrassing and the hilarious and especially the words they can't pronounce. All of this NEEDS to be documented because that's the BEST stuff right there.
5. Lastly… When you meet him or her it's insta-love-at-first-sight and the best moment ever is when you first get to hold them in your arms, and then seeing your husband hold your child. And of course that baby smell…
I'm SO beyond thrilled for you Jessica. You will no doubt be the best, most fun mom ever. Congratulations to you and Eddie on this exciting new chapter… it's the best chapter of them all. <3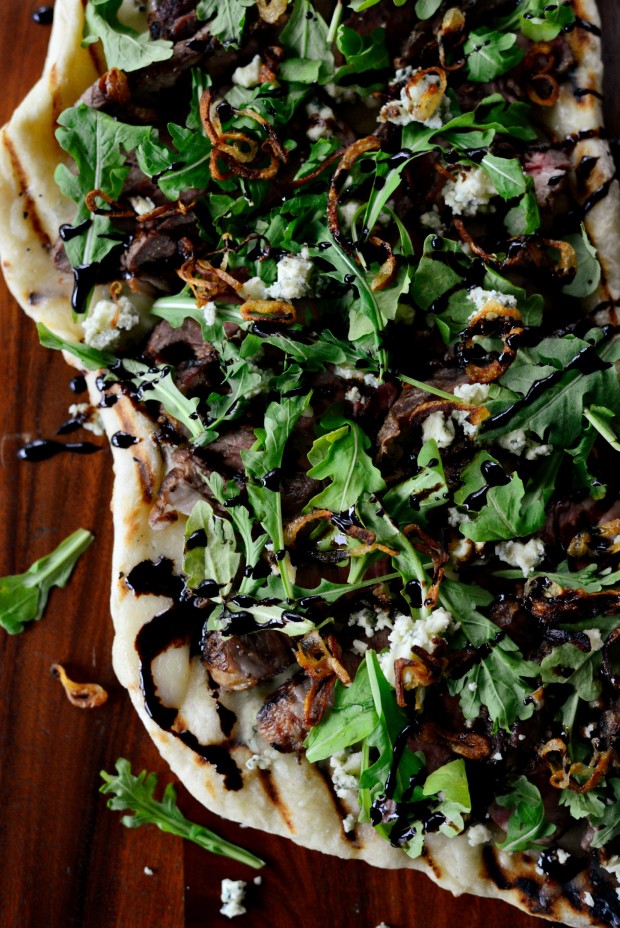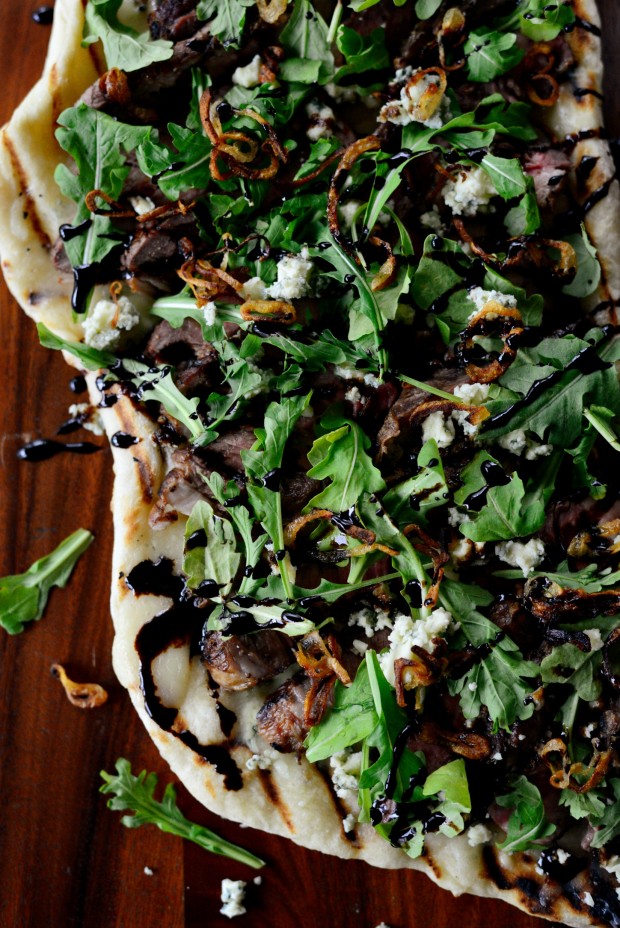 So this pizza. It's all my favorite things piled on top of grilled pizza dough. I'm talking about grated Fontina, mozzarella and blue cheese, just so we're clear that's THREE kinds of cheese melted and then topped with warm slices of grilled steak. Then things go bonkers by topping all of that with more blue cheese, arugula and crispy fried shallots. OH and I reduced balsamic vinegar until thick and stirred honey into it. YUM times a million.
So I was thinking that since there wasn't anything on this pizza that I haven't blogged about at some point in some post, that it wasn't really necessary to do the whole step-by-step thing. So I didn't.
But I did start by reducing 2 cups of balsamic vinegar down to 1/2 cup. Let it cool a smidgen (it will thicken) and stirred in 1 tablespoon of honey. If the balsamic is too hot the honey will candy and the glaze won't be that smooth velvety drizzle, however it will still taste fine.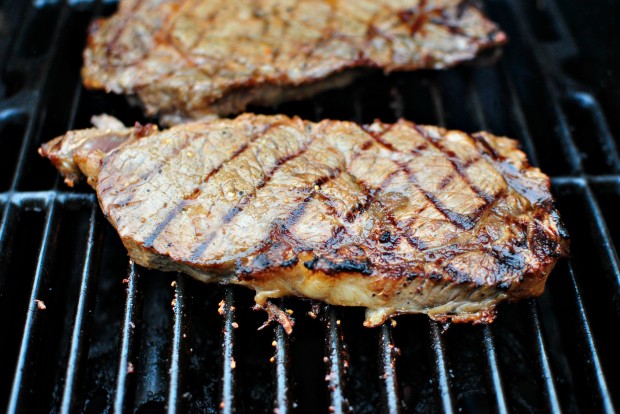 While the balsamic was reducing, I grilled one mean ribeye steak. This thing was 1.46 lbs and an inch thick. Mmmmm, just a little salt, pepper and the grill. This picture is from a different recipe post, but you get the point.
And while all of THAT was going on, I also fried up some shallots just like I did in this post. Easystreet.
Then I used this pizza-dough-slash-recipe-on-how-to-grill-pizza-dough, slapped it on the grill.
But I made sure to grate the Fontina, mozzarella and break up 2 ounces of blue, mixed them together and then sprinkled it over top while the pizza was on the second side. I saved the other 2 ounces for sprinkling over the steak slices later.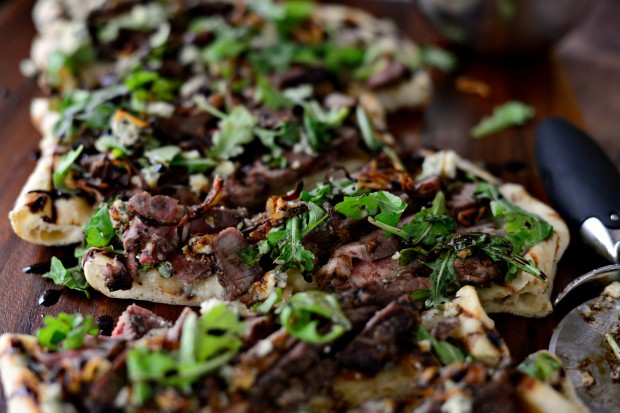 All of that prep is worth it for a slice of this gorgeous Steak and Blue Cheese Pizza. I seriously couldn't stop starring at it. Or eating it… let's be real.
Steak and blue cheese pizza is my life!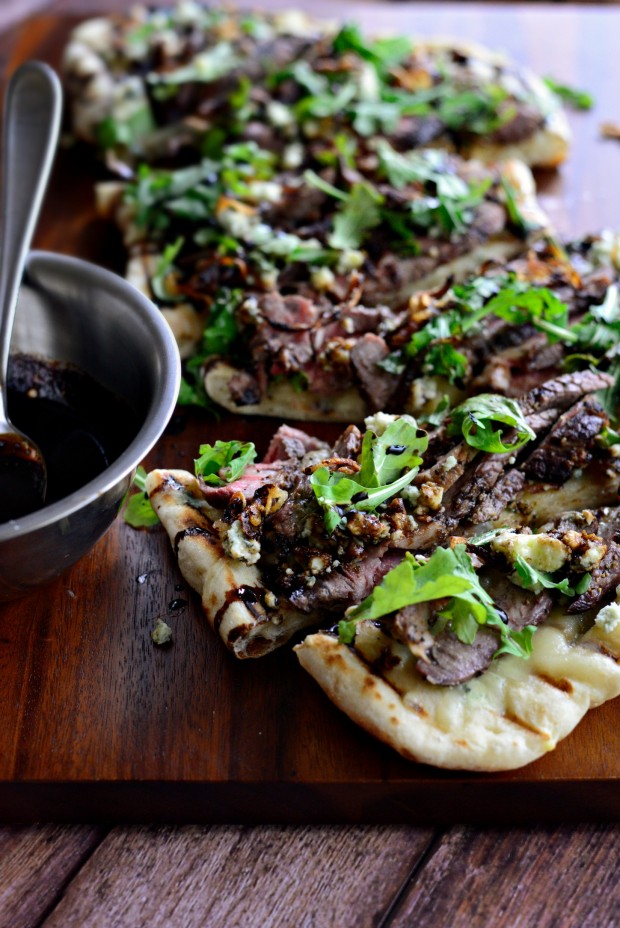 Enjoy! And if you give my Steak and Blue Cheese Pizza or any of these recipes a try, let me know! Snap a photo and tag me on twitter or instagram!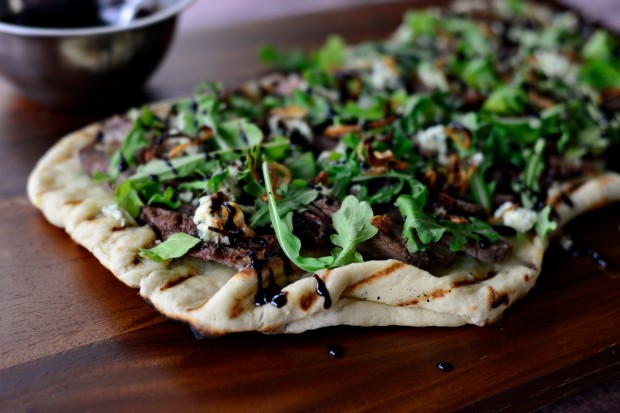 My cookbook Simply Scratch : 120 Wholesome Homemade Recipes Made Easy is now available! CLICK HERE for details and THANK YOU in advance!
Yield: 8 servings
Steak + Blue Cheese Pizza with Crispy Fried Shallots and Honey Balsamic Drizzle
So many flavors piled on one pizza... it should probably be illegal.
Ingredients
2 cups balsamic vinegar
1 tablespoon honey
1 large shallot, sliced thin
2 tablespoons butter
1¼ pound Ribeye steak
kosher salt
freshly ground black pepper
1/2 recipe homemade pizza dough
1 cup freshly grated Fontina cheese
1 cup freshly grated mozzarella cheese
4 ounces crumbled blue cheese, divided
1 cup baby arugula
Instructions
Heat the vinegar in a medium pot over medium-high until it starts to boil. Reduce to medium-low to simmer until reduced to 1/2 cup. About 30-40 minutes. Remove off of the heat to cool, it will thicken slightly, once cooled stir in the honey.

Meanwhile, in a medium skillet melt the butter over medium heat. Add shallots and cook until crispy and deeply golden. About 8 to 10 minutes. Watch carefully so they do not burn, then transfer to a clean plate.

Season both sides of the ribeye with salt and pepper. Grill the steak on a preheated medium-high flame until it has reached your preference of doneness. Tent with foil and allow to rest before slicing ultra thin.

In a medium bowl, combine the Fontina, mozzarella and half of the blue cheese.

Roll the dough out and lightly brush with olive oil. Place on grill, medium to medium-high flame, and cook for 2 to 3 minutes. Brush the top-side with olive oil before flipping and sprinkling with all of the cheeses. Reduce the heat down to low and close the grill. Once melted, slide pizza onto a cutting board.

Top pizza with slices of steak, sprinkle with arugula, the remaining blue cheese, crispy shallots and drizzle with the honey balsamic glaze.

Cut, serve and inhale. Enjoy!
Serving: 2slices, Calories: 413kcal, Carbohydrates: 16g, Protein: 25g, Fat: 26g, Saturated Fat: 14g, Polyunsaturated Fat: 1g, Monounsaturated Fat: 10g, Trans Fat: 1g, Cholesterol: 92mg, Sodium: 502mg, Potassium: 386mg, Fiber: 1g, Sugar: 13g, Vitamin A: 541IU, Vitamin C: 3mg, Calcium: 274mg, Iron: 2mg
[this post contains affiliate links.]
This post may contain affiliate links.
Buy the Cookbook: Simply Scratch : 120 Wholesome Homemade Recipes Made Easy Now available on Amazon »
THANK YOU in advance for your support!