I insist you make this walnut date bread. Your weekend needs this walnut date bread (or also known as date and nut bread depending on whichever way you want to spin it) a cozy blanket, a good book and a cup of coffee or tea. Make it happen.
This vintage beauty is my grandmother's recipe. However she would wash-out cans from let's say green beans or corn or something and she would fill them half way and baked this bread in the actual cans. Which is so retro and totally screams the 50's. I love it. But we're not baking bread in cans today, we're going the ol' loaf route.
A few weekends ago I took my girls out to the mall and then we swung by my mom's for a visit featuring coffee and my mom had this beautiful little loaf set out on her counter. We poured our coffee and sipped while slices of this date bread were being toasted and then we slathered our pieces with softened butter.
Because everything is better toasted and with butter.
To Make This Walnut Date Bread You Will Need:
pitted dates
baking soda
boiling water
dark brown sugar
unsalted butter
egg
pure vanilla extract
unbleached all-purpose flour
kosher salt
cinnamon
walnuts
First things first you'll need dates. Pitted dates preferred.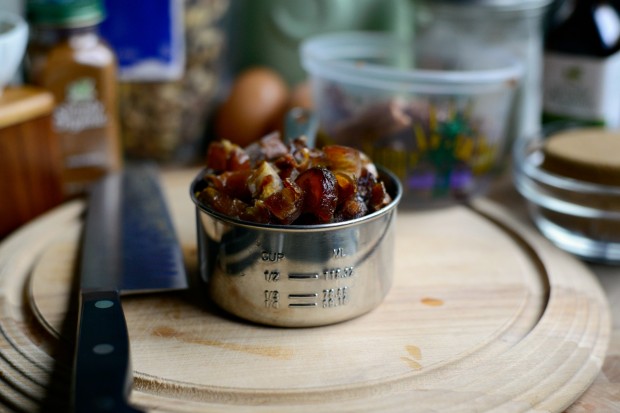 Chop until you have 1 cup or so.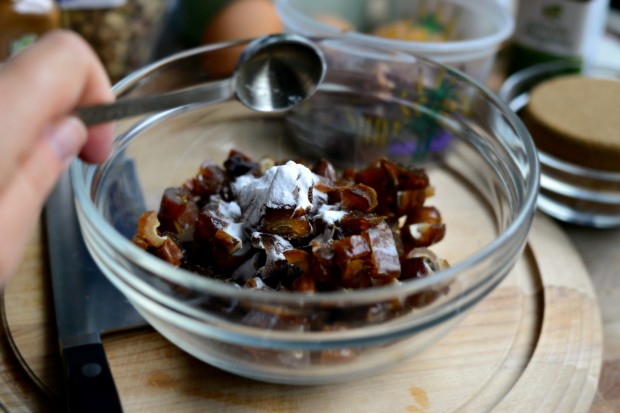 Throw the chopped dates into a bowl, add 1 teaspoon of baking soda.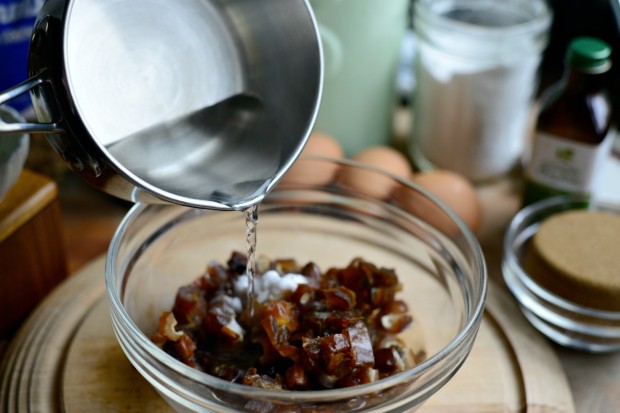 Pour over 3/4 cup of boiling water.
Stir and submerge the dates into the water and set off to the side.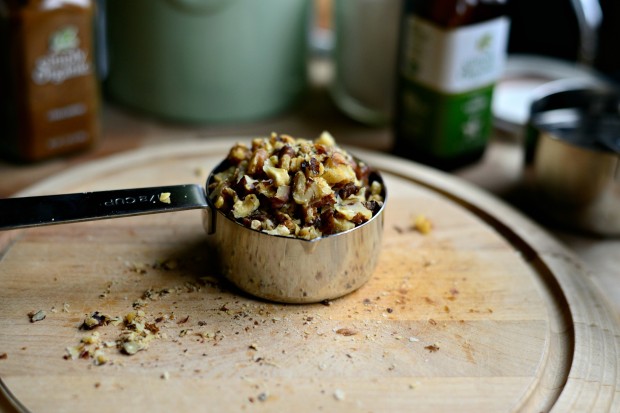 Chop up 1/2 cup of walnuts, pecans would be fab here too.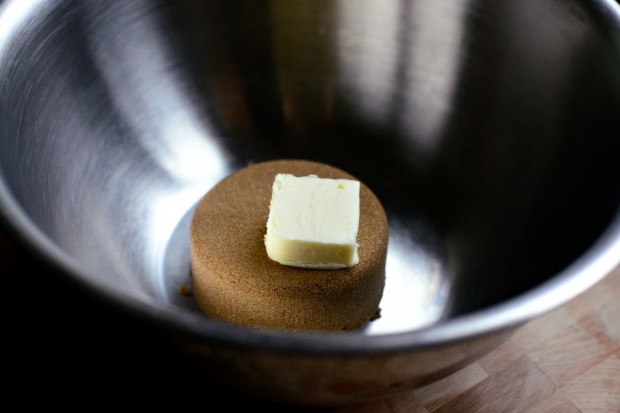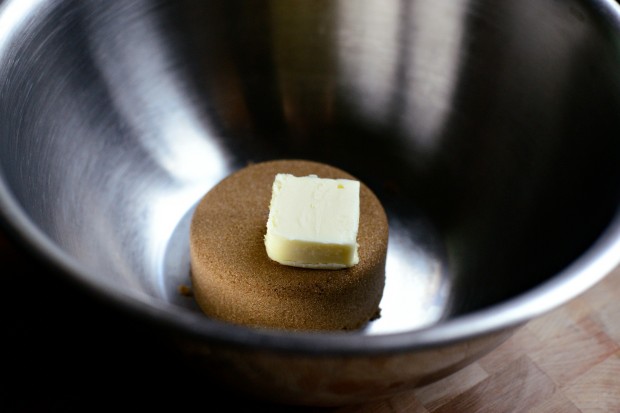 In a large-ish bowl add 3/4 cup dark brown sugar, 1 tablespoon of butter (I KNOW RIIIIGHT??)…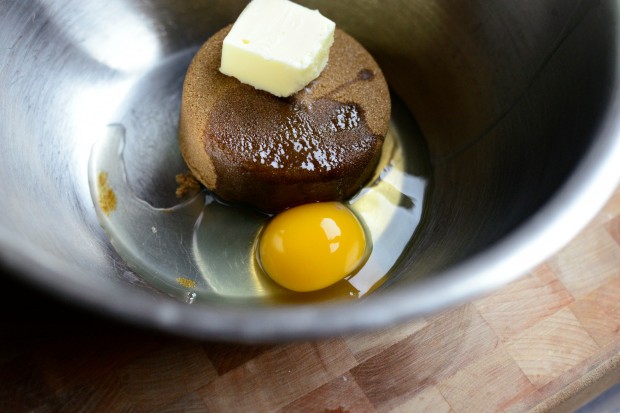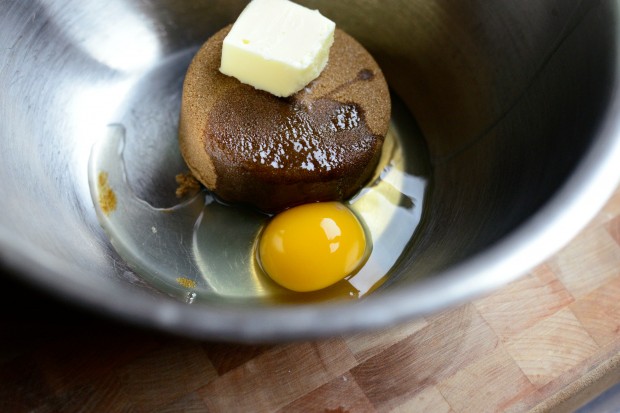 Crack in 1 large egg…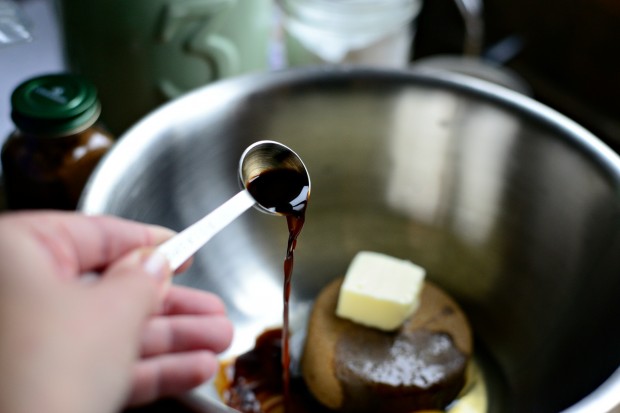 1 teaspoon pure vanilla extract…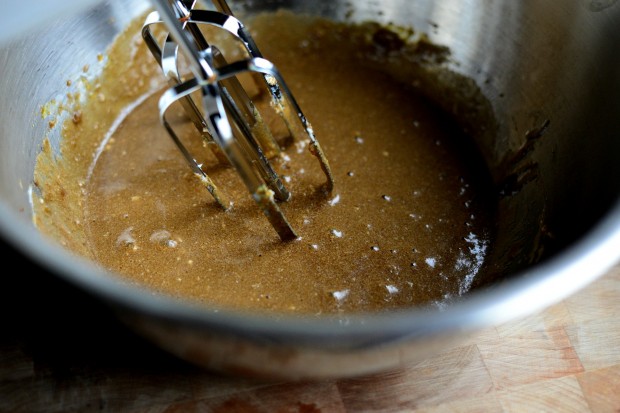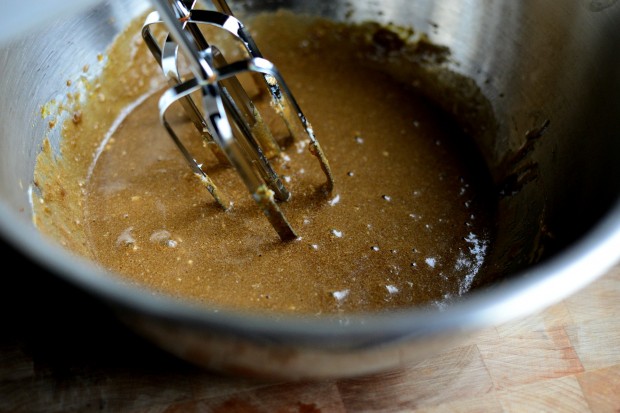 Now just mix until combined.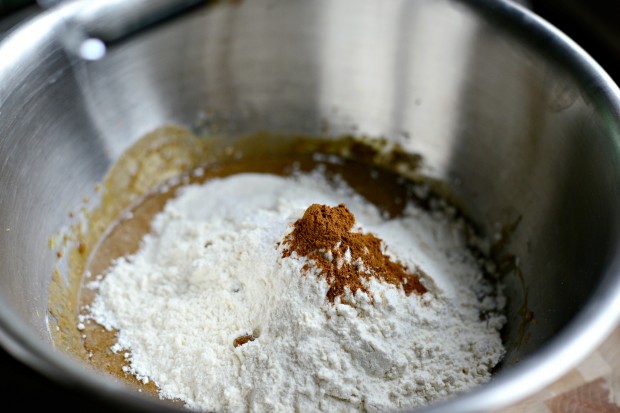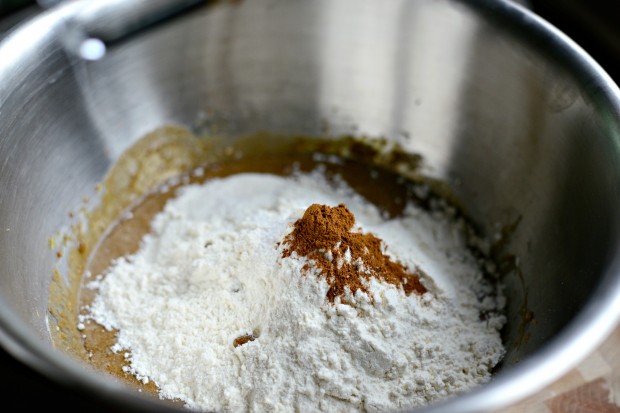 Throw in the 1-1/2 cups of flour, 1/2 teaspoon salt and cinnamon both.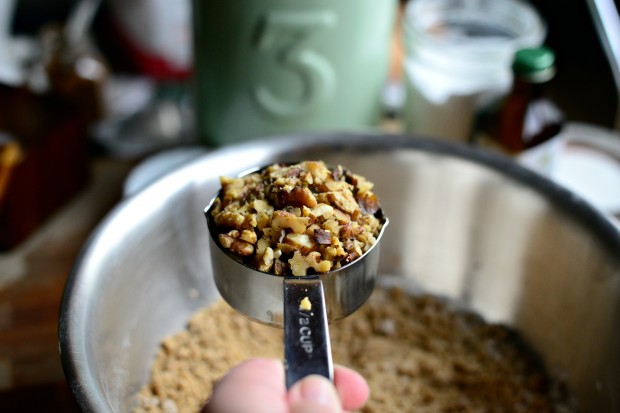 Throw in the 1/2 cup chopped walnuts…
Lastly pour in the soaked dates and any water that is in the bowl goes in too.
Mix until all ingredients are incorporated.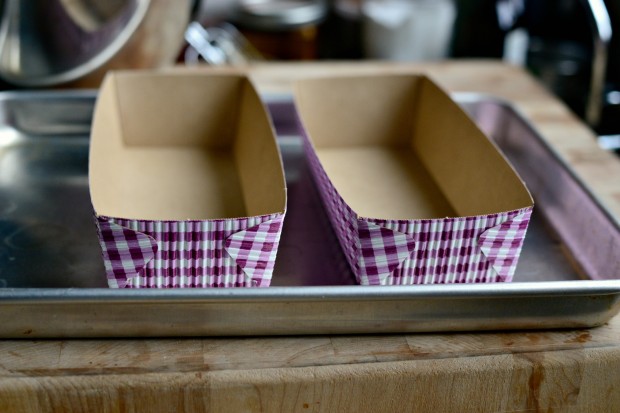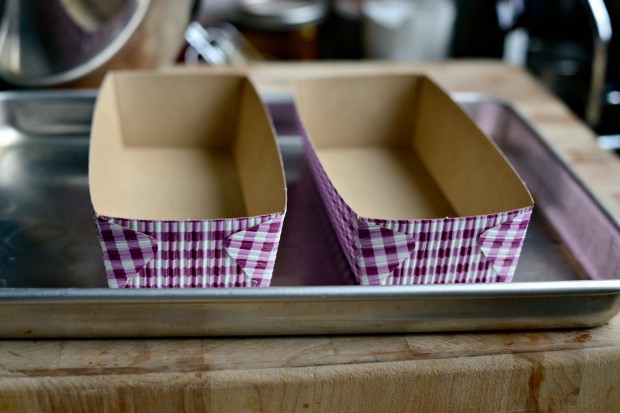 I'm using these smaller, cardboard stand-alone muffin containers which work perfectly for making smaller loaves. I threw away the packaging but the measurements are roughly 6 x 3 x 2.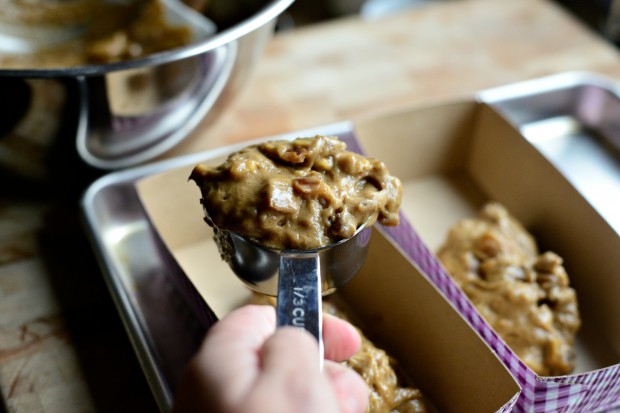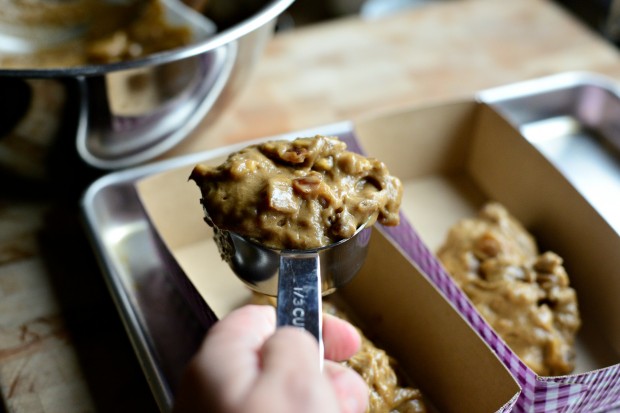 Divide the batter among the mini loaf pans.
It's about a heaping cup per loaf.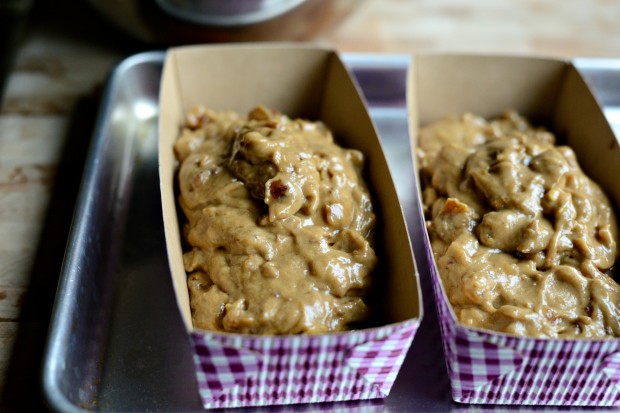 So cute.
Spread the batter out and slide into the awaiting 350° oven for 40-45 minutes or until a toothpick comes out clean.
Once the bread cools I peel back the cardboard box (<— there's a sentence you don't say everyday)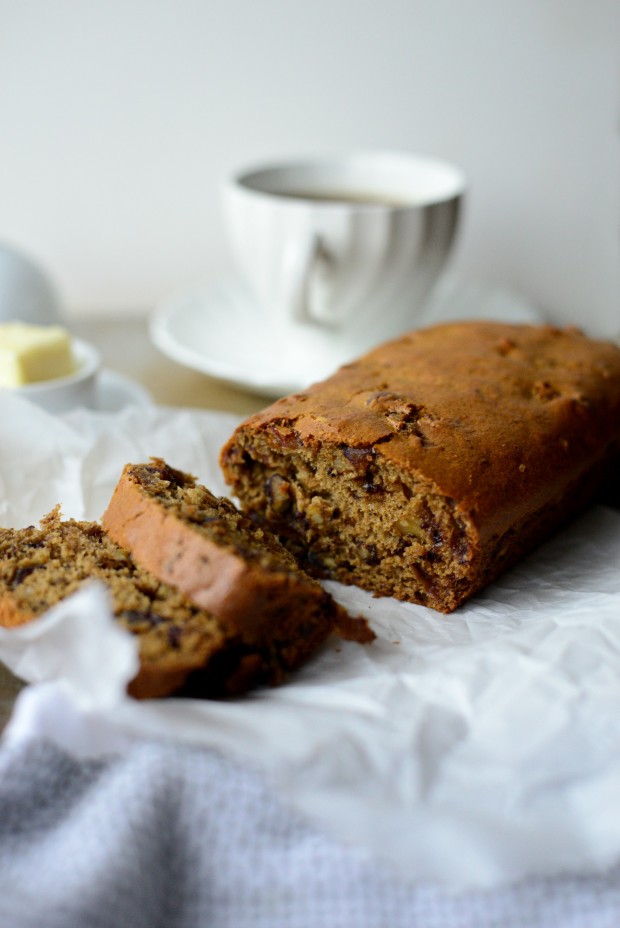 Slice (toast them if you want too!) and slather with copious amounts of butter. Or jam. Or maple syrup whaaaaat?!
It's a sweet, nutty and subtly cinnamon-y and way good. I wrap one and freeze it for impromptu coffee dates or impromptu hunger pangs. You could double the recipe, making 4 loafs, wrap them in cute little packages and handout as gifts. Tis the season and all that.
Who's excited!?
Enjoy! And if you give this Walnut Date Bread recipe a try, let me know! Snap a photo and tag me on twitter or instagram!
Yield: 12 servings
Walnut Date Bread
A sweet, nutty and subtly cinnamon-y, tender walnut date bread. I wrap one and freeze it for impromptu coffee dates or impromptu hunger pangs. This recipe yields 2 small loaves or about 12 slices.
Ingredients
1 cup chopped pitted dates
1 teaspoon baking soda
3/4 boiling water
3/4 cup dark brown sugar
1 tablespoon butter
1 large egg
1 teaspoon pure vanilla extract
1½ cup unbleached all-purpose flour
1/2 teaspoon kosher salt
1/2 teaspoon ground cinnamon
1/2 cup chopped walnuts
Instructions
Preheat oven to 350°.

Grease two small loaf pans or use paper cardboard stand-alone liners.

Add chopped dates to a medium bowl along with baking soda and cover with boiling water. Let sit off to the side.

In a large bowl combine the sugar, butter, egg and vanilla. Add in the flour, salt, cinnamon, walnuts and dates including any remaining water in the bowl.

Mix on low until combined. Divide among pans and bake for 40-45 minutes or until a tester comes out clean.
Serving: 1g, Calories: 191kcal, Carbohydrates: 35g, Protein: 3g, Fat: 5g, Saturated Fat: 1g, Polyunsaturated Fat: 2g, Monounsaturated Fat: 1g, Trans Fat: 1g, Cholesterol: 18mg, Sodium: 207mg, Potassium: 144mg, Fiber: 2g, Sugar: 21g, Vitamin A: 54IU, Vitamin C: 1mg, Calcium: 27mg, Iron: 1mg
This post may contain affiliate links.
Buy the Cookbook: Simply Scratch : 120 Wholesome Homemade Recipes Made Easy Now available on Amazon »
THANK YOU in advance for your support!