What's a Thanksgiving meal without a simple herb sourdough dressing?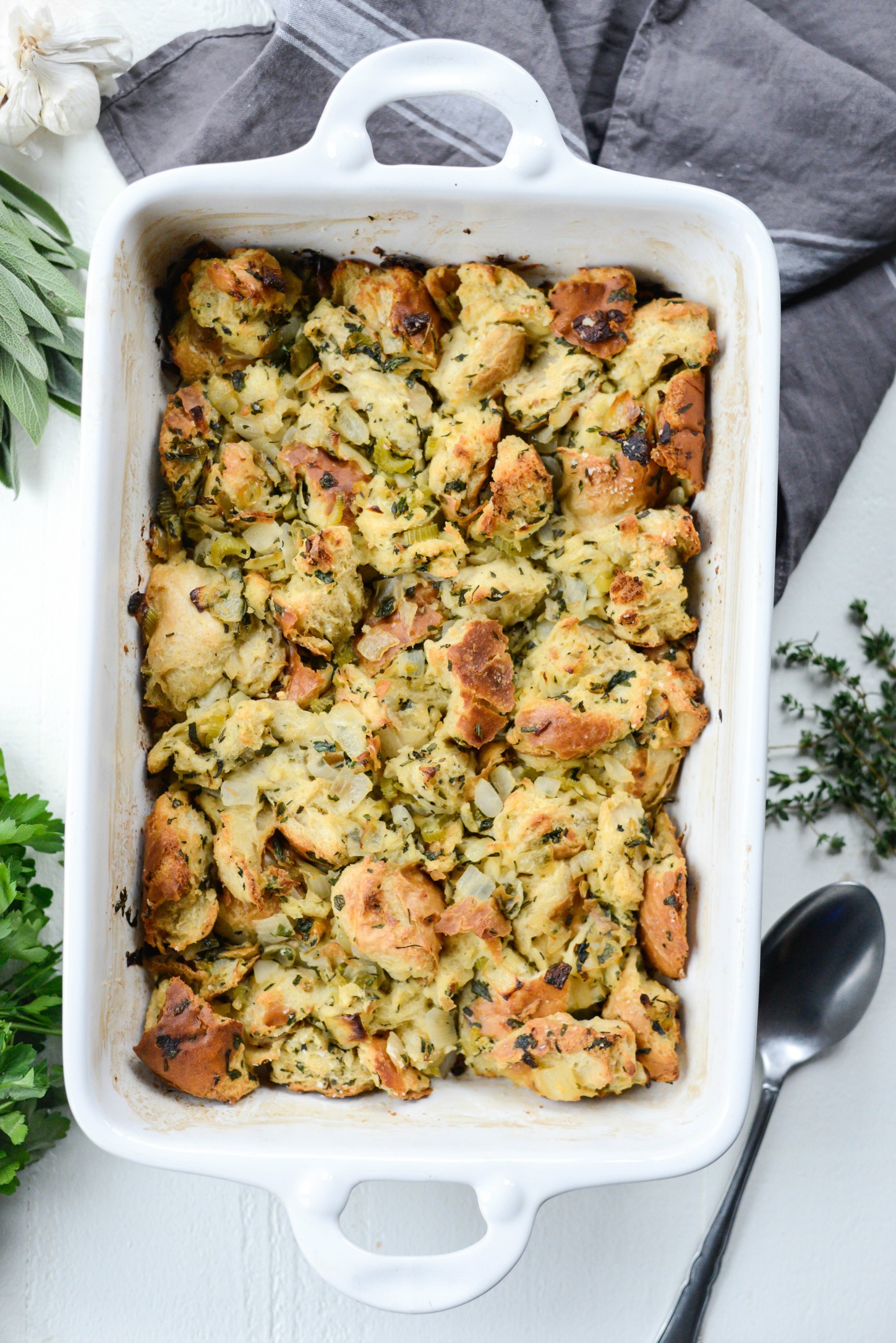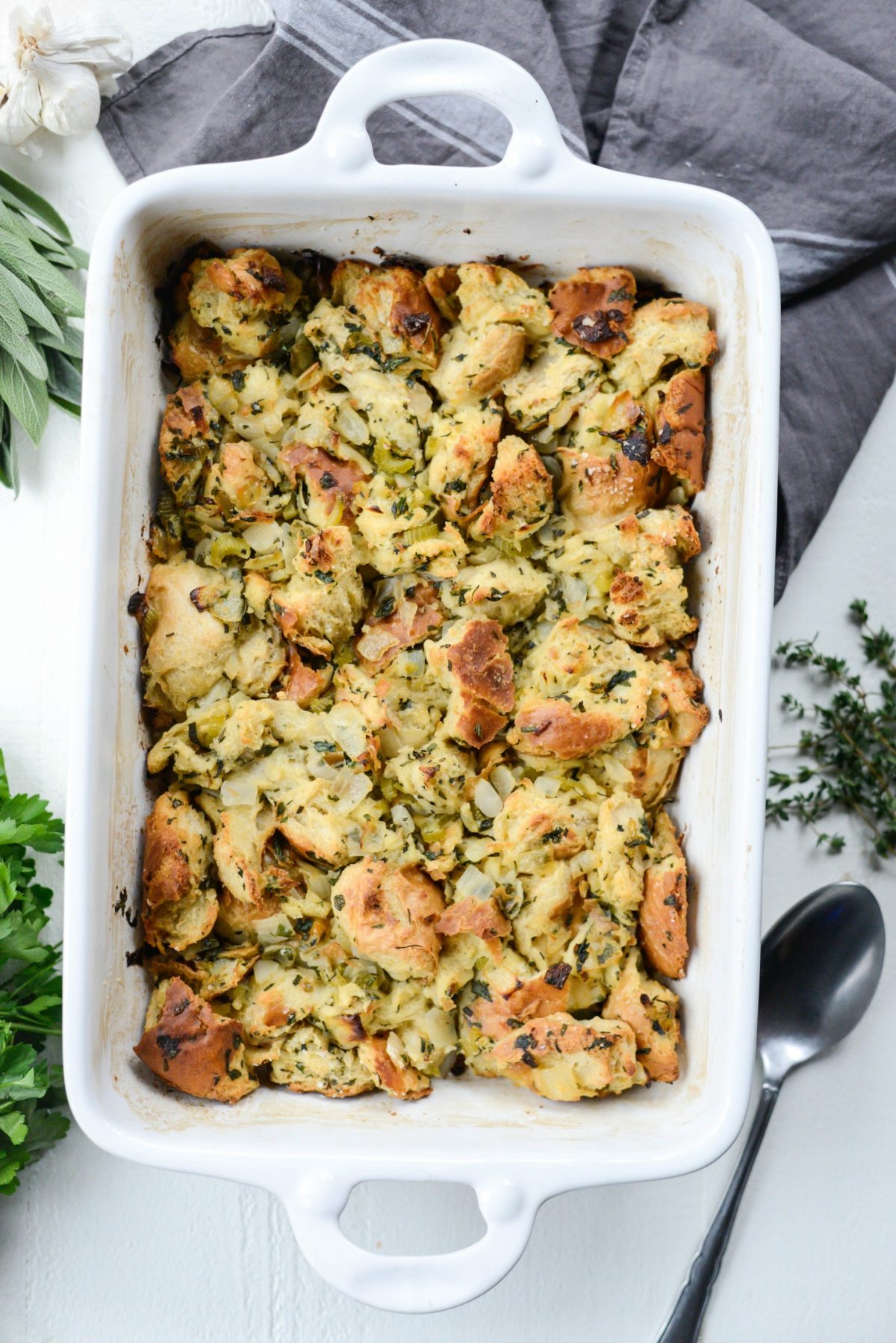 My whole life I grew up with my mom's delicious homemade stuffing [stuffed and cooked inside the turkey cavity] and it's one of many favorite things she makes on Thanksgiving.
My mother-in-law makes Stove Top and I'm not kidding you, it's equally delicious. I may cook mostly from scratch, but to me that stuff is freaking good. Both my mother-in-law and my mom, stuff their turkeys. But my MIL will also bake some in a casserole dish, which is something I've grown to love as well. I blame those crispy tops and edges. I'm a total sucker for all the crispy edges in life. Like the corner piece of pizza, brownies and casseroles — you name it.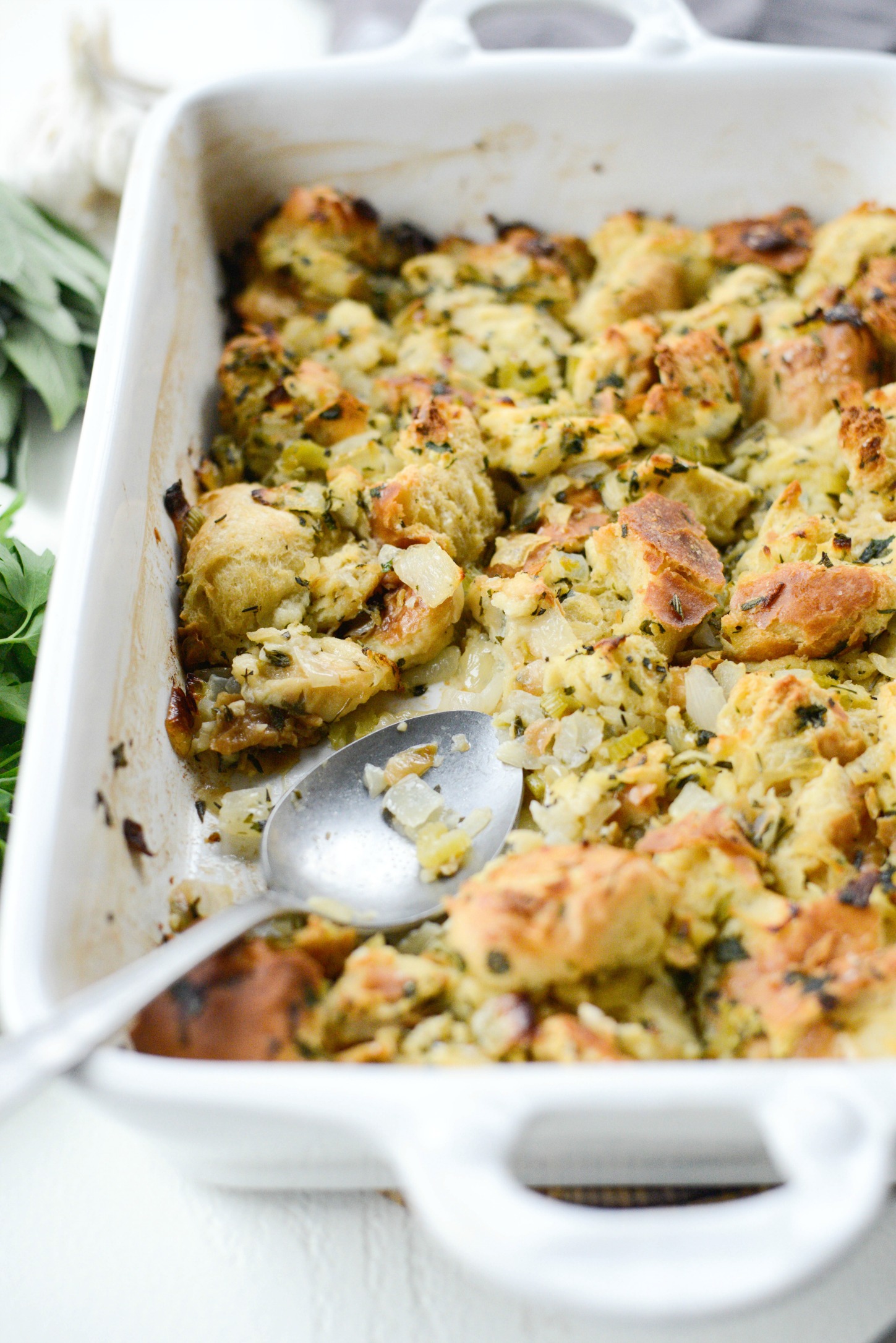 Inspired by the topping of this recipe, I took my love for homemade stuffing and my now-not-so-secret love for Stove Top stuffing and morphed them into this herb sourdough dressing.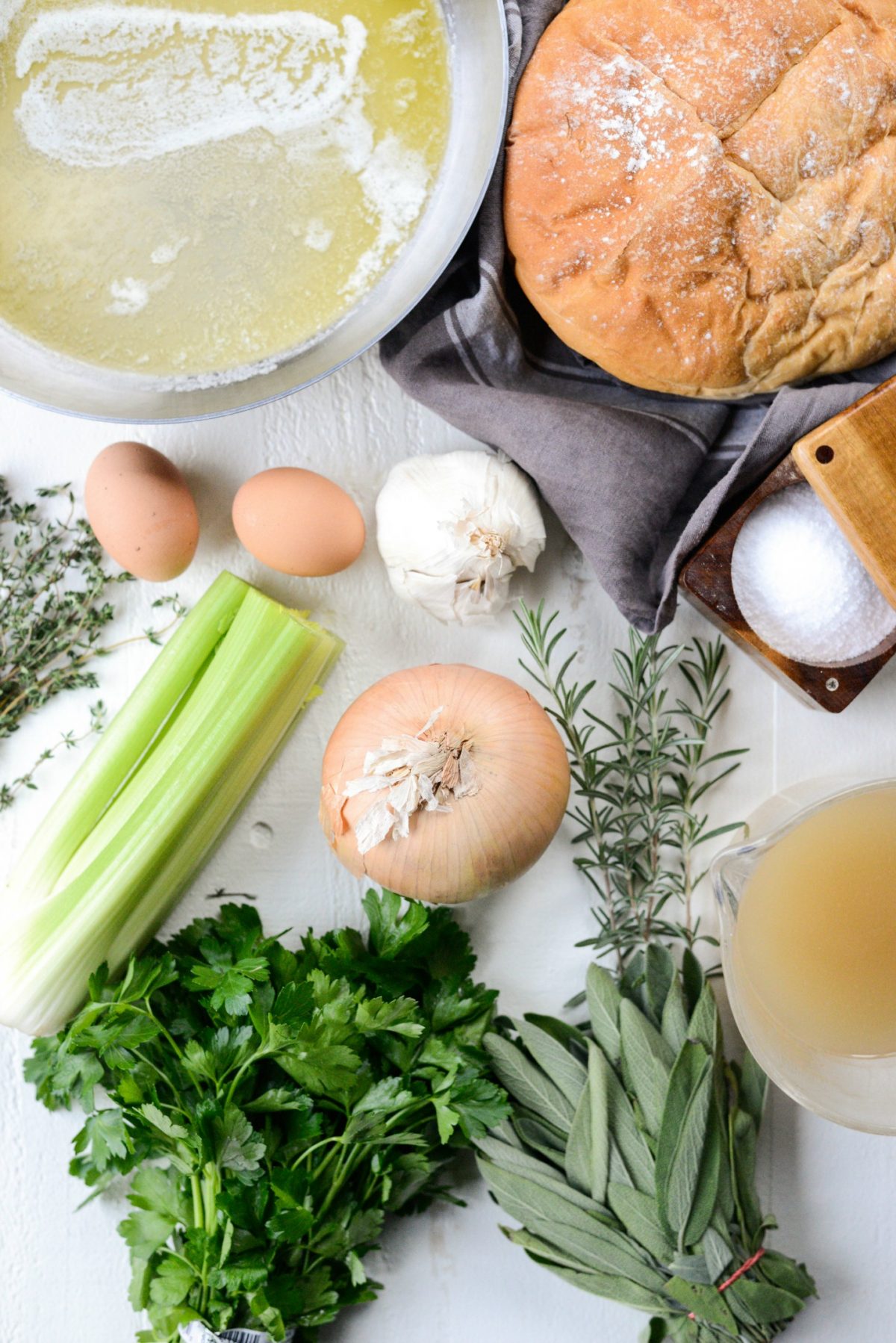 TO Make this Herb Sourdough Dressing You Will Need:
a loaf of day old sourdough bread
butter
a medium onion
celery
garlic
fresh parsley
rosemary
sage
thyme
chicken broth
eggs
kosher salt
freshly ground pepper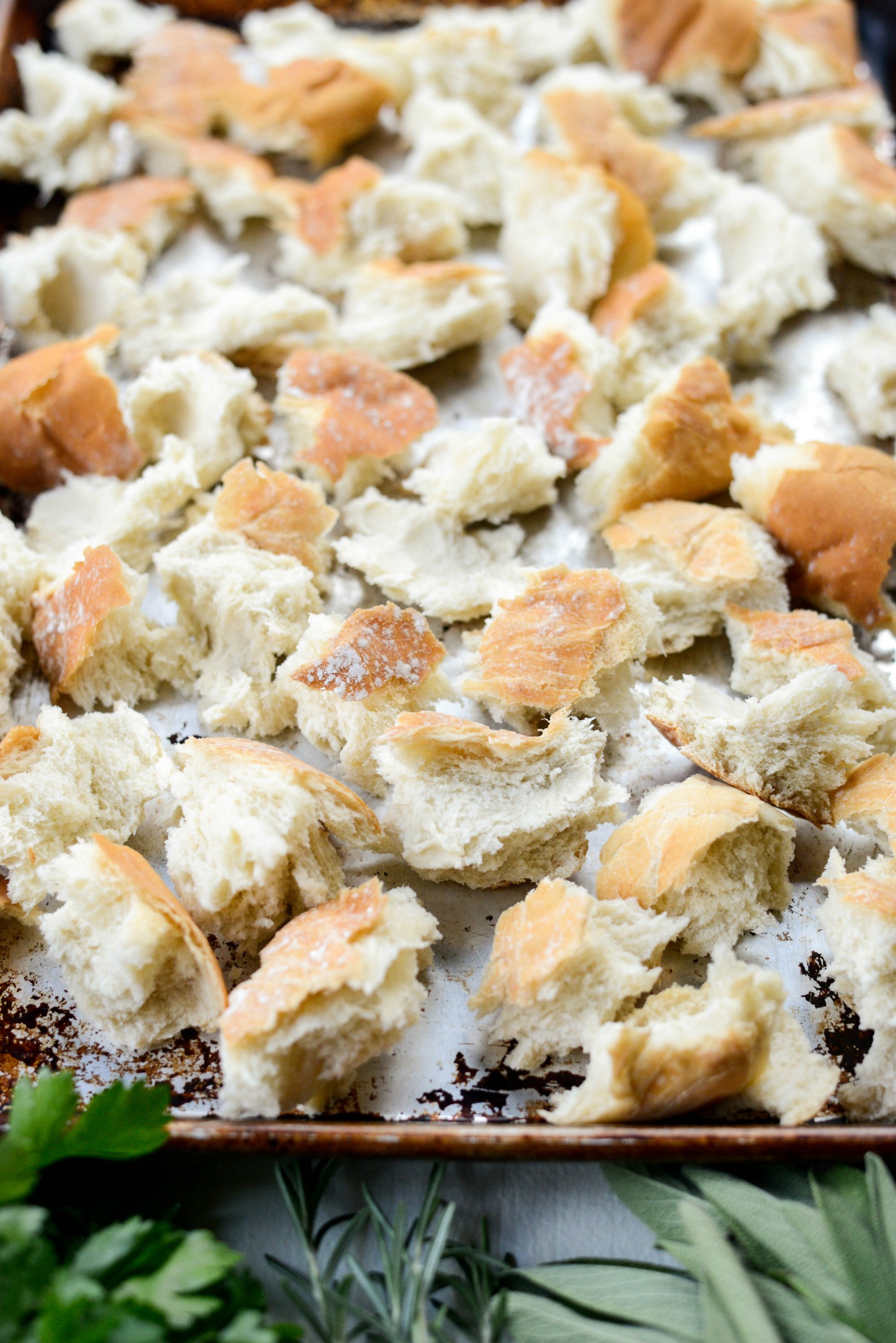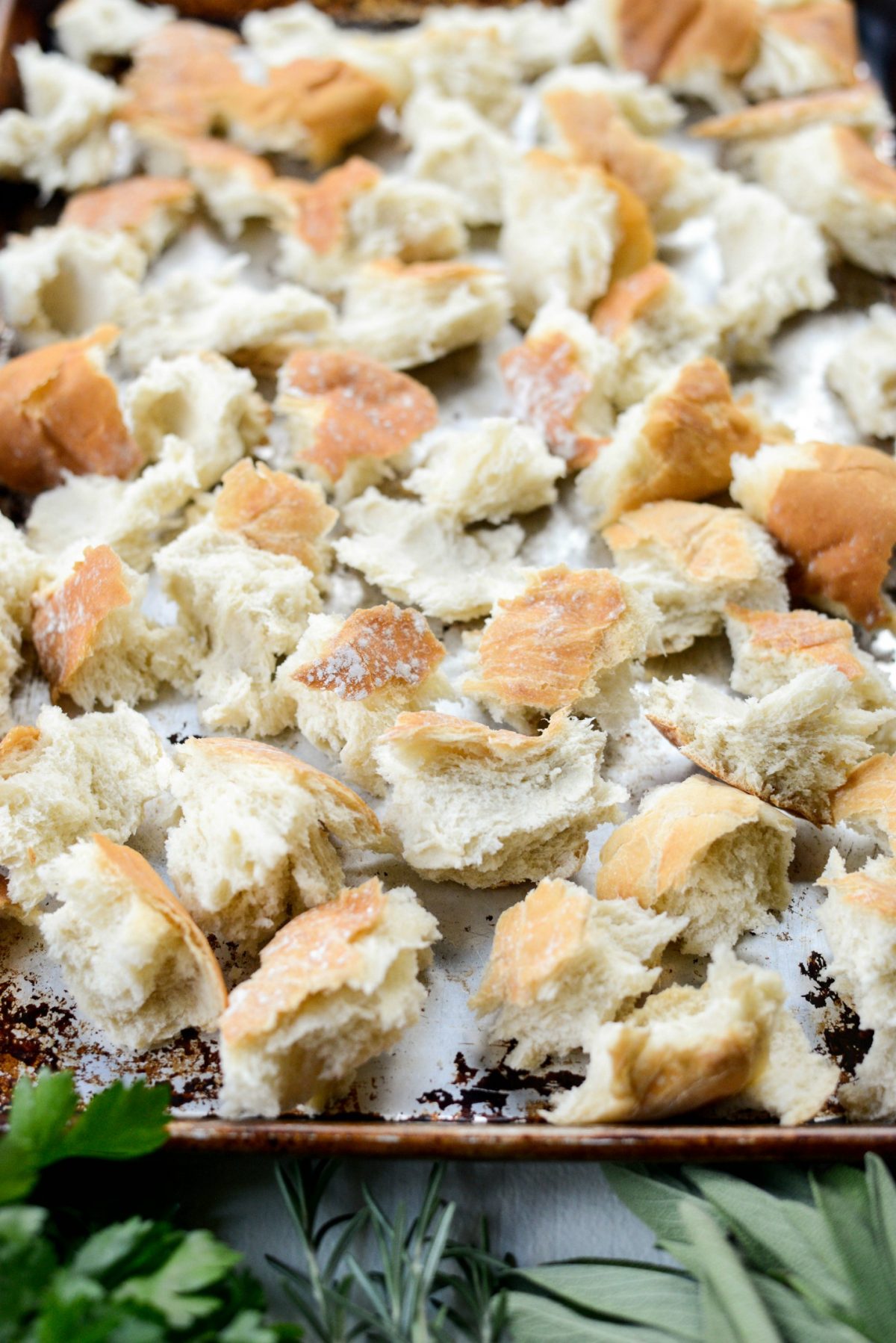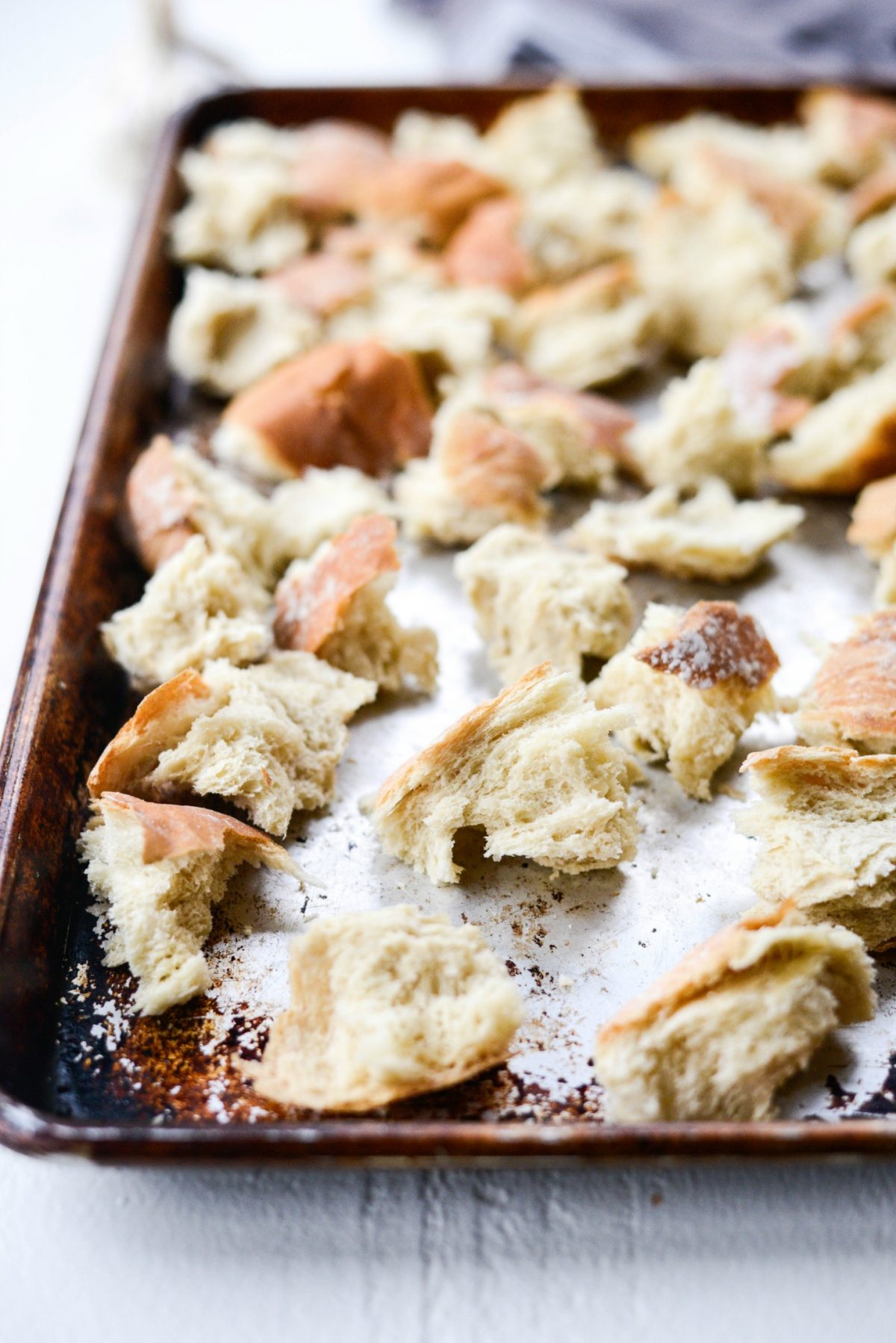 Tear the loaf of sourdough into bite-size pieces and place them onto a metal, rimmed baking sheet. Slide onto the middle rack of your preheated 200° oven for 1 hour or until the bread is "stale".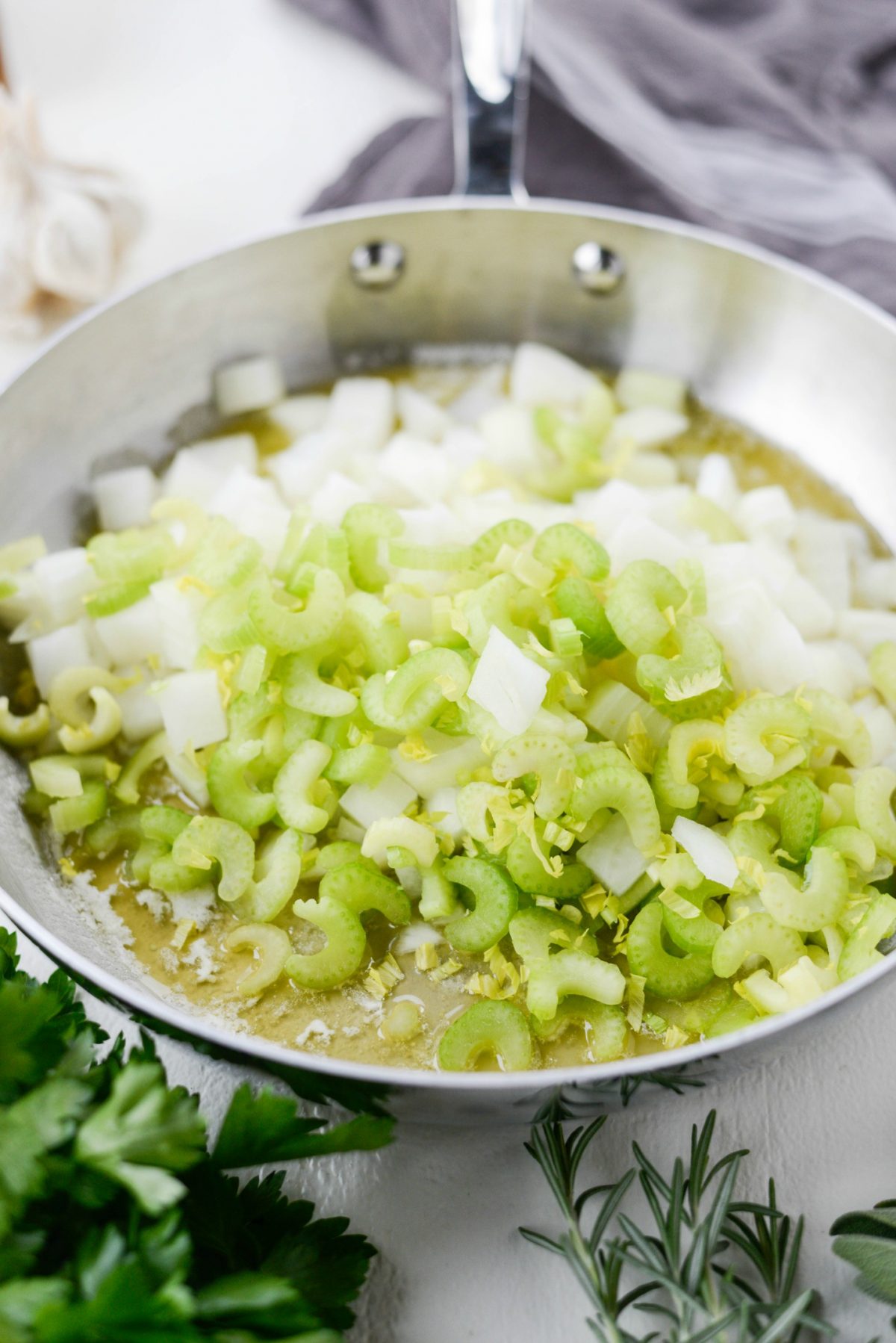 Meanwhile, add 1-1/2 cups diced yellow onion and 3/4 cup sliced celery into a skillet with a stick of melted butter. Sprinkle with a pinch or two of kosher salt and cook on medium heat until tender and the edges of the onion start to turn golden brown. About 20 to 25 minutes.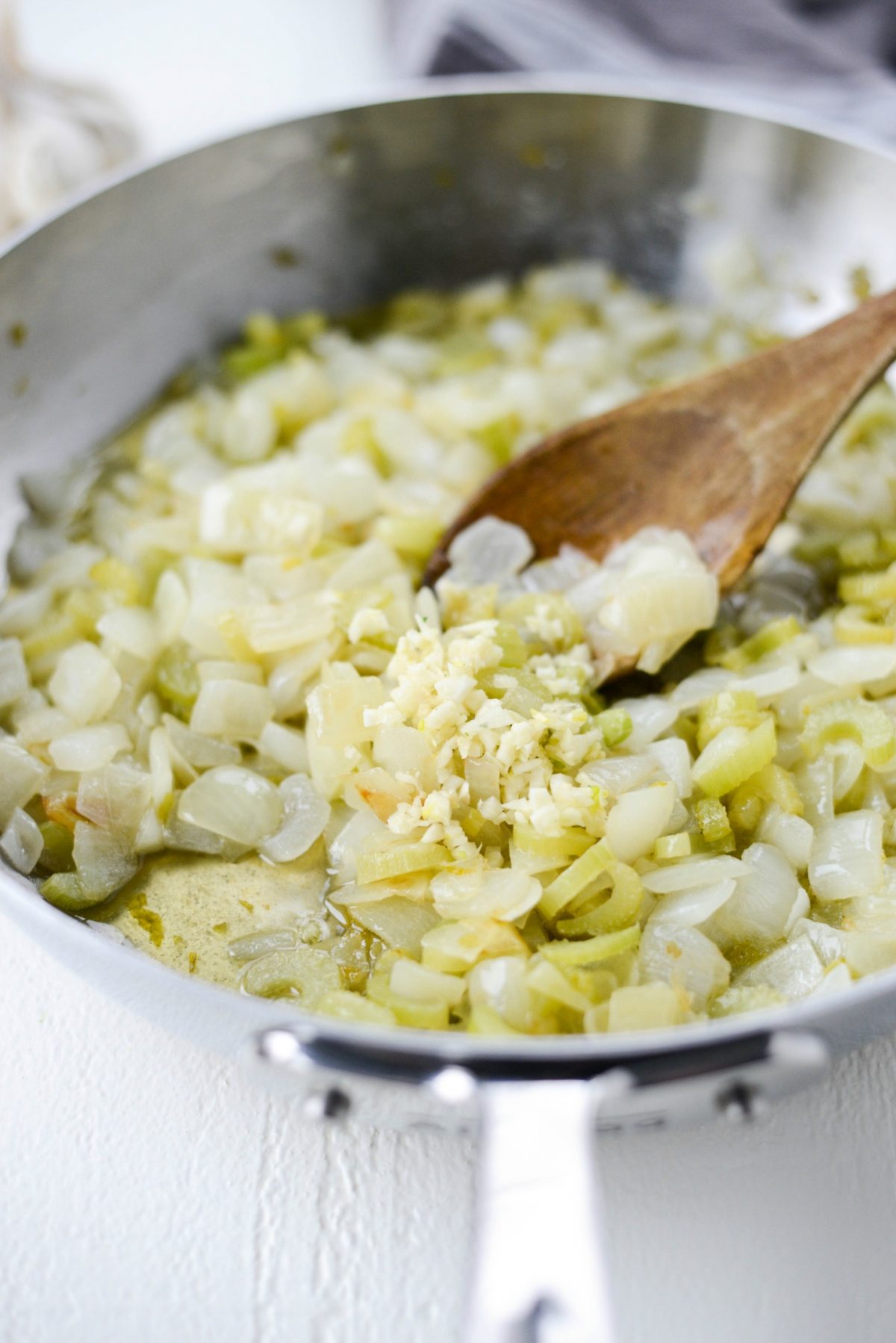 Next, add in the minced clove of garlic, stir and cook for a minute.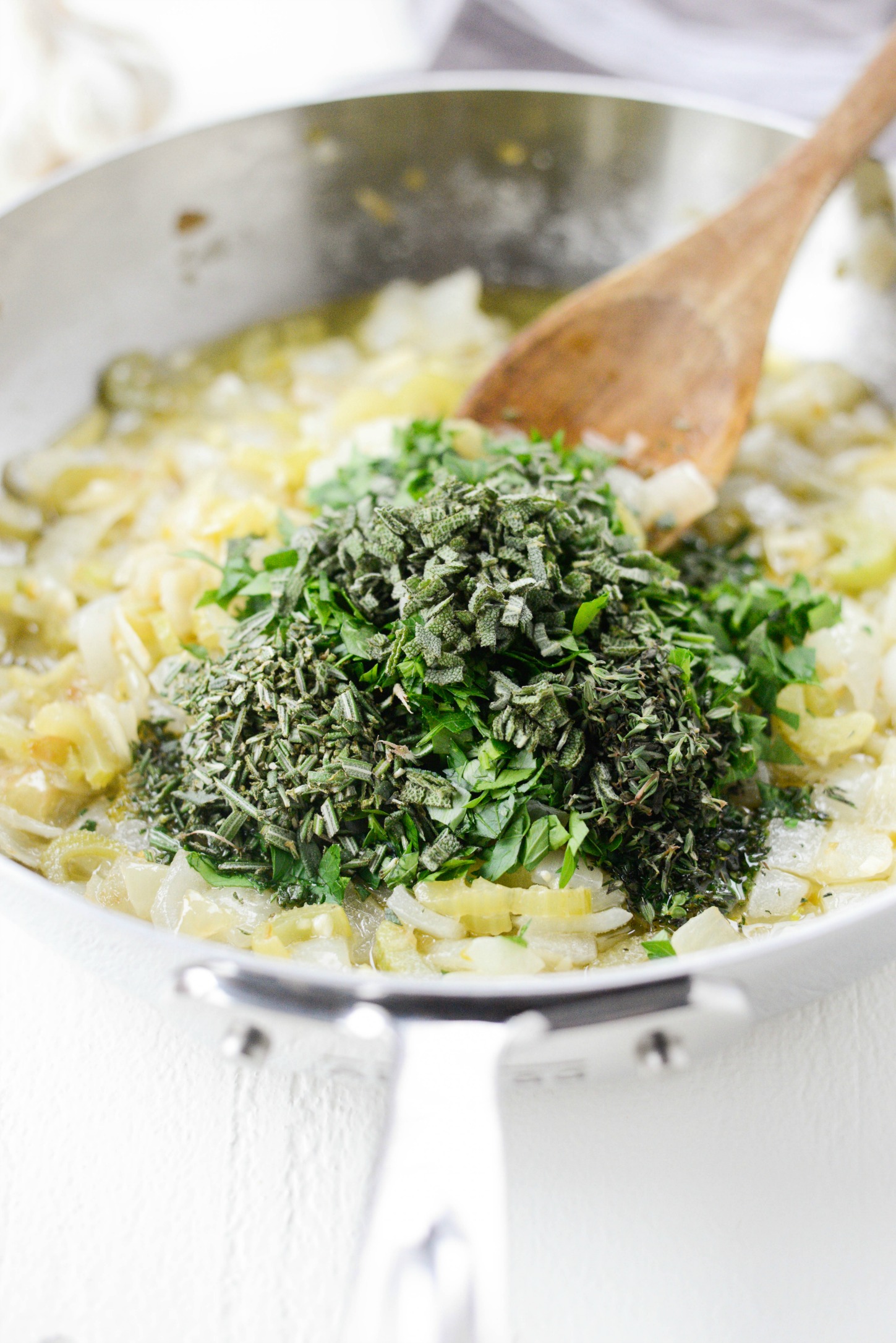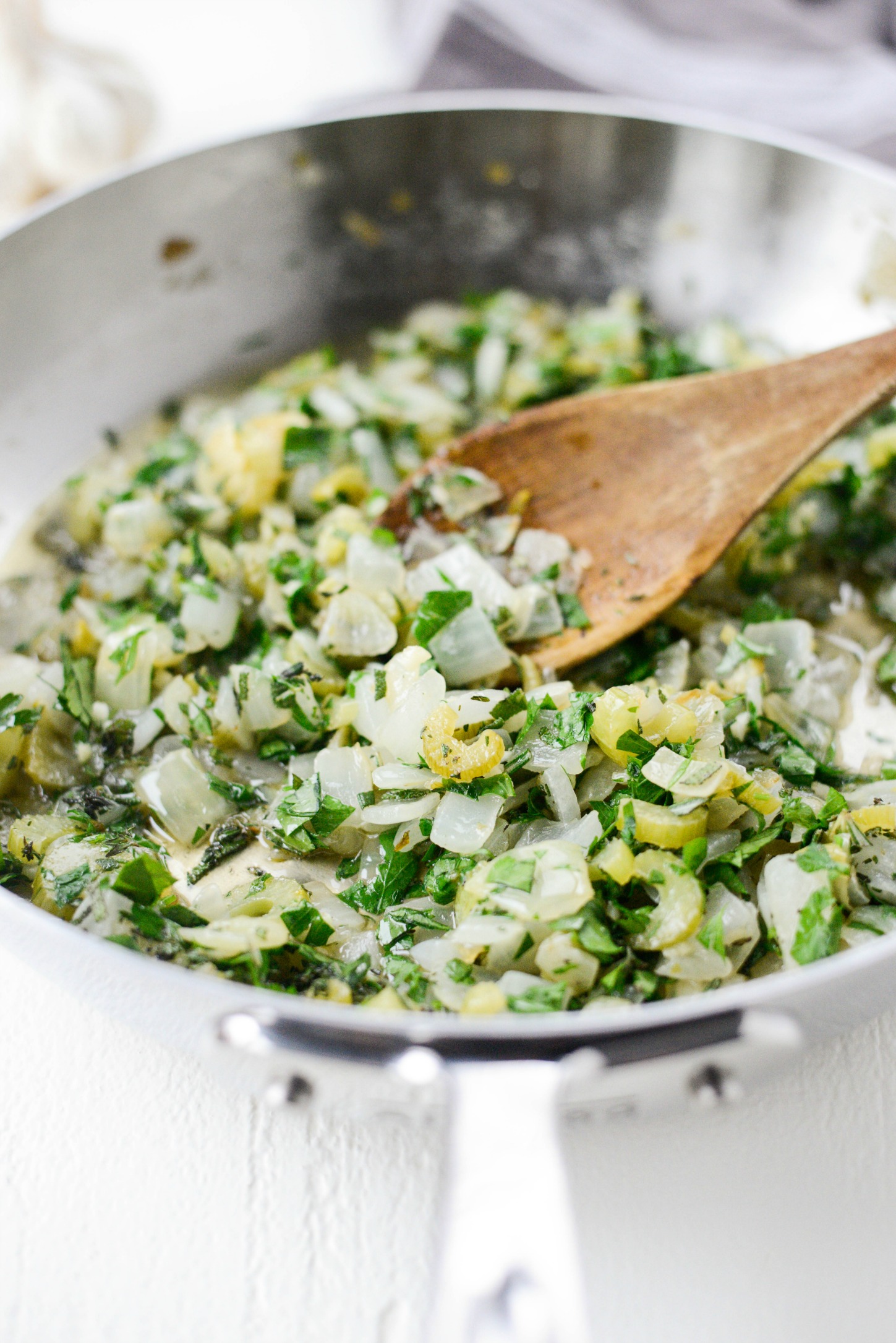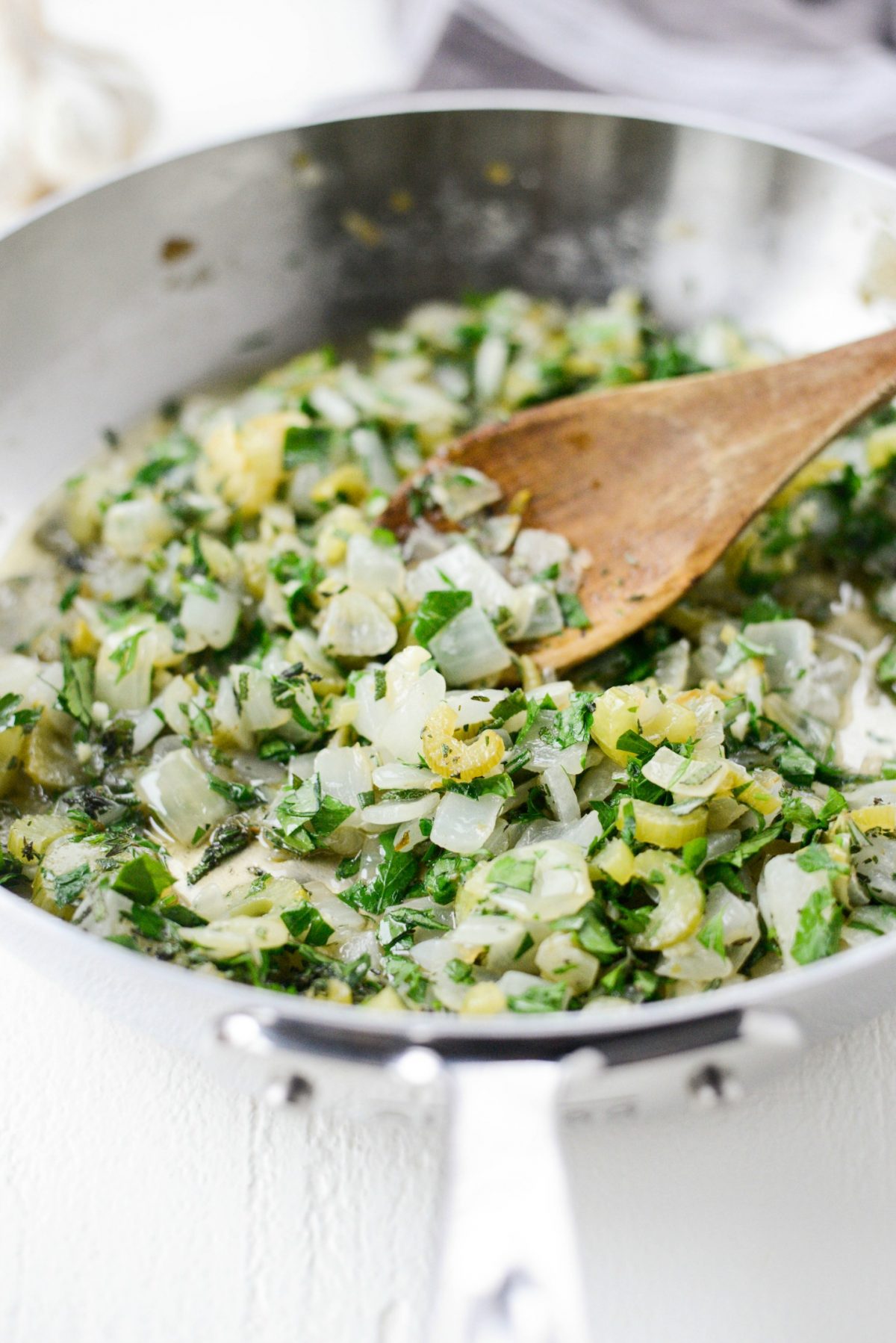 Remove the skillet off of the heat and stir in 1/3 cup finely chopped parsley, 1 tablespoon each minced rosemary and sage, and 2 teaspoons minced fresh thyme. Allow it to cool for 10 to 15 minutes.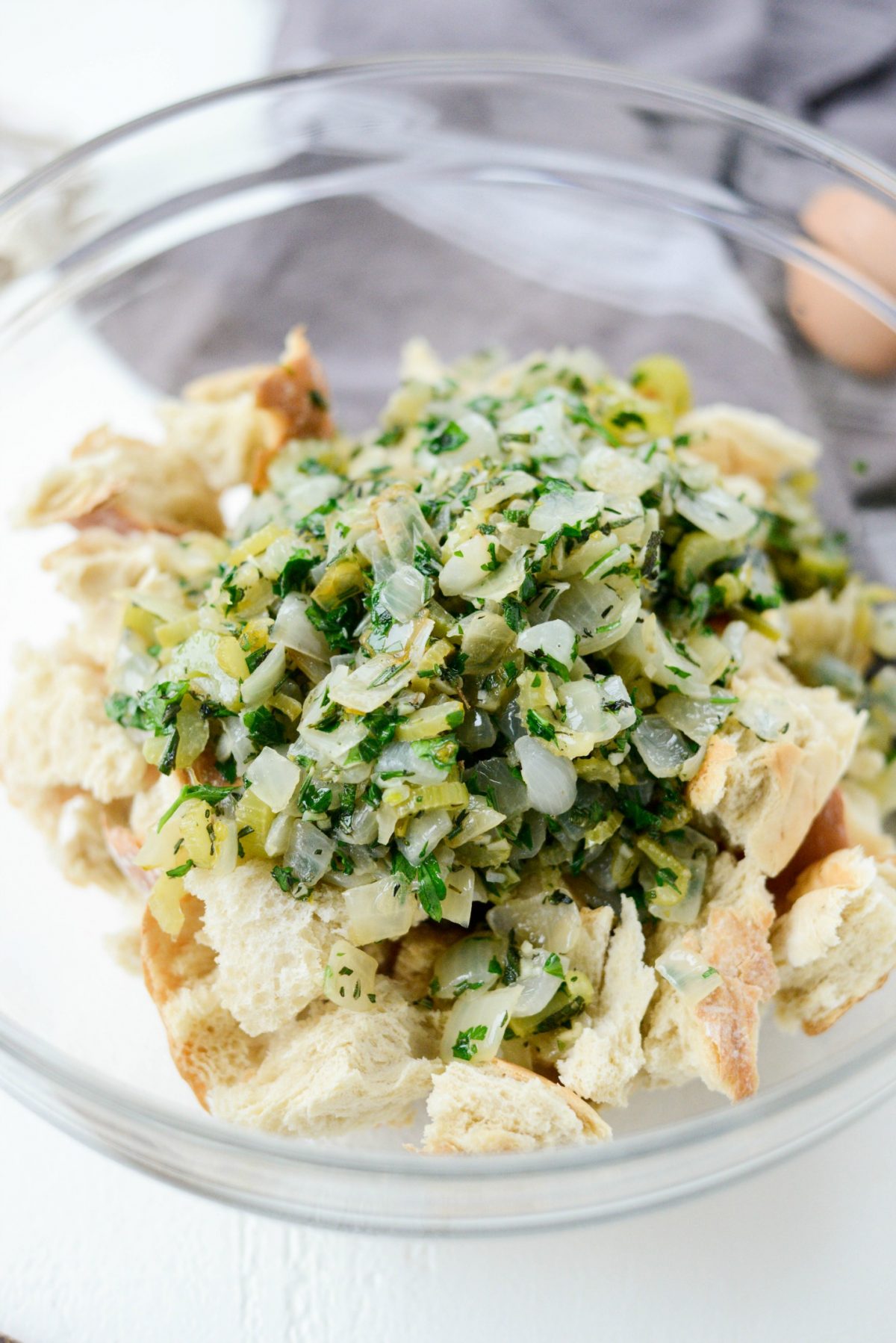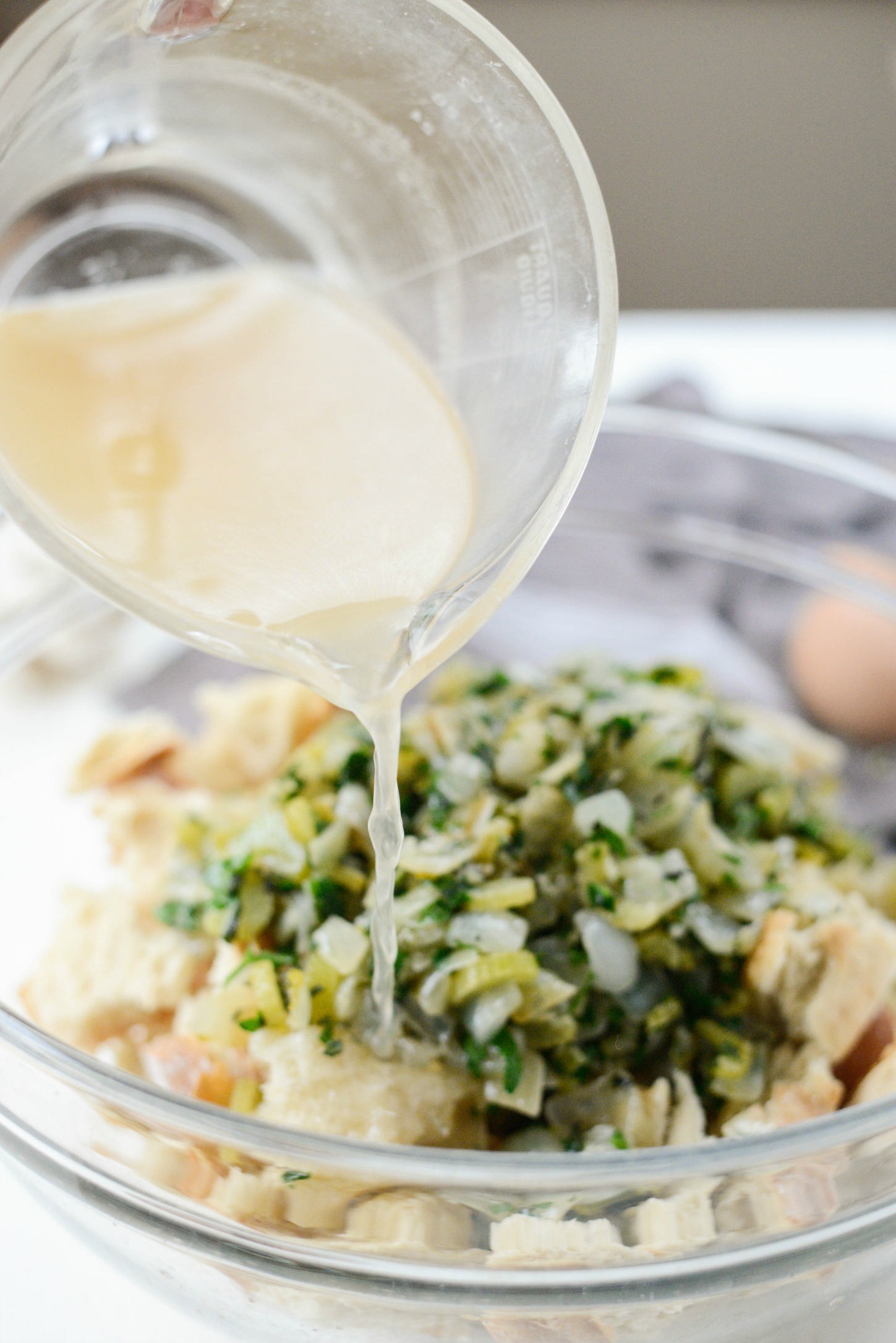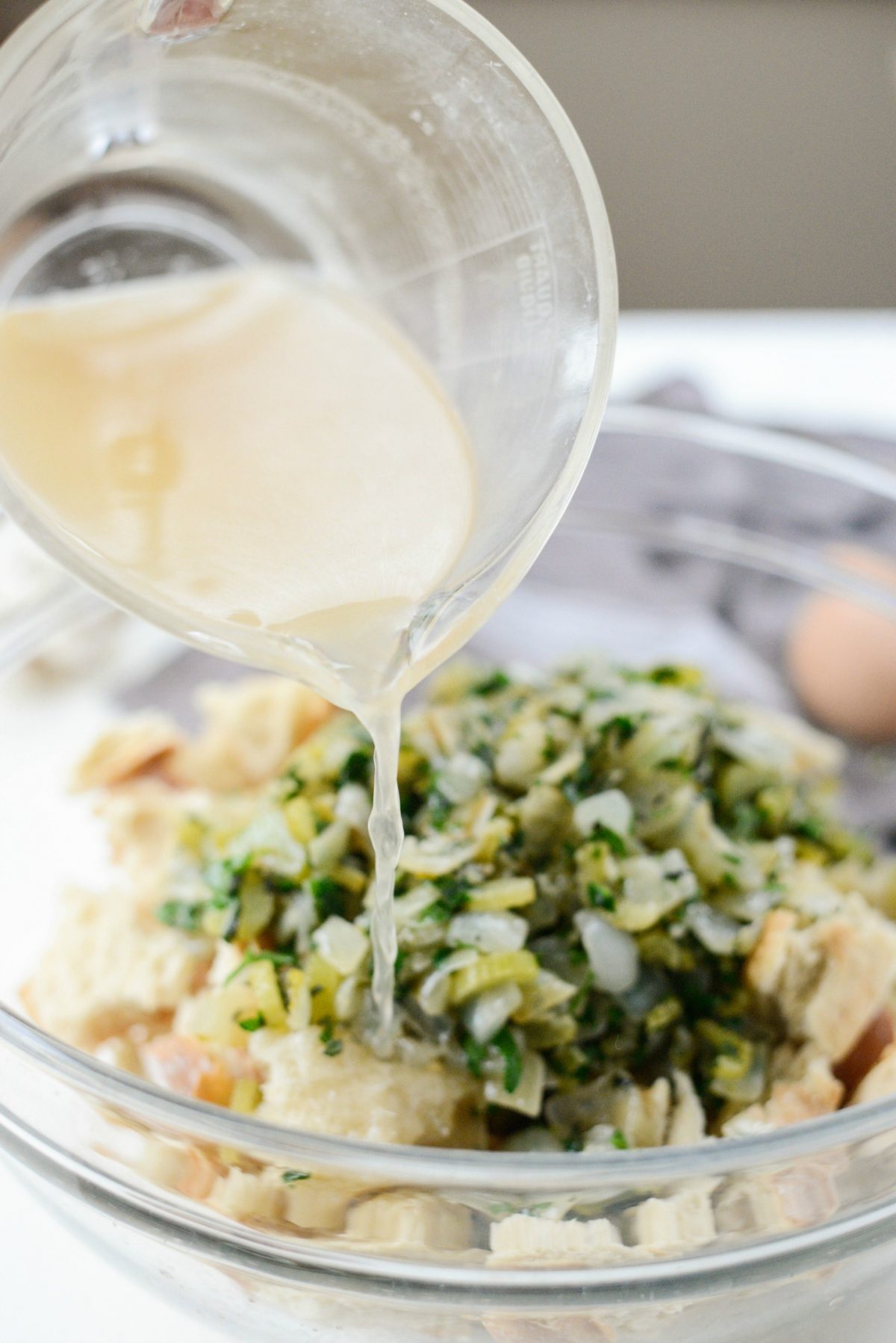 Add the onion and herb mixture into a large bowl with the bread pieces before pouring in 1 cup of low-sodium chicken broth.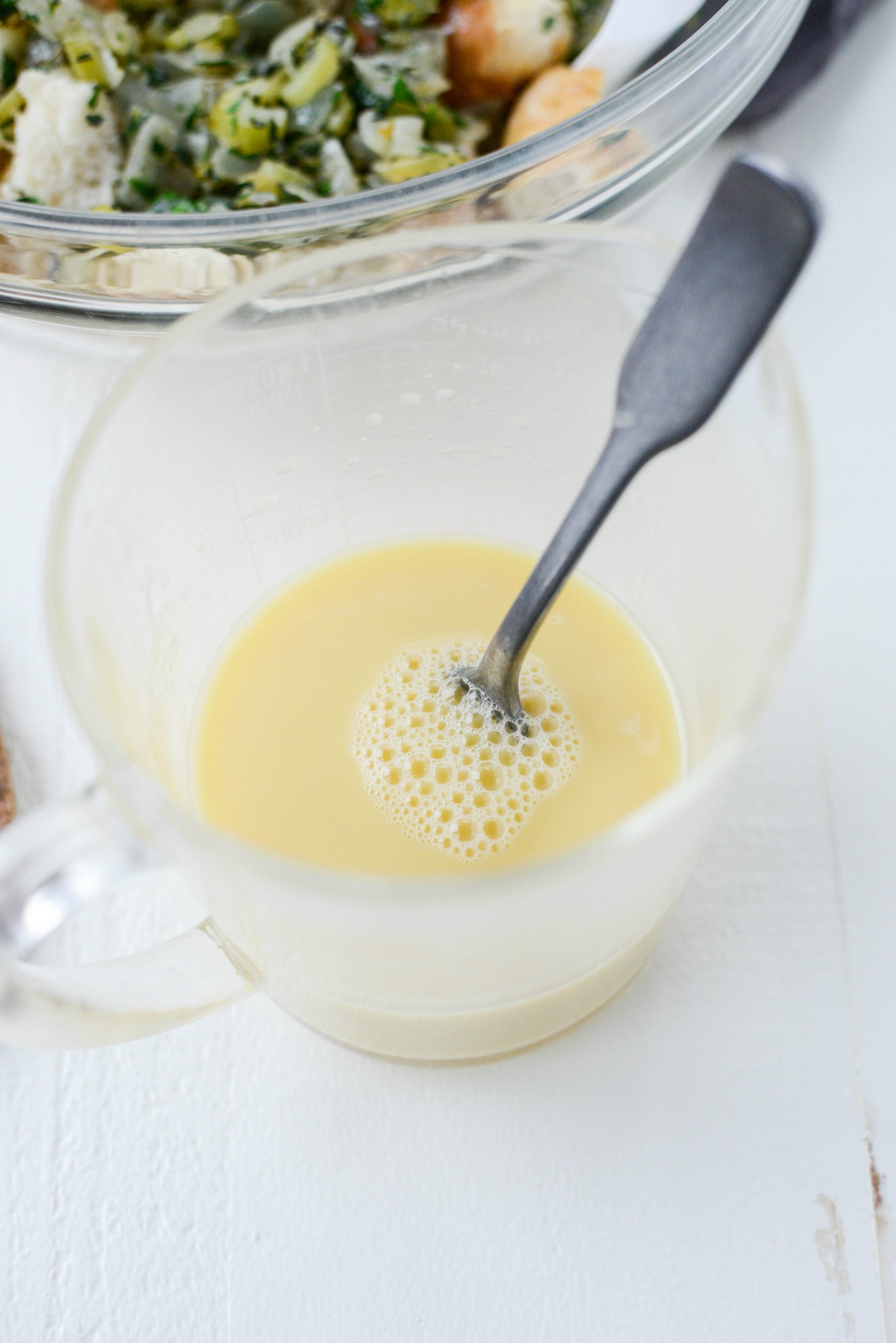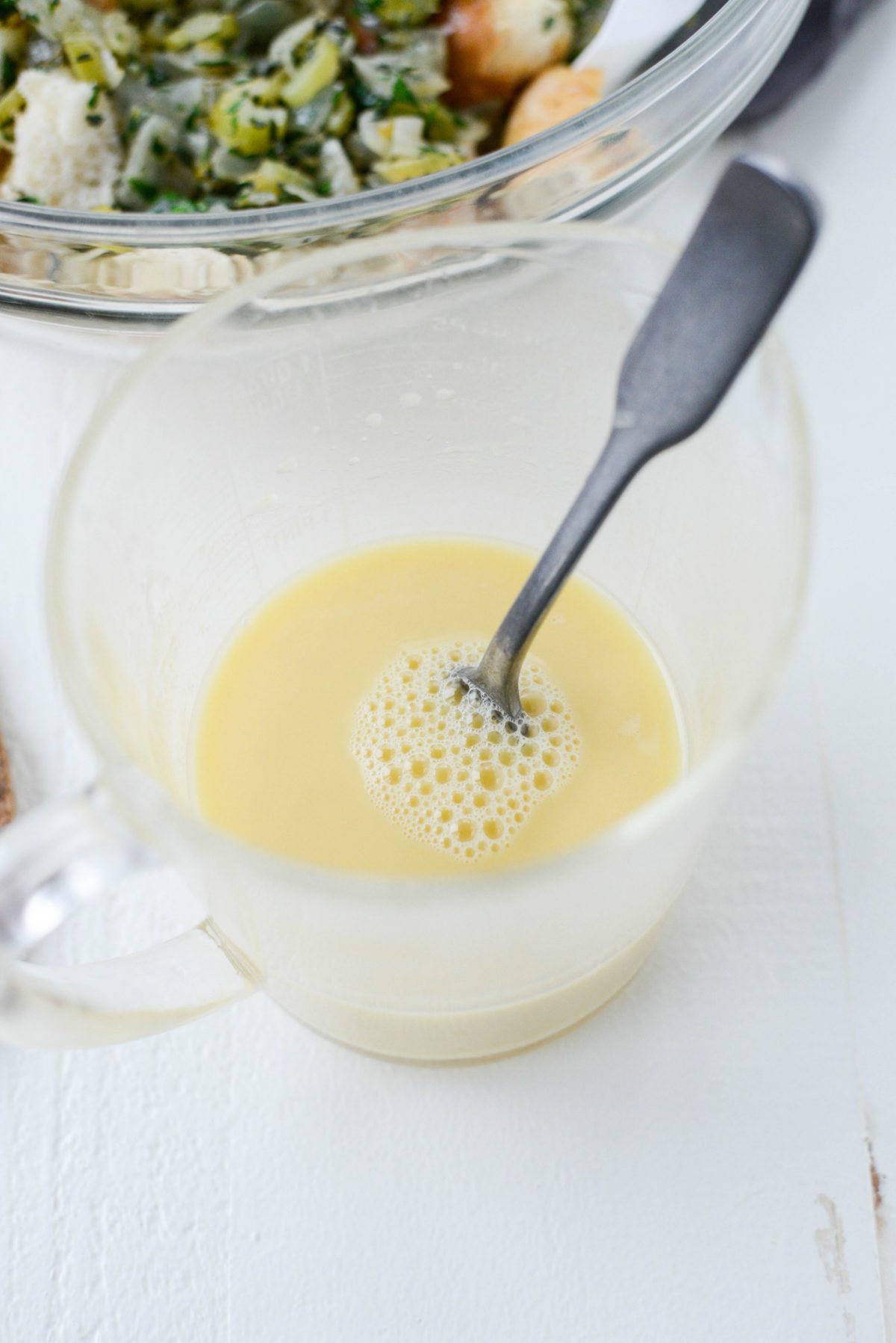 Then beat the two large eggs, 1-1/2 teaspoons of kosher salt and 1/4 teaspoon of freshly ground black pepper with the last cup of broth and pour it over top as well.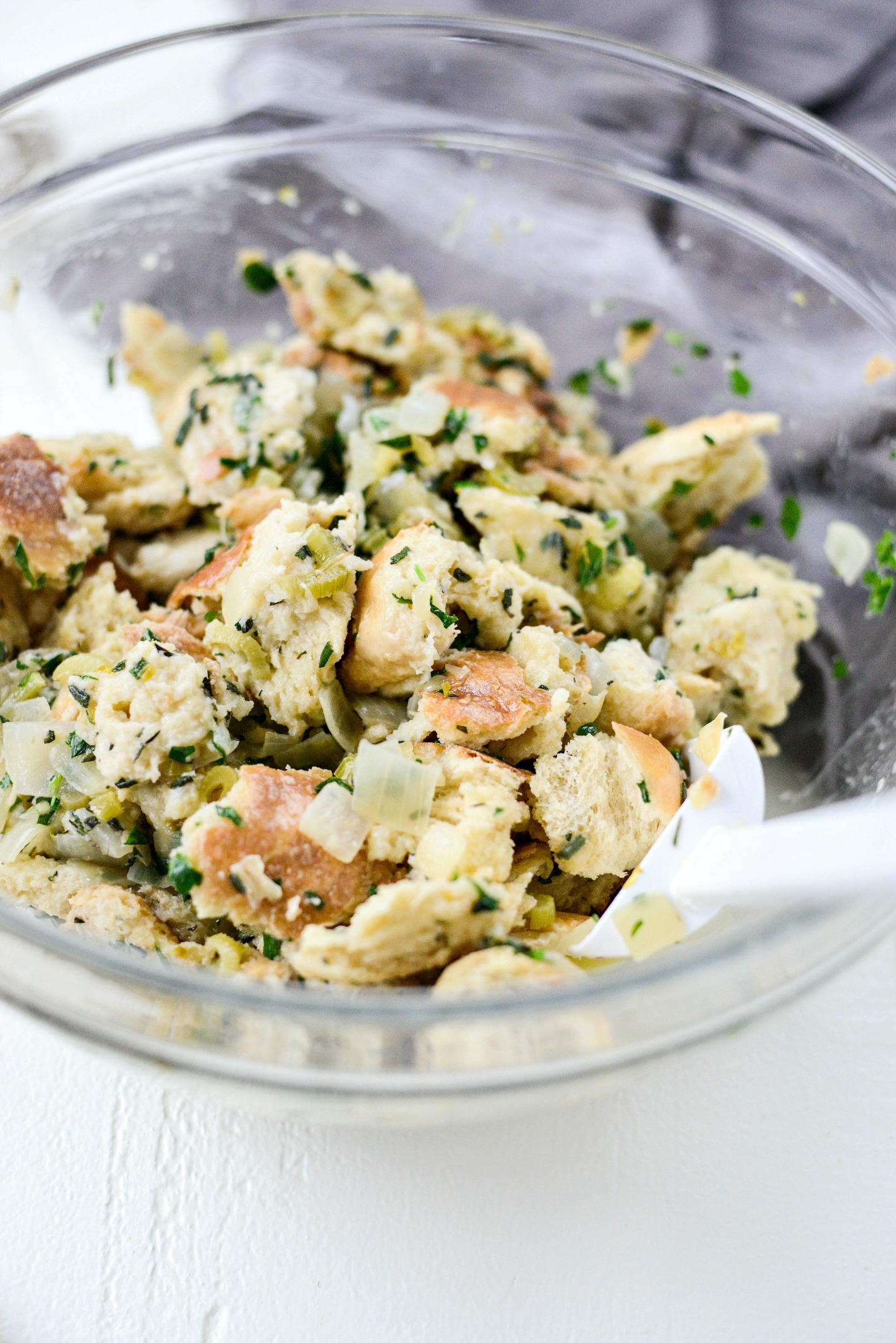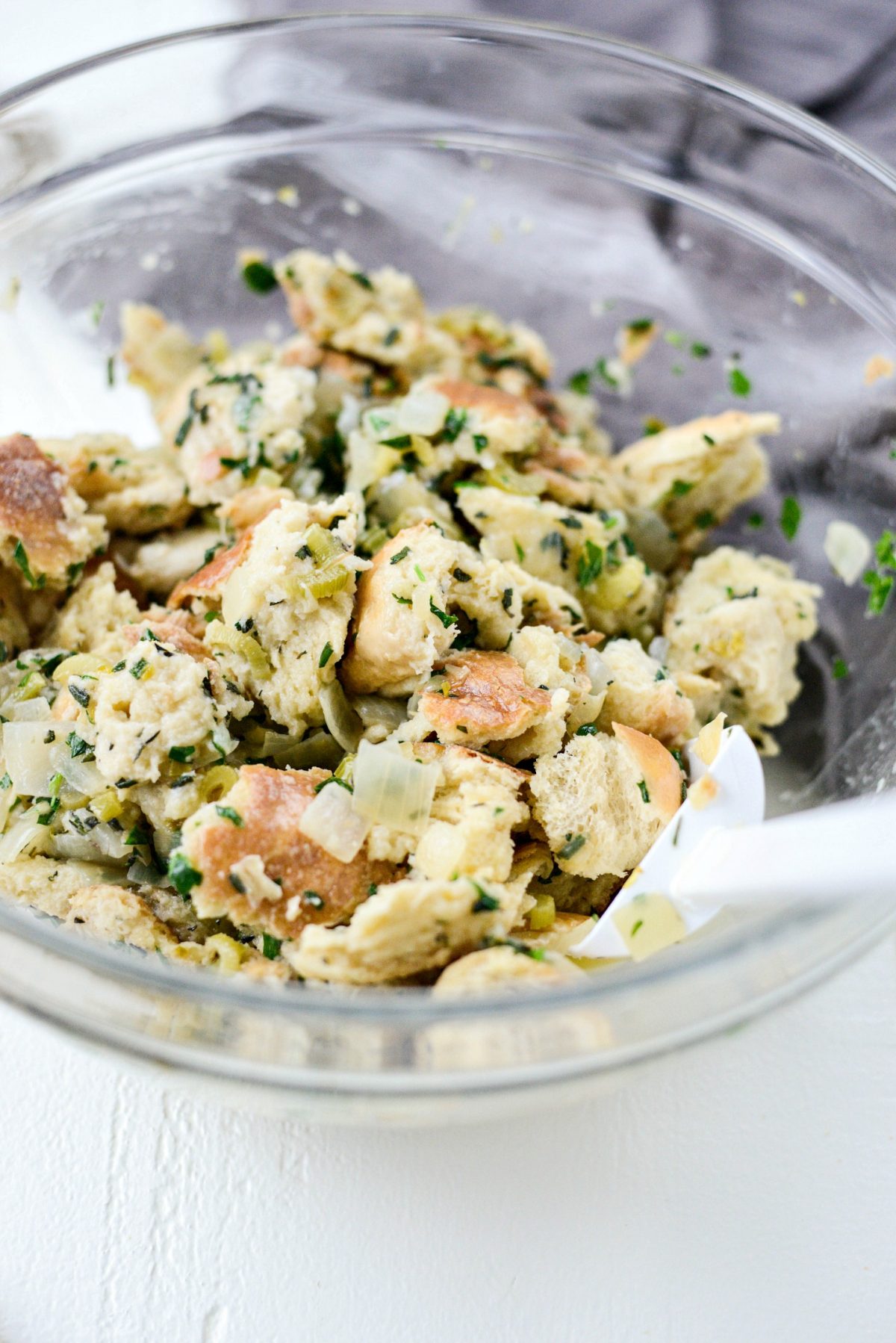 Toss gently to combine. If the dressing seems to be dry in spots, splash in more broth.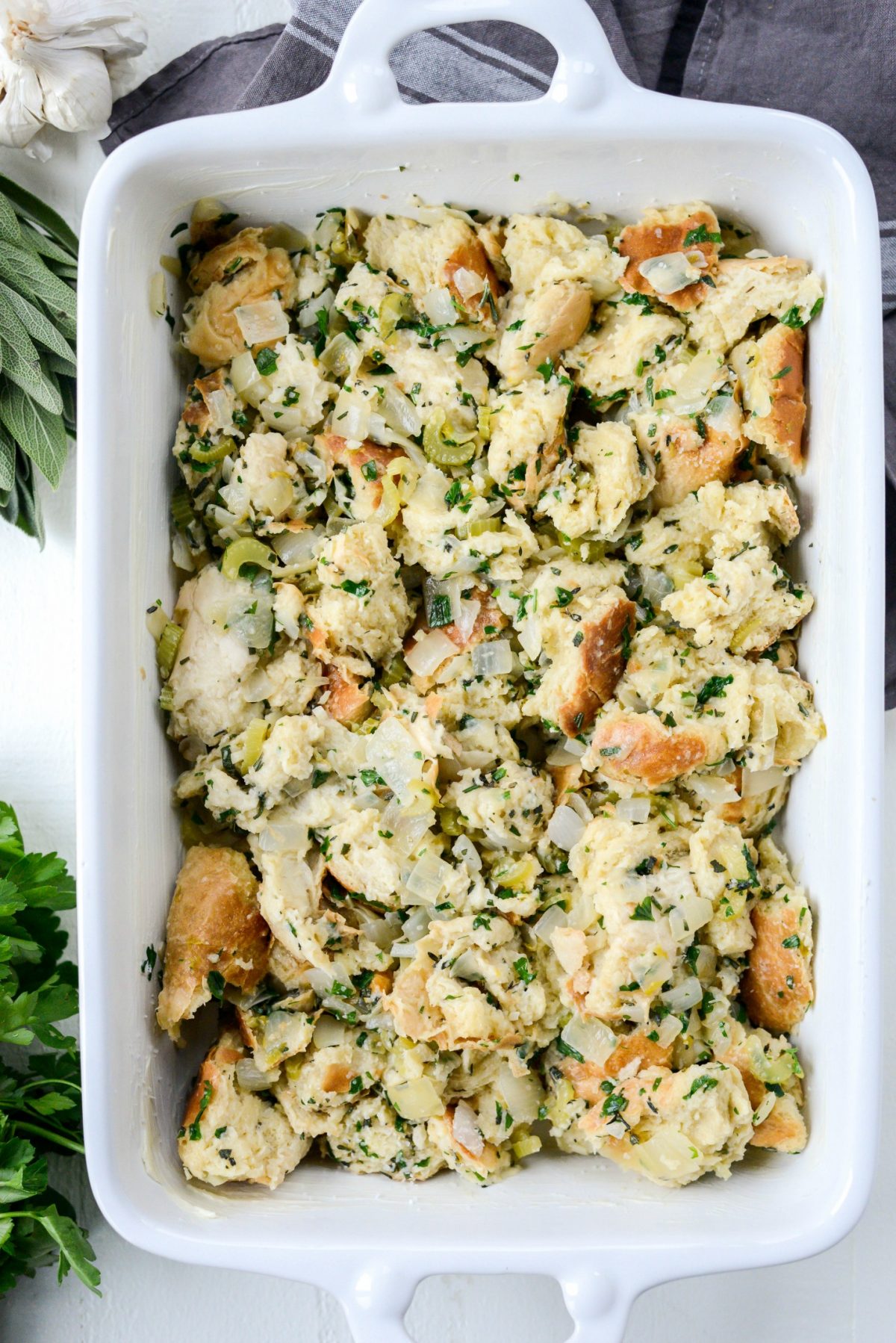 In a greased [buttered] casserole dish (8×8 or 8×11 or 9×13), spread the herb sourdough dressing evenly and bake in your preheated 350° oven for 40 to 45 minutes.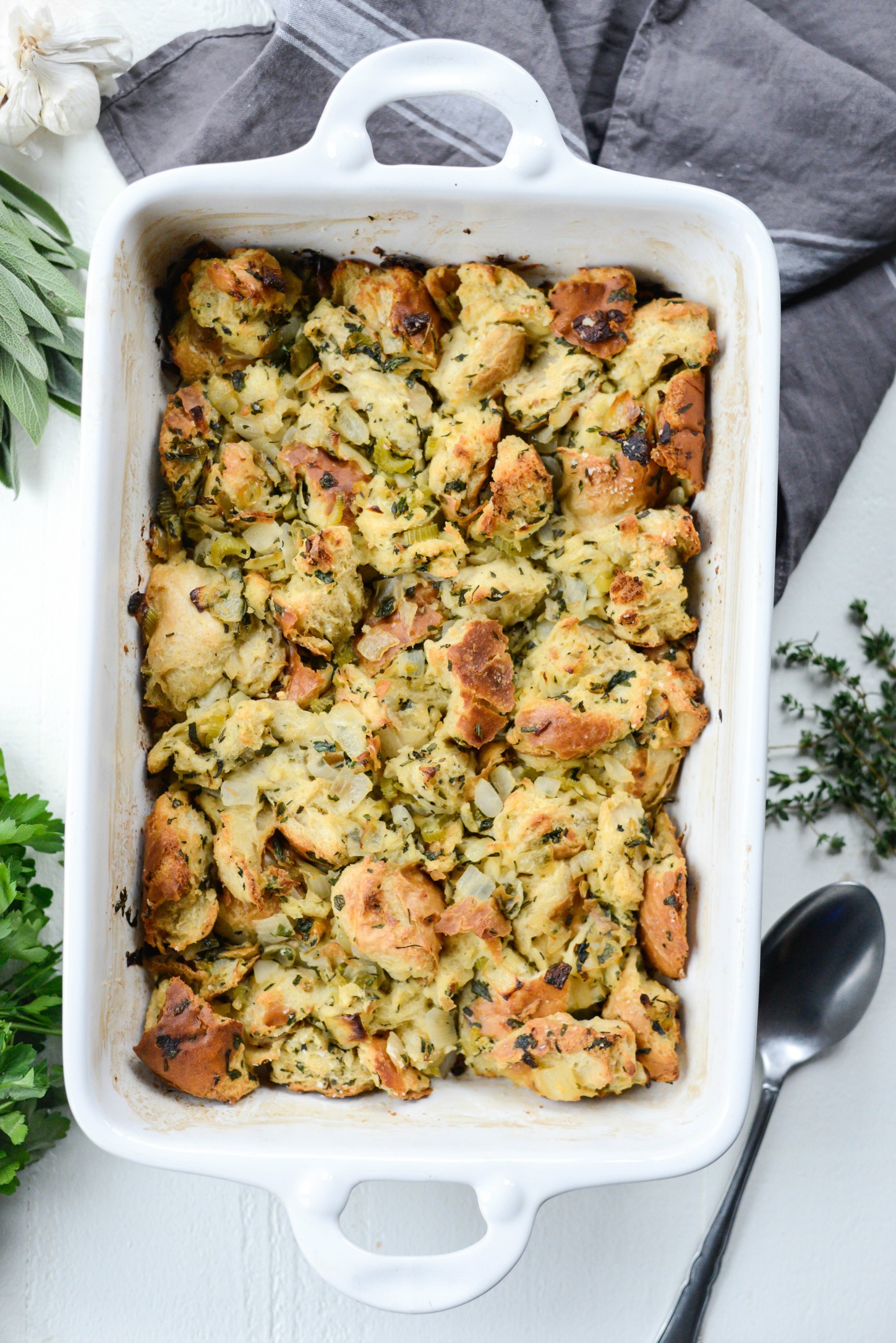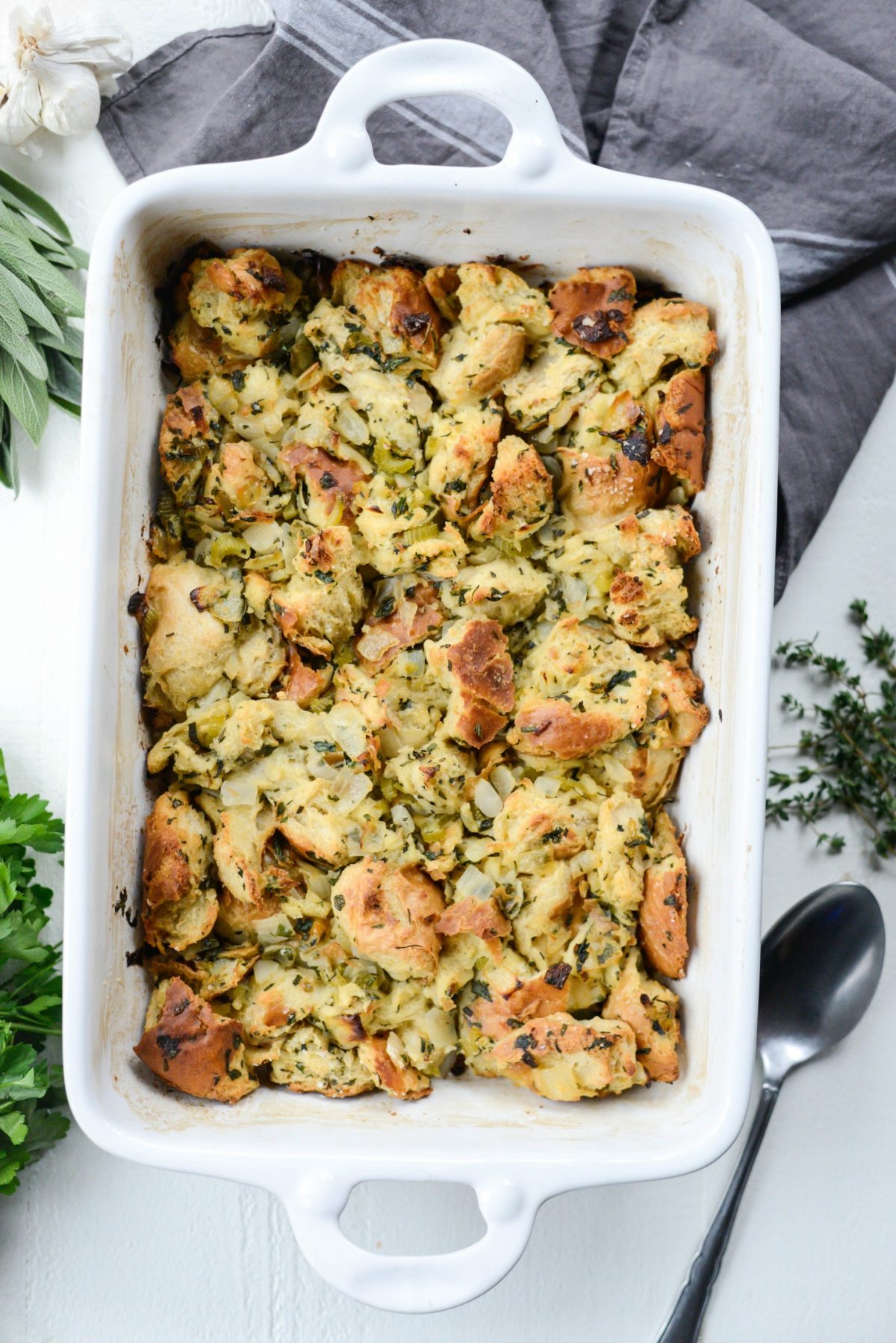 Or until the dressing is set and the top [and more importantly the edges] are golden brown and crispy.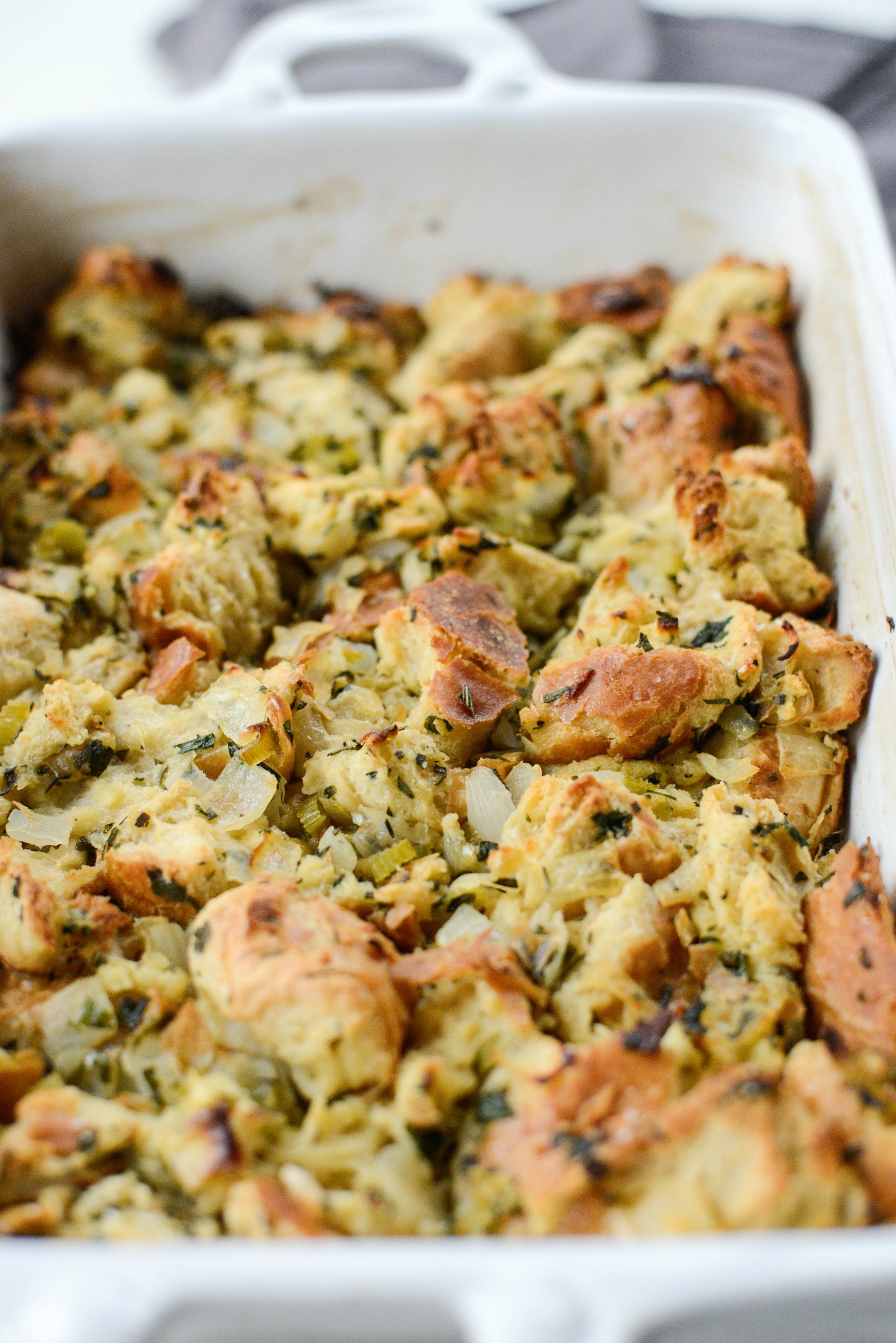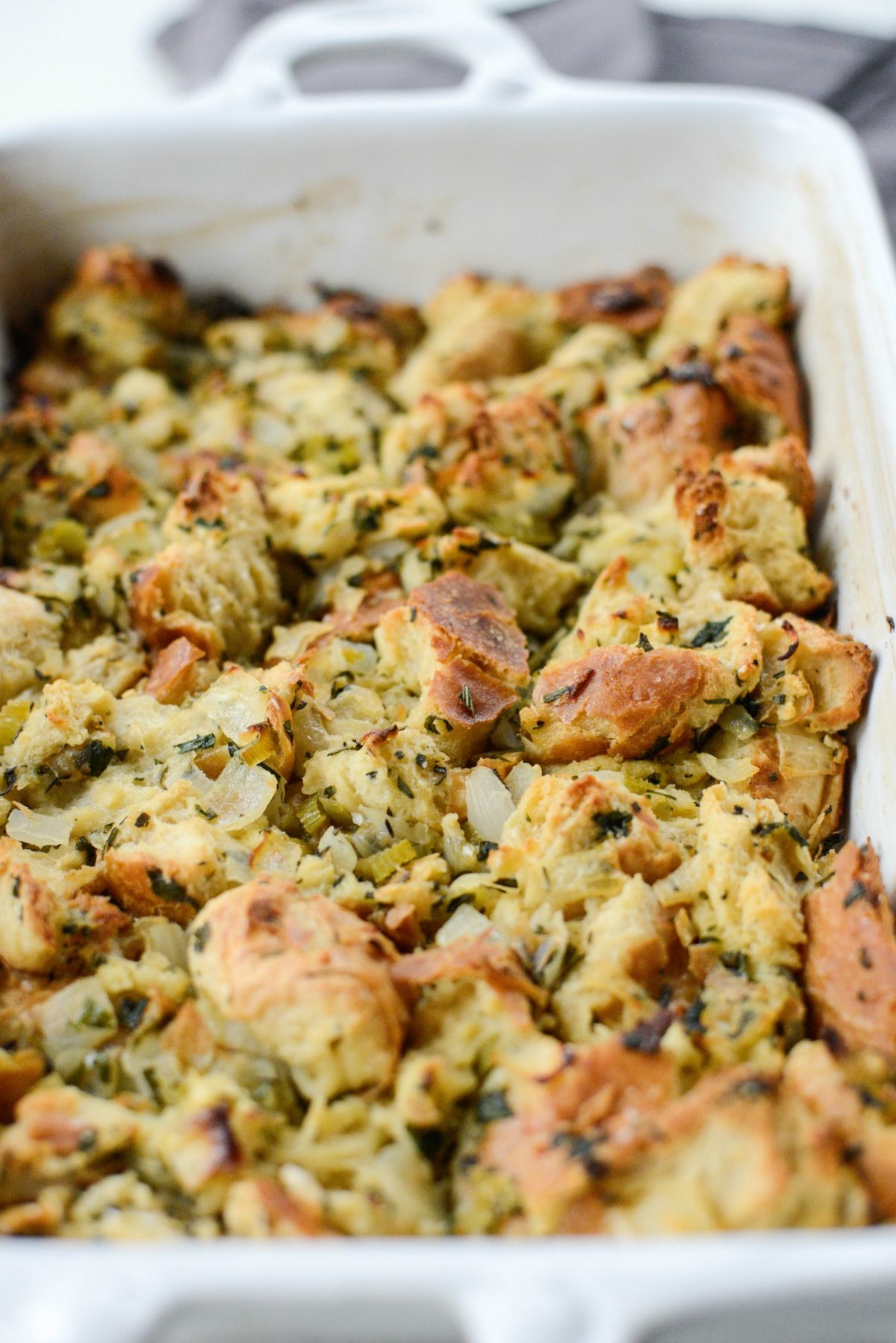 Smells so good.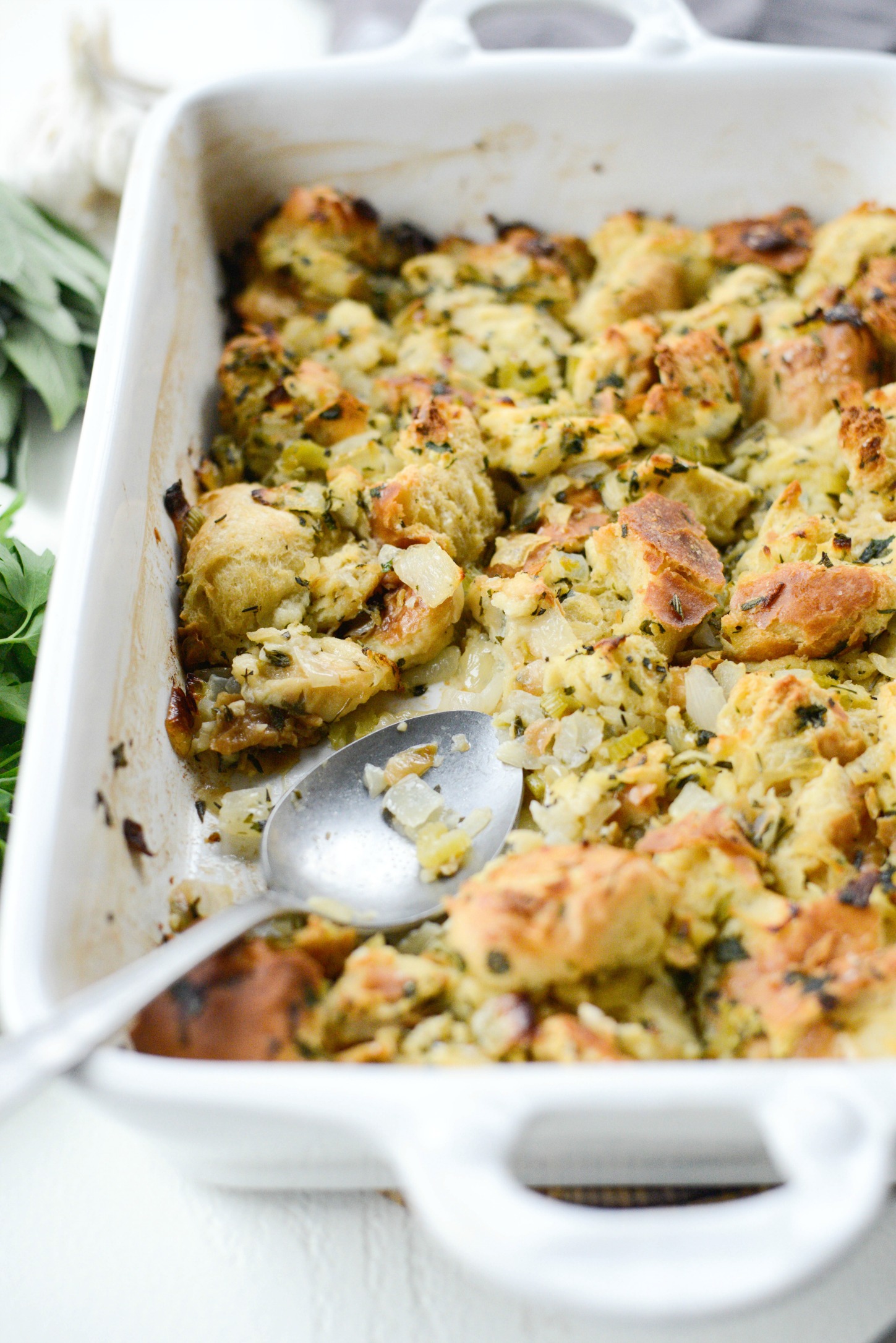 And tastes even better!
This dressing has texture, herbs galore and yet it's simple and classic in its own way. Perfect for a smaller crowd, but this recipes can easily be doubled.
Apparently I need to step up my stuffing or dressing game, because this is 1 of 2 recipes I have on here. If you like bacon, check this stuffing recipe out.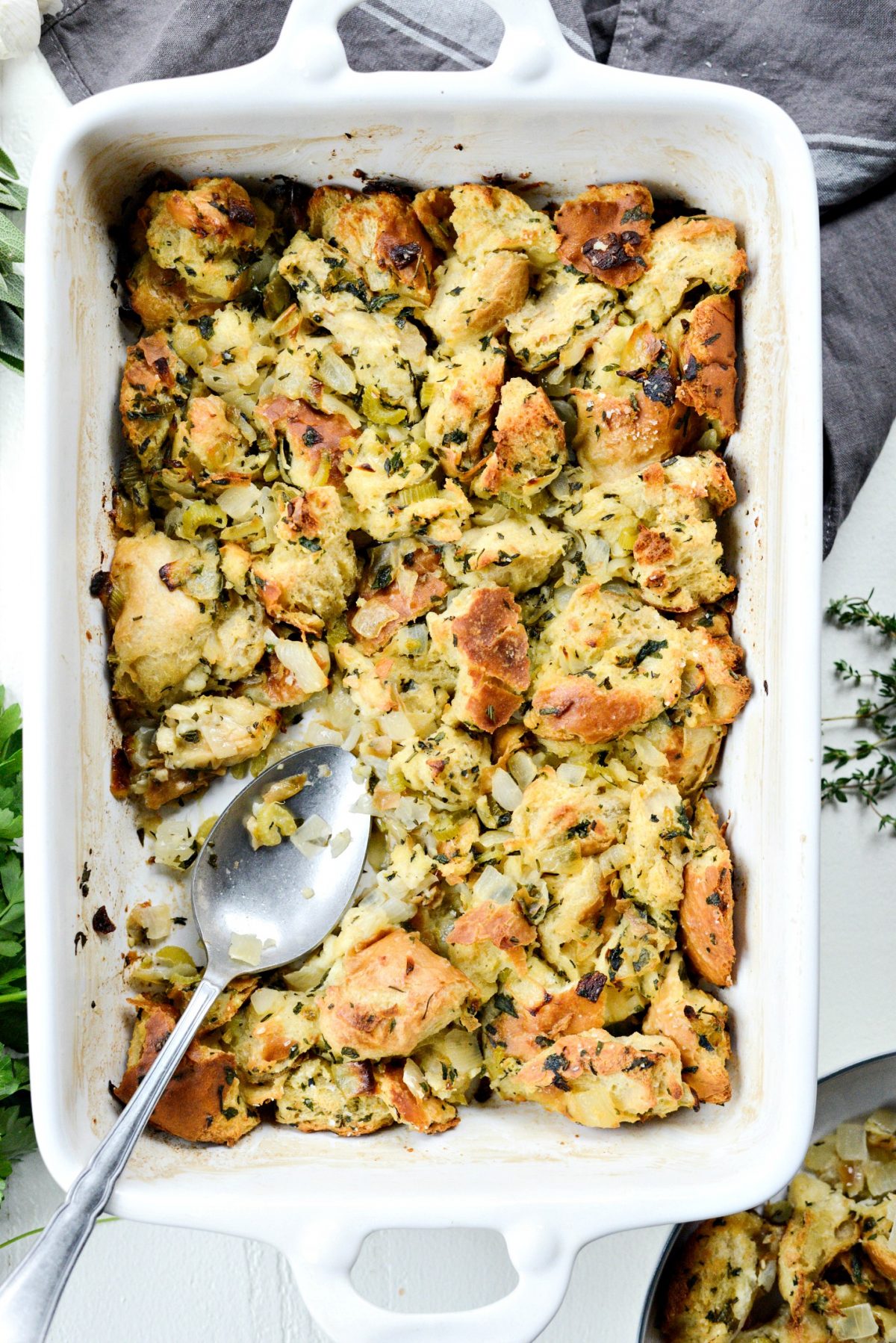 Enjoy! And if you give this Herb Sourdough Dressing recipe a try, let me know! Snap a photo and tag me on twitter or instagram!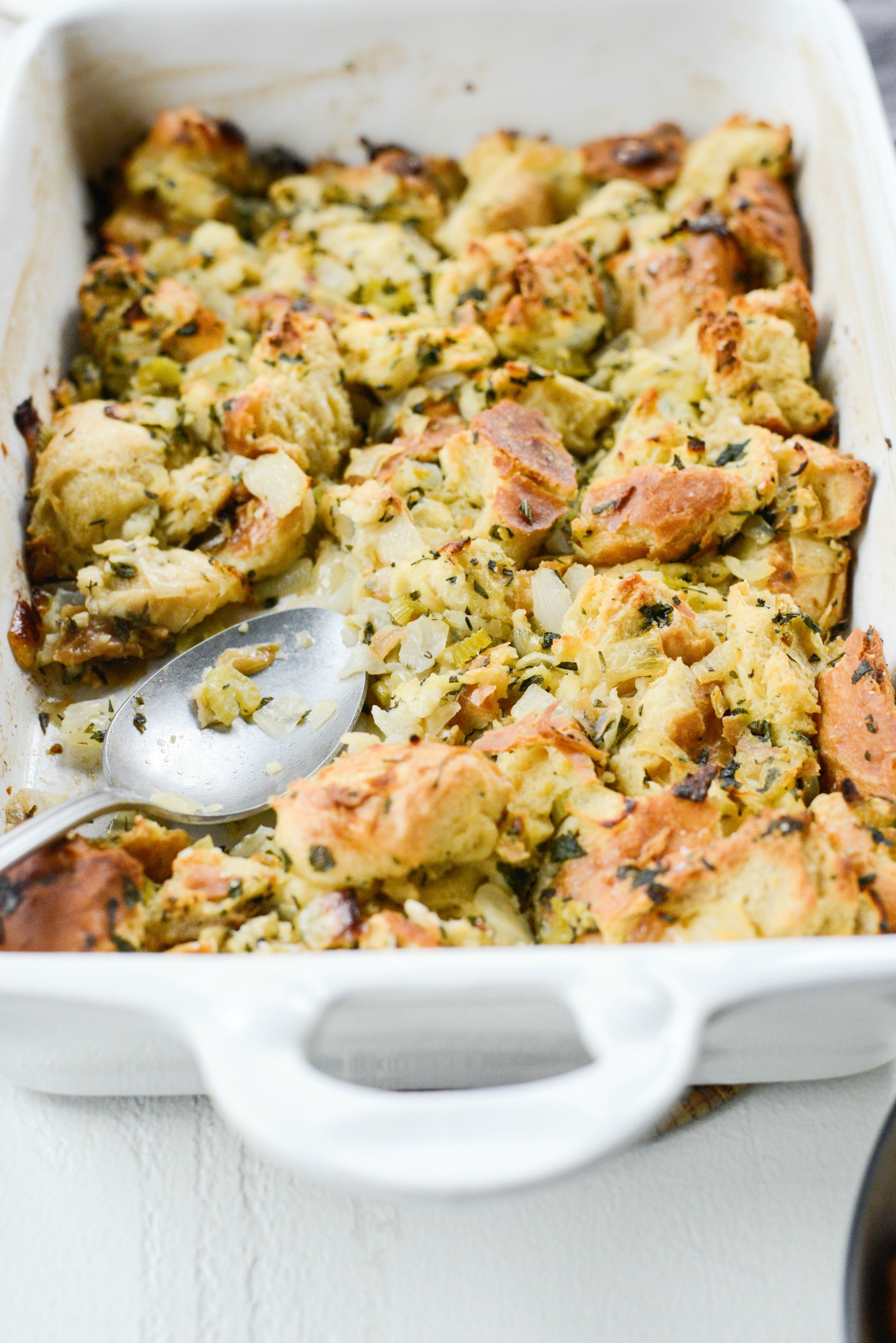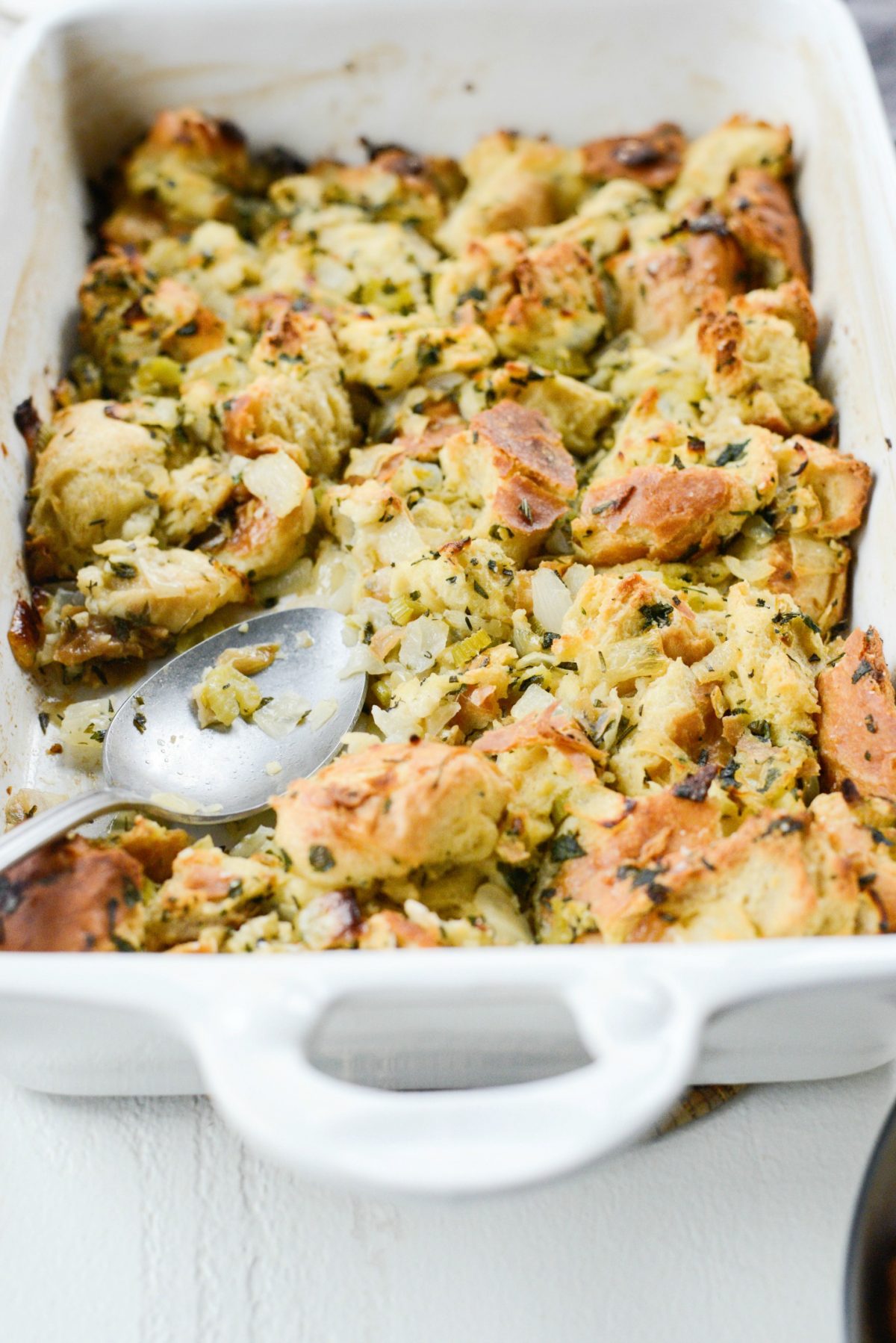 Yield: 6 servings
Simple Herb Sourdough Dressing
Sautéed onions, celery and fresh herbs tossed with torn sourdough bread for a simple herbed sourdough dressing to serve with your Thanksgiving turkey.
Ingredients
1 loaf sourdough bread, around 16 to 18 ounces, torn into bite-size pieces
1/2 cup unsalted butter
1½ cups diced yellow onion
3/4 cup sliced celery
1 clove garlic, minced
1/3 cup finely chopped fresh parsley
1 heaping tablespoon minced fresh rosemary
1 heaping tablespoon minced fresh sage leaves
2 teaspoons minced fresh thyme leaves
2 to 3 cups low-sodium chicken broth
2 large eggs
1¼ teaspoon kosher salt
1/4 teaspoon freshly ground black pepper
Instructions
Preheat your oven to 200° and butter a casserole dish (8x8, 8x11 or 9x13).

Tear the sourdough bread into bite-size pieces and place on a rimmed metal sheet pan and bake for 40 to 60 minutes or until dried out and "stale". Let cool before placing in a large mixing bowl.

Meanwhile, melt the stick of butter in a 10-inch skillet over medium to medium high heat. Add in the onions and celery, cooking until the softened and the edges of the onions are golden. Add in the clove of minced garlic and cook 1 minute. Then remove the pan off of the heat and stir in the parsley, rosemary, sage and thyme.

Increase your oven temperature to 350°.

Add the onion/herb mixture to the bowl with the bread. Pour in 1 cup of low-sodium chicken broth.

Beat the remaining cup of broth with the eggs, salt and pepper. Pour it over top of the stuffing and gently toss to combine. If you notice any dry spots, splash in more broth.

Transfer the herb sourdough stuffing to the prepared dish and spread it evenly. Bake on the middle rack of your preheated oven for 35 to 40 minutes or until set and the tops and edges are crispy and golden brown. Serve immediately.
Notes
*if making in advance (and is cold from being refrigerated), pour a few splashes of broth and add 10-20 minutes to the baking time.
Serving: 1g, Calories: 411kcal, Carbohydrates: 48g, Protein: 13g, Fat: 19g, Saturated Fat: 11g, Polyunsaturated Fat: 2g, Monounsaturated Fat: 5g, Trans Fat: 1g, Cholesterol: 103mg, Sodium: 935mg, Potassium: 310mg, Fiber: 3g, Sugar: 4g, Vitamin A: 938IU, Vitamin C: 9mg, Calcium: 74mg, Iron: 4mg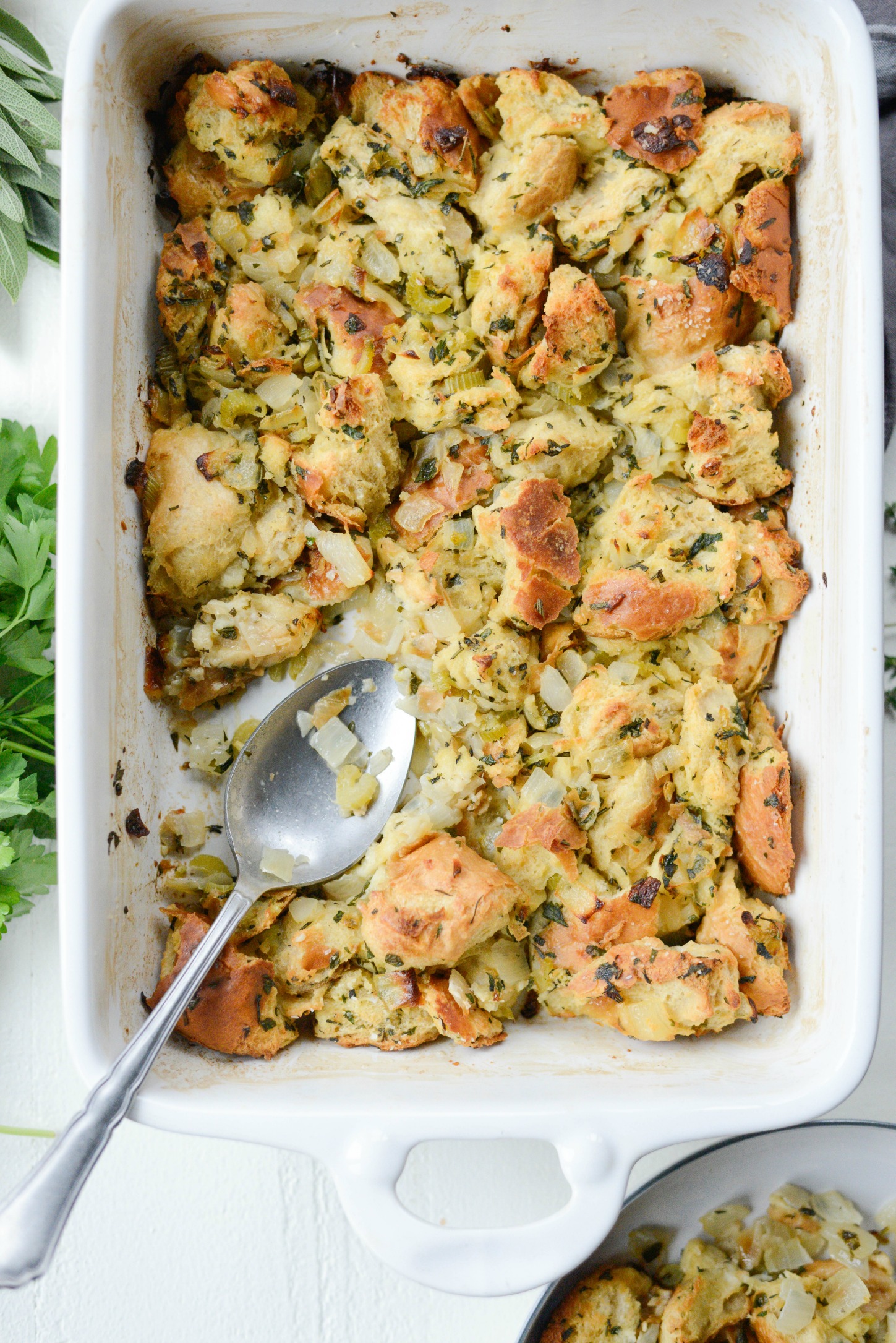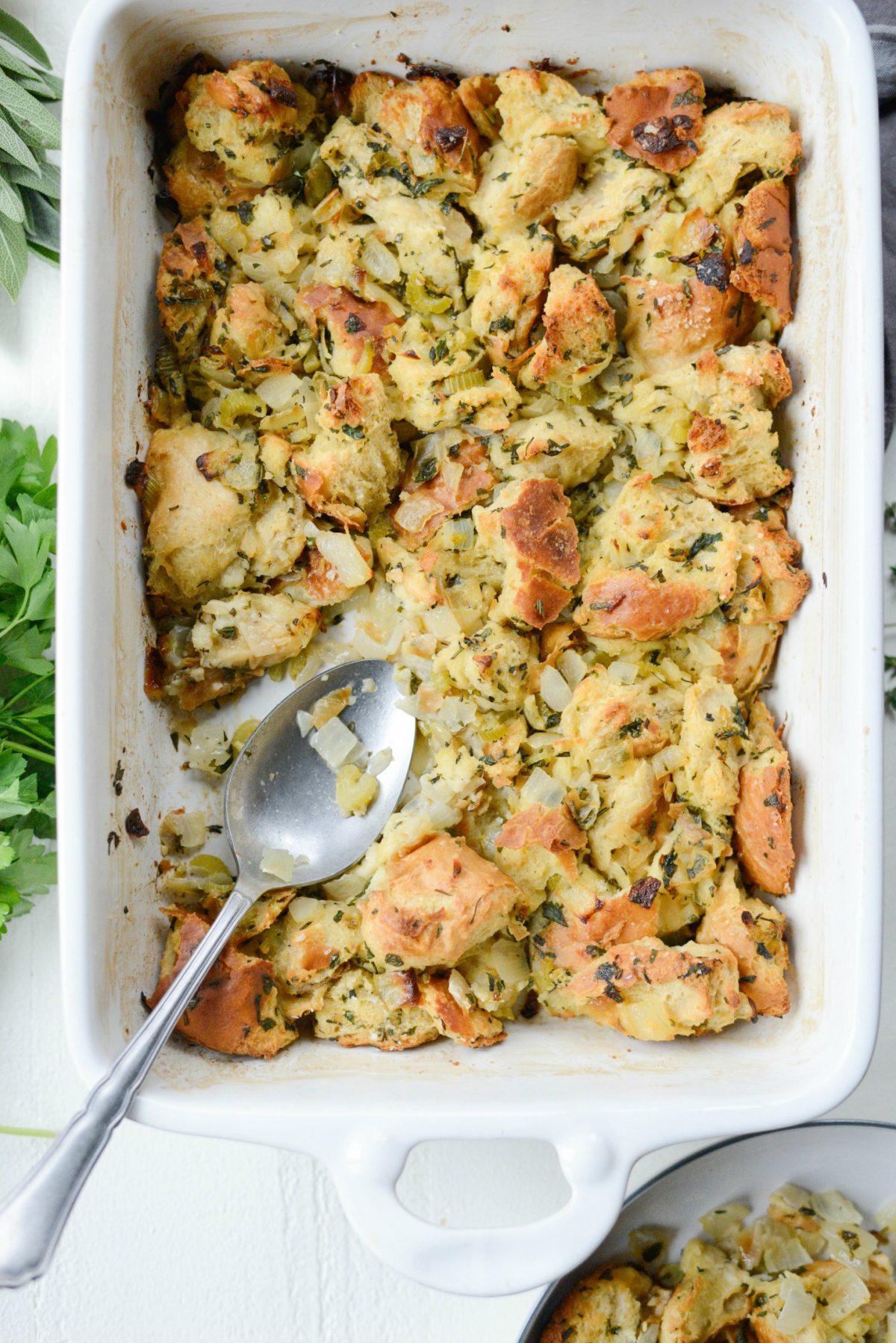 This post may contain affiliate links.
Buy the Cookbook: Simply Scratch : 120 Wholesome Homemade Recipes Made Easy Now available on Amazon »
THANK YOU in advance for your support!