Shamrock shakes is a childhood favorite of mine! This semi-from-scratch version has vanilla ice cream, chocolate sandwich cookies and a cherry on top!
Every year when March finally arrives, besides celebrating St. Patrick's Day and stuffing my face with Irish Stout Beef Stew, I would always look forward to splurging on a certain fast-food chains certain minty-green shake.
Shamrock Shakes.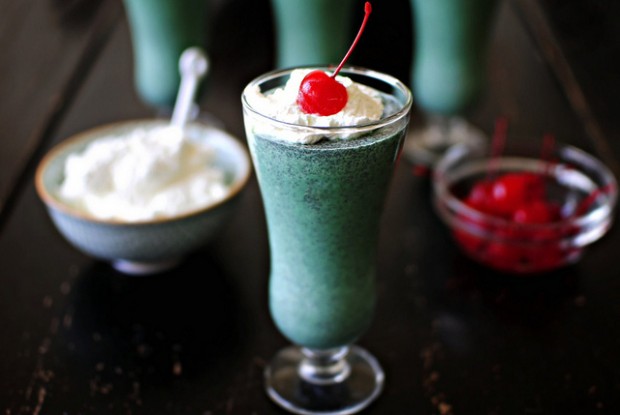 Well, I'm happy to say there's no need to wait in the drive-thru line to get a (artificial ingredient loaded) shamrock shake because I found a recipe that is deliciously similar and we can make and sip on in the comfort of our own home.
Vanilla ice cream and chocolate cream-filled cookies blended into a thick shake; who could resist that? For all of those who didn't give up any cookies, sweets or ice cream for Lent, these shakes are for you! For those who did give-up goodies, hang on you're almost there!
To make These Homemade Shamrock Shakes You Will Need:
chocolate sandwich cookies
full fat vanilla ice cream
whole milk
mint extract
green food coloring
Start by adding 12 chocolate cookies into a food processor. In order to make a cup you'll need about twelve or so.
Grind them all down until a fine crumb.
Reserve 1 cup and set aside. Save any leftover cookie crumbs and sprinkle on top of your shakes! Now of course I didn't think of that until after the shake was gone and the only evidence left was the tinge of green on the corner of my lip, but next time… next time, it's so happening.
Okay, moving on. You'll need 4 cups of ice cream added into your blender.
Then add in the 1/2 cup of milk.
Next, measure and add 1 teaspoon of mint extract.
And then 3/4 teaspoon of green food coloring. You don't need to add the food coloring if you don't want to… I normally, as a rule, don't use food coloring when I cook… but these were a special exception to that rule.
Lastly, pour in the cup of cookie crumbs.
Believe me when I say I could have EASILY called it a day and walked away with this and a straw, but I somehow knew you'd be a little peeved if this was the end of the post.
So I fought the urge, replaced the lid and let the blender run until everything is well combined.
Then I poured the frothy shamrock shakes into four of my favorite glasses, added a dollop of homemade whipped cream and plopped a cherry on top! I also drank mine down in one giant gulp, but that's neither here-nor-there.
These will blow your mind.I'll definitely be making these shakes again, and often (March or not!).
Enjoy! And if you give this Homemade Shamrock Shake recipe a try, let me know! Snap a photo and tag me on twitter or instagram!
Yield: 4 servings
Shamrock Shakes
Better than any fast food chain! You can make these minty-green Shamrock shakes in the comfort of your own home!
Ingredients
4 cups vanilla ice cream, use a quality ice cream with a high fat content
12 chocolate sandwich cookies, I like Newman's Own
8 tablespoons whole milk
1 teaspoon mint extract
3/4 teaspoon green food coloring
Instructions
Place the chocolate cookies into the bowl of your food processor and blend until it resembles cookie crumbs. Reserve one cup.

To a blender, add the crumbs, milk, extract and food coloring and blend until smooth.

Pour into your favorite glasses and serve with homemade whipped cream and a cherry on top.

Use any leftover cookie crumbs as sprinkles.
Serving: 1shake, Calories: 463kcal, Carbohydrates: 58g, Protein: 8g, Fat: 23g, Saturated Fat: 12g, Polyunsaturated Fat: 2g, Monounsaturated Fat: 7g, Trans Fat: 1g, Cholesterol: 61mg, Sodium: 284mg, Potassium: 381mg, Fiber: 2g, Sugar: 44g, Vitamin A: 605IU, Vitamin C: 1mg, Calcium: 211mg, Iron: 3mg
This recipe was delightfully borrowed from TheNewlywedChefs.com
This post may contain affiliate links.
Buy the Cookbook: Simply Scratch : 120 Wholesome Homemade Recipes Made Easy Now available on Amazon »
THANK YOU in advance for your support!