Have a leftover ham bone? Make this Rustic Ham and Bean Soup! This one-pot soup is loaded with leftover ham, tender navy beans and a plethora of different veggies in a light and flavorful broth. Recipe will serve 8 – 10.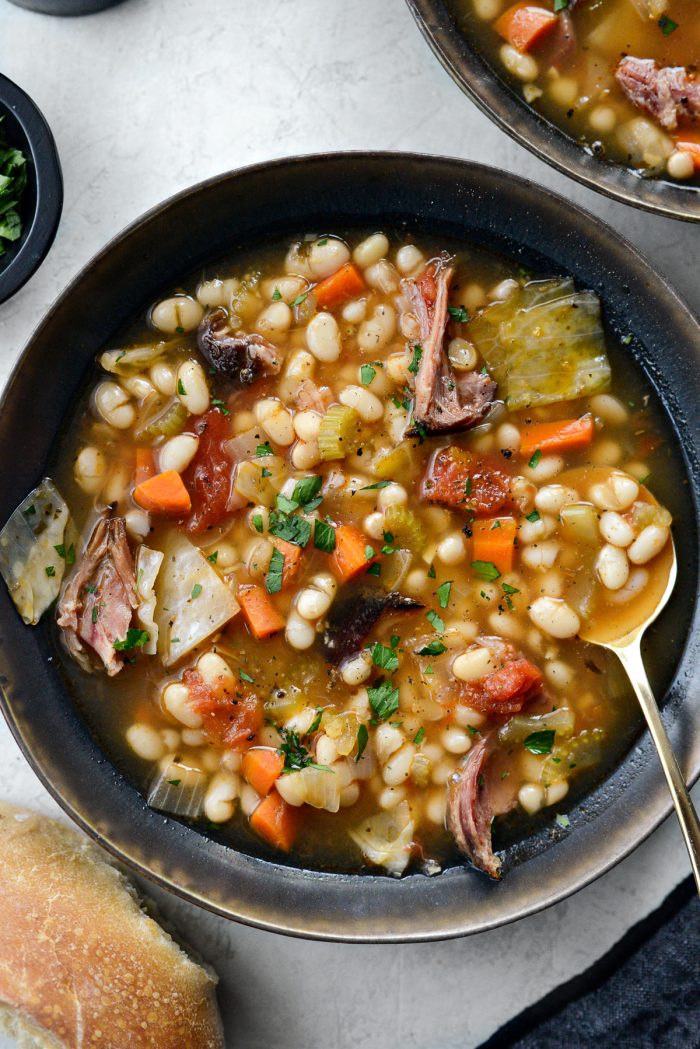 Never throw away the ham bone.
Instead make soup! The ham bone adds so much flavor to soup it would be criminal to pitch it. I saved my bone from this ham and whipped up this rustic one-pot soup in no time. In it, you ave the typical onions, carrot and celery sautéed with garlic. These then slowly simmer with soaked beans, diced tomatoes and of course the ham bone. Once the bone has worked its magic, remove it, add in some chopped cabbage and ham picked from the bone.
I love how easy it is and did I mention it's all made in one pot?
Rustic, soul warming and healthy. Doesn't get much better than that. Plus any soup served with crusty bread is a friend of mine.
To Make This Rustic Ham and Bean Soup You Will Need:
dried navy beans
light olive oil
carrot
celery
onion
garlic
unsalted chicken stock
diced tomatoes
bay leaf
leftover ham bone with ham
green cabbage
kosher salt
freshly ground black pepper
minced fresh parsley – for serving
crusty bread – for serving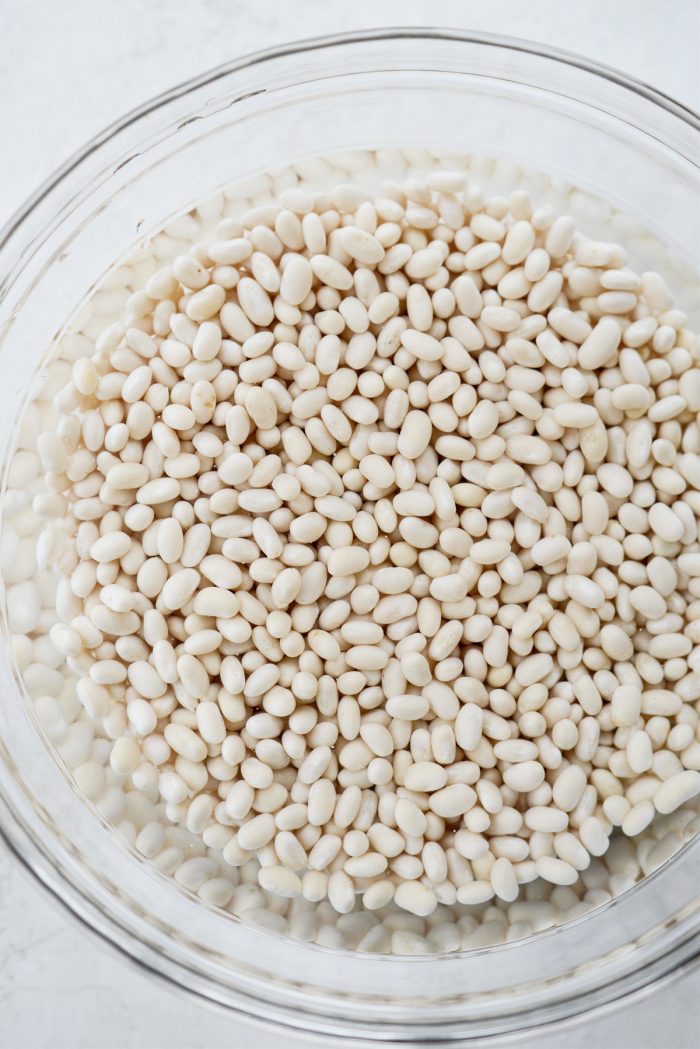 The night before, pour 1 pound of dried navy beans in to a large bowl. Cover with water (by at least 2 inches) and soak overnight.
The day of; add 2 teaspoons olive oil to a large dutch oven or soup pot and heat over medium-low. Add in 3 diced carrots, 2 short stalks that have been sliced and 2 medium diced onions. Season with a pinch of kosher salt and sauté until tender – about 8 to 10 minutes.
Next add in 4 cloves minced fresh garlic and 1 teaspoon italian seasoning.
Stir and cook for 1 to 2 minutes.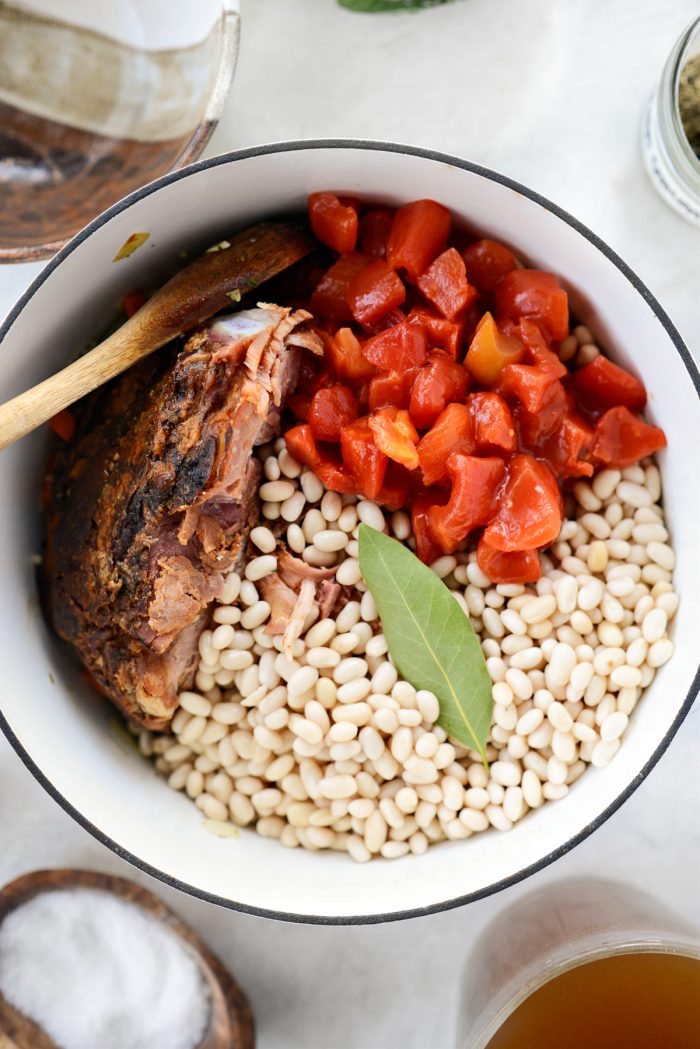 Drain and rinse the soaked beans before adding them to the pot along with the ham bone, 1 (15 ounce) can diced tomatoes and a bay leaf.
Pour in 2 quarts (8 cups) unsalted chicken stock. Since ham tends to be salty, it's best to use unsalted broth.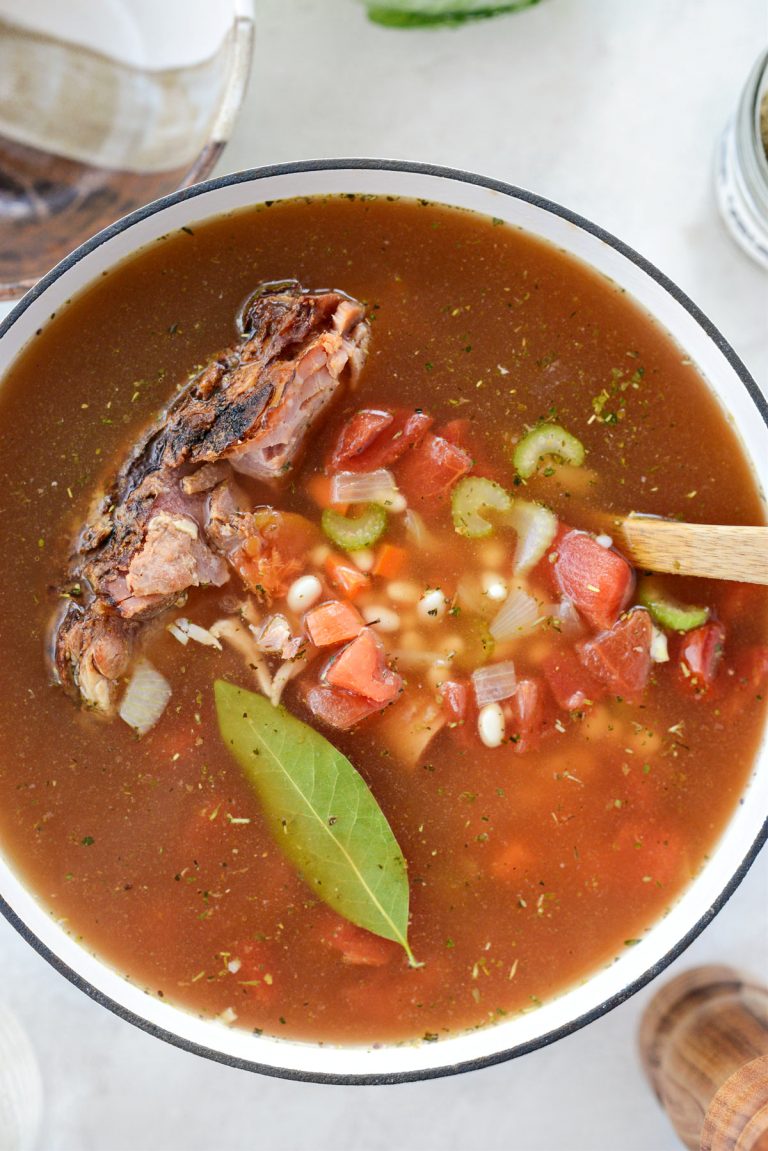 Stir, cover leaving the lid askew and simmer for 1 hour 30 minutes.
After the 90 minutes are up, check to make sure the beans are tender.
If by chance they are not tender, continue cooking for an additional 20 to 30 minutes.
Use tongs to carefully remove the ham bone and transfer it to a cutting board. To the soup, add in 2 to 3 cups chopped green cabbage. Stir and cook until wilted and tender. About 10 to 15 minutes.
Cut off pieces of ham from the bone and add it back to the soup. You will need around 2 to 3 cups of ham, so if your bone isn't meaty enough add diced leftover ham to the soup.
Taste the soup before seasoning with kosher salt and freshly ground black pepper to your preference. As you already know, ham tends to be salty so this will depend on how salty your ham is.
Once the ham is heated through, remove and discard the bay last and serve the soup.
I wish you could smell how amazing this is!
Ladle soup in to bowls and sprinkle with minced fresh parsley for a pop of color and freshness.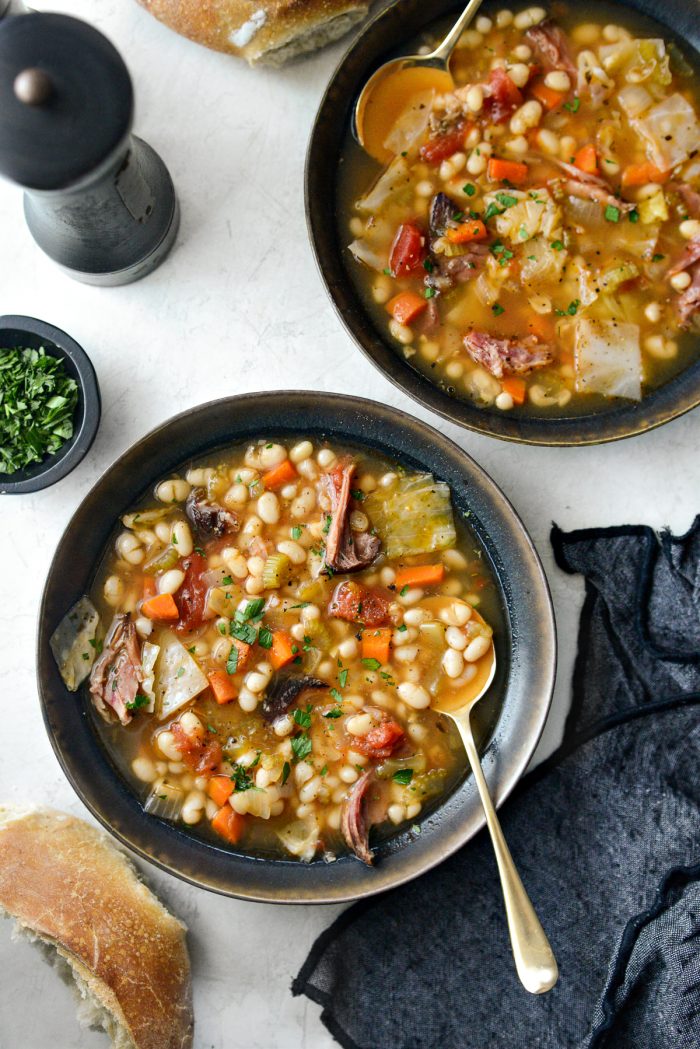 Besides being simple, this soup is so comforting and flavorful. Serve with crusty bread and prepare to fall in love!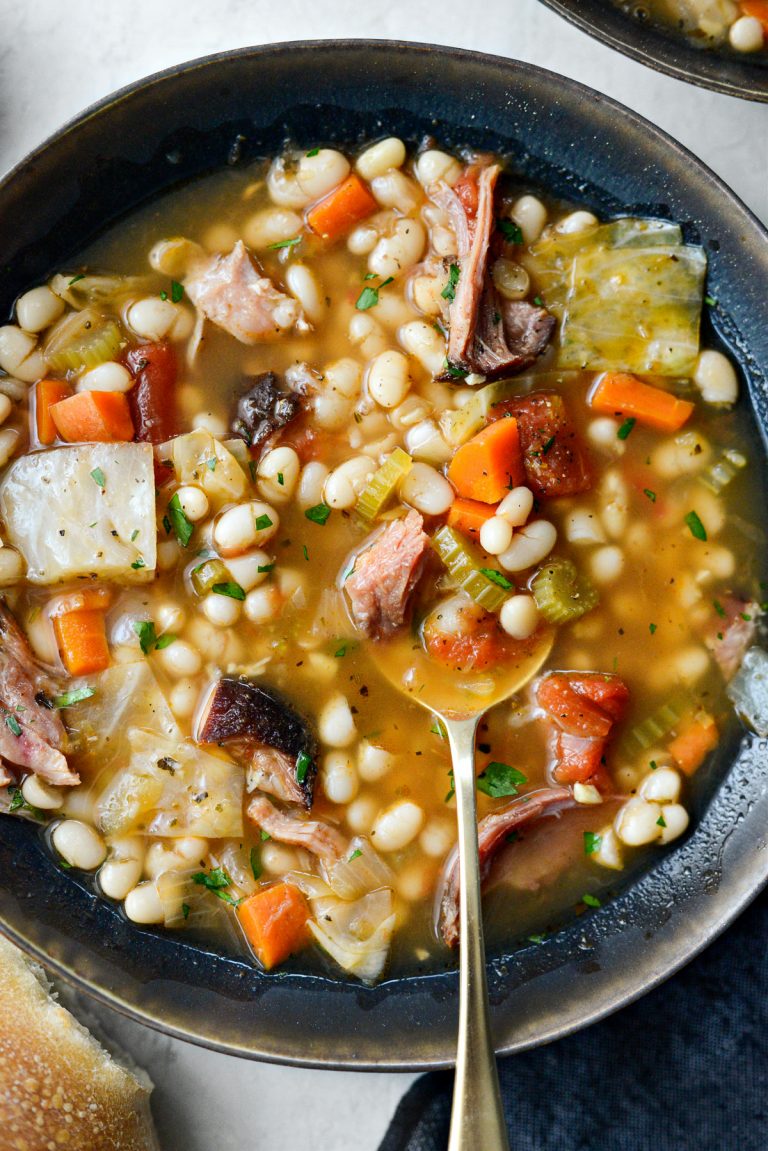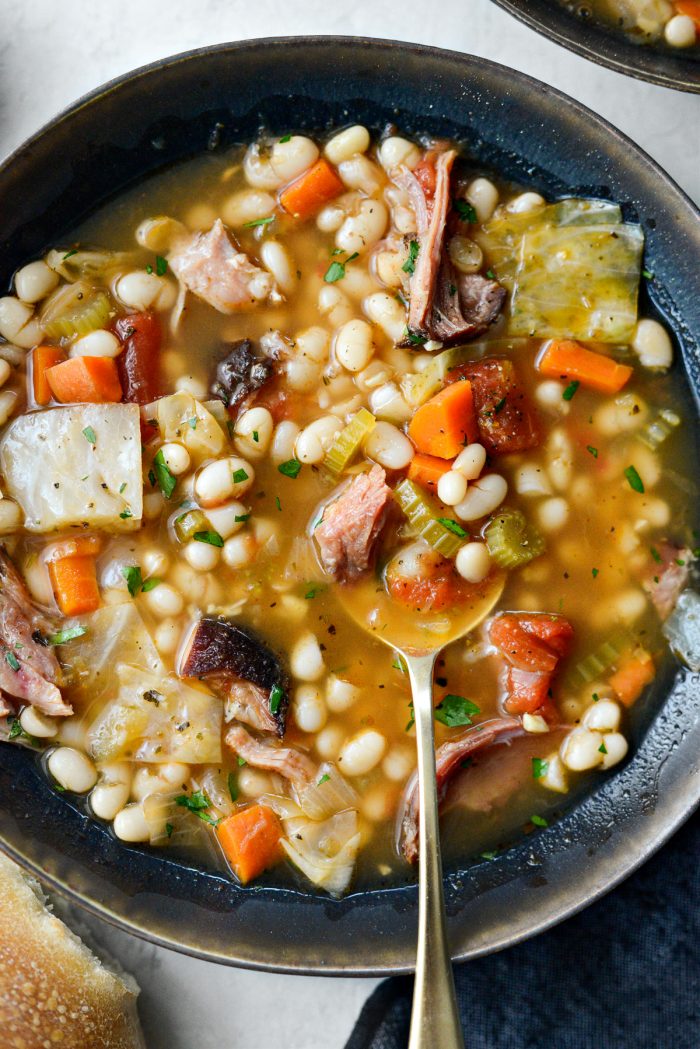 Enjoy! And if you give this Rustic Ham and Bean Soup recipe a try, let me know! Snap a photo and tag me on twitter or instagram!
This post may contain affiliate links.
Buy the Cookbook: Simply Scratch : 120 Wholesome Homemade Recipes Made Easy Now available on Amazon »
THANK YOU in advance for your support!