Grilled ribeye steaks with an amazing caramelized shallot and blue cheese butter that slowly melts over top. It's heaven on this earth and I know you'll love it!
Today, I'm bustin' out the big guns.
And when I say 'big guns' I mean steak and a crazy-delicious compound butter. I KNOW! On a MONDAYYYY… awwww-yeeeaaah!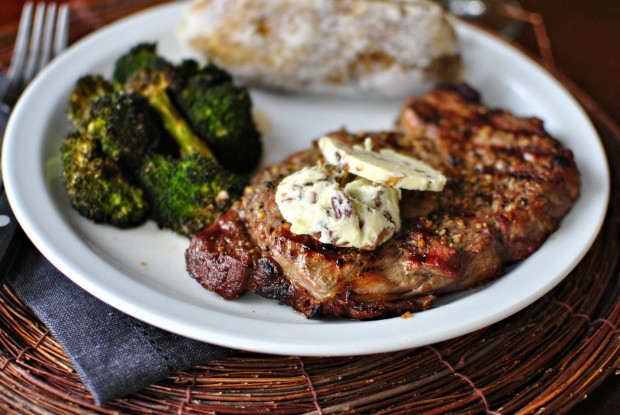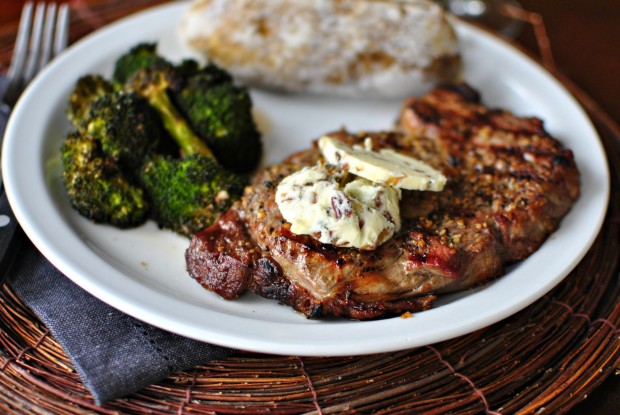 "Compound" butter is just some fancy term meaning throw a bunch of insane ingredients together in a bowl along with some softened butter and *poof* you're officially gourmet and *BONUS!* you've just made a ridiculously delicious butter. Now, as you know… I've been known to make a compound butter now and again and I especially love it on toast, but now I've found a new use for it… on steak.
I know, I know it's January and it's hella cold outside and it's definitely not usually the typical grilling season especially when you live in Michigan. But if you know anything about us Michiganders… it's that we aren't scurred of a little 23-degree-weather. In fact 23 is pretty warm for January.
Here's how it all went down.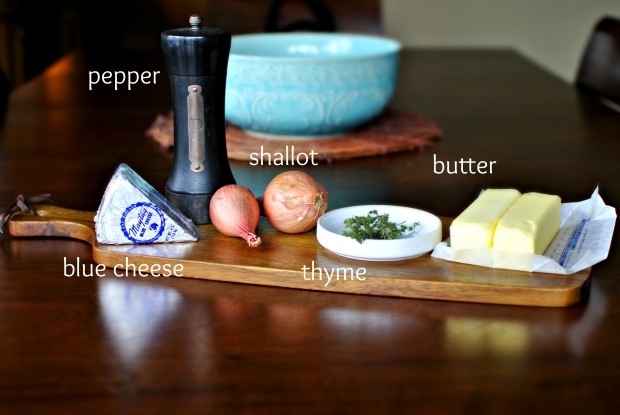 I had this crazy idea after watching Tyler Florence make Ina Garten a super-thick, dry-aged steak that he broiled and then soaked in a gallon of butter. Now, yeah- all that is just a bit too much work for me, but butter and steak is something I so happen to love… so I kept it simple.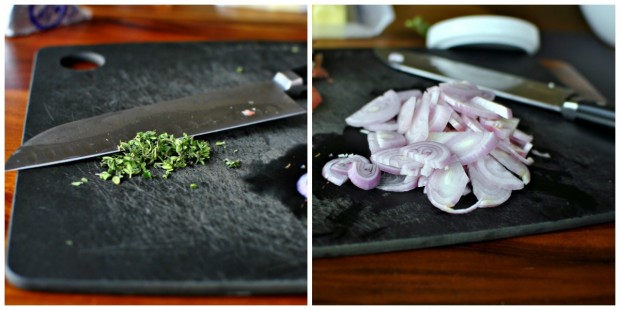 Start by roughly chopping a teaspoon of fresh thyme and slicing up two large shallots.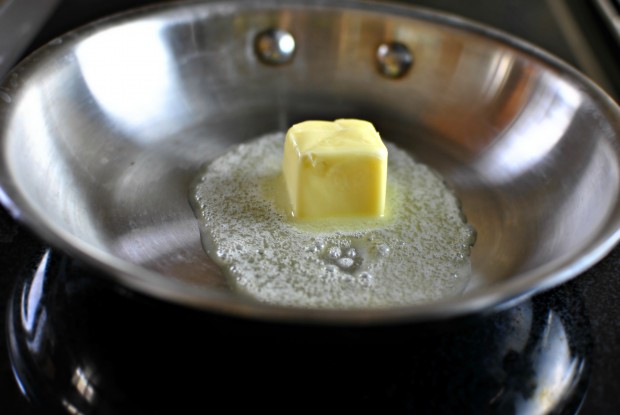 In a small skillet melt two tablespoons of butter.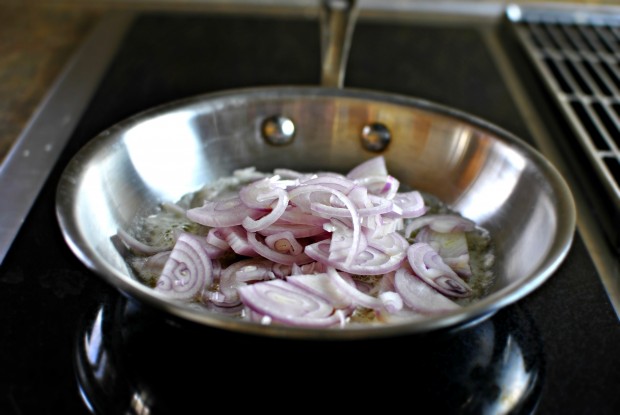 Drop in the shallots, stir and let them cook for a few… undisturbed.
They should reach a deep golden and even get a little crispy, it's all goooood.
Sprinkle in the chopped thyme and season with some freshly ground black pepper.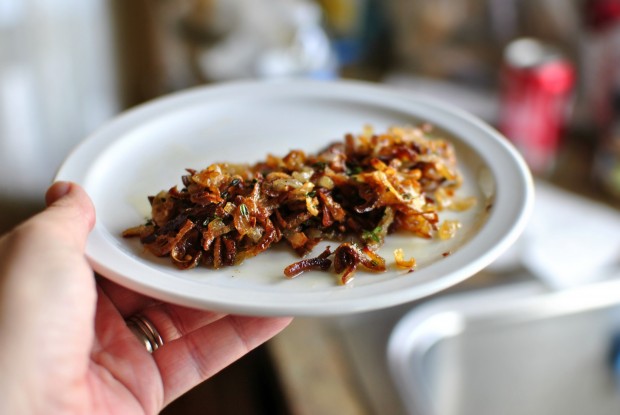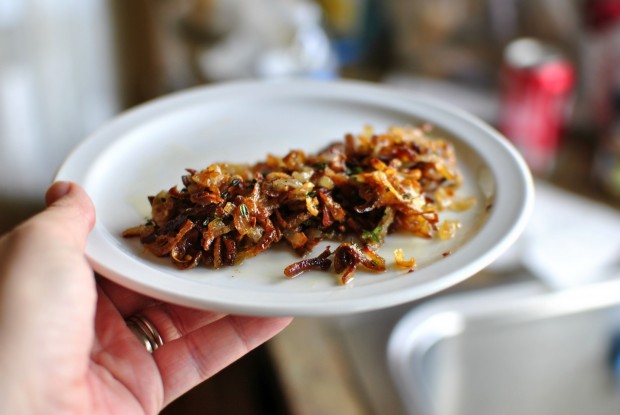 Let those flavors meld for a few minutes before removing the shallots to a plate to cool.
In a medium bowl, mash-up the softened butter.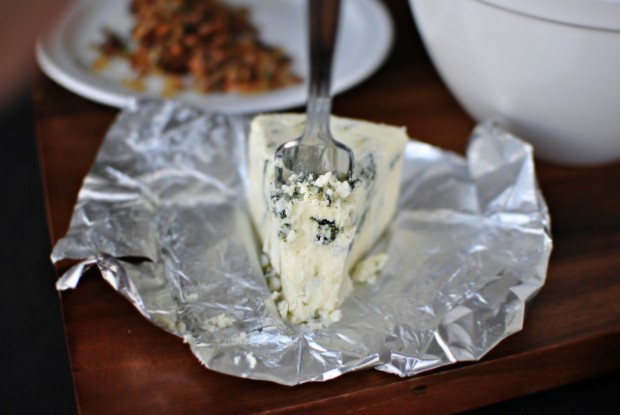 Break up some of the blue cheese… I'm using Maytag.
Yeah… things just got real.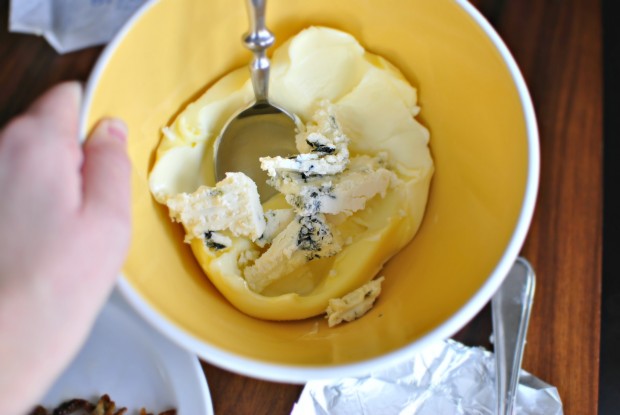 Drop in about two tablespoons or so.
Add in the caramelized shallots…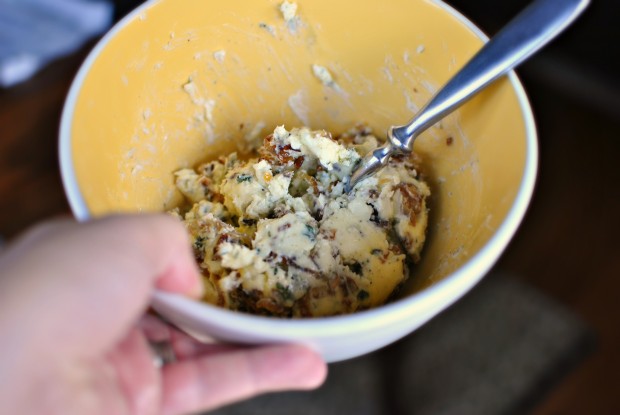 And give it all a nice stir until the blue cheese is becoming one with the shallots that are becoming one with the butter. Now somebody hand me a cracker… forget that… how about a spoon??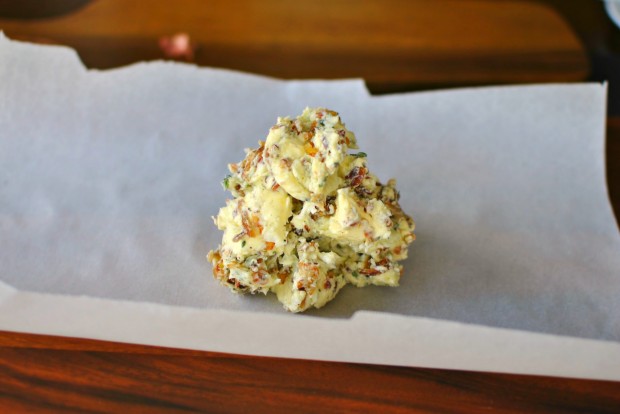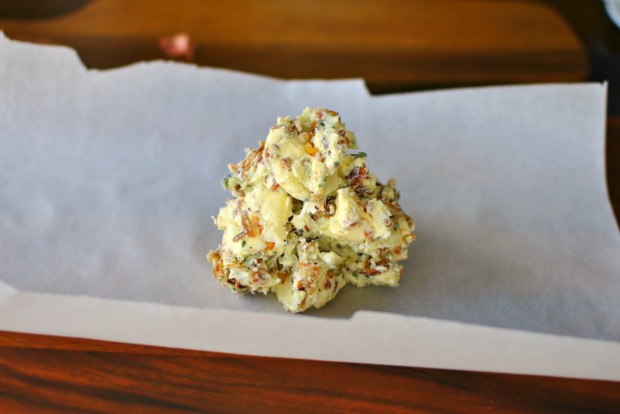 Plop the entire butter mixture in the center of a piece of parchment…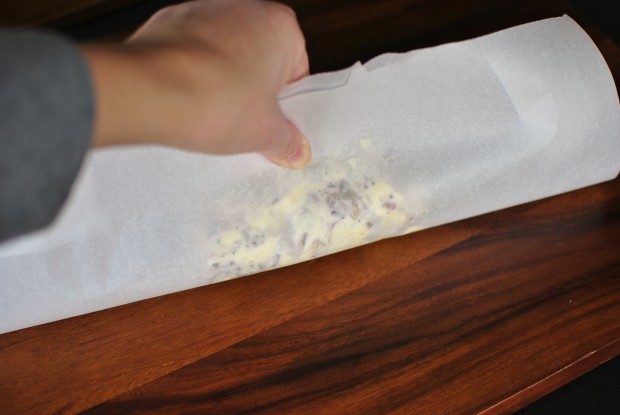 Bring the edges of the paper together and roll the butter until it forms a tight log.
Twist tight and pop it in the fridge for at least 30 minutes to an hour.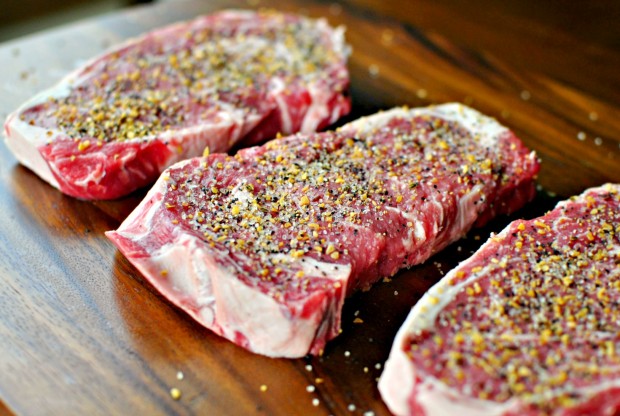 In the meantime I pulled out the steaks and seasoned them with a little steak seasoning, and let them sit at room temperature to take the chill off before grilling.
By now the steaks are on the grill and the butter is ready to be sliced into coins.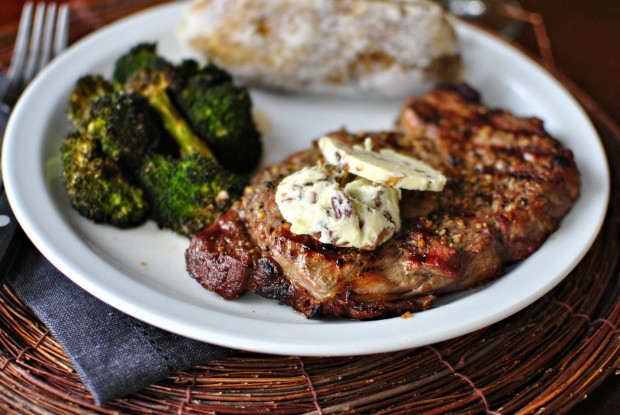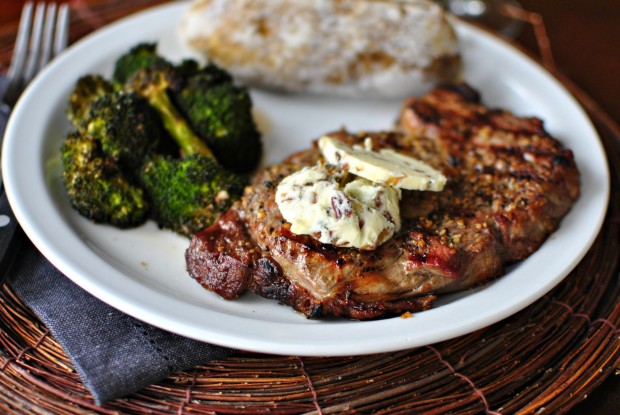 What's better than a perfectly cooked ribeye steak topped with caramelized shallot and blue cheese butter?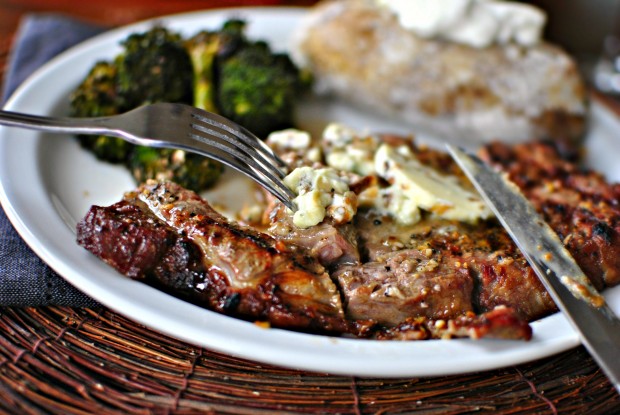 Absolutely nothing.
I encourage all of you (even those who aren't fans) to try this. My husband, is one of those non-blue-fans (except when it comes to this) and even HE loved this butter… like he ate almost all of it on his steak alone kind-of-love.
Hey it's Monday… that's reason enough to grill-up some steaks!
Enjoy! And if you give this Grilled Ribeye with Caramelized Shallot and Blue Cheese Butter recipe a try, let me know! Snap a photo and tag me on twitter or instagram!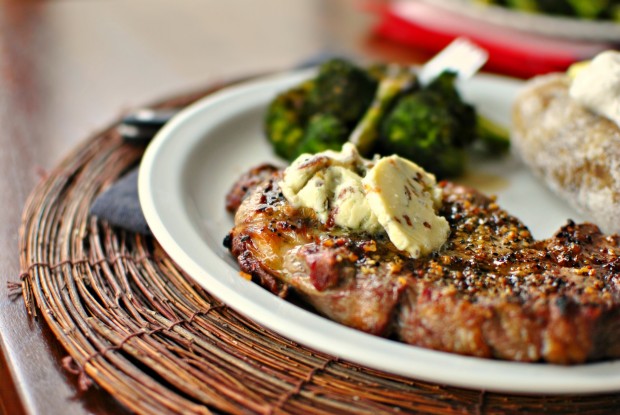 My cookbook Simply Scratch : 120 Wholesome Homemade Recipes Made Easy is now available! CLICK HERE for details and THANK YOU in advance!
Yield: 8 servings
Ribeye Steaks with Caramelized Shallots and Blue Cheese Butter
These perfectly grilled ribeye steaks are topped off with the most amazing butter chocked full of caramelized shallots and blue cheese. It's heaven on this Earth.
Ingredients
2 large shallots, sliced
1/2 cup softened salted butter
2 tablespoons crumbled blue cheese, use your favorite
1 teaspoon chopped thyme leaves
1/2 teaspoon freshly ground black pepper, eyeball it
8 seasoned and grilled ribeye steaks
Instructions
In a small skillet over medium heat, melt two tablespoons of butter. Add in the shallots and cook slowly until they turn a deep golden in color.

Add in the chopped thyme and black pepper, stir and cook for a few more minutes before removing them to a plate to cool.

In a medium bowl, add the remaining butter, blue cheese and the cooled shallots. Stir until all ingredients are incorporated.

Place all of shallot and blue cheese butter in the center of a piece of parchment. Bring the edges together and press with your fingers to form a log. Roll the parchment and twist the ends before popping the compound butter in the fridge for 30-45 minutes. OR transfer to a ramekin and cover with plastic wrap.

Once chilled, remove and slice into coins or scoop with a knife and place on top of a perfectly grilled ribeye. Roughly 1 generous tablespoon per steak
Notes
I like to set my steaks out on the counter top 30 minutes before grilling to bring my steaks up to room temperature. I season them with steak seasoning and grill them for a few minutes on a medium-high grill for 6-8 on each side (depending on their thickness and doneness) until they're medium to medium-well. Every grill is different so keep a good eye on them.
Serving: 1steak, Calories: 583kcal, Carbohydrates: 1g, Protein: 46g, Fat: 44g, Saturated Fat: 22g, Polyunsaturated Fat: 2g, Monounsaturated Fat: 18g, Trans Fat: 1g, Cholesterol: 170mg, Sodium: 244mg, Potassium: 638mg, Fiber: 1g, Sugar: 1g, Vitamin A: 415IU, Vitamin C: 1mg, Calcium: 32mg, Iron: 4mg
[this post contains affiliate links.]
This post may contain affiliate links.
Buy the Cookbook: Simply Scratch : 120 Wholesome Homemade Recipes Made Easy Now available on Amazon »
THANK YOU in advance for your support!