This one pot chili mac & cheese is super simple and delicious. I combined two classic recipes for one fabulous dinner!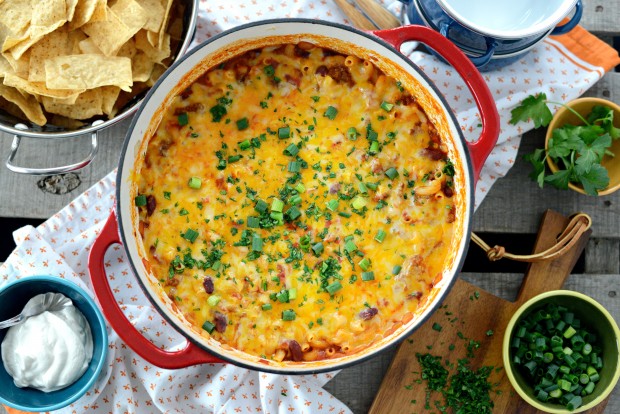 I would like to request a do-over for this week.
I'd like to go back and not take out the garbage, so I wouldn't slip on the patch of ice in the driveway and nearly break my ankle. Then on Tuesday when I "thought" I left my phone at the market by my house and their employees dropped what they were doing to kindly help me find it. Searching high and low, in the produce, by the bread… but (tee-hee) it was in my car the entire time.
While we're at it, I would definitely like to redo Sunday, when I didn't lock my doors of my car because we live in the middle of nowhere (sort of) and in such a safe neighborhood and yet someone went into my car at night and took an Amazon box that had 4 of my cookbooks in it. I'm sure whoever-it-was was hoping something majorly exciting or valuable going on under those cardboard flaps. Like a hoverboard or something. Nope. Cookbooks.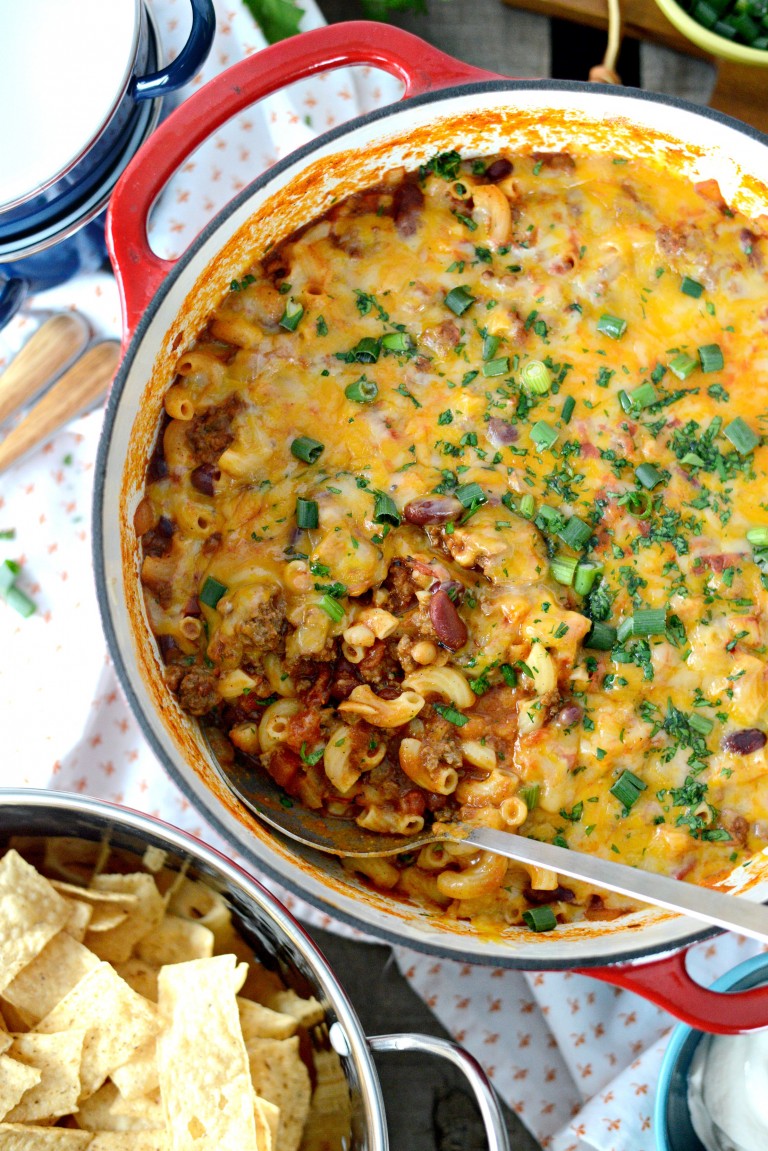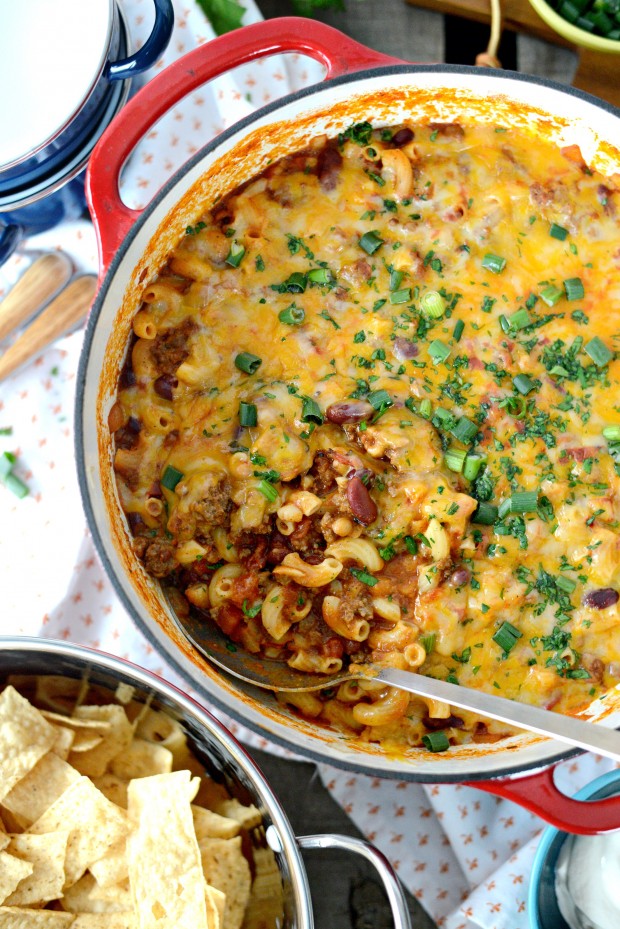 I'm totally going to assume it was some neighborhood kid, because my husband had one of those variety bags of chips in his truck (he was going to take them into work to have with his lunches) and the thief stole those too. Chips and cookbooks? Seriously, I get the chips… but who steals COOKBOOKS? They're probably in some trash can or worse on Ebay. UGH! It's okay, I'm alright. I'm over it. Sort of. Not really.
So yeah, let's redo allll of that. Can we? But I'll tell you what I don't want to redo… this chili mac and cheese.
Holy Yumsville! You guys it's chili and cheese in the most glorious one-pot masterpiece. It's magical cheesy fingers wrapped around my heart and consoled me. It almost erased the feeling of violation I have from someone being inside my car. Cheesy-carb-coma-to-forget-my-horrible week here I come!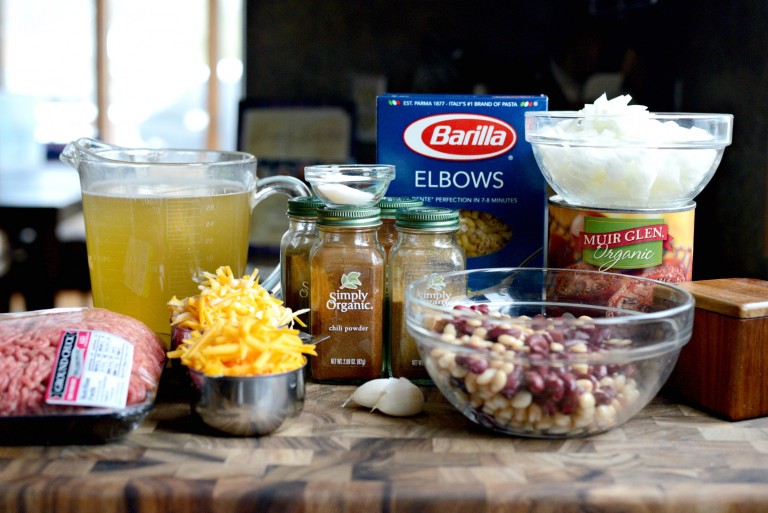 To make This One Pot Chili Mac & Cheese You Will Need:
olive oil
white onion
garlic
ground beef
chili powder
kosher salt
sugar
cumin
celery salt
cayenne
red kidney beans, drained and rinsed
pinto beans, drained and rinsed
crushed fire roasted tomatoes
tomato sauce
low-sodium chicken broth
elbow macaroni
sharp cheddar cheese
colby jack cheese
parsley, for serving
sliced green onions, for serving
sour cream, for serving
hot sauce, for serving
I decided to take my chili recipe and turn it into a chili meets mac and cheese. It's so ridiculously simple and super darn tasty too.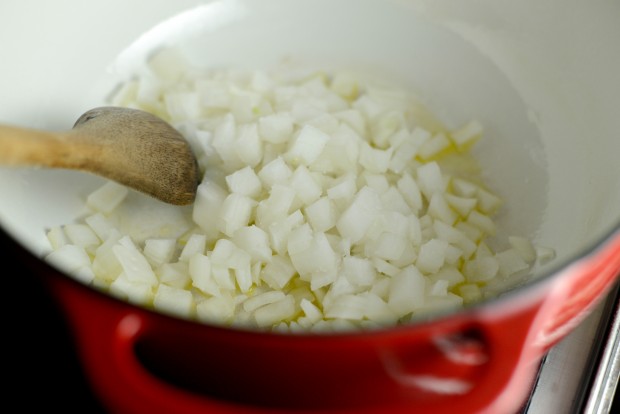 Start by sautéing 1 cup of diced white onions in 2 teaspoons olive oil.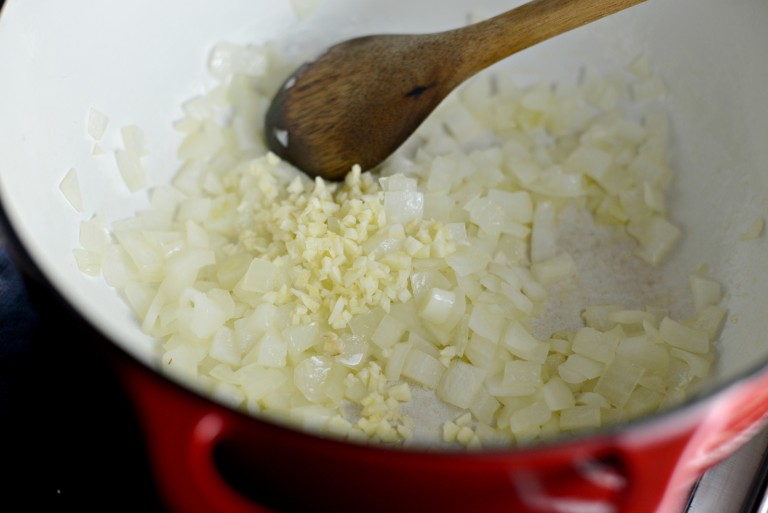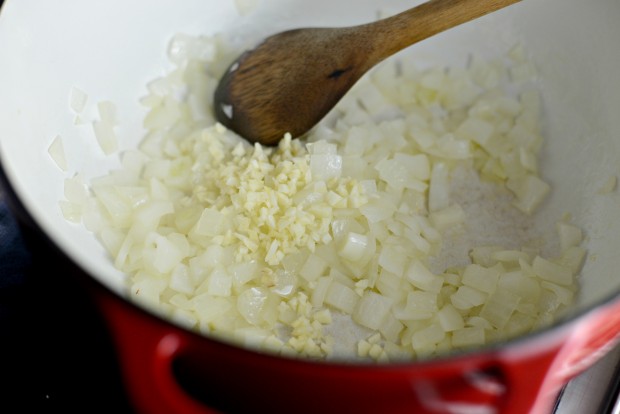 Once they've softened up a bit, add in the 2 minced garlic cloves and cook for a minute or two.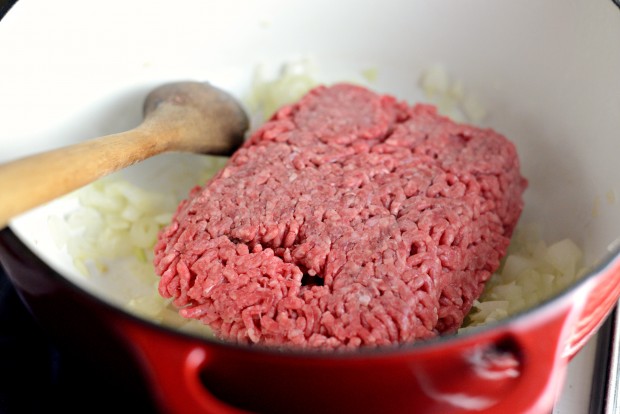 Drop in the 1-1/2 pounds of ground chuck and break it up into crumbles.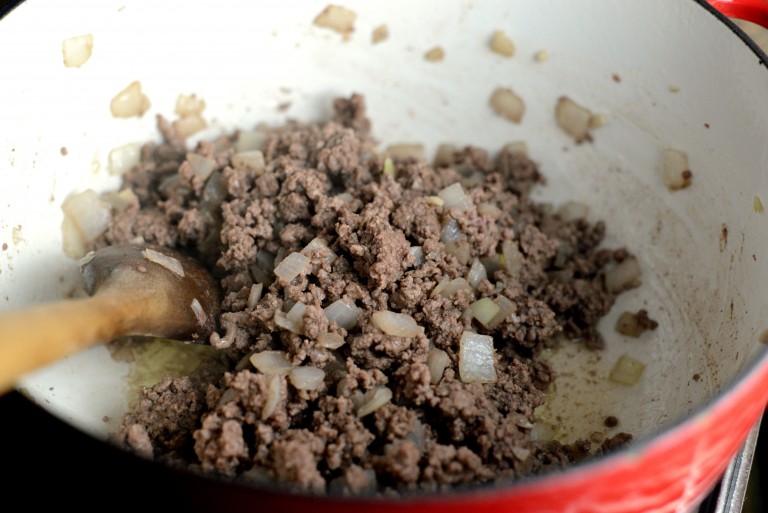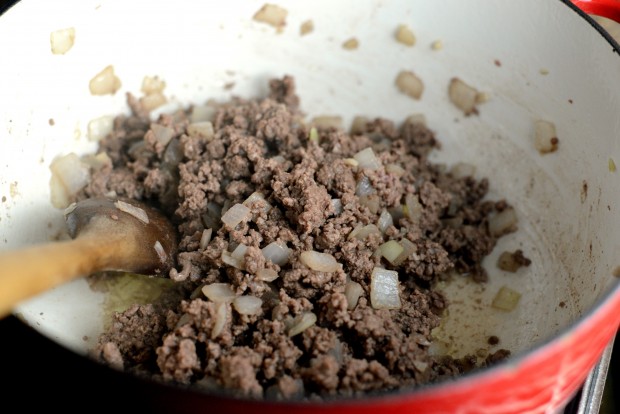 Once fully cooked, drain out the fat and discard.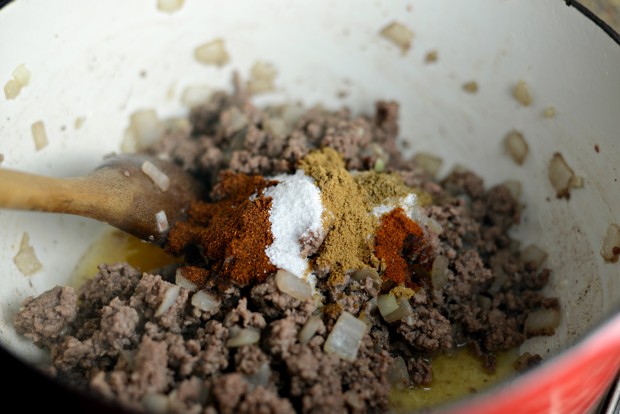 Add in 1 tablespoon of chili powder, 2 teaspoons of kosher salt, 1 teaspoon of both sugar and cumin, and an 1/8 a teaspoon of both celery salt and cayenne pepper.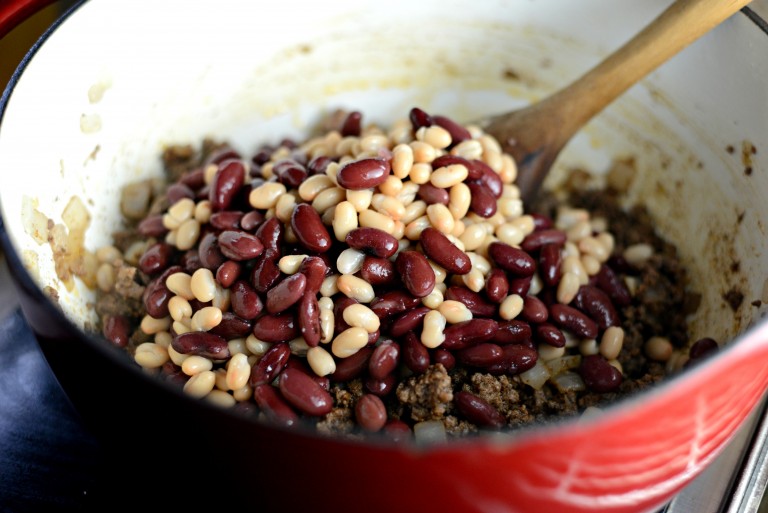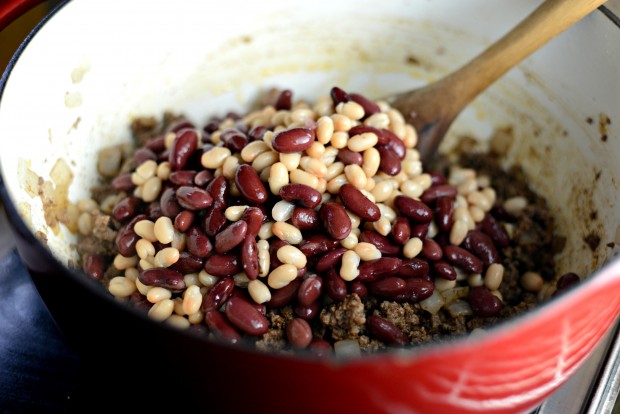 Add in 1 cup of both pinto and red kidney beans. I know what you're thinking why not the entire can? Well, because there's so much going on in this chili-mac with the pasta and plus the meat, that 2 cups of beans is just the right amount. 🙂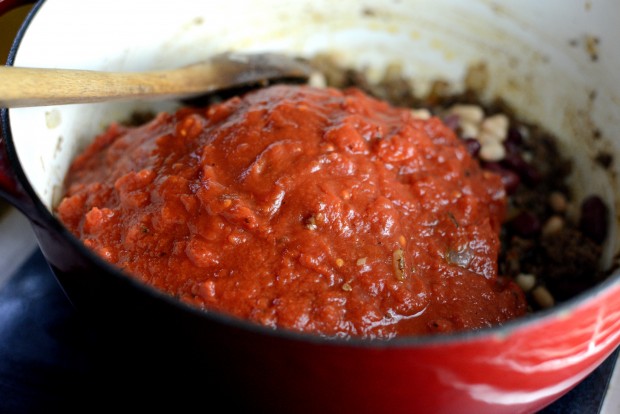 Add in 1 (28-ounce) can of crushed fire roasted tomatoes.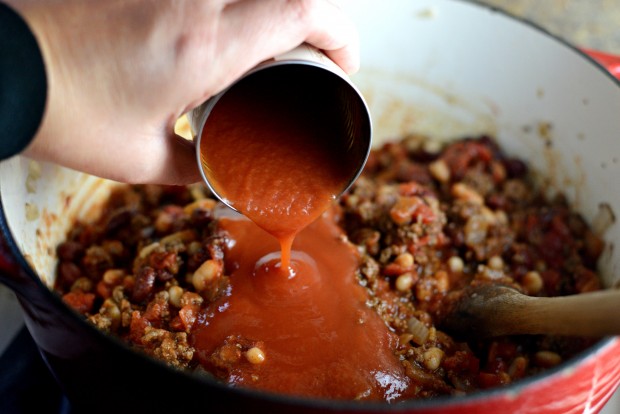 One 8-ounce can of tomato sauce (or 1 cup).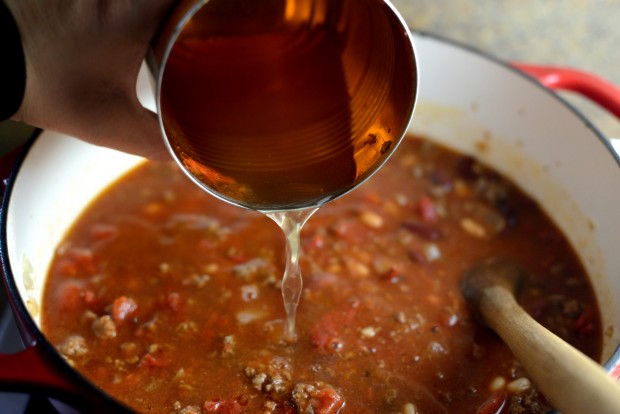 And 3 cups of low-sodium chicken broth. I add the broth to the cans and swirl them around to get any extra tomato goodness out and into the chili.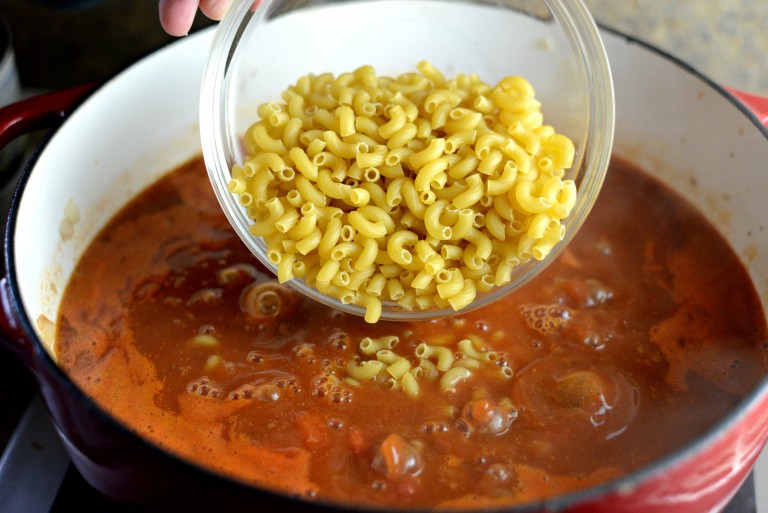 Bring the chili to a boil and add in 1-1/2 cups of elbow macaroni. Reduce temperature to low, cover and cook for about 14 minutes or until the noodles are al dente.
Perfection!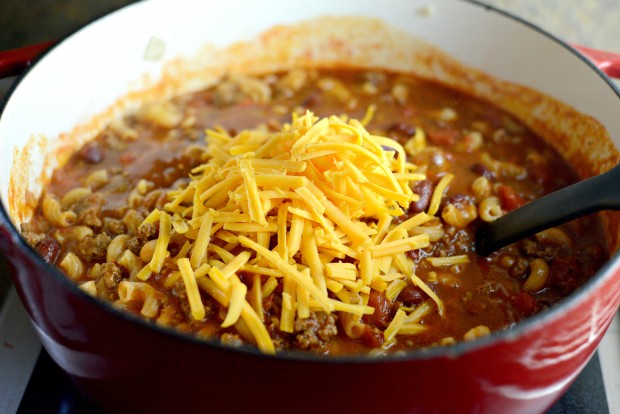 Add in a heaping 1/2 cup of sharp cheddar cheese to the chili-mac.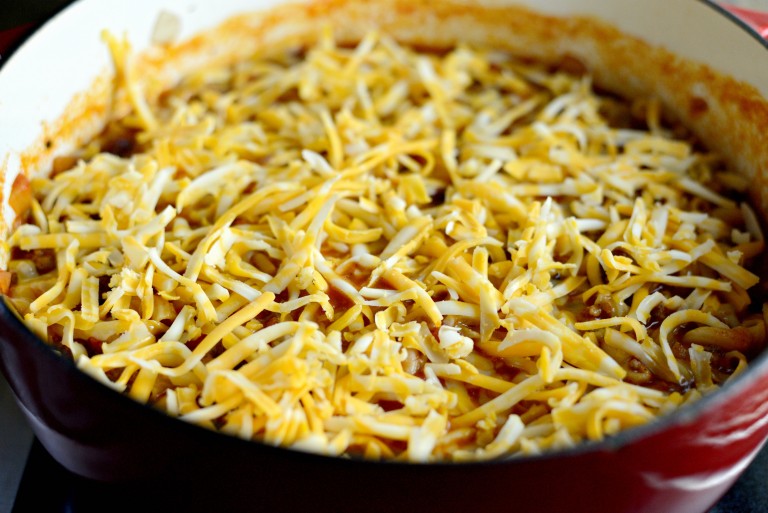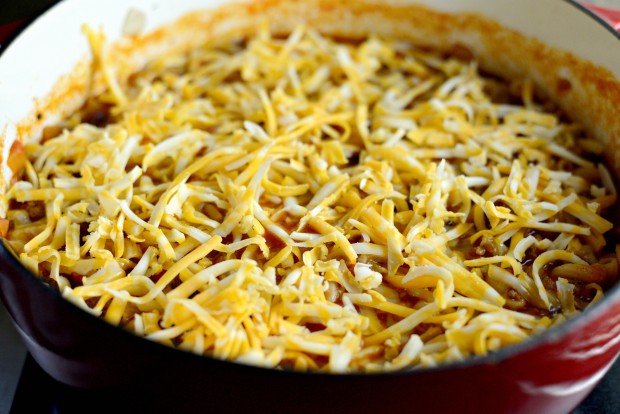 Stir it in and then sprinkle 1-1/2 cups of freshly grated colby jack over top. Cover and wait a couple of minutes until the cheese has melted.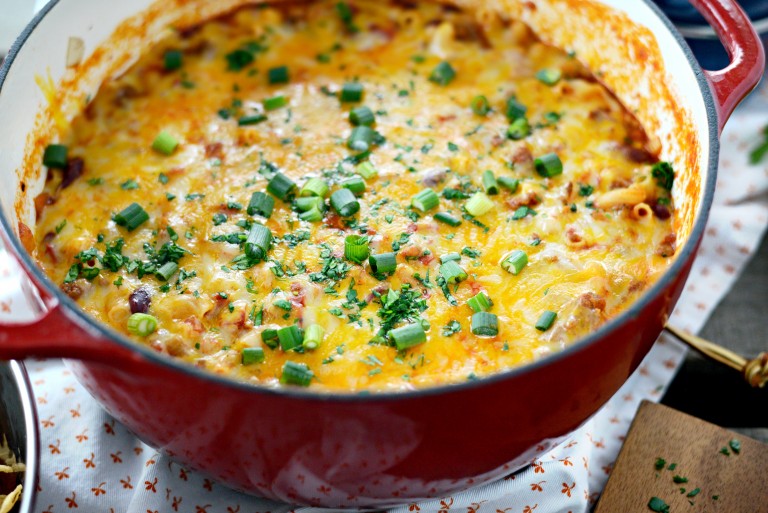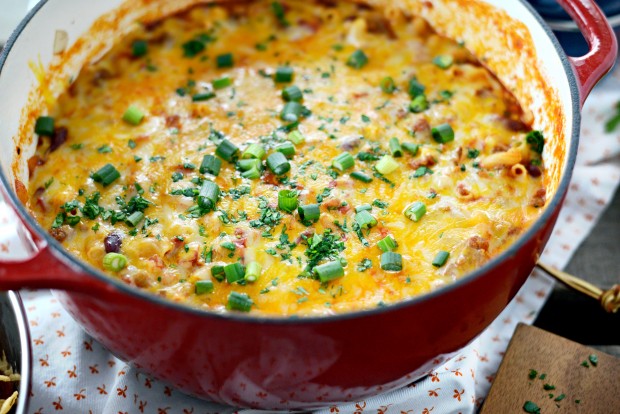 Sprinkle the top with minced fresh parsley and sliced green onions for a burst of freshness and some green.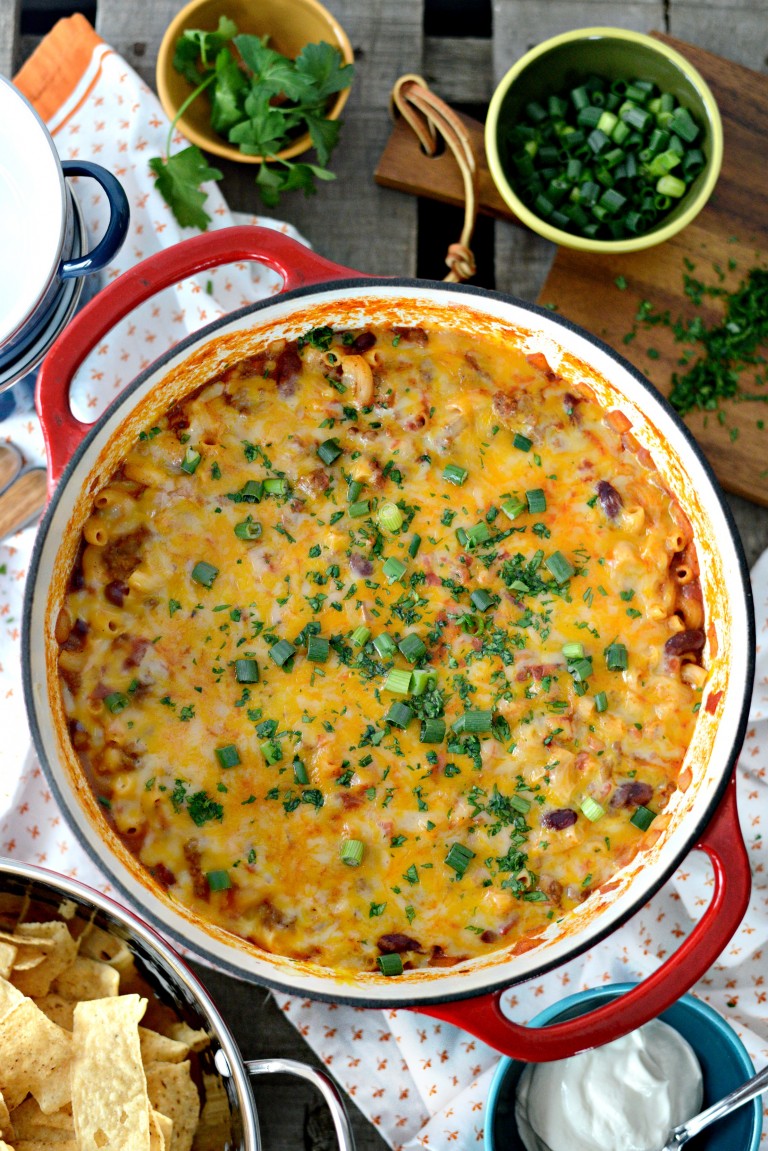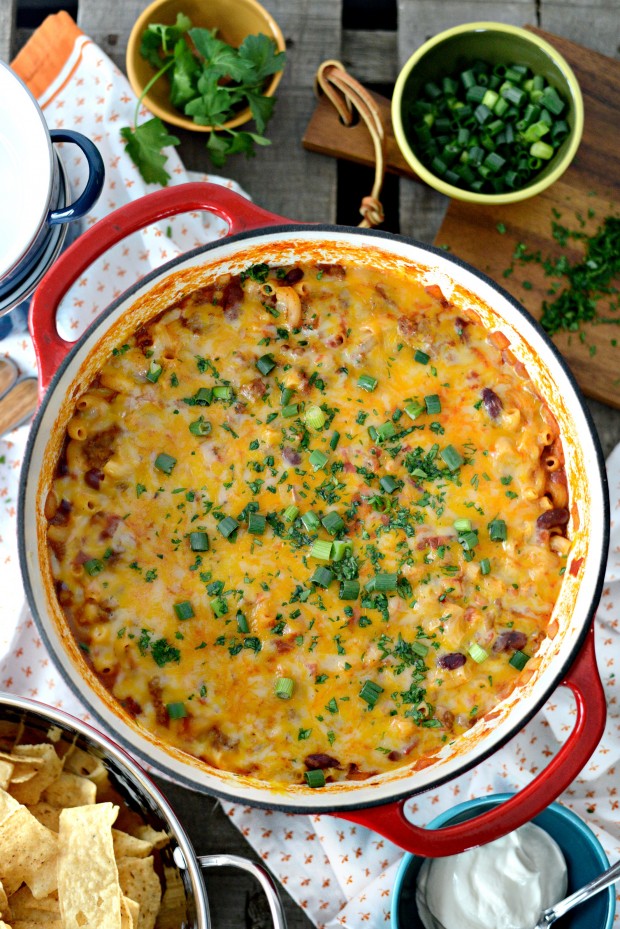 Smells AHmazing!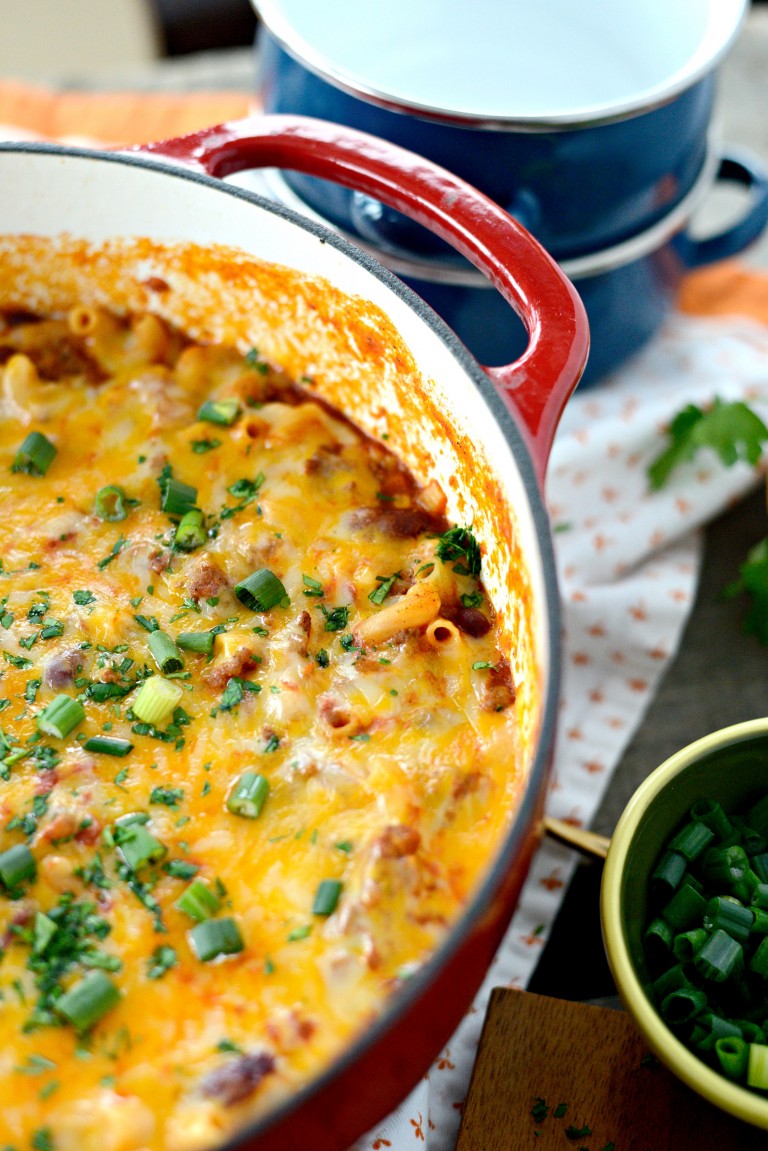 This one-pot chili-mac and cheese dream of a recipe is so easy and takes no time whatsoever!
In my bowl, I like this with a little extra green onion on top. Pat put sour cream and a little Frank's Red Hot on his. It's a choose your own adventure sort of situation.
What it doesn't need is cheese. It's got plenty of that.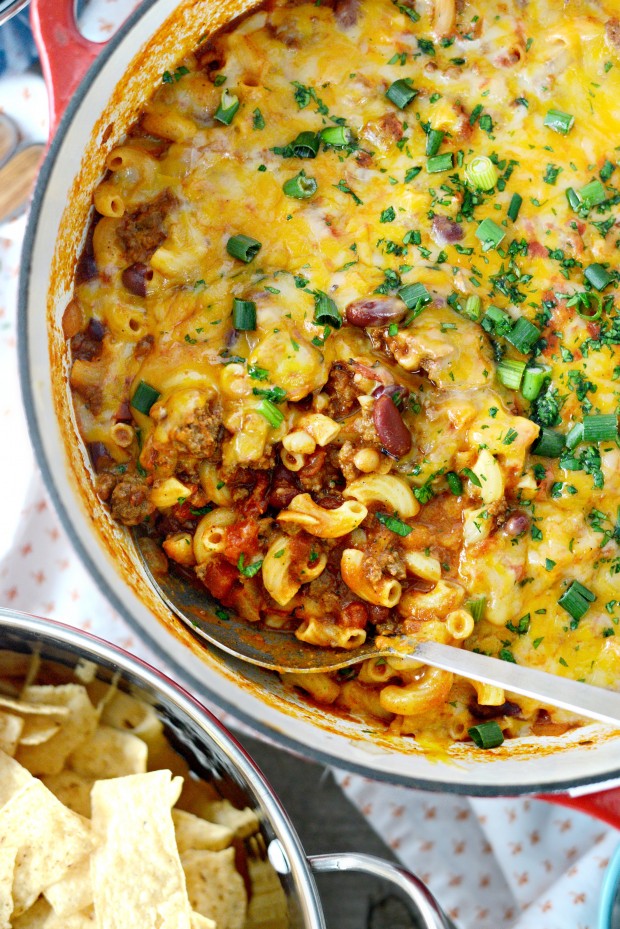 How To Freeze Chili And Reheat Later:
COOL: make sure the chili is completely cool before freezing. Never place hot or very warm items in the freezer (or fridge!) as it can thaw and negatively affect the nearby food.
PORTION: when cool, divide chili into portions. Whether it's a single serving, two or four, portion the cooled chili into either freezer safe bags or air-tight containers. I prefer using freezer safe bags and removing as much air as possible, this helps with storing.
FLATTEN: once portioned, lay flat on a rimmed baking sheet and freeze for a few hours. Like in this post.
STORE: stack the flat frozen chili portions vertically or horizontally saving so much freezer space. Store chili in the freezer for up to 6 months.
REHEAT: I prefer to thaw frozen chili overnight in the fridge. However you can soak in a sink of lukewarm water for 20 to 30 minutes – flip every so often and change out the water at least once or twice. You can also defrost in the microwave until thawed. Lastly, add thawed chili to saucepan or dutch oven and heat until thoroughly heated throughout.
For More One Pot Recipes Click Here!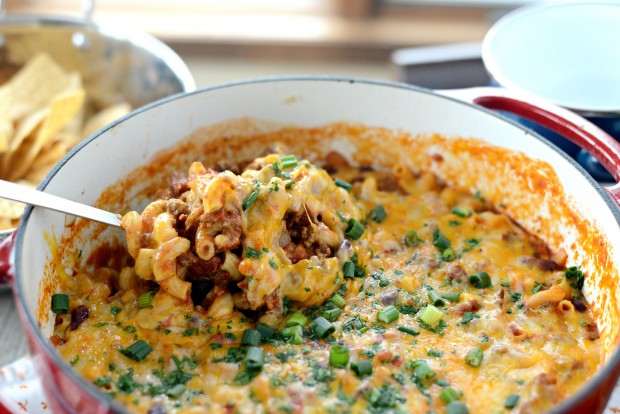 Enjoy! And if you give this One Pot Chili Mac & Cheese recipe a try, let me know! Snap a photo and tag me on twitter or instagram!
Yield: 6 servings
One Pot Chili Mac & Cheese
This one pot chili mac & cheese is super simple and delicious. I combined two classic recipes for one fabulous dinner!
Ingredients
FOR THE CHILI MAC:
2 teaspoons olive oil
1 cup diced white onion
2 cloves garlic, minced
1½ ground chuck
1 tablespoon chili powder
2 teaspoons kosher salt
1 teaspoon sugar
1 teaspoon cumin
1/8 teaspoon celery salt
1/8 teaspoon cayenne, or more to taste
1 cup red kidney beans, drained and rinsed
1 cup pinto beans, drained and rinsed
1 (28 ounce) can crushed fire roasted tomatoes
1 (8 ounce) can tomato sauce
3 cups low-sodium chicken broth
1½ elbow macaroni
1/2 cup shredded sharp cheddar cheese
1½ shredded colby jack cheese
FOR SERVING:
1 tablespoon finely mince fresh parsley
3 green onions, sliced
Instructions
Heat the olive oil in a large Dutch oven over medium heat. Add in the onion and cook until softened, about 5 minutes. Once soft, add in the garlic and cook 1 to 2 minutes.

Add in the ground chuck, break into small crumbles and cook thoroughly until no longer pink. Drain all the fat and discard. Season the meat with chili powder, salt, sugar, cumin, celery salt and cayenne. Add in the beans, fire roasted tomatoes and tomato sauce.

Measure out the 3 cups of broth and add to the tomato cans, swirling the cans to get any sauce still clinging to the sides before adding to the chili.

Bring the chili to a boil and add in the elbow macaroni. Cover, reduce heat to low and let the chili simmer for 14 minutes or until the pasta is al dente.

Stir in a heaping 1/2 cup of grated sharp cheddar cheese and sprinkle the colby jack over top of the chili-mac. Cover and let the heat melt the cheese.

Serve with a sprinkle of chopped fresh parsley and sliced green onions.

Serve in to bowls and top with sour cream, hot sauce and green onions.
Serving: 1g, Calories: 211kcal, Carbohydrates: 29g, Protein: 12g, Fat: 6g, Saturated Fat: 3g, Polyunsaturated Fat: 1g, Monounsaturated Fat: 2g, Trans Fat: 1g, Cholesterol: 10mg, Sodium: 1347mg, Potassium: 577mg, Fiber: 8g, Sugar: 7g, Vitamin A: 1323IU, Vitamin C: 10mg, Calcium: 162mg, Iron: 4mg
This post may contain affiliate links.
Buy the Cookbook: Simply Scratch : 120 Wholesome Homemade Recipes Made Easy Now available on Amazon »
THANK YOU in advance for your support!