In this Easy Apple Crisp recipe, tender honeycrisp apples topped with a simple and delicious oat topping. Served best warm with a scoop of vanilla ice cream and homemade caramel sauce. Serves 6 in under an hour.
I have 2 rules when it comes to apple crisp.
Number 1: I cannot and will not make apple crisp without using honeycrisp apples. They are my favorite of all the apples, therefore I'll pay whatever the cost is to have them. Plus they do have the 'crisp' thing in common. So it's basically kismet.
Number 2: It has to be easy. And this easy apple crisp recipe is just that!
My sister Julie (Hi Jul!) gave me her recipe years ago. It was written on an actual recipe card and everything! Recently I stumbled on it while cleaning out my office last week. The recipe card slipped out of an old composition notebook and literally fell into my lap. Obviously it was a sign that I needed to make this apple crisp recipe, right?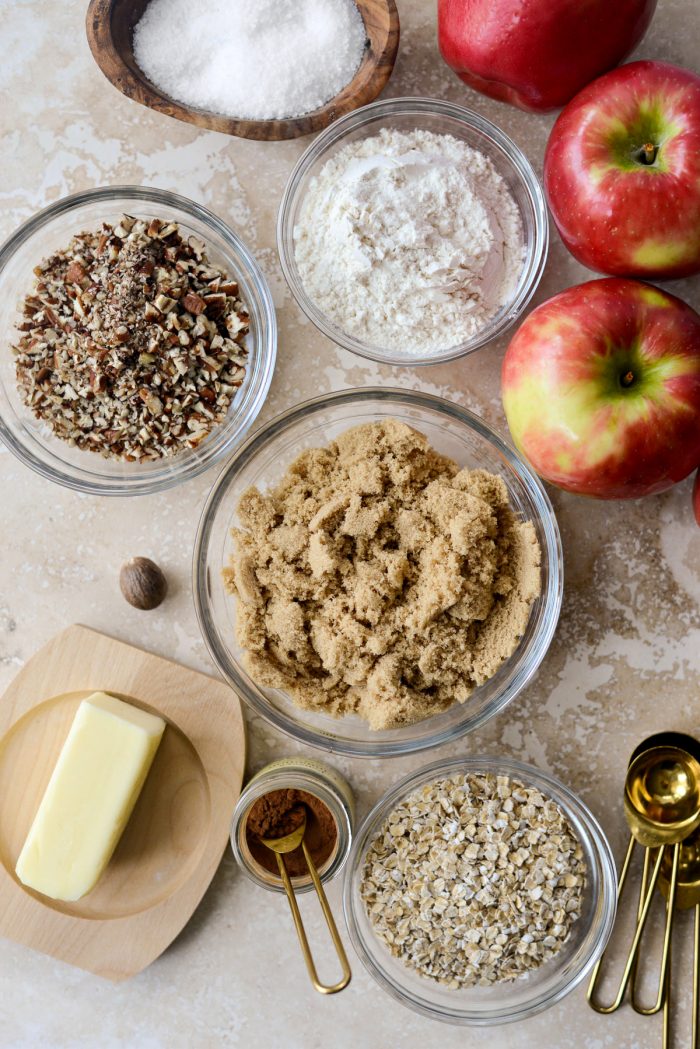 To Make This Easy Apple Crisp You will Need:
honeycrisp apples – May substitute with golden delicious.
light brown sugar – Adds sweetness with subtle notes of caramel.
unbleached all-purpose flour – The base for the crisp topping.
quick cooking oats – Lends delicious texture to the crumbly crisp topping.
cinnamon (ground) – Lends a distinct warm and woodsy flavor.
nutmeg (ground) – Warm, aromatic with subtle hints of clove.
butter (salted) – Softened to room temperature.
pecans – Add delicious nutty flavor to the crisp.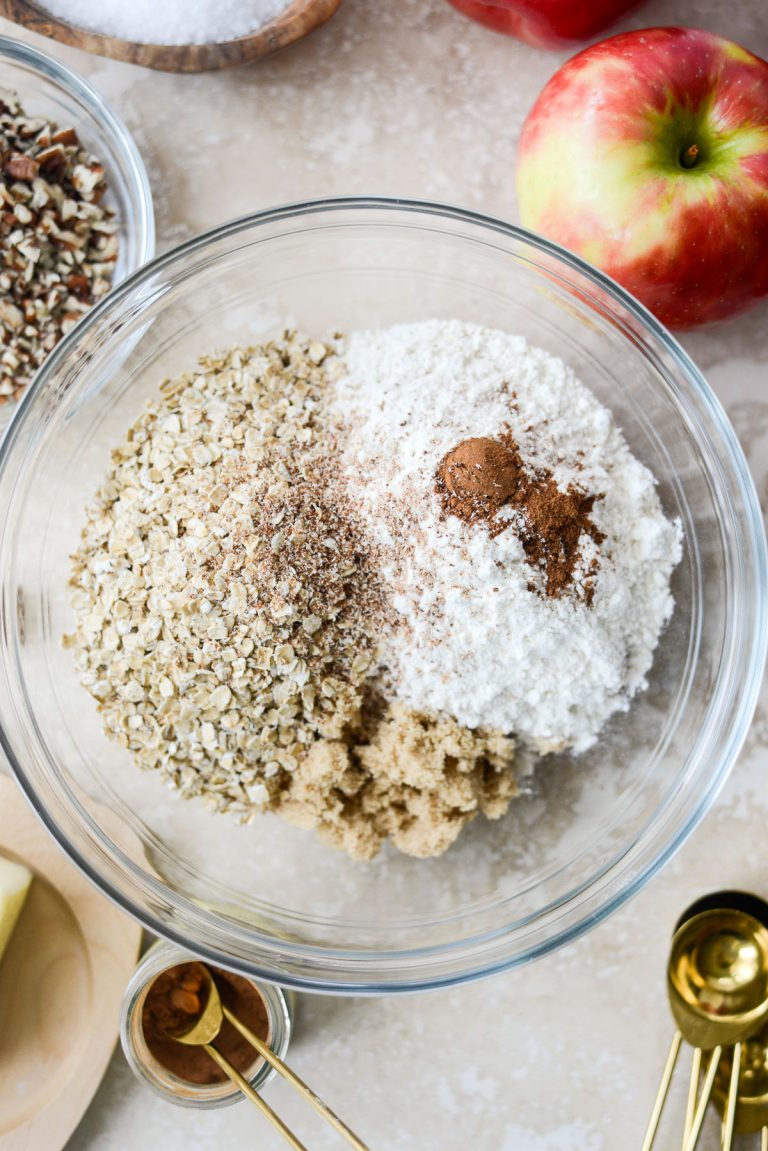 In a medium bowl add 3/4 cup light brown sugar, 1/2 cup all-purpose flour, 1/2 cup quick cooking oats, 3/4 teaspoon ground cinnamon, 1/2 teaspoon freshly grated nutmeg and a small pinch of kosher salt.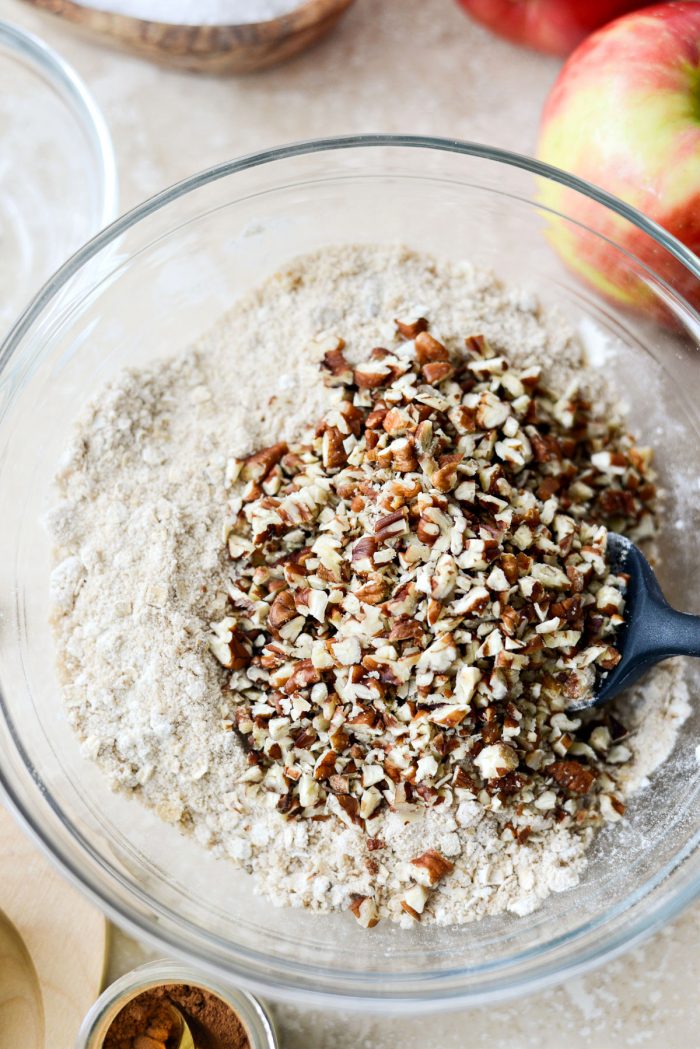 Give that a quick mix all and add in 1/2 cup finely chopped pecans.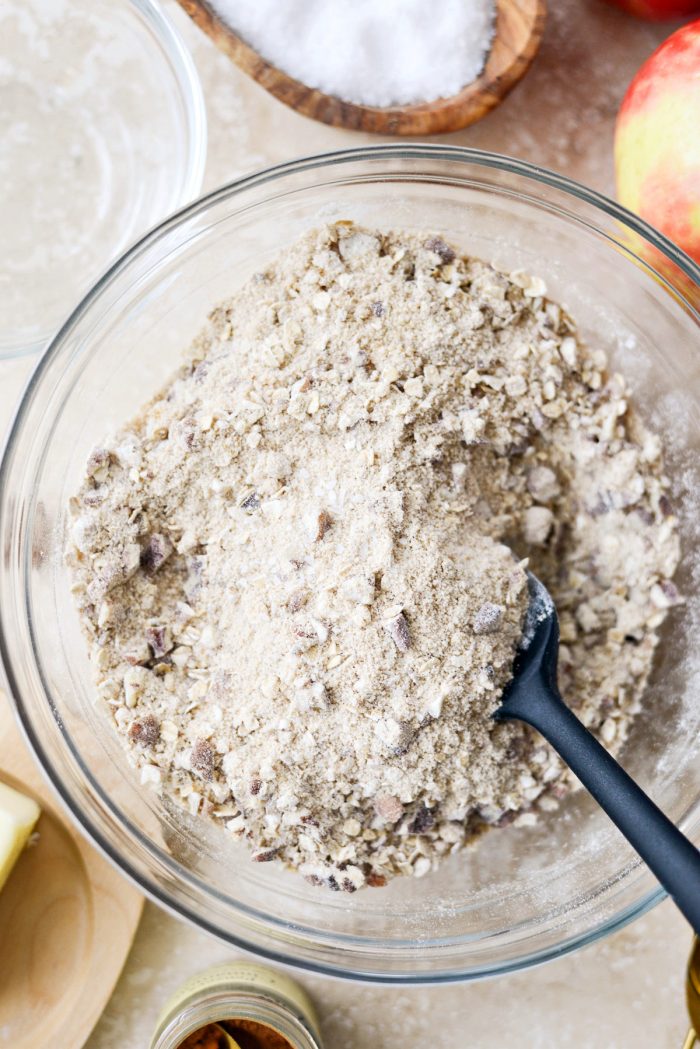 Stir once more until combined.
Next, drop in 1/3 cup room temperature salted butter.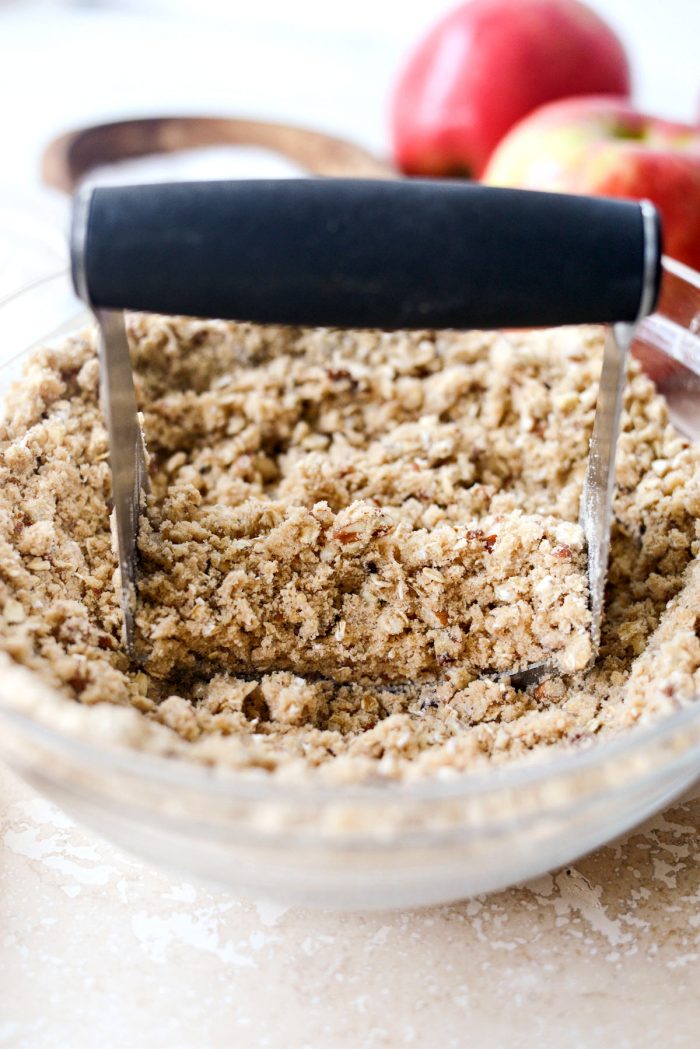 Using a pastry blender, cut the butter into that brown sugar oatmeal goodness.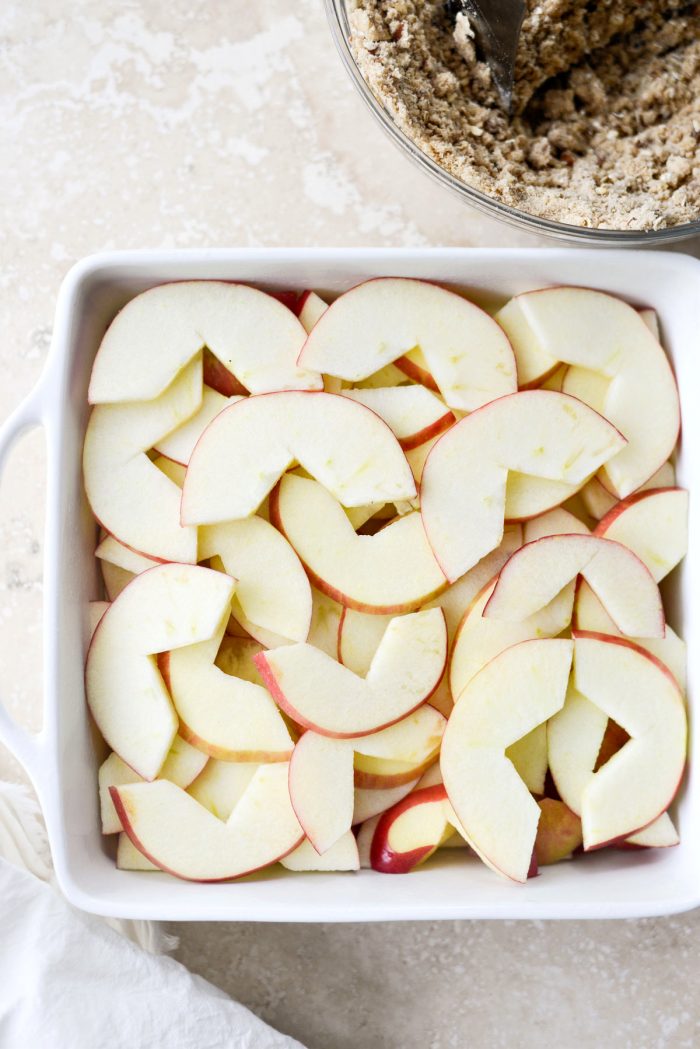 Slice 4 medium honeycrisp apples about 1/8 to 1/4 inch thick (go on and eyeball it) and arrange them in even layers inside a greased (I used coconut oil spray) 9×9 baking pan.
Pinch and drop small clumps or simply dump all of the oatmeal topping onto the apples before sliding the pan into a pre-heated 375° oven.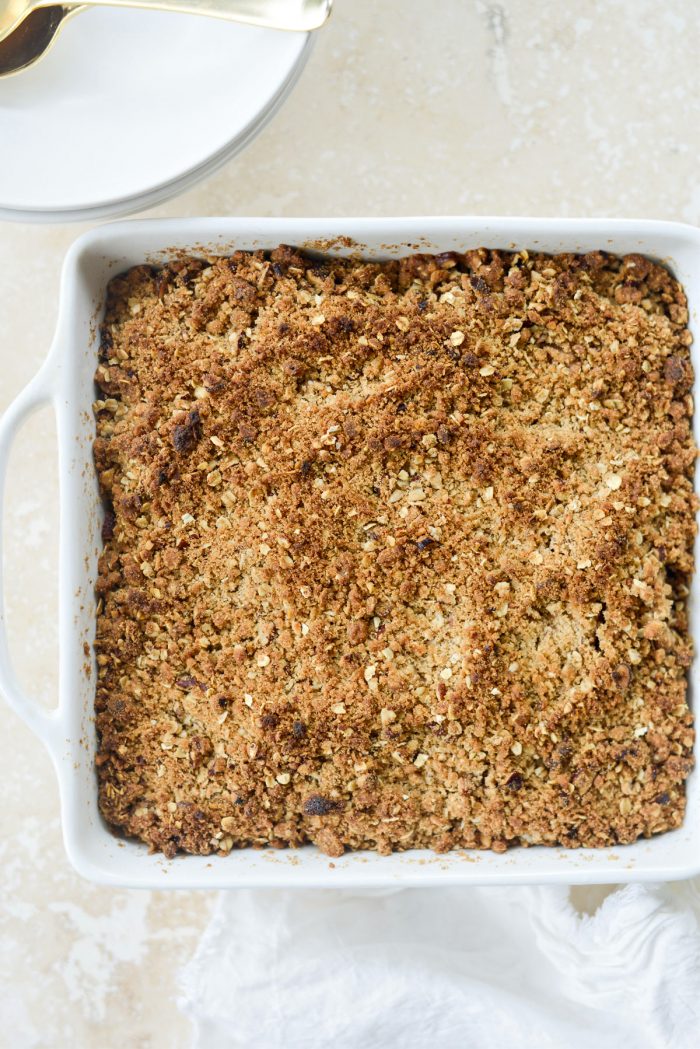 Bake for 30 minutes for tender yet not completely mushy apples, at least that's how we like them here in the McNamara household.
However, if you'd like your apples even more tender, bake for longer. You may need to foil the top to keep the oatmeal topping from burning.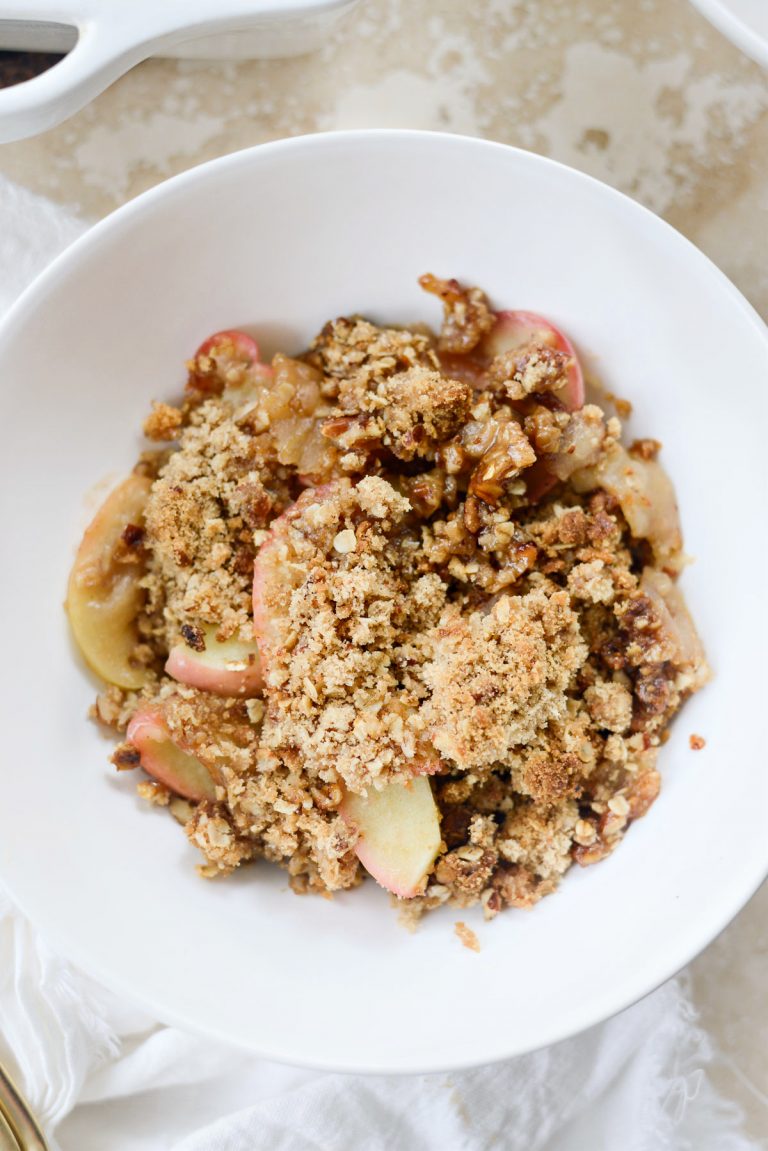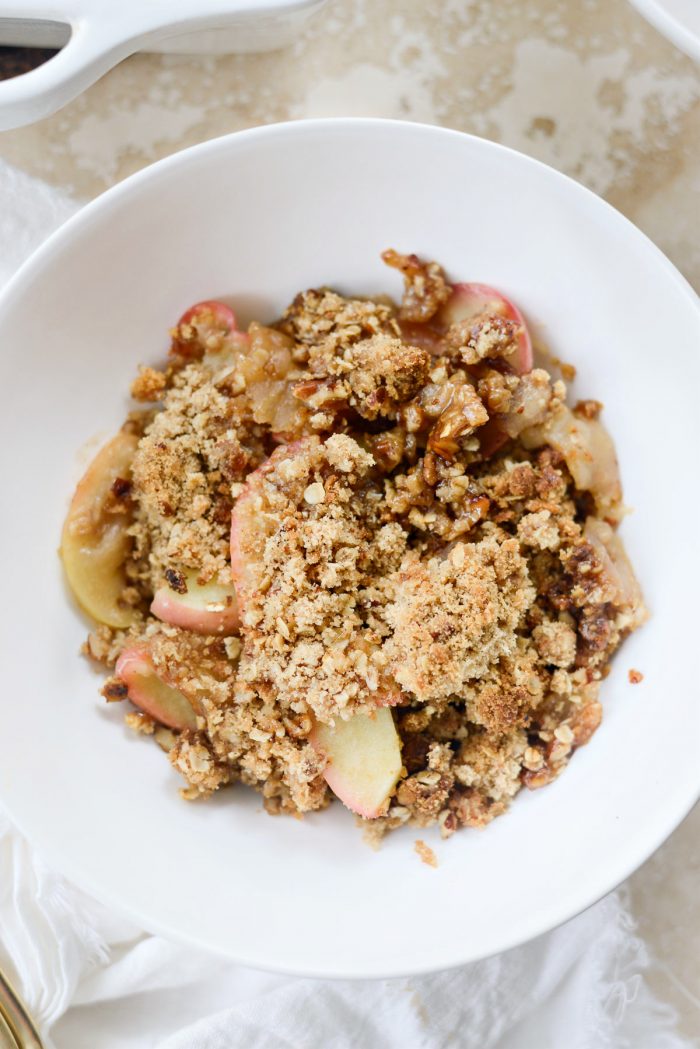 Although delicious all on it's own…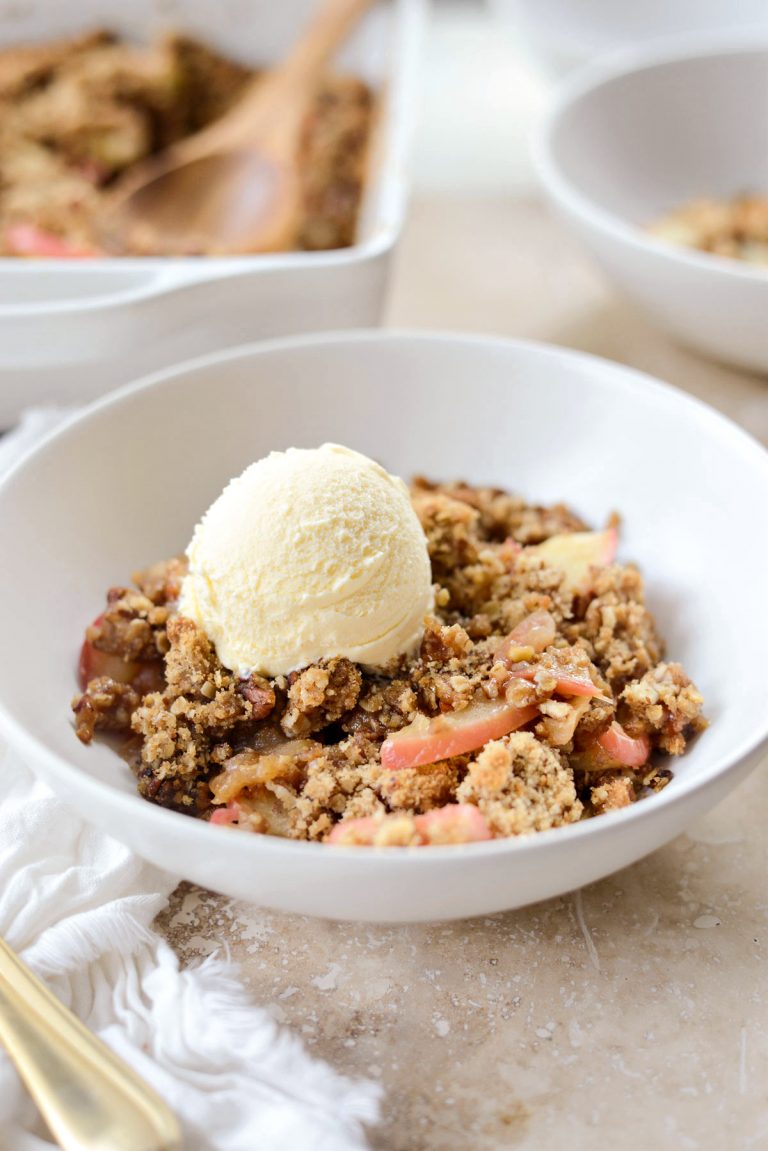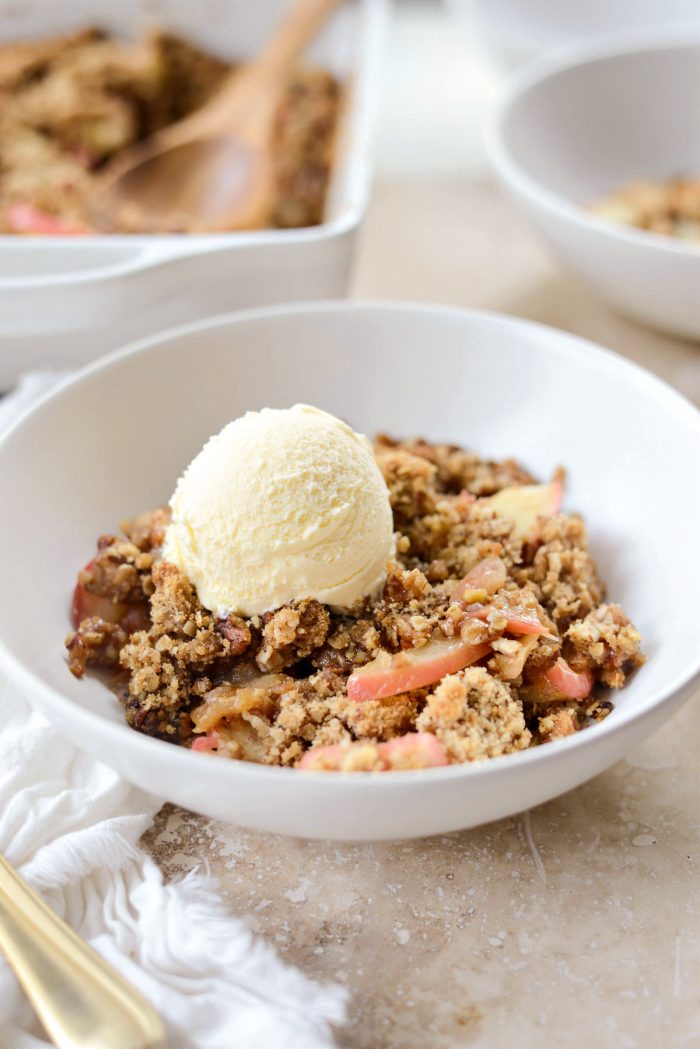 Hot apple crisp and cold vanilla ice cream is a match made in heaven.
Warm homemade caramel sends this over the top! It truly is a glorious thing.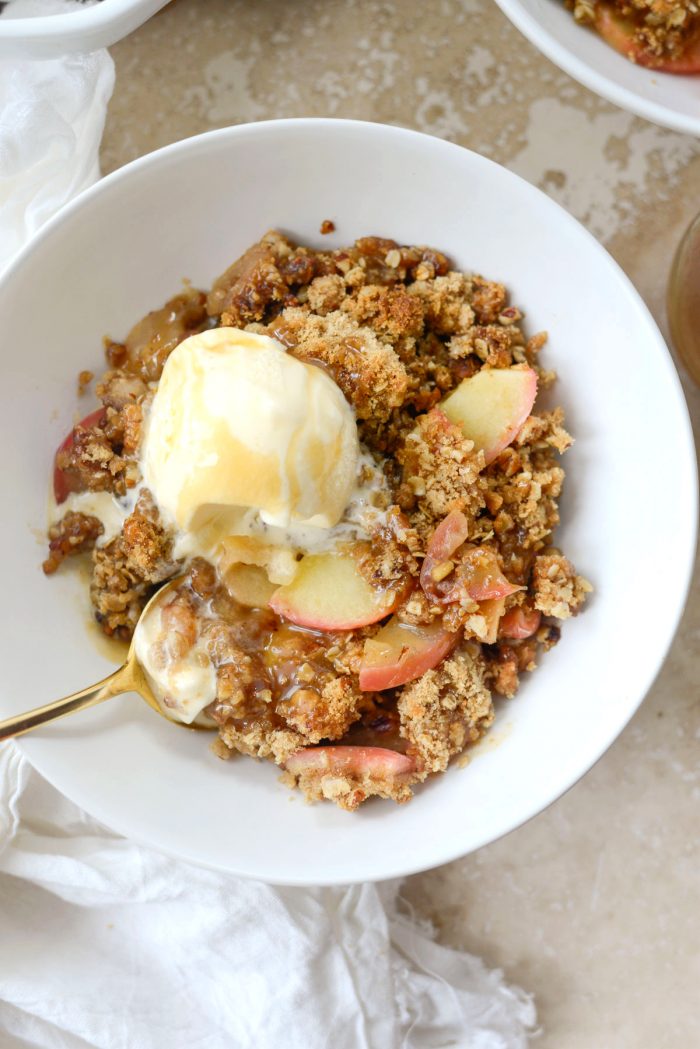 I made this in celebration of my kids being back to school. So I had dessert for lunch. My job so doesn't suck.
This weekend you should totally bake something. Apples topped with a brown sugar, pecan and oat crumble sounds like an excellent idea. And it's easy as pie err crisp(y) 😉.
Enjoy! And if you give this Apple Crisp recipe a try, let me know! Snap a photo and tag me on twitter or instagram!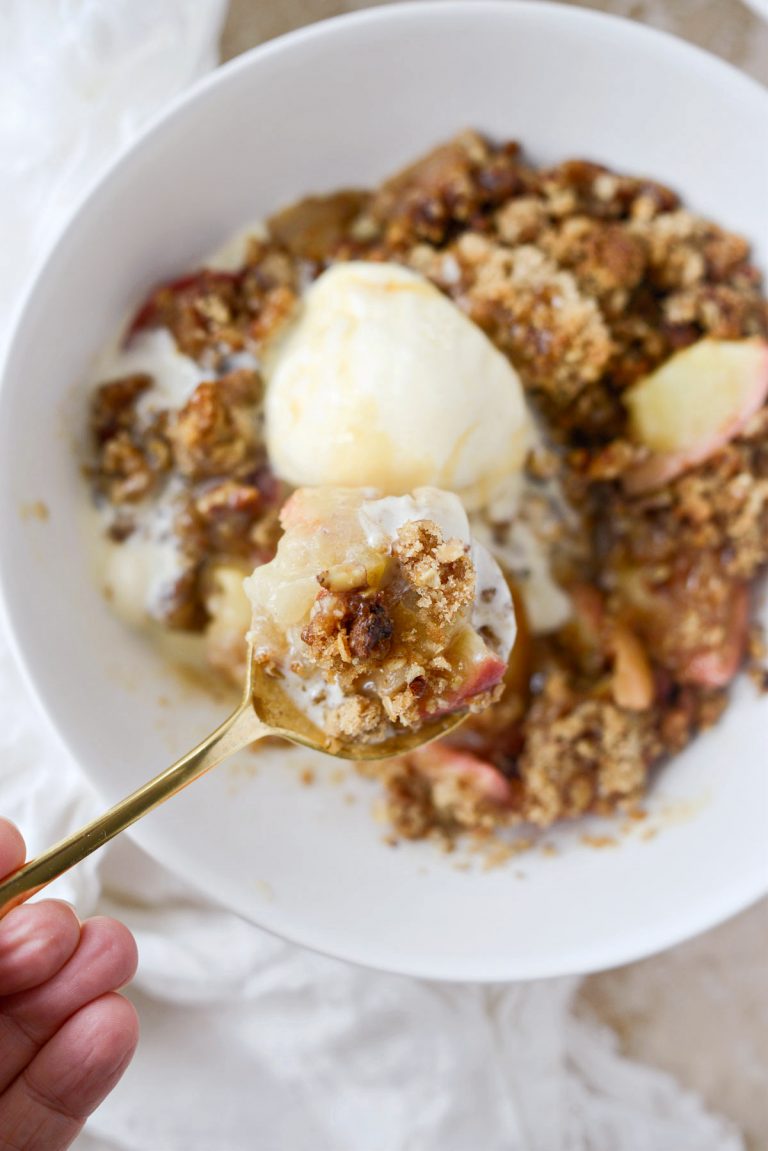 Yield: 6 servings
Easiest Apple Crisp
In this Easy Apple Crisp recipe, tender honeycrisp apples topped with a simple and delicious oat topping. Served best warm with a scoop of vanilla ice cream and homemade caramel sauce.
Ingredients
FOR THE APPLE CRISP:
4 medium honey crisp apples, cored and sliced 1/4 an inch thick
3/4 cup light brown sugar
1/2 cup unbleached all-purpose flour
1/2 cup quick cooking oats
3/4 teaspoon ground cinnamon
1/2 teaspoon ground nutmeg
1/3 cup salted butter, at room temperature, plus more for greasing baking pan
1/2 cup chopped pecans
Optional Toppings:
Instructions
Preheat your oven to 375° and grease an 9x9 (or 9-inch cake pan) with butter.

In a medium bowl combine the sugar, flour, oats, cinnamon and nutmeg. Stir to combine and add in the chopped pecans.

Add in the softened butter and blend (using a pastry blender) until combined.

Arrange the apples in an even layer in the prepared baking dish.

Pinch and/or sprinkle the oatmeal mixture over top of the apples.

Bake on the middle rack for 30 minutes (see notes).

We like our apple crisp served warm with a scoop of vanilla ice cream and warm caramel sauce drizzled over top.
Notes
*We like our apples tender yet still a little firm. For more tender apples you may want to bake for longer in the oven, cover the top of the crisp with foil to avoid burning. **Nutritional value is based on the apple crisp and does NOT include any optional toppings.
Serving: 1g, Calories: 385kcal, Carbohydrates: 58g, Protein: 3g, Fat: 18g, Saturated Fat: 7g, Polyunsaturated Fat: 3g, Monounsaturated Fat: 7g, Trans Fat: 1g, Cholesterol: 27mg, Sodium: 99mg, Potassium: 243mg, Fiber: 5g, Sugar: 40g, Vitamin A: 387IU, Vitamin C: 6mg, Calcium: 47mg, Iron: 1mg
This post may contain affiliate links.
Buy the Cookbook: Simply Scratch : 120 Wholesome Homemade Recipes Made Easy Now available on Amazon »
THANK YOU in advance for your support!