I made us this homemade honey whiskey barbecue sauce. Slather it on your next barbecued ribs or chicken, you'll love it! So delicious!
I made whiskey barbecue sauce!
And slathered it over ribs. Now the ribs could have used a little more char in my opinion but the sauce… oh that sauce… I could slather a shoe in it and be quite alright with it.
To Make This Honey Whiskey Barbecue sauce You Will Need:
sweet onion
garlic
honey whiskey or bourbon
apple cider vinegar
dark brown sugar
hot sauce
kosher salt
black pepper
Remember when I made this homemade ketchup? Well I was thinking that I just had to put it to good use, ya know "twist my arm". And I'm not talking about putting it on a hot dog or burger.
So while you could totally use regular ketchup… why would you? I mean if you're going to make a homemade sauce why not go all the way?
Making your own ketchup is so easy and once you cross into the realm of making your own… you won't go back.
To make this barbecue sauce start with half an onion and slicing it into strips.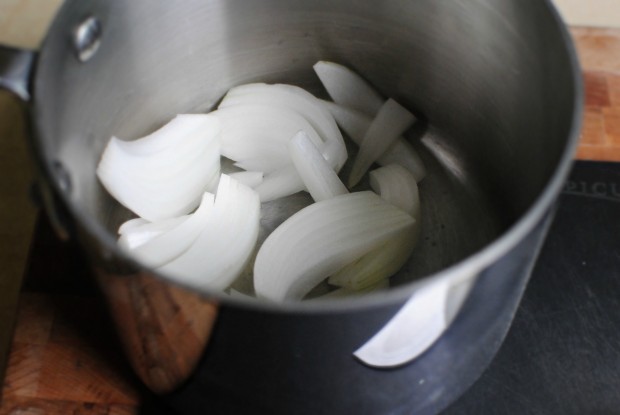 And simply drop those into a sauce pan.
Smash and peel 4 cloves of garlic.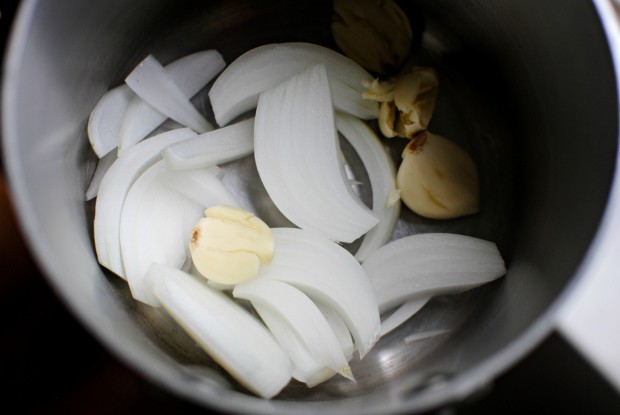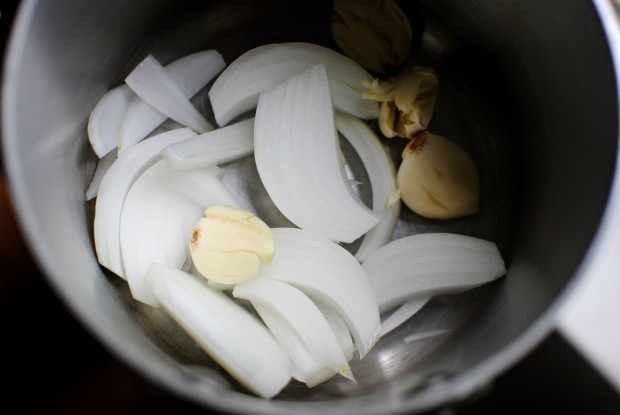 And have them join the onions in the pot.
Add in the 3/4 cup of Honey Whiskey which you should be able to find at your local super market… but if you can't, buy the whisky bourbon variety. It's all good! Bourbon whiskey can totally be substituted in this recipe.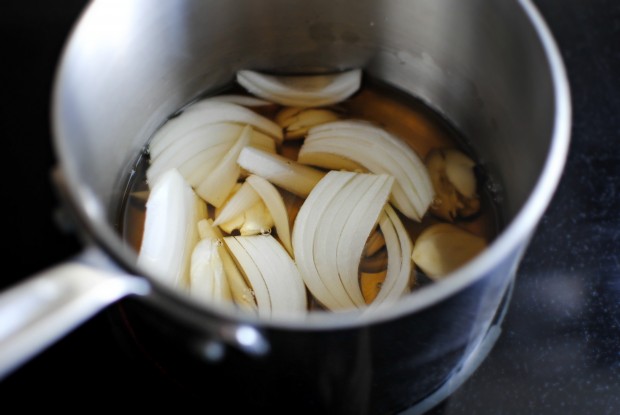 Set the pot over medium-high.
Bring to a boil. Reduce the heat to medium-low and simmer for 10 minutes or so.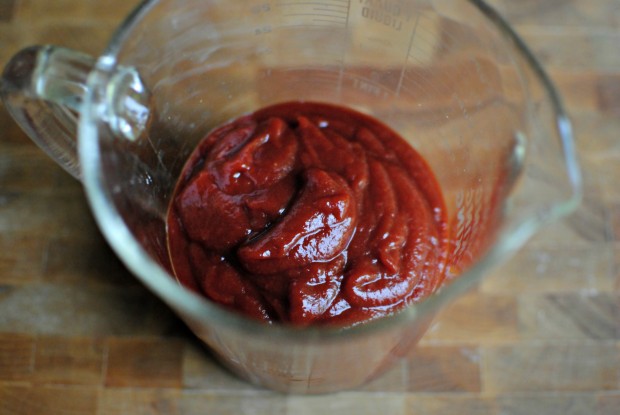 Meanwhile add the 2 cups of homemade ketchup.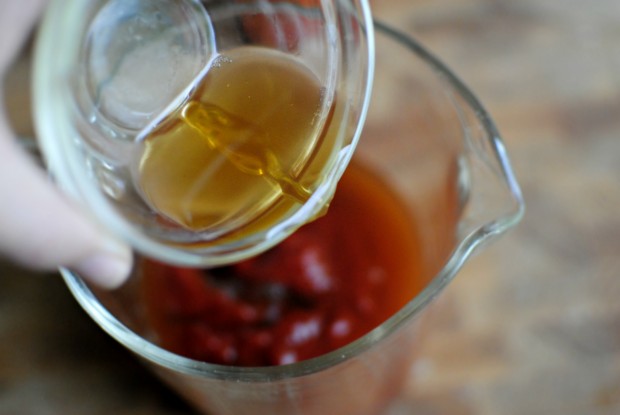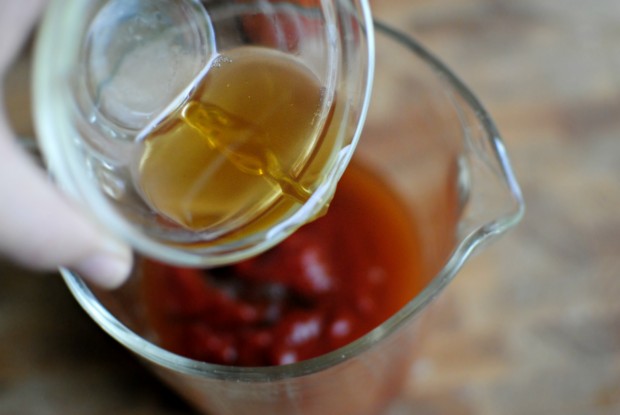 Next pour in 1/3 cup cider vinegar.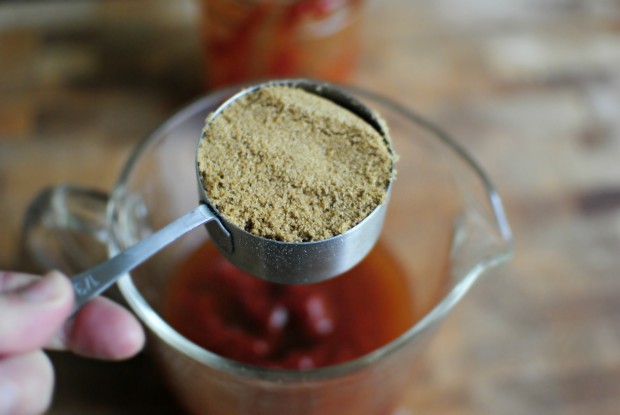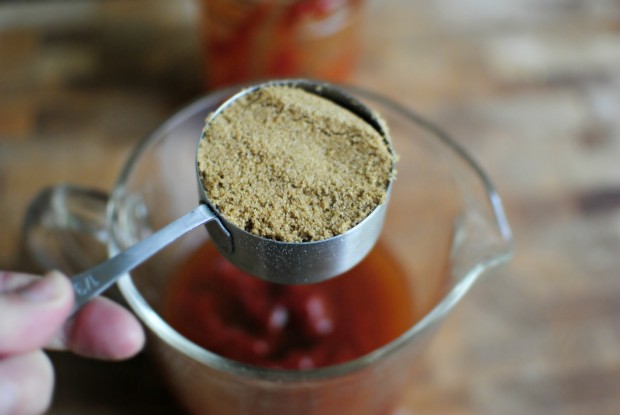 Then measure and add in 1/2 cup dark brown sugar.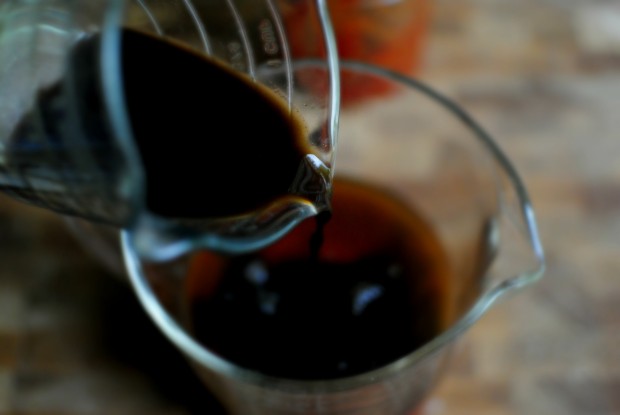 Next pour in 1/4 cup Worcestershire sauce.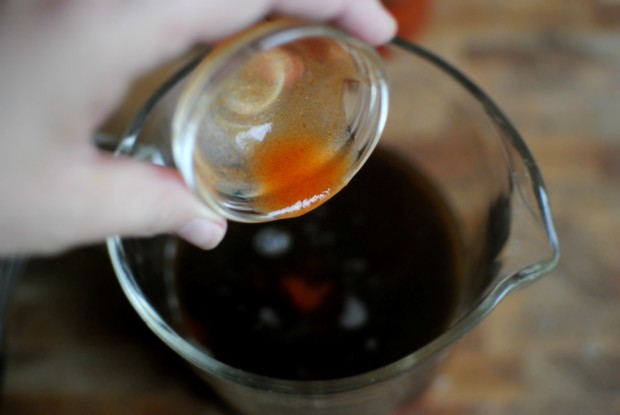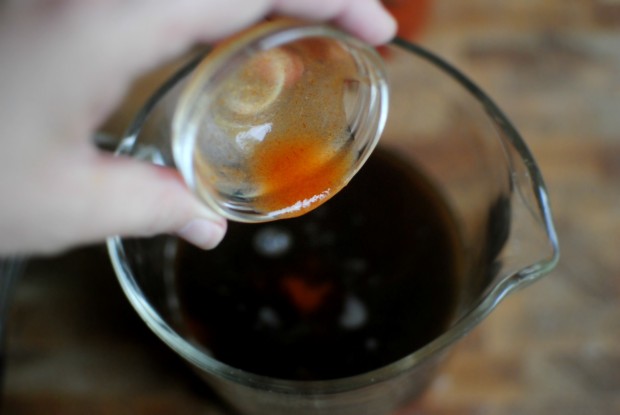 Then add 1 teaspoon (up to 1 tablespoon) of Frank's Red Hot or any hot sauce you fancy.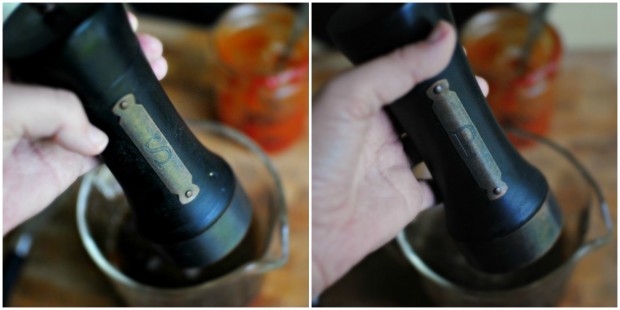 Lastly add in a 1/2 teaspoon kosher salt and black pepper.
Then stir it all up so everything is gelling.
Next, by now the whiskey should have reduce a smidgen and the onions and garlic are soft.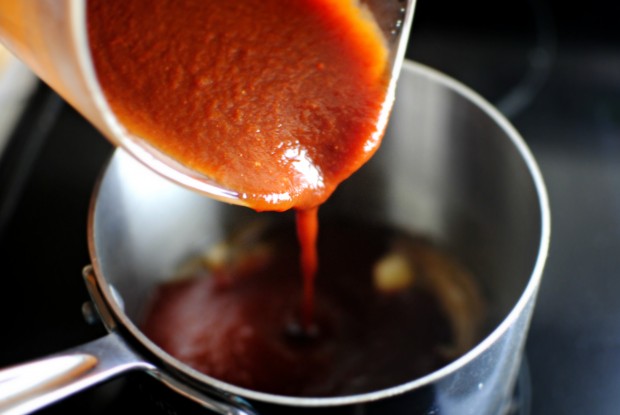 Then add in the ketchup/brown sugar mixture and give it a good stir.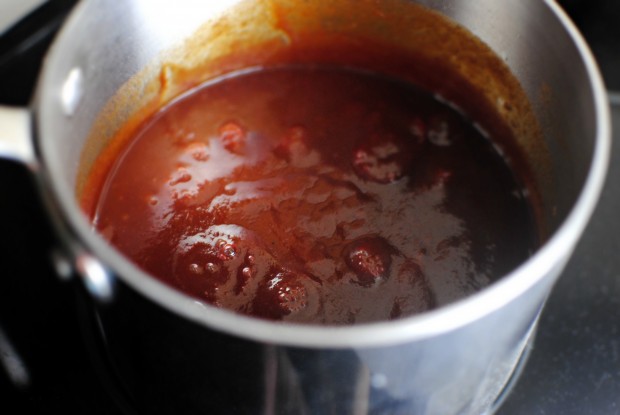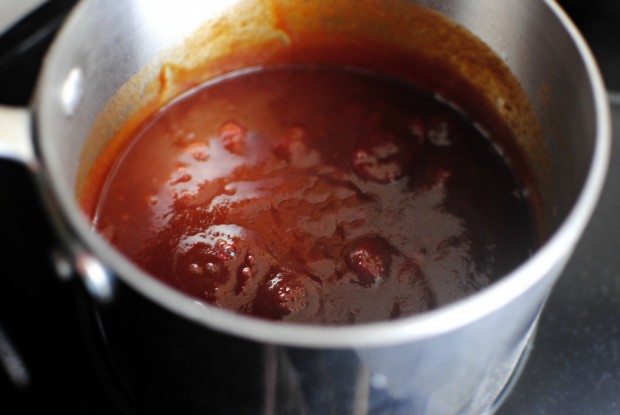 Simmer the sauce for 20 minutes, stirring often.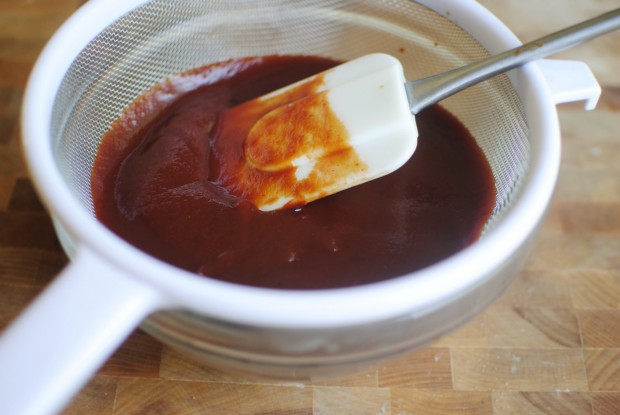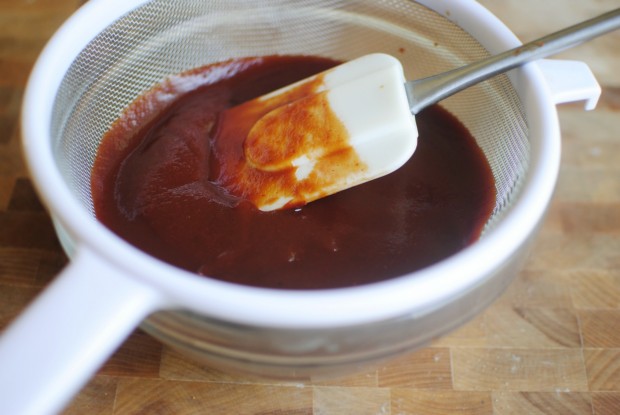 Then pour the sauce through a strainer that has been set inside a large bowl.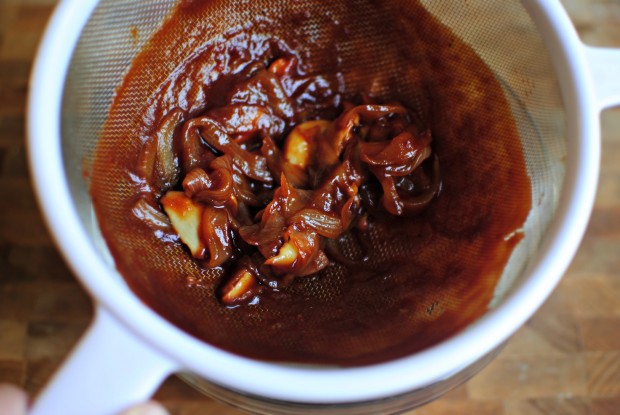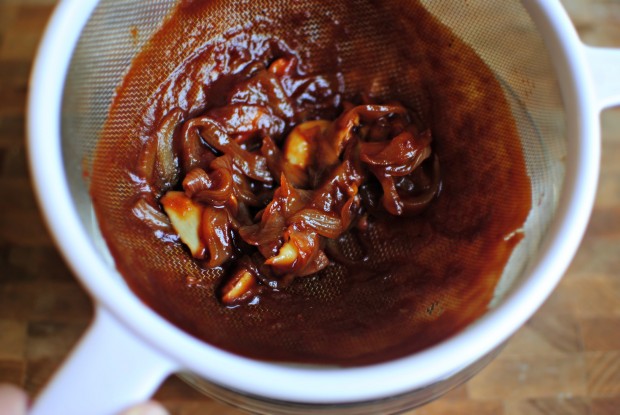 Lastly, make sure you scrape the bottom of the strainer before you discard the onions and garlic.
Slather the Honey Whiskey Barbecue Sauce on your wings, ribs or really anything that calls for barbecue sauce. Amen.
Enjoy! And if you give this Honey Whiskey Barbecue Sauce recipe a try, let me know! Snap a photo and tag me on twitter or instagram!
Yield: 12 servings
Honey-Whiskey Barbecue Sauce
Barbecue sauce just got a wakeup call... and it called for whiskey. Recipe yields 3 cups.
Ingredients
1/2 large sweet onion, sliced vertically into strips
4 cloves garlic, smashed and peeled
3/4 cup honey whiskey, or bourbon
2 cups ketchup
1/3 cup apple cider vinegar
1/4 cup worcestershire sauce
1/2 cup dark brown sugar
1 teaspoon Frank's Red Hot Sauce, or more to taste
1/2 teaspoon kosher salt
1/2 teaspoon freshly ground black pepper
Instructions
In a sauce pan; add the slice onions, smashed garlic and the whiskey. Bring to a boil then reduce to a simmer and cook until the onions and garlic have softened, about 10 minutes.

Meanwhile combine the homemade ketchup, vinegar, Worcestershire, brown sugar, hot sauce, salt and pepper. Stir well until all is combined.

Once the onions and garlic are softened, add the ketchup mixture. Stir and simmer for 20 minutes.

Pour the barbecue sauce into a mesh strainer that is set inside a large bowl. Remove and discard the garlic and onion pieces.

Use right away in any recipe calling for barbecue sauce or cool and store in an airtight jar for up to two weeks.
Serving: 2ounces, Calories: 129kcal, Carbohydrates: 22g, Protein: 1g, Fat: 1g, Saturated Fat: 1g, Polyunsaturated Fat: 1g, Monounsaturated Fat: 1g, Sodium: 533mg, Potassium: 211mg, Fiber: 1g, Sugar: 19g, Vitamin A: 210IU, Vitamin C: 3mg, Calcium: 26mg, Iron: 1mg
This post may contain affiliate links.
Buy the Cookbook: Simply Scratch : 120 Wholesome Homemade Recipes Made Easy Now available on Amazon »
THANK YOU in advance for your support!