In these kahlua krispie treats I added kahlua liqueur and cocoa powder to the melted marshmallow mixture and sprinkled the treats with mini chocolate chips.
Is it wrong that I turned an otherwise kid-friendly treat into something naughty for us grownups?
Well if it's wrong… I don't ever want to be right.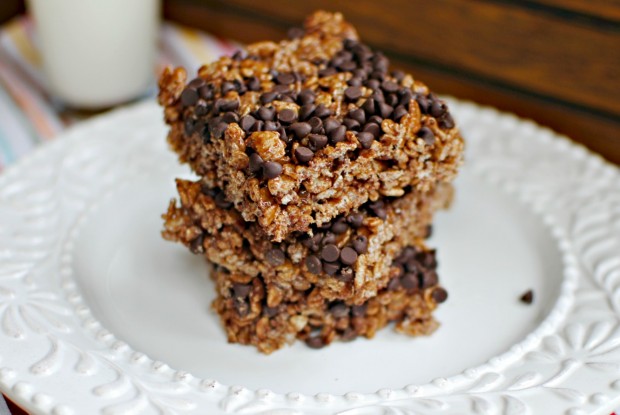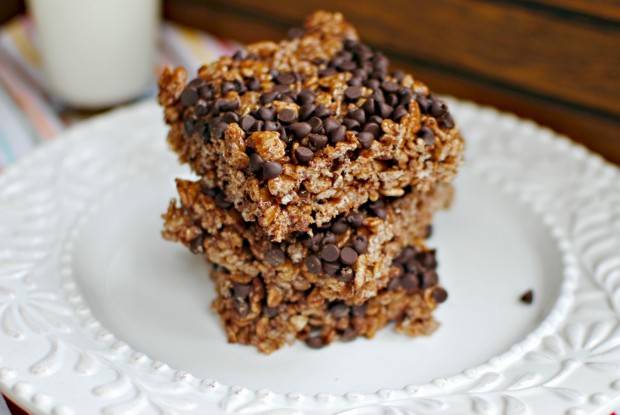 Love doesn't even begin to describe how I feel about rice krispie treats. I usually prefer to eat them straight out of the pot/bowl, all warm and sticky, leaving my fingers a mess. But for this recipe I like them pressed into a pan and sprinkled with mini chocolate chips.
The hardest part of this recipe? Waiting for them to cool… it's pure torture.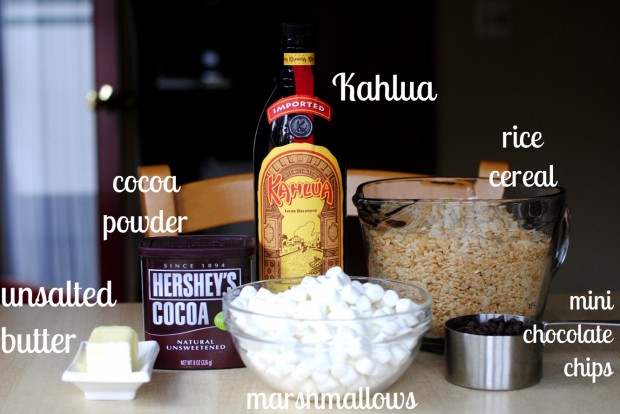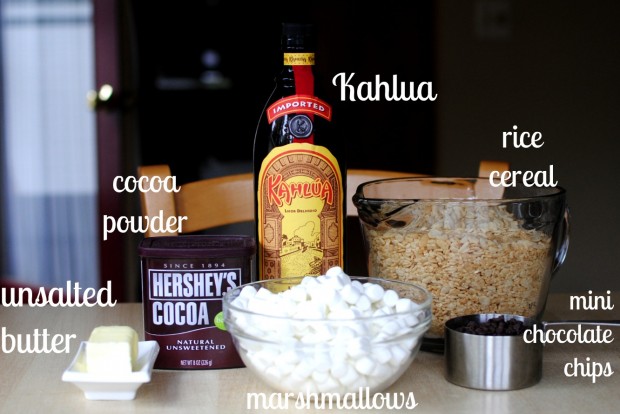 To Make These Kahlua Krispie Treats You Will Need:
mini marshmallows
unsalted butter
unsweetened cocoa powder
Kahlua liqueur
puffed rice cereal
mini chocolate chips
You should have seen the faces of my girls when I told them that they couldn't eat these. It was bad… so bad I made them their own batch, just minus the Kahlua. I'm such a sucker for a pouty lip and their sad-eyes. So not to worry, you can totally leave out the Kahlua and these will still be some amazing cocoa-krispie treats. Ya dig?
Spray and line a 9×13 baking pan.
I like to line the pan with parchment so I can remove them easily and not scratch up my pan when I go to slice them up.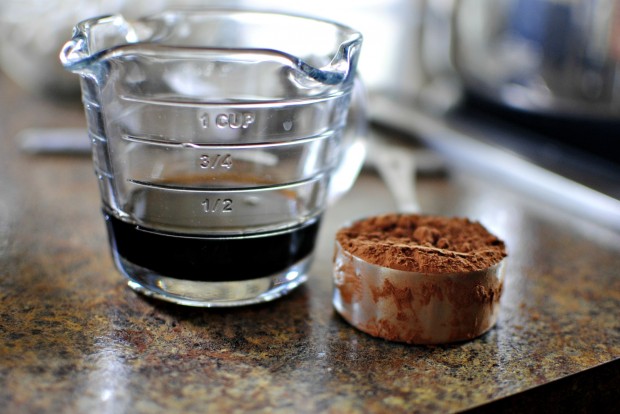 It's also a good idea to have everything set up next to the stove top, because the magic happens fast.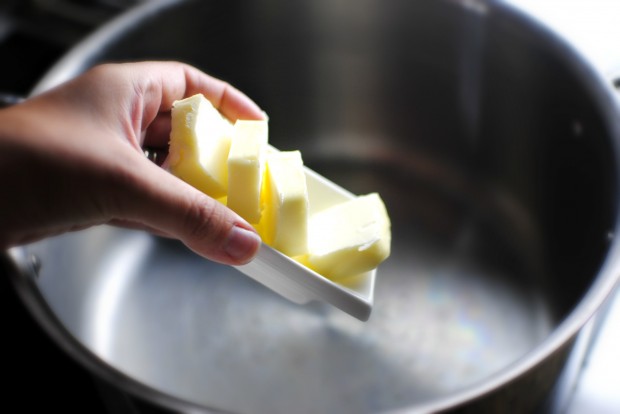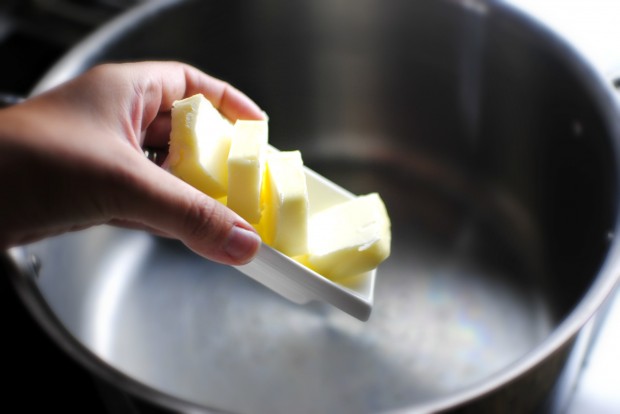 Heat a large pot over low heat. Add in 4 tablespoons of unsalted butter and let it melt slowly.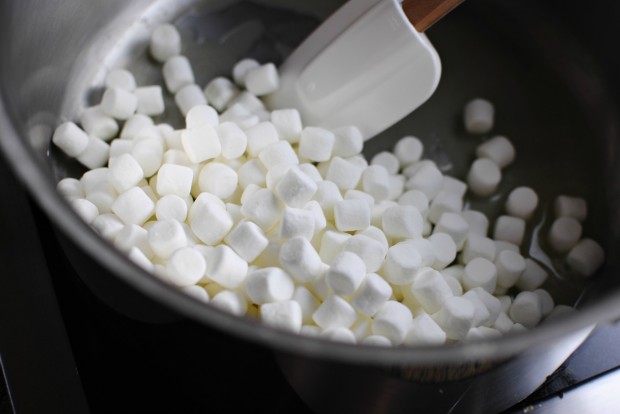 Drop in the 5 cups of mini marshmallows (40-ish of the big ones). I prefer the mini ones… I have ZERO patience and these melt way faster.
Stir them every so often until they soften up.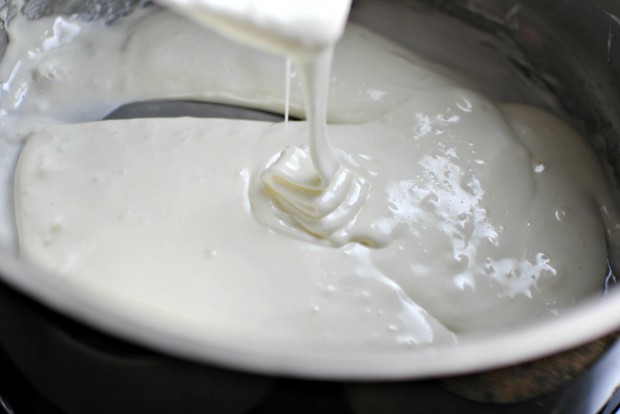 Keep stirring until the marshmallows are completely melted and is entirely smooth.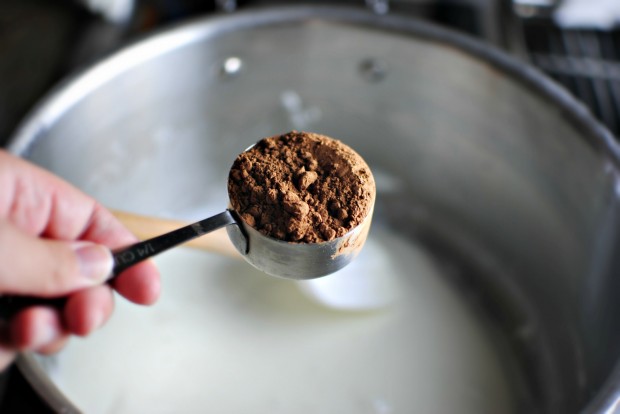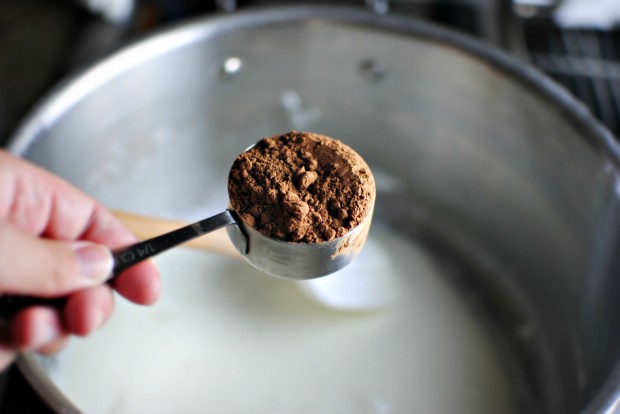 Add in the 1/4 cup of unsweetened cocoa powder.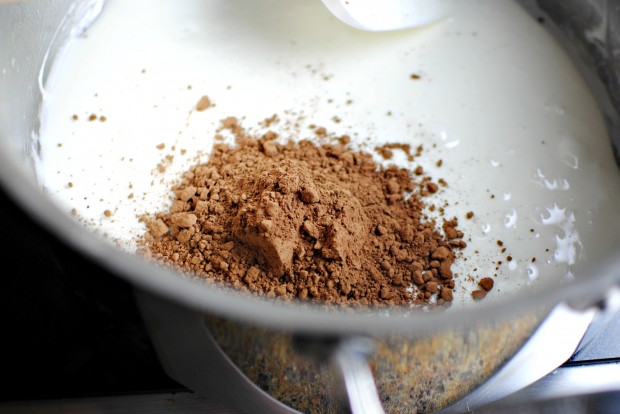 Plop it right on in. No finesse needed.
Remove the pot off of the heat and stir with some fierceness until the cocoa is completely mixed in to the mallow.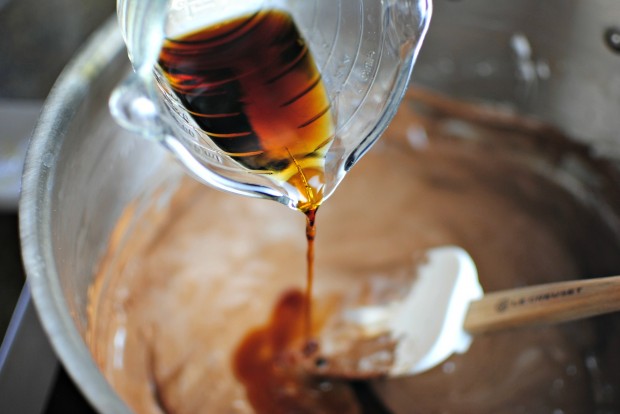 Then pour in the 1/4 cup of Kahlua…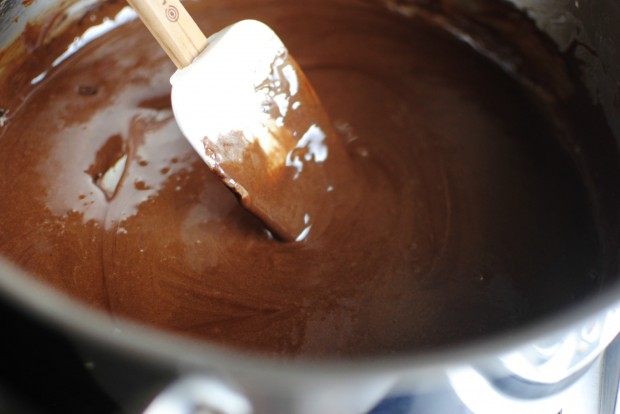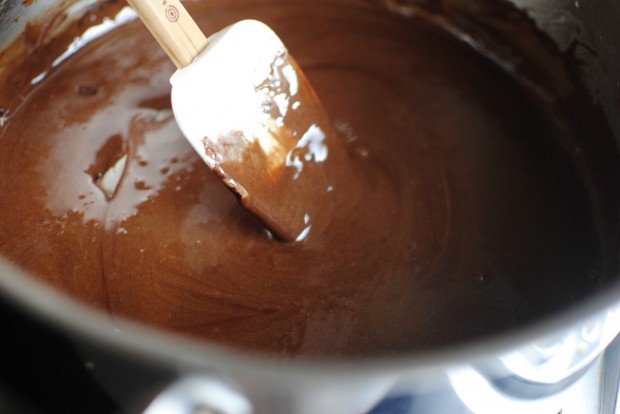 Next, stir some more. Stop now and grab a pretzel and dip… taste testing is ahhhhmazing.
Then add in the cereal.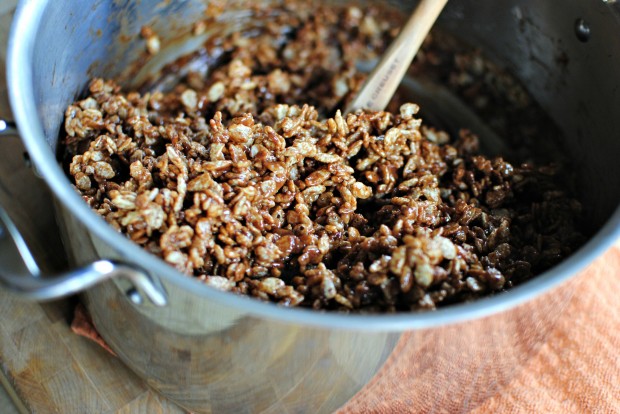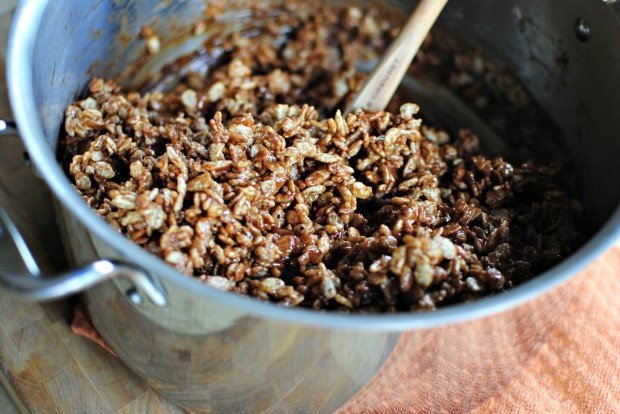 Next, gently stir until everything is coated in glorious cocoa-kahlua-ness.
Then into the pan it goes.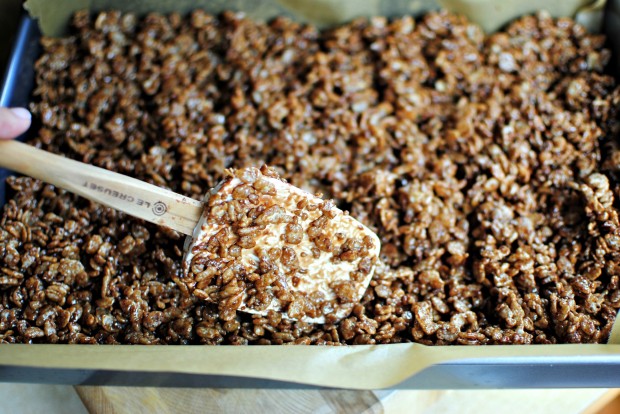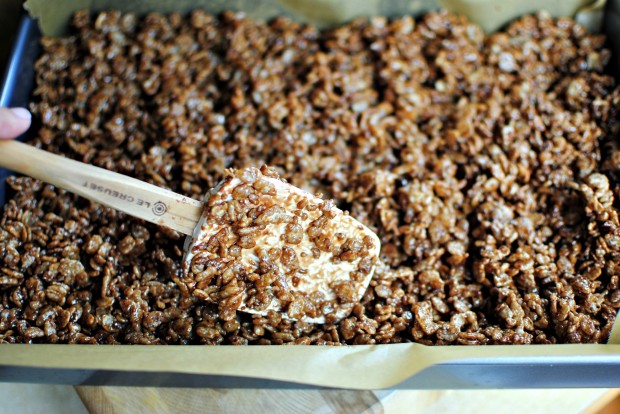 And then with a little help from the old trusty spatula spread them evenly.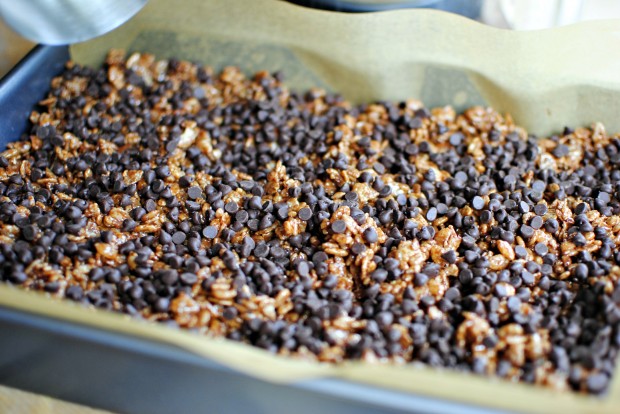 Next, sprinkle with the mini chocolate chips.
Then with some scrap parchment, press down to flatten these suckers out. And now comes the agonizing part. Waiting. I'm so NOT good at this.
I was tempted to pick at a corner. And maybe I did. I'll never tell.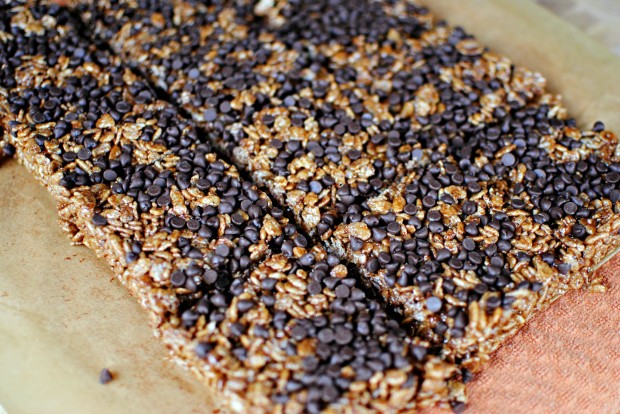 Next, use the parchment paper handles and pull them out of the pan. Cut into squares, the bigger the better, just sayin.
Finally, go and grab three Kahlua krispie treats and some milk and stuff your face! (please pardon the extreme close up).
Enjoy! And if you give this Kahlua Krispie Treats recipe a try, let me know! Snap a photo and tag me on twitter or instagram!
Yield: 12 bars
Kahlua Krispie Treats
In these Kahlua krispie treats I added Kahlua liqueur and cocoa powder to the melted marshmallow mixture and sprinkled the treats with mini chocolate chips.
Ingredients
6 cups rice cereal
5 cups mini marshmallows, or 40 of the large
1/4 cup unsalted butter
1/4 cup unsweetened cocoa powder
1/4 cup Kahlua liqueur
3/4 cup mini chocolate chips
Instructions
Spray a 9x13 baking dish with light olive oil or coconut spray and line with parchment paper.

In a large pot melt the butter over low heat.

Once melted, add in the marshmallows. Stir until melted and smooth.

Remove off of the heat and stir in the cocoa powder and Kahlua until completely incorporated.

Add in the cereal and gently stir to coat.

Spoon the cereal mixture into the prepared pan and spread evenly with a spatula.

Sprinkle with the mini chocolate chips and press down with a scrap of parchment.

Let cool completely before removing and cutting into squares.
Serving: 1bar, Calories: 228kcal, Carbohydrates: 39g, Protein: 2g, Fat: 7g, Saturated Fat: 4g, Polyunsaturated Fat: 1g, Monounsaturated Fat: 1g, Trans Fat: 1g, Cholesterol: 12mg, Sodium: 147mg, Potassium: 52mg, Fiber: 2g, Sugar: 22g, Vitamin A: 393IU, Vitamin C: 3mg, Calcium: 67mg, Iron: 5mg
This post may contain affiliate links.
Buy the Cookbook: Simply Scratch : 120 Wholesome Homemade Recipes Made Easy Now available on Amazon »
THANK YOU in advance for your support!