Why buy store bought when you can make delicious homemade rustic pita bread at home? You'll flip over how easy and delicious making your own pita bread is!
So for some silly reason today I decided to make homemade pita bread.
Mainly because I thought I would get to use my new KitchenAid. But nope, I did however spend some quality time with my new mixer this morning when I accidentally dropped a lit, three-wick candle next to it and of course the lime green wax splashed everywhere and dripped from everything. Even the attachments, the base and my walls.
I thought I ruined it.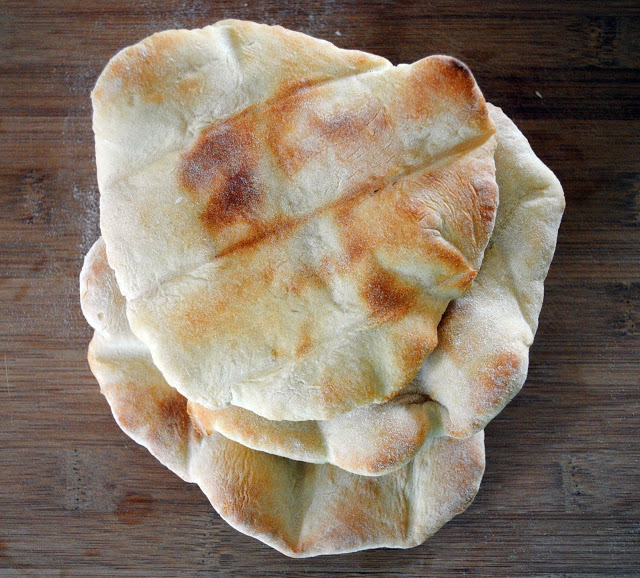 Alright back to pita bread. A couple years ago the thought of making bread frightened me. The whole "rising" part especially. I don't know why but it did. Don't laugh. Okay maybe frighten was the wrong word, more like intimidated.
Until my mom and I made pizza dough together did I realize how simple it is. I love smell of yeasty dough, it's like when you walk into Subway and the bread just came out of the oven, you know what I mean. It's what heaven smells like or should smell like.
So after thirty minutes of talking myself out of making pita bread, *sigh* I caved and started the process.
To Make This Rustic Pita Bread You Will Need:
unbleached all-purpose flour
granulated sugar
kosher salt
active dry yeast
warm water
olive oil
It was fun, I sat and stared at the yeast multiply in front of my eyes. Like a sponge or foam, it just grew! The smell reminded me of home-ec class, when we would make those large soft pretzels. I loved home-ec, just not when it came to sewing, who needs to know how to sew these days anyways?
It should take about 10 minutes to bloom.
After the yeast has bloomed, I tossed in the flour, olive oil and salt and got to kneading.
Now, when you have to knead dough know that it's a sticky business! A process of which you shouldn't wear your wedding rings, unless you don't have wedding rings or mind spending a good chunk of time cleaning dough particles out the nooks and crannies, which I have of course done a time or two.
But I managed to struggle through the kneading and finally placed the dough in a lightly oiled bowl in my warm oven to double in size and I was off to get my girls from the bus stop.
When we walked in the house it smelled faintly of dough. It was amazing. I was excited to start the next step. Roll it in to a log and cut into 8 even pieces. The old me (the scared intimidated-of-making-bread, me) would have started at one end and then hoped I was going to get the 8 pieces the recipe tells me I need. But instead I divided it in half then half again and so on until I got 8 pieces. I was a tad bit proud, even if they were unequal parts. Who cares??
Next I rolled them into balls.
A crucial and I mean CRUCIAL step in the recipe, the recipe said that if I didn't do this step the air wouldn't accumulate in the center, creating the "pocket" when you cut the pita bread in half. I'm not sure how it happens, but like magic they puff up in the center! JUST YOU WAIT!
Next I had to bust out my rolling pin. This thing is ginormous and kind of awkward (like me in the 6th grade) and there just isn't a drawer in this house deep enough to fit it in, but I'm glad I have it. It makes it real easy for rolling out pie crust and spanking my kids. Just kidding!! I don't use my kitchen equipment, that would be a crime against all things kitchen-y?
If my rolling pin had a name, it would be Gertrude… or Wilma.
Roll the rounds out to circles that are 7-inch diameter.
I just had to eyeball it which isn't saying much for my eyeballs, as you can see they aren't the same size. But it's hard to roll these suckers out! They have to be thin, but not too thin they will fall through the racks of the oven. Ah! So frustrating! *FLASH FORWARD* I could just see me tomorrow scrapping charred dough off the floor of my oven and then going off to cry in the corner vowing never to make pita bread ever again!!!
Make sure to dust these babies with flour to prevent them from sticking to each other!
All right so, the first four pitas were too thin in the center and they didn't form that huge bubble in the center. They were also way crispy and they kinda looked like garbage. Great. Now Seamus has dog treats?!

By the fifth I finally figured it out, it was perfect! A huge air pocket in the center, kinda looked like a flying saucer but it was so cool! And soft! I was carrying it over to the window to get a good picture with some lighting and PLOP! It fell straight down in the dog water. Great. I wanted to actually cry and throw that stinking pita pocket across the room. If it wasn't for a beautiful set of 9 year old blue eyes staring at me I just might have. So instead she laughed at me and I tossed it in the garbage.
So I pushed on.
I made the last three and they were just as fabulous as the one that dropped in the dog bowl. I got into my groove and understood how these babies were going to work. They were soft and chewy, and not burnt! VICTORY!! I made my own pita pockets, like a boss. I wish I knew what I was doing when I was making the first 4!
Here is proof that you never learn without attempting. Even if it falls in dog water, at least you tried! If I could I would stick these three pitas on the fridge next to my daughter's drawings. So proud.
Enjoy! And if you give this Homemade Rustic Pita Bread recipe a try, let me know! Snap a photo and tag me on twitter or instagram!
Yield: 8 servings
Homemade Rustic Pita Bread
Why buy store bought when you can make delicious homemade rustic pita bread at home? You'll flip over how easy and delicious making your own pita bread is!
Ingredients
1⅛ cups warm water
1½ teaspoons granulated sugar
1½ teaspoons active dry yeast
3 cups all-purpose flour
1 tablespoon olive oil, plus more for coating bowl
1 teaspoon kosher salt
Instructions
In a bowl stir sugar into warm water. Sprinkle the active yeast over top and let sit to proof for 10 minutes. Next, stir in flour, salt and olive oil.

Knead until soft and barely sticky. Coat a bowl with olive oil, place the dough in the bowl and cover with a warm damp towel. Move to a warm place to rise and double in size. About 1 hour.

Once raised, remove dough and preheat oven to 500 degrees. On a lightly floured surface roll the dough into a 12 inch rope. Cut into eight pieces. Roll into balls and cover with a damp towel while rolling one dough ball at time to approximately seven inches in diameter.

Place 1 to 2 pitas on a cooling rack or directly on your oven rack. Bake for 4-5 minutes or until puffed in center and golden around the edges. Remove and place under a damp towel to soften and cool.

Repeat with remaining pitas.

Once cool store in a plastic bag and refrigerate for a couple days or freeze up to two months or cut in half and fill! Enjoy!
Serving: 1pita, Calories: 196kcal, Carbohydrates: 37g, Protein: 6g, Fat: 2g, Saturated Fat: 1g, Polyunsaturated Fat: 1g, Monounsaturated Fat: 1g, Sodium: 294mg, Potassium: 72mg, Fiber: 2g, Sugar: 1g, Vitamin C: 1mg, Calcium: 9mg, Iron: 2mg
This post may contain affiliate links.
Buy the Cookbook: Simply Scratch : 120 Wholesome Homemade Recipes Made Easy Now available on Amazon »
THANK YOU in advance for your support!