This Grilled Ancho Chicken Taco Salad is a lighter take on traditional taco salad. Chicken breasts are tossed in a smokey ancho spice blend, grilled and tossed with vegetables like corn, tomatoes and peppers. Serve with crushed tortilla chips and homemade Catalina dressing.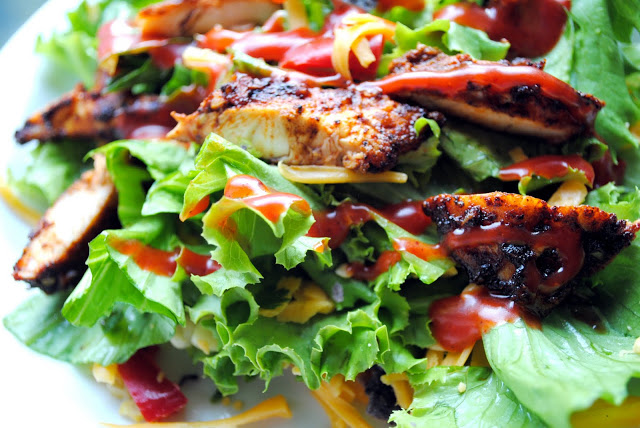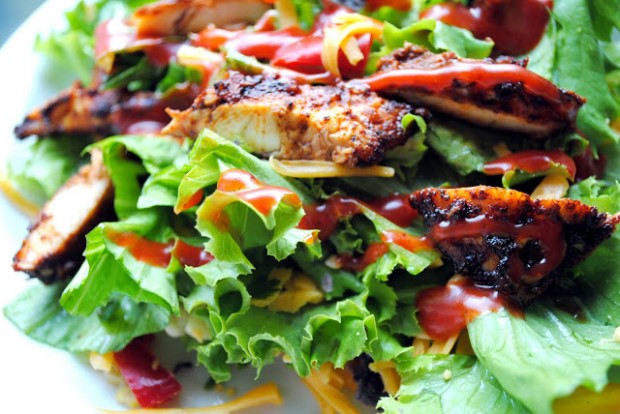 Summer is coming to an end people! Although I am a little sad to see it go… I am excited for cooler weather and cider mills. Hunting season is in just a few weeks and that means… girl nights and fun meals to make that my husband would refuse to eat! I'm soooo excited!! So while the weather is still warm I am going to squeeze in as many summer posts as possible!
This post is for my oldest daughter, her favorite thing that I make is taco salad and I think it probably is because she gets to pour catalina dressing all over it. Or it's the crushed tortilla chips. Whatever the reason, it's her favorite and her face lit up when I told her I was making this for dinner! I love that she loves salads.
Needless to say this salad was a huge hit!
Well, it was a hit for Pat, my oldest and myself. As for my youngest? Not so much. She isn't a salad lover yet, something about lettuce tastes like grass to her, even though she claims she hasn't ever ate grass before. Trust me I'm working on her.
TO Make The Chicken rub/marinade You Will Need:
garlic
ancho chili pepper
kosher salt
black pepper
olive oil
Now, ancho chili pepper isn't ultra spicy but it does have some heat. It's  more like a smoky heat, not burn your mouth oh-my-lord-I'm-gonna-die hot and it's extremely delicious!!
What is Ancho Chili Powder?
Ancho chili is actually a poblano pepper that has been dried (and then ground into powder). The poblano pepper is mainly a mild pepper, but occasionally some do have a little heat to them, that's what makes it perfect in Mexican cuisine.
First, smash, peel and mince two garlic cloves.
Then add the tablespoon of ancho chili pepper, salt, pepper and garlic to a deep dish, and stir.
Next add in the olive oil and stir.
Then add in a tablespoon of water to the mixture and stir until thinned out a bit.
Take out a pound to 1-1/4 pound of chicken breasts.
Then lay then in the marinade and toss to coat.
Next, cover and set aside to marinate for about 15-20 minutes. Don't stick it back into the fridge. You never want to put cold meat on a hot grill.
Meanwhile preheat your grill to 450°.
Then place the marinated chicken on the hot grill and cook about 3 to 6 minutes per side depending on it's thickness.
Once fully cooked, remove and allow the chicken to rest, under tented foil for about 5 minutes before slicing.
It helps the meat relax and the juices redistribute. The foil will help keep it warm.
Meanwhile, build the salad.
To Make this Ancho Chicken Taco Salad YOU will Need:
lettuce
tomato
red bell pepper
red onion
steamed or grilled fresh corn
cilantro
blue corn tortilla chips
sharp cheddar cheese
catalina dressing
First wash, spin dry and chop your lettuce into bite size pieces.
Seed and chop up the red pepper and tomatoes.
Then cut the kernels off a cooked ear of corn.
Next, cut the red onion in half and slice thinly desired amount. It's not a precise amount just cut up how much you want.
So colorful!
Then add all of those goodies to the bowl with the lettuce.
Then chop up and add the cilantro to the salad.
Next crumble up desired amount of blue corn tortillas.
Finally, grate some fresh cheddar. By hand is the only way to do it.
I never buy the bagged stuff anymore. You'll need about one 4 ounce brick, give or take.
Next add it to the rest of the ingredients. And toss. This would be a great salad by itself! Now set aside, but only for a moment.
Once you've let the chicken rest for 5 minutes, slice the chicken into bite size strips.
oh….my…heaven.
Finally, place some salad onto your plate top with sliced chicken and drizzle with catalina dressing. Or whatever your favorite is for taco salads. My husband's dressing of choice is Chalula hot sauce. I like the Catalina, because the sweetness tastes great with the smoky ancho flavor.
Enjoy! And if you give this Grilled Ancho Chicken Taco Salad recipe a try, let me know! Snap a photo and tag me on twitter or instagram!
Yield: 6 servings
Grilled Ancho Chicken Taco Salad
This Grilled Ancho Chicken Taco Salad is a lighter take on traditional taco salad. Chicken breasts are tossed in a smokey ancho spice blend, grilled and tossed with vegetables like corn, tomatoes and peppers. Serve wit crushed tortilla chips and homemade Catalina dressing.
Ingredients
THE MARINADE:
2 cloves garlic, smashed and peeled
1 tablespoon ancho chili pepper
1/2 teaspoon kosher salt
1/2 teaspoon freshly ground black pepper
1 tablespoon olive oil
1 tablespoon water
1½ pounds boneless skinless chicken breasts
FOR THE SALAD
2 heads romaine lettuce, chopped into bite size pieces
1 small red bell pepper, seeded and diced
1 roma tomatoes, seeded and diced
1 ear sweet corn, cooked and kernels removed
1/2 red onion, sliced very thin
1 handful cilantro, chopped
2 cups blue corn tortilla chips, crushed
1 cup sharp cheddar cheese, freshly grated
1/2 cup catalina salad dressing
1 avocado, sliced
lime wedges, for serving
hot sauce, for serving
Instructions
For the Marinade and Chicken:
Preheat your grill to 450°.

Mince garlic and combine it with the ancho chili pepper, salt, pepper in a shallow dish.

Drizzle in the olive oil and thin out with a tablespoon of water.

Add the chicken breasts and toss to coat on both sides well. Let marinate for 15-20 minutes at room temperature.

Grill the chicken on each side 3 to 6 minutes per side - depending on thickness. Alternatively you could do this in a skillet or grill pan. Allow the chicken to rest for at least 5 minutes -tented under foil - before slicing into bite size strips.
For the Salad:
Combine the chopped lettuce, bell pepper, tomatoes, corn, onion and cilantro in a large mixing bowl.

Serve the salad onto a plate and top with sliced cooked chicken, crushed tortilla chips and slices of avocado.

Drizzle with catalina dressing, a few dashes of your favorite hot sauce and a squeeze of lime.
Serving: 1salad, Calories: 555kcal, Carbohydrates: 50g, Protein: 37g, Fat: 24g, Saturated Fat: 7g, Polyunsaturated Fat: 5g, Monounsaturated Fat: 9g, Trans Fat: 1g, Cholesterol: 92mg, Sodium: 821mg, Potassium: 1389mg, Fiber: 10g, Sugar: 8g, Vitamin A: 19704IU, Vitamin C: 33mg, Calcium: 287mg, Iron: 4mg
This post may contain affiliate links.
Buy the Cookbook: Simply Scratch : 120 Wholesome Homemade Recipes Made Easy Now available on Amazon »
THANK YOU in advance for your support!