Sausage cheese balls. Or like in our house it's pronounced: saus-atch CHEEZ-bole.
You know, just to clarify.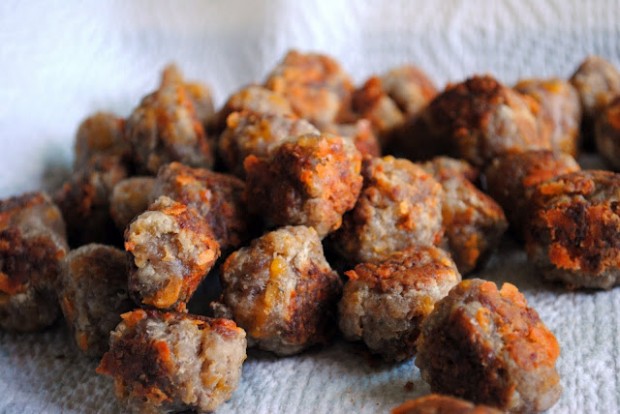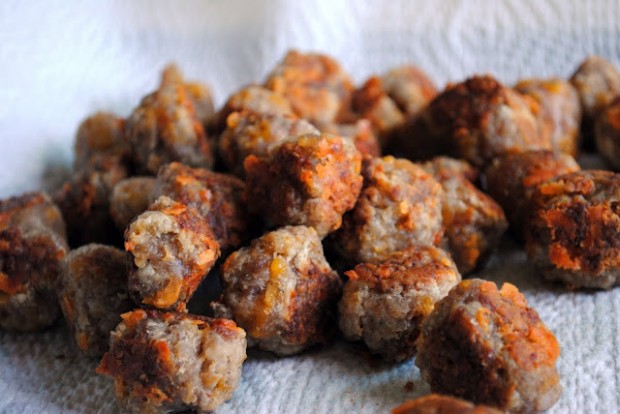 My mom just recently gave me our childhood griddle! I wanted to cry!
You don't understand this griddle is probably as old as I am… so like 22. Right. It is old, seasoned, loved and still working! I was happy to take it and who knows maybe even pass it along to my girls! On this very griddle I've watched my mom make plenty of buckwheat pancakes and I even have a scar on my right ring finger from this griddle. So needless to say I am so happy to have this griddle in my home!!
Well it's that time of year, football. I just love football season (do you hear the sarcasm?) really it's only because that means hunting season is around the corner and when it's hunting season, that means girls nights, great food, wine and maybe a twilight movie! But sausage cheese balls was the snack my mother in law would make occasionally during the football season. With one bite I am transported in time to when my mother-in-law would stand over her griddle for everyone else to enjoy her sausage balls. We all would be anxiously waiting for them to come off the griddle, and they would go just as fast as she made them. There was only one problem… there was never enough.
Her recipe does call for a certain pre-made biscuit mix, that may or may not rhyme with "miswick" or "qisbick".
And you know me, since I'm not a huge fan of pre-made mixes… you know all those "other" ingredients, I made my own. So here is how I did it! Flour, sugar, salt, baking powder and butter… really, that easy people.
So if you looking for a great football snack for all the guys in your life that just sit on the couch and yell, scream and beat their chests at the TV when ever some guy makes a goal… or is it a tackle. Whatever it is that they do in football… SERVE THIS… they will think you are a rock star! Me…I'd rather stick to not knowing a thing about football and do all the dishes!!
To make The Homemade Biscuit Mix You will need:
unbleached all-purpose flour
kosher salt
sugar
baking powder
cold unsalted butter
Mix in all the dry ingredients.
Slice up a stick of butter. I know what you're thinking, but this recipe does makes a LOT of cheese balls.
Drop in the butter pieces and start to blend with a pastry cutter.
It should look kind of soft and crumbly. Set aside and get going on the sausage bols… I mean balls.
To make the sausage balls you will need:
pork sausage
cheddar cheese (freshly grated)
biscuit mixt
Grate a whole brick of cheddar and add it to the two pounds of ground pork.
So. Much. Cheese.
Next add the flour mixture and kind of knead it in with your super duper clean hands.
Mix just until all the flour ingredients are incorporated and then form into small balls…bite size not meatball size. When the smell wafted up to my daughters room she came running downstairs to see what was cooking, and then she offered to help, it was so fun and she did a pretty good job!
As we rolled the balls I drop them on to a preheated griddle (like 425°) I didn't oil or grease the griddle, the pork fat will eventually be all you need to get them crispy and brown on all sides. Don't bet too eager to turn them you want them to get nice and a dark golden color.
See?!
Look at the cheese melting… oh lordy.
I transfer them to a paper towel lined baking sheet and then repeat with the remaining sausage balls…
Until ready to serve! Okay, so that's a lie. We were sneaking them before they even cooled the littlest bit.
You just can't resist!
Look at that goodness!! These are majorly addictive! Feel free to add diced jalopeno, or even some red pepper flakes!
Enjoy! And if you give this Sausage Cheese Balls recipe a try, let me know! Snap a photo and tag me on twitter or instagram!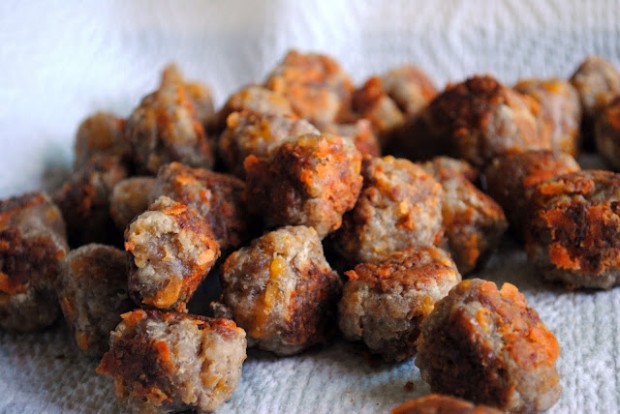 Yield: 24 servings
Sausage Cheese Balls
These cheesy pork sausage bites are perfect appetizer for game day!
Ingredients
2½ cups unbleached all-purpose flour
1/8 cup baking powder
1 tablespoon granulated sugar
1/2 teaspoon kosher salt
1/2 cup unsalted butter, cold and cut into pieces
2 pounds ground pork breakfast sausage
8 ounces sharp cheddar cheese, freshly grated
Instructions
Preheat griddle to 400-425°.

In a large bowl add the grated cheese to the pork sausage and mix in by hand.

Next add the "biscuit mix" and mix in by hand until completely incorporated.

Make small bite sized balls and place on hot griddle and brown on all sides.

Remove once fully cooked to a paper towel lined baking sheet or plate to cool.
Serving: 4g, Calories: 237kcal, Carbohydrates: 11g, Protein: 9g, Fat: 17g, Saturated Fat: 8g, Polyunsaturated Fat: 2g, Monounsaturated Fat: 6g, Trans Fat: 1g, Cholesterol: 47mg, Sodium: 479mg, Potassium: 118mg, Fiber: 1g, Sugar: 1g, Vitamin A: 241IU, Vitamin C: 1mg, Calcium: 147mg, Iron: 1mg
This post may contain affiliate links.
Buy the Cookbook: Simply Scratch : 120 Wholesome Homemade Recipes Made Easy Now available on Amazon »
THANK YOU in advance for your support!