In this satisfyingly delicious Grilled Chipotle Steak Fajita Rice Bowl, perfectly seasoned steak is grilled and sliced and tops brown rice with caramelized fajitas vegetables, charred corn, pinto beans and a plethora of toppings.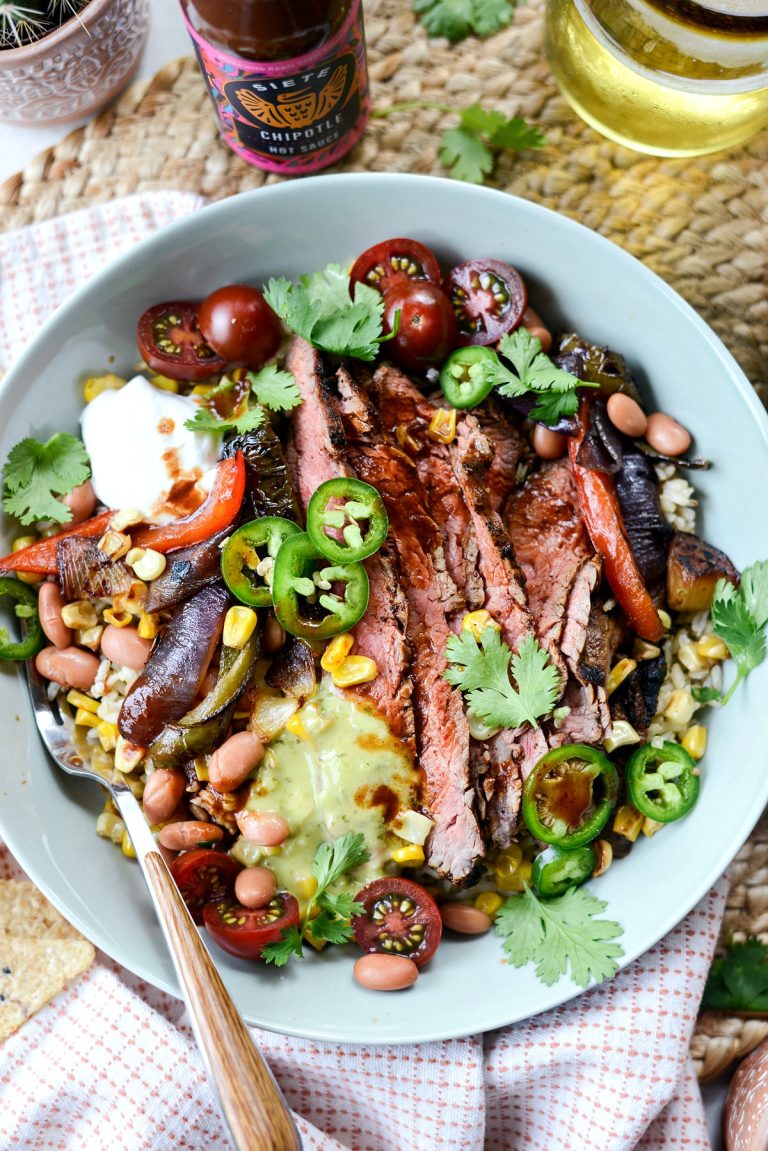 Hello, beautiful bowl of deliciousness!
Who doesn't love a big rice bowl? I crave meals like this all.the.time and since we make the chicken version so often, it was only a matter of time before I served up a steak fajita bowl.
Similar bowl set up; rice, protein, caramelized fajita vegetables, and beans, however I added cilantro and upped the chipotle powder for a smokier and spicier flavor, which really compliments the flavor of the grilled steak.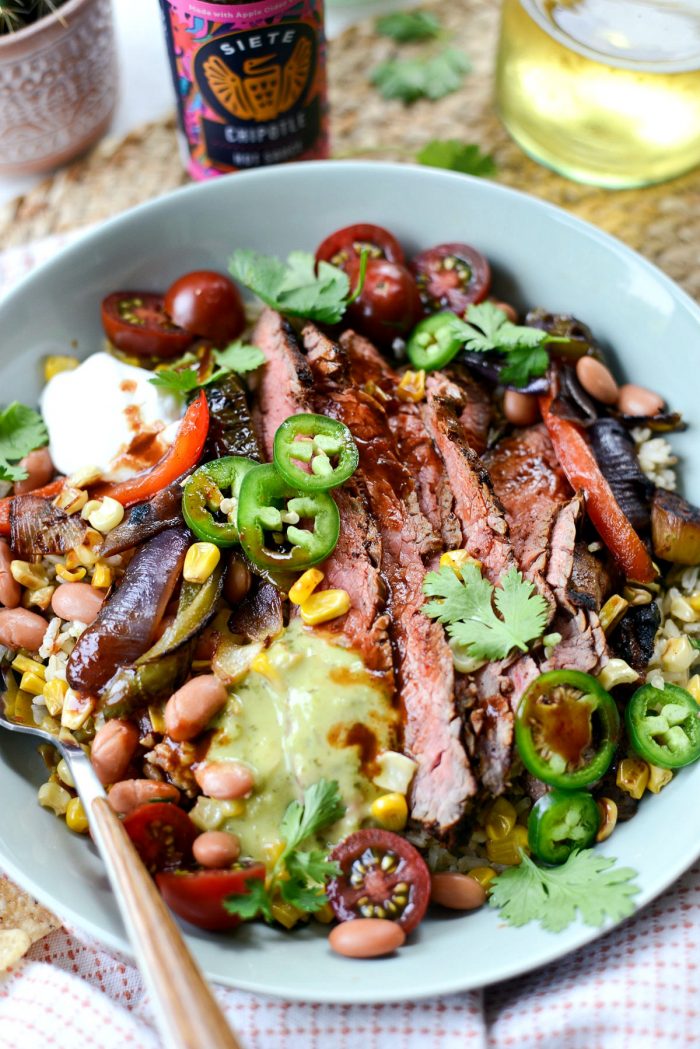 As for toppings, I'm a total sucker for caramelized peppers and onions and charred corn! Also the steak with the avocado salsa and chipotle hot sauce is bonkers good!
TO MAKE THESE GRILLED CHIPOTLE STEAK FAJITA RICE BOWLS YOU WILL NEED:
flank or skirt steak
olive oil
chipotle powder
dried cilantro
lime juice
a large red onion
red bell pepper
green bell pepper
kosher salt
cooked brown rice (4 to 6 cups)
charred corn
1pinto beans, rinsed and drained
tomatoes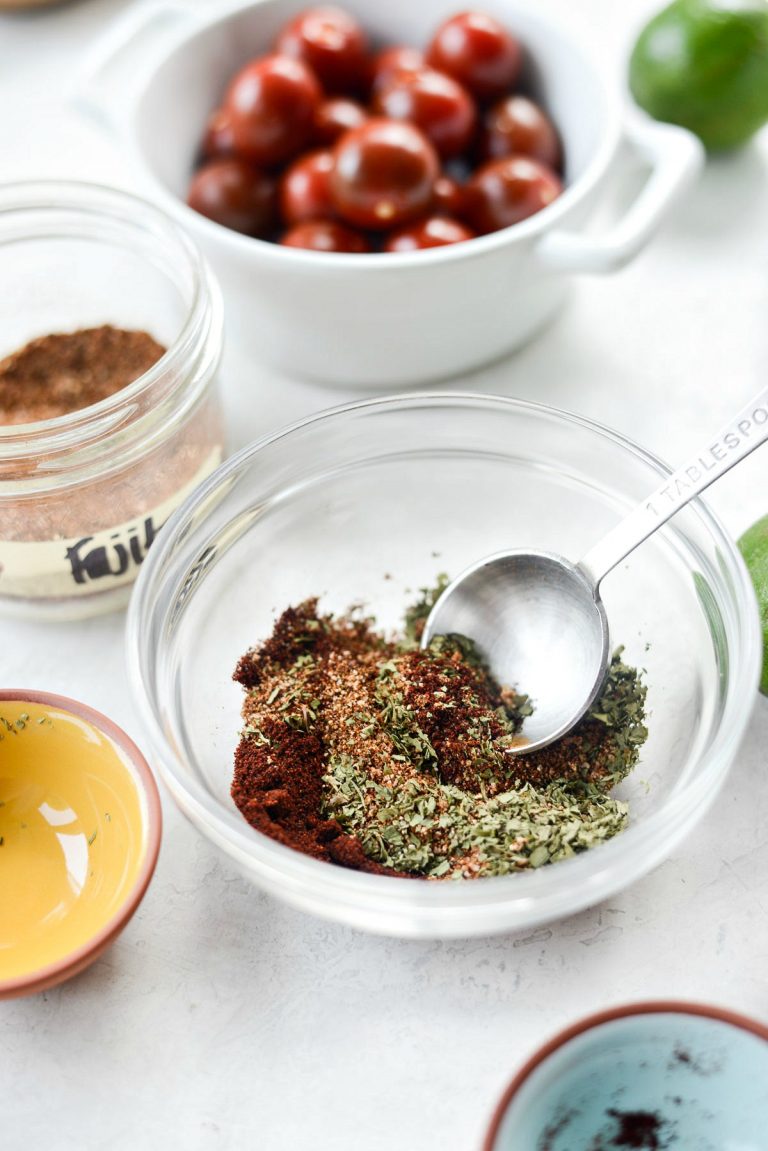 First, in a small bowl, combine 1-1/2 tablespoons fajita seasoning with 1 teaspoon each ground chipotle powder and dried cilantro.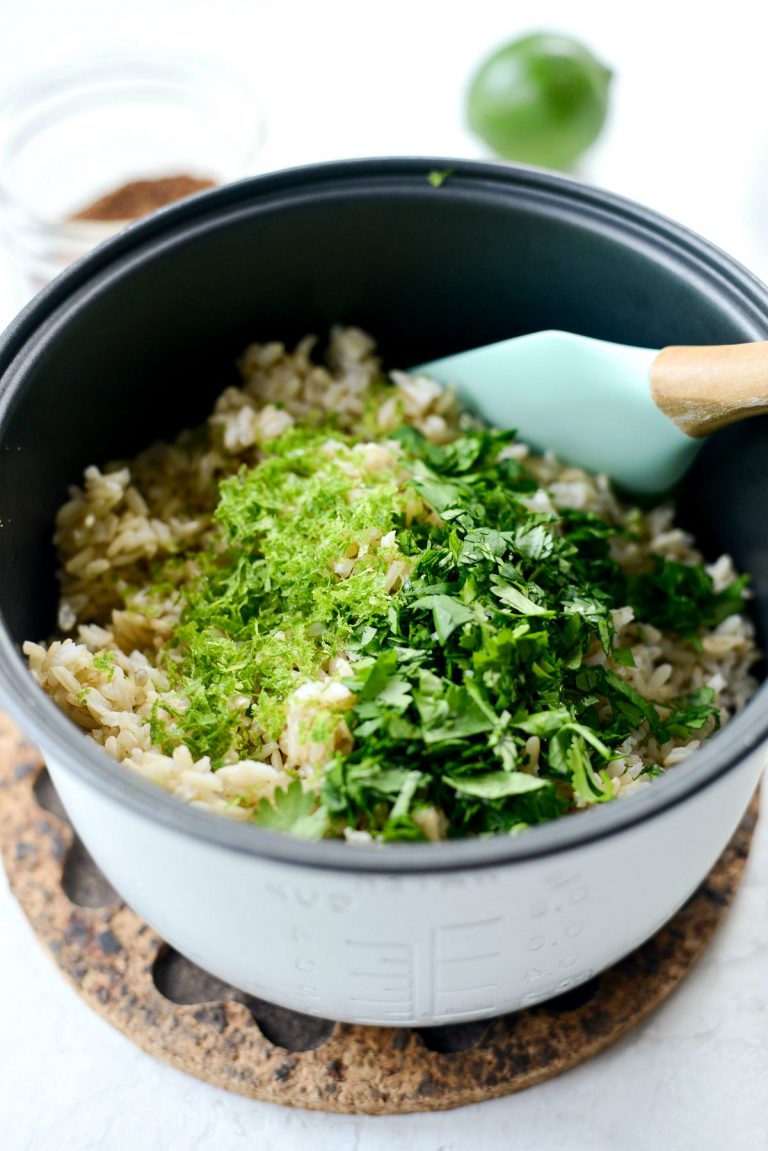 I also suggest starting the rice before everything else. Especially if making brown rice as it takes almost double the time to cook. Once cooked, I fluff and stir in the zest of 1 lime, the juice of 1/2 and season with salt if needed. You could also make cilantro lime cauliflower rice instead.
Let's talk steak!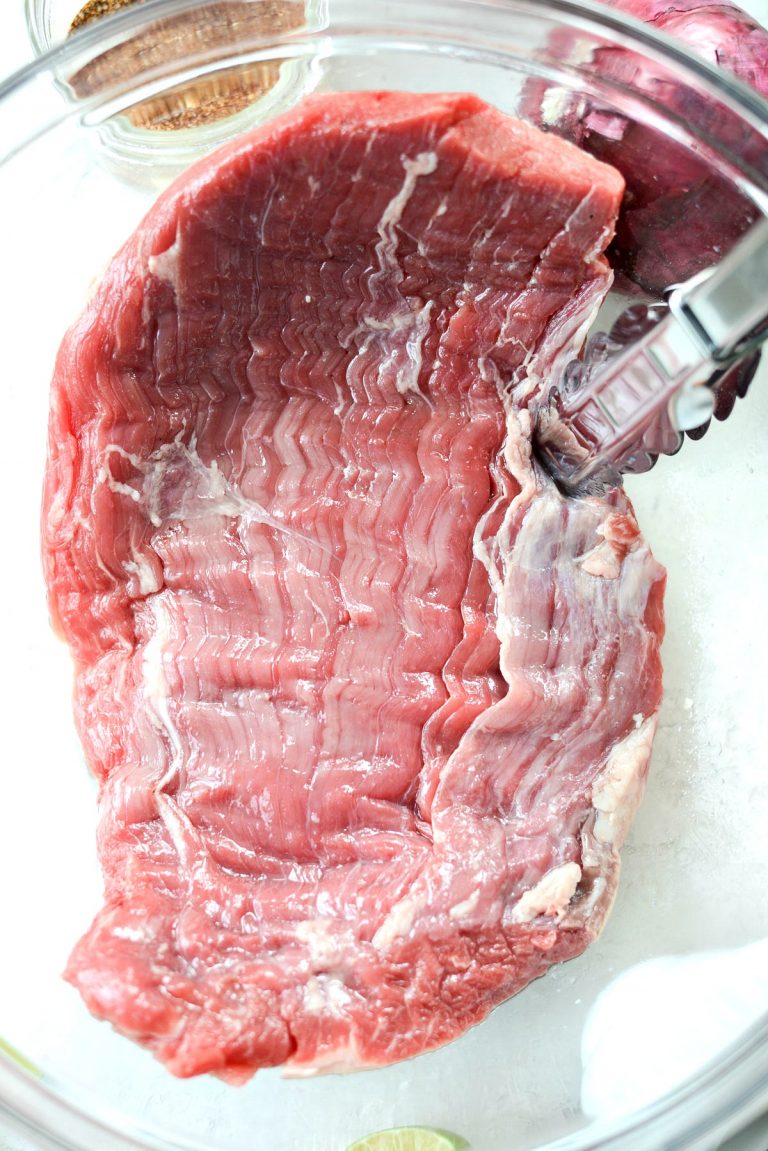 WHAT IS FLANK STEAK?
Is a somewhat thin cut of beef that comes from the belly or flank of the cow. Because flank steak is thin and the muscle grain runs in one single direction, it makes this cut of beef perfect for marinating and quick cooking ie. grilling.
HOW TO BEST GRILL FLANK STEAK:
If you're a beginner, having a instant-read digital thermometer is key for reading the steaks internal temperature and avoiding overcooking. For rare steak cook until an internal temperature is 135° and 145° for medium. If you've grilled a steak or two, you can gauge by touch and intuition. Both flank steak and skirt steak, I suggest trying not to cook it to medium-well or well done as the steak tends to be dry. In this recipe, I cooked it to medium as my family prefers, which is a grill at 450-500° for 9 to 10 minutes total, turning halfway.
Please keep in mind, grilling time may vary if using skirt steak.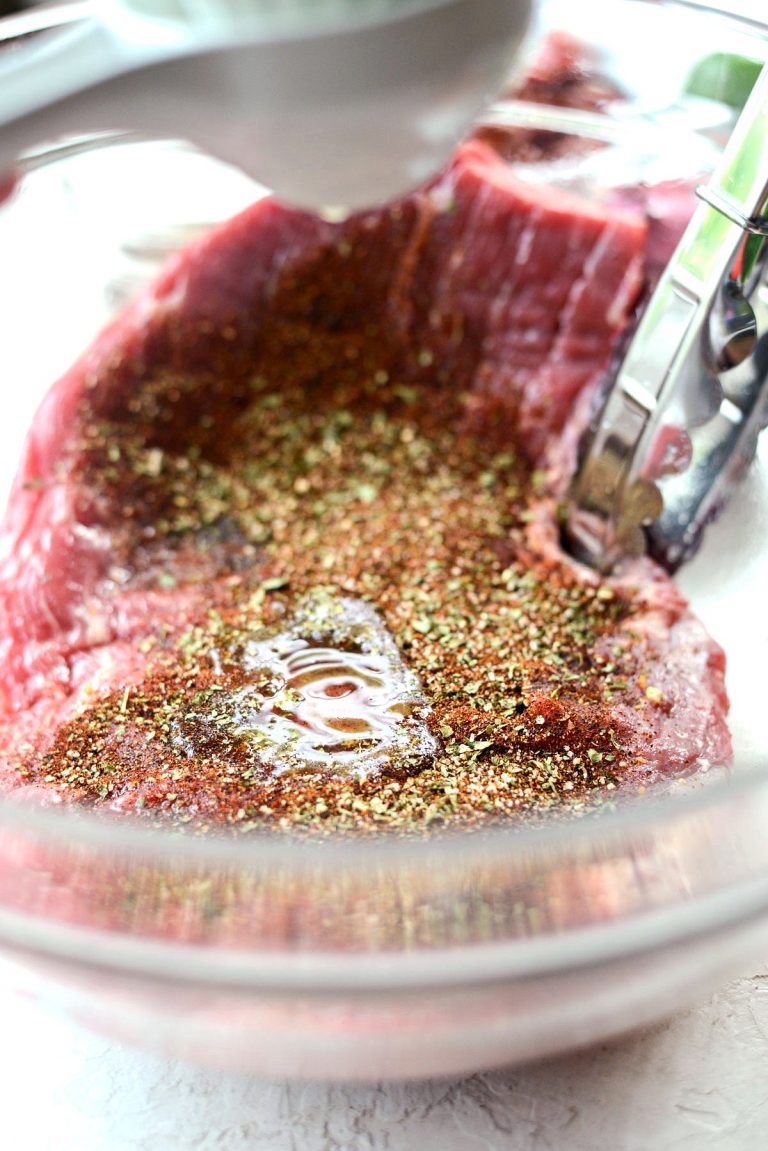 Next, toss the flank steak with 2 teaspoons olive oil, the seasoning blend and juice of 1 lime.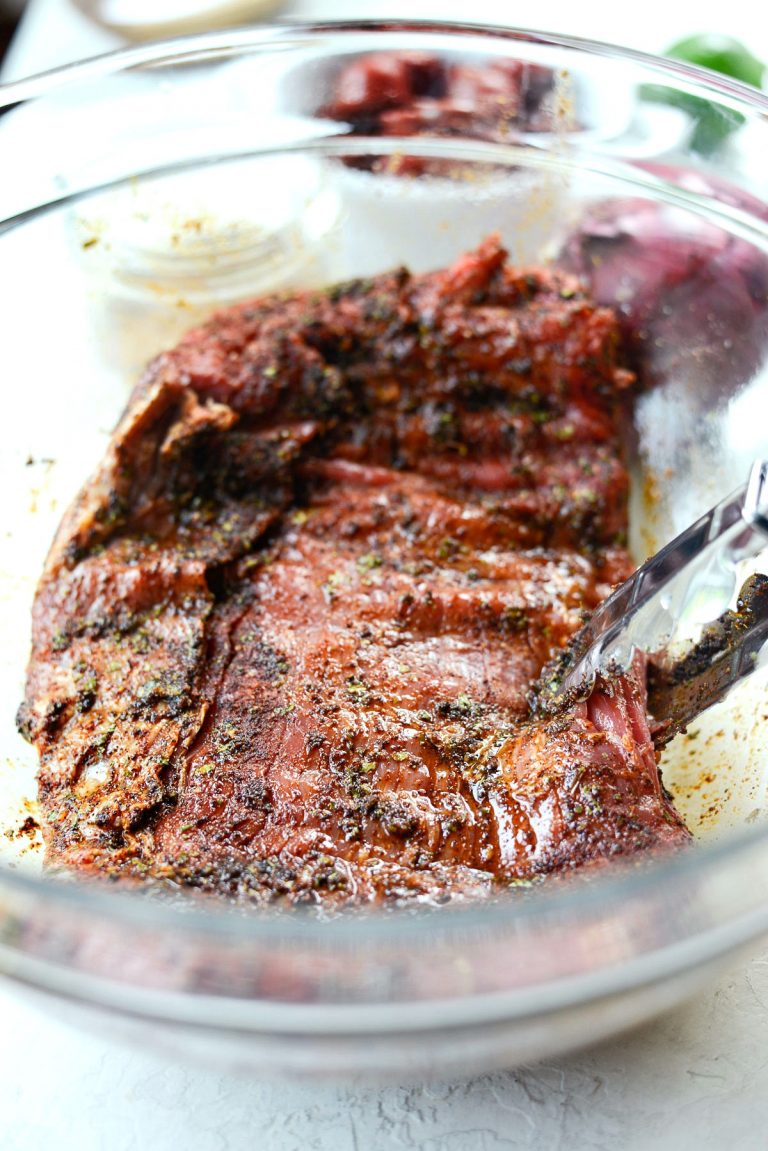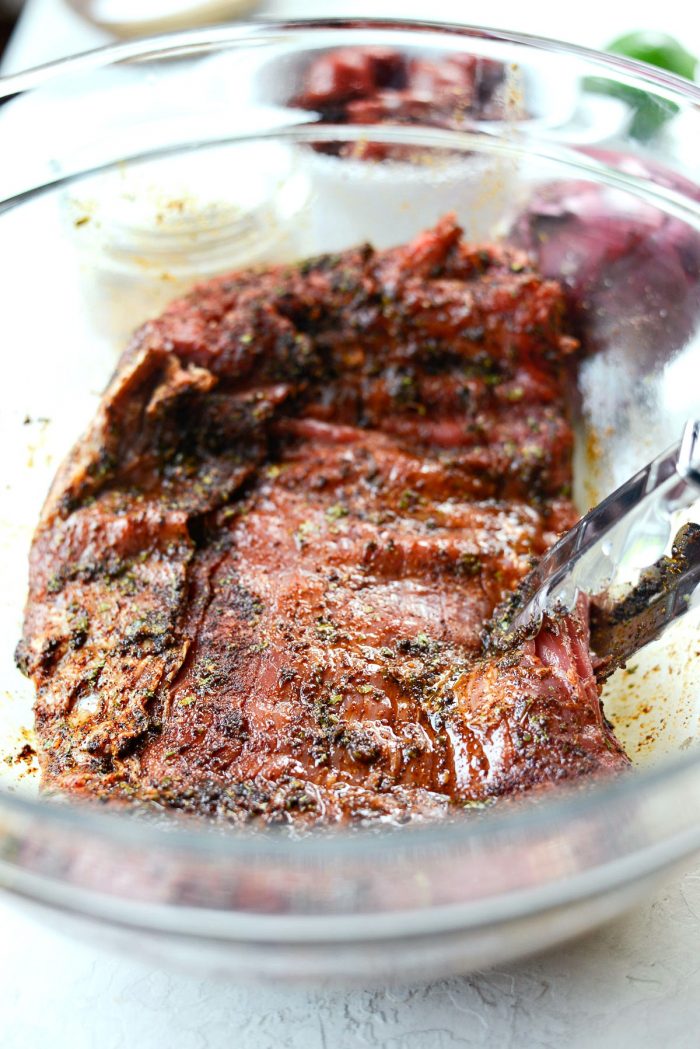 Allow the steak to sit on your counter to marinate for a bit. Then preheat your outdoor grill to 450-500°.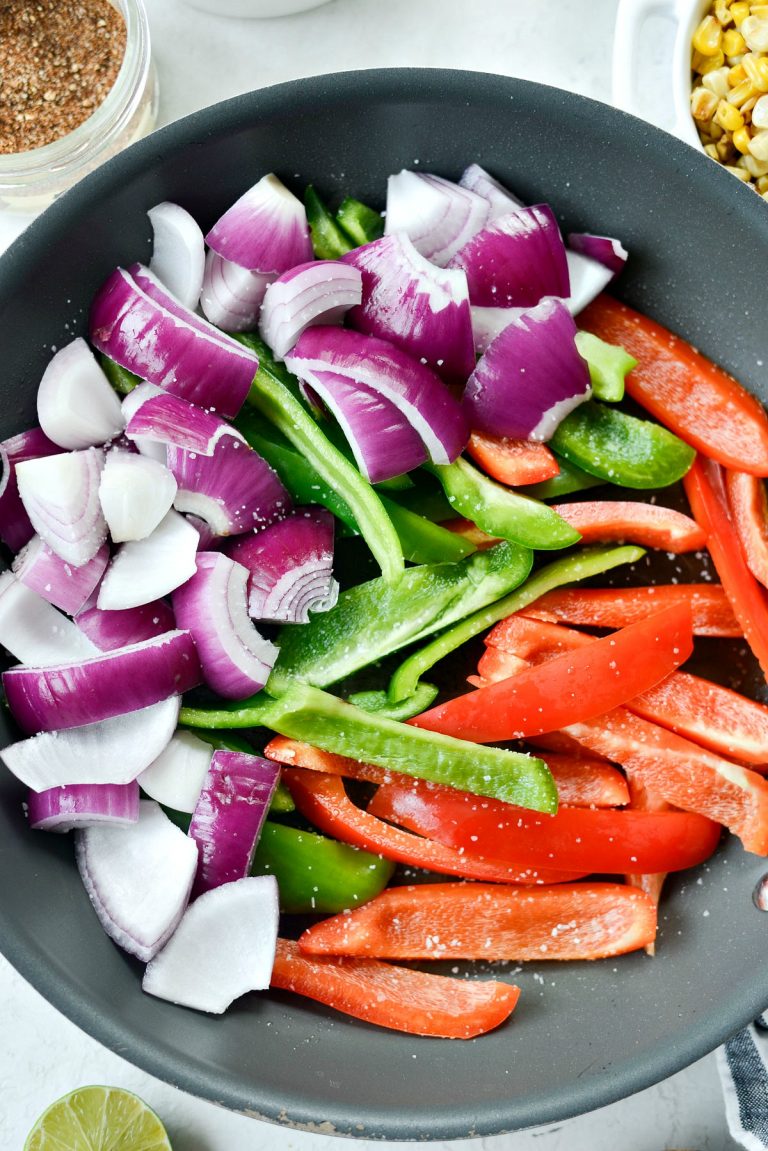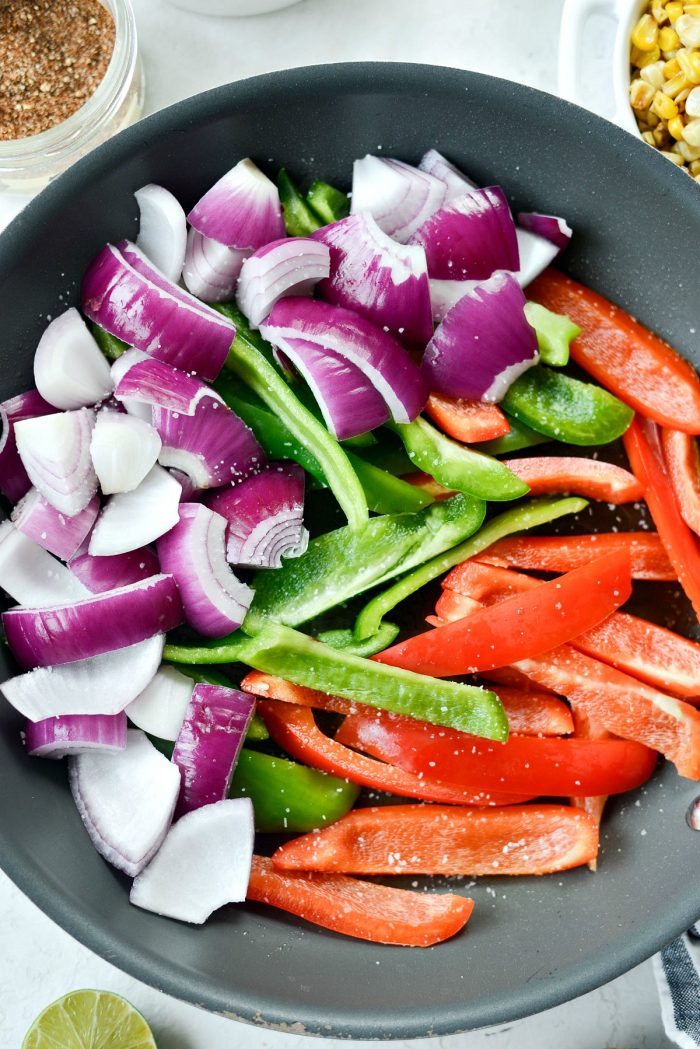 Meanwhile, spray a large 12-inch skillet with olive oil and heat on high. Once hot, add in the peppers and red onion with a pinch of kosher salt. Toss, adding a few more sprays of olive oil as needed.
Let the veggies just sit there undisturbed so they can develop a good char. Stir occasionally so they cook evenly. I like mine to be soft yet still a bit firm. Pat likes them melt-in-your-mouth tender. With that said, remove the peppers and onions to serving bowl when they're the way you like them to be cooked.
Now Let's Grill!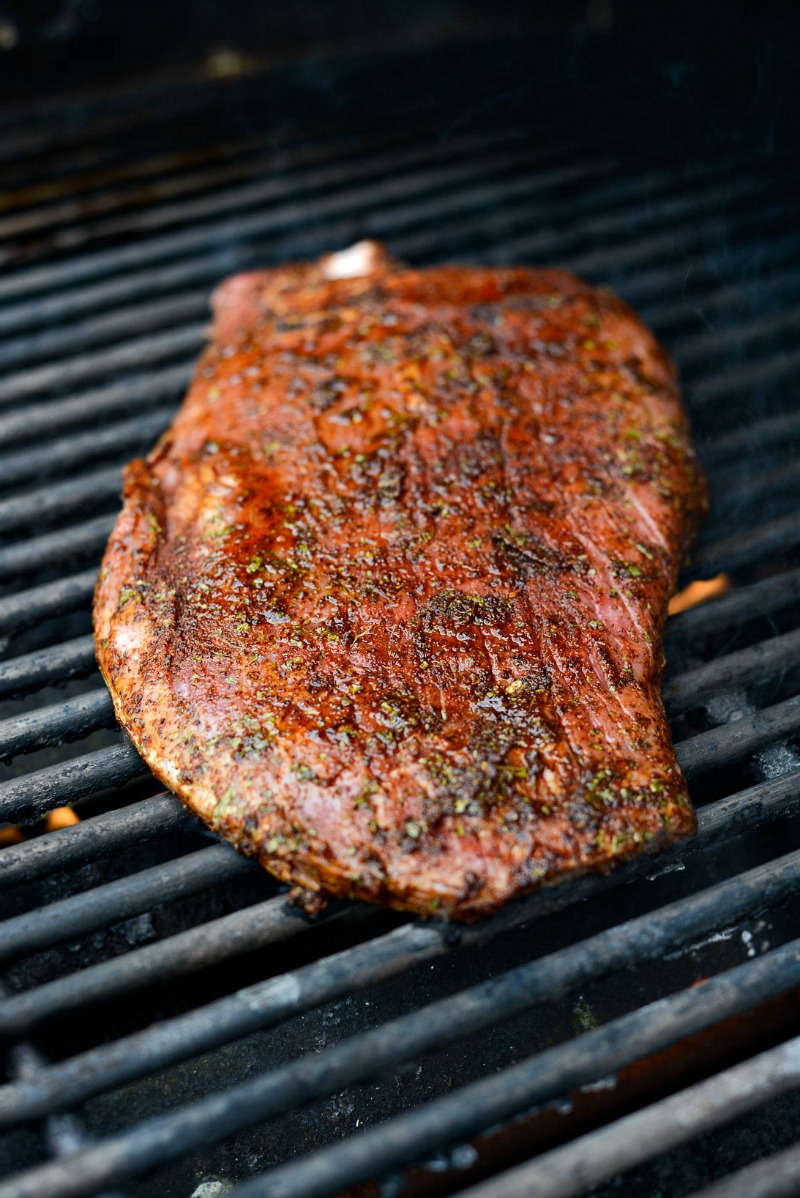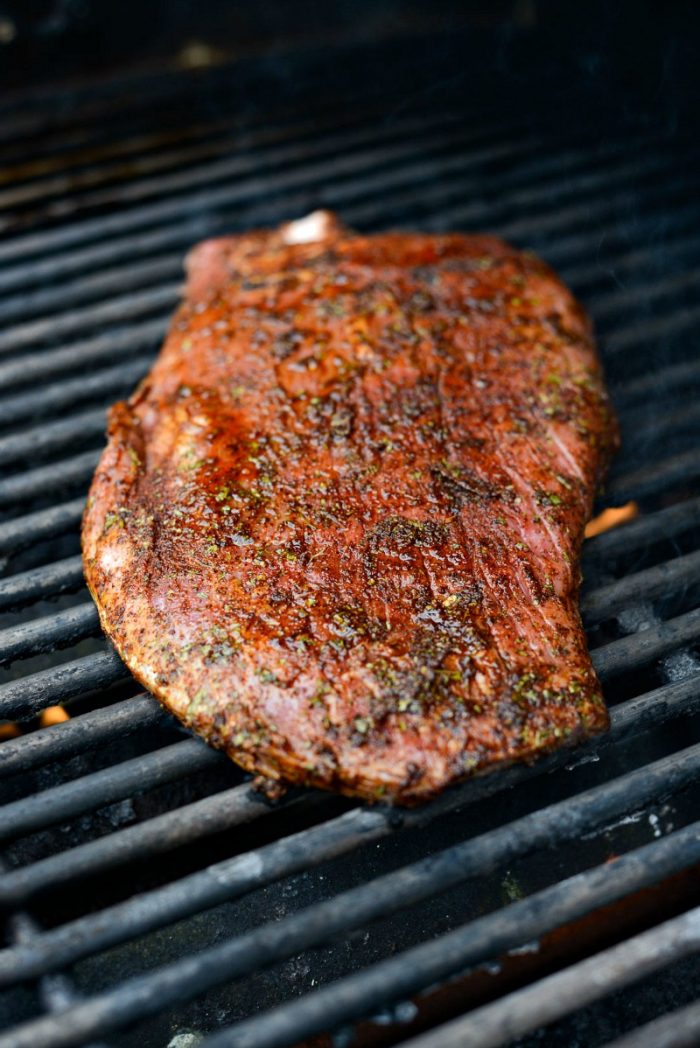 When your grill has preheated, lay the steak onto the hot grill grates. Close the lid and grill for 5 minutes. Flip the steak and grill for an additional 4 minutes or until the internal temperature reads 145°.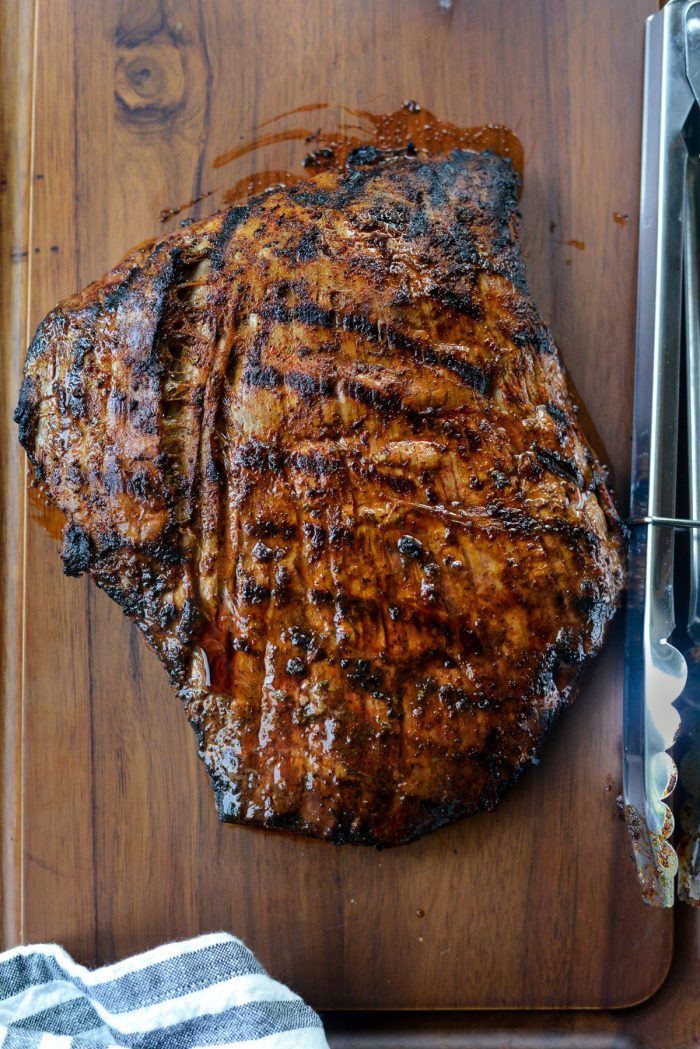 Transfer the steak to a carving board, tent the steak with foil and allow to rest for 5 to 8 minutes. Allowing the meat to rest is an important step as it allows the meat to relax and the juices redistribute. This will keep the steak juicy and flavorful. Don't skip this step.
Once the steak has rested, use a sharp knife and slice the steak going opposite of the grains run and at a slightly angled, going away form the meat.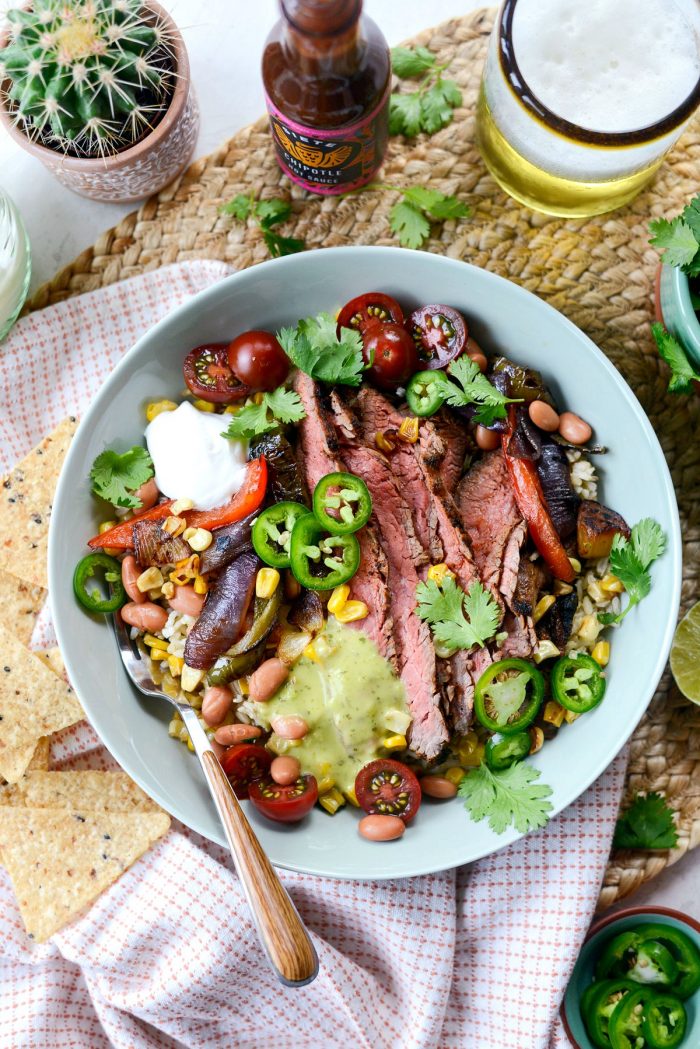 Lastly, divide the cilantro lime brown rice into bowls, top with slices of steak, caramelized fajita vegetables, charred corn, pinto beans and tomatoes. Side Note: I always season my fajita bowls with a pinch of kosher salt, however that's me and you can chose to skip the salt.
Finish Your Chipotle Steak Fajita Bowls off With:
fresh jalapeño slices
cilantro leaves
avocado salsa
plain nonfat greek yogurt or sour cream
chipotle hot sauce or use your favorite
lime wedges
Deliciously smoky with a spicy back-of-the-throat heat. Your tastebuds will love the flavor!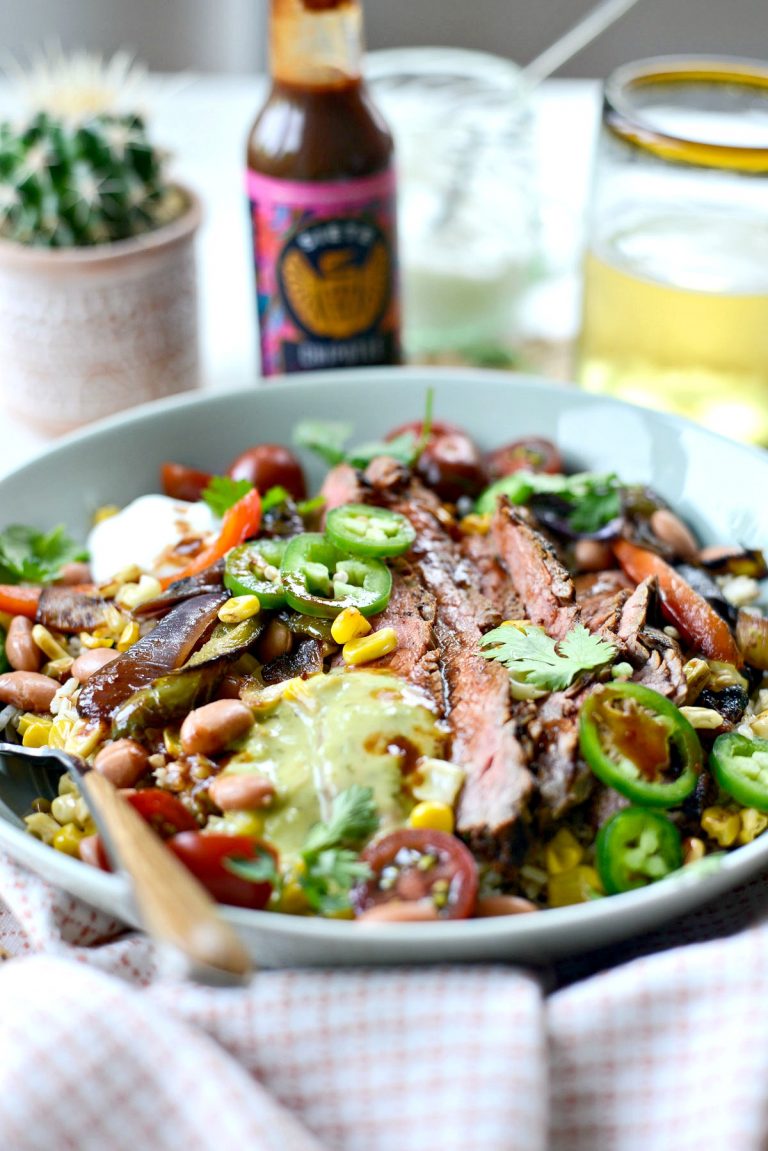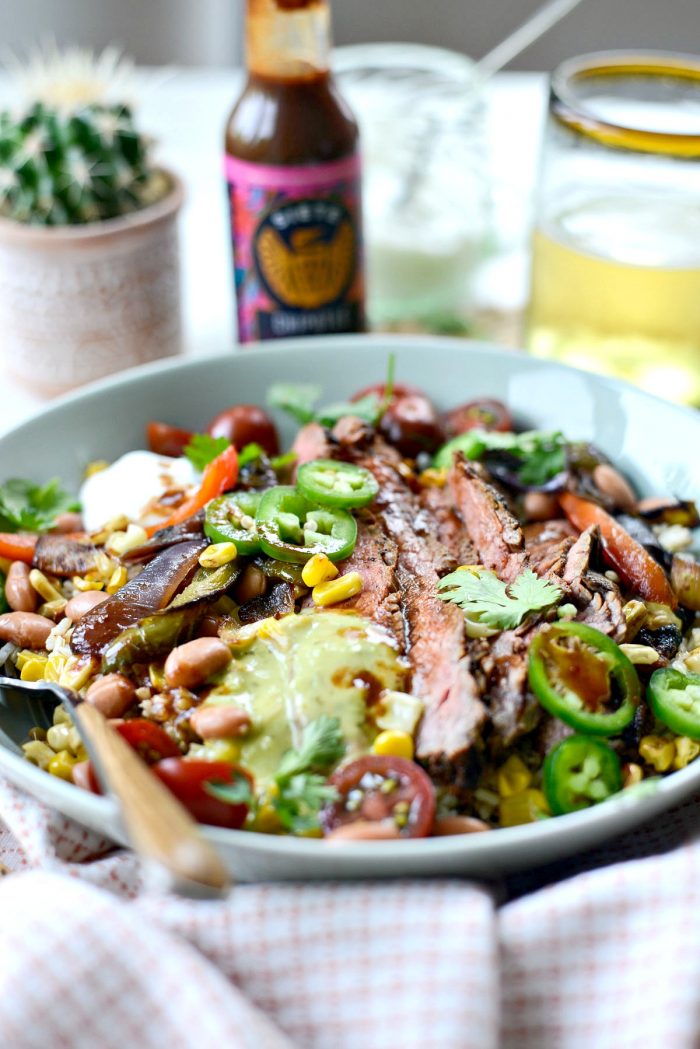 This is what I call perfect weekend food! Sit out on the patio and enjoy! In our house, these are served with crisp, salty tortilla chips and washed down with a cerveza or lemonade.
Enjoy! And if you give this Grilled Chipotle Steak Fajita Rice Bowl recipe a try, let me know! Snap a photo and tag me on twitter or instagram!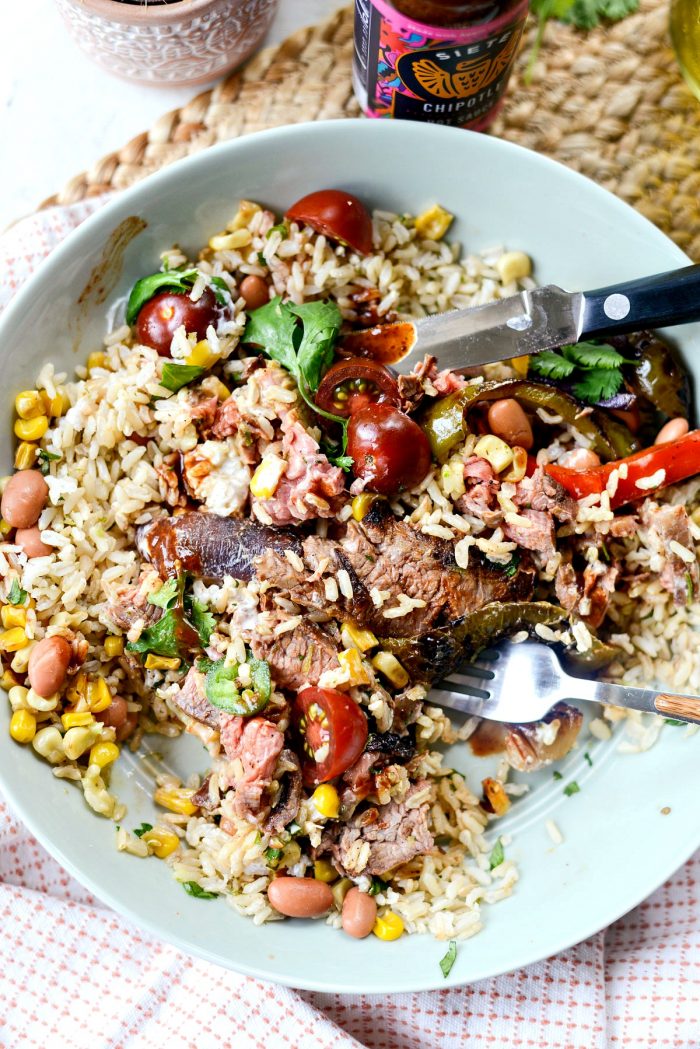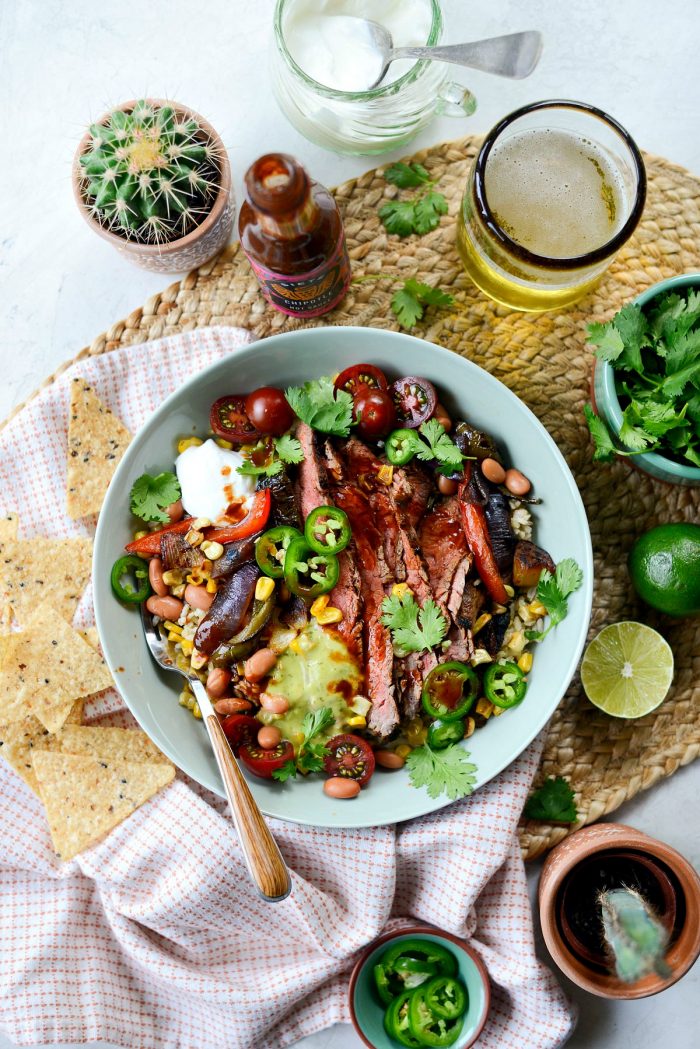 This post may contain affiliate links.
Buy the Cookbook: Simply Scratch : 120 Wholesome Homemade Recipes Made Easy Now available on Amazon »
THANK YOU in advance for your support!