Perfect for the beach or day at the lake, the California Club Loaf Sandwich is a hollowed out boule filled with avocado, bacon, chicken deli meat, havarti, tomato and fresh basil leaves. This easy recipe serves 4.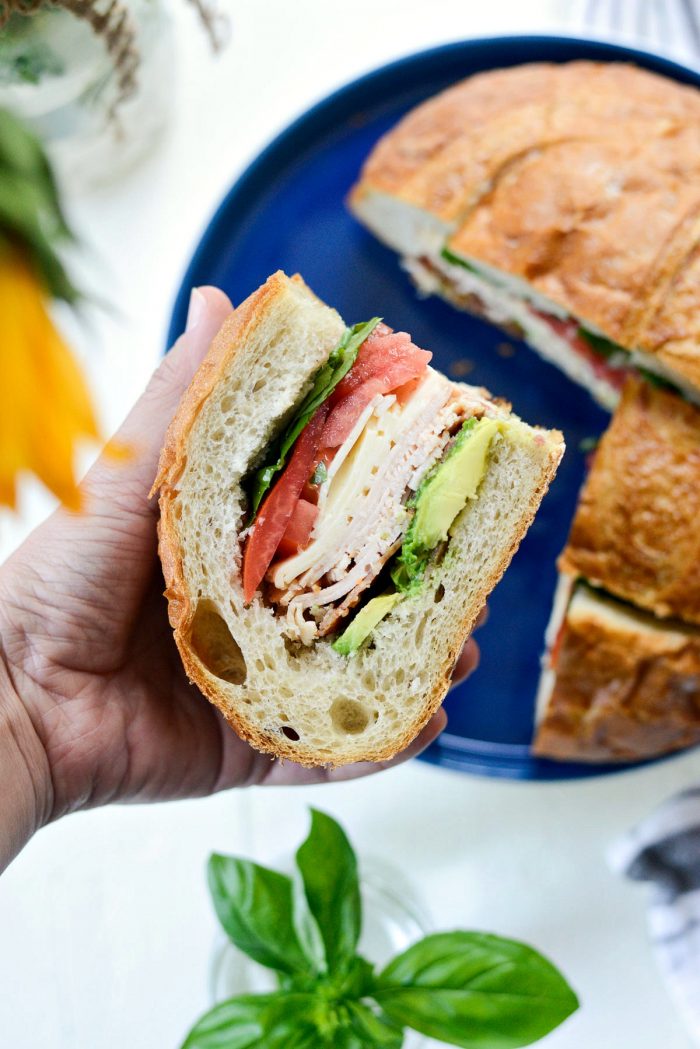 If feels SO good to be back! We had Haileigh's grad party this past weekend, so the week before I was preoccupied with all things party related and didn't do much blogging. I'll definitely be touching more on this when I write up my year in review. But I will say, 3 hours post party and after a storm rolled through, we lost power. No. Joke. And today (Wednesday) is the first day, after cleaning up and replacing groceries, that I had time to blog and it feels amazing to plop on my couch, listen to my favorite podcast and blog.
Oh how I've missed this routine!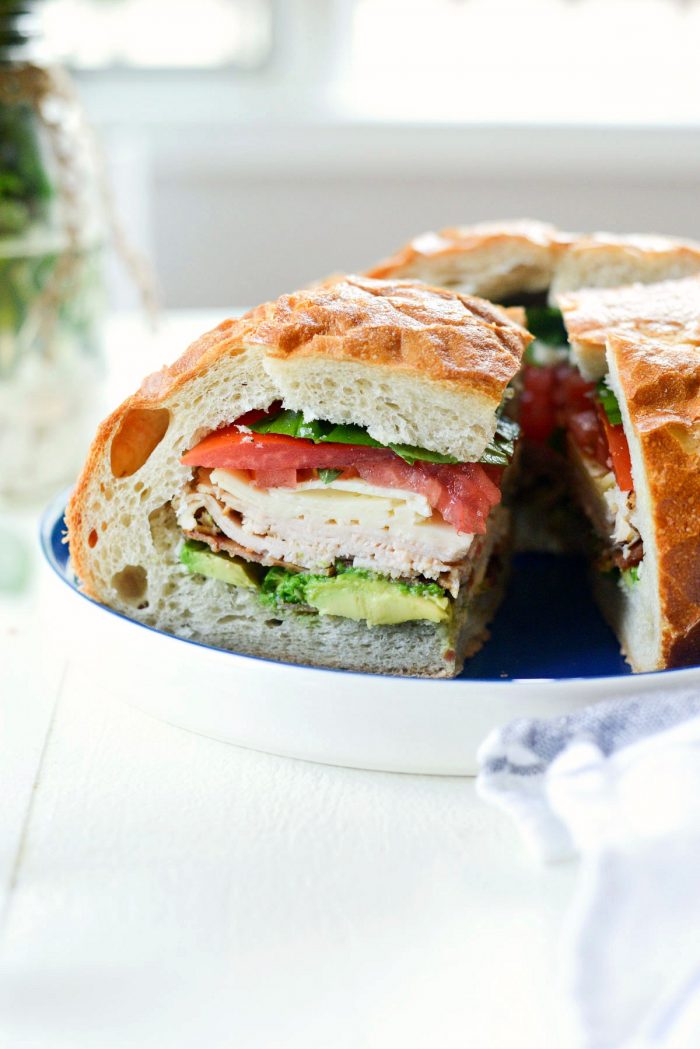 With that said, it's Friday and the weekend is here! Fastest week ever, but also the perfect time to share this California club loaf sandwich. Perfect for a lazy day at the beach or a picnic at the lake. A super simple and delicious sandwich no matter the occasion.
What more could you ask for?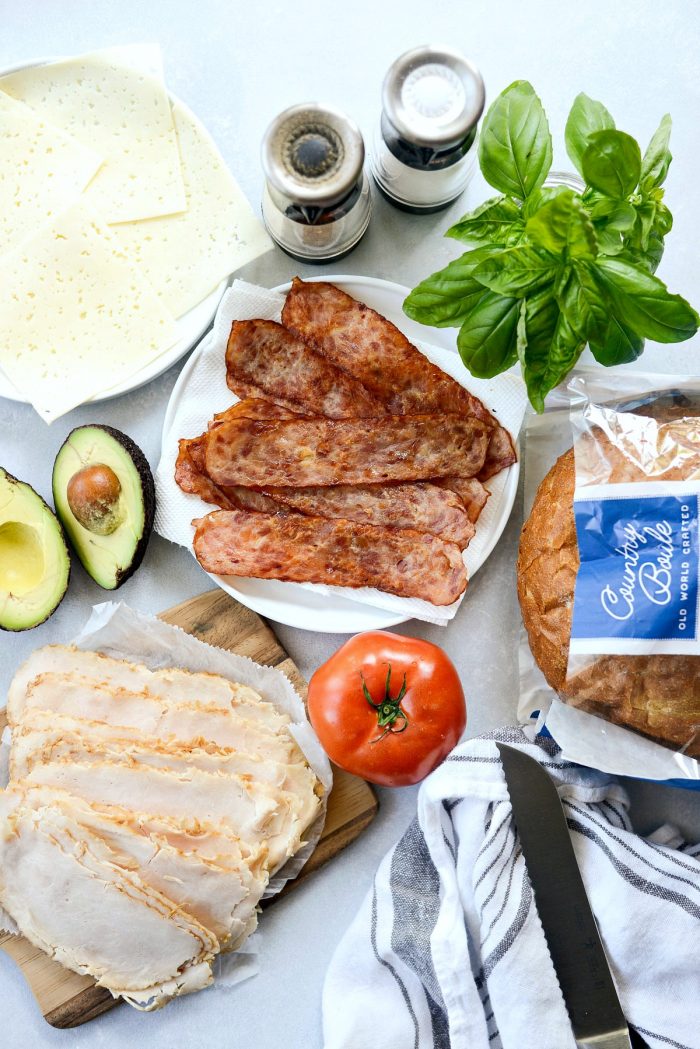 TO MAKE THIS CALIFORNIA CLUB LOAF SANDWICH YOU WILL NEED:
a (18 ounce) round bread boule
avocado
cooked chicken or turkey bacon
chicken or turkey deli meat
havarti cheese
sliced tomato
salt and pepper
fresh basil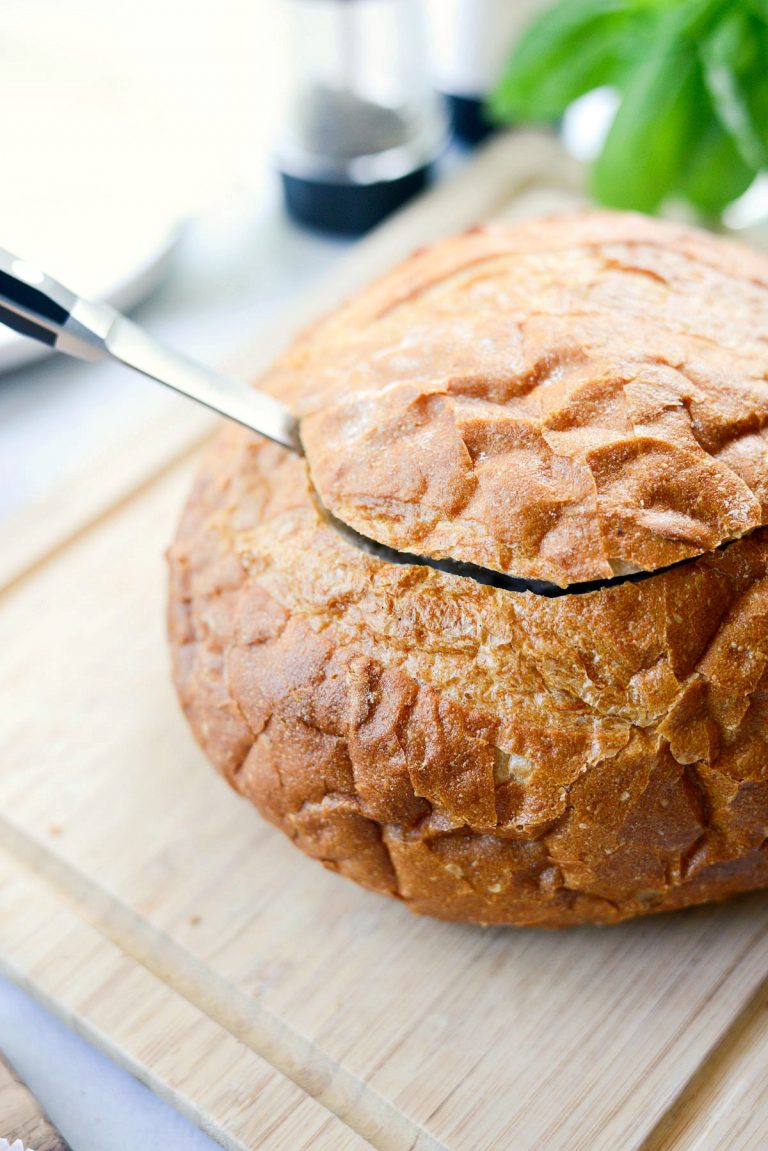 First, use a serrated bread or tomato knife and work at an angle to cut out the top of the bread. Sort of like when you remove the stem from a pumpkin. You will want this wide enough so you can fill the bottom.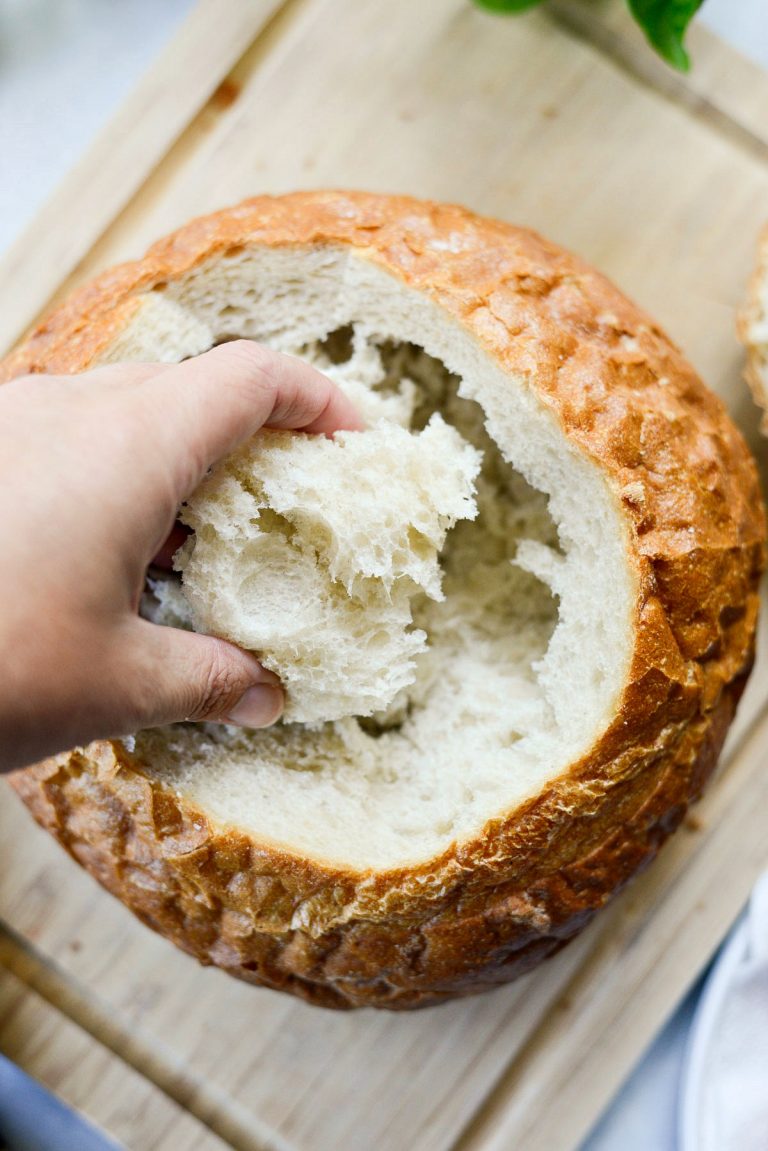 Next use your impeccably clean hands and hollow out the loaf, like you would a bread bowl for soup. Save this bread to make breadcrumbs or discard or snack on. It's up to you.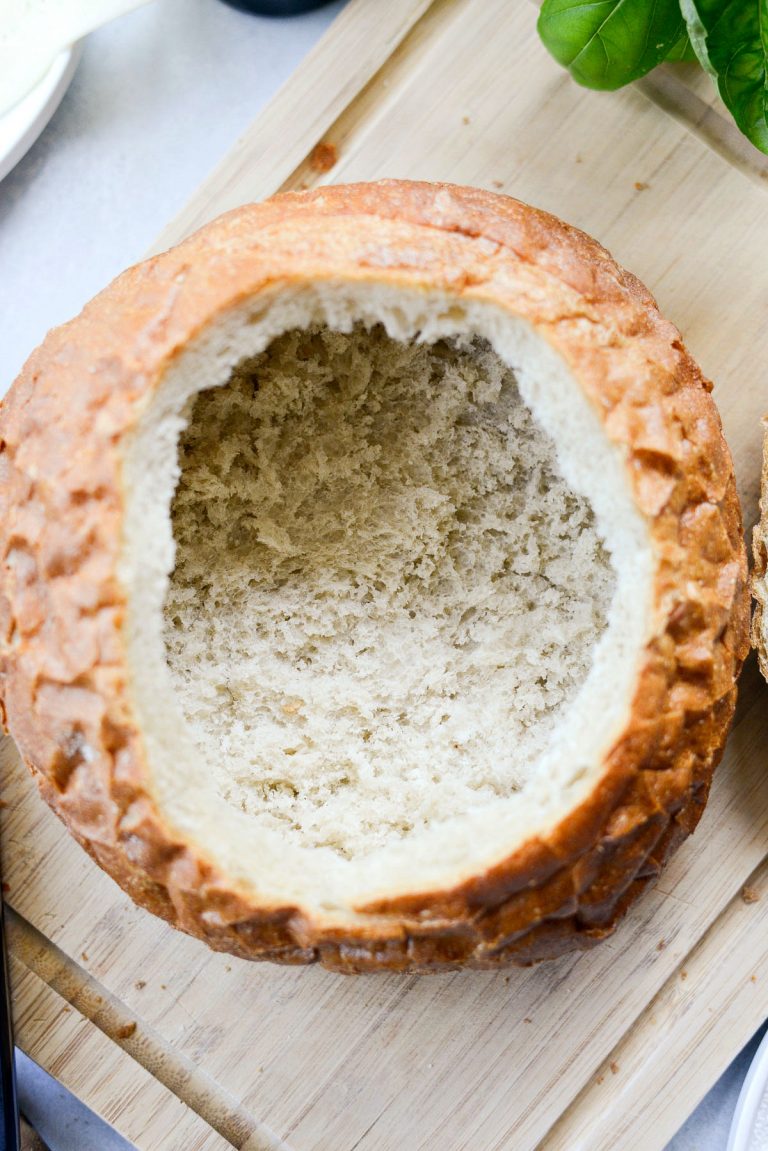 Once the bread is hollowed out, you can now layer in all of the ingredients. Just make sure you are butting the sandwich filling up along the sides of the bread boule.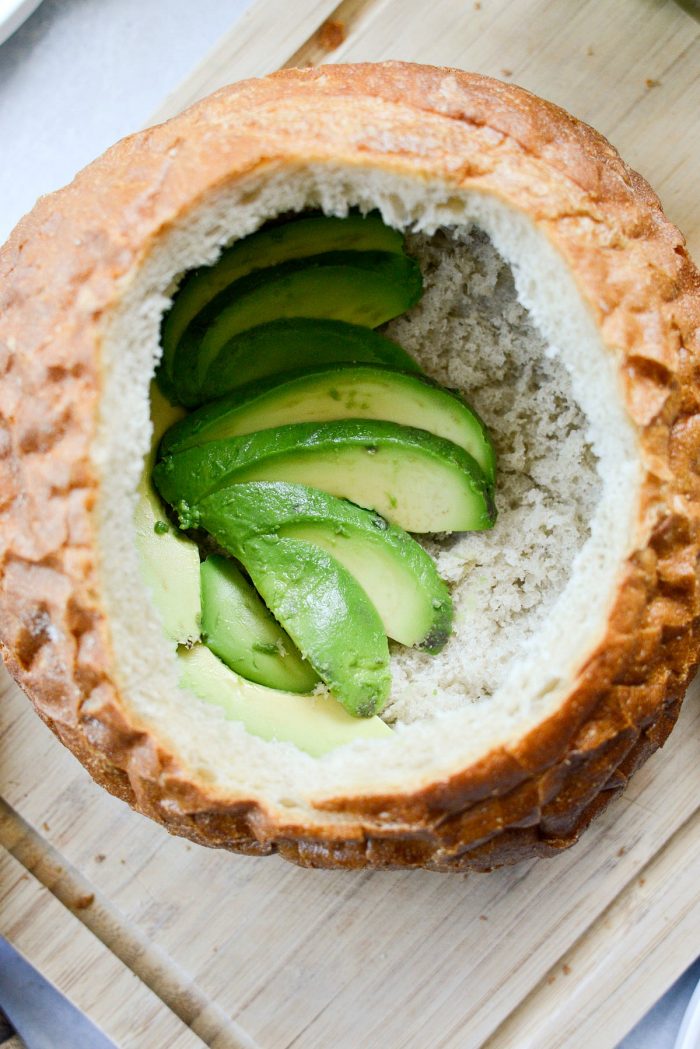 Instead of adding mayo to sandwiches, I like to use avocado. It adds the creaminess and a pop of color.
Then cut the bacon in half and arrange it over top of the avocado, giving it a gentle press.
Continue to layer with 1/2 pound chicken or turkey deli meat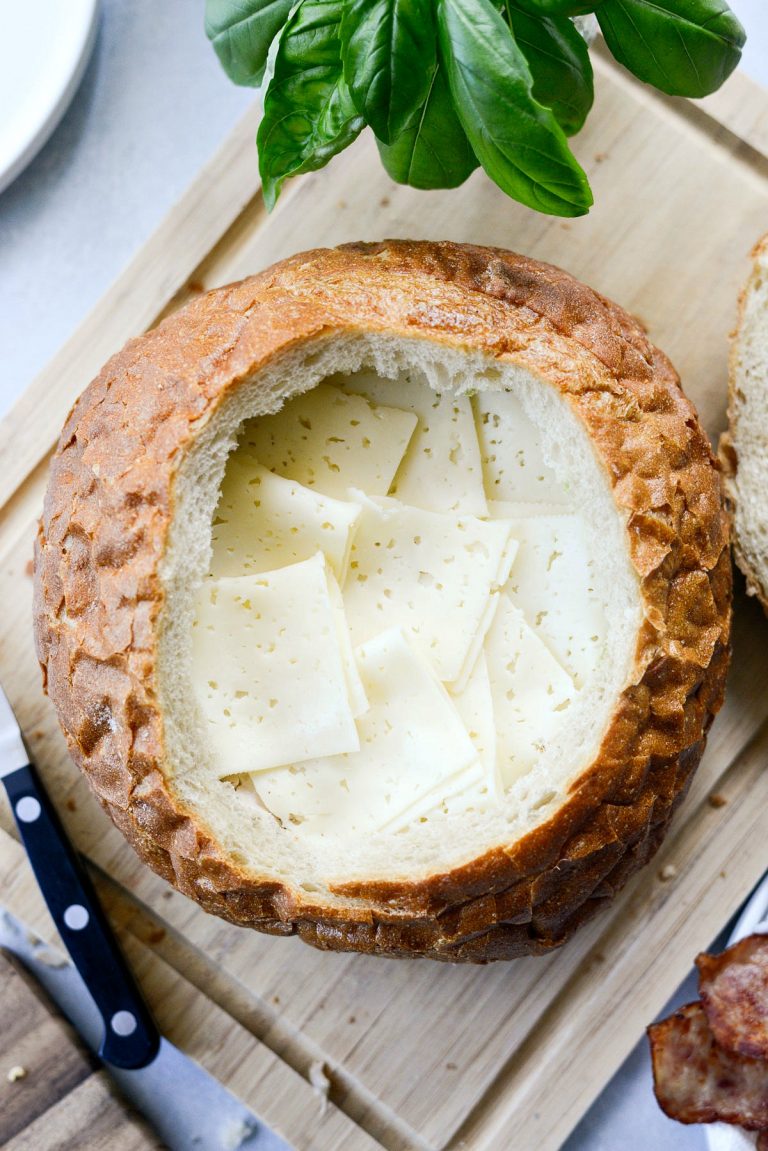 Then the cheese. I like havarti however mozzarella or fontina would also be a great substitute.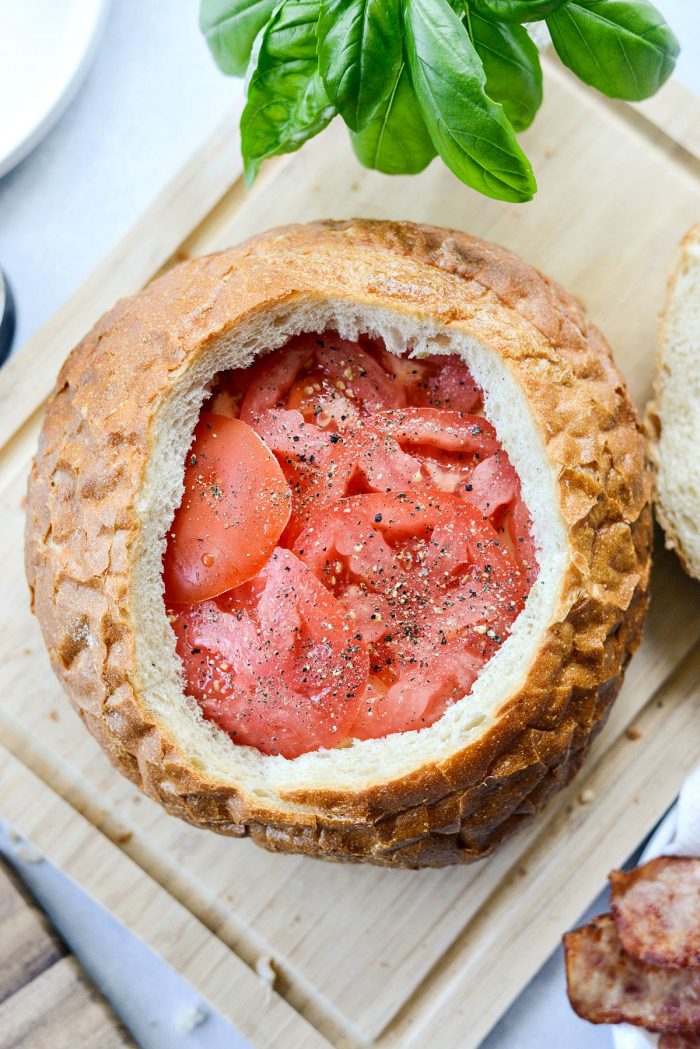 Tuck in the slices of tomato and season with a little salt and freshly ground black pepper.
Lastly top with fresh basil leaves. Bonus points if it's from your garden. 😉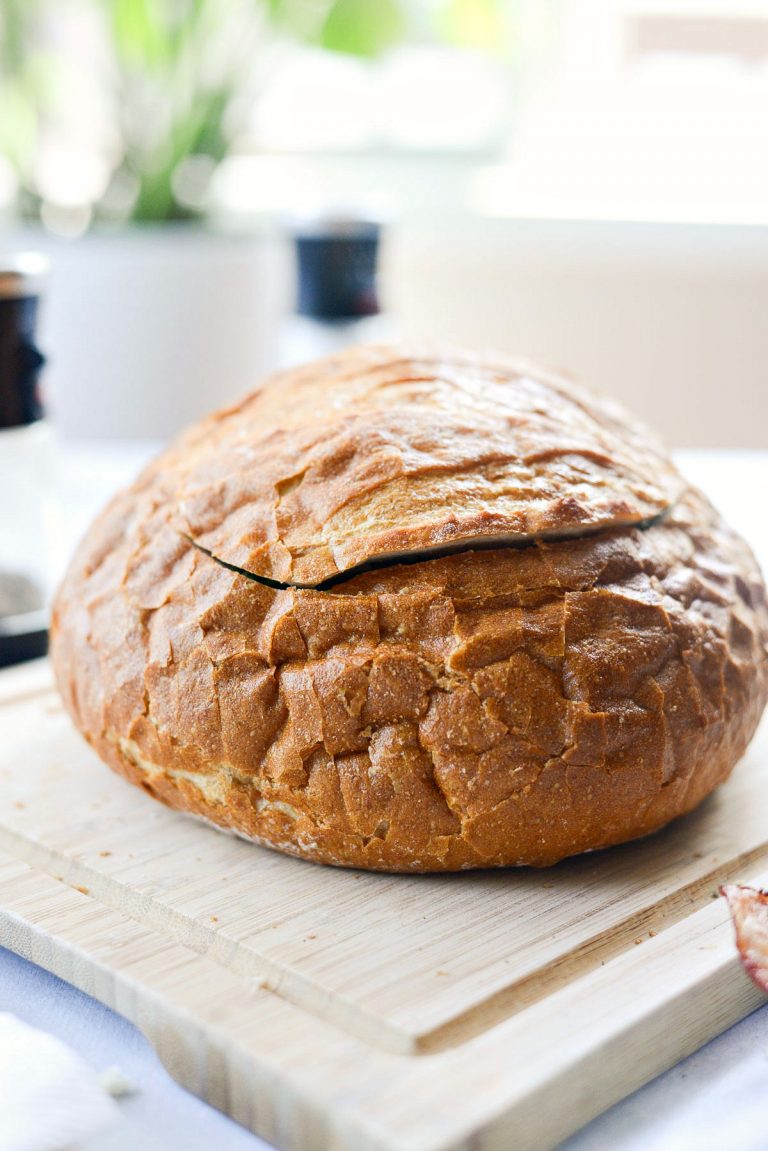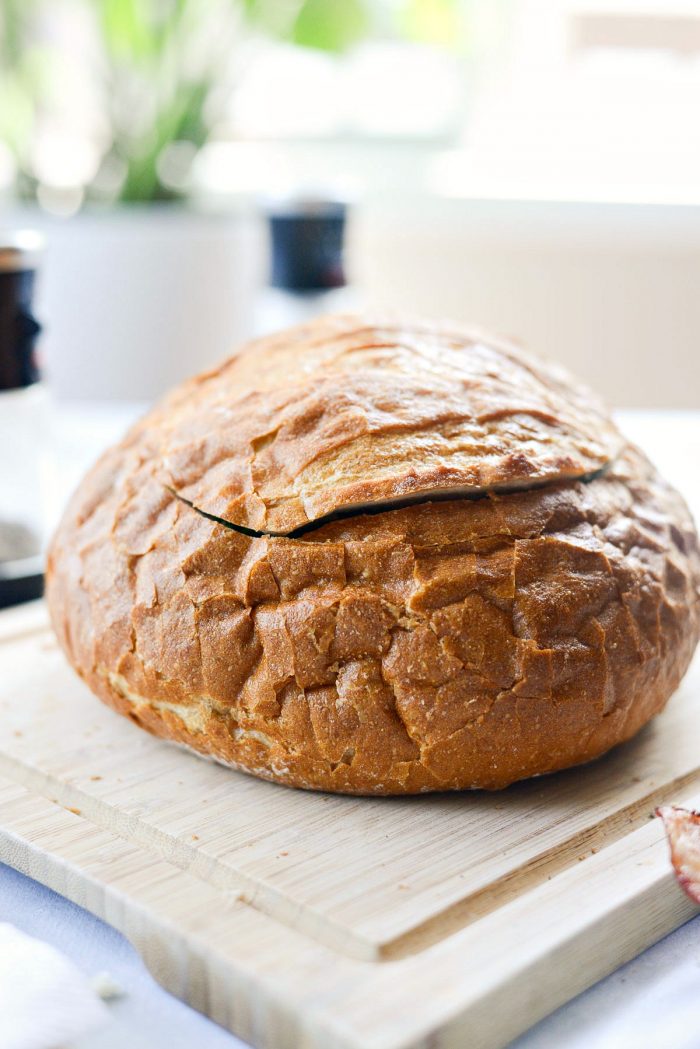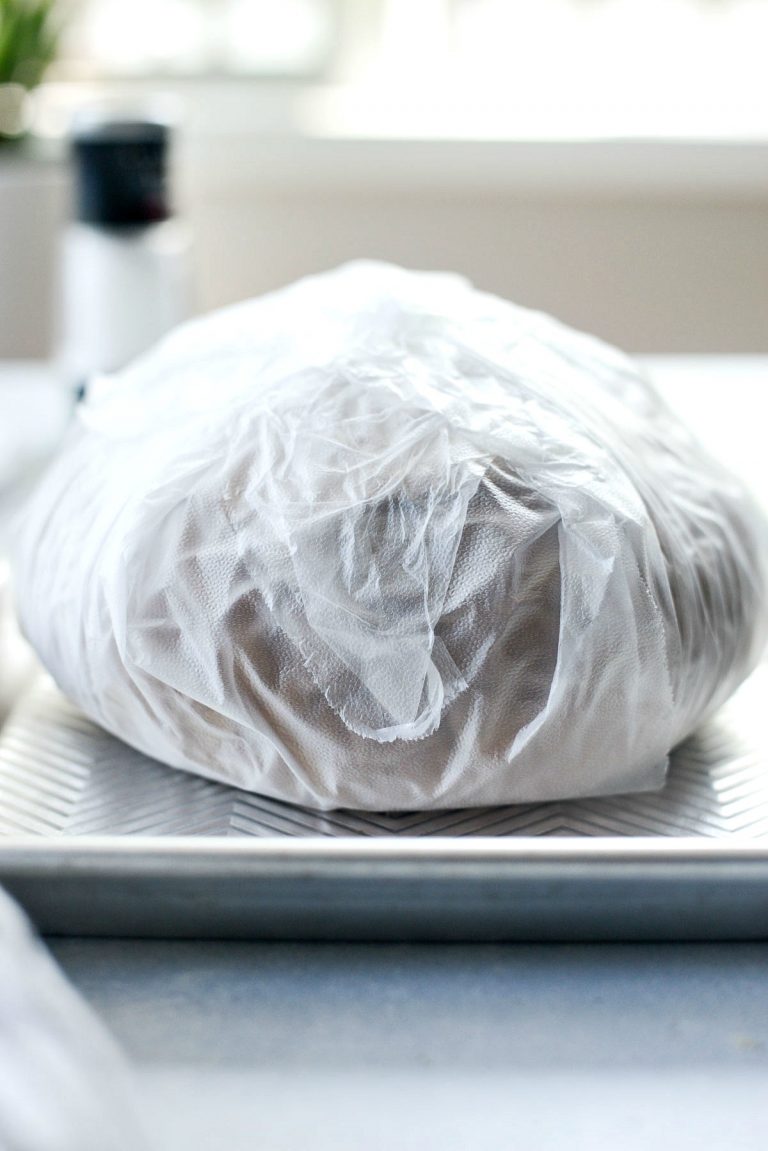 Replace the lid or top of the bread and wrap tightly in plastic wrap. Slip the California club loaf sandwich into your fridge for an hour or until ready to eat.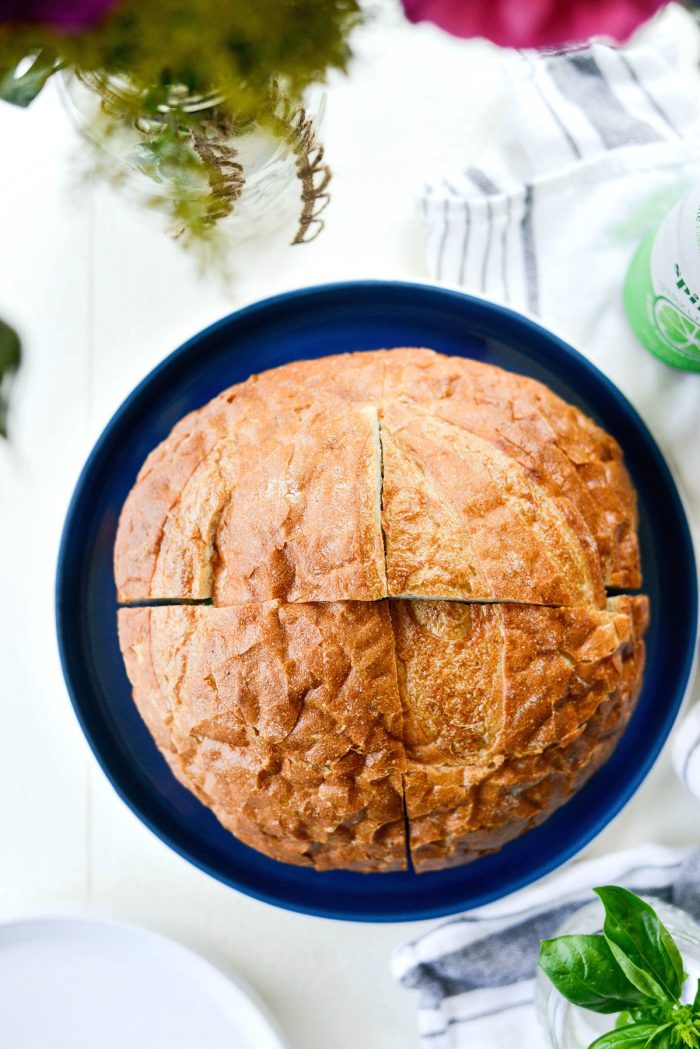 Lastly, cut into fourths and serve!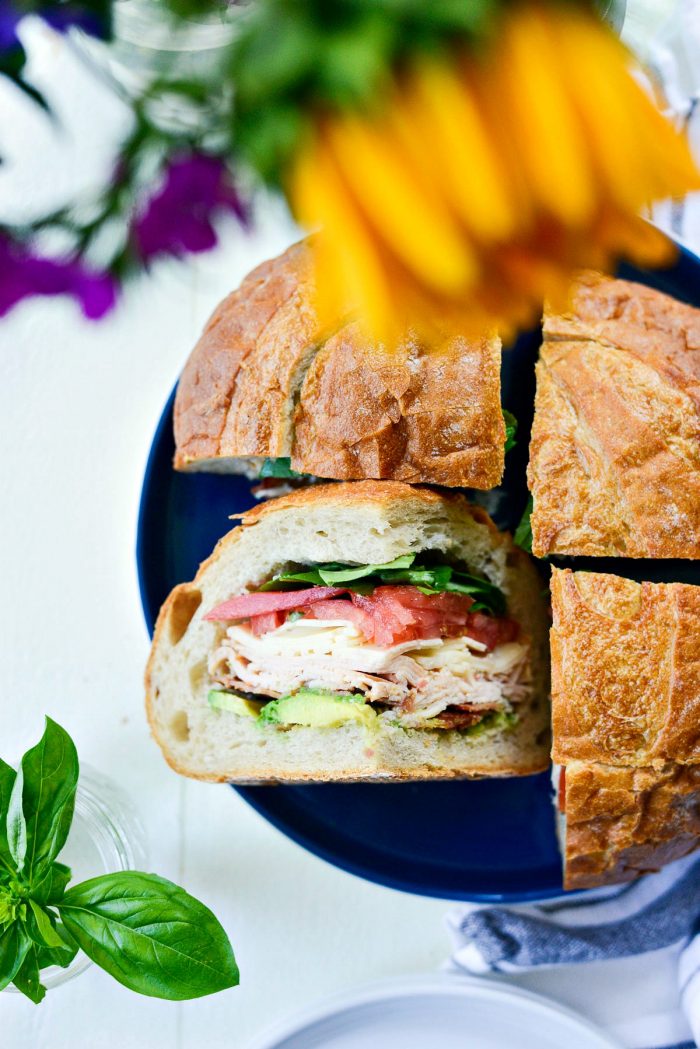 Enjoy! And if you give this California Club Loaf Sandwich recipe a try, let me know! Snap a photo and tag me on twitter or instagram!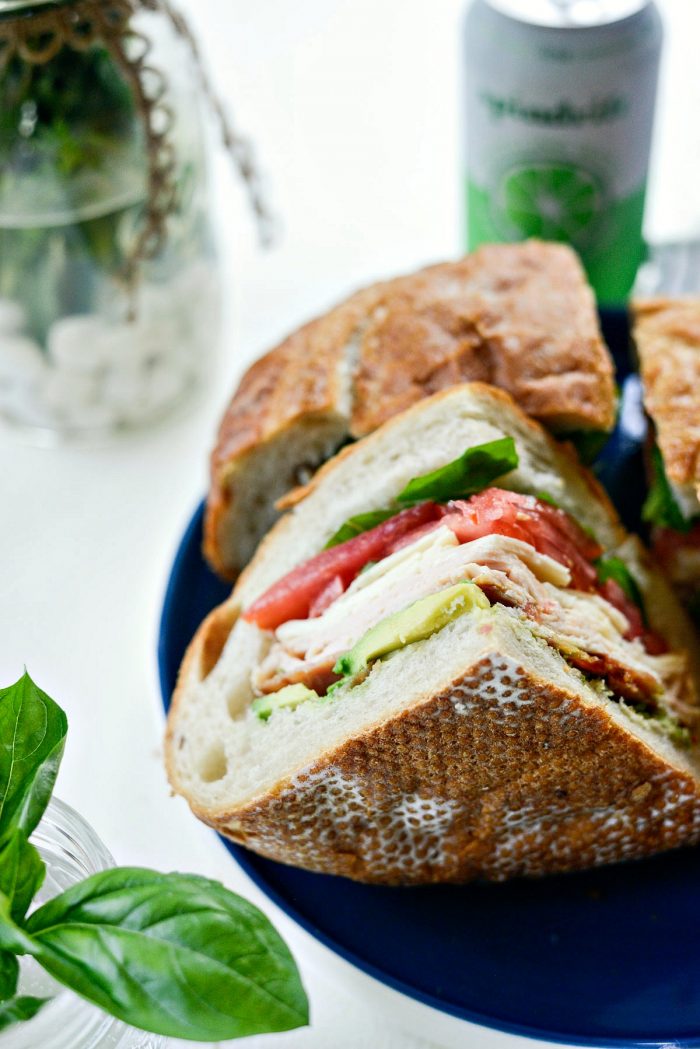 Yield: 4 servings
California Club Loaf Sandwich
Perfect for the beach or day at the lake, the California Club Loaf Sandwich is a hollowed out boule filled with avocado, bacon, chicken deli meat, havarti, tomato and fresh basil leaves.
Ingredients
14 ounce bread boule, hallowed out
1 avocado, sliced
8 slices turkey bacon, chicken bacon or regular bacon, cooked until crispy
1/3 pound turkey lunch meat, or chicken deli meat
6 slices havarti, fontina or mozzarella
1 tomato, sliced
1 pinch kosher salt
1 pinch black pepper, freshly ground
basil leaves
Instructions
At an angle, use a bread or tomato knife to cut the top off of the boule. Sort of how you would a pumpkin.

Use your hands to remove the insides of the boule. Save for another use like breadcrumbs.

Next layer; avocado slices, bacon, deli meat, cheese, tomato, salt and pepper and fresh basil leaves. Gently pressing down on each layer as you go, making sure each ingredient is tucked nicely inside the loaf.

Replace the top of the loaf and wrap tightly with plastic wrap. Refrigerate for at least an hour.

Cut into fourths before serving.
Calories: 636kcal, Carbohydrates: 58g, Protein: 36g, Fat: 30g, Saturated Fat: 12g, Polyunsaturated Fat: 5g, Monounsaturated Fat: 12g, Trans Fat: 1g, Cholesterol: 76mg, Sodium: 1937mg, Potassium: 714mg, Fiber: 8g, Sugar: 8g, Vitamin A: 665IU, Vitamin C: 10mg, Calcium: 408mg, Iron: 5mg
This post may contain affiliate links.
Buy the Cookbook: Simply Scratch : 120 Wholesome Homemade Recipes Made Easy Now available on Amazon »
THANK YOU in advance for your support!