Garden Vegetable Ragu is a meatless pasta dish consisting of zucchini, yellow squash and carrots in a flavorful and robust red sauce. Serve on top of pasta with lots of grated parmesan cheese. Serves 6.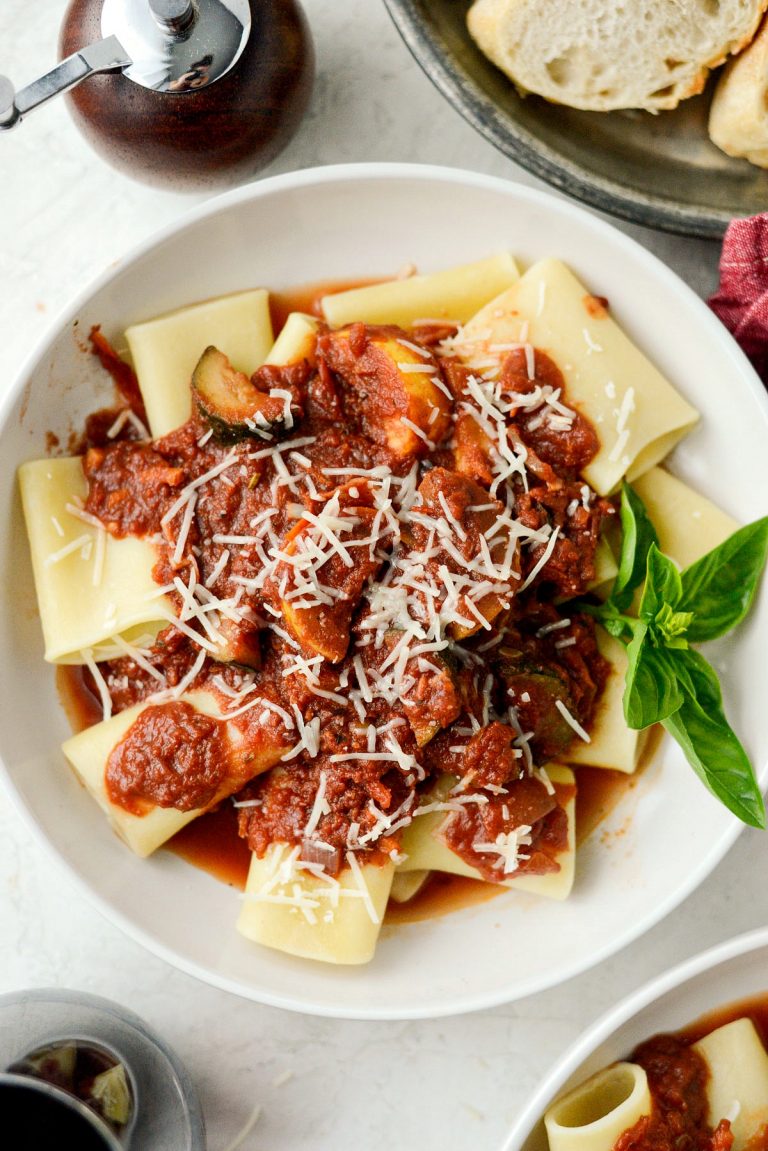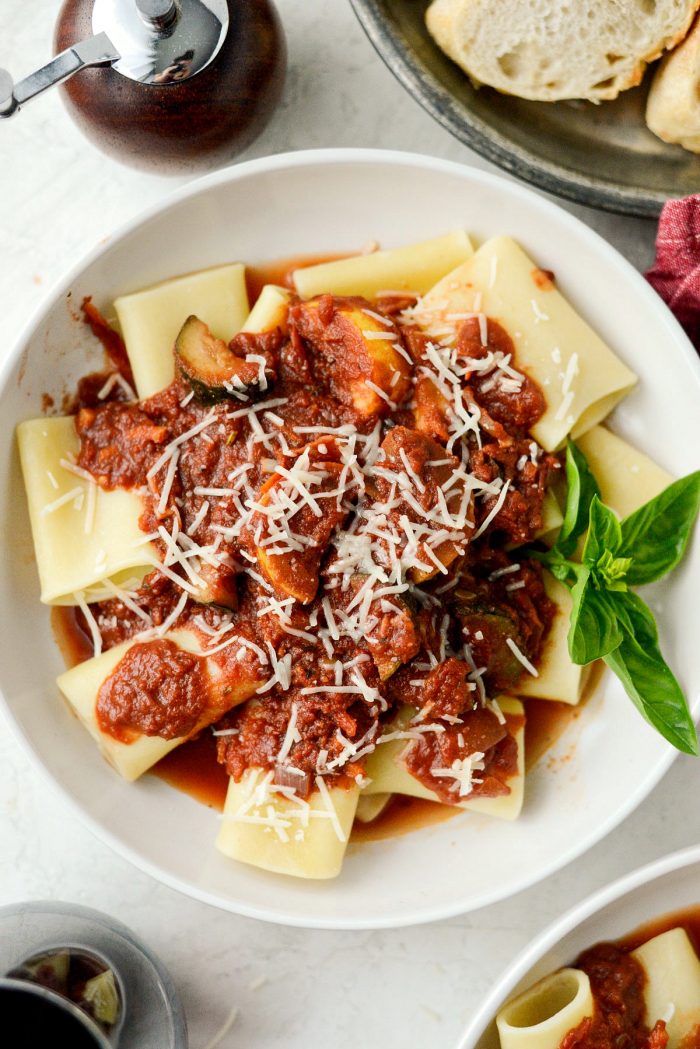 It's this time of year when you have a few garden zucchini and yellow squash rolling around in the crisper or counter top that need to be used up. This garden vegetable ragu is the answer to your dinner prayers.
As of recently, Michigan weather has dipped a little and hasn't been too hot – which means it's not too hot for pasta. This meatless pasta dish calls for summers best produce, red wine and parmesan cheese – you know, all the best things in life.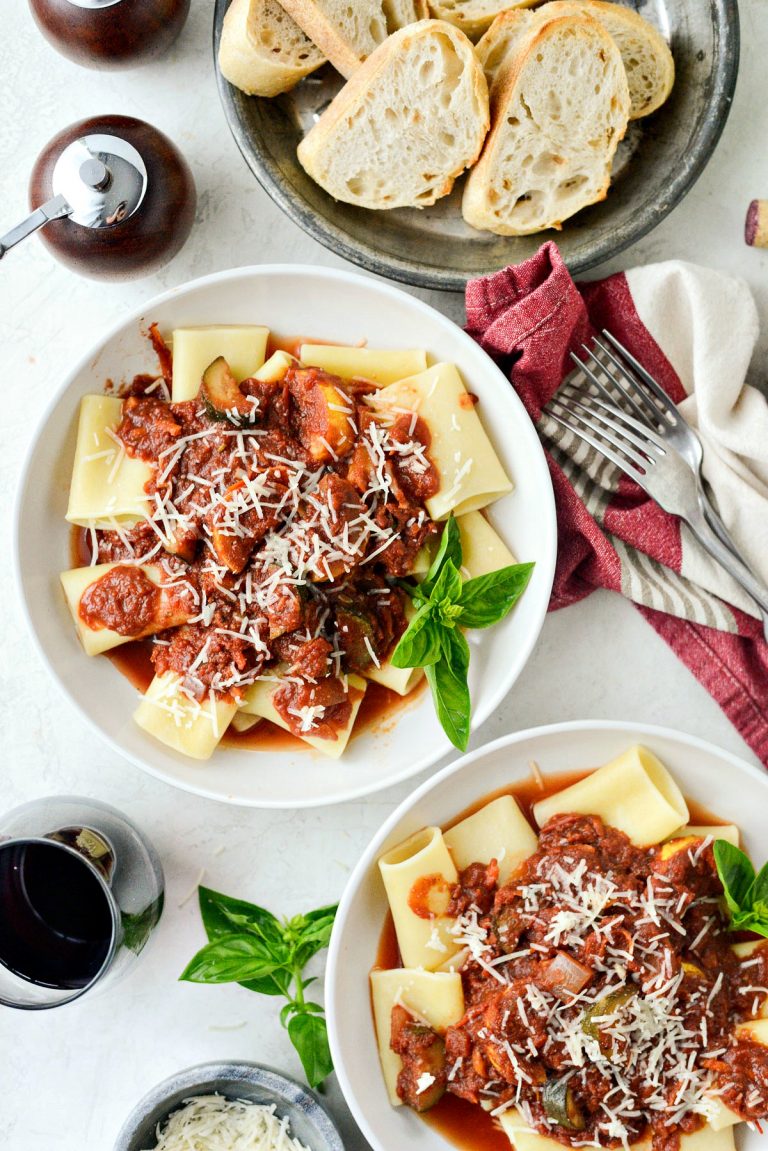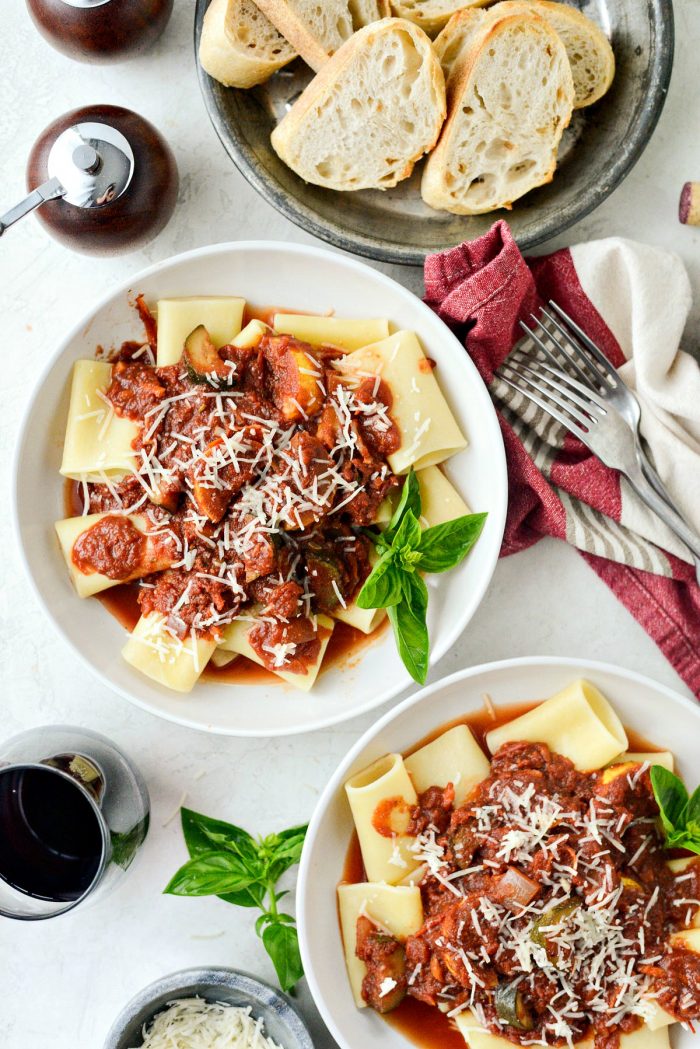 It comes together quickly and simmers for an hour before being served over your favorite cooked pasta and topped with grated parmesan. I also like to serve it with bread and/or a simple arugula salad.
To Make This Garden Vegetable Ragu You Will Need:
olive oil – Aids in softening the vegetables and adds richness and flavor.
yellow onion – Adds a sweet and subtle onion flavor to the dish.
carrot – Adds subtle texture and sweetness to the sauce.
zucchini – Lends a mild flavor with lots of healthy nutrients and antioxidants.
yellow squash – Mild in flavor and loaded with lots of vitamin and minerals.
garlic – For that distinct punchy flavor.
crushed tomatoes – The base to the ragu. I prefer using delallo crushed tomato sauce (not sponsored).
sugar – This cuts the acidity of the tomatoes to create a more balanced sauce.
basil (dried) – Adds bright, slightly minty flavor with hints of anise.
oregano (dried) – Adds earthy and slightly bitter flavor.
italian seasoning – Lends earthy and herbaceous flavor.
red pepper flakes (optional) – For a spicy kick.
dry red wine – Like Malbec or Merlot will adds richness and give the sauce robust flavor.
parmesan cheese – Lends a fruity, nutty and slightly salty flavor.
tube shaped pasta – Any tube-shaped past (penne, rigatoni, macaroni or paccheri) will work to collect the thick sauce.
kosher salt – This will draw out flavor and season the sauce.
freshly ground black pepper – Adds some subtle bite and flavor.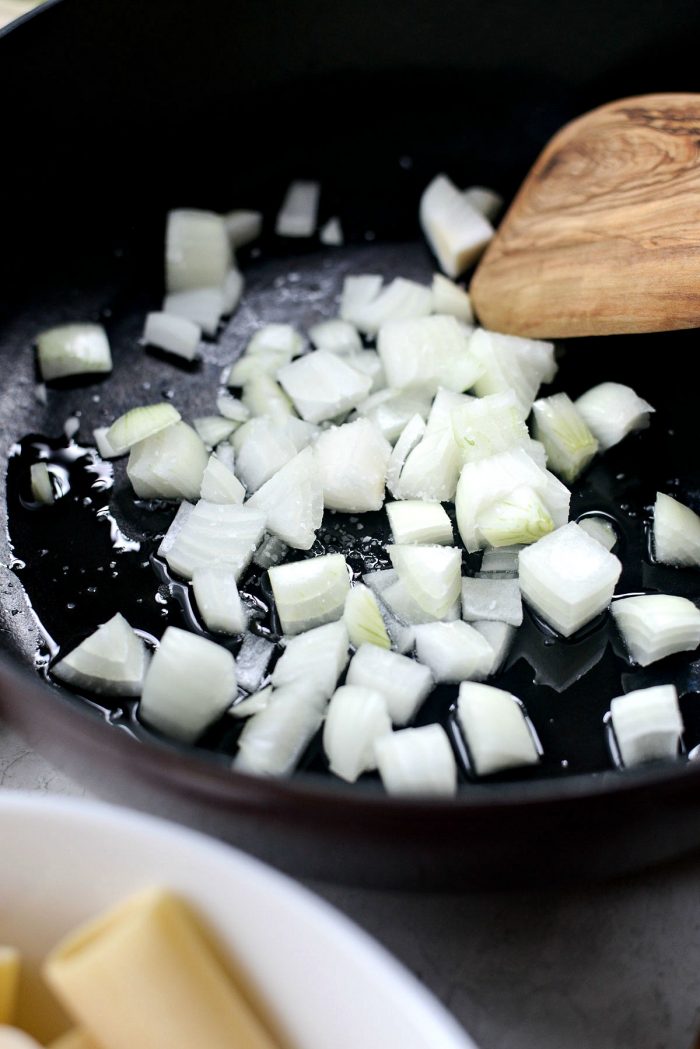 In a deep-sided skillet or pot add about a teaspoon or two of olive oil and then heat over medium heat. Sauté 1 medium diced yellow onion with a pinch of kosher salt over medium-low heat until soft and translucent.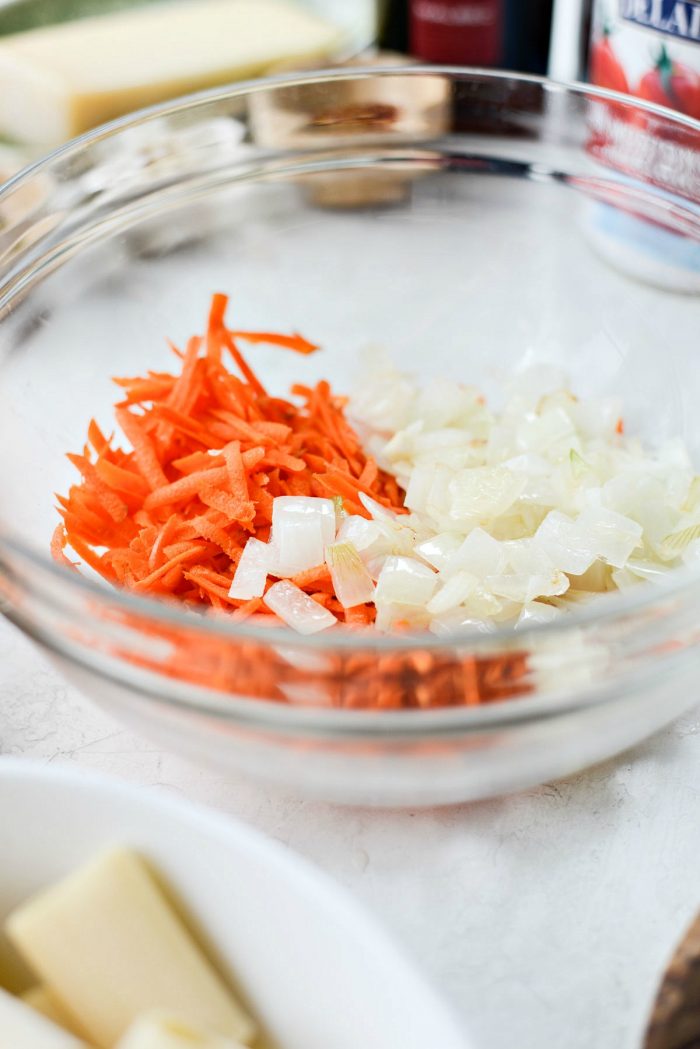 With a slotted spoon, transfer the sautéed onion to a dish with 1 medium grated carrot.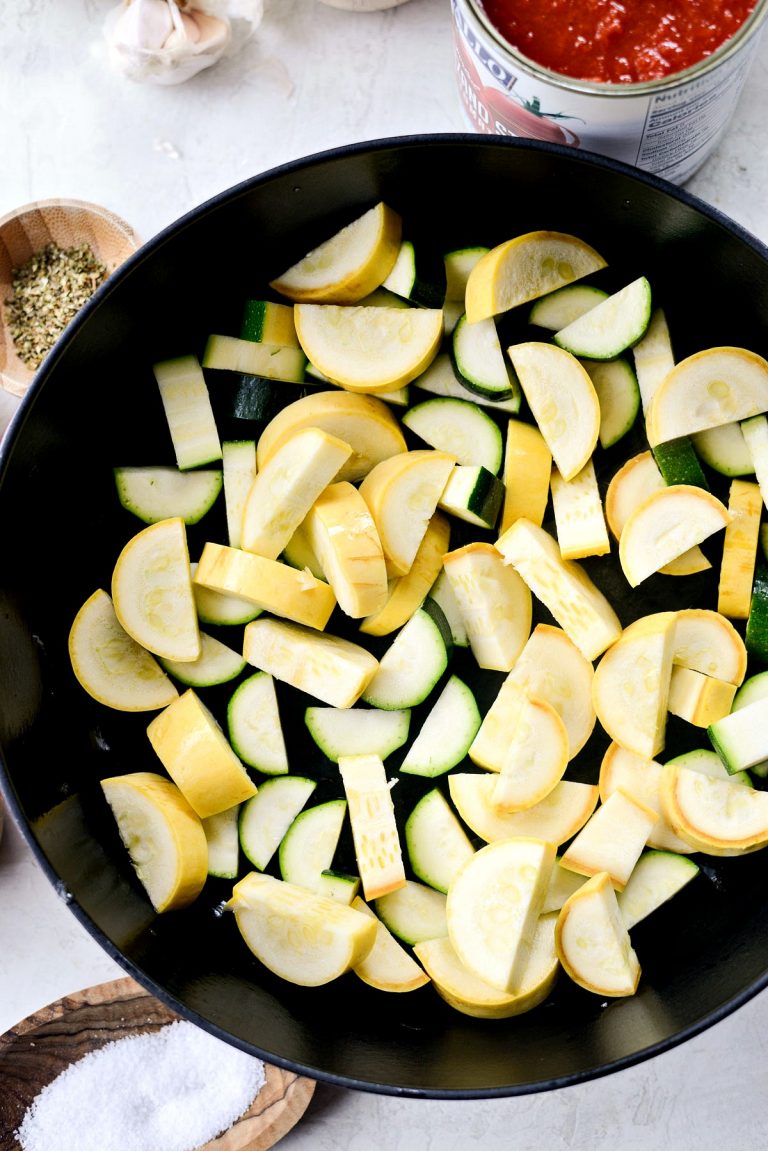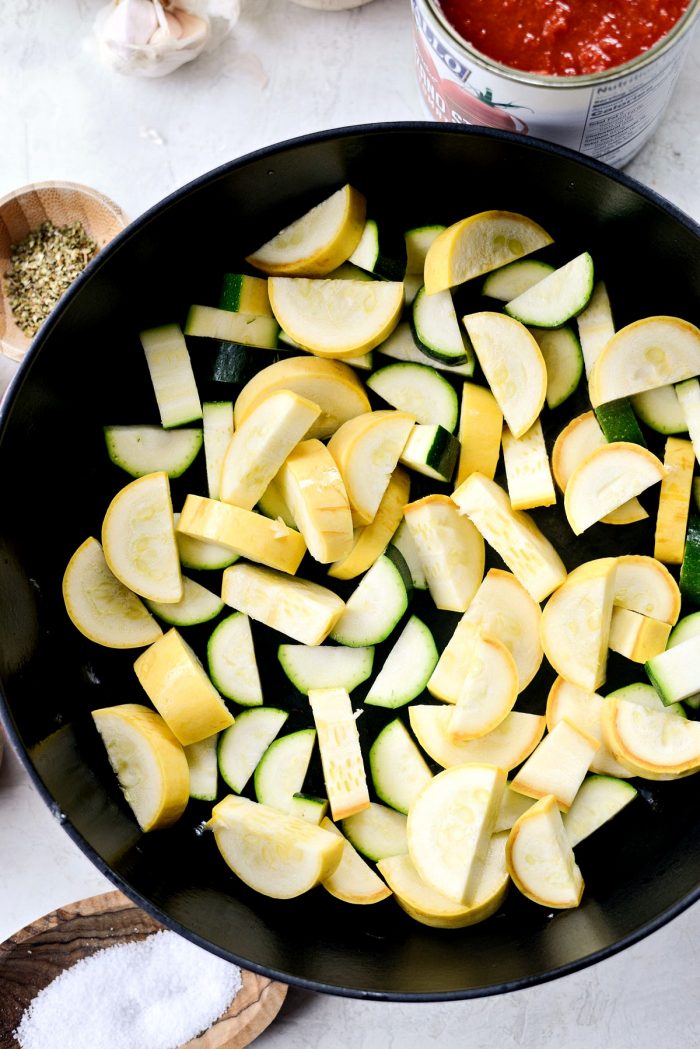 Increase the heat to medium-high and add the yellow squash and zucchini in an even layer.
Cook for about 5 to 8 minutes, stirring every couple a minutes so the vegetables get some color to them.
Working in batches helps to not over crowd the pan so the vegetables can brown and not just steam.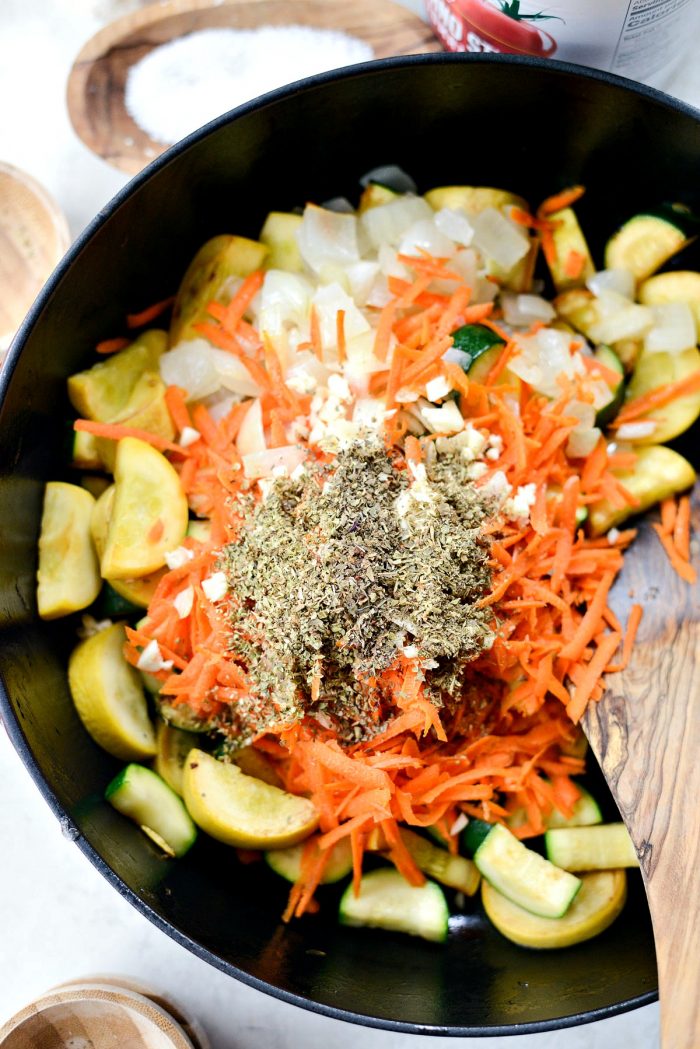 When the squash is soft and golden add the onions and carrots back in to the pan along with 2 to 4 minced cloves of fresh garlic, 1 teaspoon each oregano and basil and 1/2 teaspoon italian seasoning. If using red pepper flakes, add them here as well.
Cook until carrots soften and garlic becomes fragrant, about 1-2 minutes, stirring occasionally.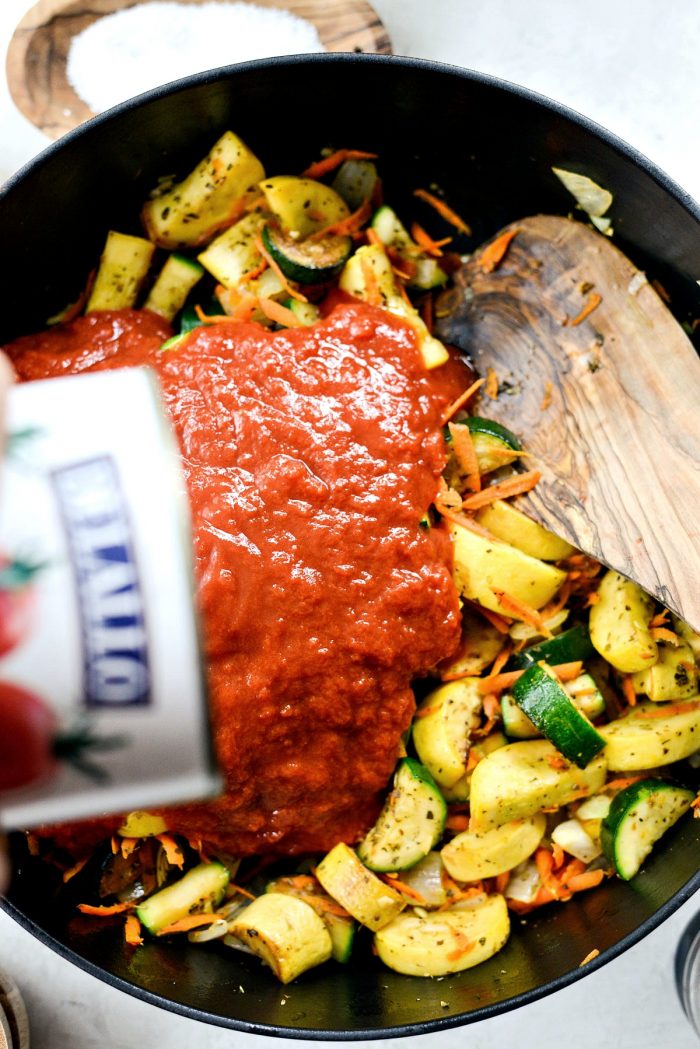 Add in the 2 (28 ounce) cans of crushed tomatoes over the sautéed vegetables and add 1 teaspoon sugar.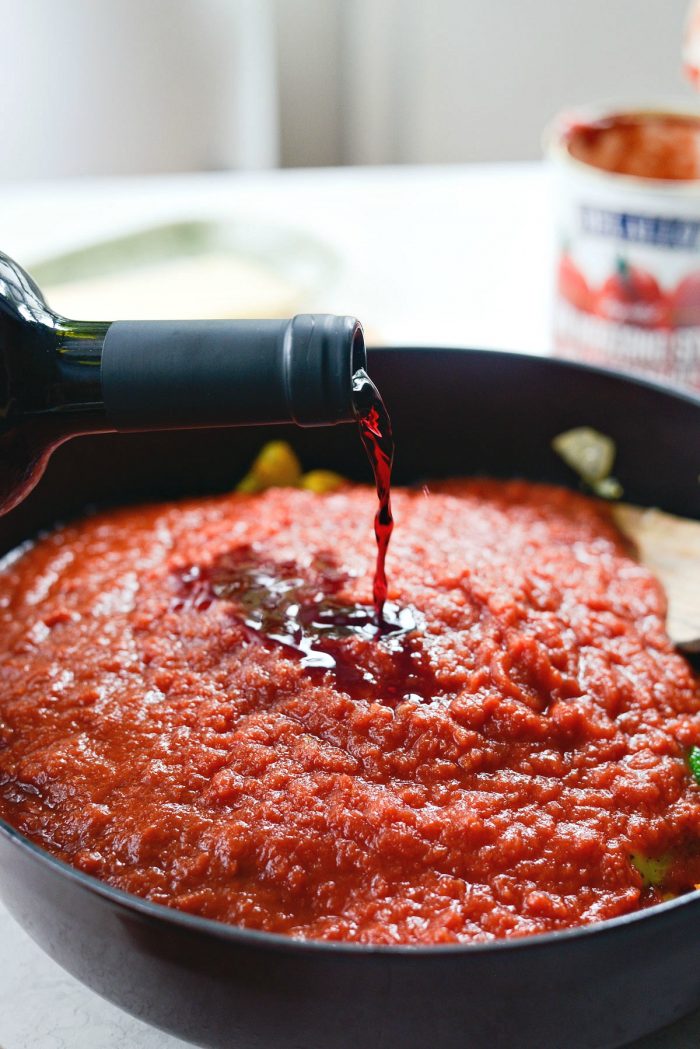 Lastly pour in 1 cup of wine.
Simmer the sauce uncovered on low to medium-low for 45 to 60 minutes and stir periodically. Towards the end is when I cook the pasta.
What If The Sauce becomes too thick?
If by chance the sauce gets too thick, add a little reserved pasta water to revive it.
Stir in 1/2 cup freshly grated parmesan cheese, taste and season with kosher salt and fresh black pepper. I used 1-1/2 to 2 teaspoons kosher salt and 1/4 teaspoon black pepper – however season it to your liking.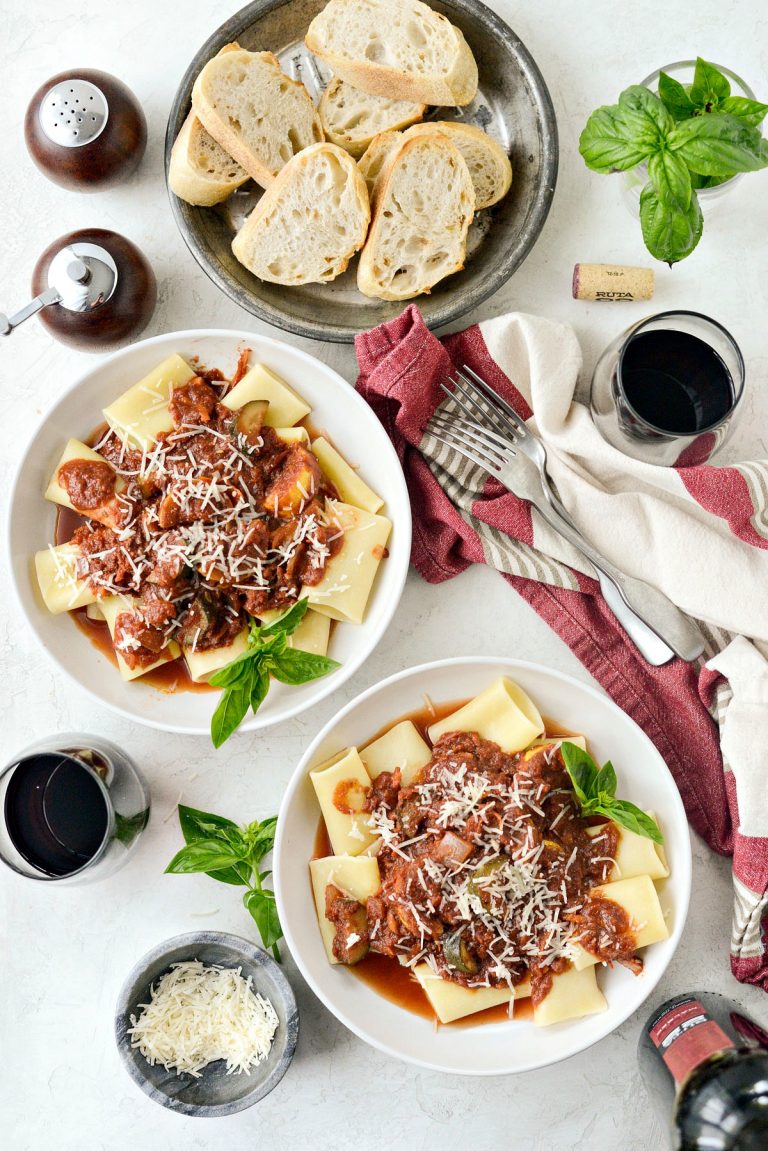 What Type Of Pasta Works Best with a Vegetable Ragu?
Any tube pasta works best to hold thick sauces. Serve the sauce on penne, rigatoni, macaroni, paccheri (<—this is what I'm using in this recipe).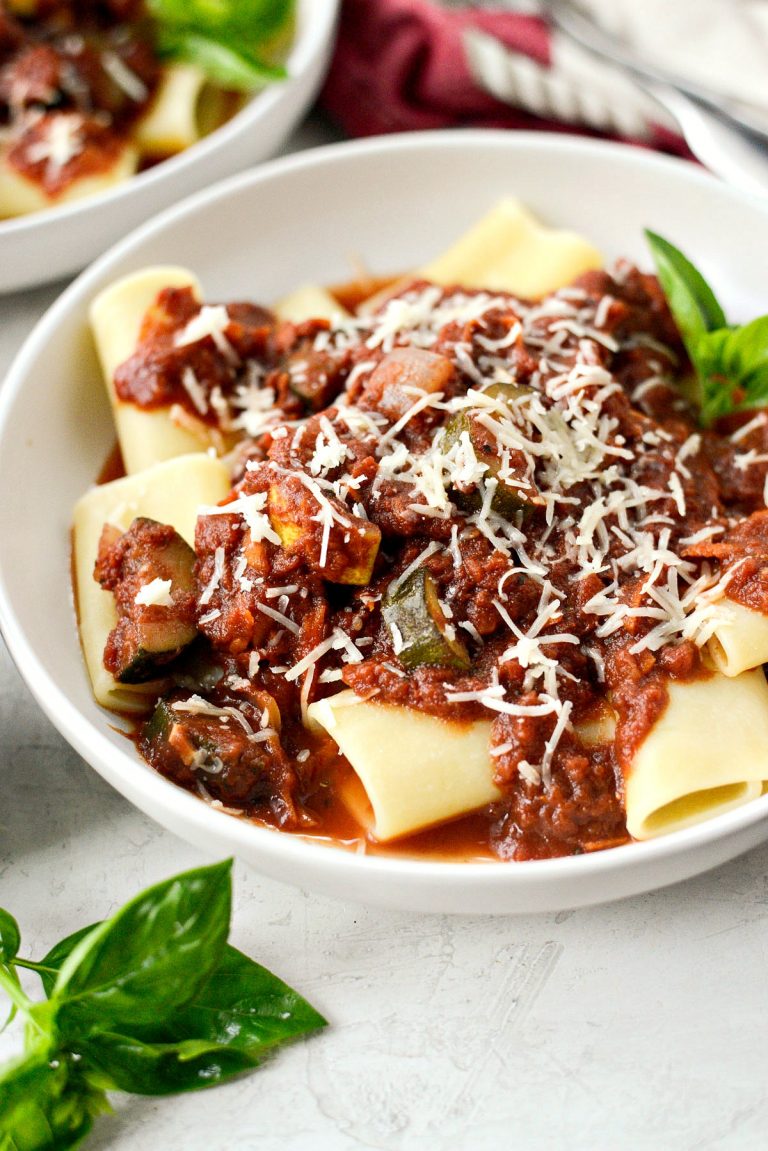 Cooks Note:
There is some water released from the zucchini and squash while they cook in the sauce. It's not noticeable until you plate it up and the veggies sit onto of the noodles. As far as I know, there's nothing to be done but to mix it all together. However, this is where thick slices of italian bread comes in handy! You can use it to wipe your bowl clean!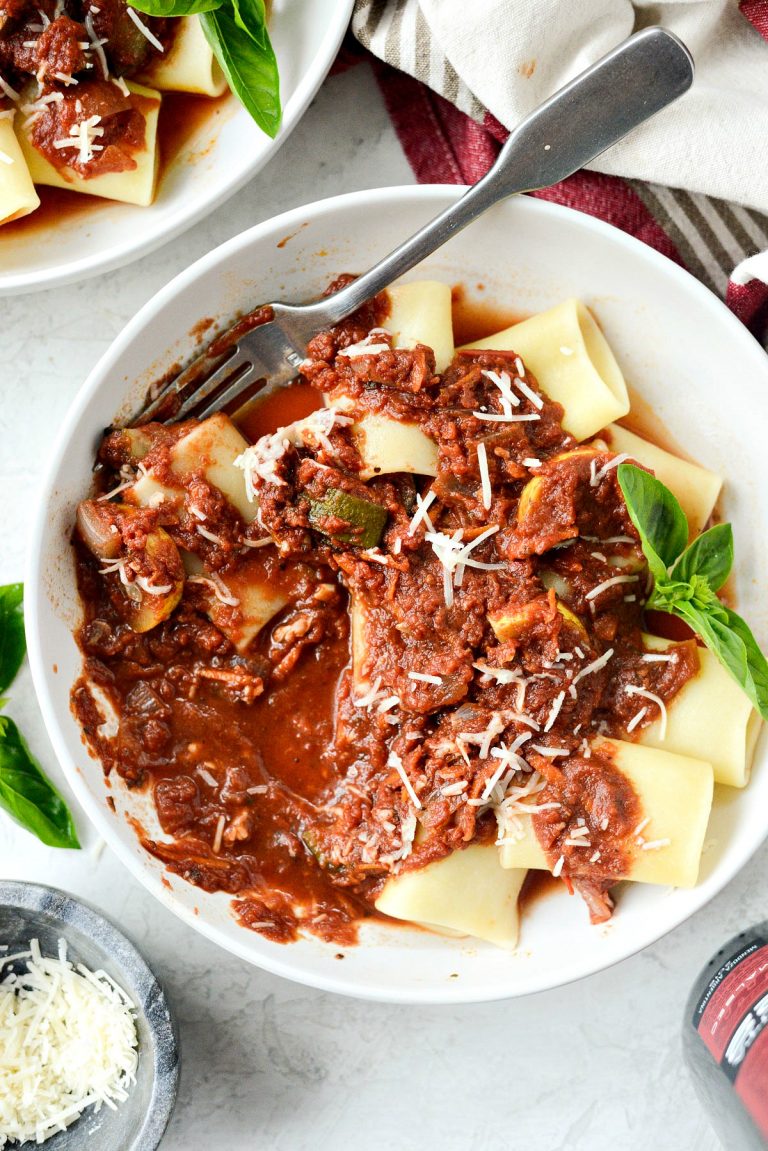 Lastly, sprinkle the vegetable ragu with a little or a lot of extra parmesan.
Recipe Variations:
Make it meaty! Cook 3/4 pound of italian sausage (pork or turkey!) before sautéing the vegetables. If using pork italian sausage, you may not need the olive oil for sautéing.
Add Mushrooms! Sauté mushrooms after the onions and before the zucchini. Work in batches to not crowd the veggies.
Picky eaters? Smooth the sauce! Once the sauce has simmered, use a immersion blender to puree the sauce until smooth!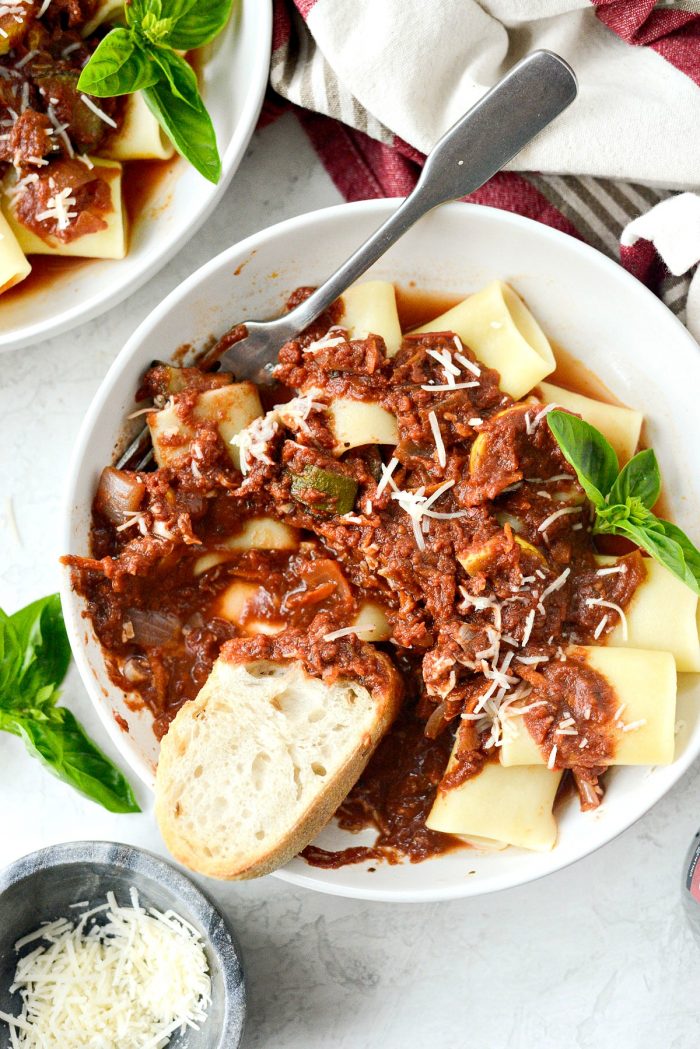 Enjoy! And if you give this Garden Vegetable Ragu recipe a try, let me know! Snap a photo and tag me on twitter or instagram!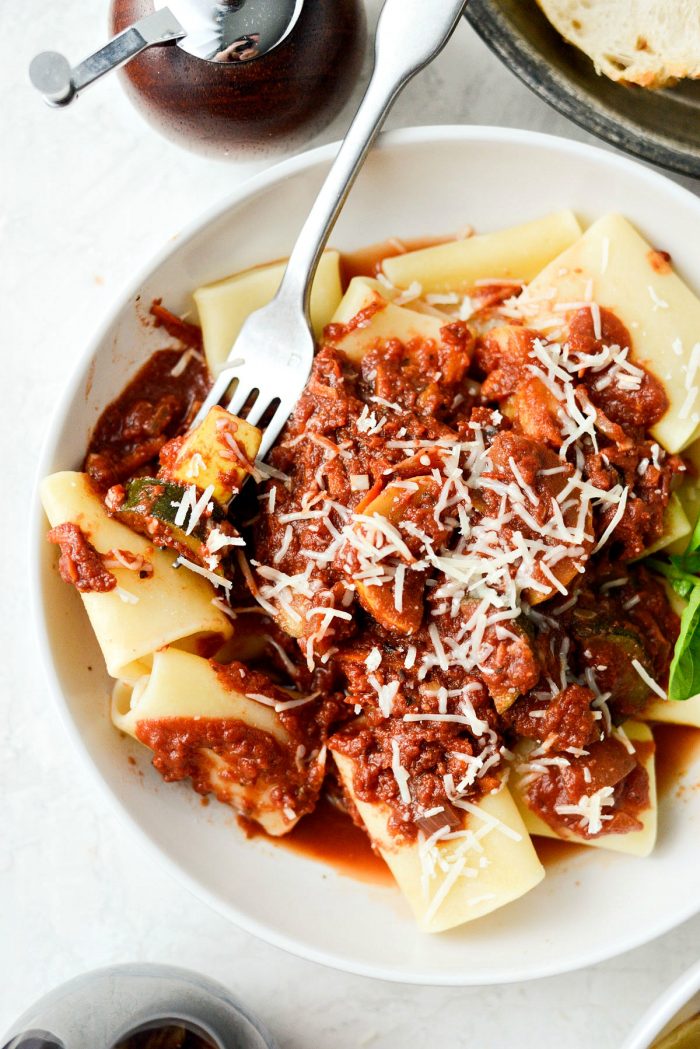 Yield: 6 servings
Garden Vegetable Ragu
Garden Vegetable Ragu is a meatless pasta dish consisting of zucchini, yellow squash and carrots in a flavorful and robust red sauce. Serve on top of pasta with lots of grated parmesan cheese. Serves 6.
Ingredients
1 teaspoon olive oil
1 medium yellow onion, diced
1 medium carrot, grated
2 medium zucchini, trimmed and sliced into half moons
2 medium yellow summer squash, trimmed and sliced into half moons
2 cloves garlic, minced (or more if desired)
1 teaspoon dried basil, or more to taste
1 teaspoon dried oregano, or more to taste
1/2 teaspoon italian seasoning
red pepper flakes
28 ounces crushed tomatoes, I like delallo brand
1 teaspoon sugar
1 cup dry red wine, like merlot, pinot noir or Malbec (use one you like to drink!)
1 cup grated parmesan cheese, divided
kosher salt, to taste
freshly ground black pepper
1 pound cooked pasta
Instructions
Heat the olive oil in a large, deep skillet on medium heat.

Once hot, sauté the onions until tender. Use a slotted spoon, transfer the onions to a dish with the grated carrot and set off to the side.

Repeat with the zucchini and yellow squash until soft and edges golden.

Add the carrots and onions back into the pan and add in the garlic, basil, oregano, italian seasoning and red pepper flakes (if using). Cook for 1-2 minutes.

Pour in the crushed tomatoes, wine and sugar. Simmer uncovered over medium-low heat for 45-60 minutes, stirring ocassionaly.

With 20 minutes left on the clock, prepare the pasta according to the package directions. Keep in mind, larger pastas take longer to cook.

Lastly add the half cup of Parmesan, taste and season with kosher salt and black pepper to taste.

Serve over pasta with reserved parmesan.
Notes
I like to use DeLallo crushed tomatoes because it creates a thick sauce without visual chunks of tomatoes (as my family prefers it). This is not a sponsored post. Here are a few optional add-ins: -Got a leftover parmesan rind? Just throw it in while the sauce simmers and remove before serving. -Want a meaty version? Cook Italian sausage before starting the vegetables (omitting the oil and butter) and only using a fraction of the sausage grease (discarding the excess) from the sausage before sautéing the vegetables. -Increase the veggies by adding 8 ounces sliced or quartered mushrooms, sautéing them with the vegetables.
Serving: 1generous cup, Calories: 354kcal, Carbohydrates: 53g, Protein: 17g, Fat: 7g, Saturated Fat: 3g, Polyunsaturated Fat: 1g, Monounsaturated Fat: 2g, Cholesterol: 15mg, Sodium: 620mg, Potassium: 1245mg, Fiber: 9g, Sugar: 17g, Vitamin A: 2683IU, Vitamin C: 49mg, Calcium: 321mg, Iron: 5mg
This post may contain affiliate links.
Buy the Cookbook: Simply Scratch : 120 Wholesome Homemade Recipes Made Easy Now available on Amazon »
THANK YOU in advance for your support!