Have leftover eggnog, make eggnog French toast! By whisking eggnog with eggs, vanilla and spices it creates a lovely batter for dipping bread and making french toast!
It's crunch time! There's a little over a week until Christmas. Have you finished your Christmas shopping? Are the gifts all wrapped?? Do you  know what you're making for breakfast Christmas morning??? Are you feeling the stress????
For me that's a no, no, no and yes.
Well, since I can't go shopping or wrap gifts for you (because I have my own to do) can I at least help you out with breakfast? I mean does breakfast get any more festive than pomegranate seeds scattered eggnog french toast?
I think not.
It never fails that I have leftover eggnog. I can handle a glass and then I'm good for another 364 days. So I thought why not whisk in some egg, vanilla and spices and make a little batter out of it to make a Christmas-y french toast.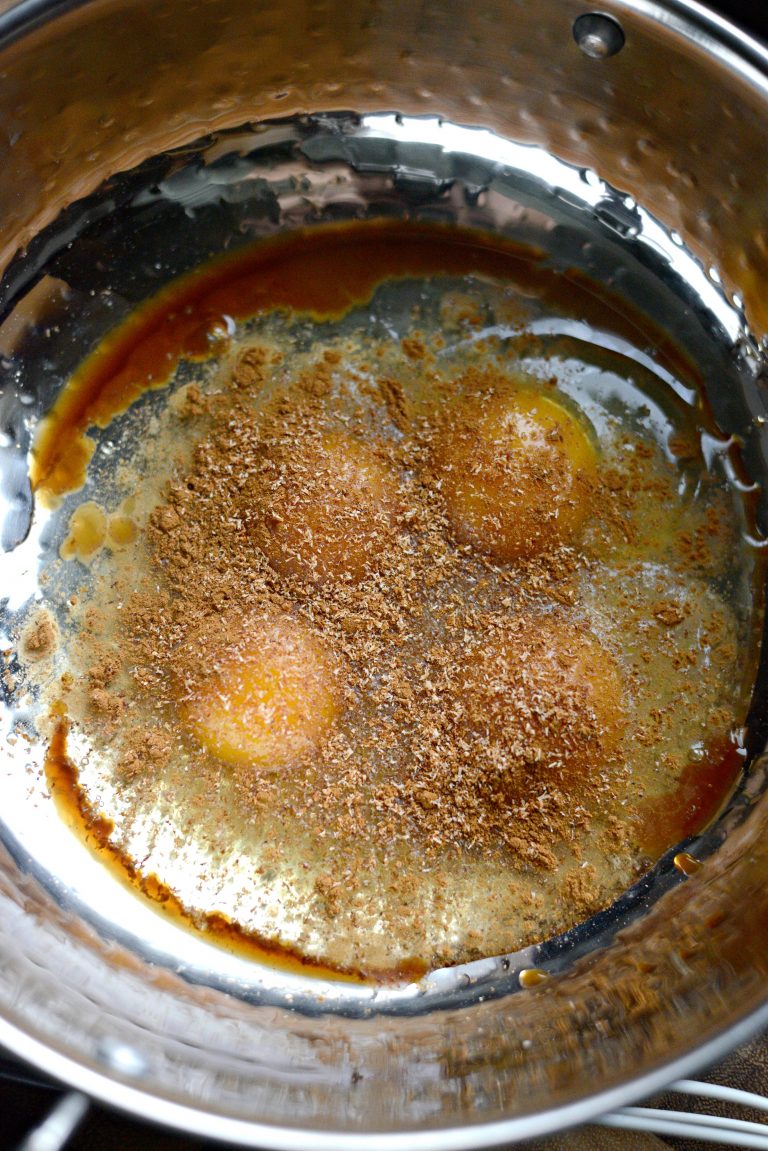 And that's exactly what I did.
To start, in a medium bowl whisk together 4 eggs, 1 teaspoon vanilla extract, and 1/2 teaspoon of both ground cinnamon and freshly grated nutmeg.
Pour in 2 cups of eggnog and whisk until combined.
Dip slices of bread into the eggnog mixture and let the excess drip off back into the bowl. Then lay dipped slices of bread on to your preheated (375°), coconut-oil greased griddle and cook for 3 to 4 minutes or more per side until deeply golden and the centers are cooked through.
Transfer the golden eggnog french toast to a rimmed baking sheet and keep warm in a 200° oven.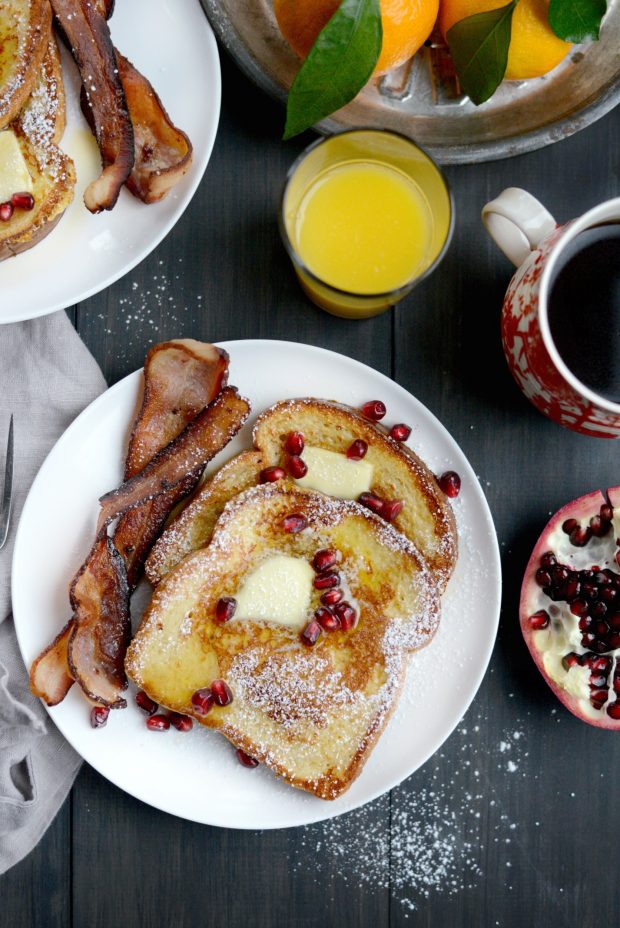 Finally, when all the eggnog french toast is made, serve up a few hot slices with butter, syrup, a dusting of powdered sugar and a few pomegranate seeds for a festive touch, pop of color and tartness.
This eggnog french toast recipe makes a lot, so it's great for large families or if hosting a brunch. Otherwise, I just wrap three slices at a time in foil and freeze for my girls to rewarm on future weekends.
Have eggnog? Make eggnog French toast.
Enjoy!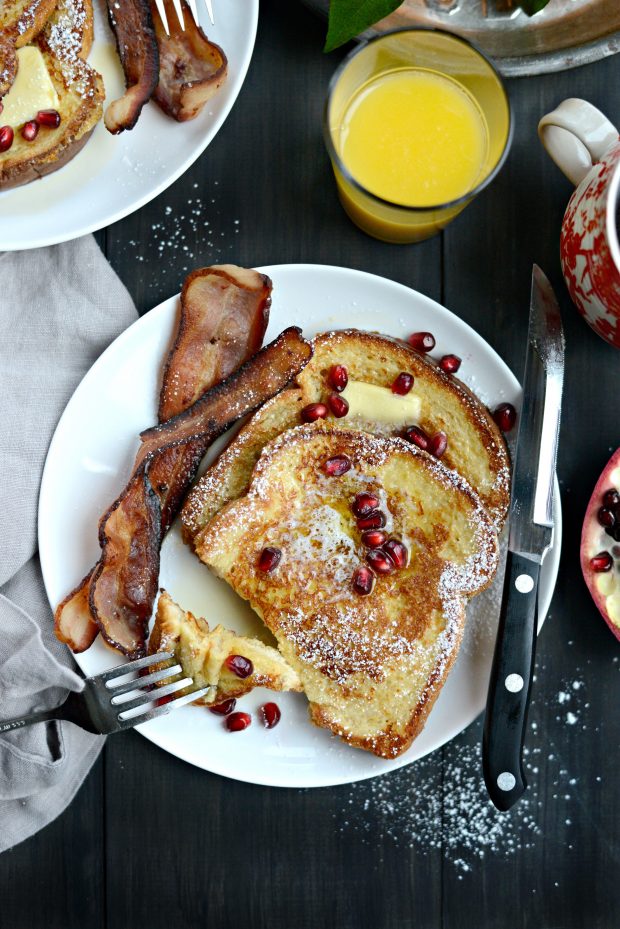 My cookbook Simply Scratch : 120 Wholesome Homemade Recipes Made Easy is now available! CLICK HERE for details and THANK YOU in advance! 
[this post contains affiliate links.]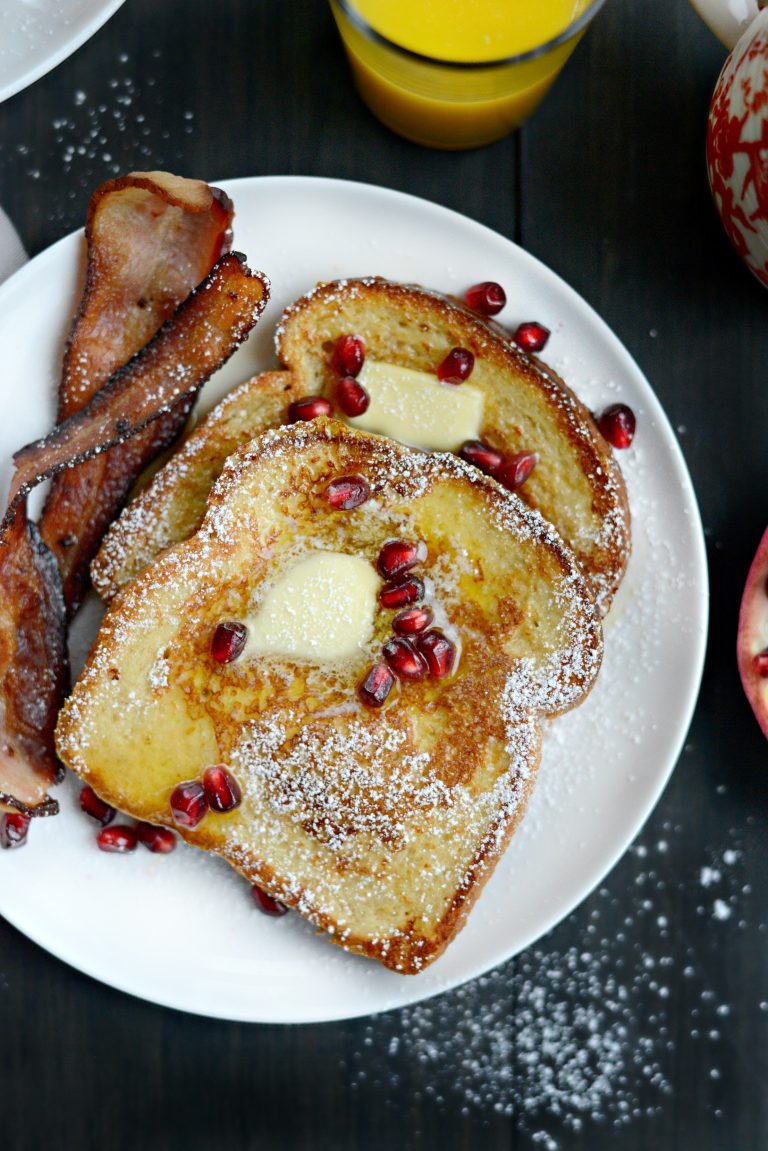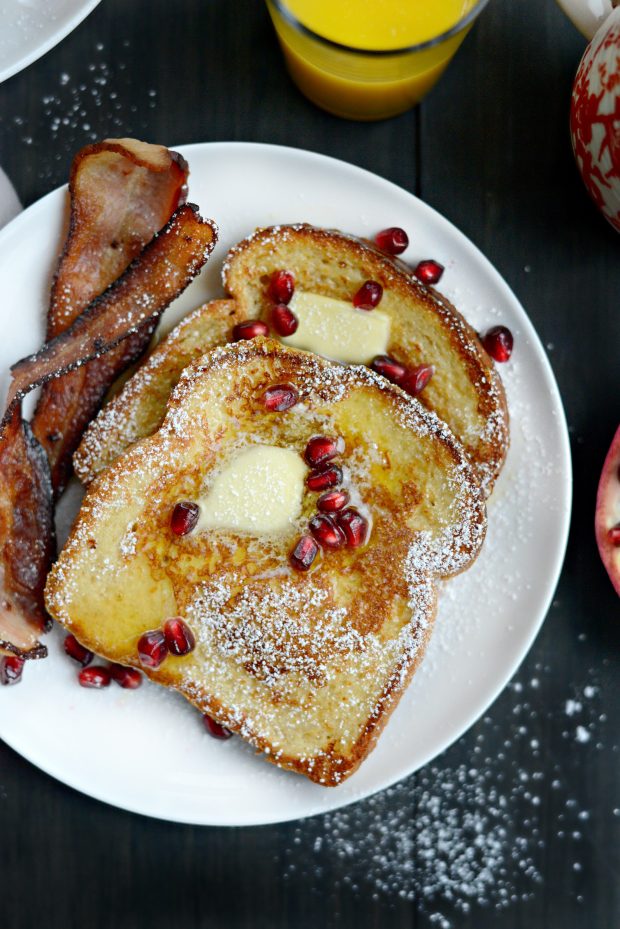 This post may contain affiliate links.
Buy the Cookbook: Simply Scratch : 120 Wholesome Homemade Recipes Made Easy Now available on Amazon »
THANK YOU in advance for your support!