This Cucumber Salad is a recipe that's been in my family for years. Fresh cucumbers and onions, salted and tossed with simple and flavorful sour cream dill dressing.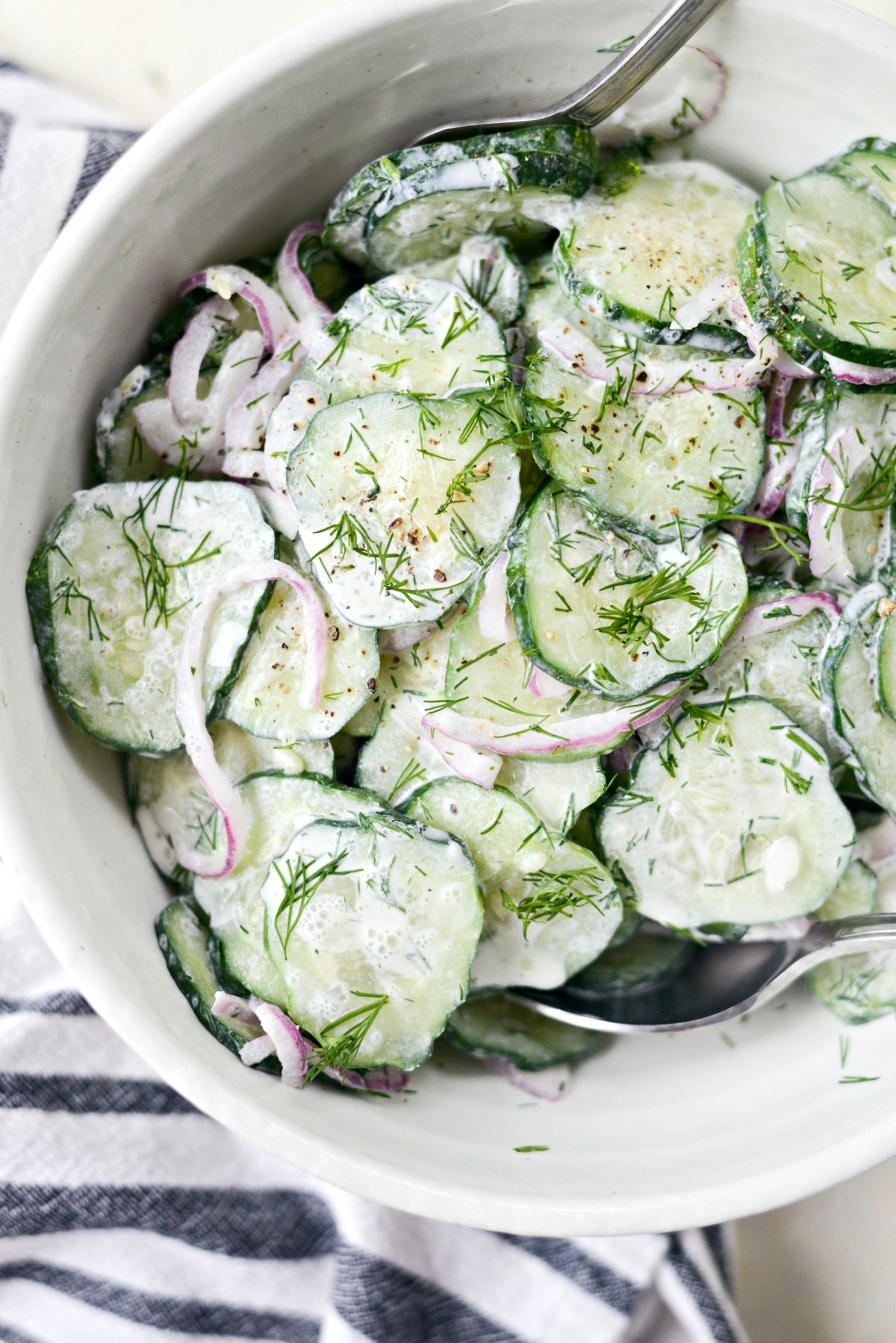 I've got a problem. Okay so I had a problem and I think it's safe to assume that maybe some of you are in the same predicament asI was?
Cucumbers.
So. Many. Cucumbers.
People are literally throwing their cukes at me and saying "here catch"! I even have the bruises to prove it.
I had so many cucumbers I could only think of one recipe to make (besides pickles), my Great Grandmas recipe for cucumber salad or as it's written on her recipe card – Cuke Salad. It's simple, fresh and I bet you fifty bucks that my Great Grandma Rita came up with this recipe from having an over abundance of cucumbers just like I did.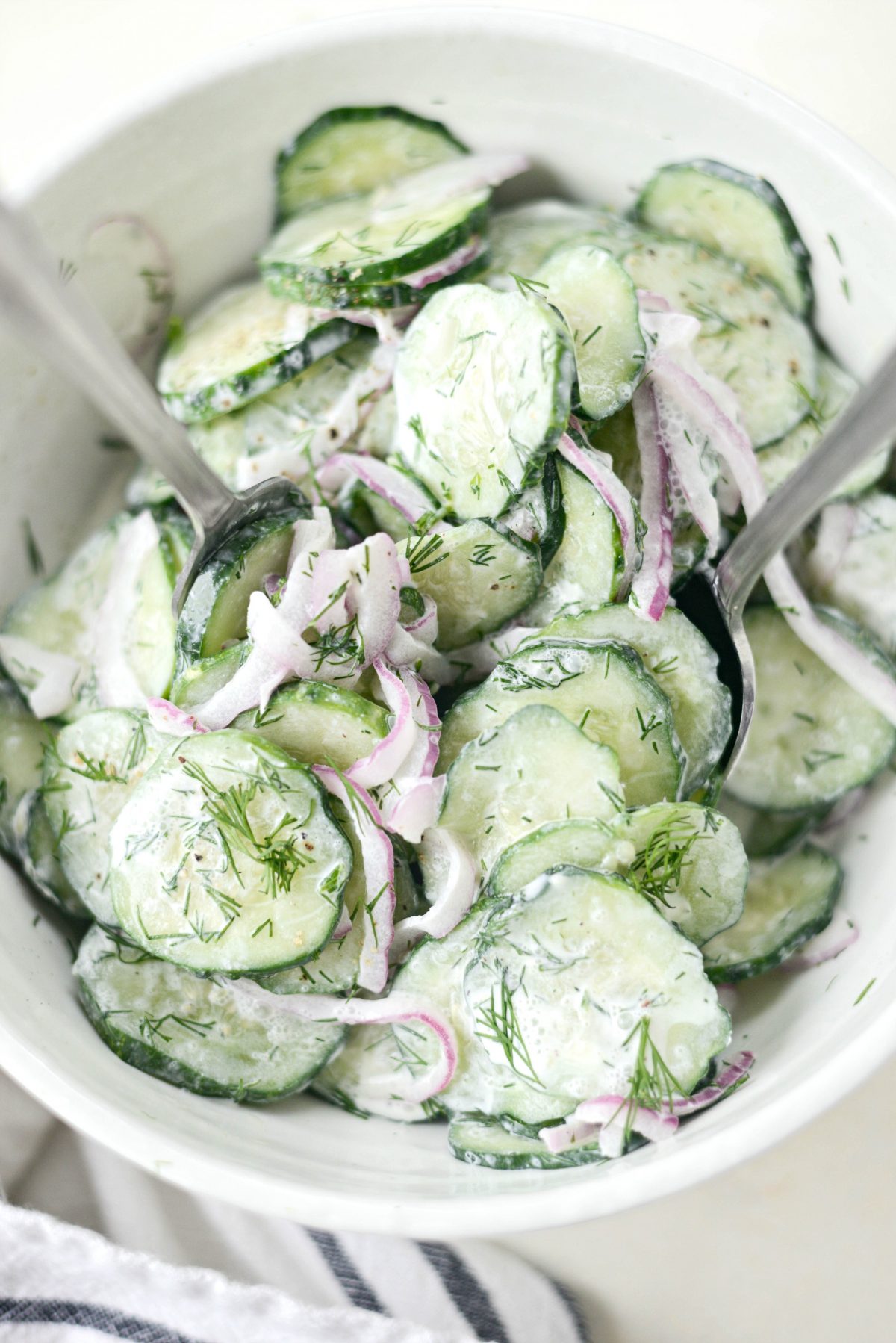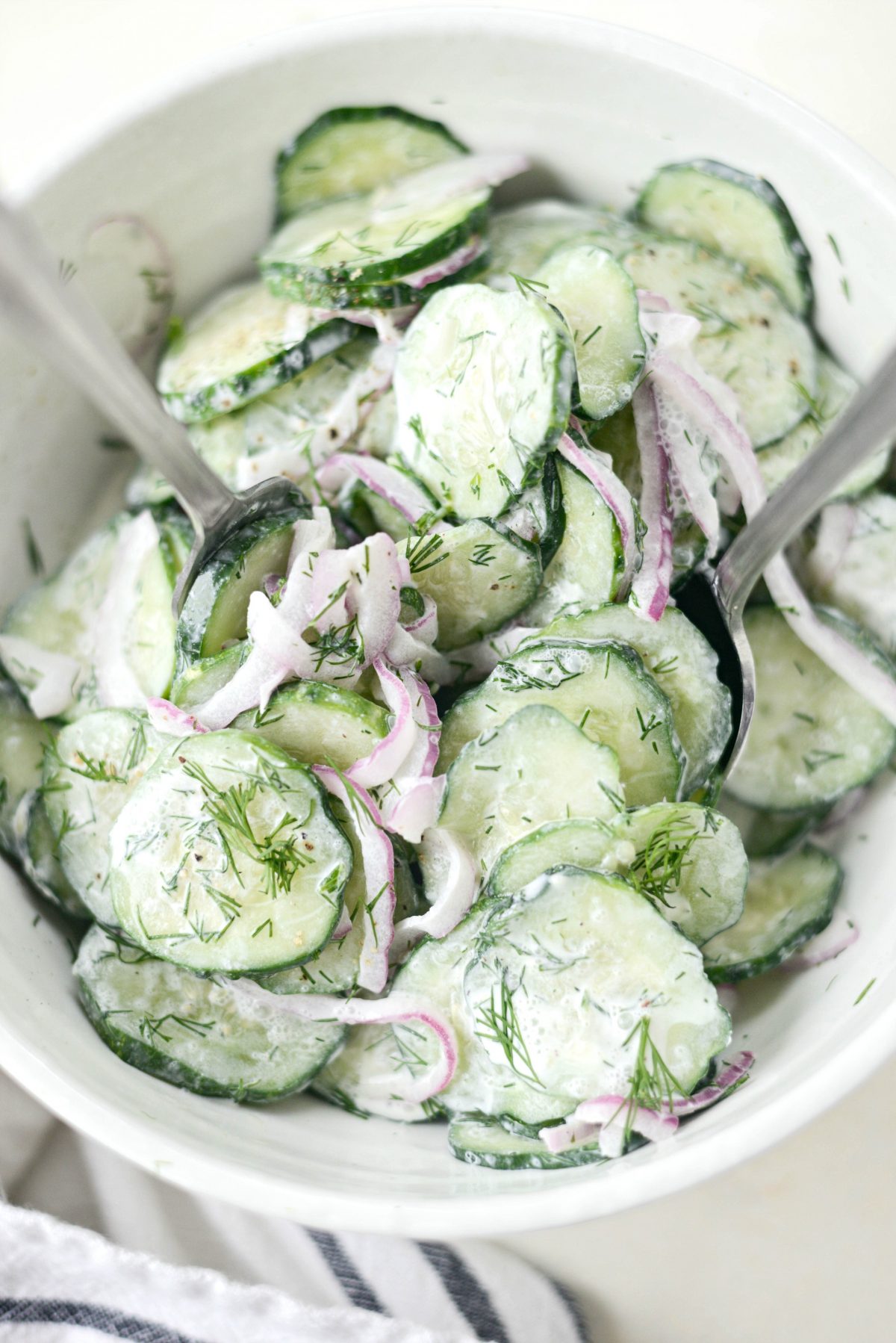 I may not have had the chance to meet my Great Grandma but I know she was a great cook, who taught my Grandma who then taught my mother and so on. My wish is that I will pass my love of food and cooking onto my girls. I already think I've got the wheels turning because on Monday, my 10 year-old asked if she could borrow my Nikon so that she could blog her lunch. Of course I told her to keep her dirty little mitts off my camera and go get her own.
What??? I was nice.
But before we move on I have one last, very important question. Do any of you call cucumbers "cukes" anymore? Because I'm considering bringing it back.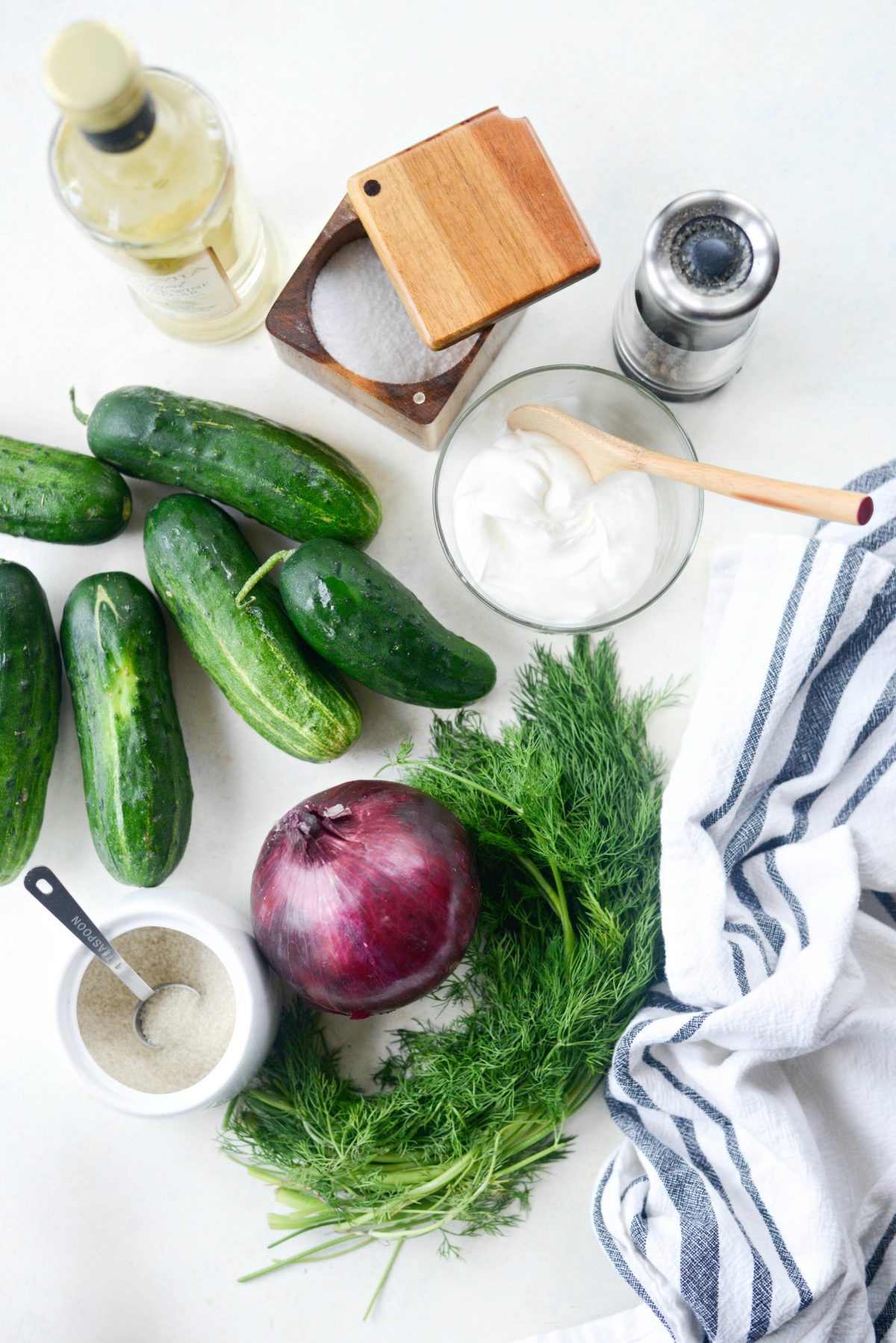 To Make this Cucumber Salad With Dill Dressing you will need:
cukes – is it catching on yet?
red onion – if you don't have a red onion then go ahead and use a Spanish onion
kosher salt
sour cream
sugar
black pepper
white balsamic
champagne vinegar
I only changed a few things because of what I had on hand, but the concept of recipe is still pretty much the same. Cukes and Onions. Yum!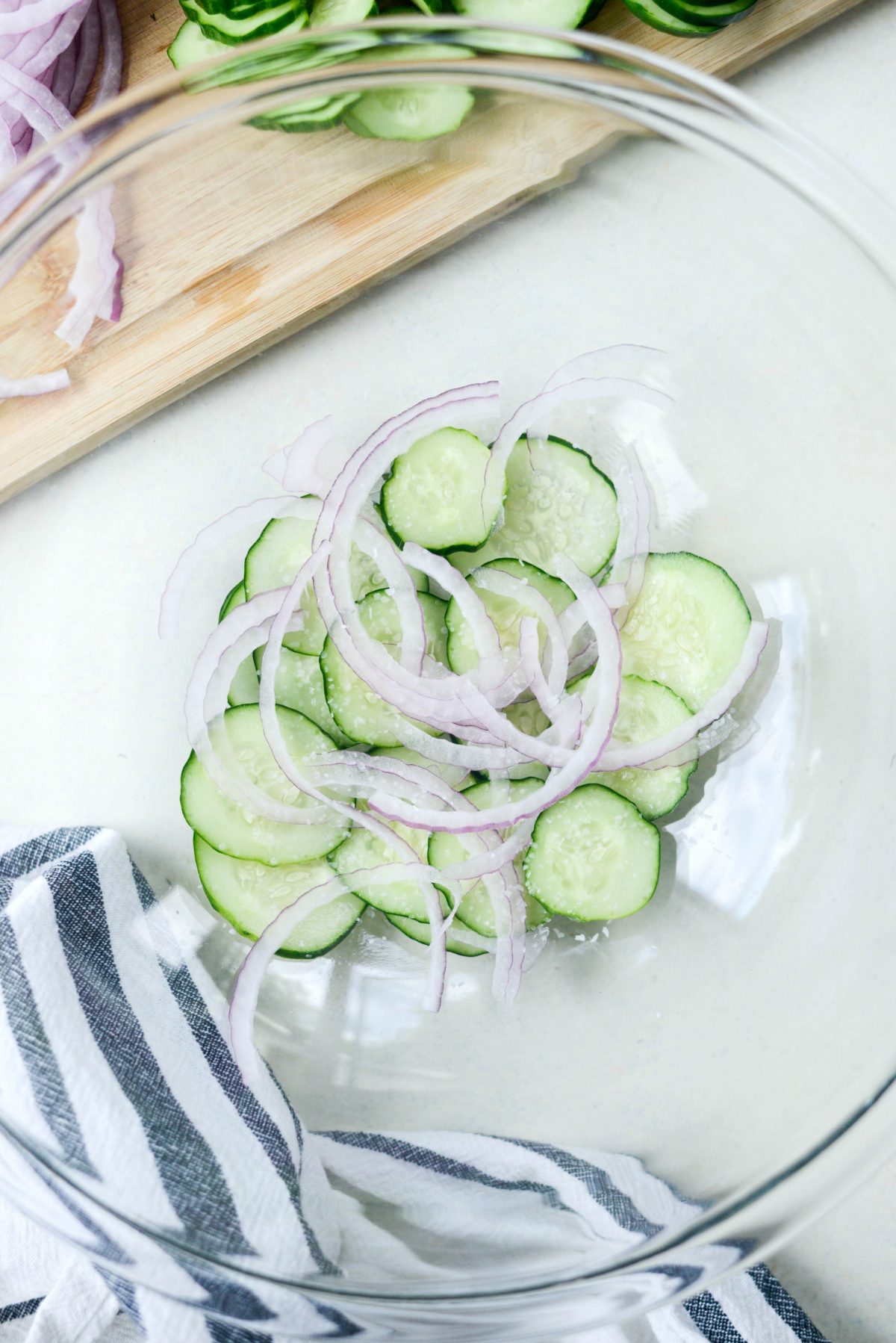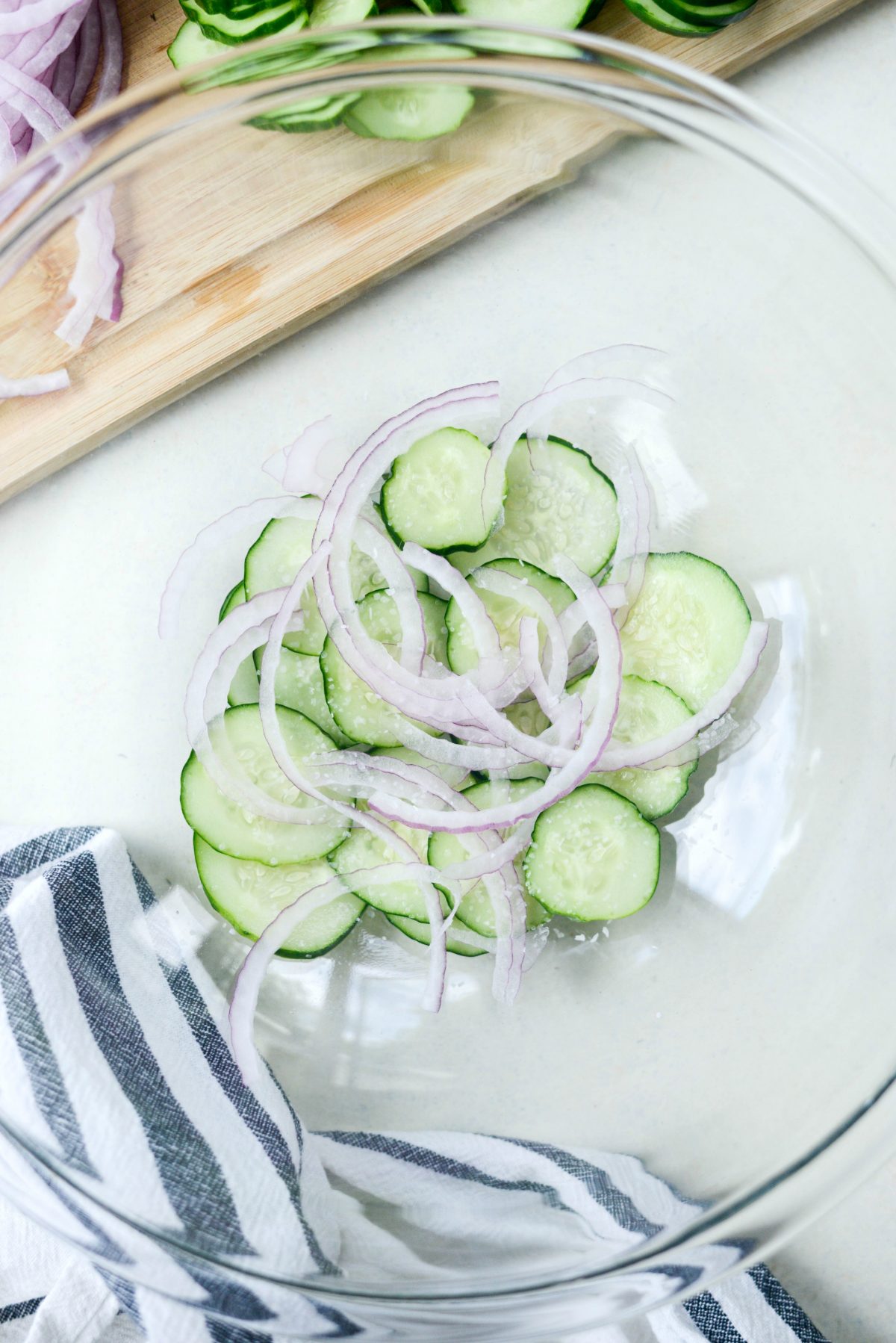 Trim off the ends of 6 small pickling cucumbers or 2 regular cucumbers. Slice them thin, but not too thin, think coins. Then peel and thinly slice up the red onion, should be about a cup.
In a large bowl, layer the cucumber slices, sliced onions and a pinch of kosher salt.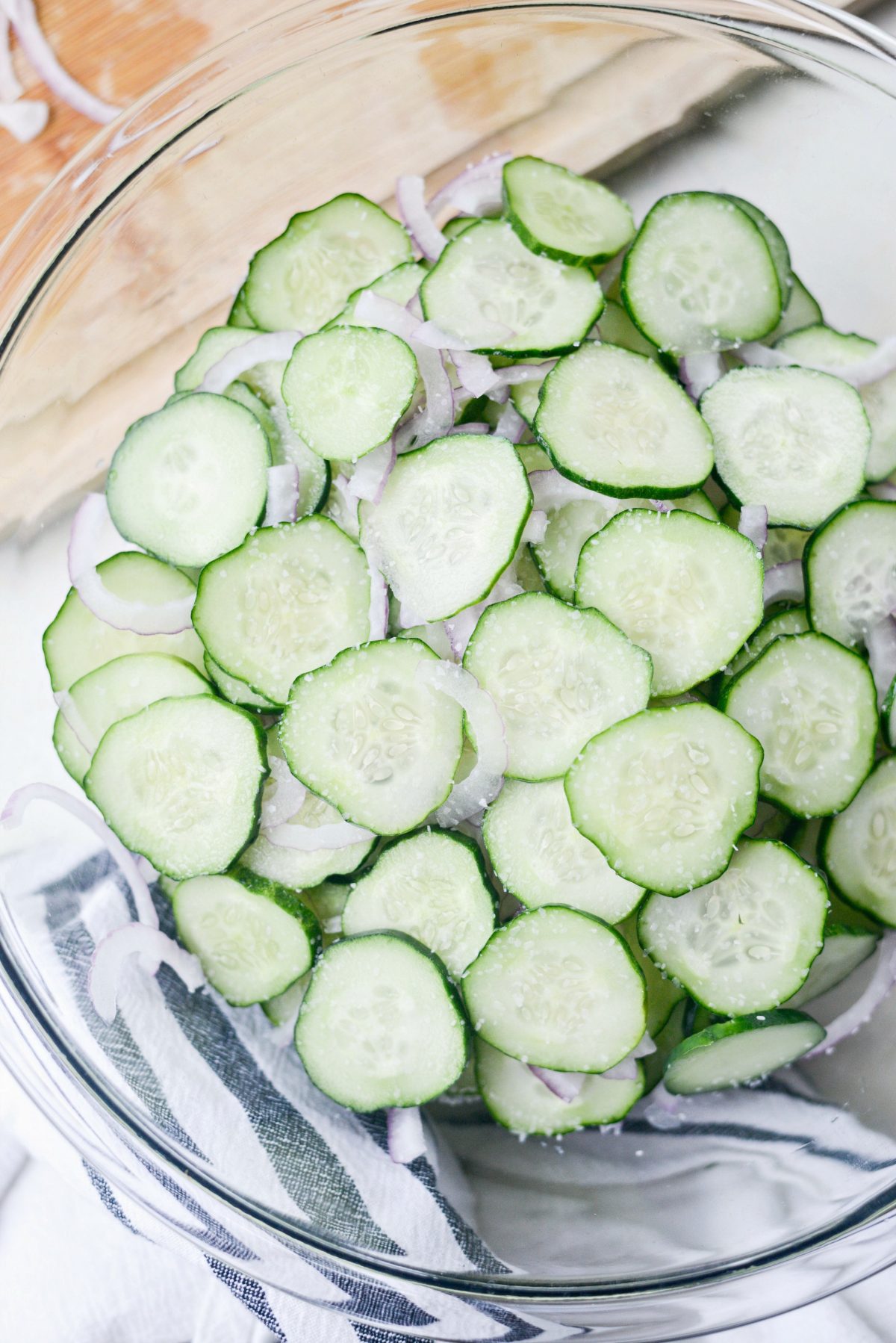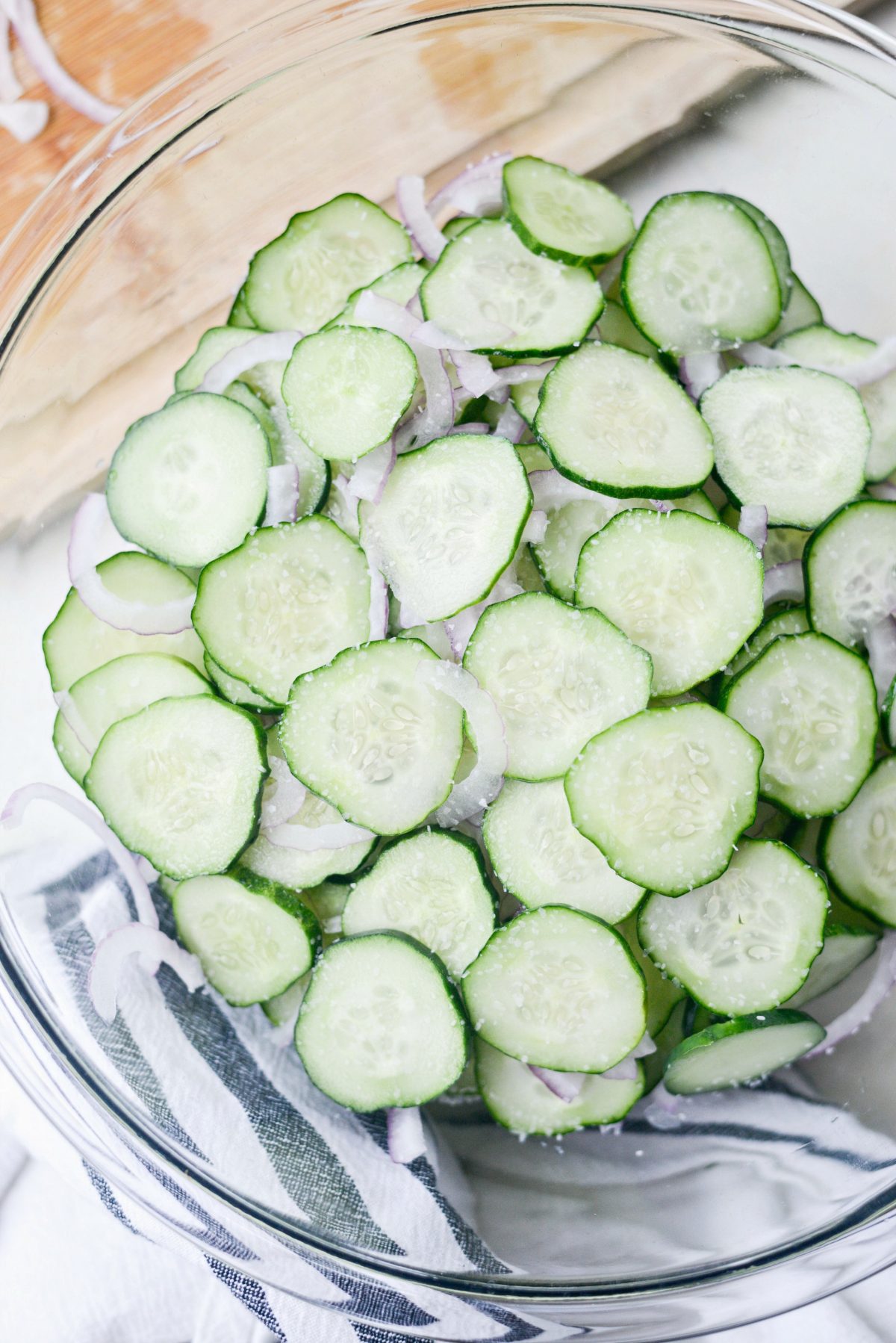 Repeat with the layers then throw on some plastic wrap overtop and refrigerate for 1-2 hours. You could do it longer but I like my veggies to remain a little crunchy. The kosher salt will draw out the moisture and intensify the flavor!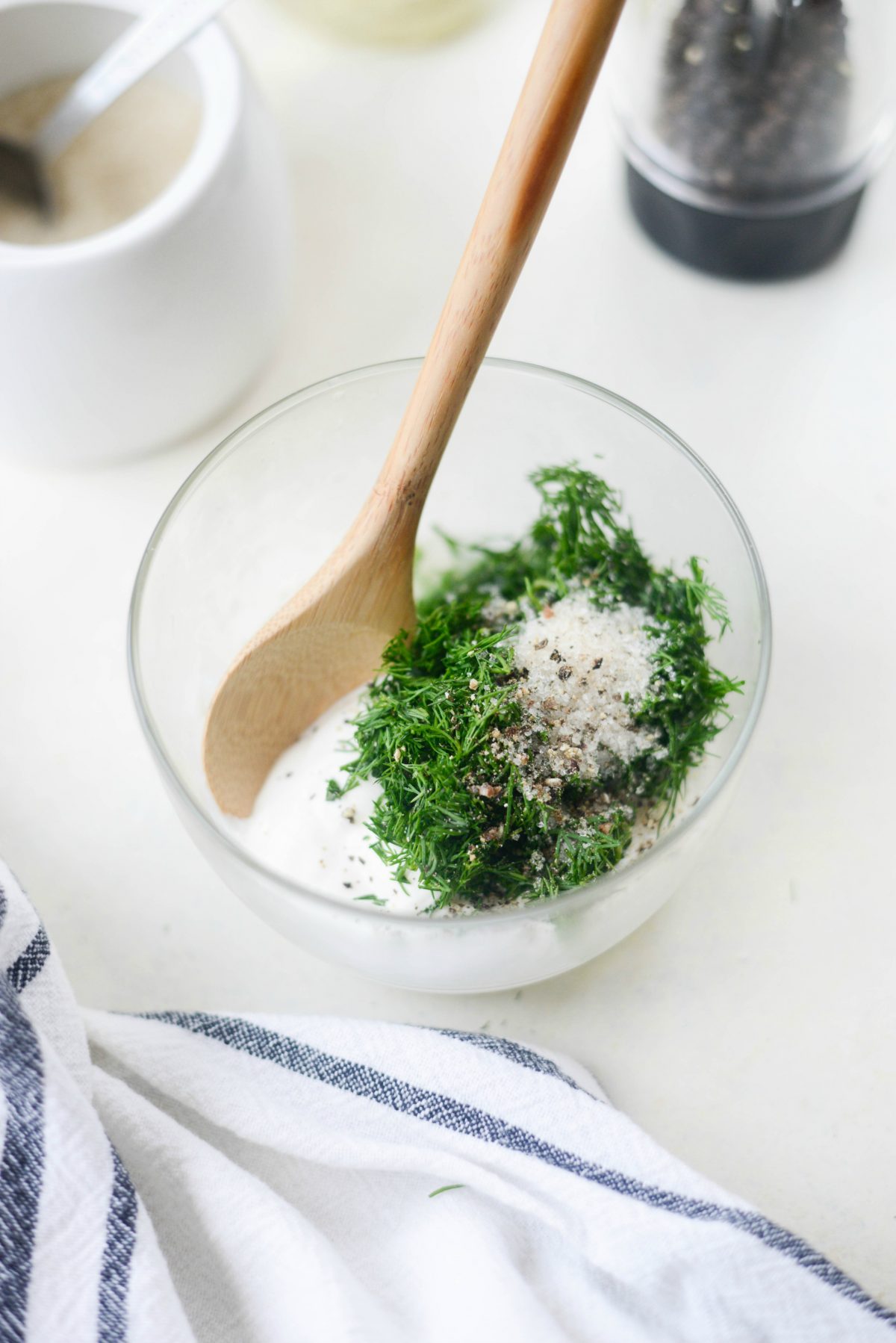 While the cukes 😉 and onions are doing their thing, measure out 1/4 cup sour cream, 2 tablespoons minced fresh dill, 1 teaspoon sugar, salt and black pepper to taste into a medium bowl. Add a few splashes of vinegar and stir to combine.
If it's a little too vinegary then just add a little more sour cream and a smidgen of sugar until it balances out.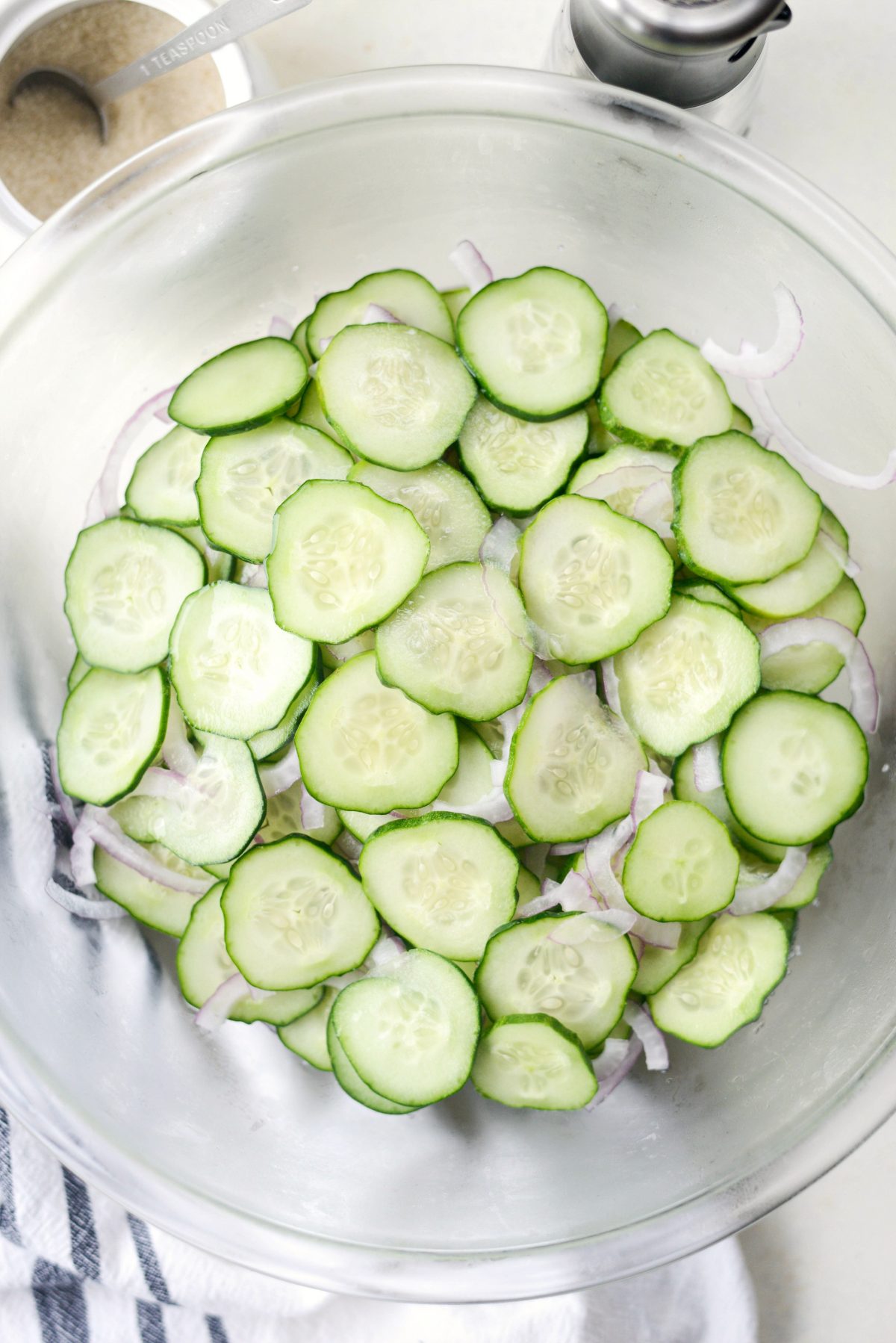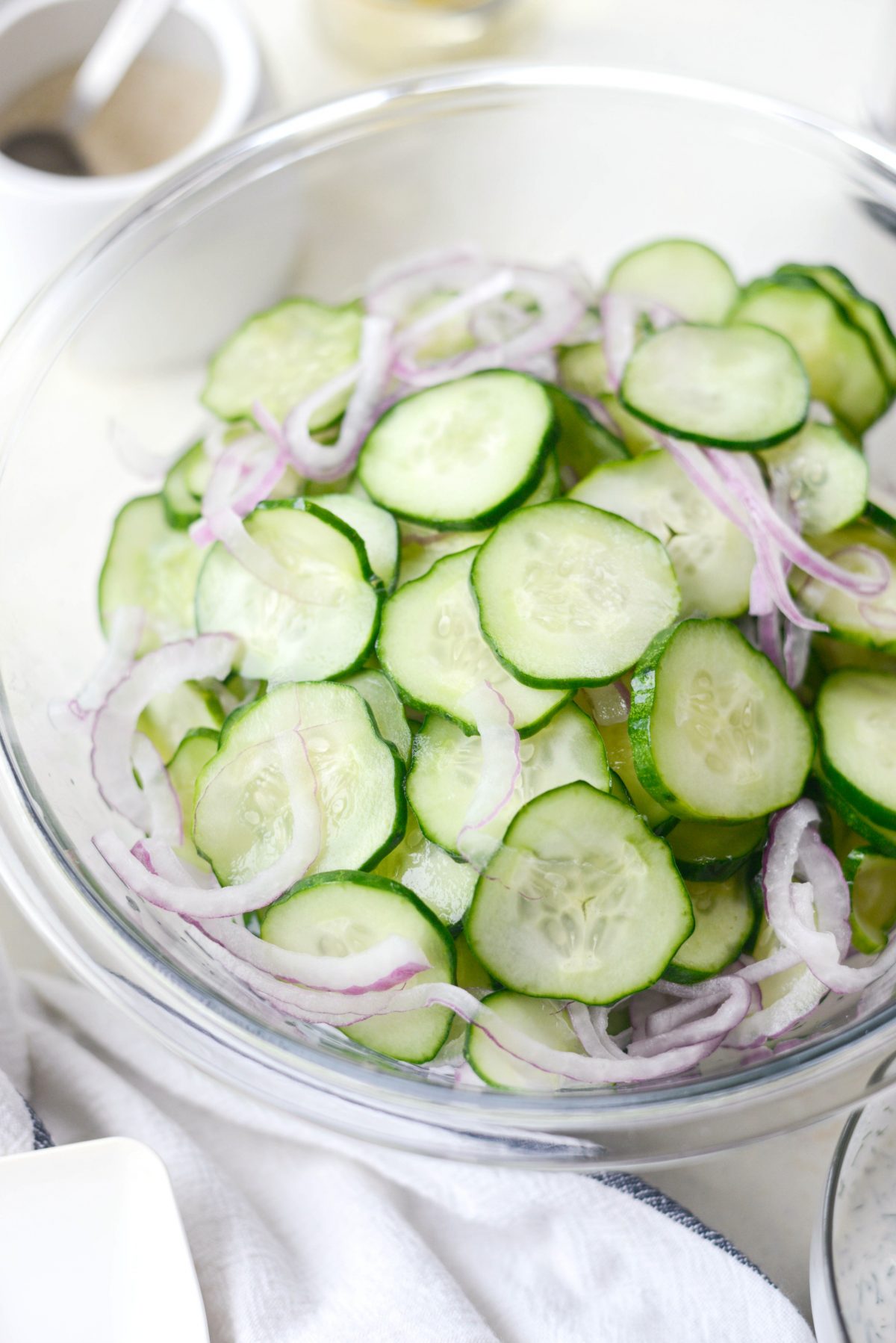 Once the time is up on the cucumbers use your impeccably clean hands to squeeze out all of the water from the vegetables and place them in a clean bowl.
Add in the dressing, a little at a time until if you want yours a little less "saucy". I prefer mine extra saucy!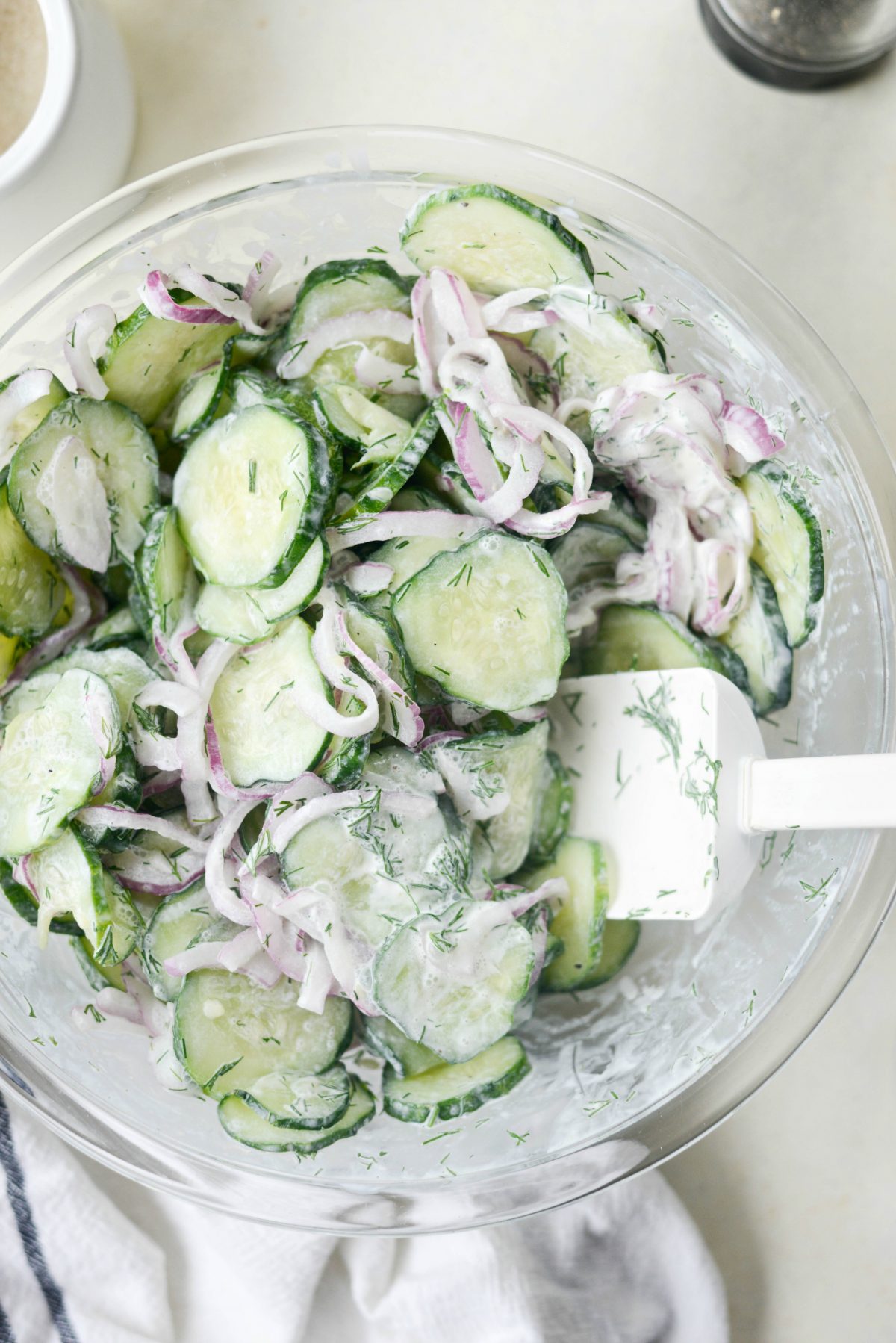 Toss and refrigerate for at least another 30 minutes or so. The flavors develop the longer this salad chills. Remember that mmmkay?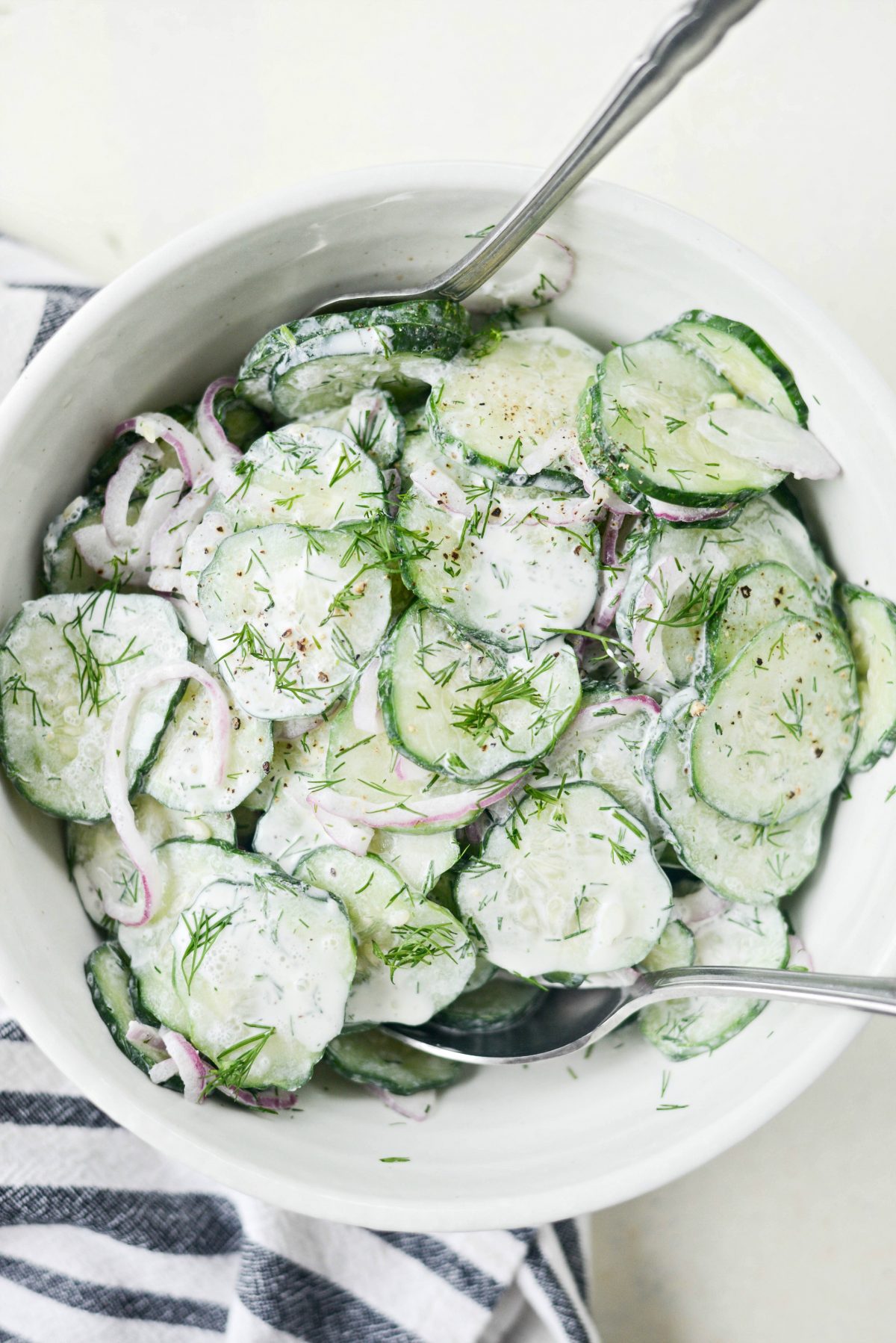 This cucumber salad brings back so many good memories of my Mom making it for family events, using the cucumbers from our family's garden.
Then I'd frown at the onions, and secretly eat only the cucumbers. But, not to day. The onions are my favorite part! Only now it's my girls turn to pick around the onions. Glad to see history repeats itself.
Serve this summer classic up next to your favorite main dish and enjoy every last bite of summer.
Enjoy! And if you give this Cucumber Salad recipe a try, let me know! Snap a photo and tag me on twitter or instagram!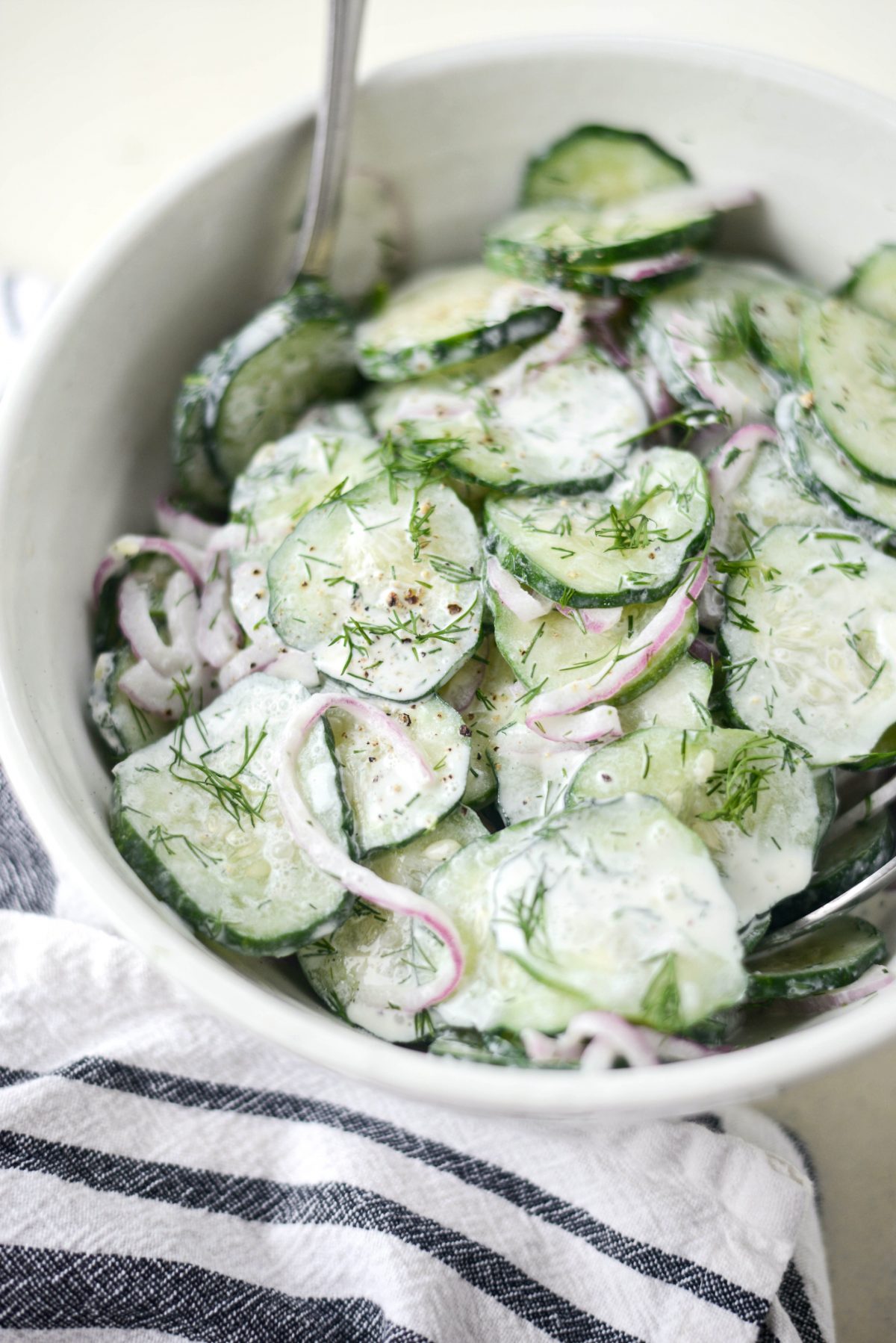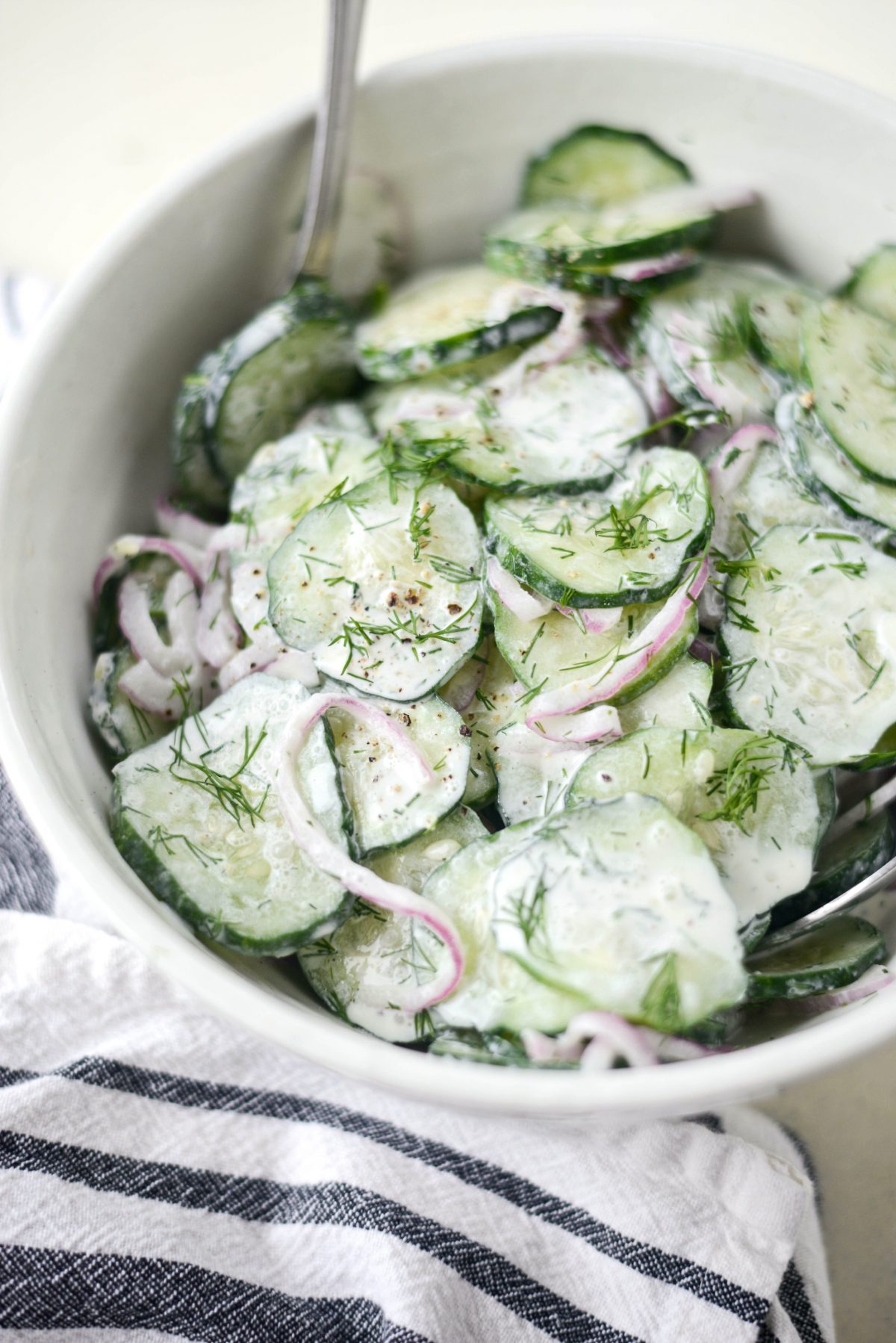 Yield: 8 servings
Cuke Salad with Sour Cream Dill Dressing
This Cucumber Salad is a recipe that's been in my family for years. Fresh cucumbers and onions, salted and tossed with simple and flavorful sour cream dill dressing.
Ingredients
6 small pickling cucumbers, or 2 regular cucumber, washed and sliced (or about 3 cups)
1/2 large red onion, thinly sliced (or about 1 cup)
kosher salt
1/4 cup sour cream
2 tablespoons minced fresh dill, roughly chopped
1 teaspoon sugar
freshly ground black pepper, to taste
2 splashes white balsamic vinegar, or white wine vinegar
Instructions
In a large bowl; layer a third of the cucumbers and onions, then a sprinkle of kosher salt, and repeat with the remaining cucumbers and onions.

Cover with plastic wrap and refrigerate for 1-2 hours.

With your impeccably clean hands, squeeze the excess moisture out of the cucumbers and onions and place them into a clean bowl, set off to the side.

In a small bowl; mix up the sour cream, fresh dill, sugar and black pepper. Add a couple splashes of vinegar. If you add too much vinegar just balance it out with a little more sour cream and a pinch of sugar.

Pour dressing over cucumbers and onions, toss to combine and cover back up with plastic wrap. Refrigerated for another 30 minutes. Stir again, season with more black pepper and serve.
Serving: 1g, Calories: 46kcal, Carbohydrates: 6g, Protein: 2g, Fat: 2g, Saturated Fat: 1g, Polyunsaturated Fat: 1g, Monounsaturated Fat: 1g, Cholesterol: 4mg, Sodium: 11mg, Potassium: 327mg, Fiber: 2g, Sugar: 4g, Vitamin A: 215IU, Vitamin C: 8mg, Calcium: 41mg, Iron: 1mg
This post may contain affiliate links.
Buy the Cookbook: Simply Scratch : 120 Wholesome Homemade Recipes Made Easy Now available on Amazon »
THANK YOU in advance for your support!