Skip the freezer aisle and make these healthy Crispy Air Fryer Chicken Tenders at home instead! Lightly breaded chicken tenders get golden and crispy in just minutes and will no doubt be a hit in your household! Serves 4 (or about 8-10 tenders) in under 30 minutes! Did I mention you only need 5 ingredients?!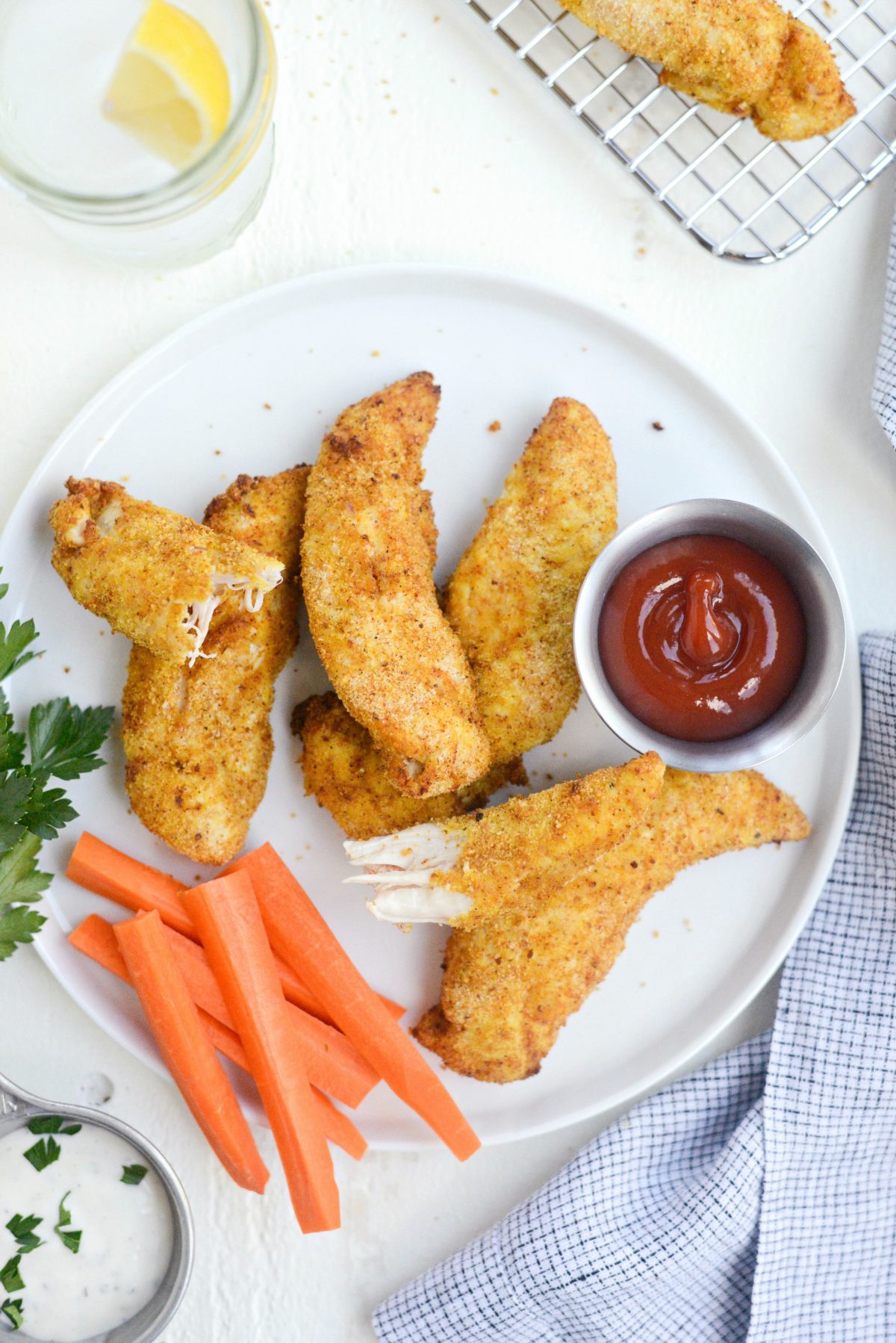 I've got another air fryer recipe for you and I think it's one you will love! Chicken tenders are universally loved finger food, amiright? With a plethora of dipping options and their overall crispy exterior and tender juicy interior, what's not to love?
My kids have been chicken tender fanatics since, well, forever. Haileigh dips it in ranch and/or Franks Red Hot and Malloree prefers to dip in barbecue sauce and ranch, simultaneously. My girls really only order them at restaurants, I've probably made chicken tenders from scratch a handful of times because they're kind of a hassle and take some time to bread, cook, etc. Until today!
You're going to lose your mind over how easy it is to make homemade crispy chicken tenders in the air fryer.
If you don't have an air fryer yet, you must! I kind of touched on it in a previous post, but the air fryer is an easy and healthier way to fry food with using a fraction of oil (because, hello? no deep-frying) and cooks and crisps evenly thanks to hot circulating air. To say I love my air fryer is an understatement (obviously). If my kitchen was a little bigger, it would be an appliance that takes up permanent residence on my counter. I can't stop thinking of ways to health-ify previously not-s0-healthy fried foods or just food that I would be too apprehensive because of my deep-seeded fear of hot, bubbling oil.
Whether you want to make these crispy air fryer chicken tenders for your kids lunch, to top a salad or stuff into wraps – all you need is 5 simple ingredients and 30 minutes.
To Make These Crispy Air Fryer Chicken Tenders you Will need:
chicken tenders – 1 package which is usually a pound, will feed 2 to 4 (or 8-10 tenders total)
non-aerosol olive oil cooking spray (using non-aerosol is a personal preference, you use what you like!)
breadcrumbs (homemade or store bought)
black pepper
First, in a shallow bowl, add 1/2 cup of plain breadcrumbs, 1-1/2 teaspoons of all-purpose seasoning salt and 1/4 teaspoon of freshly ground black pepper. Whisk to combine and set off to the side for a smidge.
Then spray both sides of the chicken tenders with the olive oil spray, making sure to coat evenly.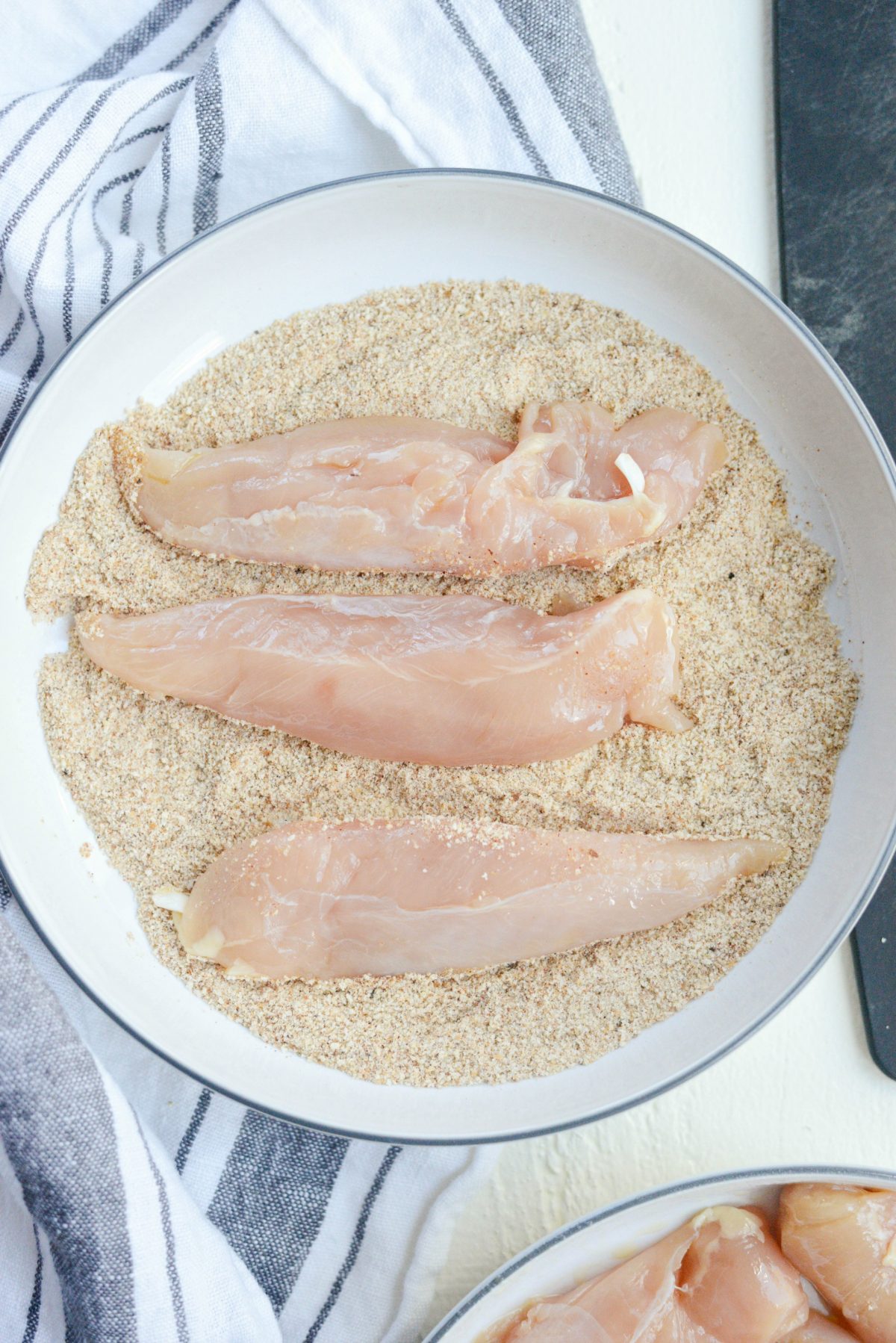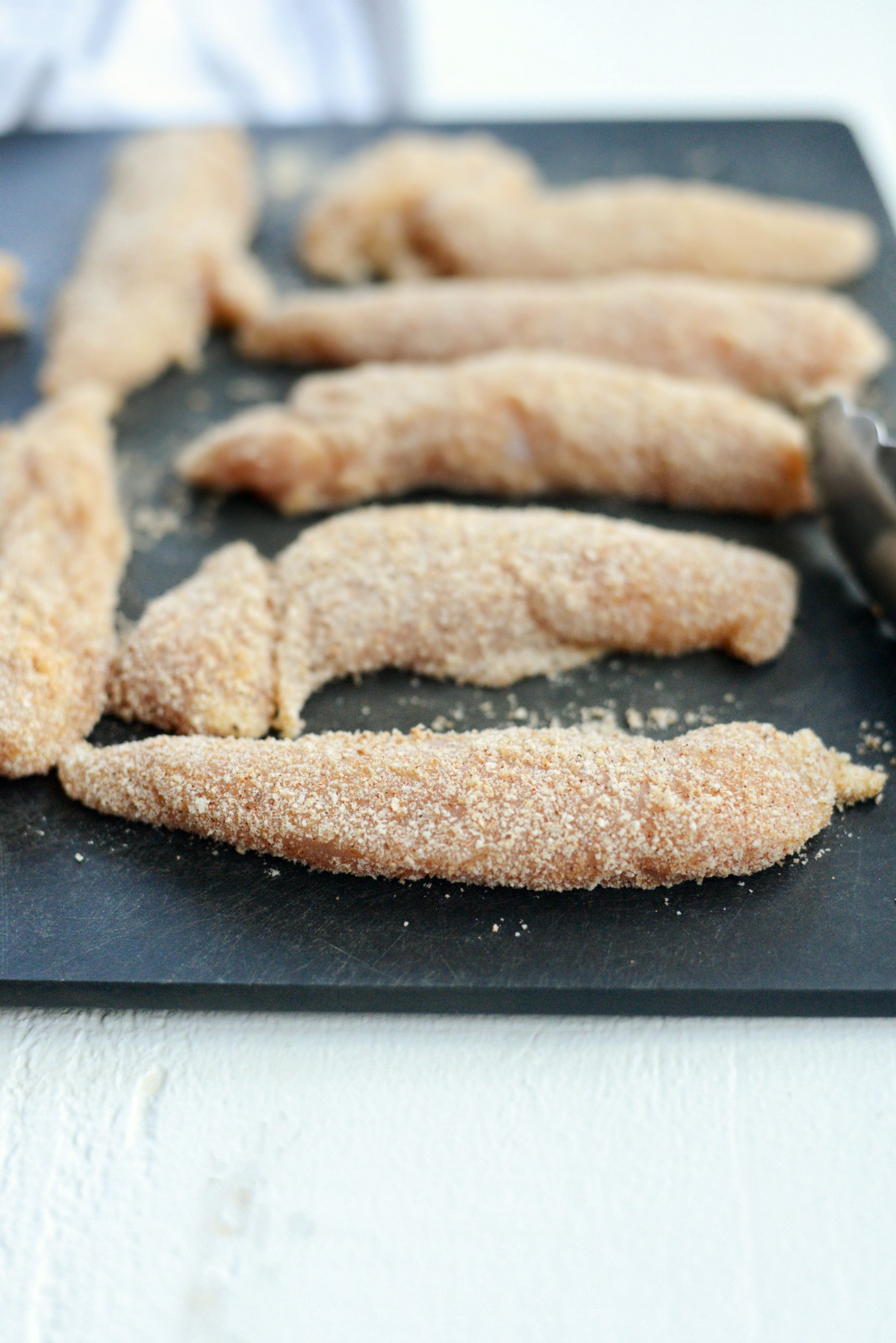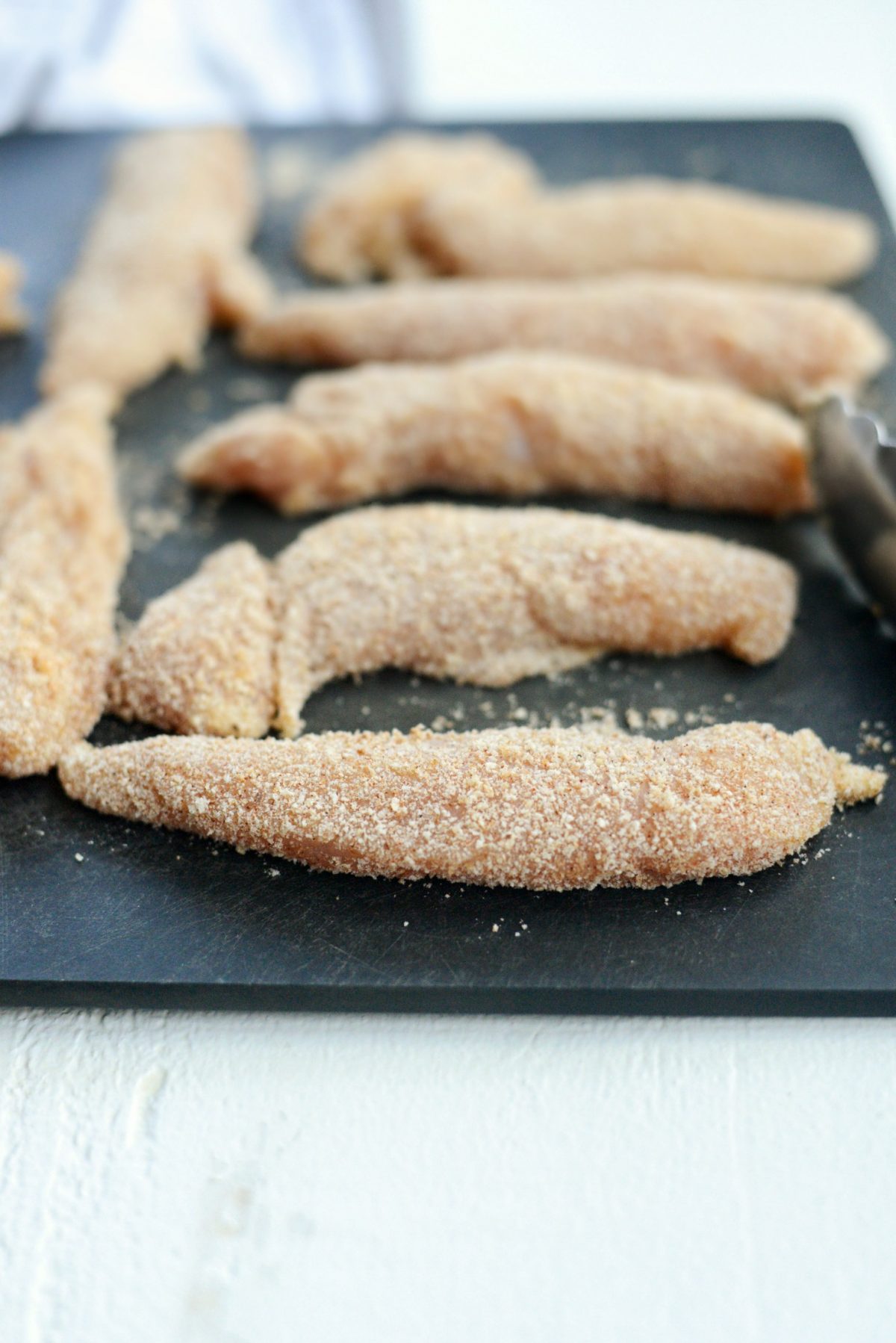 Next, work in batches, tossing the chicken tenders in the breadcrumbs and shaking off the excess before transferring to a clan platter or cutting board. The oil helps adhere the crumbs to the chicken tenders and aids in crisping too. Win-win.
Lightly spray the tenders once plus the wire rack of your air fryer with olive oil spray before preheating to 390°.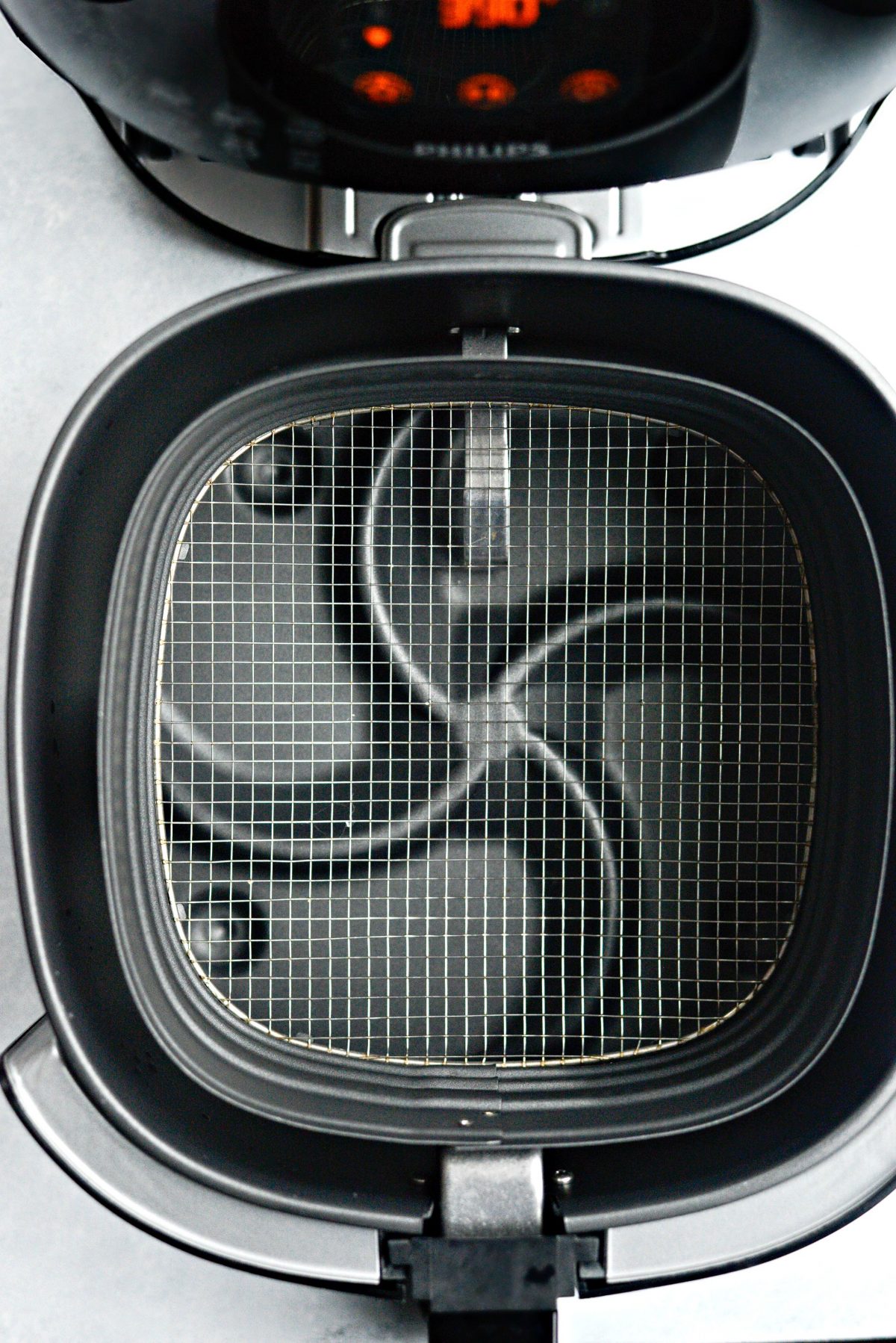 What Is Air Frying?
An air fryer is a counter top appliance that requires less oil (anything from a few spritz to 1 tablespoon) yet produces crispy food that rivals most deep fried foods. By using circulating hot air, it moves at a high speed so the food tends to cook in a fraction of the time.
There are a bunch of different makes and models of air fryers. My husband did the research (as he's known to do) and found this air fryer [affiliate] to be one of the best. But do your research and purchase one that fits your lifestyle.
How is Air Frying Healthier?
Air frying is healthier because only a thin layer of oil coats the food and when the hot air comes in contact it will crisp. Saving you a ton of fat and calories (without sacrificing any flavor!) because food is not being submerged in a vat of hot oil.
Keep in mind, not all air fryers are equal. Some preheat and some do not. Some are smaller than others therefore you may need to work in smaller batches to air fry.
For more Air Fryer recipes, click here for my growing collection.
Then once preheated, place 3 to 4 chicken tenders into the basket at a time. Giving them space so they don't touch and end up sticking to each other. Cook for 3 minutes, use tongs to turn the chicken tenders and cook for 3 minutes more.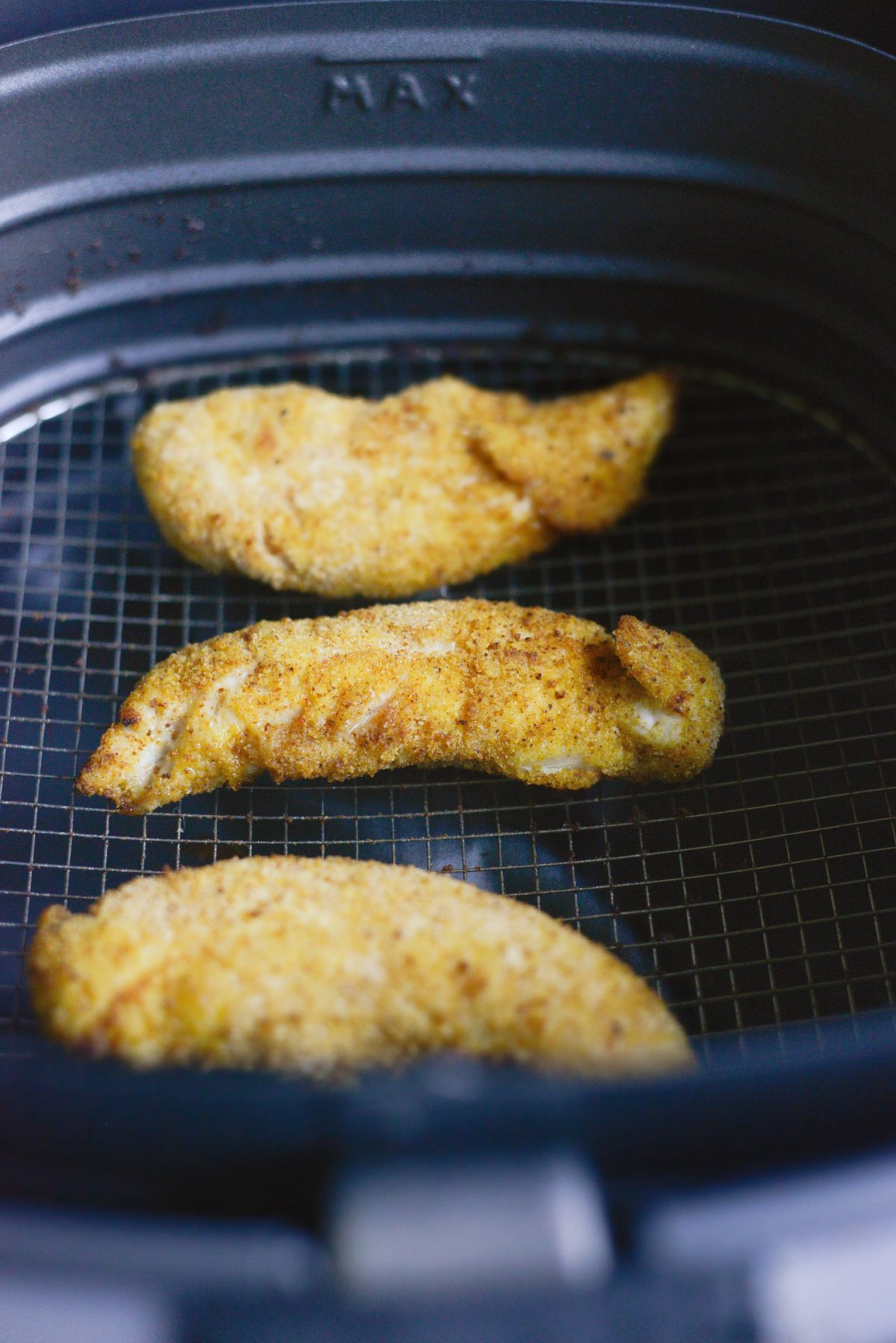 Once golden and crispy, transfer the crispy chicken tenders to a wire rack and repeat with the remaining tenders.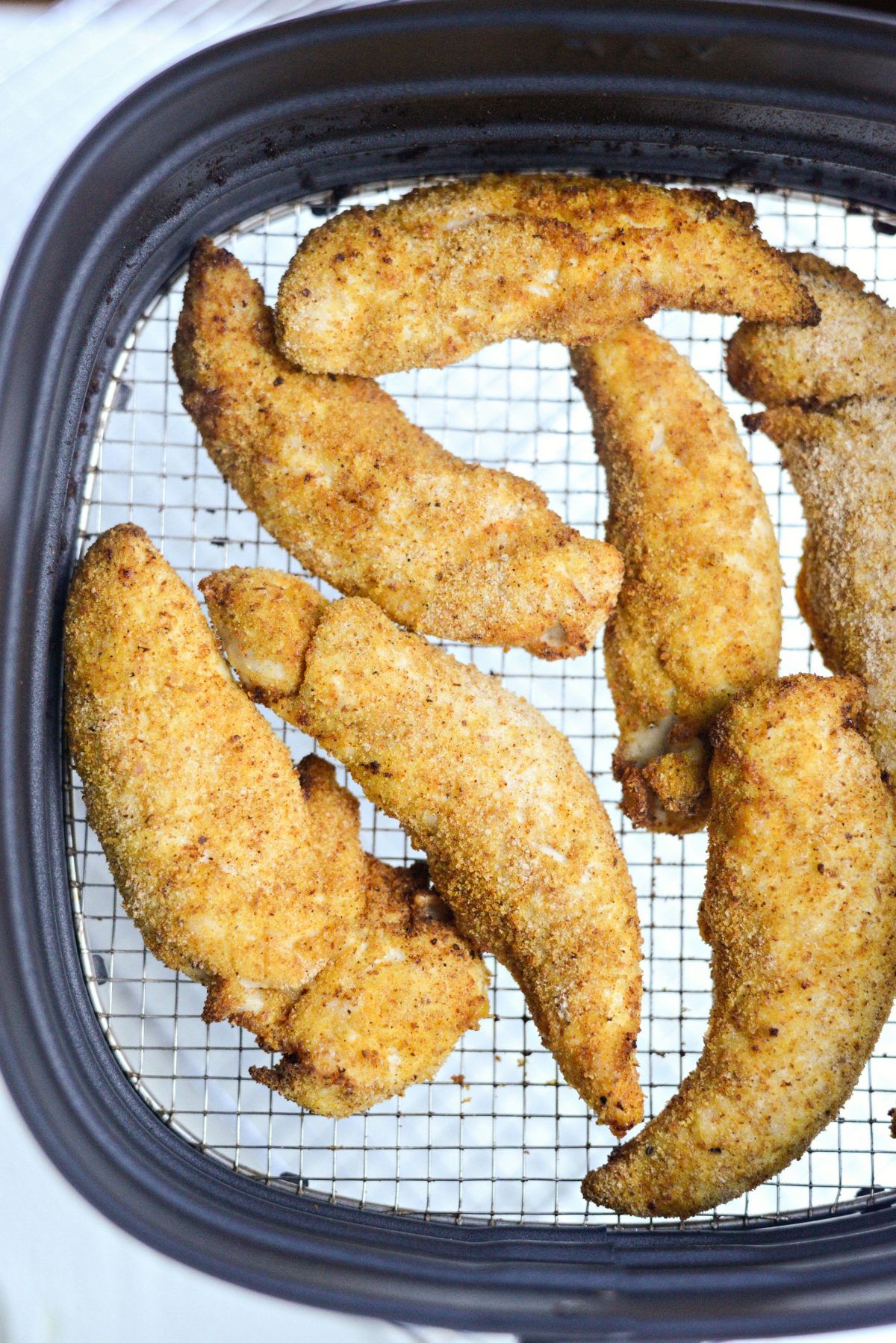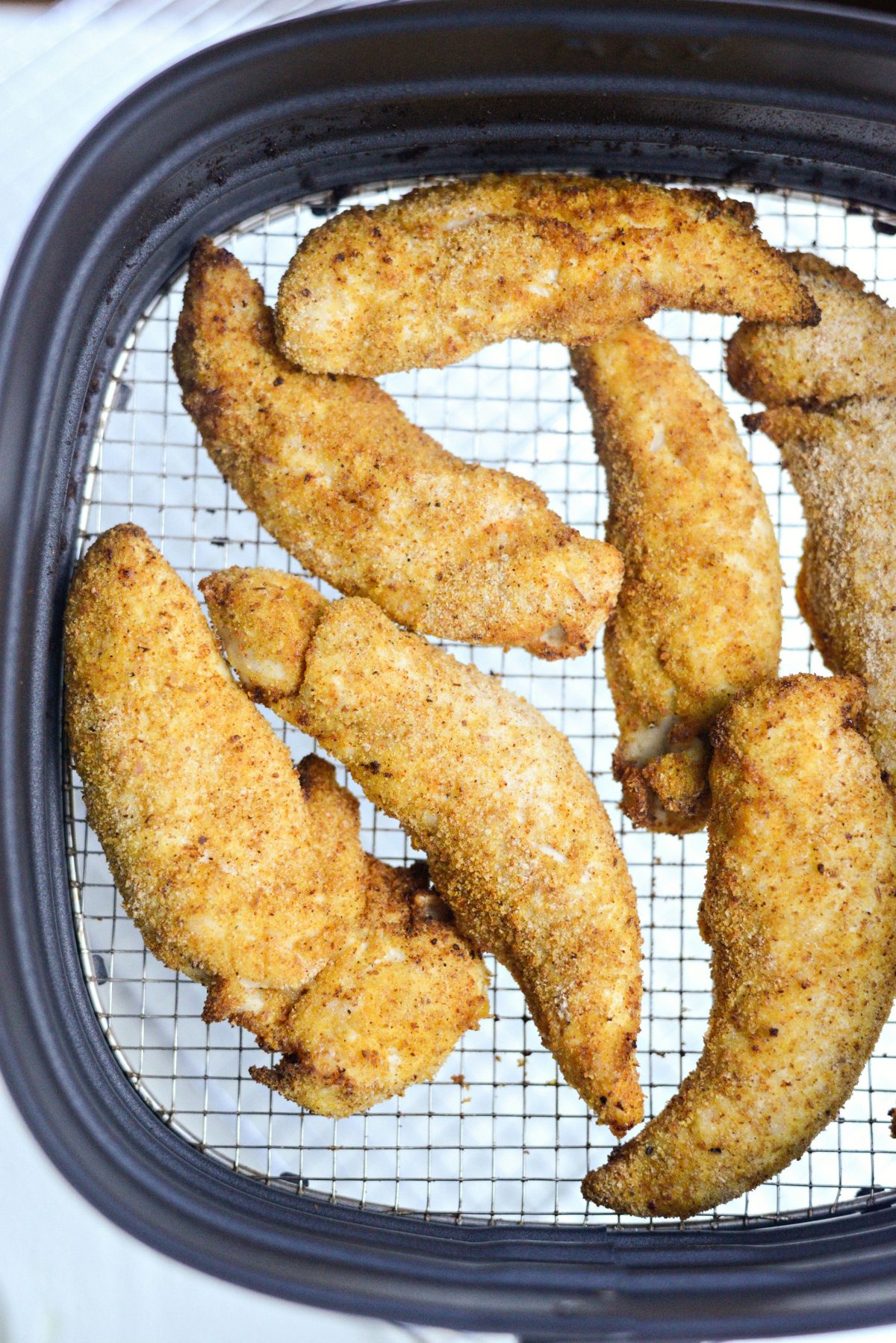 Finally, once all of the crispy air fryer chicken tenders are cooked, I like to add them back into the basket and air fry for 1 to 2 more minutes to reheat if necessary.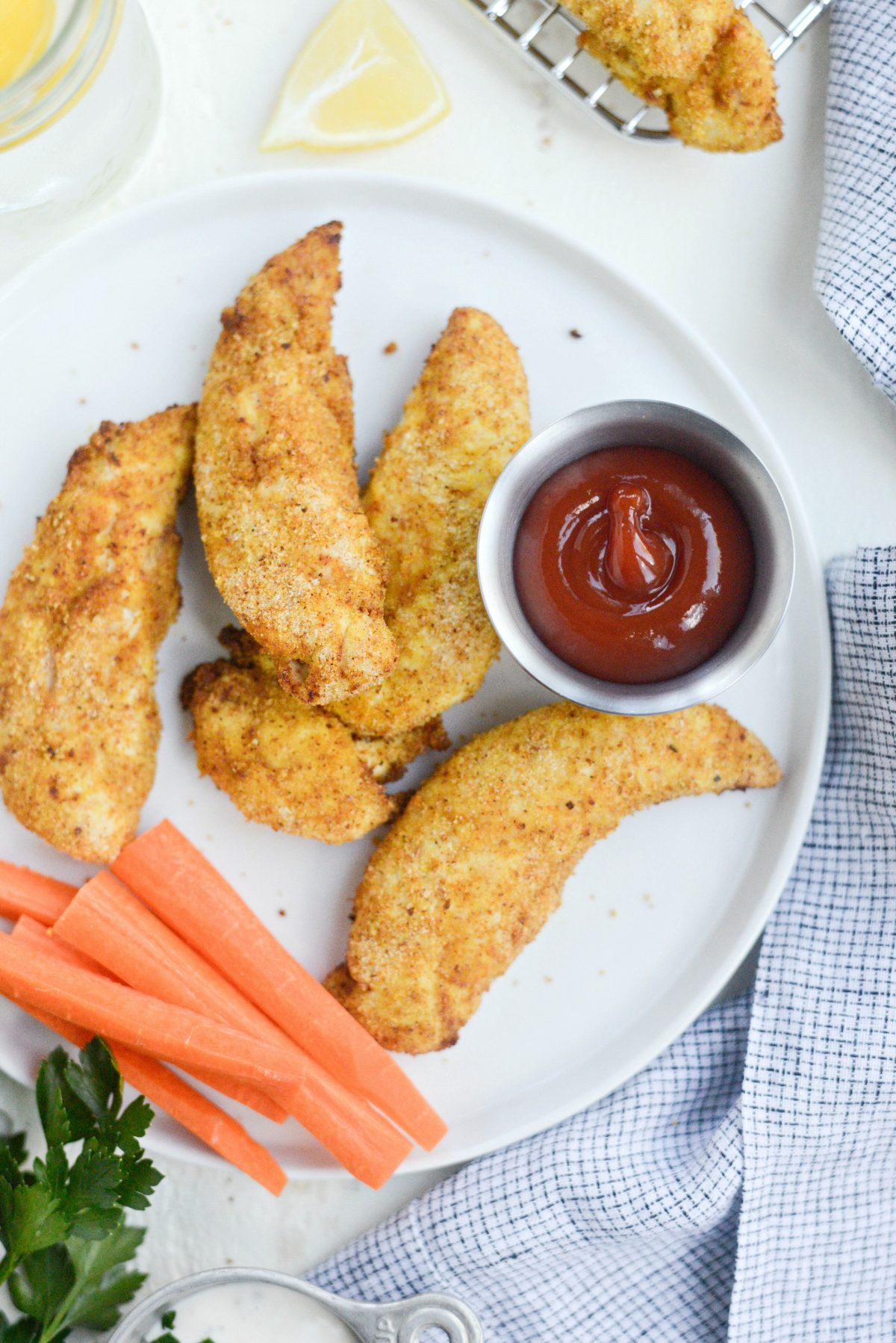 You would think by looking at these that they were store bought. Nope! However these are legit, homemade, crispy, golden brown chicken tenders! And they taste AMAZING!
Finally, let's talk about dipping sauces. Truth be told, I'm a ranch or blue cheese dipping sauce kind of girl. Unlike the rest of my family, ketchup really isn't my favorite (unless it's in a recipe or glazed over meatloaf). What's your favorite? Dipping options seem to be kind of endless.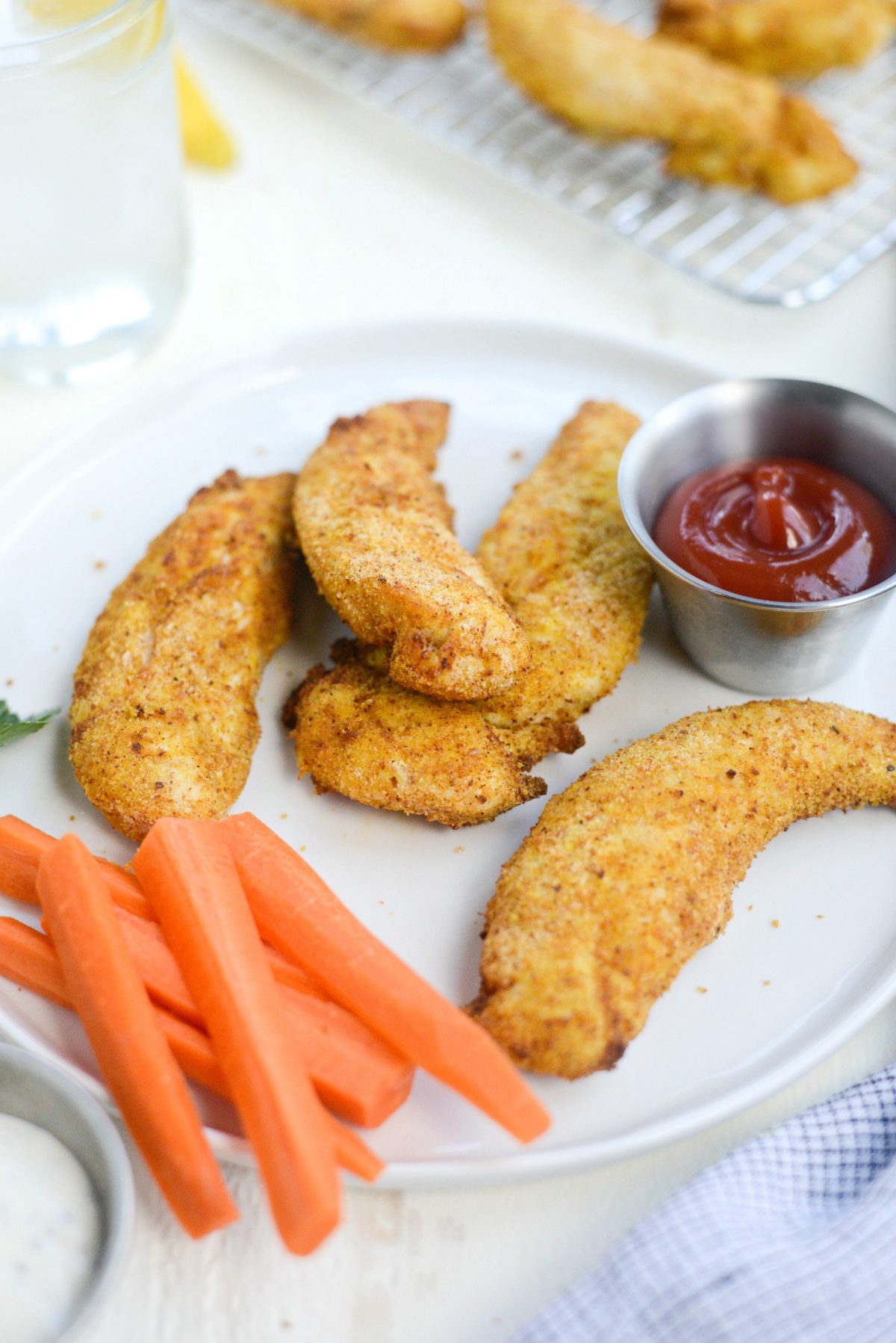 Enjoy! And if you give this Crispy Air Fryer Chicken Tenders recipe a try, let me know! Snap a photo and tag me on twitter or instagram!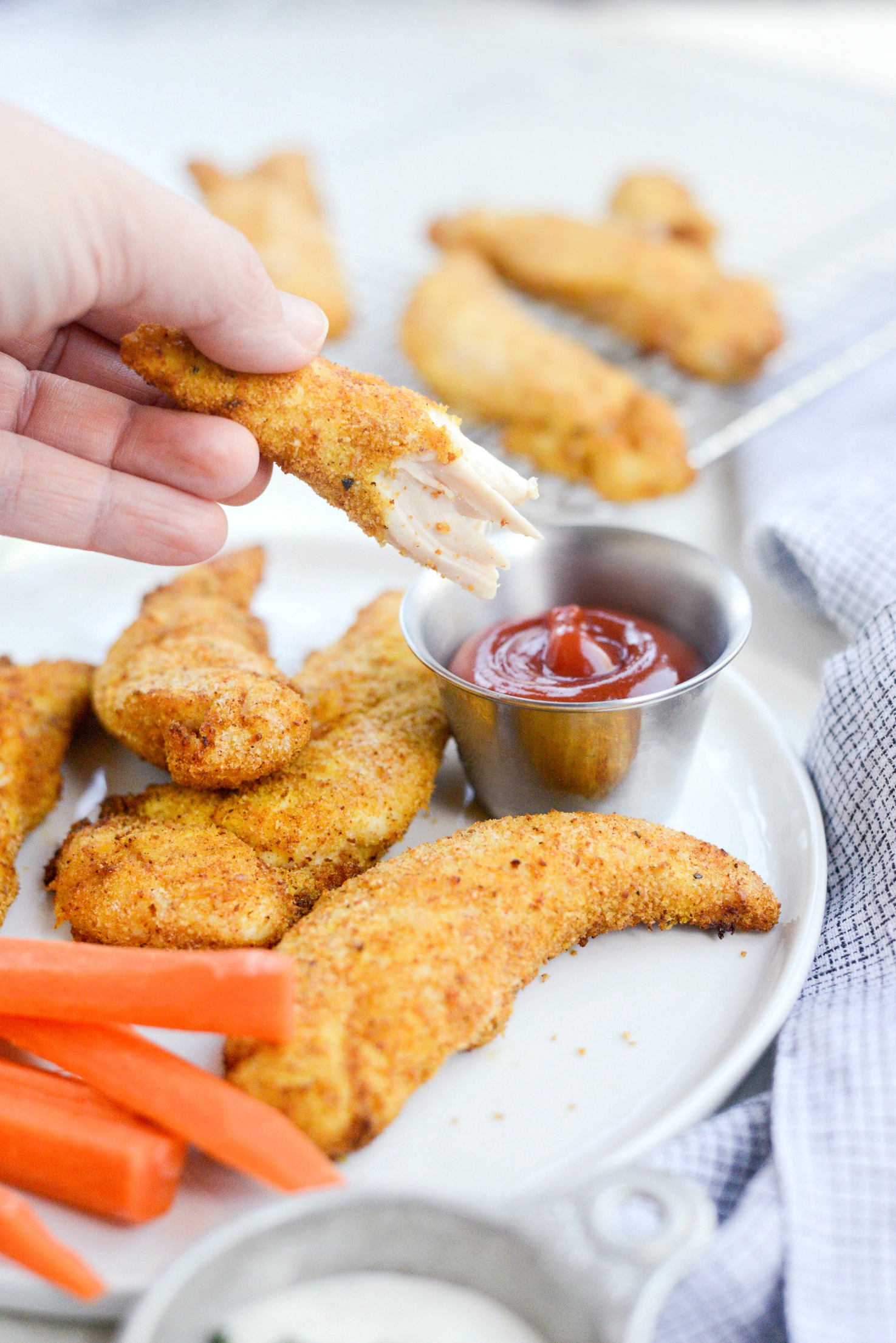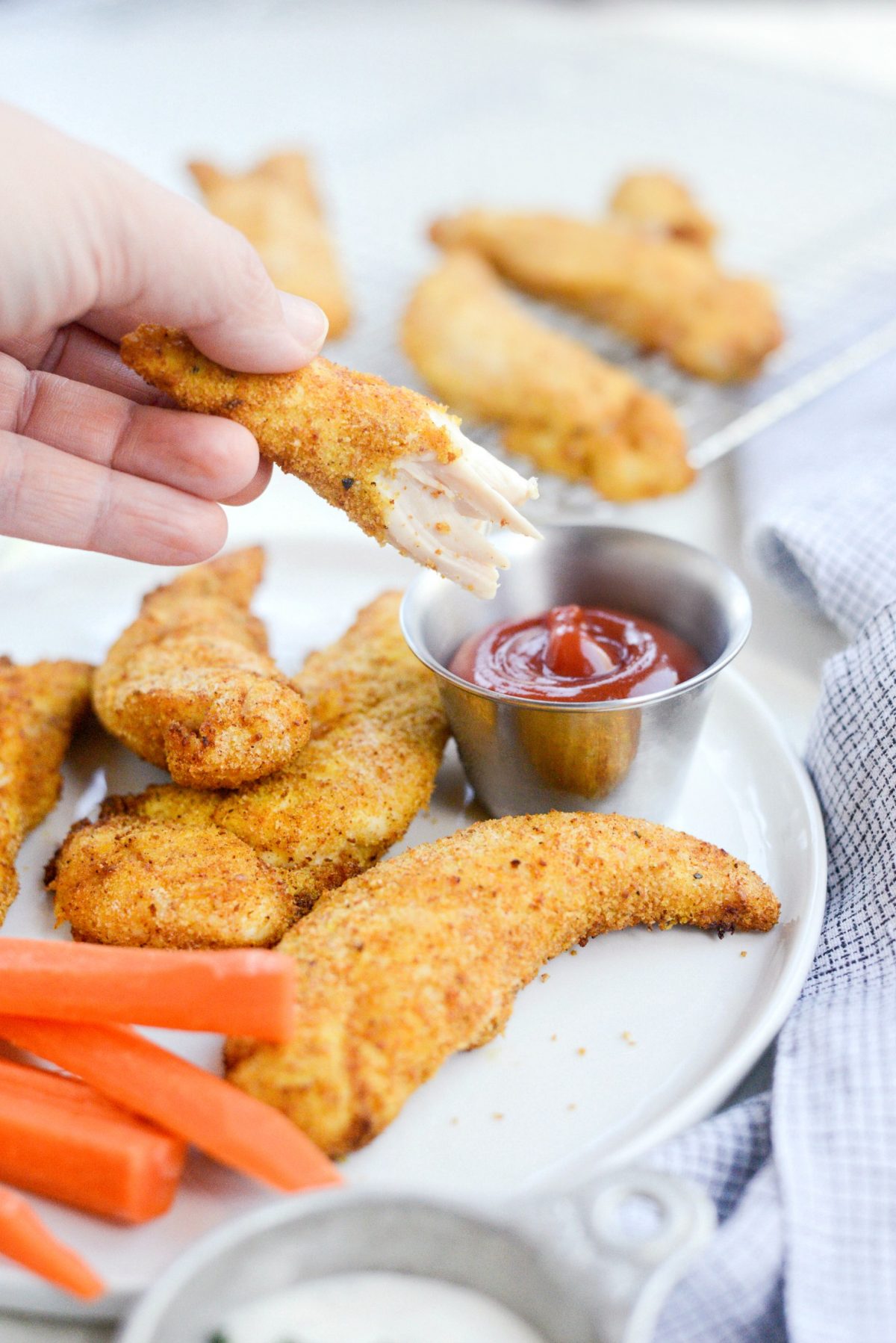 This post may contain affiliate links.
Buy the Cookbook: Simply Scratch : 120 Wholesome Homemade Recipes Made Easy Now available on Amazon »
THANK YOU in advance for your support!