Some things are simply better when made from scratch, like buttermilk ranch dressing for example. Made with real ingredients like homemade mayonnaise, sour cream and tangy low-fat buttermilk. Garlic, spices and fresh herbs give it the signature ranch flavor you know and love.
I'd like to properly introduce you to the most fabulous buttermilk ranch dressing, EVER. With a boatload of fresh herbs (which, in my opinion totally makes it) fresh garlic, homemade mayo and zippy buttermilk. I of course love ranch on salads, especially when topped with crumbled hardboiled egg, crisp bacon and pepitas! But there are other delicious ways to enjoy it other than on top of leafy greens. My girls dip their pizza in it, it's great with chicken tenders and in this potato salad. And if you reduce the buttermilk by a 1/4 cup, it makes a great veggie dip. So creamy. So delicious and so universally loved.
Unlike packet ranch dressing mixes, this does take a few more minutes than whisking a dry mix in with some sour cream and buttermilk. However what you taste, TASTES like restaurant-style ranch. But better. SO much better.
To make this ranch dressing you will need mayonnaise (I made homemade mayo, which you can find the recipe in my cookbook), sour cream, buttermilk, fresh garlic, chives, dill and parsley. Also, salt and pepper, dried oregano, marjoram, paprika and cayenne <— but only a pinch.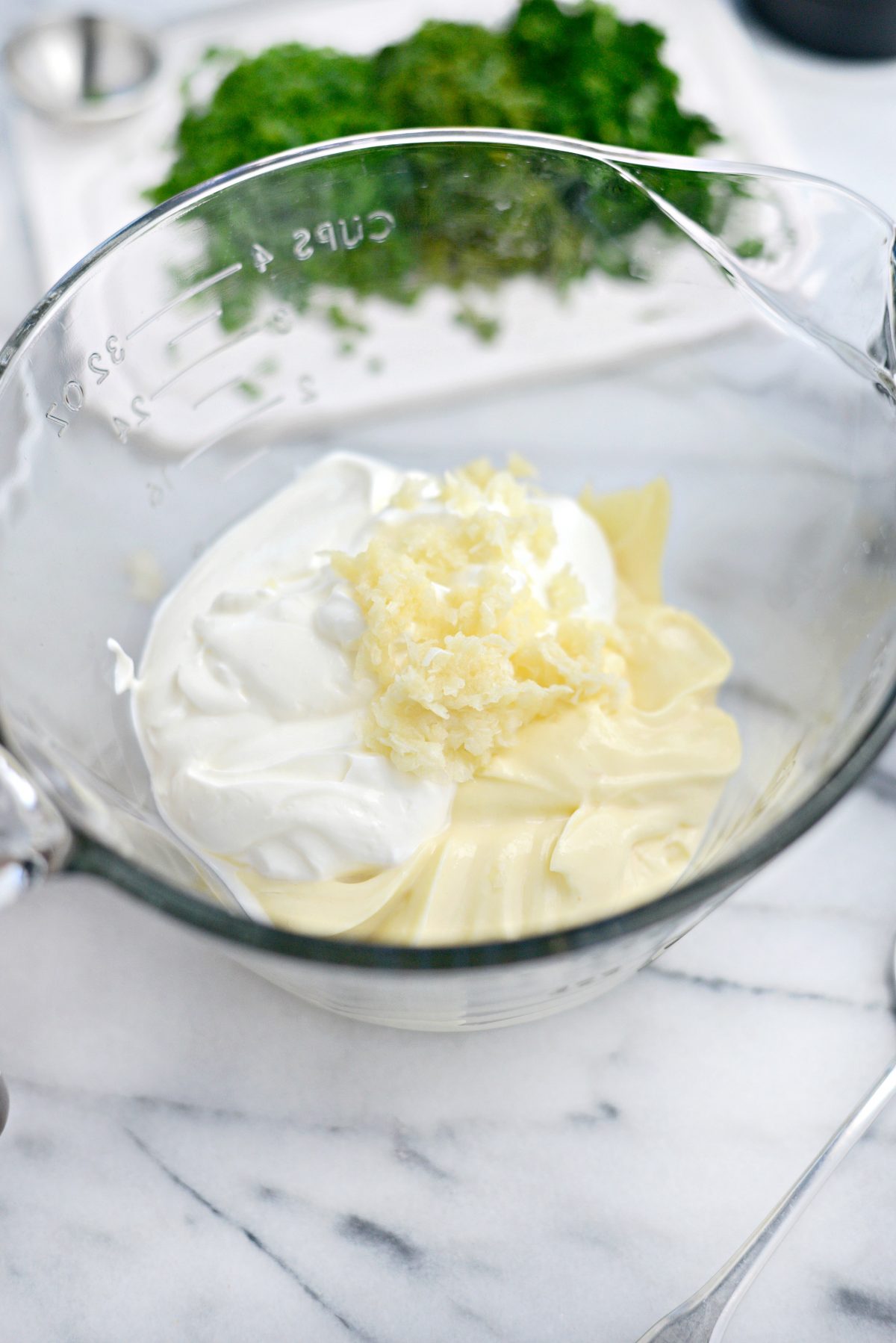 Start by adding 3/4 cup of mayonnaise, 1/2 cup sour cream and 1 to 2 cloves of garlic (2 if small) into a medium bowl.
Pour in a 1/2 cup of buttermilk (1/4 cup if looking for more of a dip consistency).
Then just stir until velvety smooth.
For the fresh herbs you'll need 2 tablespoons minced fresh parsley, 2 tablespoons minced dill and 2 tablespoons snipped fresh chives.
Next, measure in a 1 teaspoon of oregano and 1/4 teaspoon majoram into your palm and with your other palm, grind the dried herbs directly into the bowl. Then add in the 1/4 teaspoon paprika and a pinch of cayenne pepper and season with 3/4 teaspoon of kosher salt and 1/4 teaspoon freshly ground black pepper.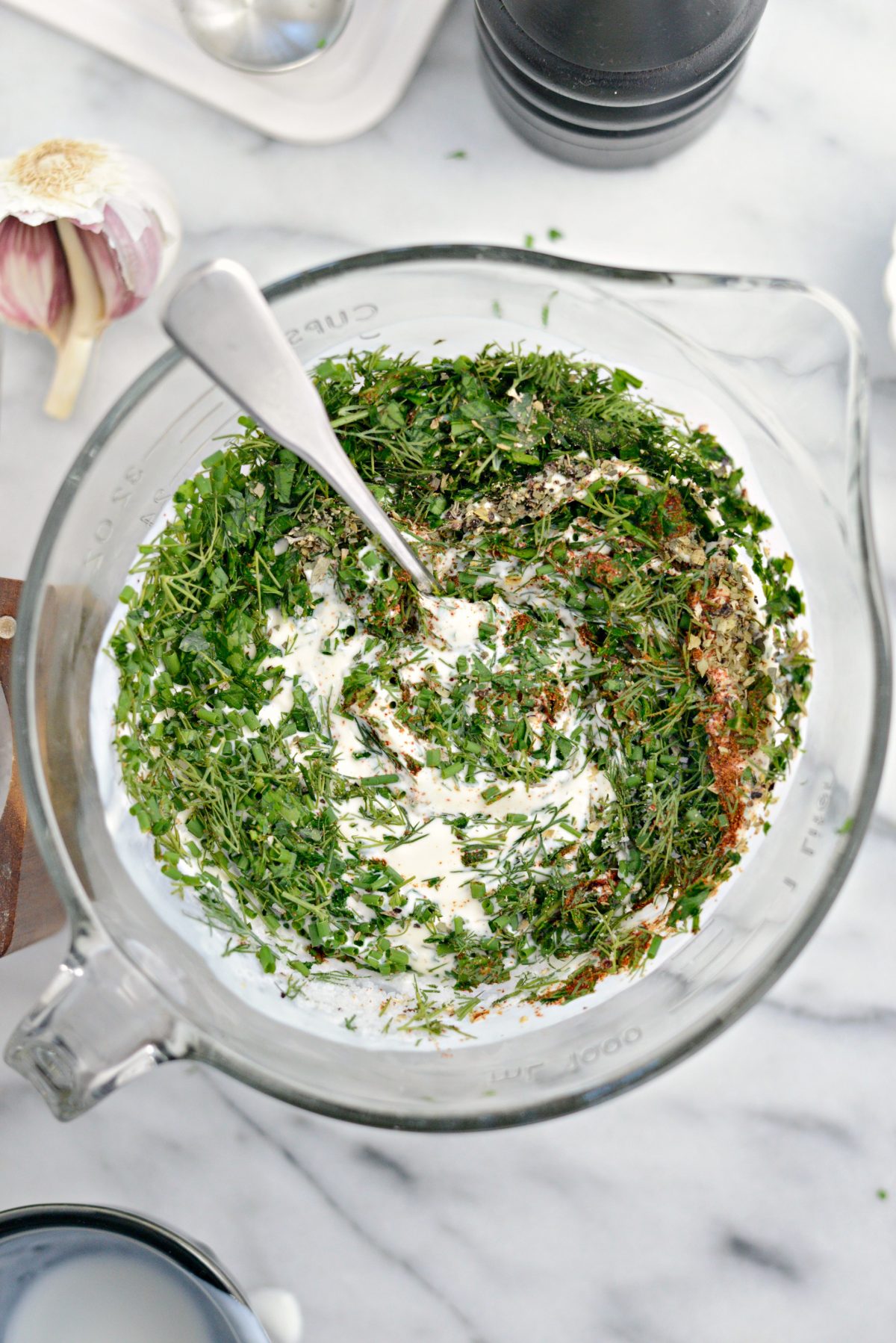 Mix until combined, then cover and refrigerate for 2 hours at the least. However overnight is best.
Giving the buttermilk ranch dressing time in the fridge will allow the herbs to soften, release flavor and really make the dressing ranch-like. Trust me, it's worth the wait.
Enjoy! And if you give this Buttermilk Ranch Dressing recipe a try, let me know by snapping a photo and tagging me on twitter or Instagram!
My cookbook Simply Scratch : 120 Wholesome Homemade Recipes Made Easy is now available! CLICK HERE for details and THANK YOU in advance! 
Yield: about 2 cups
Buttermilk Ranch Dressing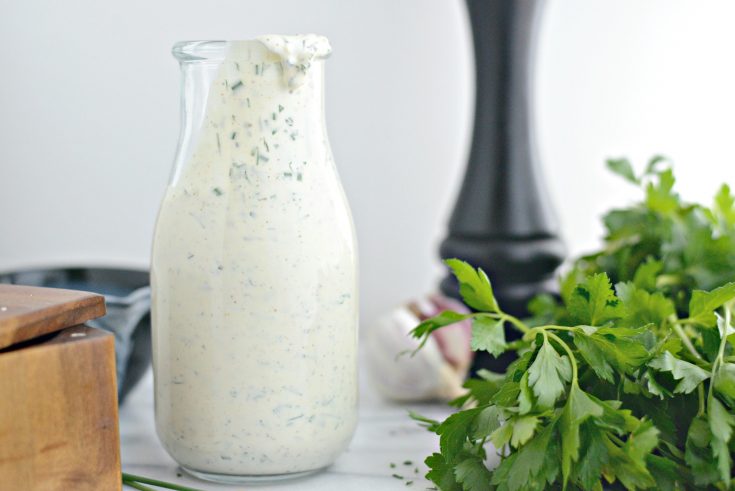 My family's favorite homemade buttermilk ranch dressing!
Ingredients
3/4 cup mayonnaise
1/2 cup sour cream
1/2 cup low-fat buttermilk
1 to 2 cloves of garlic, grated
2 tablespoons fresh chives, snipped
2 tablespoons fresh dill, minced
2 tablespoons fresh parsley, minced
1 teaspoon dried oregano, ground in palm
1/4 teaspoon dried marjoram, ground in palm
1/4 teaspoon paprika
1 pinch cayenne pepper
3/4 teaspoon kosher salt
1/4 teaspoon freshly ground black pepper, or to taste
Instructions
In a medium bowl, combine the mayonnaise, sour cream, garlic and buttermilk until smooth. Add in the fresh herbs, spices, salt and pepper. Stir, cover and refrigerate for 2 hours at the least, but overnight is best.
Recommended Products
As an Amazon Associate and member of other affiliate programs, I earn from qualifying purchases.
[this post contains affiliate links.]