The Pioneer Woman's website has a lot of amazing recipes.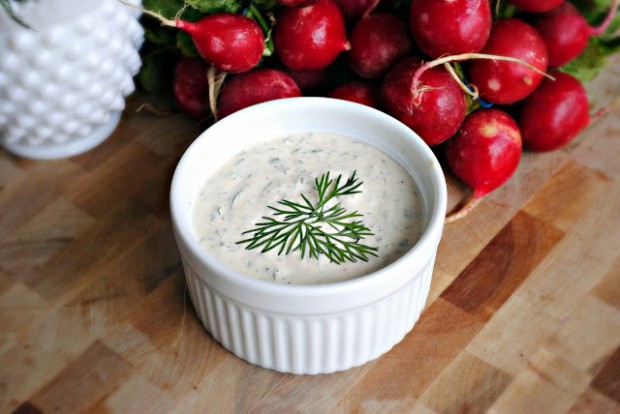 One in particular is her homemade ranch dressing. In her recipe she gives you a lot of different optional ingredients to use. Here is what I have found that makes the most incredible ranch dressing!

Here is what you will need!

Smash, peel and mince your garlic.

Sprinkle with a heavy pinch of kosher salt.

Then mash with a fork…

…Keep going until it makes a paste.

Next just add it to a small mixing bowl.

Grab a handful the the dill fronds.

Give them a good chop.

Separate the parsley leaves from the stems.

And those chop fine as well.

Add to the garlic and dill.

Measure out a teaspoon of oregano into the palm of your hand. I like to grind it with my palm of my other hand to make it finer… then just toss it in the bowl with the herbs and garlic.

Next measure the paprika and cayenne pepper.

Add those spices along with some chive. Today I'm using freeze dried chives, but if you can find fresh chives… use them!

Next add the sour cream and mayo.

Mix until combined.

Finally pour in the buttermilk and stir.  If you want it thinner just add more buttermilk!

Give it a final taste, and season with salt and pepper.
Store in an airtight container and let it chill in th fridge! I highly recommend letting this refrigerate overnight, but a good 6 hours should be fine too!
My cookbook Simply Scratch : 120 Wholesome Homemade Recipes Made Easy is now available! CLICK HERE for details and THANK YOU in advance!

Buttermilk Ranch Dressing
My family's favorite homemade ranch dressing!
Yield: 1 1/2 cups
Prep Time: 15 minutes
Cook Time: 0 minutes
Total Time: about 15 minutes plus refrigeration time
Ingredients:
1 clove of garlic, chopped
2 tablespoons fresh parsley, chopped
1 tablespoon fresh dill, chopped
2 tablespoons fresh or freeze-dried chives, chopped if fresh
1 teaspoon oregano, ground in palm
1/2 teaspoon paprika
1 pinch cayenne pepper
1 cup mayonnaise
1/2 cup sour cream
1/2 cup buttermilk, shake
kosher salt and black pepper, to taste
Directions:
Sprinkle chopped garlic clove with kosher salt and mash into a paste with a fork.
Combine all ingredients and thin out with 1/2 cup buttermilk.
Season your ranch with salt and pepper to taste.
Store in an airtight container and refrigerate over night for the best results!