In this bananas foster oatmeal, bananas are cooked in butter and brown sugar until caramelized and then are spooned over top creamy oatmeal.
I banana fostered our oatmeal.
Well sort of. This IS breakfast and I was serving this to my underage daughters… so there is no rum. HOWEVER rum would be extremely and devilishly yummy. So don't fear, there's no need to ignite a pan-full of caramelizing bananas– which means you get to keep your eyebrows for yet another day. Hallelujah!
Oatmeal smothered in caramelized brown sugar bananas isn't something I'd normally have nor serve my girls for breakfast on a school day. But it was Friday, the first day of spring break for my kids. So while they were sawing logs fast asleep at 10am, I thought I'd surprise them with Bananas Foster Oatmeal.
It wasn't that long ago I told you about my many bags of oatmeal I've hoarded. Well I'm happy to announce I only have three instead of the 6 containers. Thank you.
Start by bringing two cups of milk to a boil. Milk is what I like to call… a silent boiler. When water boils, you can actually hear it. You only hear milk when it's boiling over onto your stovetop and that's a mess nobody likes to clean up, so keep an eagle eye on this.
Season with a quarter teaspoon of kosher salt… this is totally optional. But I've always added salt to my oatmeal… it's purely habitual.
Add in the oats…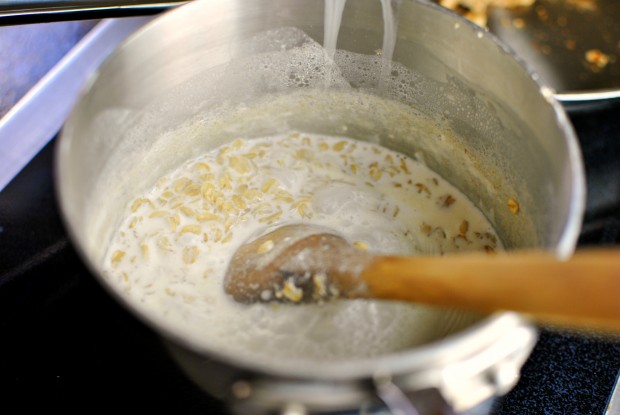 … and stir occasionally for about 10 minutes or until the oatmeal is to your liking. Once it's done, put a lid on it and remove it from the burner.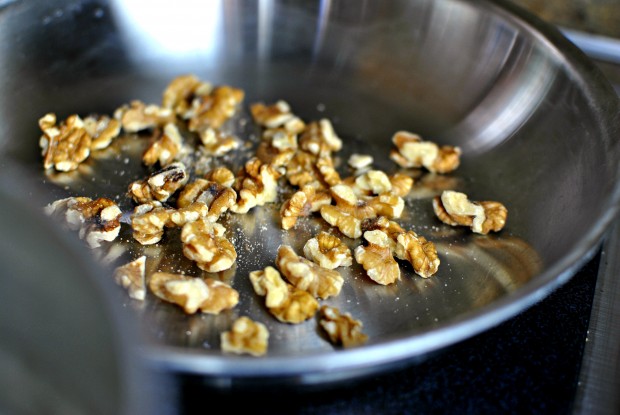 While the oats are cooking away, on the back burner I started to toast some walnuts. Toast just until they start to become fragrant… flip the nuts in the pan every so often to keep them from burning.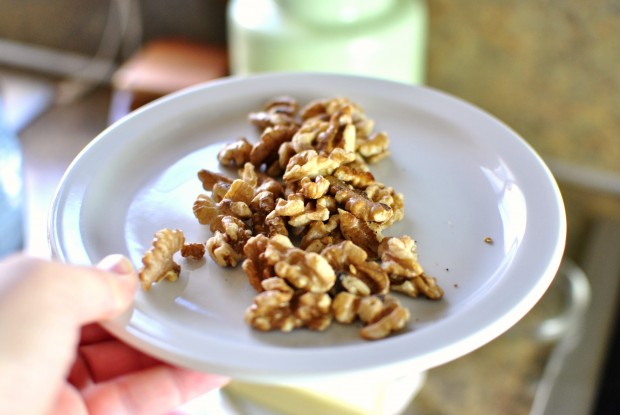 Once you start smelling the warm and toasty walnuts, remove them to a plate.
In the same pan the walnuts were just in, throw in two tablespoons of butter, two tablespoons of dark brown sugar and a pinch of kosher salt.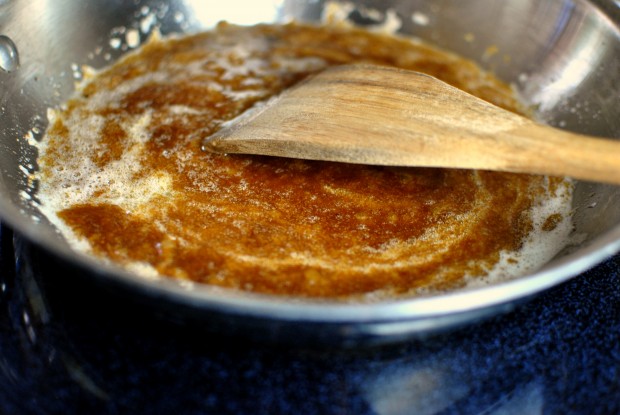 Stir until smooth and the sugar is dissolved.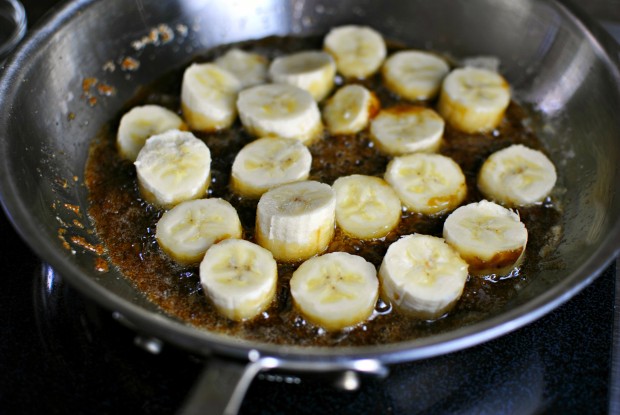 Once the sugar and butter mixture start bubbling… drop in the bananas and let them sit there for a couple minutes.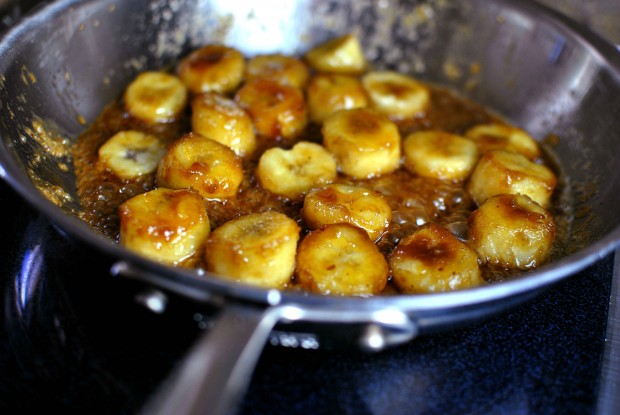 Bust out your mad skills and do that flippy-do thing with the pan. Or grab a fork and flip them individually.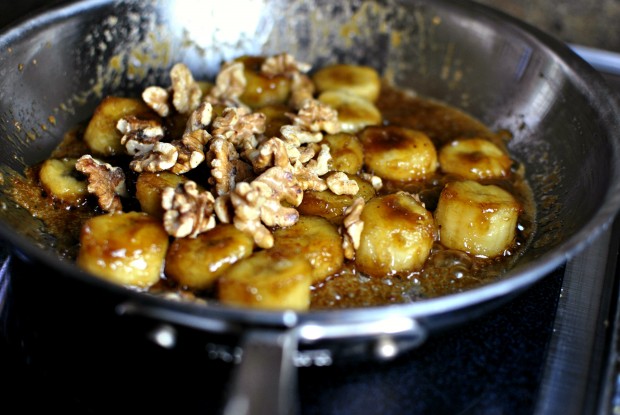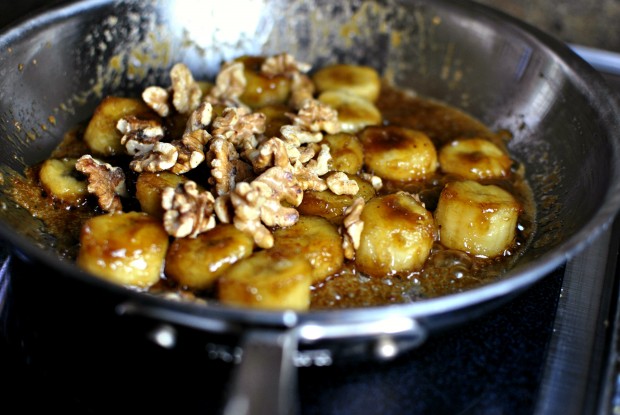 Once the bananas get good and coated with the luscious brown sugar and butter goodness, go ahead and drop in those toasted walnuts.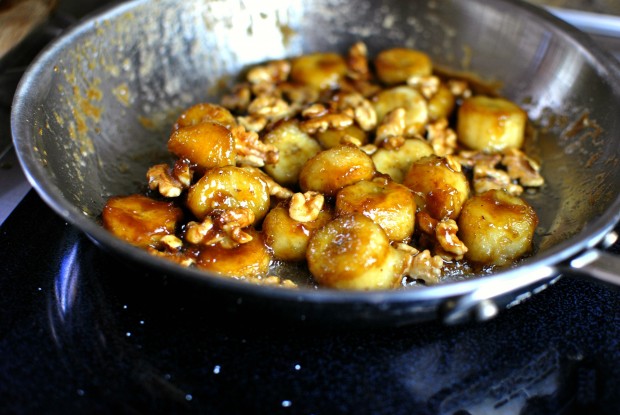 Do that sweet pan trick and get those coated too.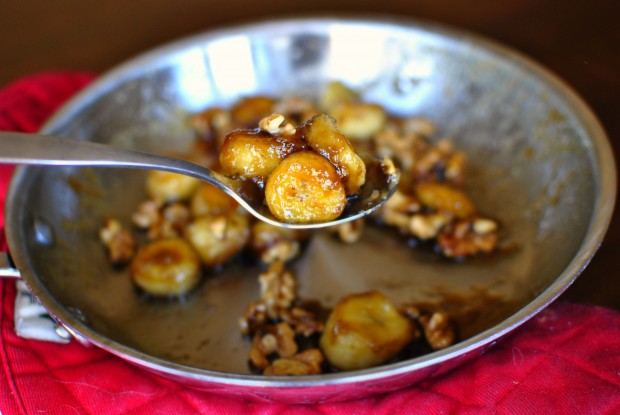 I could really eat this by the spoonful…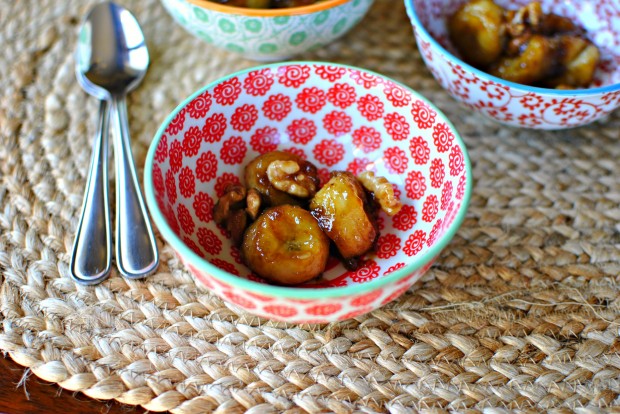 Drop a couple in the bottom of the bowl…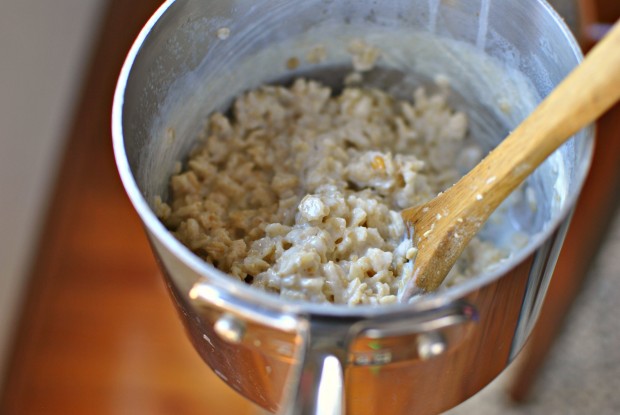 Divide the oatmeal among a few bowls…
And top your bowl of Bananas Foster Oatmeal with the remaining bananas.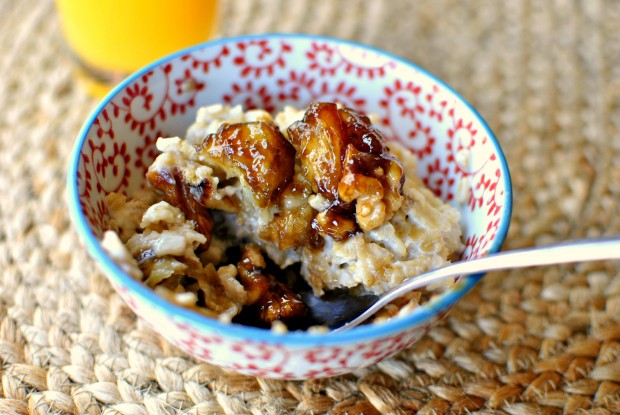 Now. Scarf. It. Down.
Enjoy! And if you give this Bananas Foster Oatmeal recipe a try, let me know! Snap a photo and tag me on twitter or instagram!
My cookbook Simply Scratch : 120 Wholesome Homemade Recipes Made Easy is now available! CLICK HERE for details and THANK YOU in advance!
Yield: 4 servings
Bananas Foster Oatmeal
Creamy oatmeal topped with caramelized bananas.
Ingredients
2 cups whole milk
1 cup rolled oats, I like Bob's Red Mill extra thick cut oats
1/4 teaspoon kosher salt
2 tablespoons unsalted butter
2 tablespoons dark brown sugar
1 pinch kosher salt
2 small bananas, slightly under ripe
Instructions
In a sauce pot bring the two cups of milk to a boil, watch carefully. Reduce the heat to medium and add in the quarter teaspoon of kosher salt and the oats. Stir occasionally for 10 to 15 minutes or until the oatmeal reaches the consistency you prefer. Cover with a lid and remove off of the burner and set aside.

Meanwhile in a 10 inch skillet toast a half cup of walnuts that have been broken by hand into smaller pieces. Toast for a few minutes, tossing them to keep them from burning. Remove the walnuts to a small plate once they are fragrant.

In the same pan over medium heat, melt two tablespoons of unsalted butter, two tablespoons of dark brown sugar and a pinch of kosher salt. Stir until the sugar has melted and starts to bubble. Add in the sliced bananas and let them sit in the bubbling brown sugar and butter for a minute or two. Flip and repeat until the sugar mixture has thickened. Add the walnuts back in and toss.

Add a few of the bananas among 4 small bowls, top with oatmeal and more of the bananas.
Serving: 1g, Calories: 269kcal, Carbohydrates: 37g, Protein: 7g, Fat: 11g, Saturated Fat: 6g, Polyunsaturated Fat: 1g, Monounsaturated Fat: 3g, Trans Fat: 1g, Cholesterol: 27mg, Sodium: 212mg, Potassium: 425mg, Fiber: 3g, Sugar: 18g, Vitamin A: 405IU, Vitamin C: 4mg, Calcium: 158mg, Iron: 1mg
[this post contains affiliate links.]
This post may contain affiliate links.
Buy the Cookbook: Simply Scratch : 120 Wholesome Homemade Recipes Made Easy Now available on Amazon »
THANK YOU in advance for your support!