For this avocado beet hummus toast, seedy slices of bread gets toasted and topped with beet hummus, avocado, sprouts, cilantro, smoked sea salt and crumbled goat cheese!
I've been obsessing over this avocado toast since last month.
It was apart of this fabulous breakfast spread when I was at a blogger retreat in Utah. Every single one of us oohed and aahed over this toast. Not only is this the colors smashing, but it's so dang delicious.
I went back for fifths.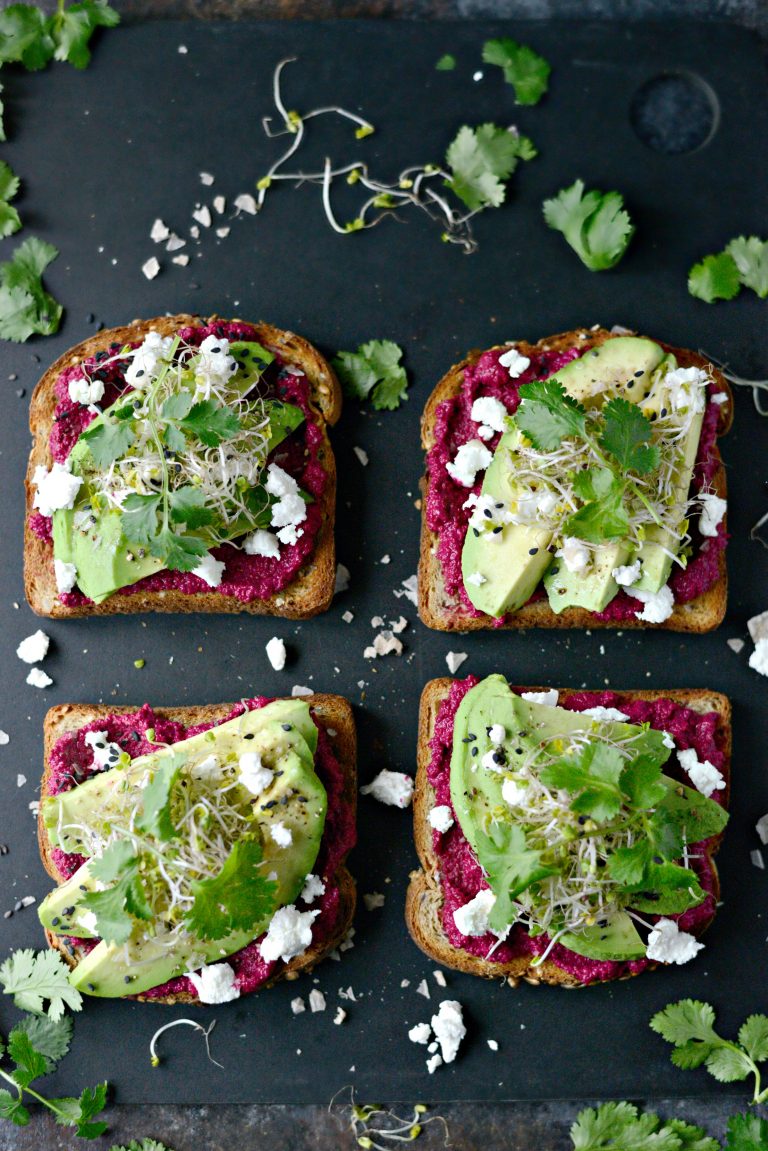 I could not even get over how well the goat cheese, avocado and beet hummus worked together. To tell you the truth, I really wasn't expecting to fall hard for this toast. But here I am weeks later, recreating it for you guys. It's just so incredibly delicious.
I really, really, really hope you try it!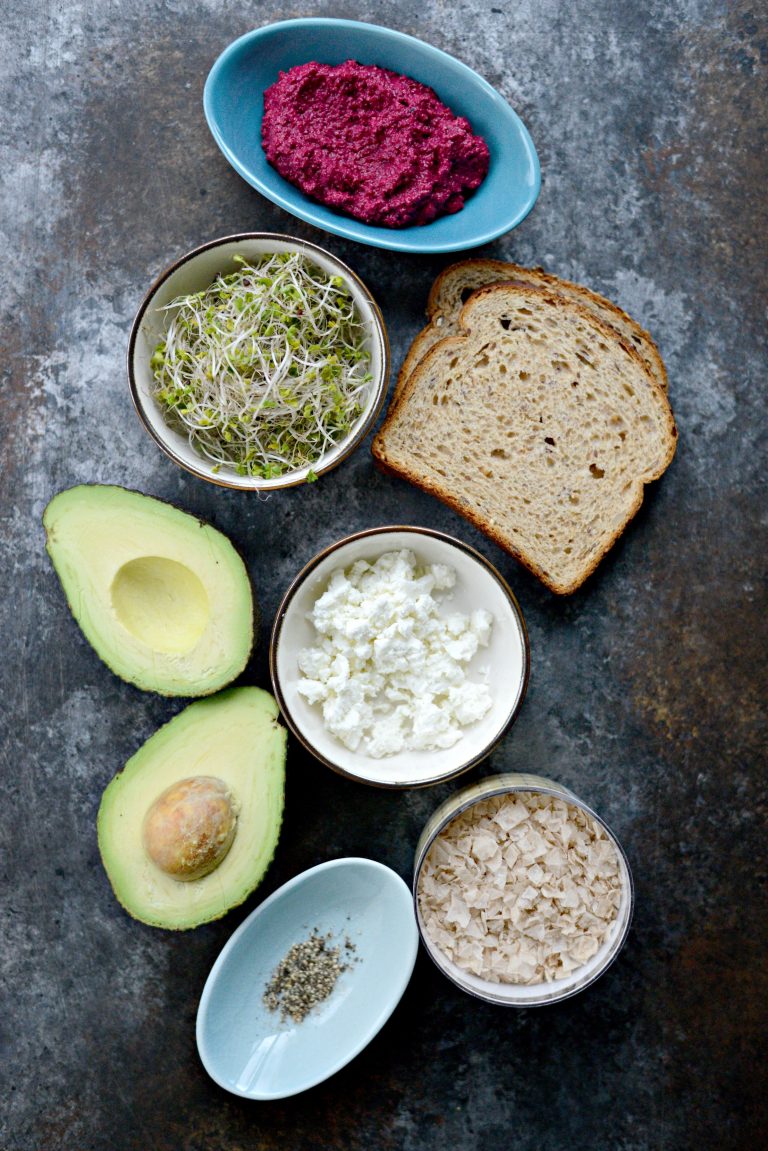 To make these wondrous toasts, you'll need to gather all your ingredients: seeding slices of bread, this beet hummus, avocado, sprouts, freshly crumbled goat cheese, (smoked) sea salt or any large flaked sea salt will work (this adds some crunch!), coarsely ground black pepper and (not pictured) cilantro leaves.
How To Get Ripe Avocados To LAST:
The trick to storing ripe avocados so they last is a no-brainer, it's easy and effective and has saved me SO much money. First buy hard to the touch, bright green avocados and allow them to ripen on the counter. Once they are black, soft to the touch (NOT squishy) pop them into the fridge. Because here is where they will last for quite a few days! You guys this has changed my life and I owe this trick to my sisters. No more wasted avocados!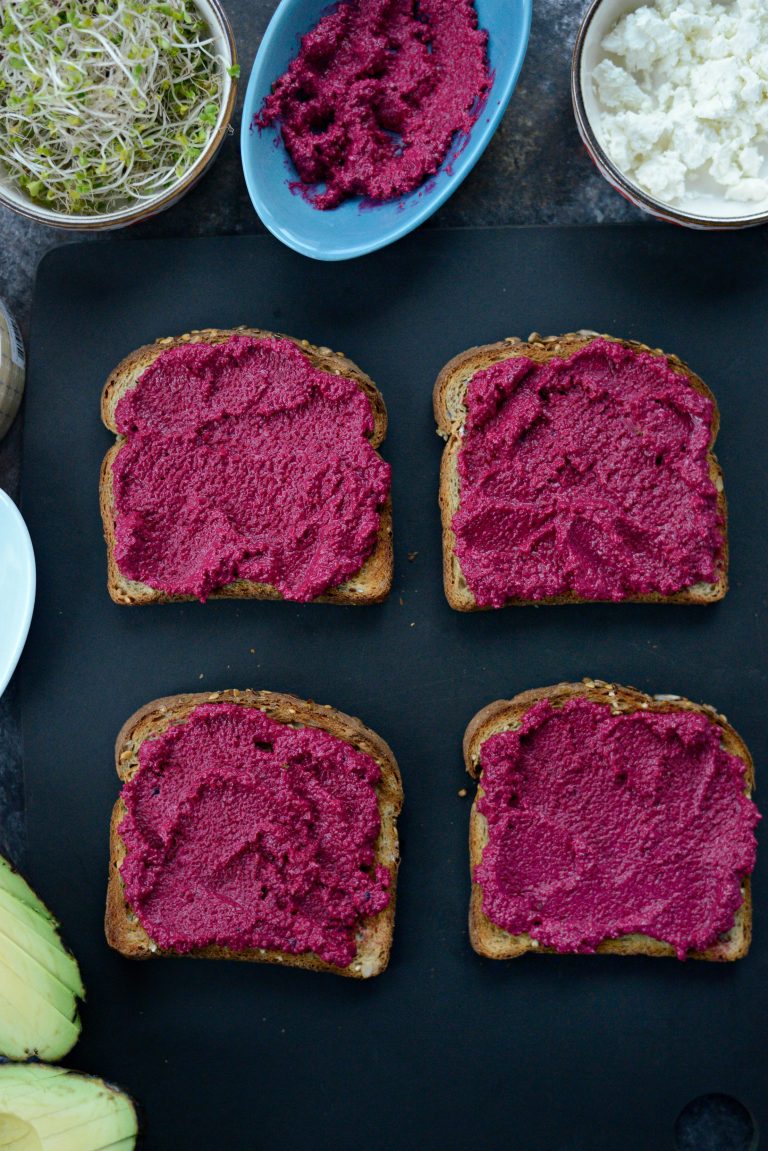 Start by toasting the bread slices in your toaster. Next, top with a couple tablespoons of the beet hummus spread it all over the toast.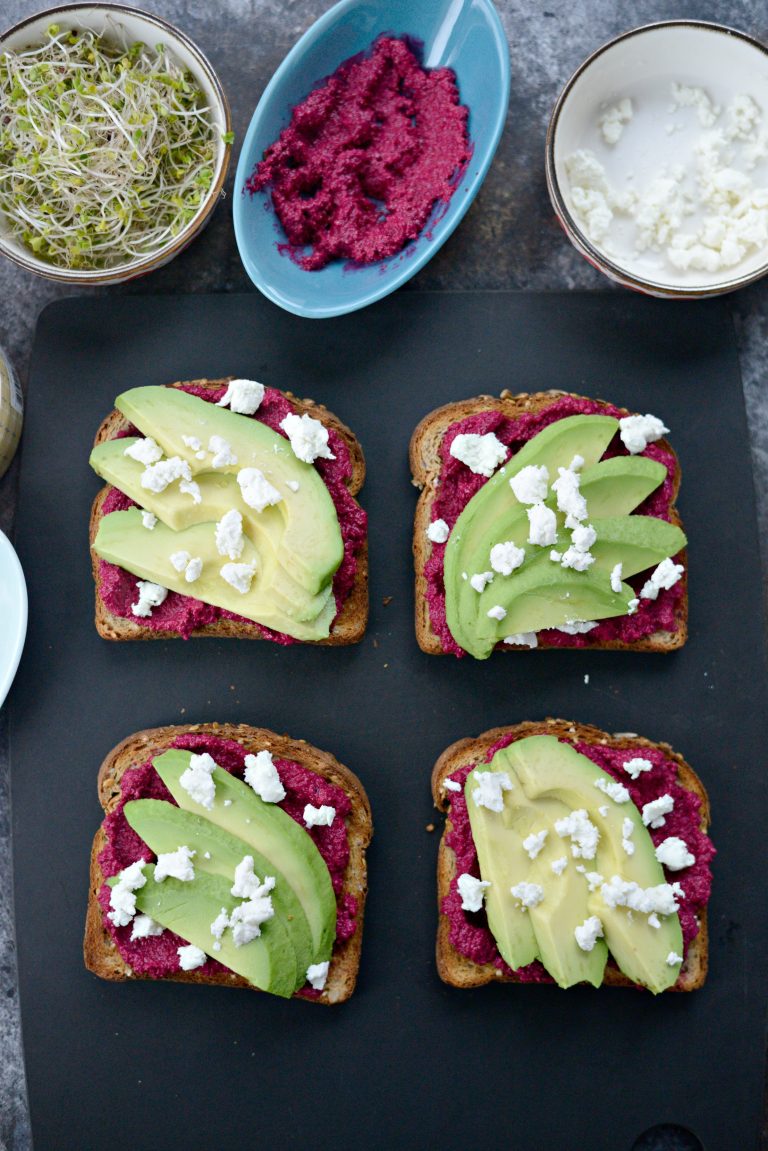 Next top with thin slices of fresh avocado and then crumble goat cheese over top. Aren't you glad I did the steps for you? 😉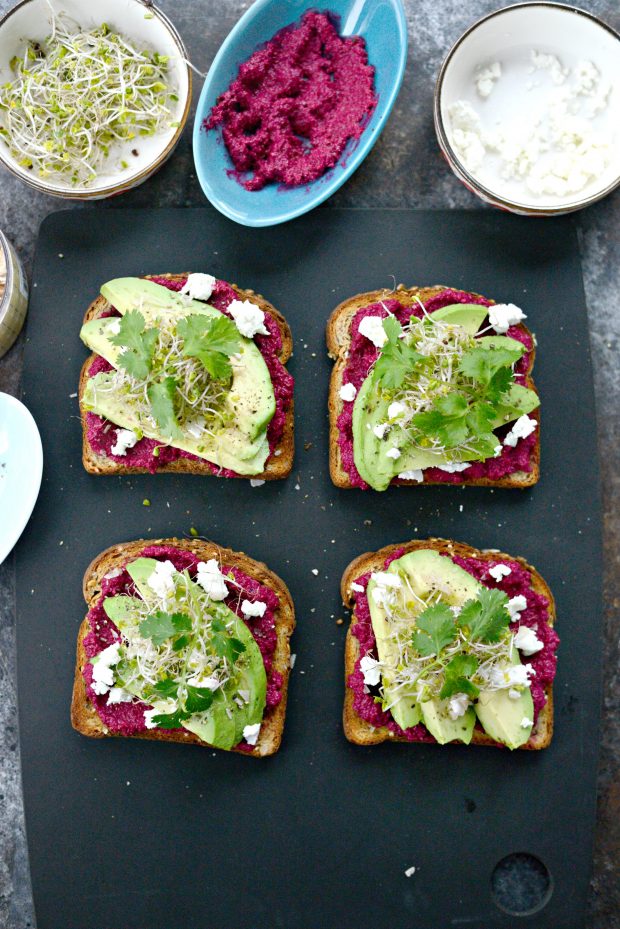 Then the finishing touches; sprouts, cilantro leaves, flaked salt and coarse ground black pepper.
If you can find micro greens, use them instead of sprouts!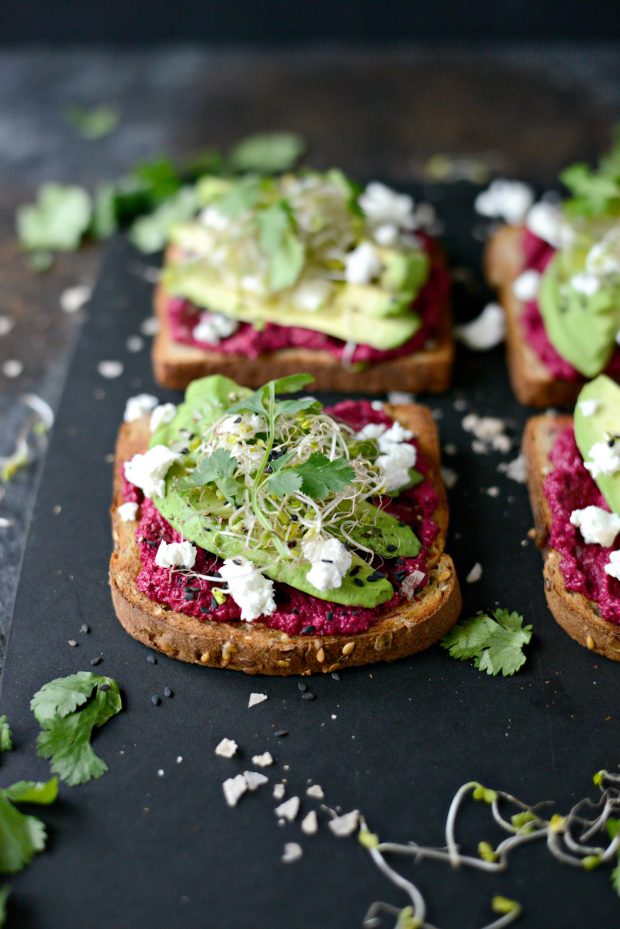 Is this not the prettiest?? And good for you too! Whether for breakfast, brunch, mid-afternoon snack or app for a party. It won't disappoint.
The moral of the story? Avocado Beet Hummus toast is not just a pretty face.
Enjoy! And if you give this Avocado Beet Toast Hummus recipe a try, let me know! Snap a photo and tag me on twitter or instagram!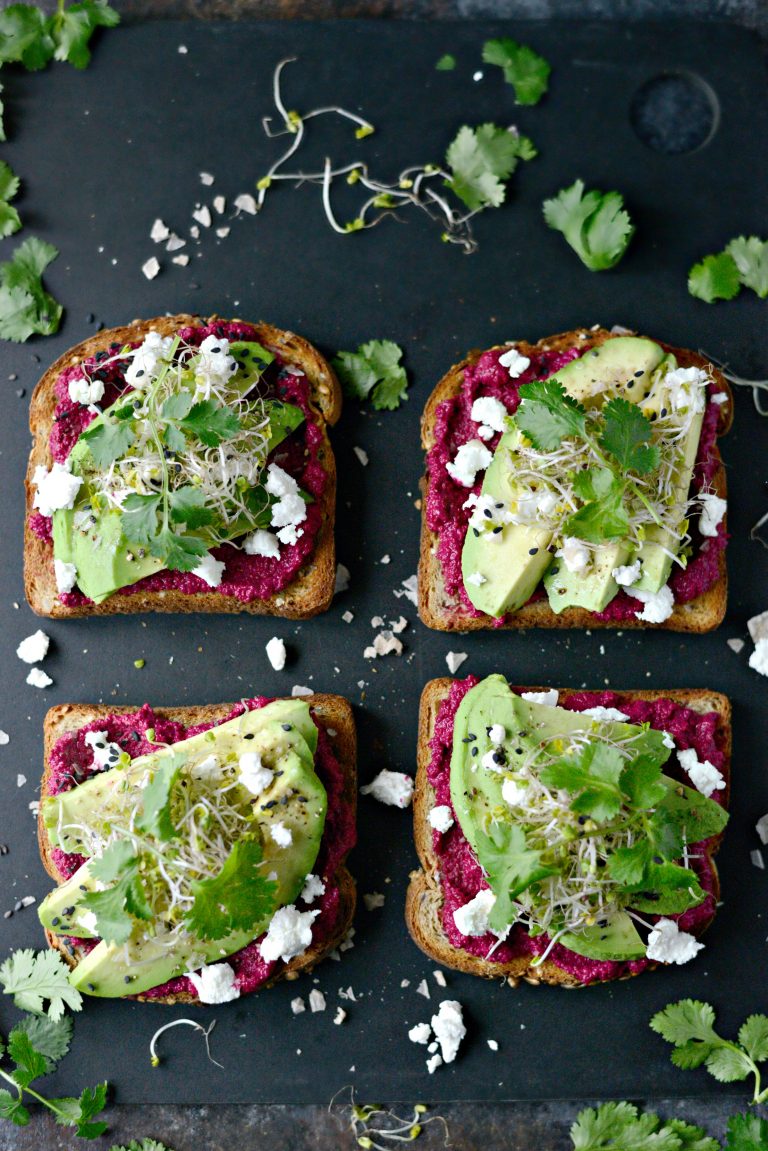 My cookbook Simply Scratch : 120 Wholesome Homemade Recipes Made Easy is now available! CLICK HERE for details and THANK YOU in advance!
[this post contains affiliate links.]
This post may contain affiliate links.
Buy the Cookbook: Simply Scratch : 120 Wholesome Homemade Recipes Made Easy Now available on Amazon »
THANK YOU in advance for your support!