Apricot glazed chicken is the perfect weeknight meal. Chicken thighs glaze in apricot preserves until sticky, sweet and delicious. Serve with rice and roasted broccoli for a simple and easy dinner.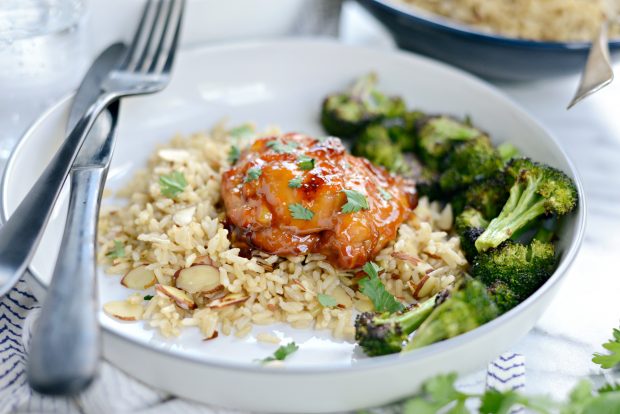 Super simple is the name of the game here.
If you're looking for a crazy easy recipe that all you have to do is season, mix, bubble and baste- then it's your lucky day! Because that's just about all the skill level needed to make this chicken dish. It's truly is just that easy. I made this earlier in the day on Friday so I just had reheat it after the girls softball practices. It reheats easily and tastes just as delicious!
My whole family gives this rave reviews. How could this delectably sticky, sweet and fall-apart-tender chicken be anything but delicious? The smell while baking in the oven reminds me of take-out sweet and sour chicken. My oldest claims it to be her favorite and that I can make this for her any day of the week and she'd be a-okay with it.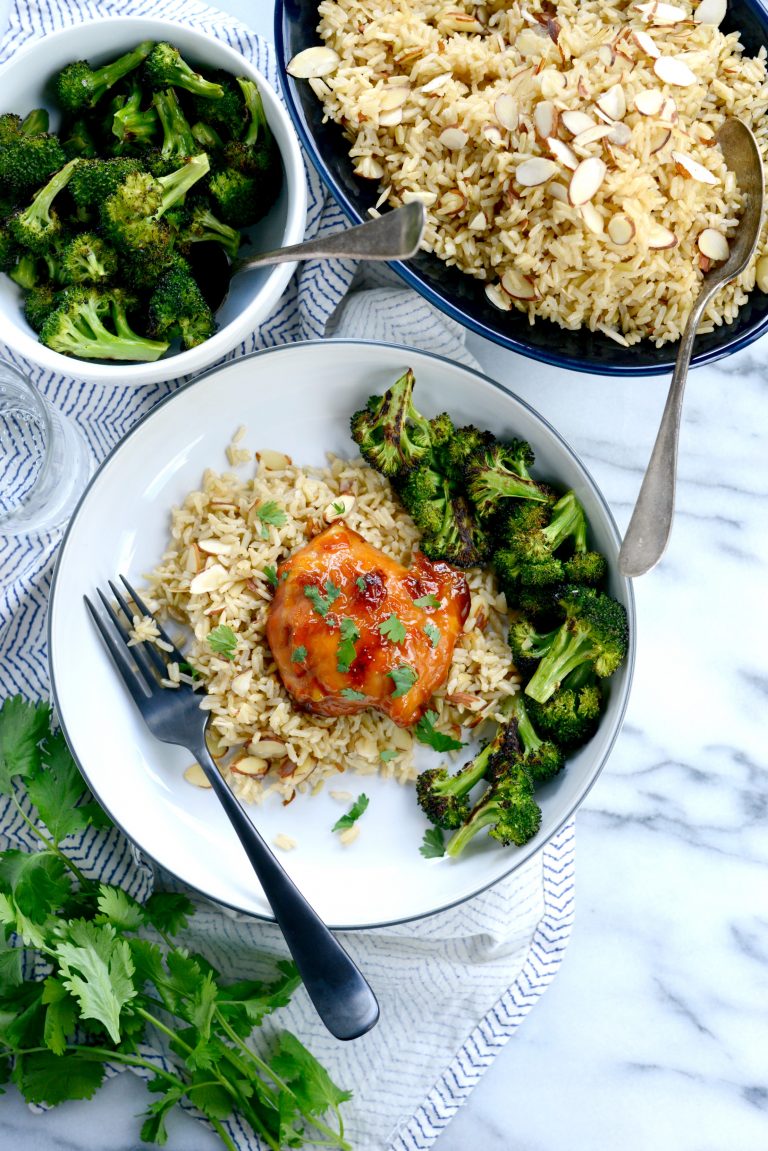 Minimal ingredients and rice and broccoli make an appearance (again)- my favorite kind of meal!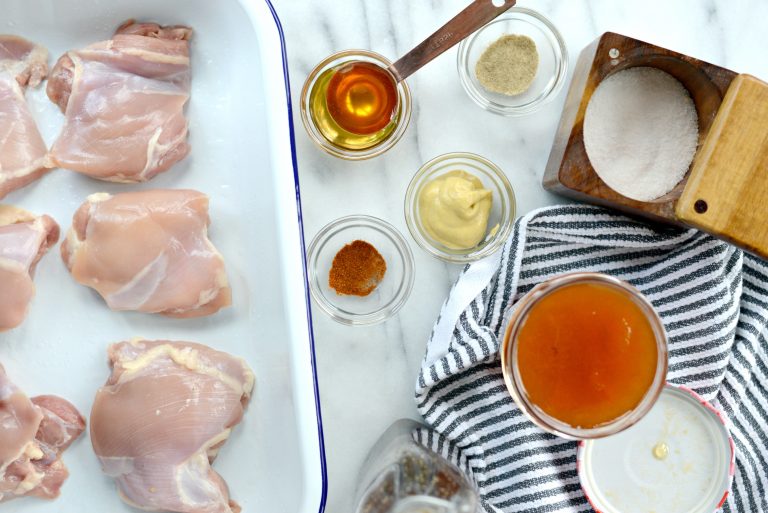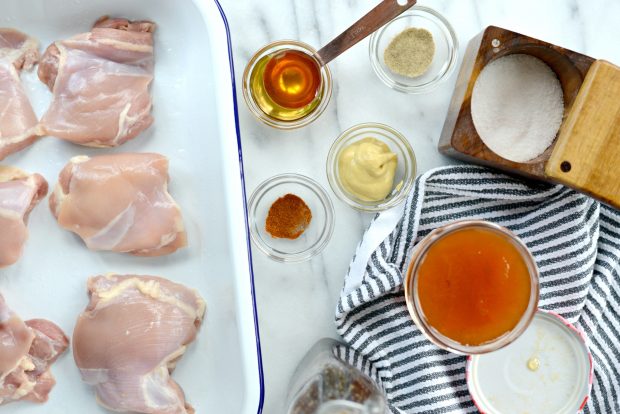 To Make This Apricot Glazed Chicken You Will Need:
boneless skinless chicken thighs
salt
white pepper
garlic (optional)
honey
dijon mustard
cayenne (just a pinch)
Worcestershire sauce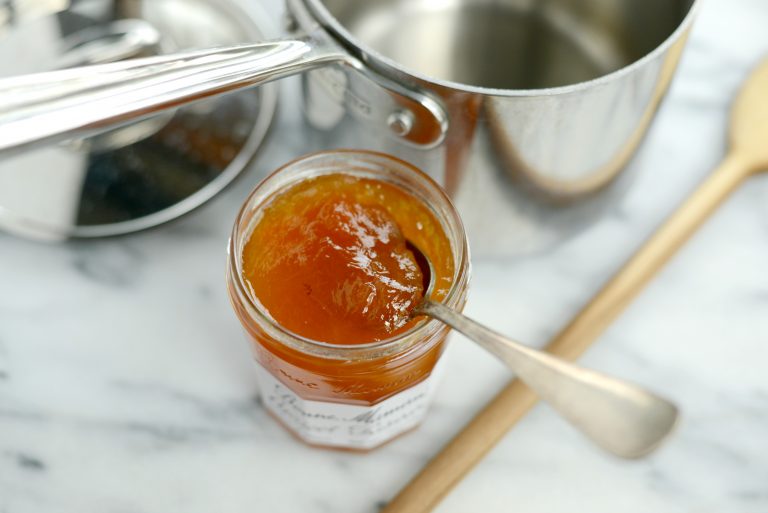 And a whole jar of apricot jam, which is key to making this dish. Since I don't jam my own apricots, I look for a jar that uses minimal ingredients and ones I can pronounce.
Place the chicken thighs into a baking dish that was misted with cooking spray (or your olive oil mister) and season with a few pinches of kosher salt and white pepper (no precise measurements here) and set it off to the side while you preheat your oven and make the apricot glaze.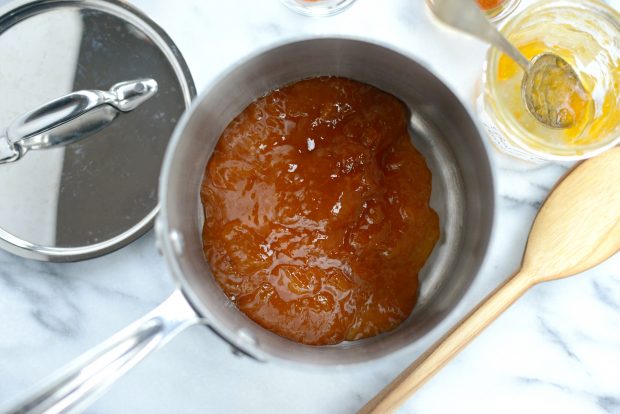 Into a heavy-bottom sauce pan; add all of the apricot jam…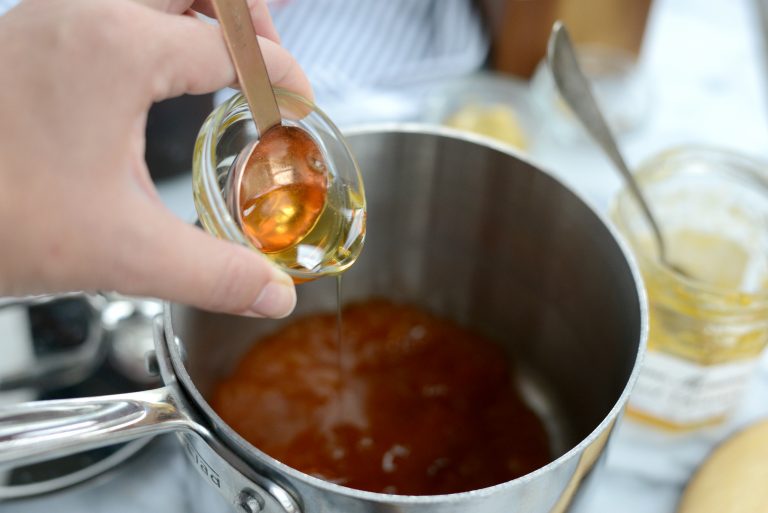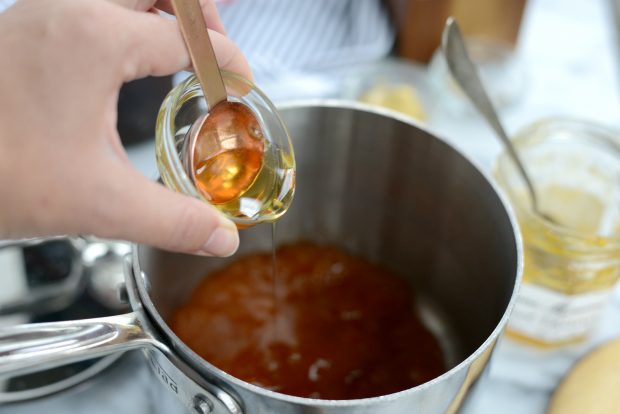 Then add 1 heaping tablespoon of honey.
1 heaping tablespoon of Dijon and a pinch (or two) of cayenne pepper.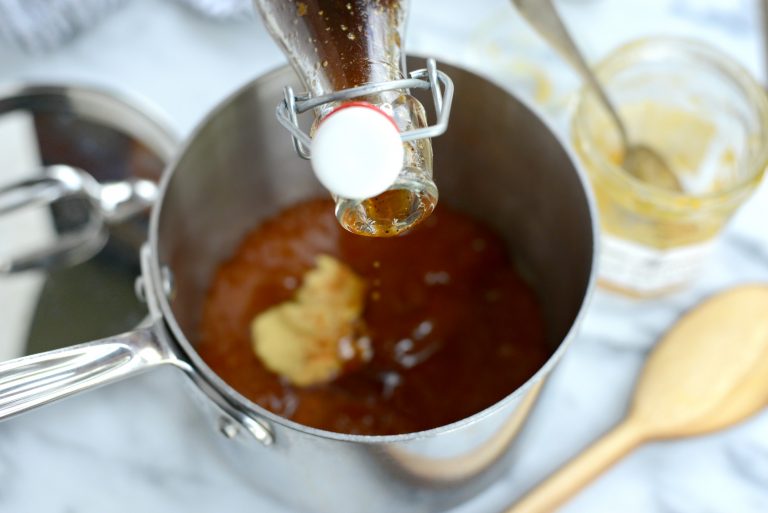 And 1 clove of minced garlic (if using) and a splash of Worcestershire sauce.
Give that all a stir and then bring it to a bubble over medium to medium-high heat.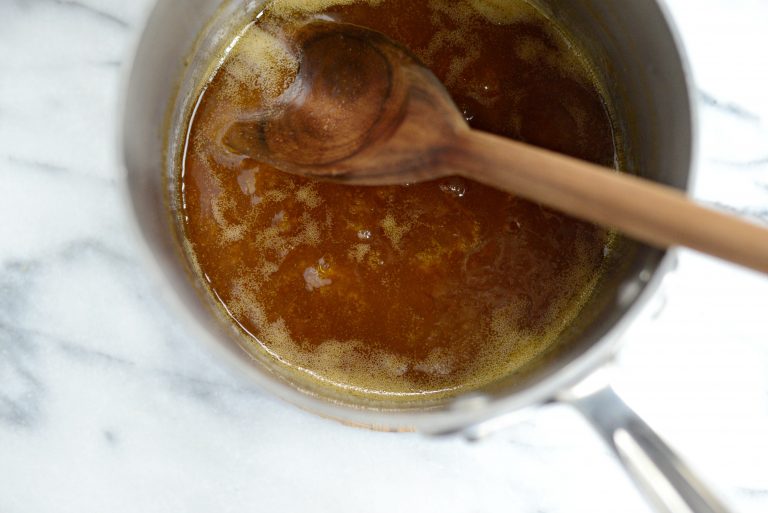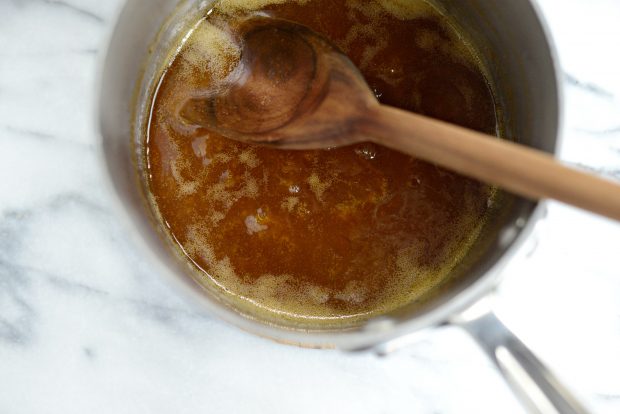 Cook for about 10 to 12 minutes or until the glaze has reduced and has thickened a bit.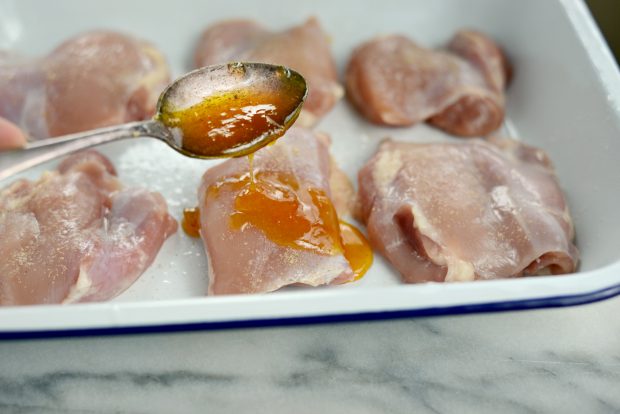 Spoon the entire glaze over the chicken thighs, basting and brushing with the back of the spoon.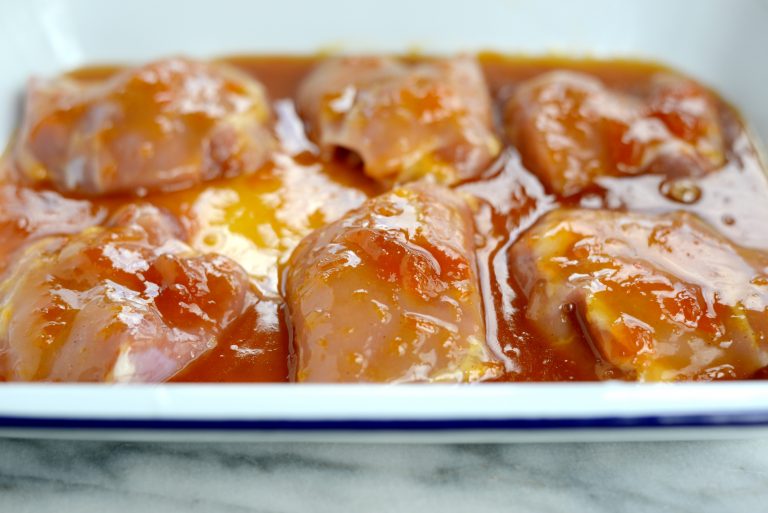 Slide the pan onto the middle rack of your very hot 425° oven to cook for 40 to 45 minutes.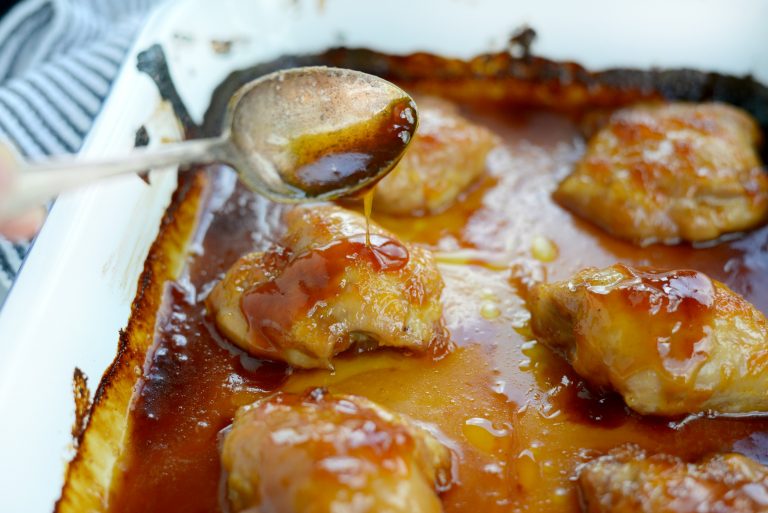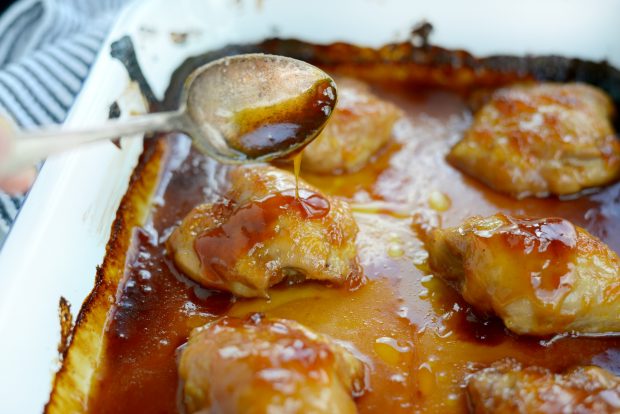 Remove the chicken thighs every 10 minutes or so to spoon more of the glaze over top.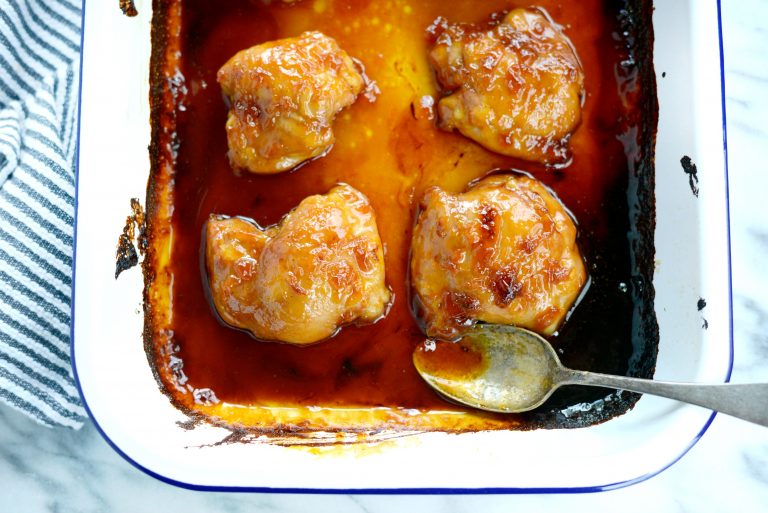 Perfection. The bottoms and edges brown and crisp nicely, the sauce thickens in the oven and turns the most beautiful amber color. I spoon the sticky glaze over top one last time before allowing the chicken to rest for a few minutes while I quickly roast some broccoli and serve up the garlicky toasted almond rice.
Drizzle any leftover glaze over top right before serving.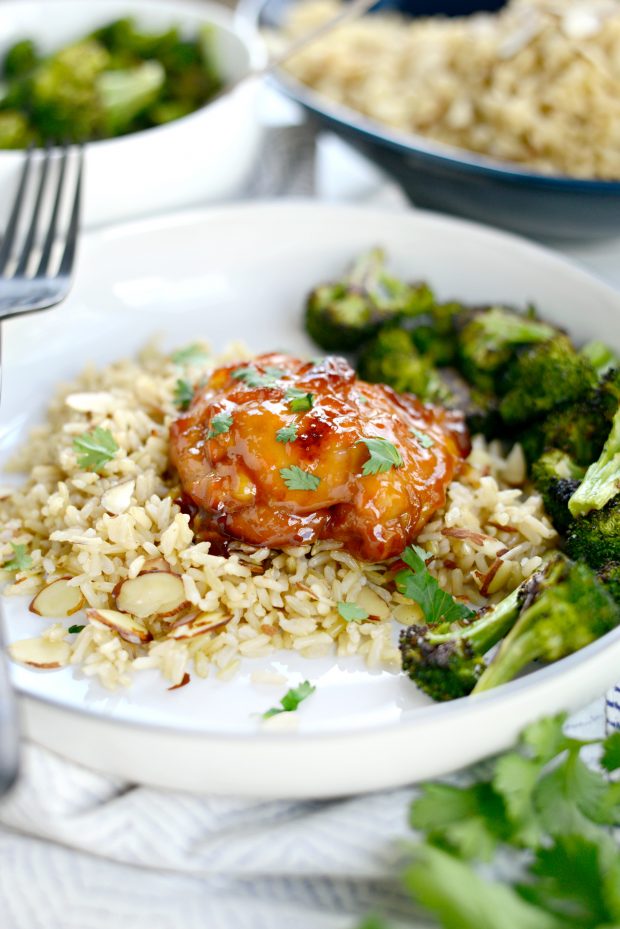 I could eat this all day, every day.
And I'd definitely add this to the list of easy weeknight meals!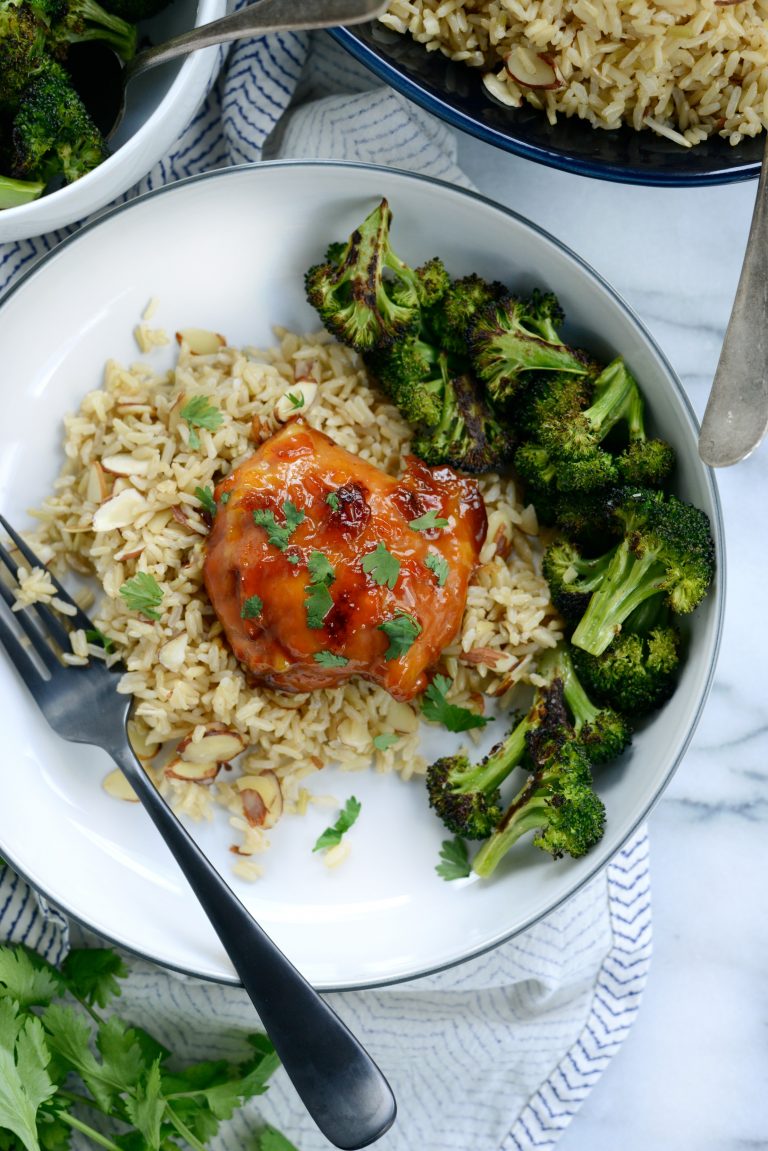 Enjoy! And if you give this apricot glazed chicken recipe a try, let me know! Snap a photo and tag me on twitter or instagram!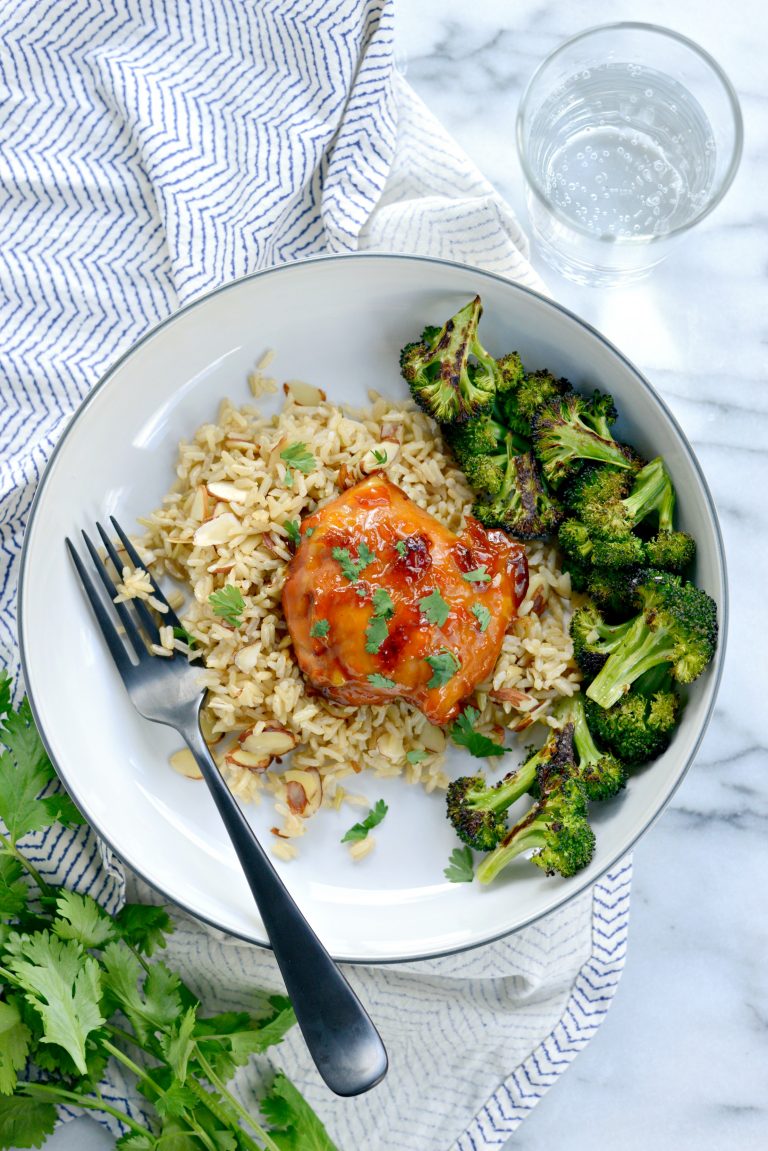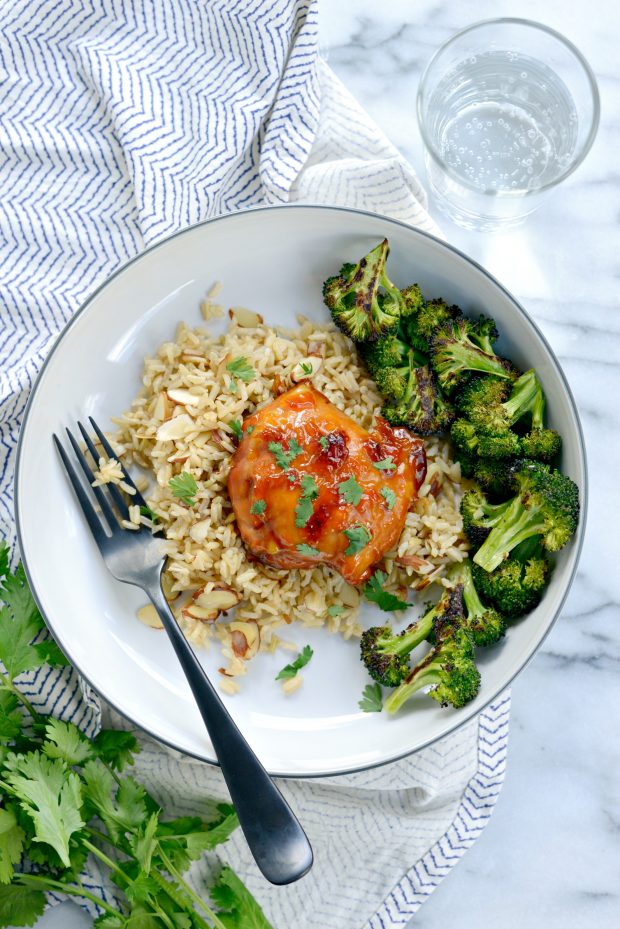 Yield: 8 servings
Apricot Glazed Chicken
This delectably sticky, sweet and fall-apart-tender glazed chicken is super simple to whip up and reheats like a dream! I like to serve this with my garlicky toasted almond basmati rice and roasted broccoli as sides (links in post).
Ingredients
6 to 8 boneless skinless chicken thighs
kosher salt
white pepper
12 ounces apricot jam
1 heaping tablespoon honey
1 heaping tablespoon Dijon mustard
pinch cayenne pepper
1 splash Worcestershire sauce
1 clove garlic, minced (optional)
Instructions
Preheat your oven to 425 degrees and spray a baking dish with cooking spray (I use my olive oil mister).

Arrange chicken thighs in the bottom of the pan and sprinkle with pinches of kosher salt and white pepper.

In a saucepan, combine the apricot jam, honey, Dijon, cayenne, garlic (if using) and Worcestershire sauce. Stir until combined. Heat the apricot glaze over medium to medium-high heat until bubbling. Cook for 10 minutes or until reduced and thickened.

Spoon all of the glaze over top of chicken, basting and brushing with the back of the spoon, and place on the middle rack of your preheated oven and bake for 40 to 45 minutes. While baking, spoon the glaze from the bottom of the pan over the chicken every 10 to 12 minutes, until fully cooked.

Once cooked, remove the pan from the oven and spoon glaze over top one last time before allowing the chicken to cool for 5 minutes or so.

Serving with an extra drizzle of the apricot glaze over top.
Serving: 1g, Calories: 205kcal, Carbohydrates: 28g, Protein: 17g, Fat: 4g, Saturated Fat: 1g, Polyunsaturated Fat: 1g, Monounsaturated Fat: 1g, Trans Fat: 0.01g, Cholesterol: 81mg, Sodium: 96mg, Potassium: 243mg, Fiber: 0.1g, Sugar: 19g, Vitamin A: 108IU, Vitamin C: 4mg, Calcium: 17mg, Iron: 1mg
This post may contain affiliate links.
Buy the Cookbook: Simply Scratch : 120 Wholesome Homemade Recipes Made Easy Now available on Amazon »
THANK YOU in advance for your support!