Focaccia Pizza Supreme is just that, homemade focaccia is topped with pizza sauce, three different meats and cheeses and a plethora of our favorite veggie toppings! A deep dish pizza that is packed with flavor, texture and lots of cheese. Serves 8.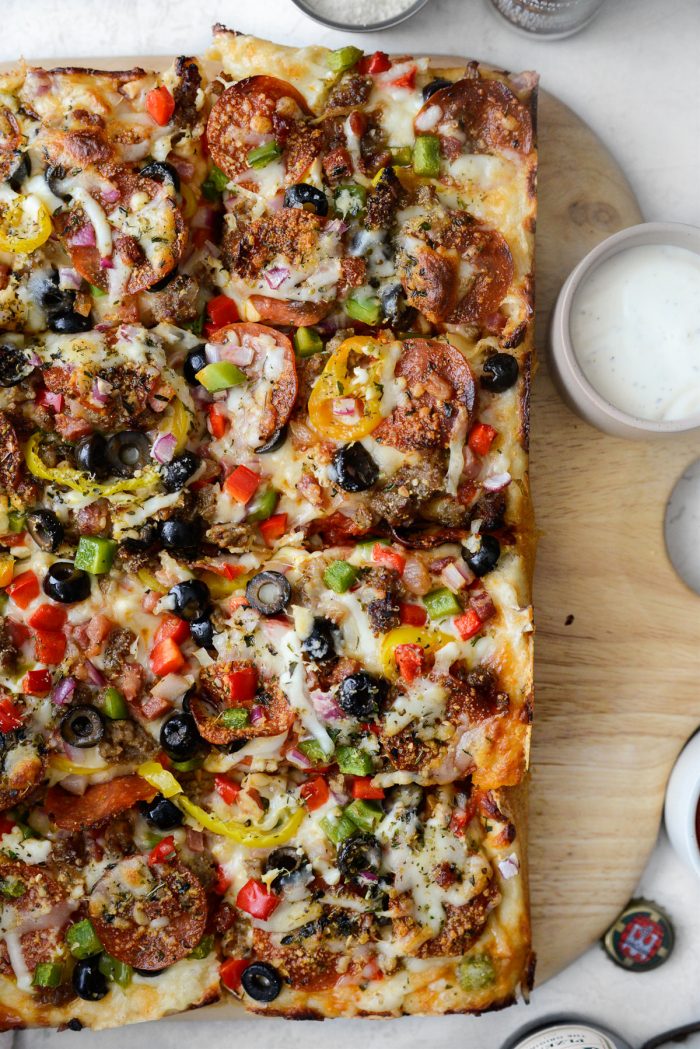 Focaccia pizza is my new favorite way to pizza.
Around this time last year, I had an epiphany. I wondered what it would be like to putt pizza toppings on focaccia. Focaccia is pretty similar to pizza dough, maybe more loftier and softer, but that's my opinion. And so I started testing recipes. A simple pepperoni (fabulous), one with different meats (do I even need to comment?😍) and of course, a supreme pizza. All of which turned out exceptional. Being that this deep-dish pizza is similar to a Detroit-style, we enjoyed all of them.
The focaccia pizza supreme being my personal favorite. What I love most about a supreme pizza is that every single bite has a new flavor combination for your tastebuds. It's all quite brilliant actually.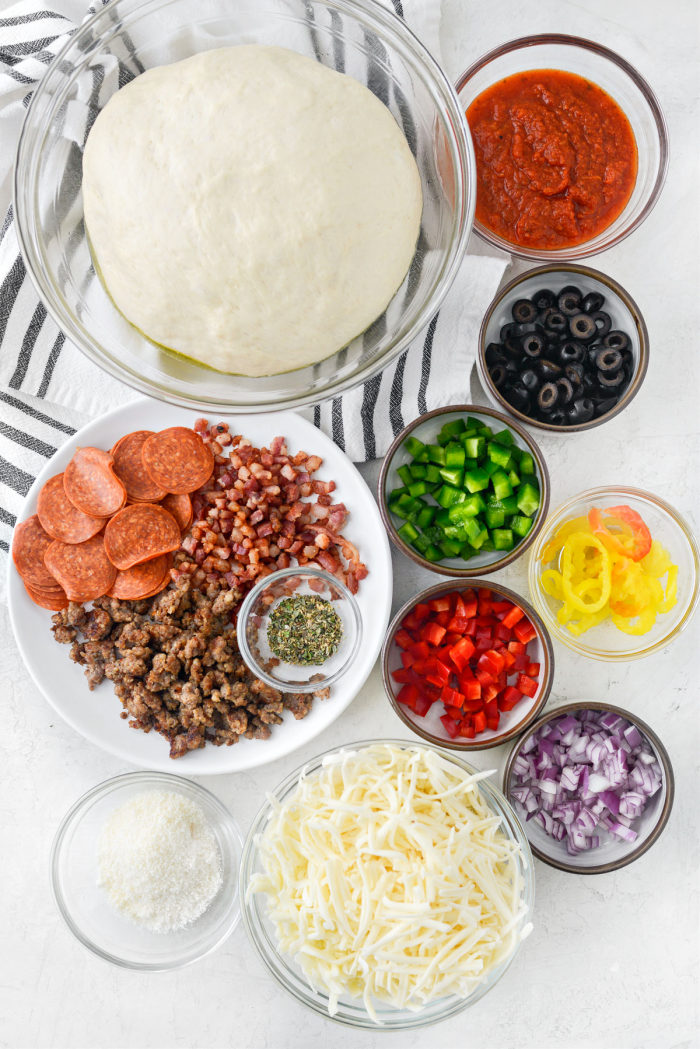 To Make This Focaccia Pizza Supreme You Will Need:
focaccia dough (below)
olive oil
Mozzarella (freshly grated)
fontina (freshly grated)
red bell pepper
green bell pepper
banana peppers
red onion
black olives
hot italian sausage (cooked)
pancetta or diced bacon (cooked)
pepperoni
parmesan cheese
First things first let's make the focaccia dough! Below is my foolproof focaccia pizza dough recipe.
To Make Homemade Focaccia You Will Need:
honey
warm water
active dry yeast
bread flour
kosher salt
olive oil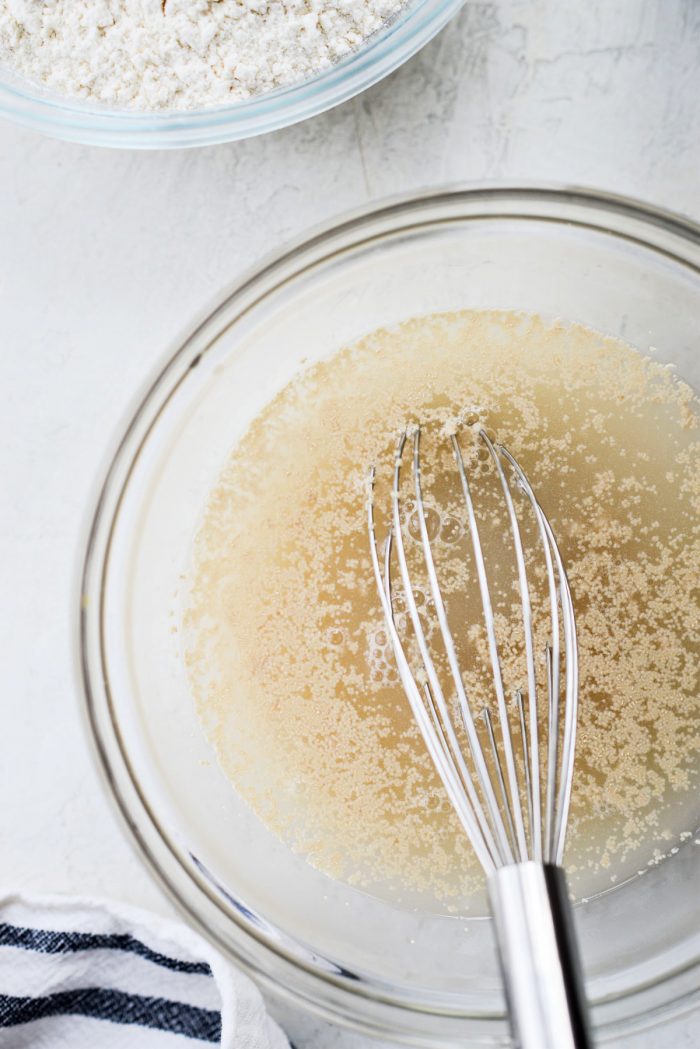 Add 1 teaspoon honey to a medium mixing bowl, pour 1 cup warm/hot water (roughly 115°) and whisk until the honey dissolves. Whisk in 2-1/4 teaspoons (or 1 envelope) active dry yeast and set off to the side for about 5 minutes.
In the bowl of your stand mixer, fitted with the dough hook attachment, measure and add 2-2/3 cup bread flour and 1 teaspoon kosher salt. Turn the mixer on low and stir until combined.
Once the yeast is frothy…
Add it into the mixer with the flour.
Mix until incorporated, stopping to scrape down the sides of the bowl as you go.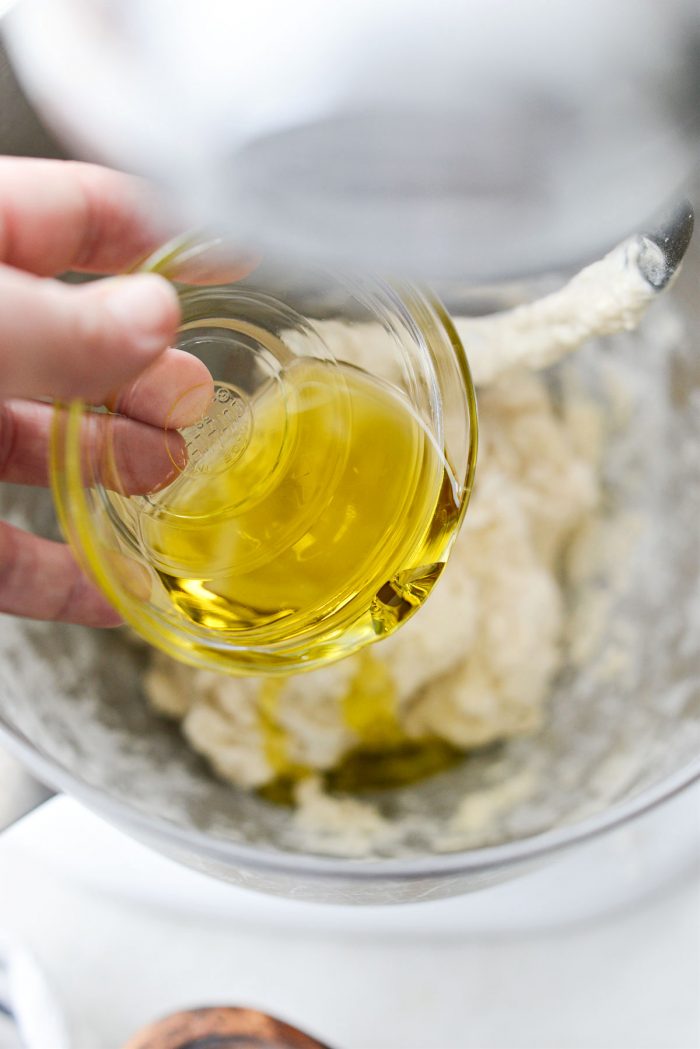 When the dough is just about combined, add in 2 tablespoons olive oil.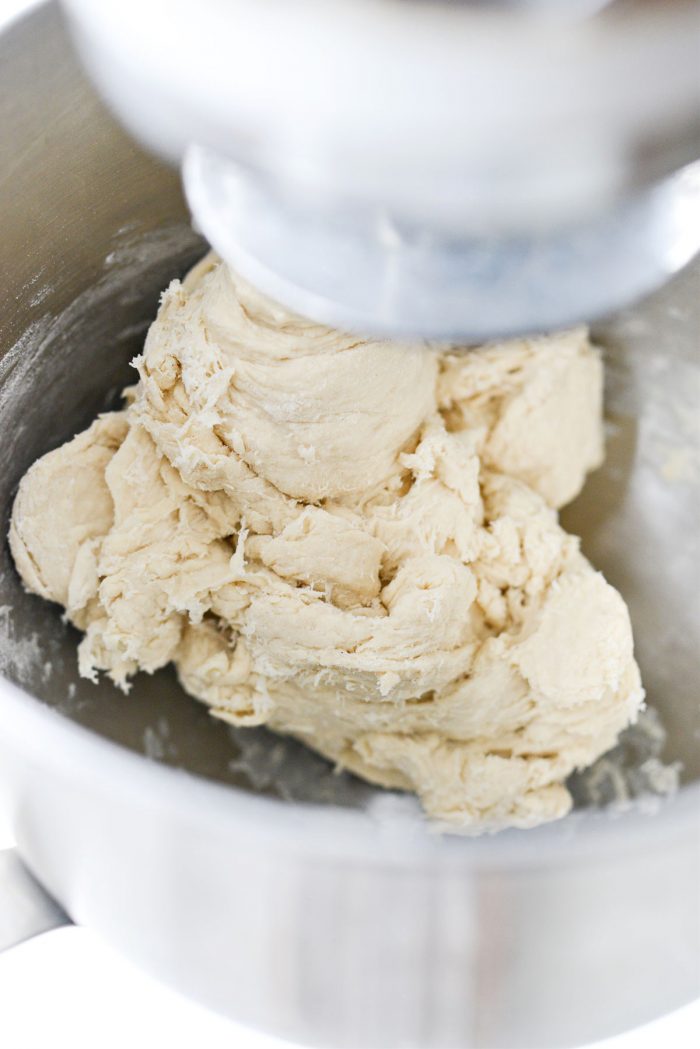 Continue to mix until for 4 minutes or the dough is smooth and no longer sticking to the bowl.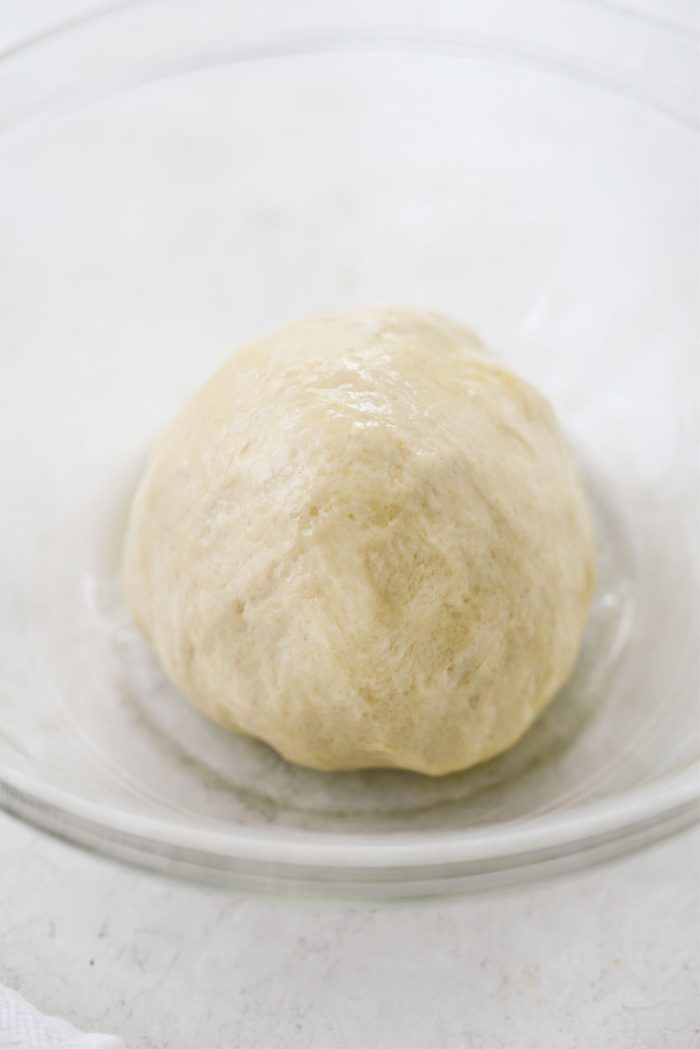 Remove the dough off of the hook and shape into a ball. Add a tablespoon of oil to a clean bowl. Transfer the dough to the bowl and use it to coat the inside of the bowl with oil. This keeps the dough from sticking to the bowl as it rises. Cover tightly with plastic wrap and place it in a warm spot to rise for 1 hour or until it has doubled in size.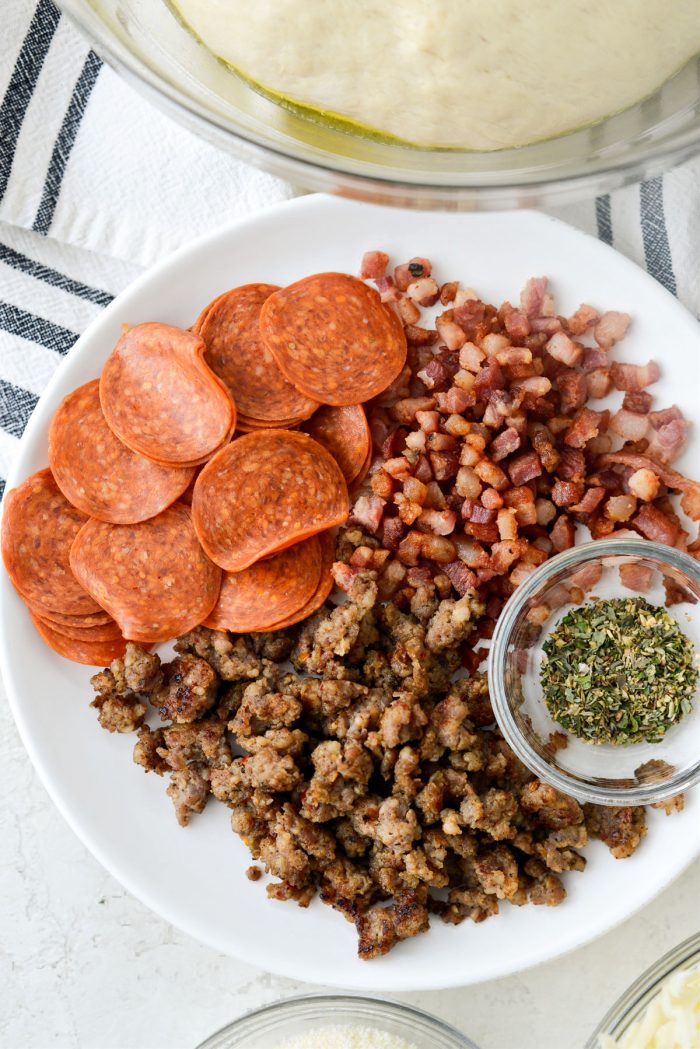 During this time is when I prep the pizza toppings:
For the veggies, I do 1/3 cup both diced green and red bell pepper, 1/3 cup diced red onion, 1/4 cup banana pepper, 1/4 cup sliced black olives.
Meanwhile, fry up 4 ounces pancetta or bacon in a skillet over medium to medium low heat. Once crispy, transfer to a paper towel lined plate and carefully wipe out the skillet. Repeat with 4 ounces of hot italian sausage. Cook on medium to medium-low, breaking up with a wooden spoon until fully cooked and golden brown. Transfer this to a paper towel lined plate as well.
You will also need 24 slices of pepperoni – traditional or turkey pepperoni works great too.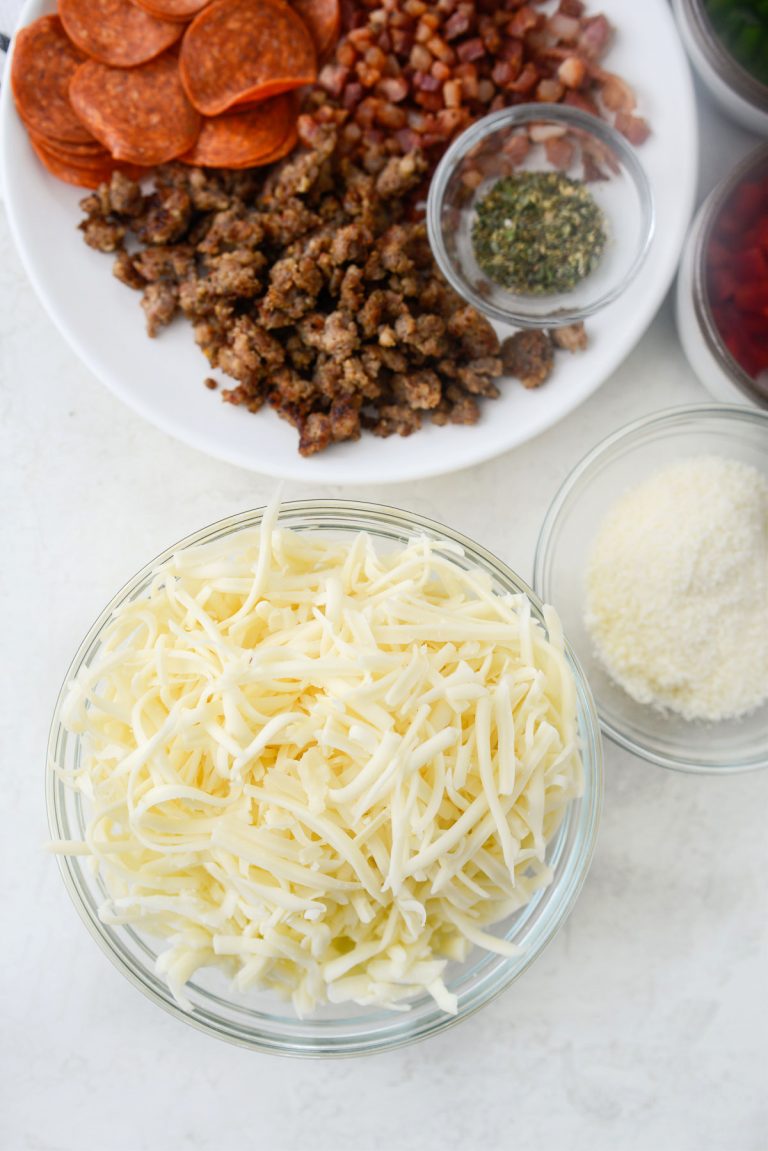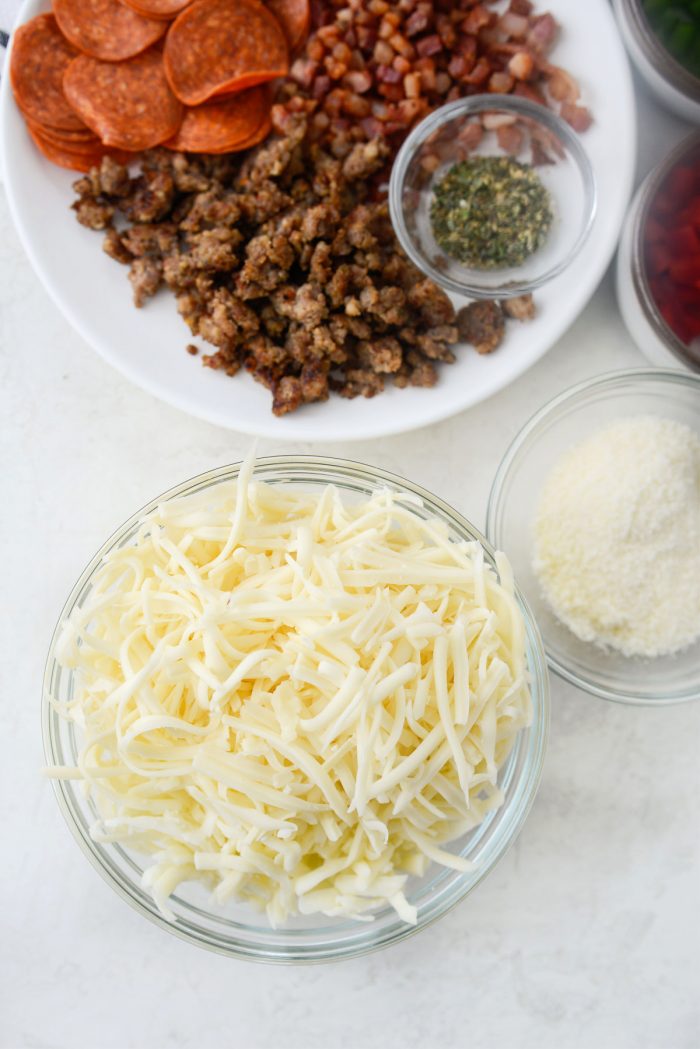 Also, grate up 2 cups mozzarella, 1 cup fontina and 2 tablespoons parmesan.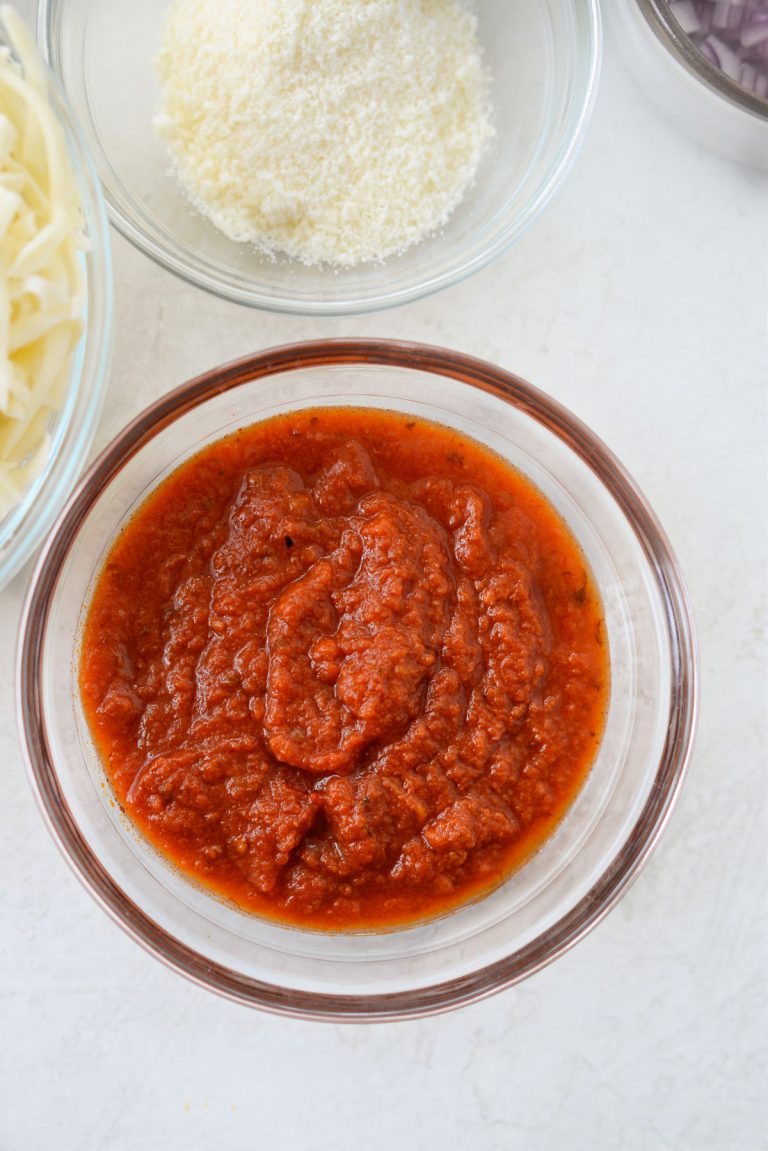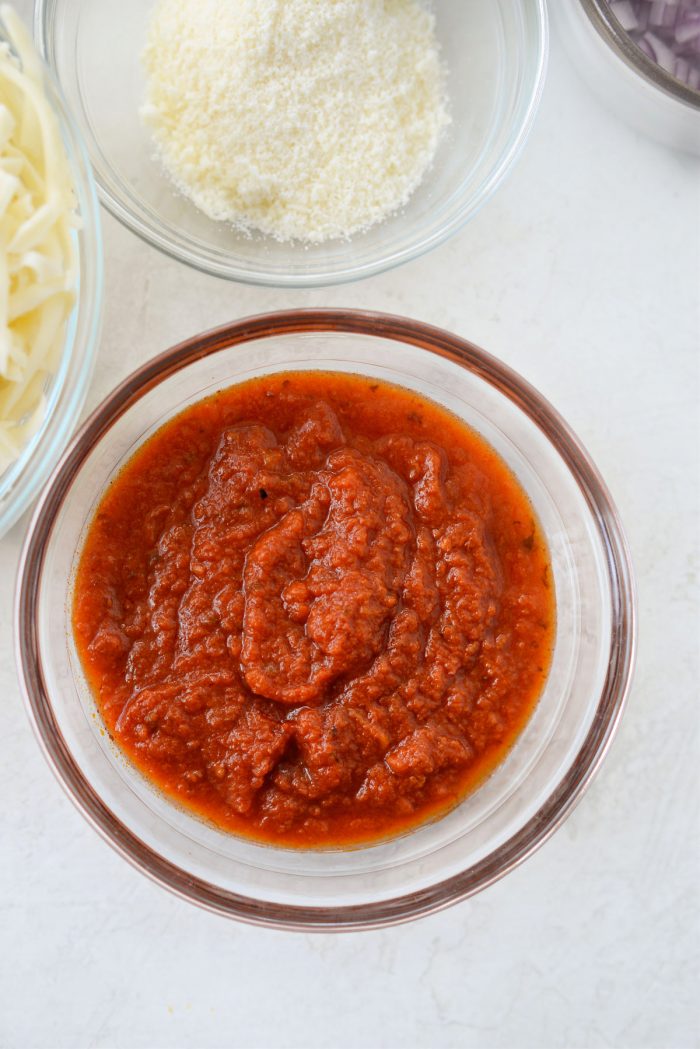 Whether you make your own pizza sauce or purchase it from the store, it's totally up to you. I make my own in advance, however either way you will need 1/2 cup – give or take to your liking.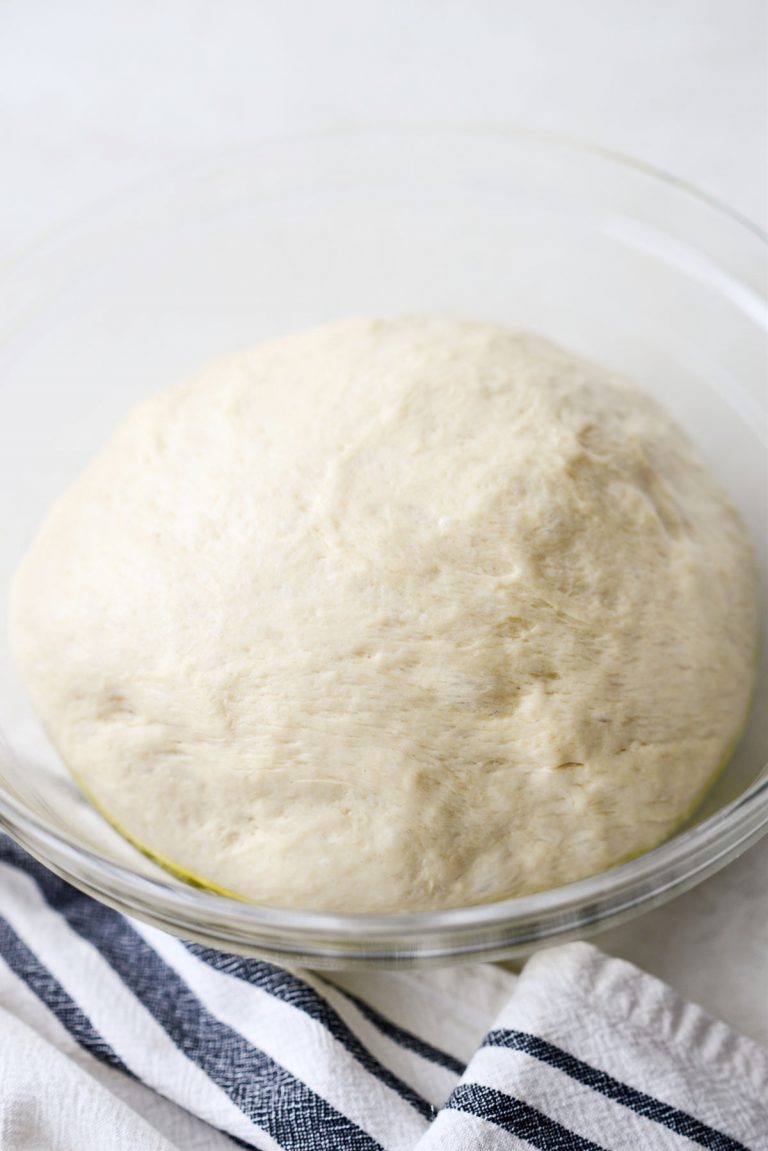 Once the focaccia dough has risen, remove the plastic wrap.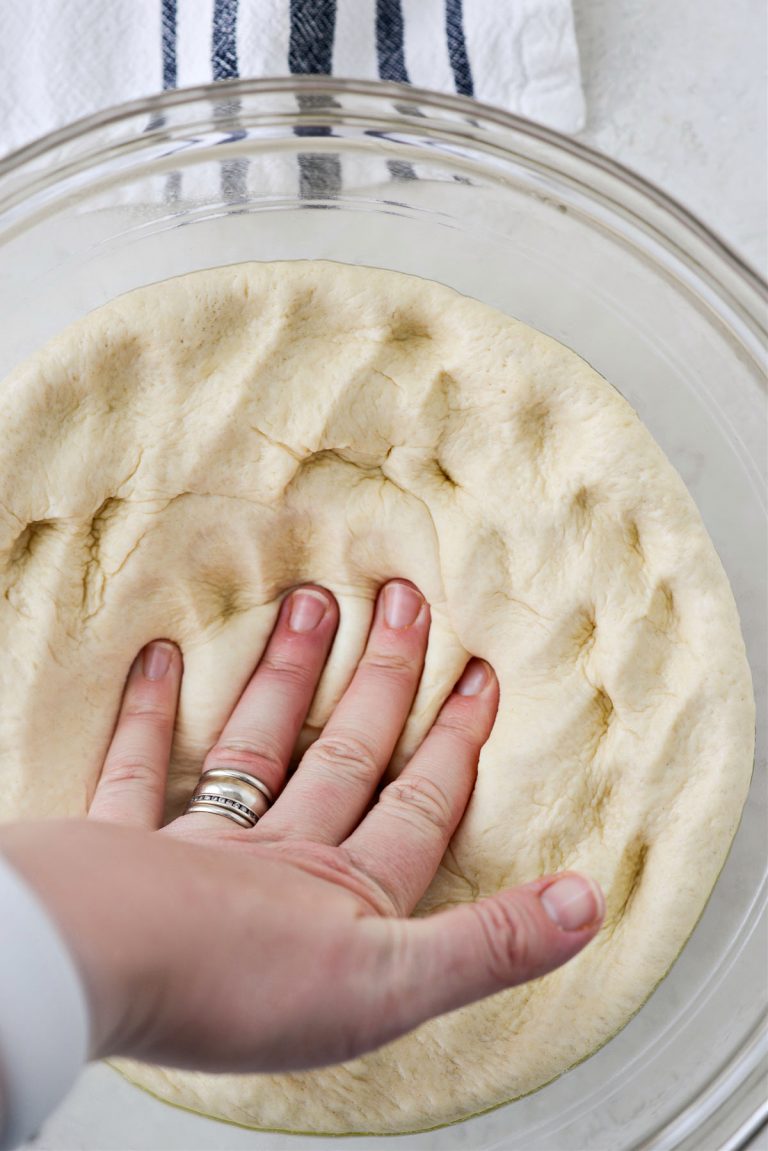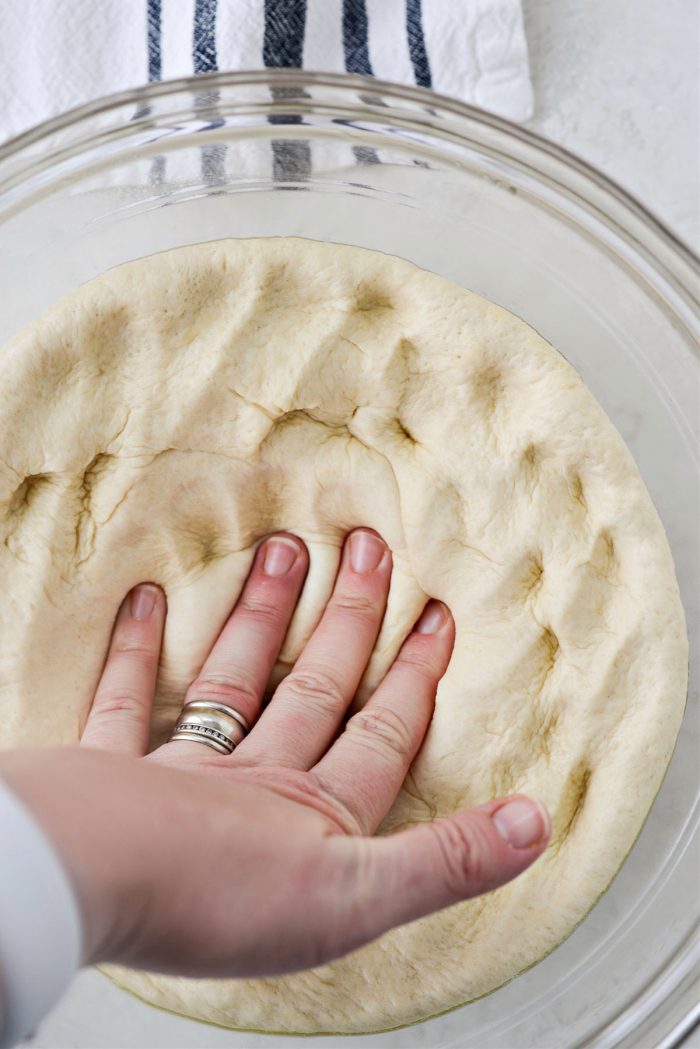 With your impeccably clean hands, press or punch down the dough to deflate it.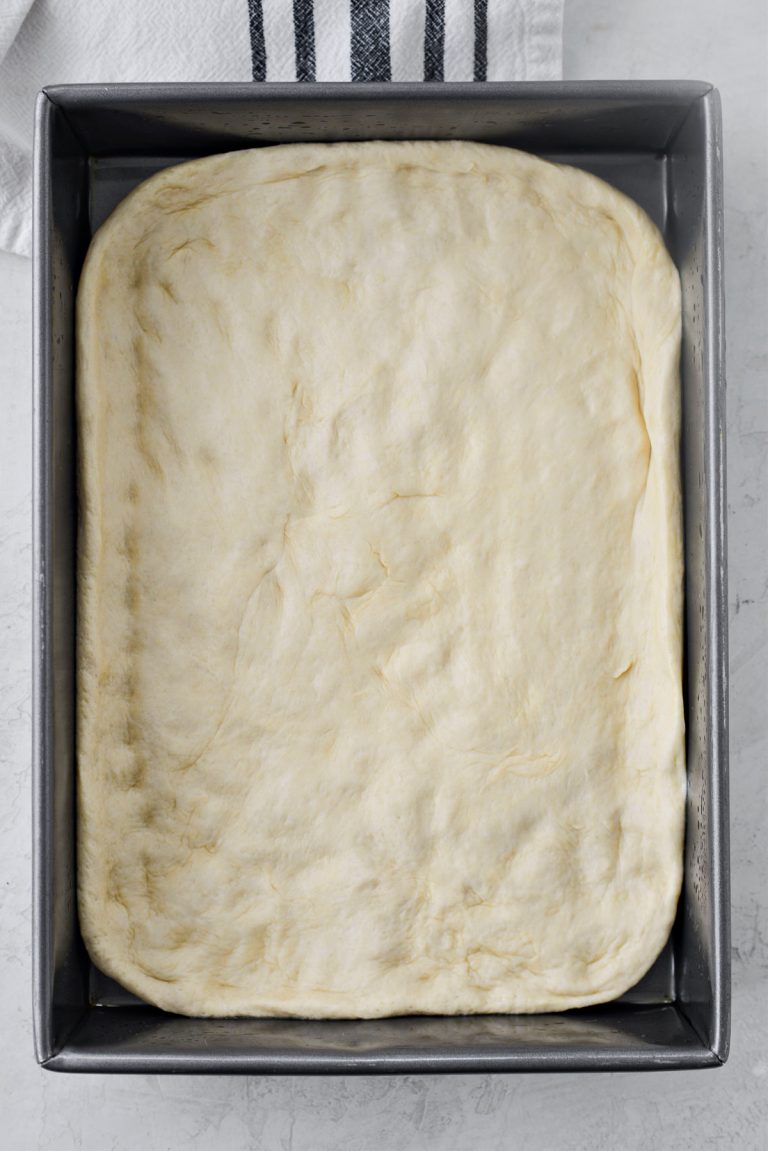 Transfer the dough to a well oiled 9×13 pan. Prior to the dough, I add a generous amount of olive oil and use a pastry brush to coat the entire inside of the pan. Stretch the dough to fit. For some reason I can never get the dough to fit the corners.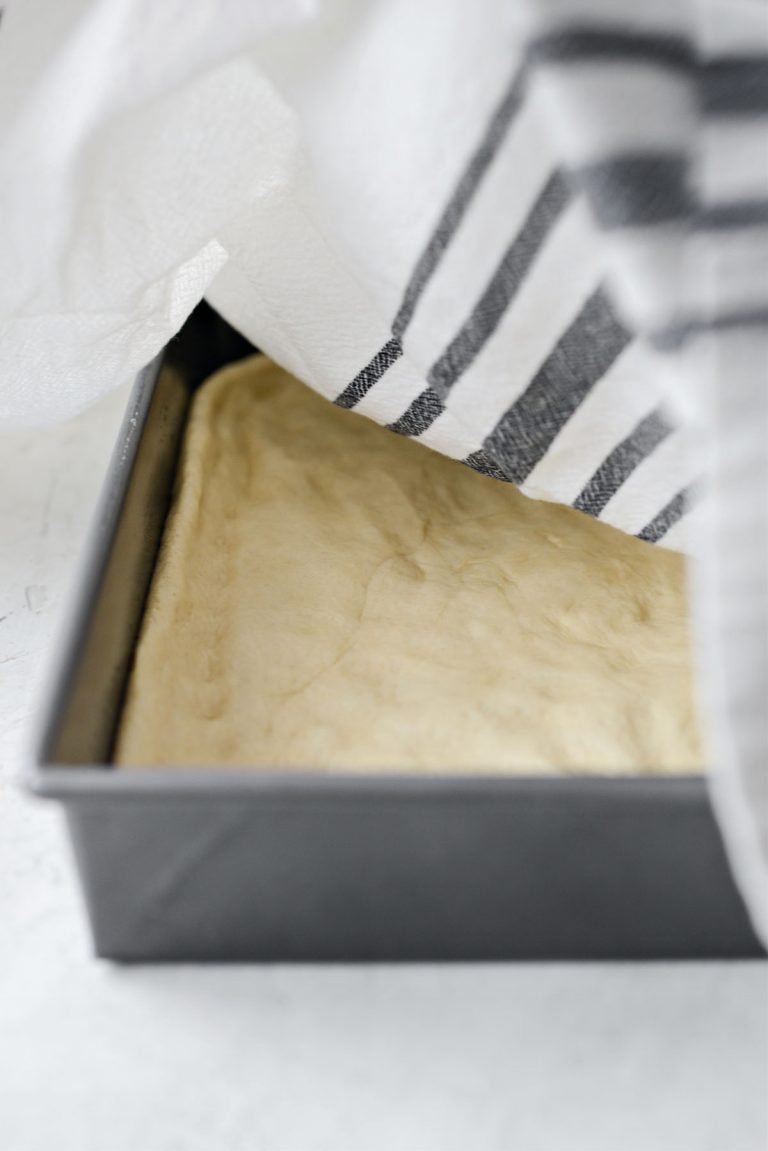 Cover with a clean kitchen towel and allow the dough to rise one last time for 30 minutes.
Preheat your oven to 425°.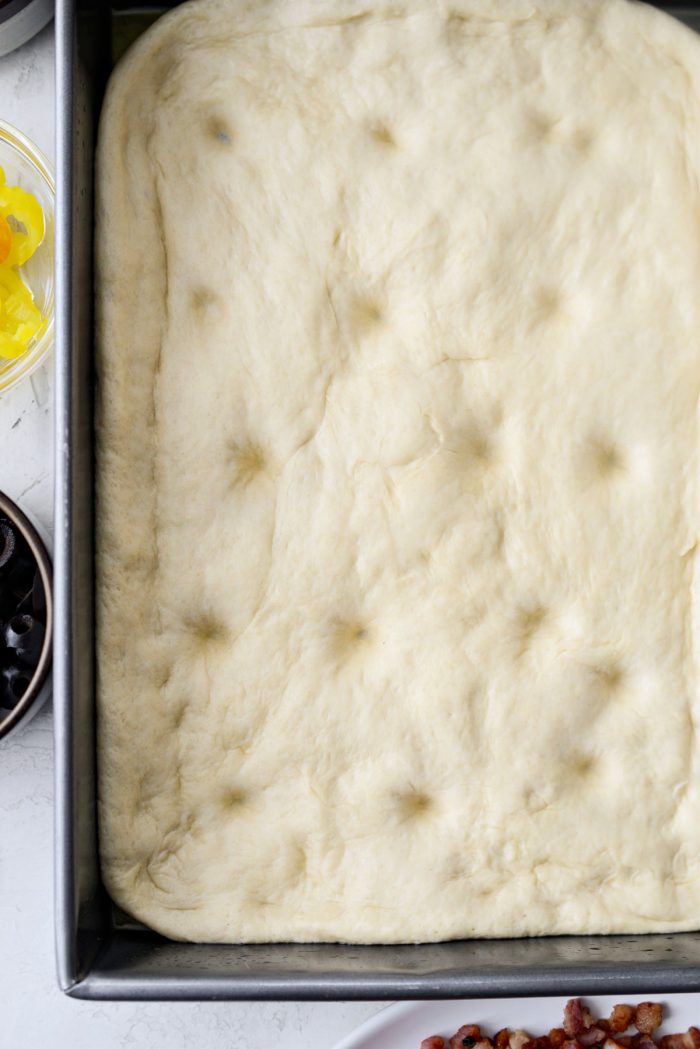 After the dough has risen, use your knuckle to make divots into the dough.
Spread 1/2 cup (more or less to your preference) pizza dough over top of the focaccia.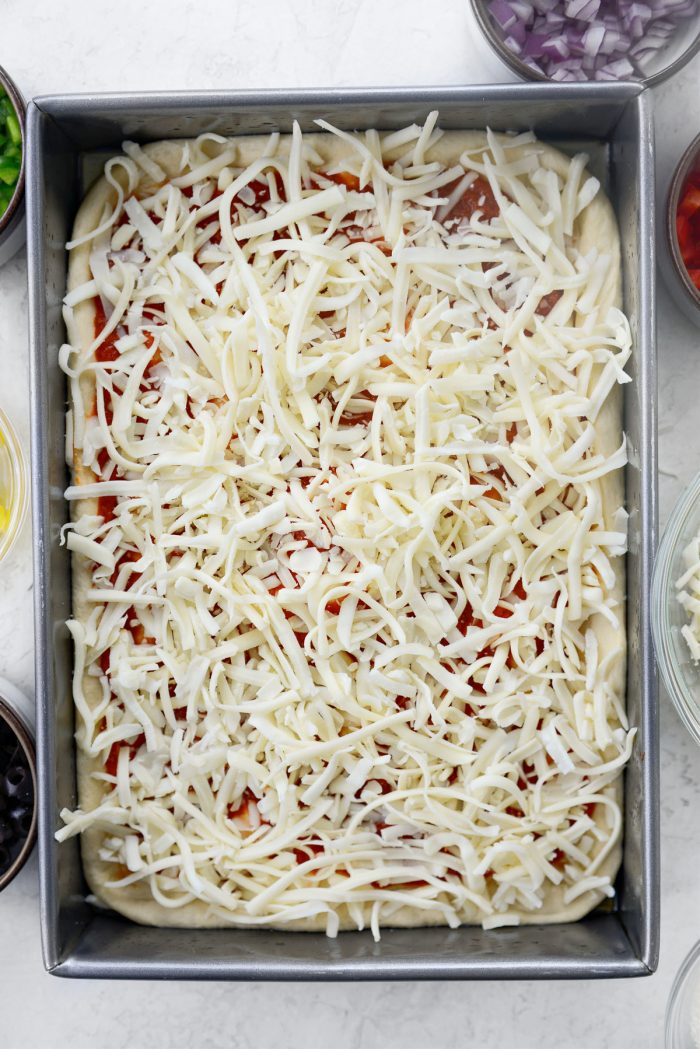 Top with 2/3 of the mozzarella and fontina cheese.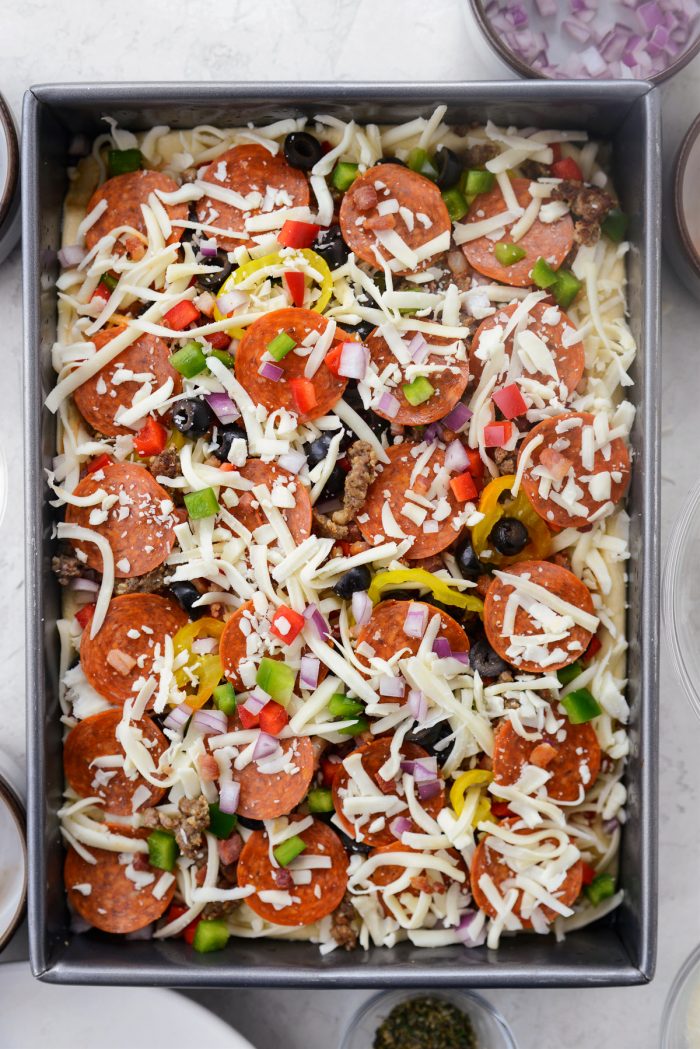 And sprinkle your toppings and arrange the pepperoni over top. Add the last of the mozzarella and fontina over top.
Sprinkle the 2 tablespoons of parmesan and 1-1/2 teaspoons italian seasoning over top before slipping the pizza into your preheated oven to bake for 9 minutes. After the 9 minutes, reduce the oven temperature to 375° and continue baking for 9 to 10 minutes more.
NOTE: you can hold off on the parmesan and italian seasoning until after the pizza has baked for a more melty version.
The cheese around the edges of the pizza will be golden and your kitchen should be smelling like a pizzeria.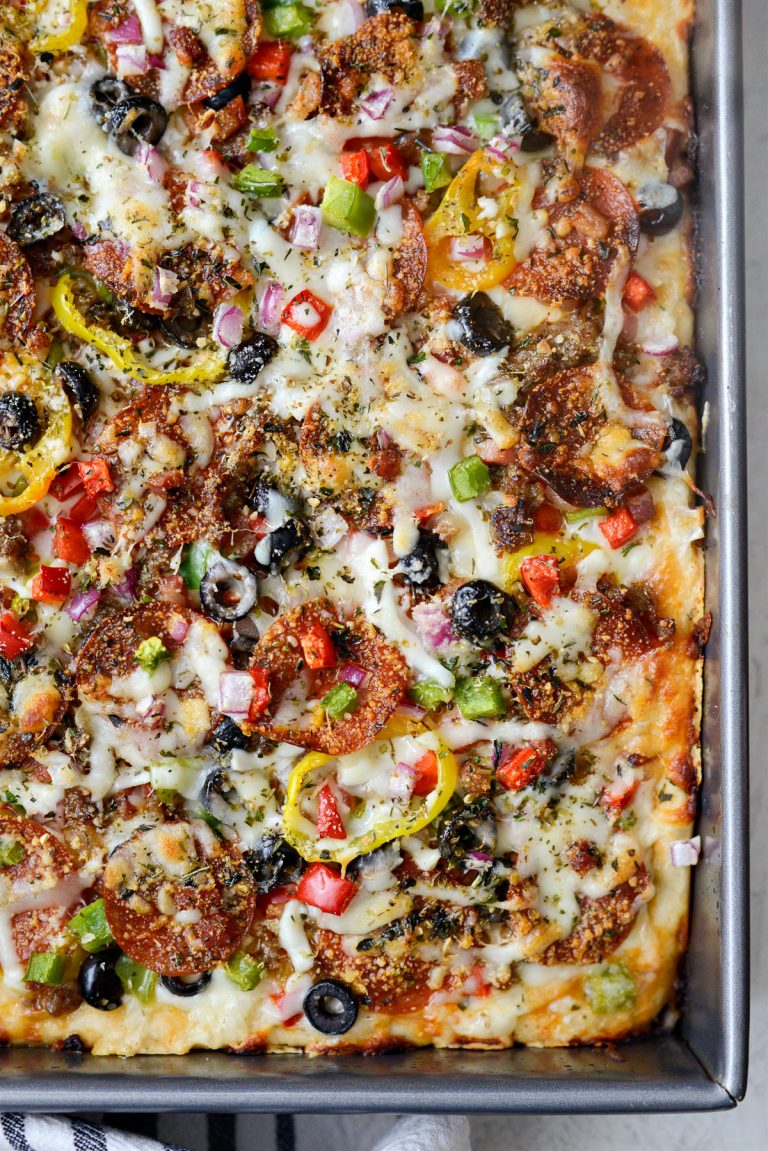 Allow the pizza to rest in the pan a few minutes before using a spatula to carefully lift and slide the pizza out and onto a cutting board.
Use a pizza cutter to cut the focaccia pizza supreme into eighths.
Serve as is or dip into ranch dressing or extra pizza sauce.
Supreme is indeed supreme.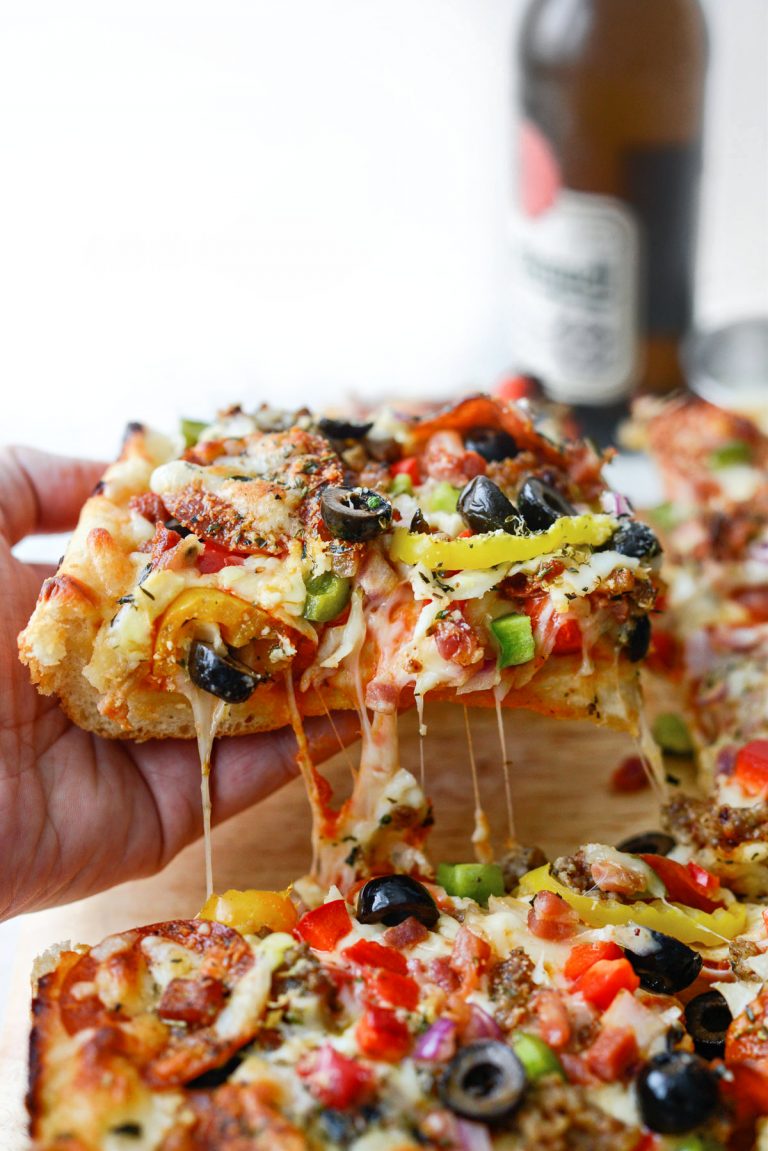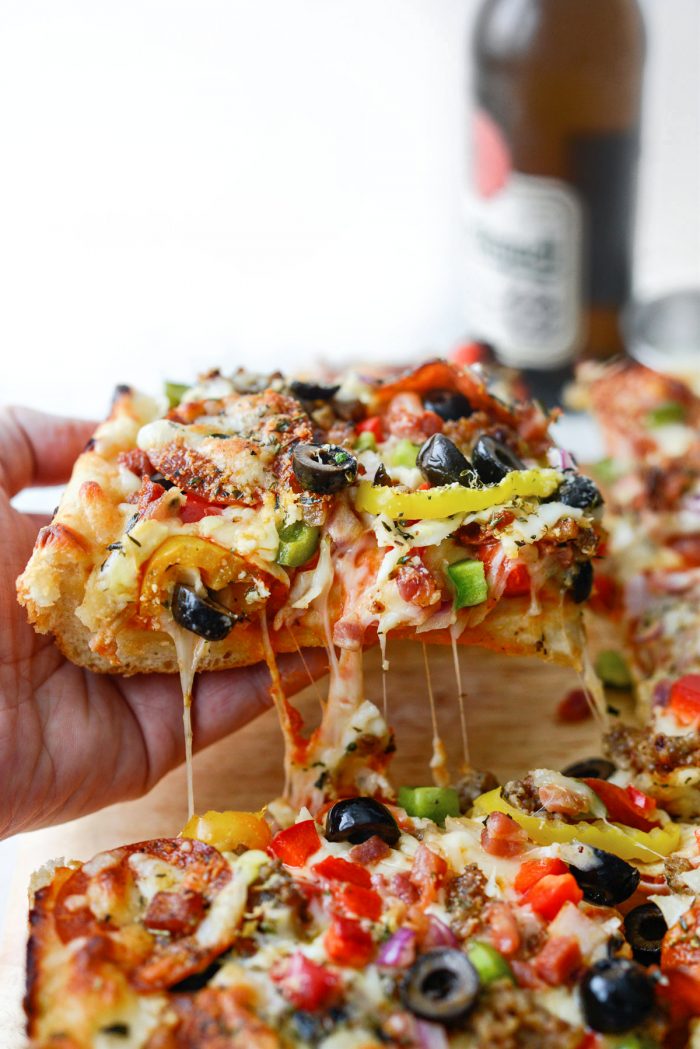 Enjoy! And if you give this Focaccia Pizza Supreme recipe a try, let me know! Snap a photo and tag me on twitter or instagram!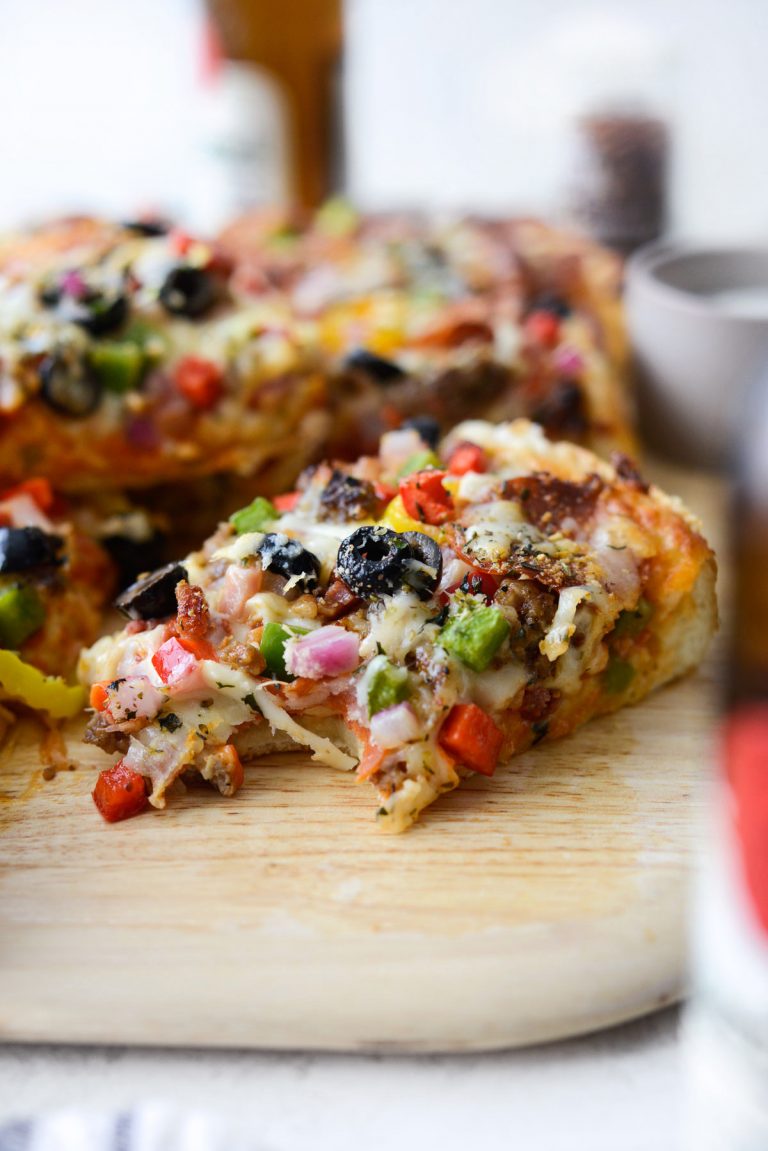 This post may contain affiliate links.
Buy the Cookbook: Simply Scratch : 120 Wholesome Homemade Recipes Made Easy Now available on Amazon »
THANK YOU in advance for your support!