Looking for the BEST homemade pizza sauce? You've come to the right place! In this from scratch pizza sauce recipe, onion and garlic is simmered with herbs, sun dried tomatoes and wine. This recipe yields 1-1/2 cups in about 30 minutes.
Making my own pizza sauce from scratch used to mean opening a can of tomato sauce, sprinkling in a little Italian seasoning, a pinch of sugar, garlic powder and maybe a pinch of red pepper flakes. Until one day when I opened up my pantry to start making pizzas and I realized I was out of tomato sauce.
Story of my life.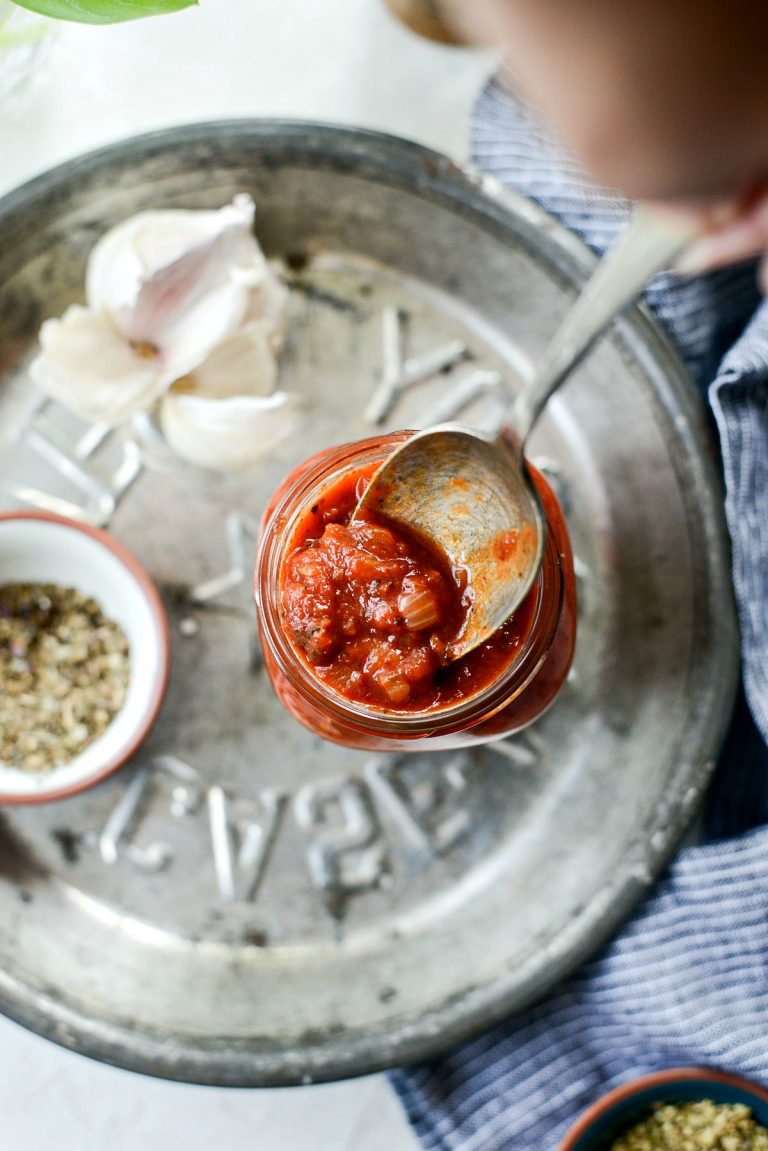 However I did have was tomato paste, and when you have tomato paste anything is possible. I just had to get creative. I scoured my entire kitchen, including the pantry and fridge – Chopped-style – and whipped up what has become my family's favorite pizza sauce. It's so perfectly robust and delicious that I put it in my cookbook.
What makes this homemade pizza sauce so special?
Two things: sun-dried tomatoes and wine. Both give a depth of flavor that you can't find in jarred or no-cook pizza sauces. The rest of the ingredients are pretty typical, like: fresh garlic and onion, dried oregano and basil, salt and black pepper.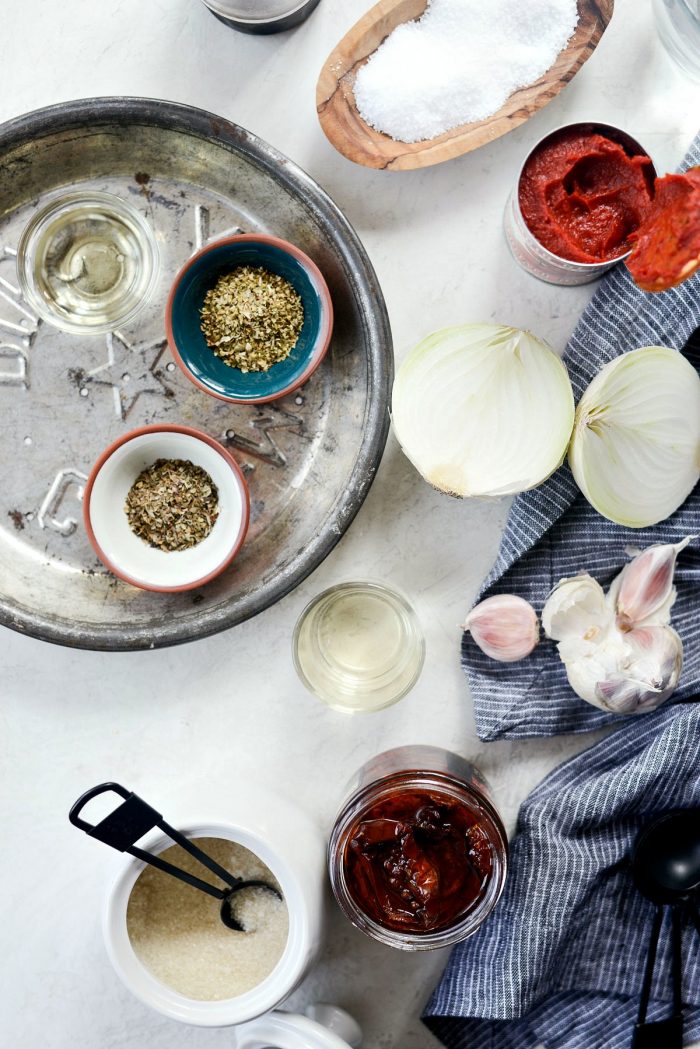 To Make This Homemade Pizza Sauce You Will Need:
light olive oil
finely diced white onion
fresh garlic
sun dried tomatoes
dried oregano
dried basil
tomato paste
sugar
water
kosher salt
freshly ground black pepper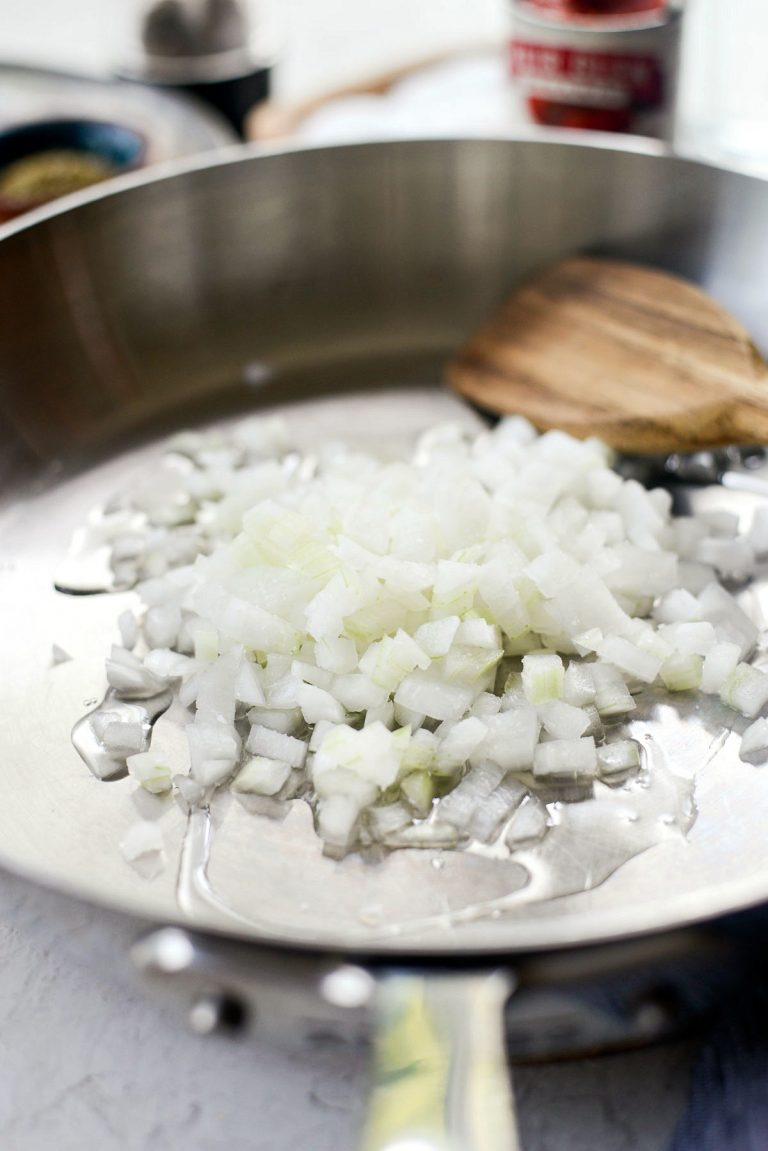 Start by heating up a 10-inch skillet over moderate heat. Once hot, add in a tablespoon of olive oil and 1/2 cup finely minced white onions.
The moment the onions have softened, add in 2 cloves of garlic. You can either mince, grate or squeeze them through a garlic press. Sauté the garlic for about 30 seconds.
To the garlicky onions, add in the minced sun-dried tomatoes, dried basil and oregano.
Stir and let the heat and oil soften the herbs a bit.
Next, pour in 2 tablespoons of white wine. Use a wine you like to drink – preferably a dry white and not a sweet white wine. If you're avoiding alcohol, just up the water to 1 cup plus the 2 tablespoons and add it in later on.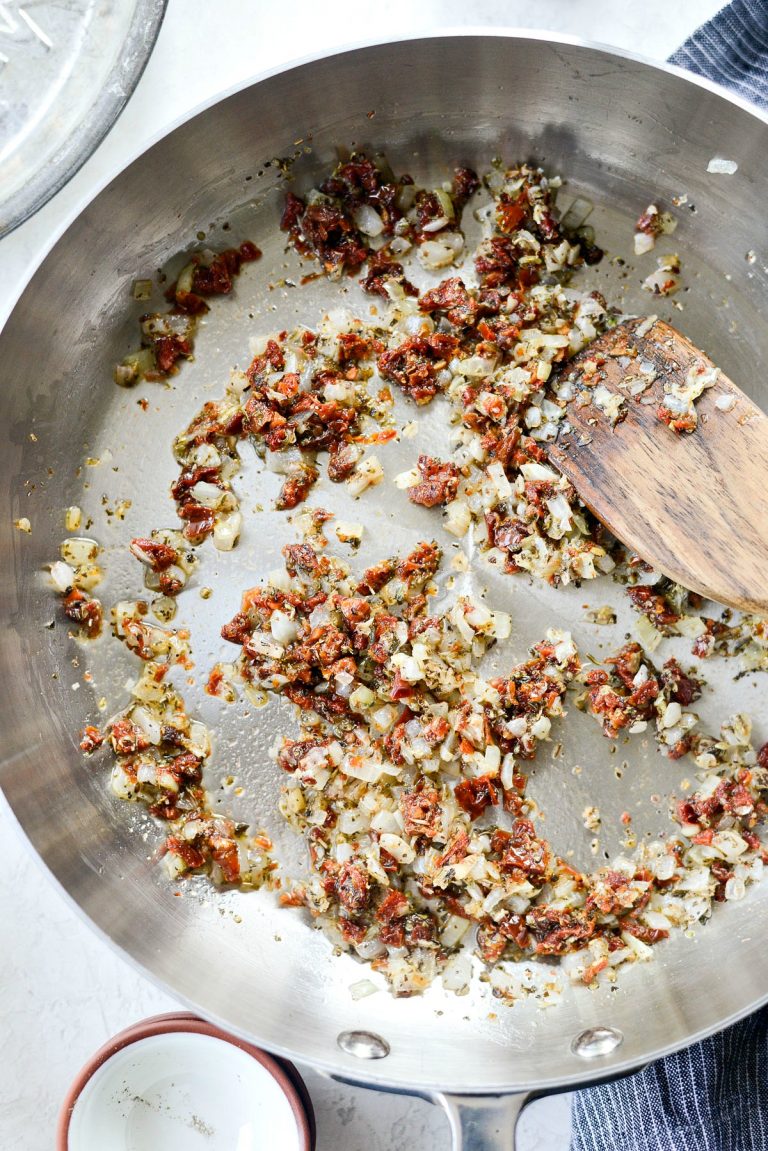 Let this simmer until the wine is absorbed.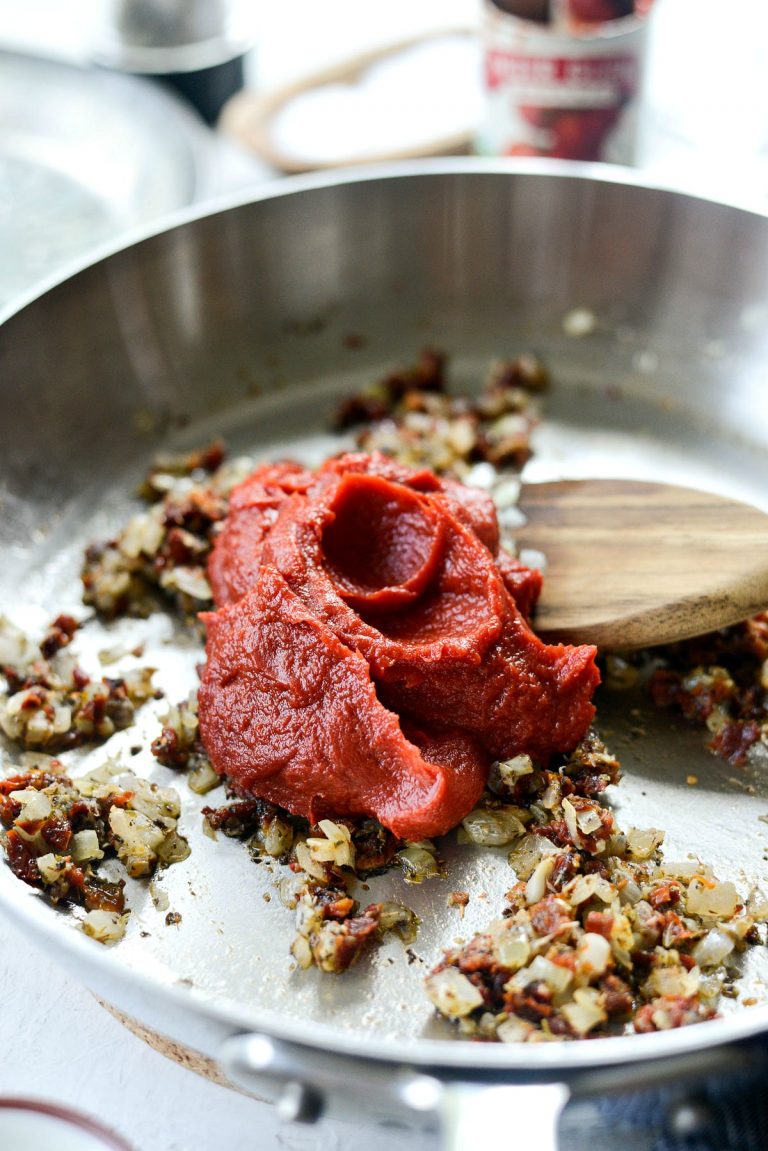 Then add in the tomato paste.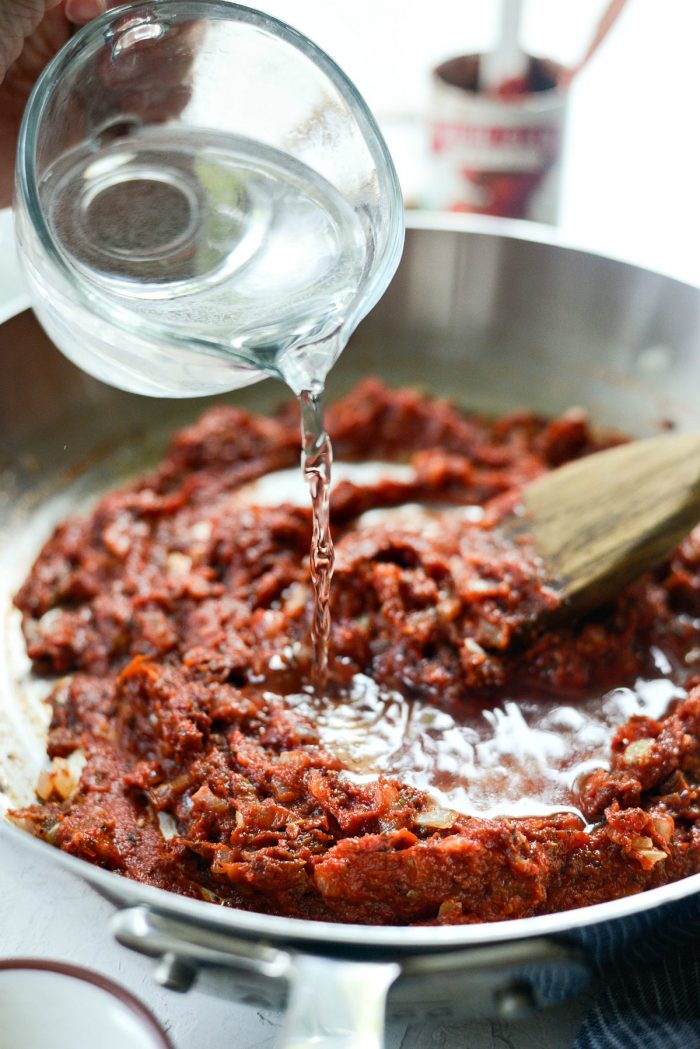 And then add 1/4 teaspoon sugar and pour in the cup of water. Reduce the temperature to medium-low to low and let it simmer for 10 to 15 minutes, stirring occasionally.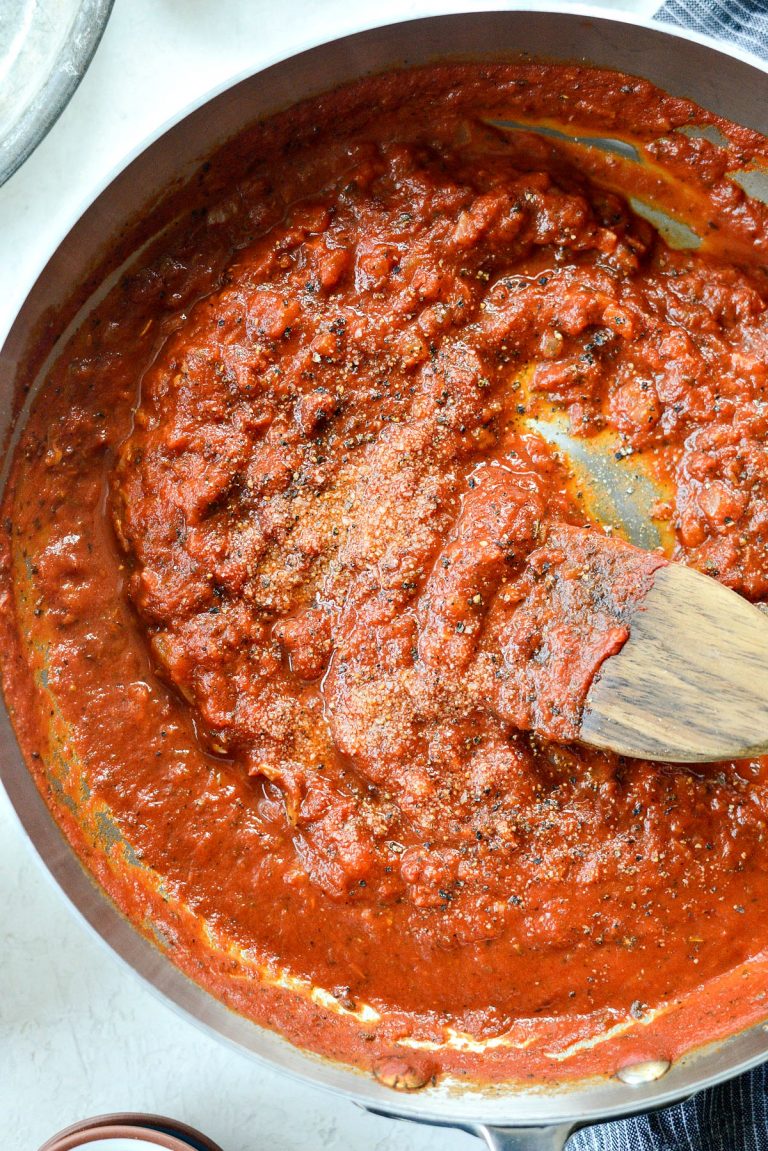 Lastly, season with 3/4 to 1 teaspoon kosher salt and a few grinds of black pepper.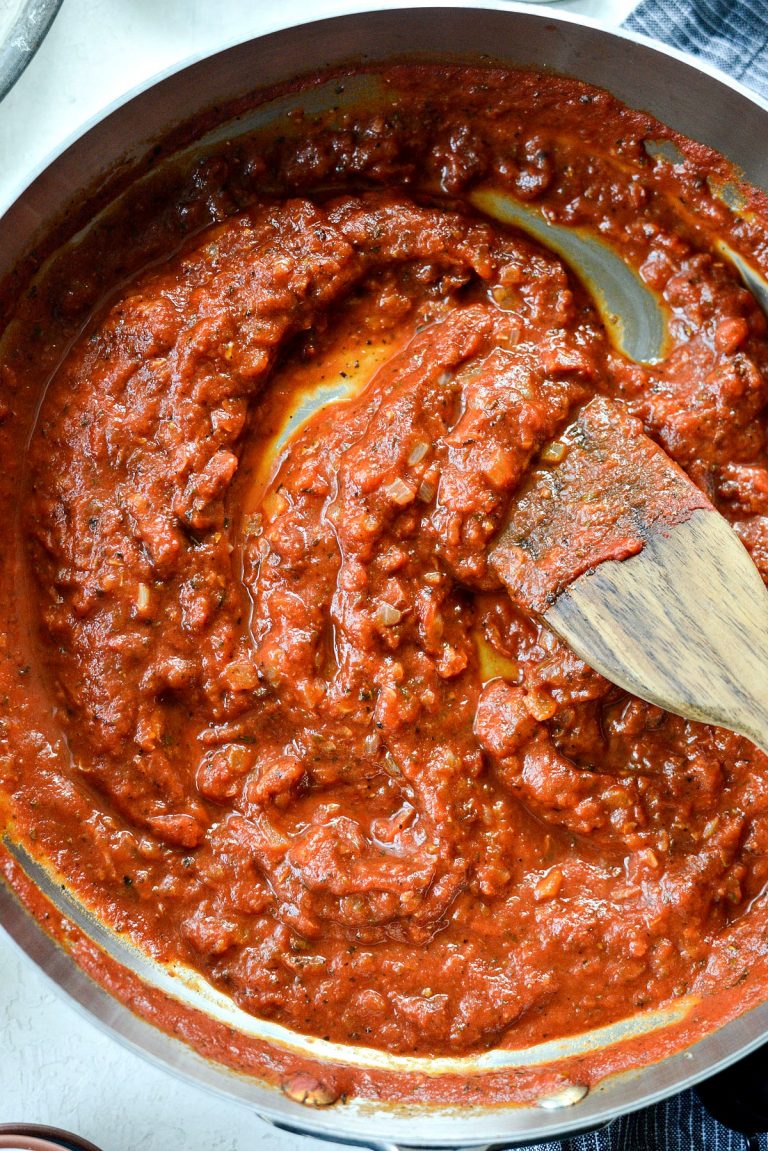 This sauce is thick and luscious and is absolutely amazing!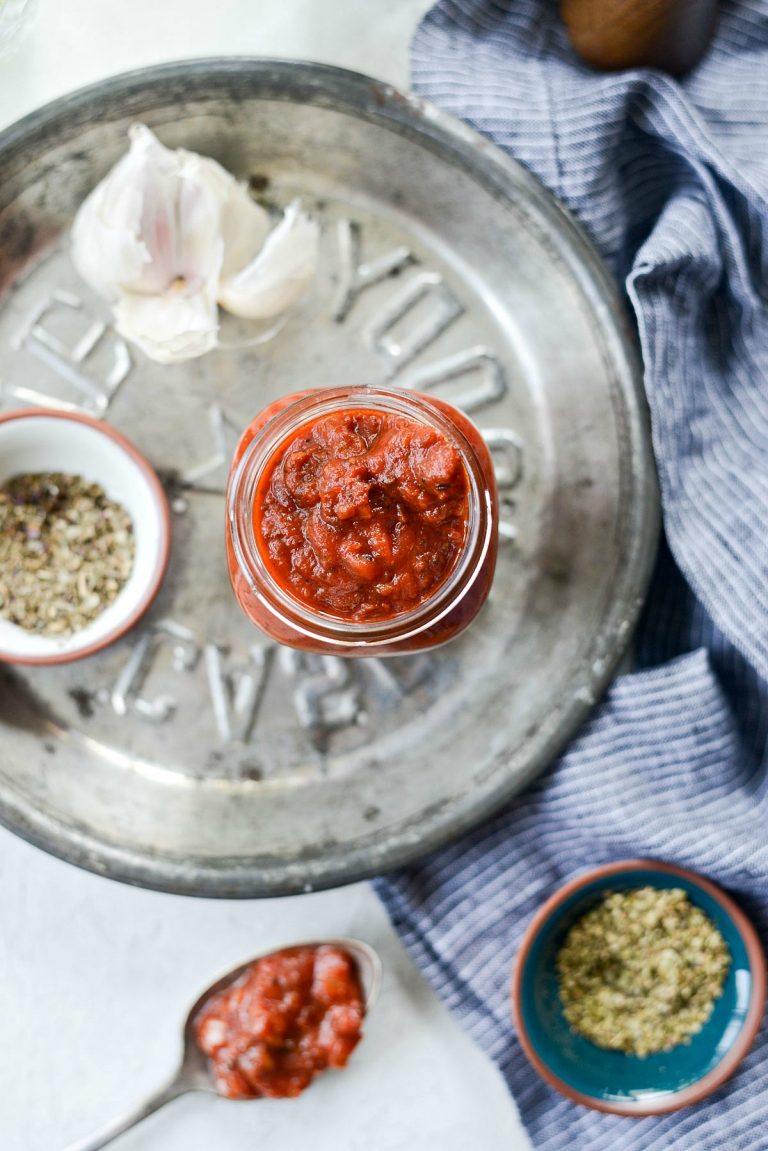 Besides pizza, this sauce can be used as a spread on sandwiches, filling for pizza rolls or as a dip for mozzarella cheese sticks. The options are endless!
There's pizza sauce and then there's homemade pizza sauce and homemade is the best!
Enjoy! And if you give this Homemade Pizza Sauce recipe a try, let me know! Snap a photo and tag me on twitter or instagram!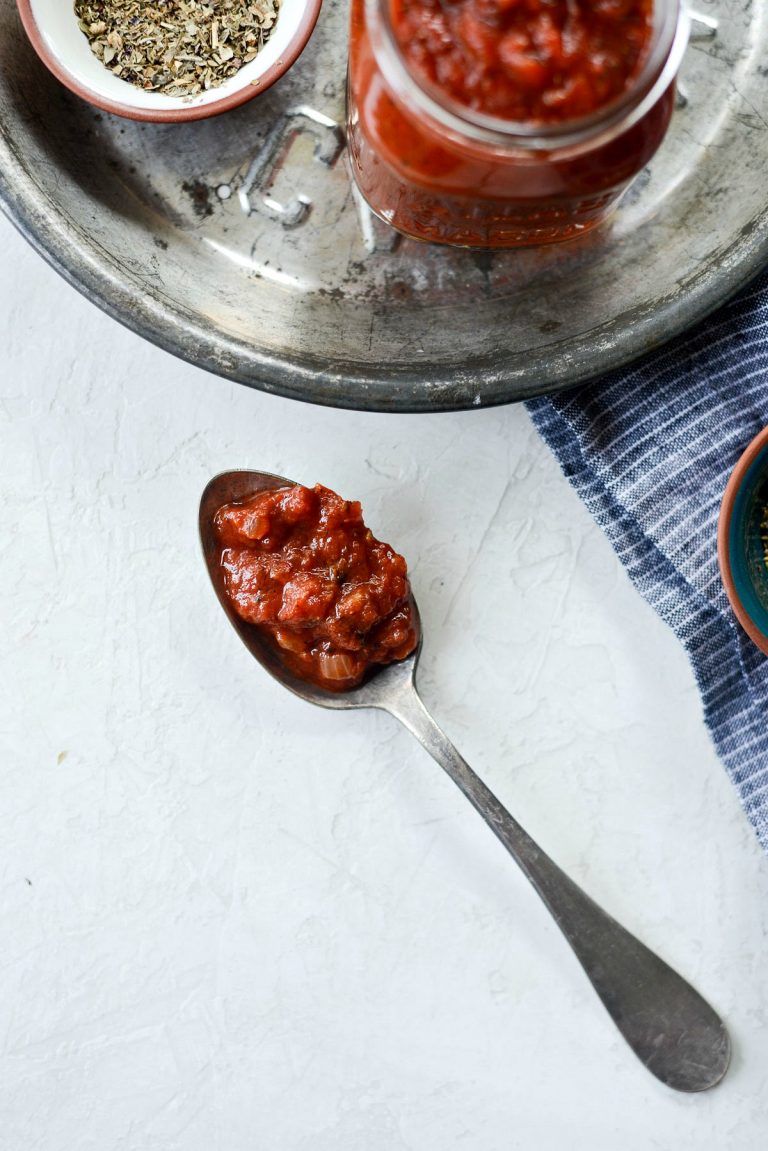 This post may contain affiliate links.
Buy the Cookbook: Simply Scratch : 120 Wholesome Homemade Recipes Made Easy Now available on Amazon »
THANK YOU in advance for your support!