This easy homemade pizza sauce isn't your average sauce. It's has sun-dried tomatoes, fresh onion and garlic… oh and wine! It's the best pizza sauce ever!
Making my own pizza sauce from scratch used to mean opening a can of tomato sauce, sprinkling in a little Italian seasoning, a pinch of sugar and maybe a pinch of red pepper flakes.
But on Friday I opened up my pantry to get started on making homemade pizzas and I realized I forgot to buy tomato sauce. Story of my life! I always manage to forget something at the grocery store and I even make a list! How does that happen? Riddle me that one folks.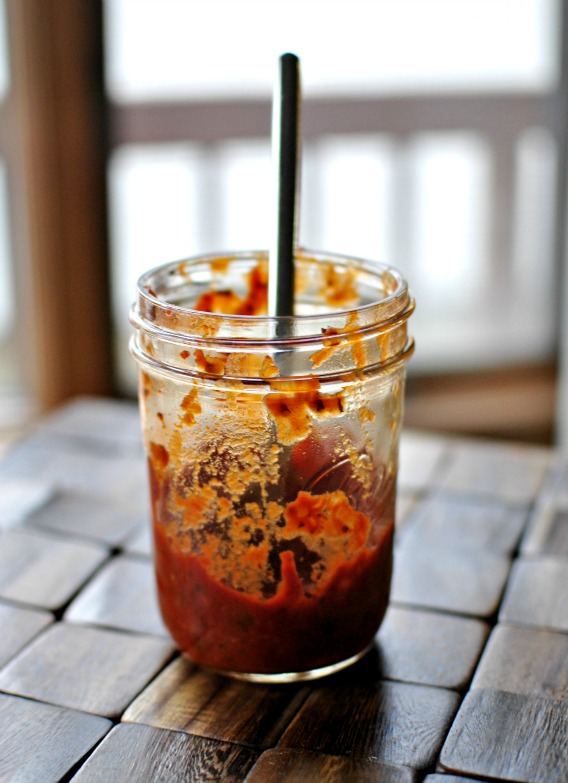 What I did have was tomato paste, so I had to get creative. I scoured my entire kitchen, including pantry and fridge "Chopped-style" and whipped up what is now EASILY my favorite pizza sauce to date – I even put it in my cookbook. And right up there with it is this roasted red pepper pizza sauce I found last year. Both are equally fantastic in two totally different ways.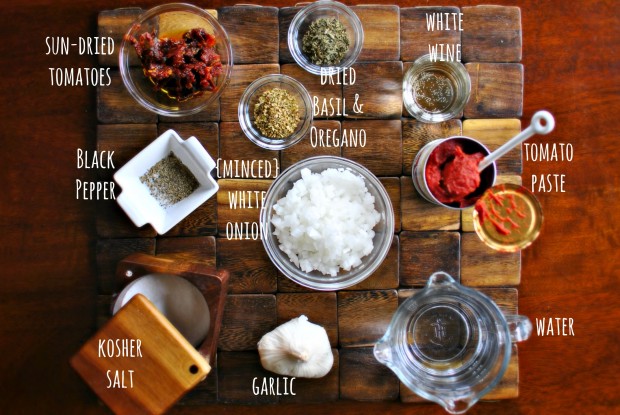 While I was on my hunt for ingredients I found a jar of sun-dried tomato in my fridge and I thought that it couldn't hurt to add them in, so I scooped out 8 or so and minced them up. The rest is pretty typical stuff like: fresh garlic and onion, dried oregano and basil, salt and black pepper. But while I was putting the jar of sun-dried tomatoes back in the fridge, I spotted some white wine. And you know how I feel about cooking with wine…❤️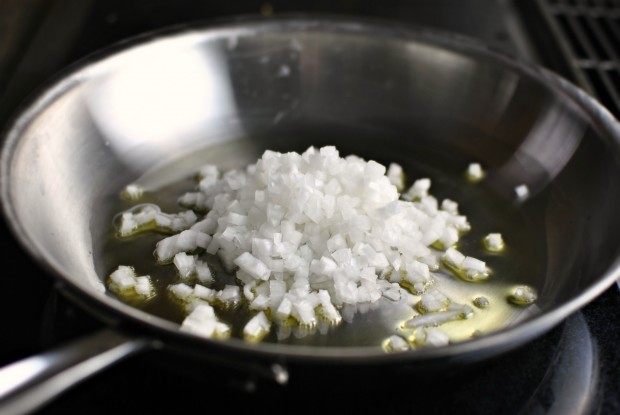 Start by heating up a 10-inch skillet over moderate heat. Once hot, add in the olive oil and minced onions…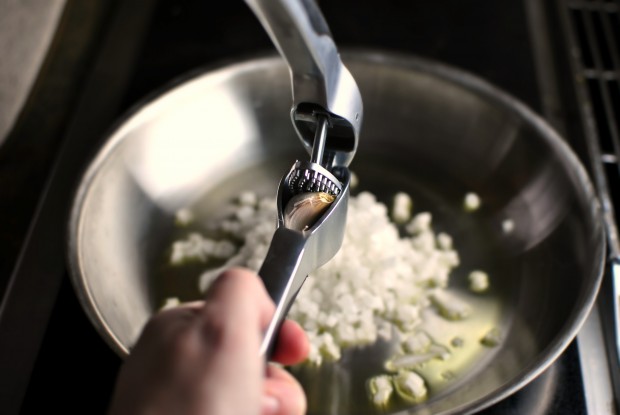 Next, grab that garlic press and squeeze in two cloves of garlic.
Then give all that a stir and cook until starting to soften.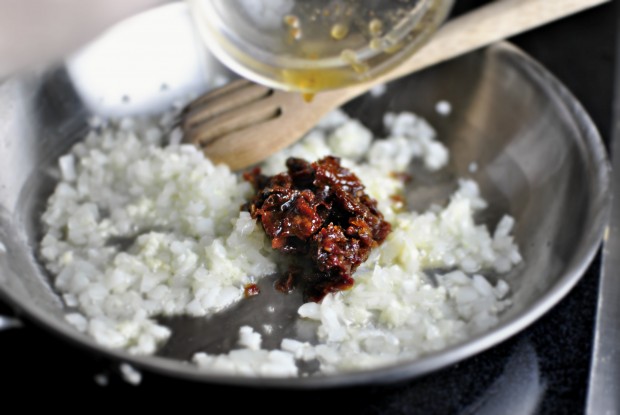 Next add in the minced sun-dried tomatoes… this gives the whole sauce a delicious depth of flavor.
Stirrrr…
Next add in the dried basil and oregano.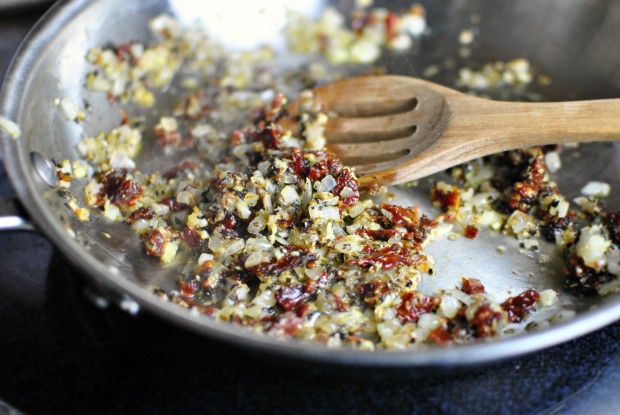 Stir and let the heat and oil soften the herbs a bit.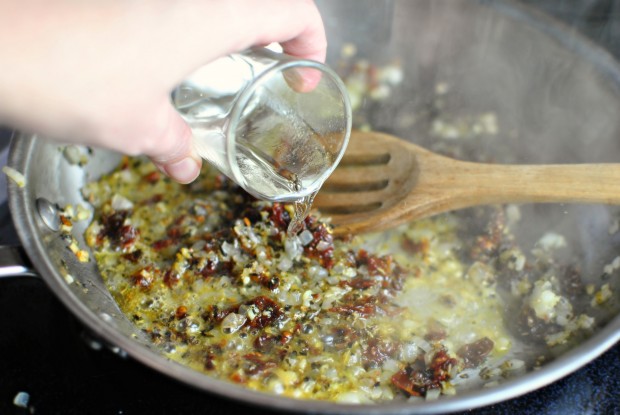 Next hit it with the one-two and pour in 1/4 cup of white wine. Use your favorite. Don't like wine? then go on ahead and just up the water when you add it in later on.
Then let that simmer and reduce by half.
Next, add in the tomato paste.
And then pour in the cup of water.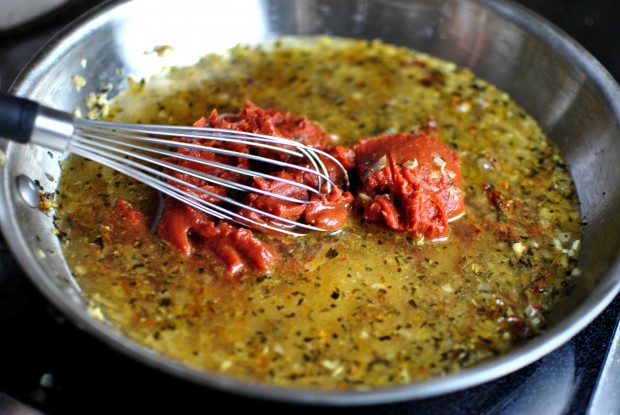 Next switch over to a whisk…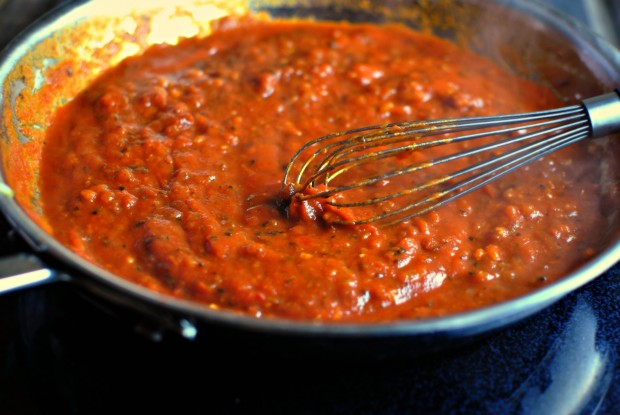 Next whisk the sauce, reduce the temp to medium-low and let it simmer for 15 minutes.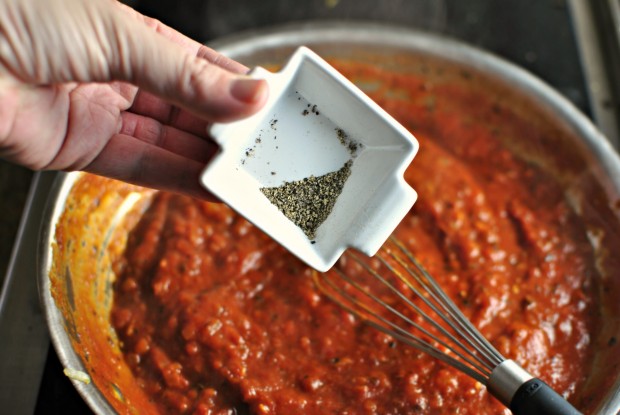 Lastly, season with kosher salt and black pepper and it's finished!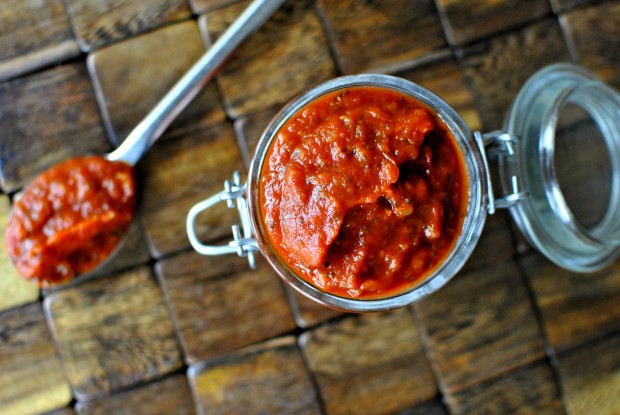 This sauce is thick and luscious and is absolutely amazing!
Because as you know: there's pizza sauce and then there's homemade pizza sauce.
Now you didn't think I'd leave you hanging and post a recipe for pizza sauce and not show you what pizza I used it with, did you?
This here pizza is one you'll love! It's starts with homemade pizza dough topped with the best pizza sauce, crumbled and cooked Italian sausage, copious amounts of freshly grated mozzarella cheese, crumbled bacon, red onion and if this pizza isn't already insanely delicious. Grated Parmesan over top is killer good!
Lastly, bake it at 400° for 20-25 minutes. Rotate the pan halfway during baking AND for the last 10 minutes of baking I like to put it on the lower rack, to crisp the bottom.
Make the easy homemade pizza sauce and then make the pizza. We'll high-five afterwards!
Enjoy! And if you give this Easy Homemade Pizza Sauce recipe a try, let me know! Snap a photo and tag me on twitter or instagram!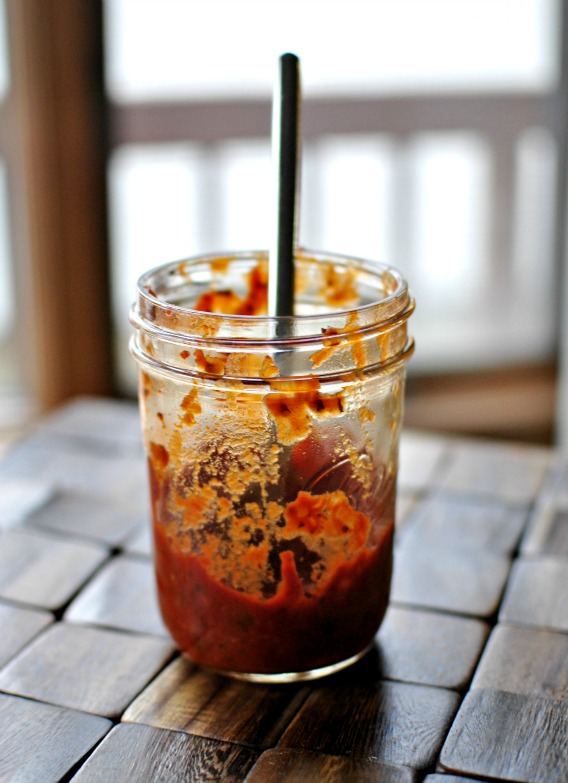 My cookbook Simply Scratch : 120 Wholesome Homemade Recipes Made Easy is now available! CLICK HERE for details and THANK YOU in advance!
Yield: 1-1/2 cups
Easy Homemade Pizza Sauce
This isn't your average pizza sauce. It's loaded with sun-dried tomatoes, fresh onion and garlic... oh and wine!

Prep Time 5 minutes

Cook Time 20 minutes

Additional Time 5 minutes

Total Time 30 minutes
Ingredients
FOR THE PIZZA SAUCE:
1 tablespoon olive oil
1/2 cup minced white onion
2 cloves garlic, pressed through a garlic press
2 tablespoons minced sun-dried tomatoes (packed in olive oil)
2 teaspoons dried oregano
1-1/2 teaspoon dried basil
1/4 cup white wine (like Pinot Grigio)
1 (6 ounce) can of tomato paste
1 cup water
2 pinches of kosher salt
1/4 teaspoon black pepper
FOR THE PIZZA:
1 recipe for Easy Homemade Pizza Sauce (above)
2 Italian sausage links, skin removed, cooked and crumbled
5 strips applewood bacon, chopped and cooked
3-4 cups freshly grated mozzarella cheese
1 small red onion, sliced super thin
1/4 cup grated Parmesan cheese
Instructions
TO MAKE THE SAUCE:

Heat a large 10-inch skillet over moderate heat. When hot add in olive oil, minced onion and garlic. Stir until soft.

Now add in the minced sun-dried tomatoes, dried oregano and basil and stir. The oil and the heat of the pan will soften up the dried herbs.

Pour in the 4 tablespoons of white wine and let that simmer until reduced by half.

Add in the entire can of tomato paste and the cup of water. Switch over to a wire whisk and stir until combined. Reduce the heat to medium-low and simmer the sauce for 15 minutes before seasoning with kosher salt and black pepper.

Pour in to a jar to cool and store in the fridge for a week, possibly longer or use right away!

Makes about 1-1/2 cups.

TO MAKE THE PIZZA:

Split and spread the prepared dough among two lightly oiled sheet pans.

Spread desired amount of sauce among both pizzas. Divide the cooked sausage and sprinkle it on top of each pizza along with the grated Mozzarella, bacon, red onion and Parmesan Cheese.

Bake in a preheated 400 degree oven for 20-25 minutes, rotating the pans so the top and bottoms brown and crisp evenly. Let cool before slicing and serving.

{makes two medium thin crust or one large pizza}

[this post contains affiliate links.]